After 15 years in the industry, the founder of 343 Industries, Bonnie Ross, announced that she will be leaving the company. Starting her statement with her previous intent to have stayed until Halo Infinite's winter update.
Bonnie had a long journey with Microsoft and 343 Industries. She has a bright library of games that she worked on. From Mass Effect and Alan Wake to Gears of War. And finally, Halo. In fact, Bonnie pitched and delivered multiple Halo titles. To name a few, Halo 3: ODST, Halo: Anniversary, and the most recent critically acclaimed Halo Infinite.
Founder of 343 Industries, Bonnie Ross, clarified that there are urgent family medical matters that she has to attend to. Furthermore, she stated that she is proud of her work over the past 28 years with 343 Industries and Microsoft. And that it was a great honor to lead the team for the past 15 years.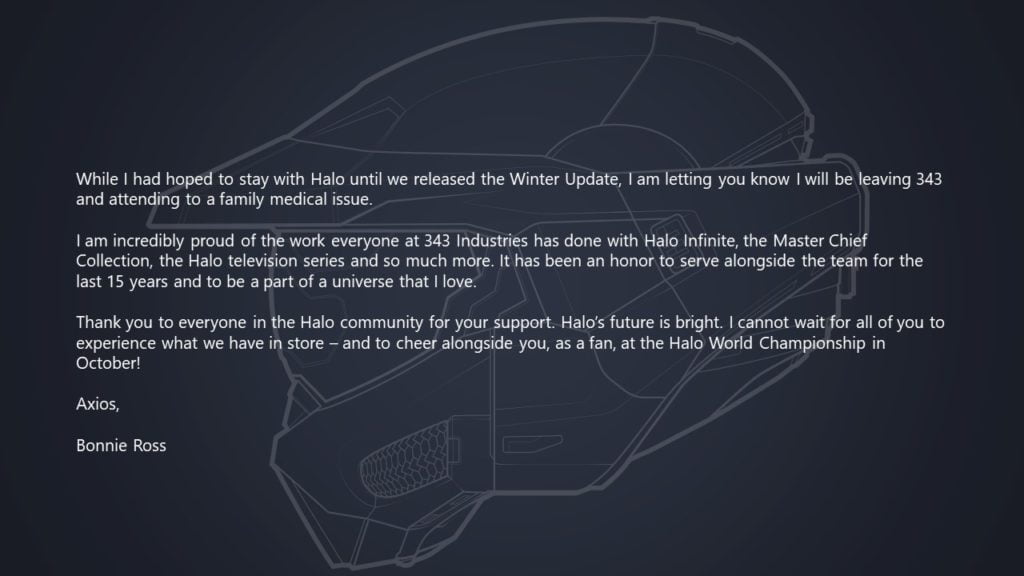 343 Industries Will Be Restructuring Its Leadership
"After more than 28 years in gaming at Microsoft, including 15 years leading 343 Industries and Halo through its most ambitious steps forward, Bonnie Ross will be leaving Microsoft and spending more time with her family. We are thankful for her leadership of 343 during which the team launched Halo 4, Halo 5, Halo: The Master Chief Collection, the Halo television series, and Halo Infinite. We wish her all the best. [..]" – The studio statement via Windows Central.
It seems like 343 Industries' leadership will be going through a restructuring. Pierre Hintze will take on the role of studio head. All the while, since Halo Infinite's community is starving for new content, the winter update will come with the Forge feature that will allow players to create their own content. It is unclear whether the team will deliver the update on time or if there will be some sort of delay. Either way, we hope for a speedy recovery for Bonnie's family, and we wish to see her return to the industry sooner than later.