March 26, 2023 – Checked for new All Star Tower Defense Codes
As an avid otaku or a humble watcher of anime, you might have wondered if there's a game that combines your favorite franchises into one fantastic content. From the name itself, All Star Tower Defense is a star-studded strategy game developed by Top Down Games, easily playable on the gaming platform Roblox.
These redemption codes will reward you with in-game currencies so you can buff your existing units and even summon new ones. If you're a huge fan of animated shows like Dragon Ball Z, One Piece, Demon Slayer: Kimetsu no Yaiba, My Hero Academia, Attack on Titan, and the like, then you will enjoy collecting the Roblox versions of some of their iconic characters. Furthermore, new units are being added per update so you will have more to look forward to.
To skip to the good part, check out these working codes from All Star Tower Defense and redeem them as soon as possible before they expire! If you're not sure how to do so, we have also put up a short yet detailed guide on how to exchange these codes for resources.
What are All Star Tower Defense codes?
Codes from All Star Tower Defense are redemption codes that can be exchanged for valuable in-game resources like gems, gold, units, and other limited items. New codes are released on or before game updates. Keep checking this post regularly for a compiled list of codes from the game's developers.
NOTE: The list below has been updated for March 2023 and will be continually updated throughout the month and year.
| | |
| --- | --- |
| LEGEND | DEFINITION |
| (NEW) | Any code released less than a week ago |
Working Codes
newupdcode2 – 150 Stardust
newupdcode3 – 150 Stardust, 1000 Gems
Expired Codes
diablo12
maintenacecode15
sorryforlongdelay
thankyoufor5bvisits
delayp
lvlreqny
happyholidays
mbshutdown
world3ishere
winterguy19
bigwinterupdatesoon
2milfavoriteup
SubscribeToBlamSpotOnYoutube200k
2yearanniversaryduo
2yearanniversary
newstarcode
Halloween2022
timechamberfix
ASTDDragonoidBakugan
1millikes
summerwoo2022
owouch
changesjune
ticketupdate
NavyXFlame130kNoLeak
allstarspring
newaprilupdate
astd1millikes
eatlotsonthanksgiving
ultramove
1mgroupmembers
superwoop
themadao
congratulations2kingluffy300ksubscribersonyoutube300k
astdx2022
merrychristmas2k21
december2021
KingLuffyFan200K
100Ksubnavyxflame
fromastd
robloxyay
navyxflame80ksubs
fruit100k
goldgemgold
happyhalloween2021
thursdayfun
2bcodeswagmodeblazeit
nooshutdown
specialkingluffy100k
illbewatchingyou
theotheronecode
morecodeforyouxd
codeofprisma
listentothemusic132
NAVYXFLAME4CODE
4thofjulyupdate
600klikes
biggerthanlife1
updatejune2021
2021memorialday2021x
ohmahgawdskill
yellowsix
smoothcriminal2
quickshut
shotofmemories
lieawake
likeapartyonthelist
1bvisit1b
1billionvisit21drip
eastercoda21
hchgaming
gameon2021
incredibledayum
Subinferman
lovetofightastd
handsoftime
likeslikeslikes
200knextcode
watchaot
epicgal
hallowten
superposition100
5starluck
nanoislandbaby
sub2terrabl0x
subtokelvingts
Sub2RazorFishGaming
whoisthebestguy
sub2shadownetwork
manylike
AllStarDessi
supernaruto
Sebbydesu9000
alwaystogether
frangosub
SUB2NAVYXFLAME
240kearly
2k20merrychristmas2k20
decemberfun2020
100KClypso
liketo280k
subtosnuglife
roadto300kuwu
codecodeyayhooray
pert
rainmen
bigtim
700mil
bigbangrah
omgdiscordpopoff
subtome
subinferman
mytimerchamber
lateupdatendat
-ASTDDevs
world2comingsoon
world2ishere
winterbreakwhen
igot2look
thecityofangels
novemberupdate
starshipway
anniversaryastd
NavyxFlameYT60K
4partyrocking
wowshutdown
longwait
tacotuesday
shutdownagaincode21
septemberupdate21
nowherescoredeal
gamebreakingvisits101
minishutdown
mrworldwide
codeoflight
howareyoutodaymyfriendo
fruitysubmore
updatejune2021
fruitgame
lesgolesgoyuuh
update53021
lovetobrazil
fruit
diamondnowina
thisisthenewestcode
How to redeem All Star Tower Defense Codes
1. Open All Star Tower Defense in Roblox.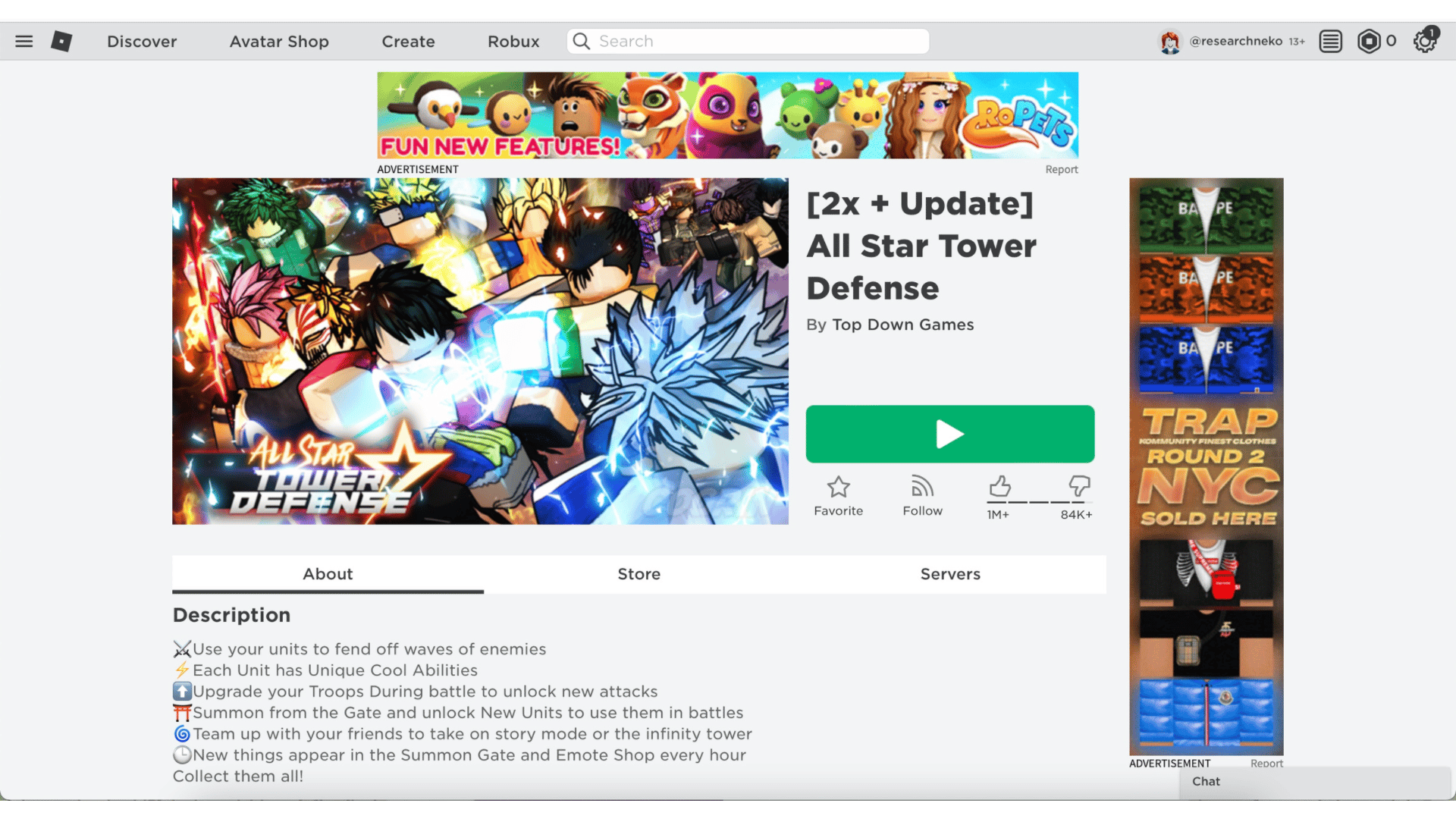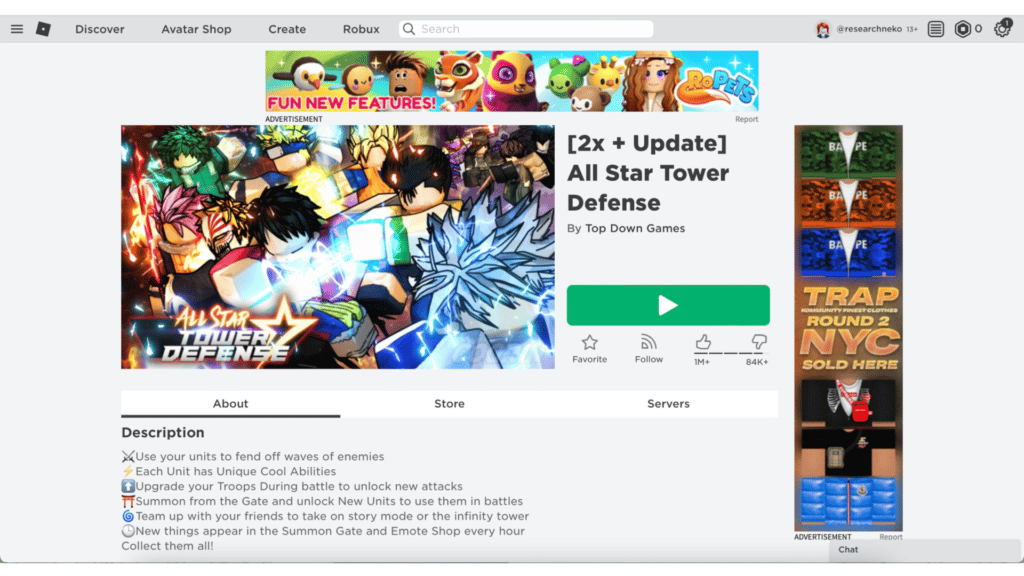 2. Select the gear icon on the lower right corner.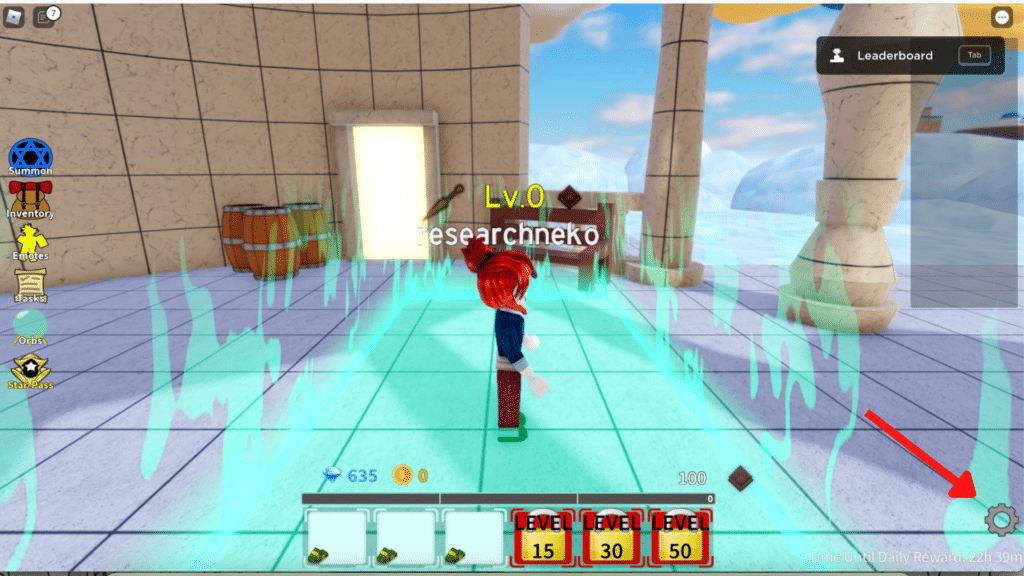 3. Paste or type the code on the textbox. No need to press enter.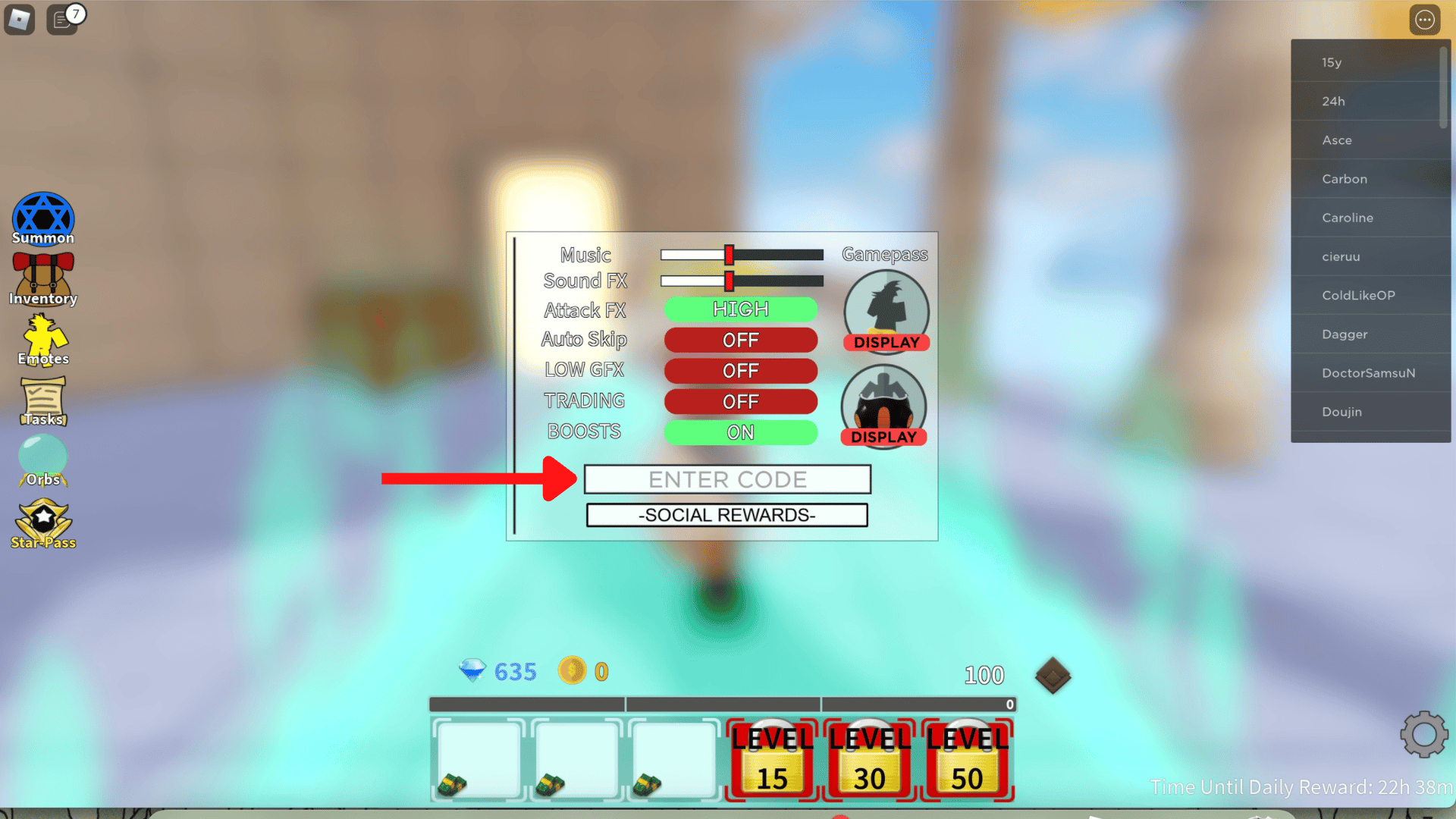 Frequently Asked Questions
When do All Star Tower Defense codes expire?
All Star Tower Defense codes have no specified expiration dates. However, based on our experience, some codes may be valid even after a month since their release. Just to be on the safe side, you can redeem the codes as soon as they're posted here.
Why is my code not working?
Chances are the code has already expired or it only works in a VIP server. According to the All Star Tower Defense Wiki, some codes only work in VIP servers so you can try to claim them again once you've switched.
How often are the codes released?
New codes from All Star Tower Defense are often released a few times in a month, especially when there are new game updates or holidays celebrated. Keep checking this page for the latest codes released every month.
Where do All Star Tower Defense codes come from?
All Star Tower Defense codes are sourced from the game's official Twitter page and Discord server. You can follow their account and join their server if you want a peek at future game updates on top of randomly released codes.
How many times can I use the same code?
All Star Tower Defense codes are available for one-time redemption only. Redeeming the same code again will not show any reward on the upper part of the screen.
What are the rewards?
You can get in-game currencies like gold and gems from these codes from All Star Tower Defense. On some special occasions, the developers get really generous by giving away free units like EXP III and EXP IV.
What is gold used for in All Star Tower Defense?
You can use gold in All Star Tower Defense to spin for secondary units in the Hero Summon, buy Emotes or in-game character poses or animations, and purchase bosses from the PvP shop. This is all according to All Star Tower Defense Wiki.
What are gems used for In All Star Tower Defense?
You can use gems in All Star Tower Defense to spin for primary units in the Hero Summon, purchase PvP bosses, and buy orbs among other things. This is all according to All Star Tower Defense Wiki.
---
We hope you got to reap all of these generous rewards through these codes from All Star Tower Defense! If you want to redeem more free in-game resources in the future, you can visit this article from time to time as we update it as soon as new codes are released by the game's developers.
If you've seen other active or working codes that are not present here, you can share these freebies in the comment section so we can add them to the article as soon as possible. Also, let us know of any invalid or expired codes listed under 'working' here so other players wouldn't have to waste time redeeming them.
For other Roblox games worth trying, check out our Shindo Life and Noob Army Tycoon codes for more rewards! If anime-style content is your favorite, hop to our post on the best anime games for various platforms!