If you've just started your run as an Apex predator or if you're coming back to the game for its latest season, this guide will help with everything that you need for setting your game up. Often overlooked by casual players, a game's graphic settings are incredibly vital, especially in the case of competitive shooters. Similarly, tweaking Apex Legends' graphic settings is essential to achieving the perfect balance between visual clarity and high performance.
The very best and most optimized graphic settings for Apex Legends tend to give players reliable clarity and visibility during fights. And while they sacrifice some aesthetic qualities of the game, they ultimately lead to better FPS and clearer surroundings. All of this adds up to a more advantageous gameplay experience for predators wanting to be the champions of their arenas.
Best Apex Legends Settings
In our guide, we will go through a variety of settings that you can tweak to get that optimal sweet spot of performance. Note that not all our recommendations will work for everyone, and that our guide focuses more on the general idea for optimization based on professional players and our own experience playing Apex Legends.
Best Apex Legends Launch Commands
Before you even get into the game itself and mess around with the Apex Legends settings, various launch commands can be of great use. These options help gamers start their game with some settings already specified and can be done from both the Steam Client and the Origin Launcher. Follow these steps to add launch commands:
Navigate to your game library and right-click on Apex Legends
Select the properties (or game properties for Origin)
Under the General tab (Advanced Launch Options for Origin), you will find the command line where you can input commands for the game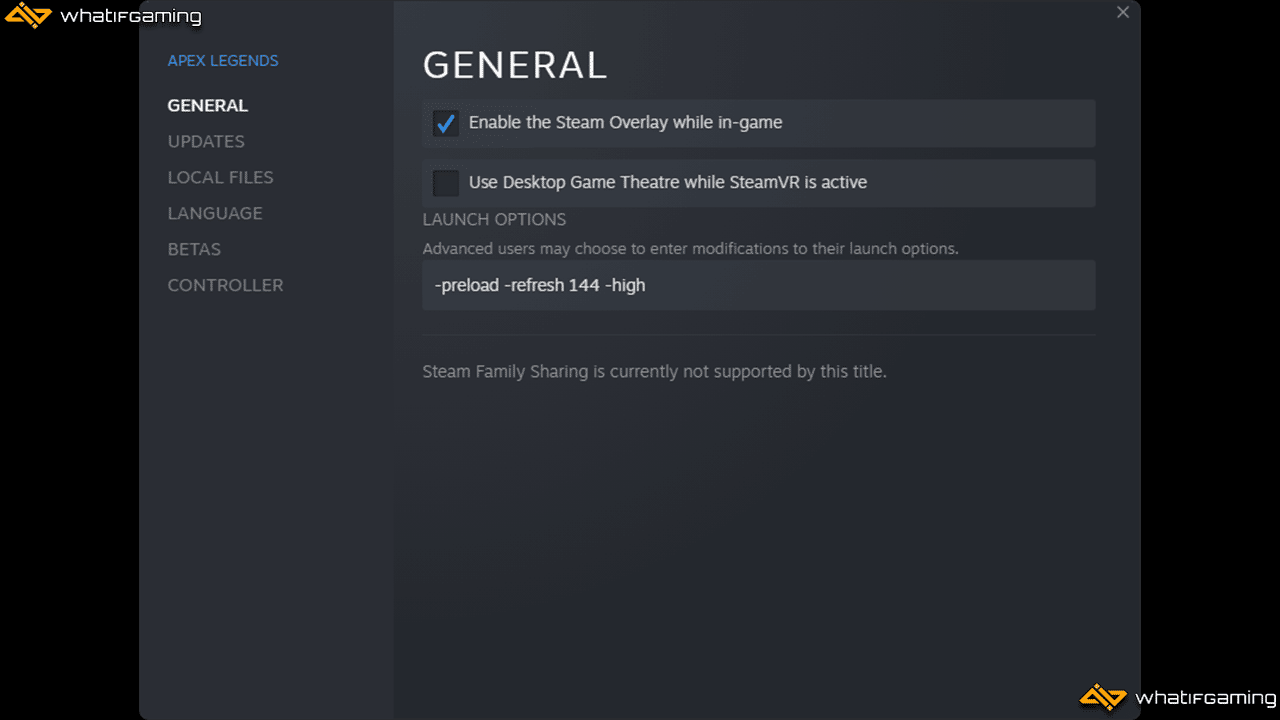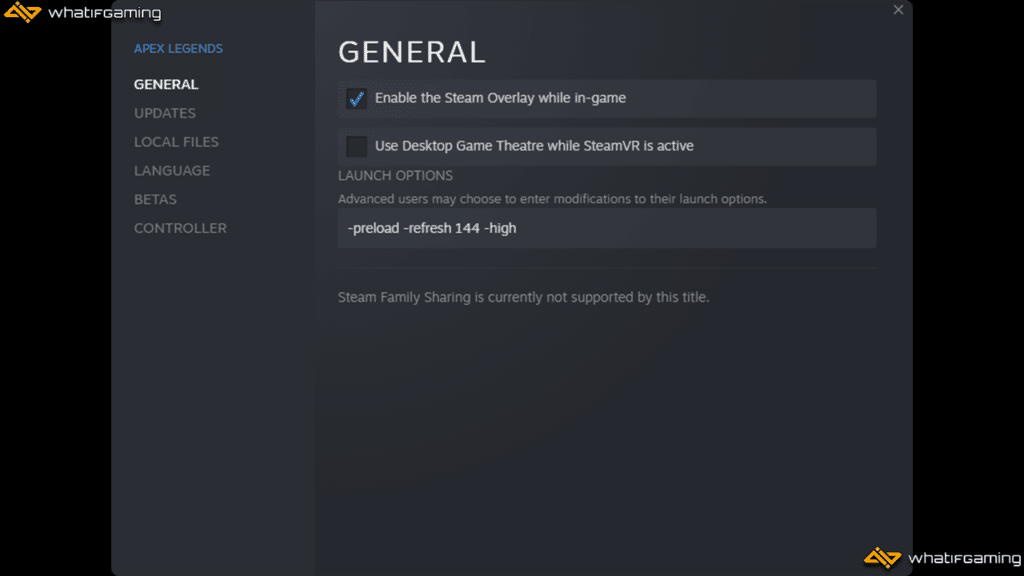 You can add as many commands as you prefer here, depending on your needs. Just be sure to add a '-' before the command for it to take effect and leave a single space between commands.
The following is a list of some popular commands that you may want to add at your preference.
-preload | Loads some of the game's resources before it starts, which increases performance but is also noted to cause minor stuttering in some low-end rigs. Add this to your preference.
-forcenovsync | Forcefully disables Vsync every time the game is launched.
-refresh 144 | This command force sets the refresh rate to the value you input and is recommended to be set to the rate of your monitor.
-fullscreen | Pretty simple, forces the game to launch in Full Screen so that the system renders the game and nothing else that introduces any sort of lag.
-high | This particular command sets the priority for the Apex Legends application to 'high', without having to navigate through the Task Manager to do it manually.
Best Apex Legends Display Settings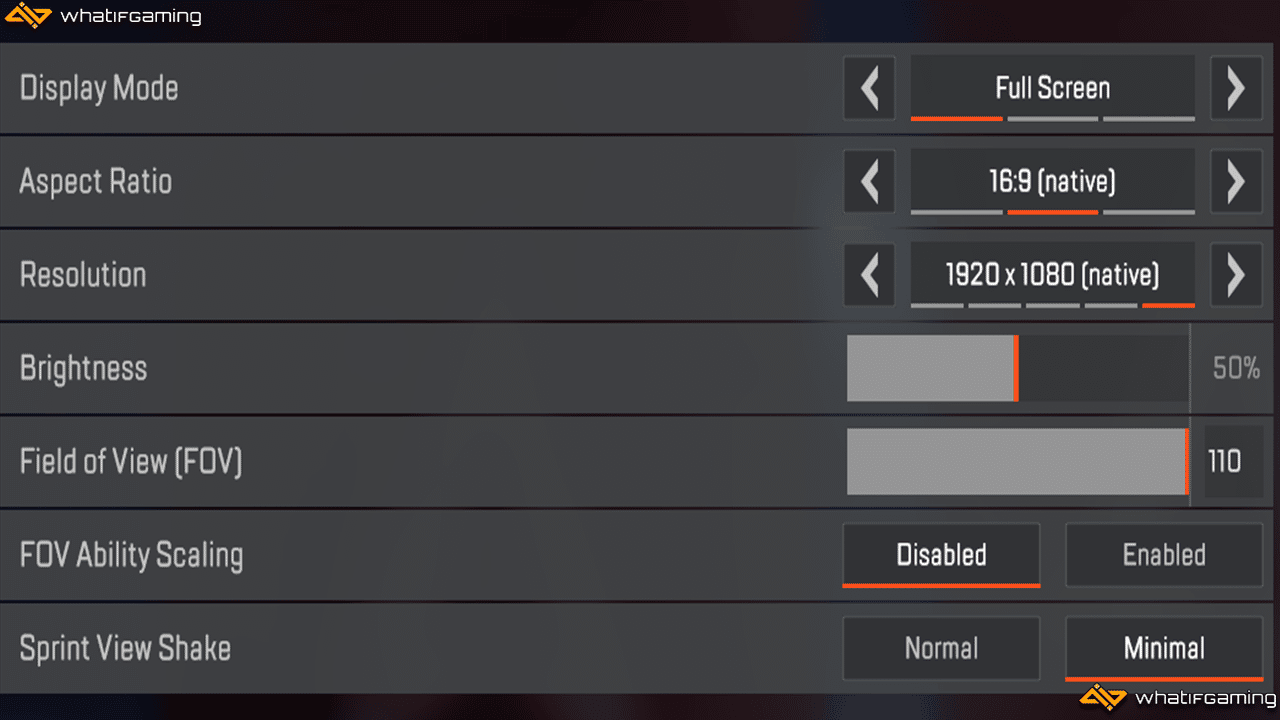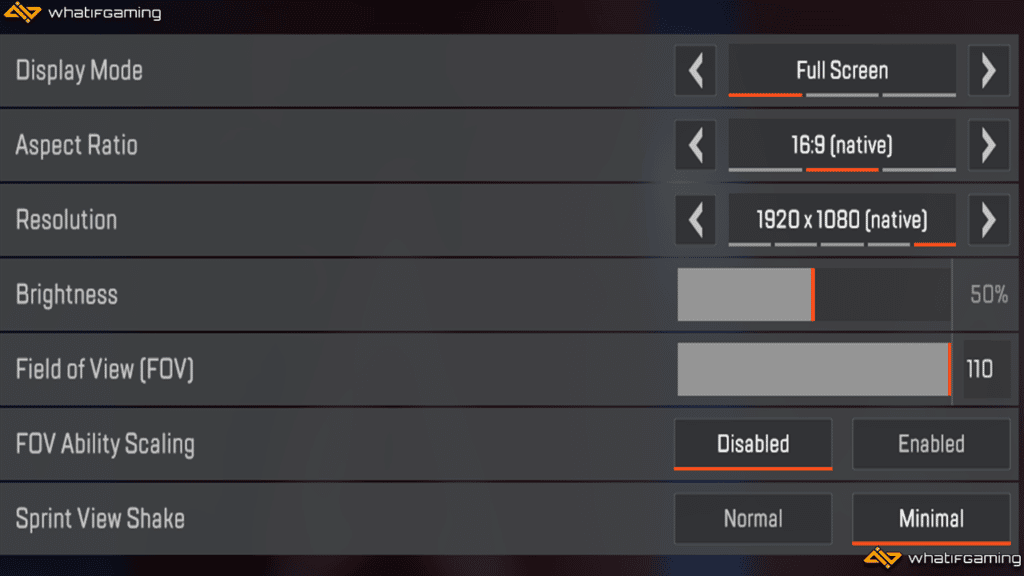 Now let's get into some of the best Apex Legends graphic settings, starting with initial changes such as Aspect Ratio, Resolution, and Field of View. These settings can help you optimize Apex Legends for use on your gaming monitor and help you be more comfortable with the general look of your game.
Best Apex Legends Graphic Settings
Moving on to the more advanced settings that have a greater impact on the performance of the game and the overall graphic experience. These are the settings that affect your FPS the most, and changing them can help you squeeze out some extra performance out of your graphics card.
How To Fix Low FPS in Apex Legends
If you have a PC with adequate or better hardware and still experience occasional FPS drops, the problem may not be the game's graphic settings. Even with good hardware, issues like these often stem from the CPU or GPU. And unless you're an expert with computer tools and equipment, there's not much you can physically do about your hardware yourself.
Luckily, there are still a few options you can explore to ensure all your equipment is optimized and running perfectly. These do not involve replacing or fixing hardware and are more focused on the driver and software side of things to ensure the gaming application runs smoothly. Hopefully one of these fixes will help you out in restoring a healthy number of FPS for your game.
Optimize your graphics card settings – Whether you have an AMD card or an Nvidia one, both manufacturers allow changes from their respective control panels. You can browse online for written or visual guides for these settings if you're unsure about what specific settings do. Optimizing these settings and prioritizing power over quality will help you improve your performance and in turn, raise the FPS of your game.
Updating your graphics card – Often, new patches and updates for the games introduce new content and visual improvements. And some of those changes often interact with your GPU in different ways. If you think your FPS counter is declining after an update, try updating your graphics card driver and restarting your game. The process is fairly easy and mostly automated, allowing you to easily update the drivers and get back into the arena in no time.
Removing FPS cap – For players who have a PC capable of pushing past Apex's native frame cap of 144 and wish to go beyond it, this is the perfect solution. As mentioned previously, various launch commands can help with gaming issues. One such command is "+fps_max unlimited", which removes the game's FPS limit, allowing for a free flow of frame rates up to what the hardware can provide.
Apex Legends System Requirements
Take a look at the game's minimum and recommended system requirements before you head down to the actual settings. Make sure your equipment meets the proper standards before you start playing or the changes and improvements to your settings won't make a difference.
Minimum Requirements
OS: 64-Bit Windows 7
CPU: Intel Core i3-6300 or AMD FX-4350 (or Equivalent)
GPU: NVIDIA GeForce GT 640 or Radeon HD7700 (or Equivalent)
RAM: 6 GB
Hard Drive: 30 GB
Recommended Requirements
OS: 64-Bit Windows 7
CPU: Intel i5 3570K (or Equivalent)
CPU: Intel i5 3570K (or Equivalent)
RAM: 8 GB
Hard Drive: 30 GB
Conclusion
Remember to adjust any settings you think work better for you than the one we mentioned, and always prioritize a high frame rate over anything else. The best way to improve is to focus on the clarity of your vision and the performance of your game, and you'll slowly see yourself heading towards that coveted champion title in no time.
And there you have it, all you need to know about the best Apex Legends graphic settings. Hopefully, this guide was helpful to you in determining what settings to focus on and tweak to get a smoother gaming experience.