Fans of Bioshock, Metro, and even Half-Life are eagerly awaiting the Atomic Heart release date because it is promising an unforgettable experience. Announced way back in 2017 by a fresh studio, Atomic Heart seemed like vaporware with pre-rendered trailers. Almost 4 years later, not only is the game real but it will be released very soon.
Atomic Heart release date is February 21, 2023. It is releasing on Xbox Series X/S, Xbox One, PlayStation 5, PlayStation 4, and PC. It is also a Day One Xbox GamePass title coming to Xbox consoles. 
What is Atomic Heart Release Date?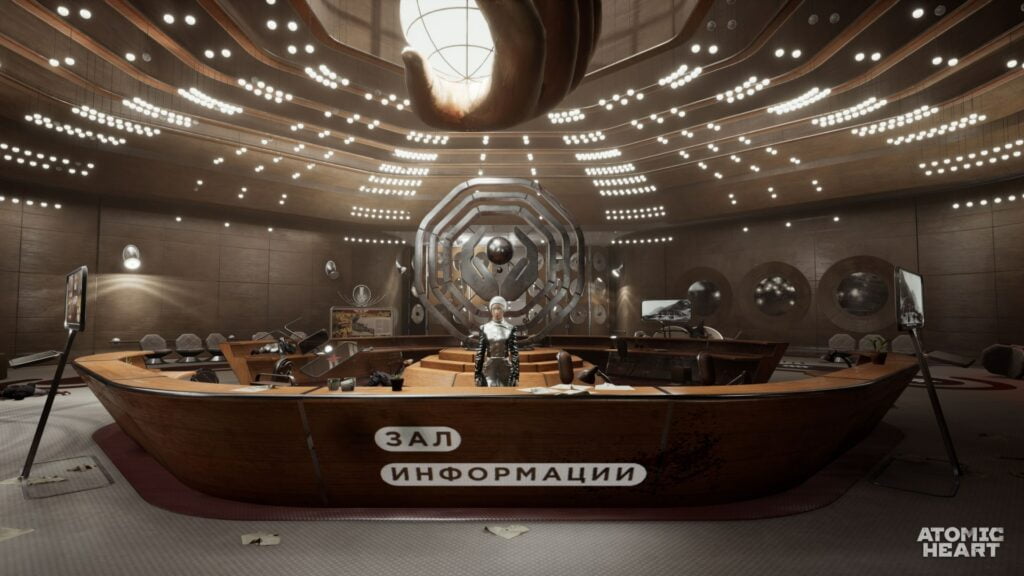 Atomic Heart release date is February 21, 2023. It is coming in a few short months, and fans of both adventure and first-person shooters are eagerly awaiting to see if it lives up to the expectations. The trailers have blown us away, both scripted, and gameplay slice trailers are already shown making us excited about the game.
The game was slated to release in 2022 but was delayed to add more polish to the game. The developers aim to release a game that's of "the highest quality" and we respect their move to delay the game to reach that goal. A delayed game that's polished is better than a broken, messy game that's released just to hit the holiday rush.
What are Atomic Heart Platforms?
Atomic Heart is hitting on all consoles and PC on February 21, 2023. It will be available on old-gen consoles like the Xbox One, Xbox One X, and Xbox One S as well as PS4 and PS4 Pro. It will also be playable on PlayStation 5 and Xbox Series X and S. The game will be available on PC via Steam and Focus Entertainment Store.
Who are Atomic Heart Developers?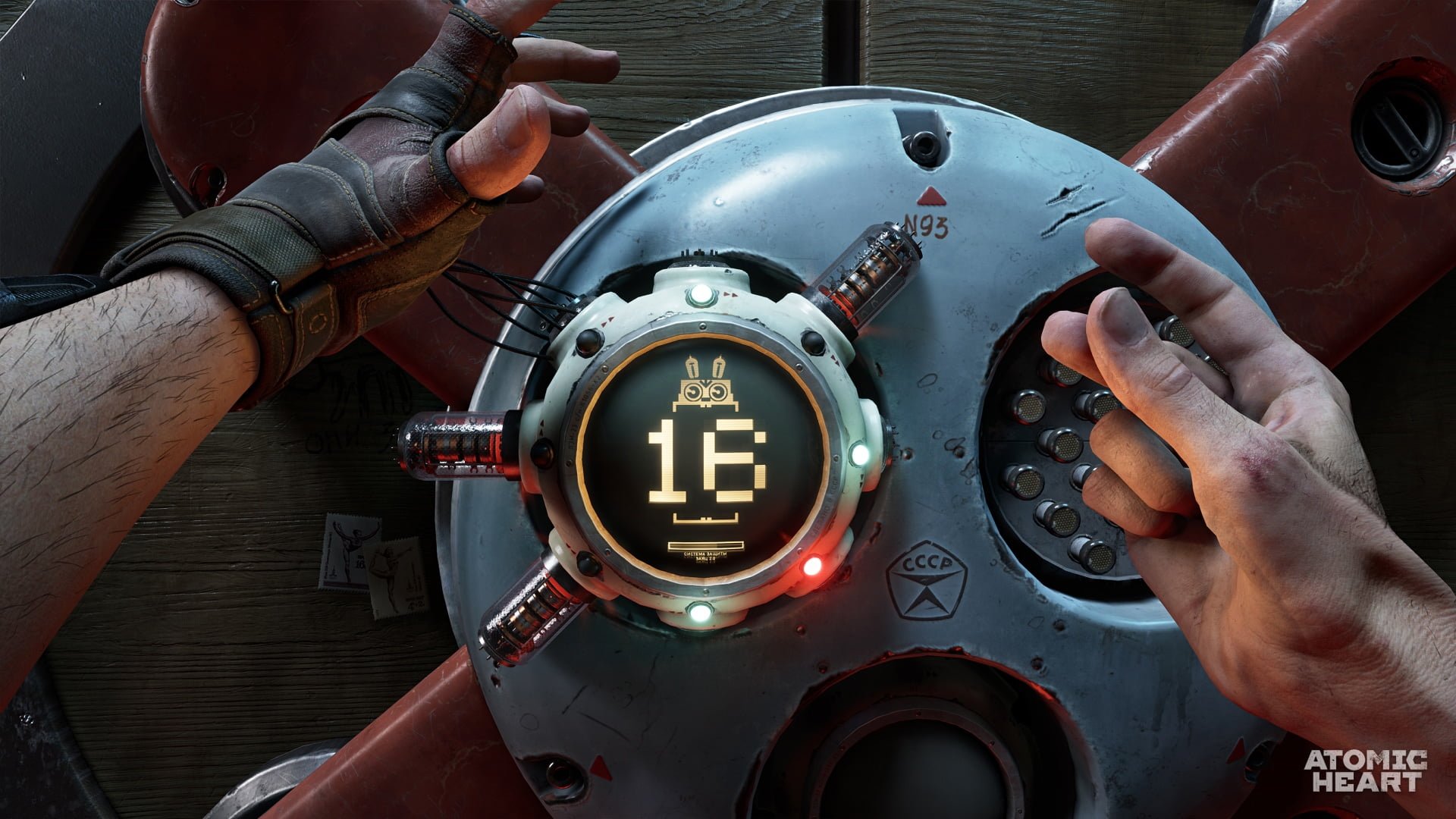 Atomic Heart is being developed by a brand-new studio called Mundfish. Mundfish was founded in 2017 and Atomic Heart is their first game. A new studio taking on a big project like Atomic Heart is rare to see. This is also why a lot of people were skeptical about the game at first, a brand-new studio delivering stellar trailers and gameplay footage is unheard of in the industry.
The Nicosia, Cyprus-based developers are hard at work making Atomic Heart a polished game. The developers wanted to release a game that can be "put on a par with such games as Bioshock, Fallout, and Doom." They are not shying away from their inspirations and that is refreshing to see.
They also have plenty of love for the aforementioned games, calling them "games that we've all played and that we all love." Following the delay, the developers announced a partnership with Focus Games as the publisher. Focus Games are on a roll, releasing critically acclaimed A Plague Tale: Requiem, Evil West, and the lesser-known Blacktail all in 2022.
It's always great to see a new developer reaching for the stars and providing gamers with a fresh new IP to love. We'll have to wait and see how well Atomic Hearts reaches the goals set by the developers.
What is Atomic Heart?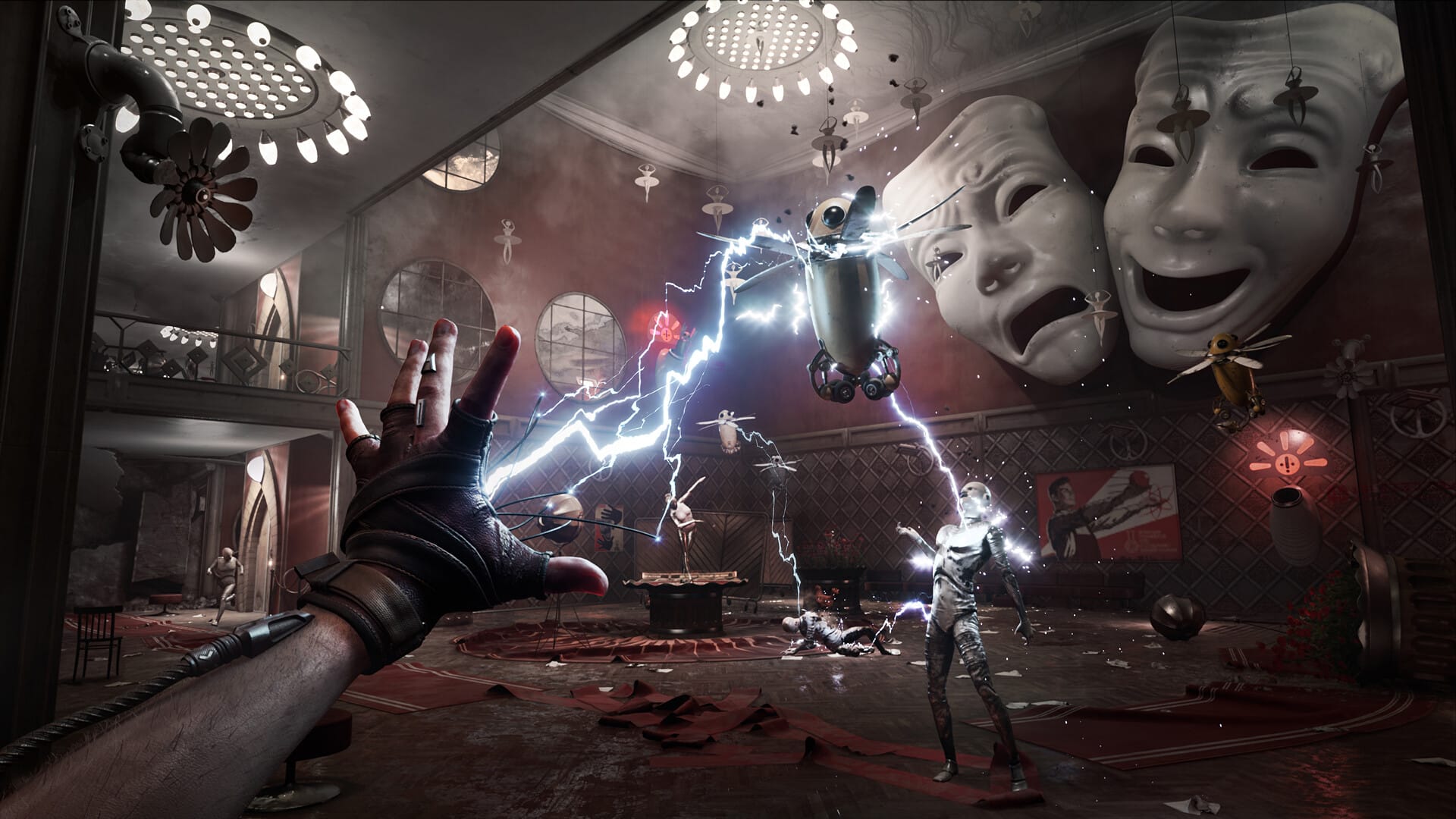 Atomic Heart at its heart, pun intended, is a first-person action-adventure shooter. That's a mouthful to say for sure, but Atomic Hearts wants to be all of that. That's not all, there are plenty of RPG-light elements in the game as well. There are weapons to use, abilities to shoot out of your hand, and enemies to defeat in the game.
Atomic Heart is shaping up to be an open-world adventure as well. The Fallout influences are quite apparent here, the developers want the players to explore at their own pace. There will be closed bunkers or dungeons (most are called labs in the game) to explore as well. The game takes place in an alternative version of Soviet Russia in the 1950s.
There is DNA of BioShock in the abilities, Fallout in exploration, Doom in gunplay, and Dishonored in level design. These are all amazing games in their own right, so any fan of these games would be immediately invested in Atomic Heart. How well the game melds these ideas into a cohesive product remains to be seen.
What is Atomic Heart's Story?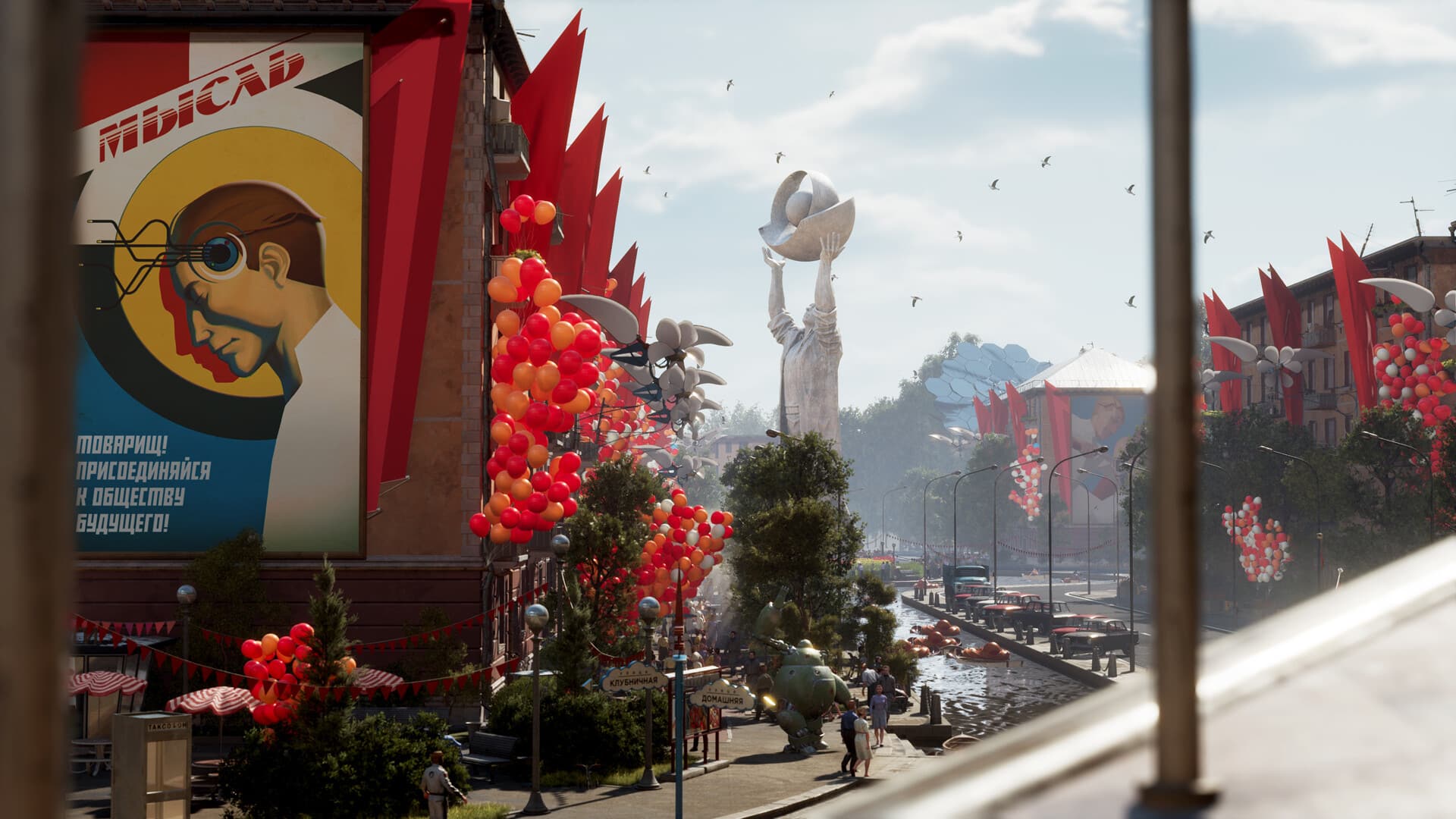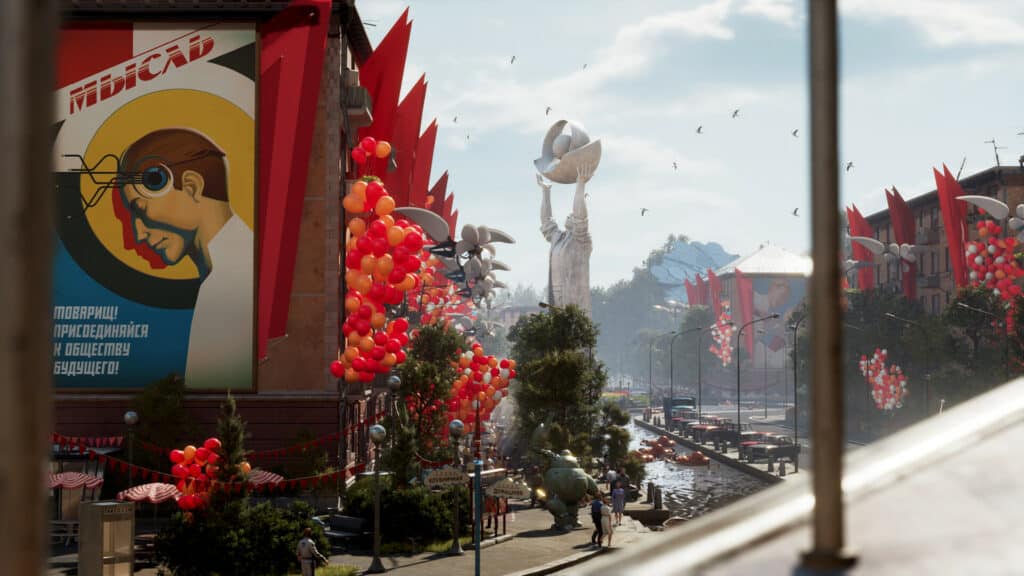 The game is set in 1950s Soviet Russia. An alternate reality where not only the USSR is successful but also created a utopia that allows humans to be served by numerous robots. The golden age of the USSR is aided by the servant robots powered by a start of the art neural network named "Kollectiv". There is also a new energy resource that powers up all the technology called "Polymer".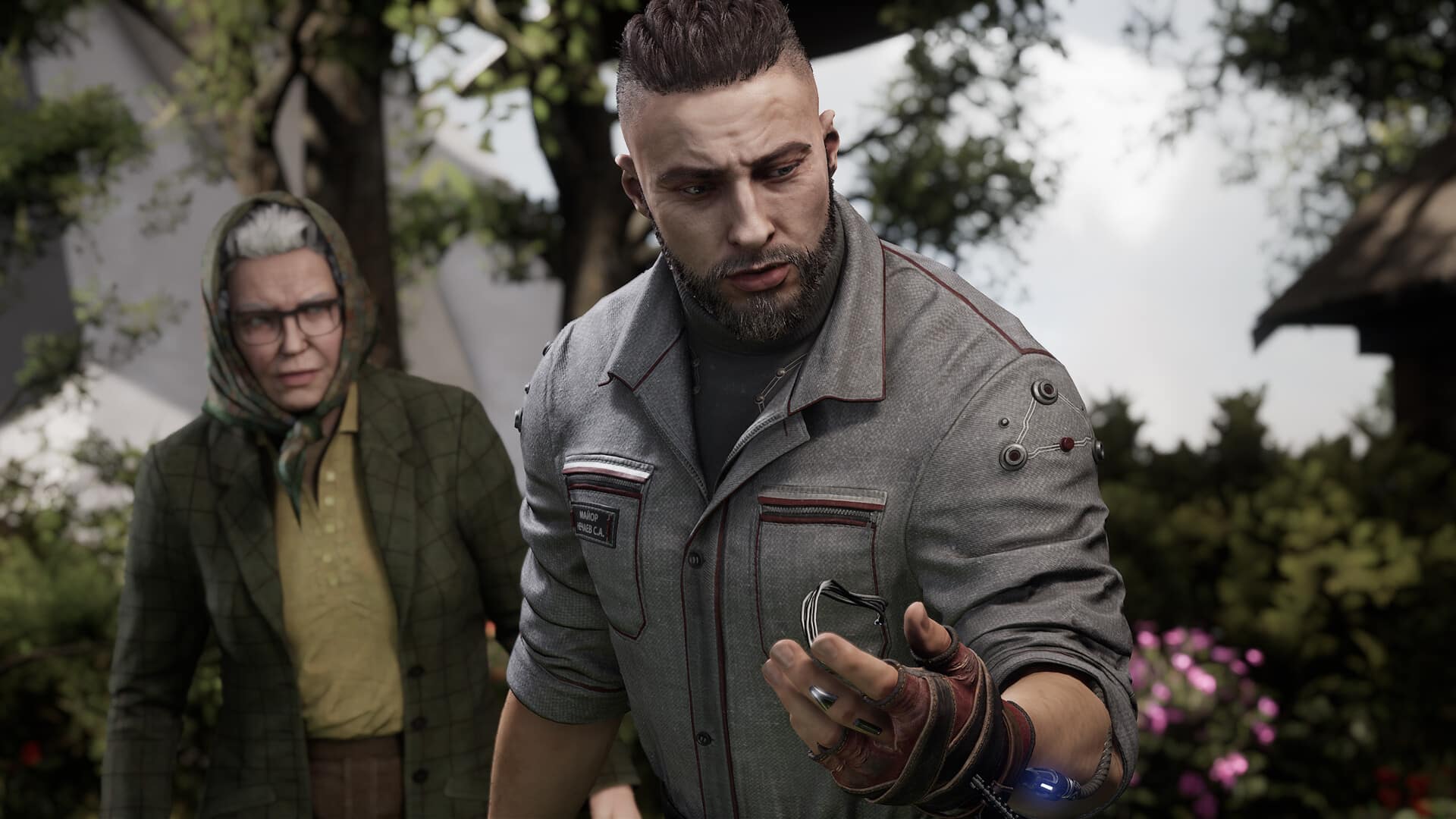 Just like clockwork, something goes wrong in the utopian society, and it isn't that utopic anymore. A research facility that's responsible for developing all these servant robots has gone silent. Facility 3826 has suddenly gone dark and cut off all communication from the outside world.
The USSR sends in a veteran special agent from the KGB to investigate what is wrong with the facility, You play as the agent named Sergey Nechaev with the codename P-3. Your job is to discover what has gone wrong in the facility, report back, and try to solve the problem, all the while keeping it under wraps.
When P-3 arrives at Facility 3826, he discovers the robots gone awry. The once submissive mechanical servants are now performing profane experiments on the humans and researchers in the facility. The "humans" are now mindless abominations, and it's up to you to stop them and prevent the news from reaching the public.
While the story is linear, Atomic Hearts will have two endings.
What is Atomic Heart Gameplay Like?
The gameplay seems to be centered around exploration, killing robots, and solving mysteries. There are puzzles thrown in to change the pace, as well as plenty of boss fights to keep you testing your abilities. It is a good mix of action and exploration, that is what the released trailers imply. We will have to get our hands on the game to be sure.
Combat
Atomic Heart's combat looks like a good mix of Doom and Bioshock. On one hand, you have your standard weapons, on the other you get powers. We also see the Agent use heavy melee weapons and assault rifles with both hands, so you'll have to plan your loadout accordingly.
It remains to be seen if we can still use the powers with dual-handed weapons or not.
Weapons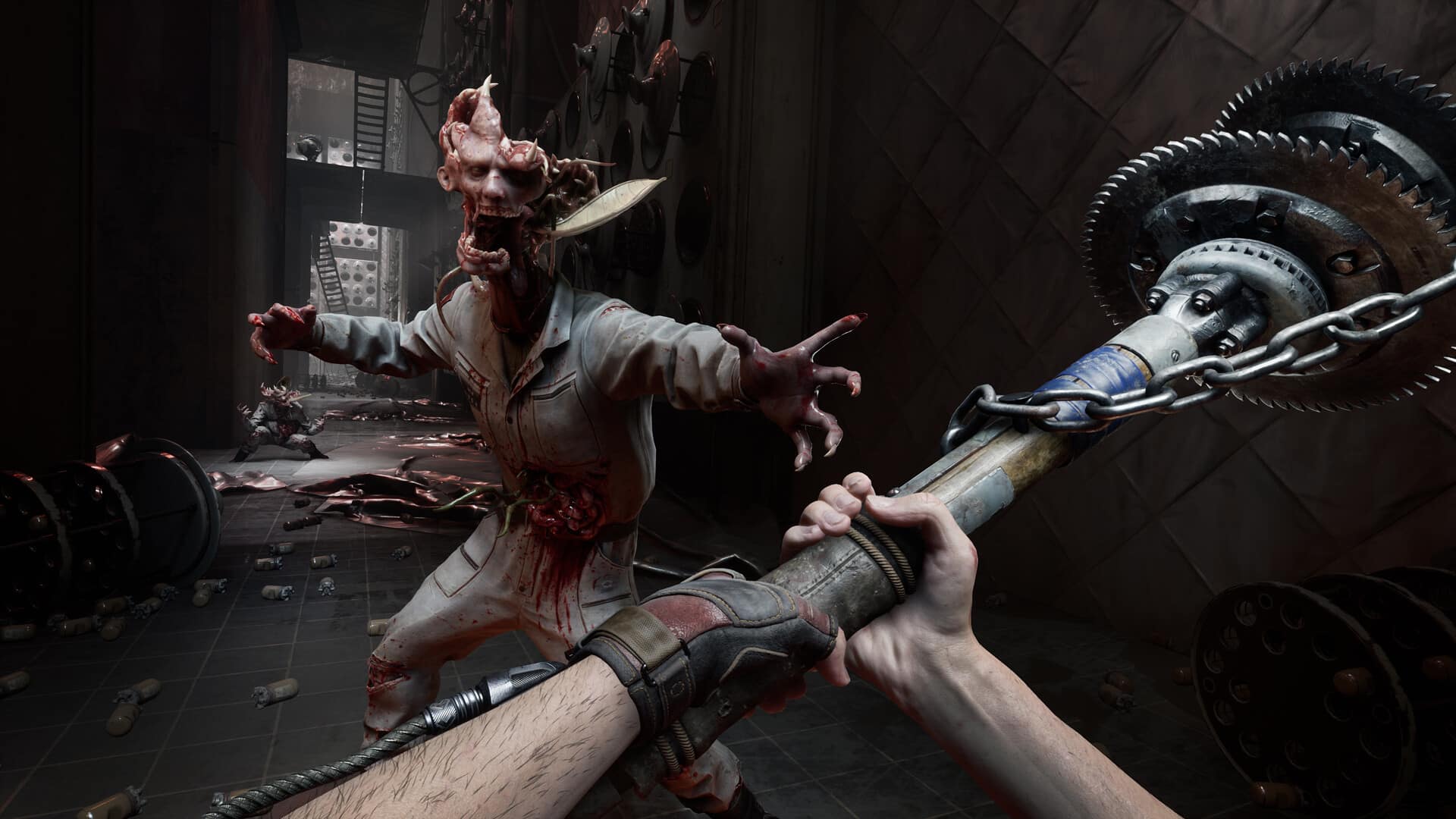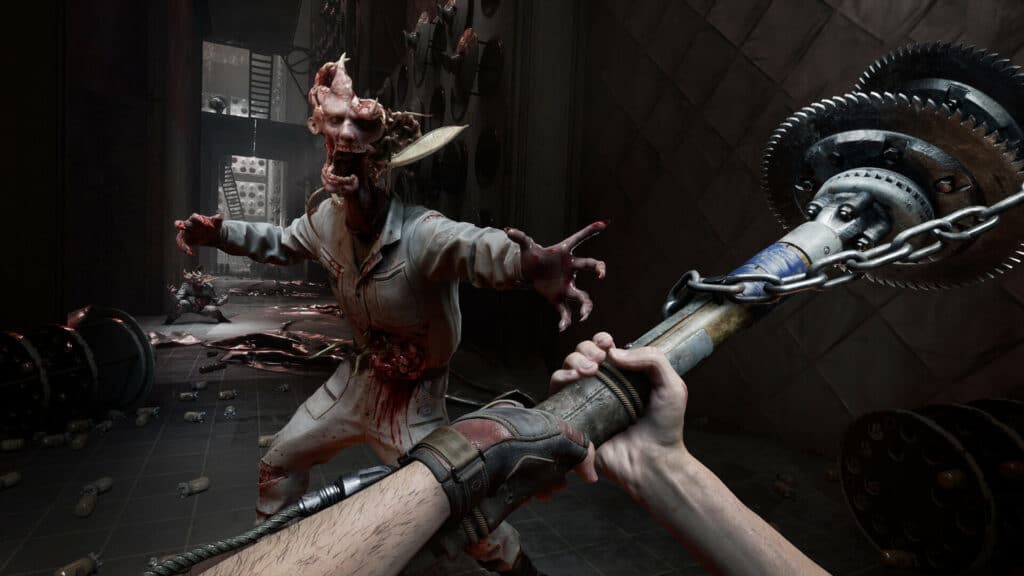 Speaking of weapons, the game has a wide variety of them. There are of course the standard ones but then you'll be able to modify and upgrade them to be more devastating. The game features a crafting system to generate your own makeshift weapons, as you are completely cut off from the outside world.
Upgrade weapons using different metal parts looted from defeated robots and other household appliances. We don't have more details but from the images the company released, it seems to offer a lot of options. From a railgun to an assault rifle, and from a shotgun to a "meat grinder", there are a lot of weapons.
Abilities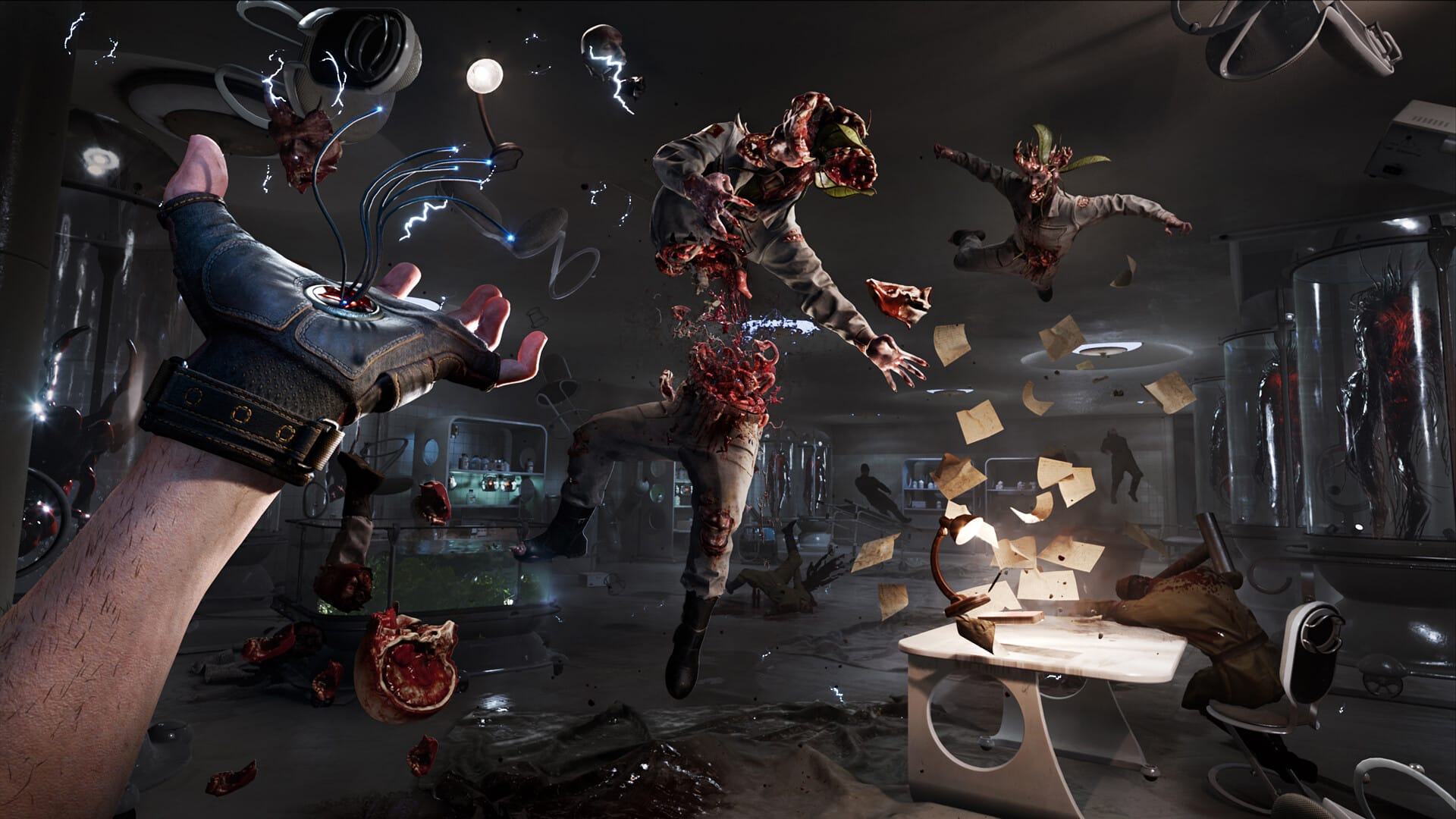 Sergey is fitted with a special polymer glove that gives him plenty of supernatural abilities. You can shoot ice to slow down enemies, eventually freezing them. Or shoot electricity from your hands. You can even manipulate gravity with that nifty glove, allowing you to do better crown control to grab things from a distance. We are sure these abilities will be vital in solving some of the environmental puzzles Atomic Heart throws at us.
Atomic Heart Enemies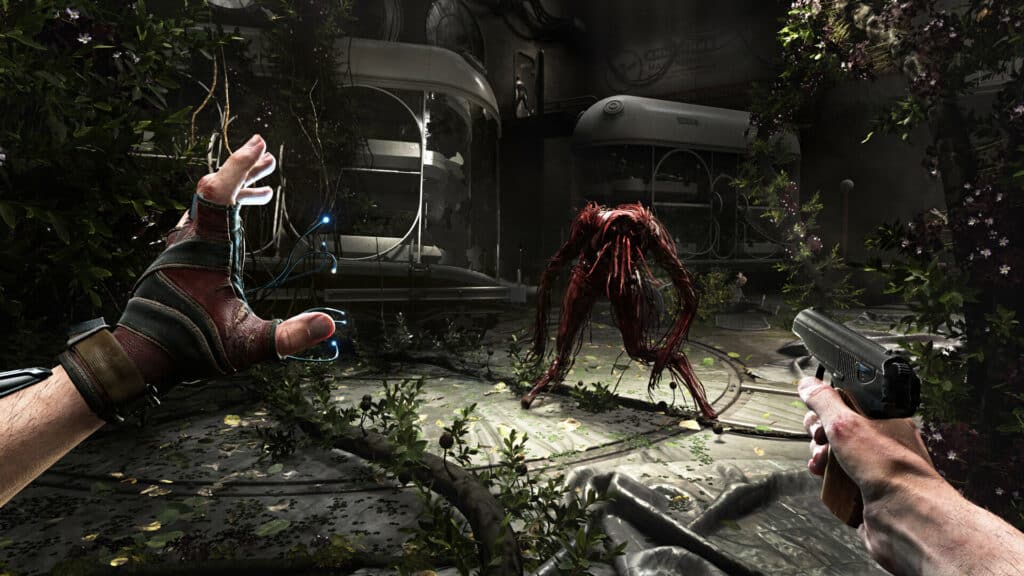 There are a ton of enemies in Atomic Hearts, most of them are of robotic nature, but some have supernatural powers as well. The enemies mostly have Russian names, as the game is set in Russia. There's the Belyash, the construction robot that's based on a chimpanzee. Then there is Rabotnik (not the Dr. Variety from Sonic), a small robot that's used for shepherding livestock.
The enemies are connected to each other and can call for backup as well. The hive-like structures placed around the world simply pump out enemies. The game features some epic boss fights as well, the above trailer shows off a multi-stage battle between the player and a bouncing ball robot that wants to kill you.
What's Atomic Heart Engine?
Atomic Heart is using Unreal Engine 4 and will have Nvidia RTX and DLSS technologies implemented.
The graphics look beautiful, and the game seems to be running great in the trailers (all games do in marketing content, though). The specs listed on the Steam page aren't final but will require at least an i5 4460 / AMD FX-6300 CPU, 6 GB of RAM, and an R7 260x or GTX 760 to run the game.
Is Atomic Heart on GamePass?
Yes, Atomic Heart is a day-one Xbox GamePass release. The game will be available on Xbox consoles and PC Game Pass on the day of release. We are sure it will have the preload available a few days before release as well.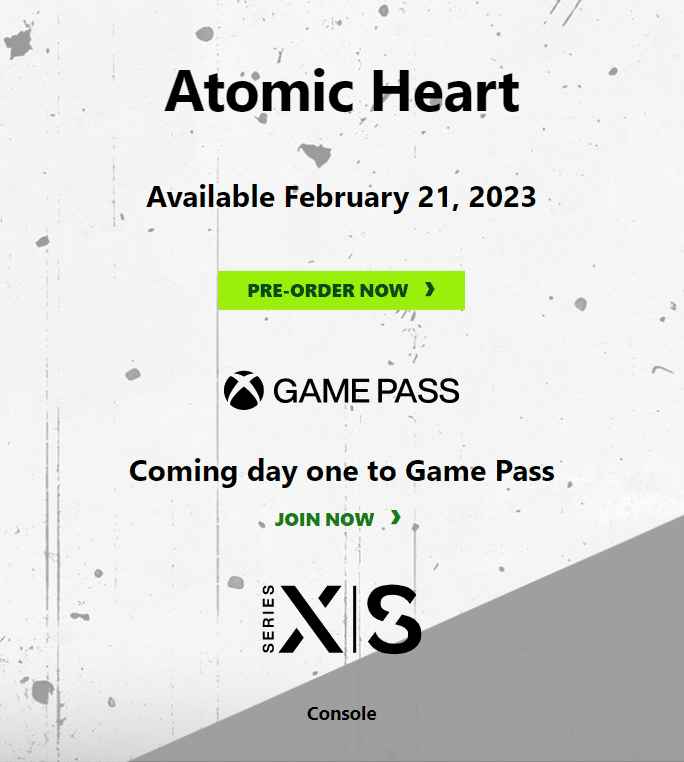 Can We Preorder Atomic Heart?
Atomic Heart is available for preorder right now on Xbox, PlayStation, and Steam. It is also available on the Focus Entertainment Store.
The game also has two preorder bonuses, Exclusive Swede and Electro Weapon Skins. Both of them seem to be cosmetic only and don't provide any gameplay benefit, except making your weapon look cool.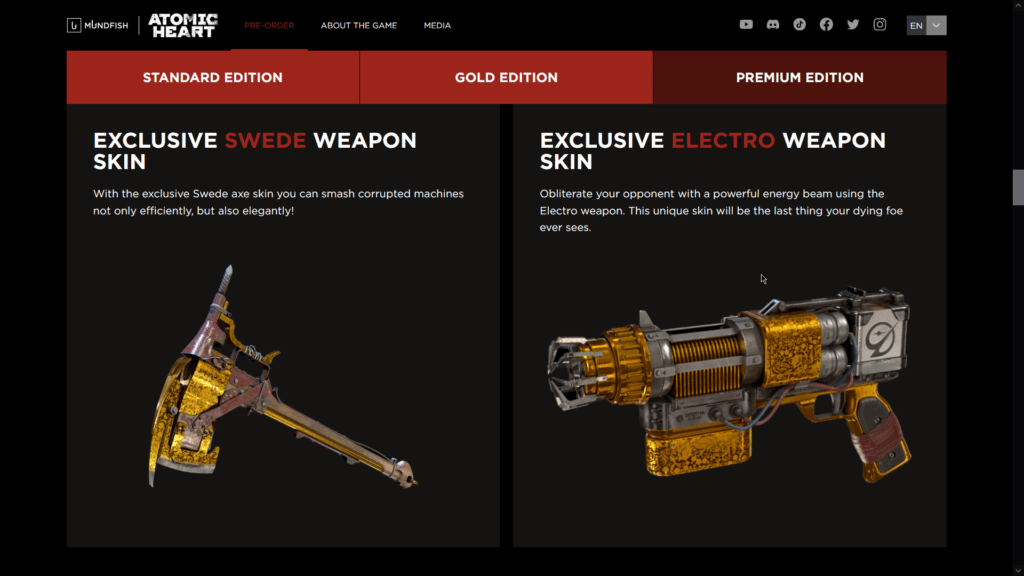 Is Atomic Hearts in VR?
Back when Atomic Hearts was teased in 2017, the game was listed for Steam VR and PSVR as well. Later on, the developers confirmed there are no such plans to release Atomic Heart on VR. In a chat with Wccftech, they stated, "Maybe as we get closer to the game release, some elements of the game will be available in VR, but now it's hard to say which and in what form."
Is Atomic Heart Multiplayer?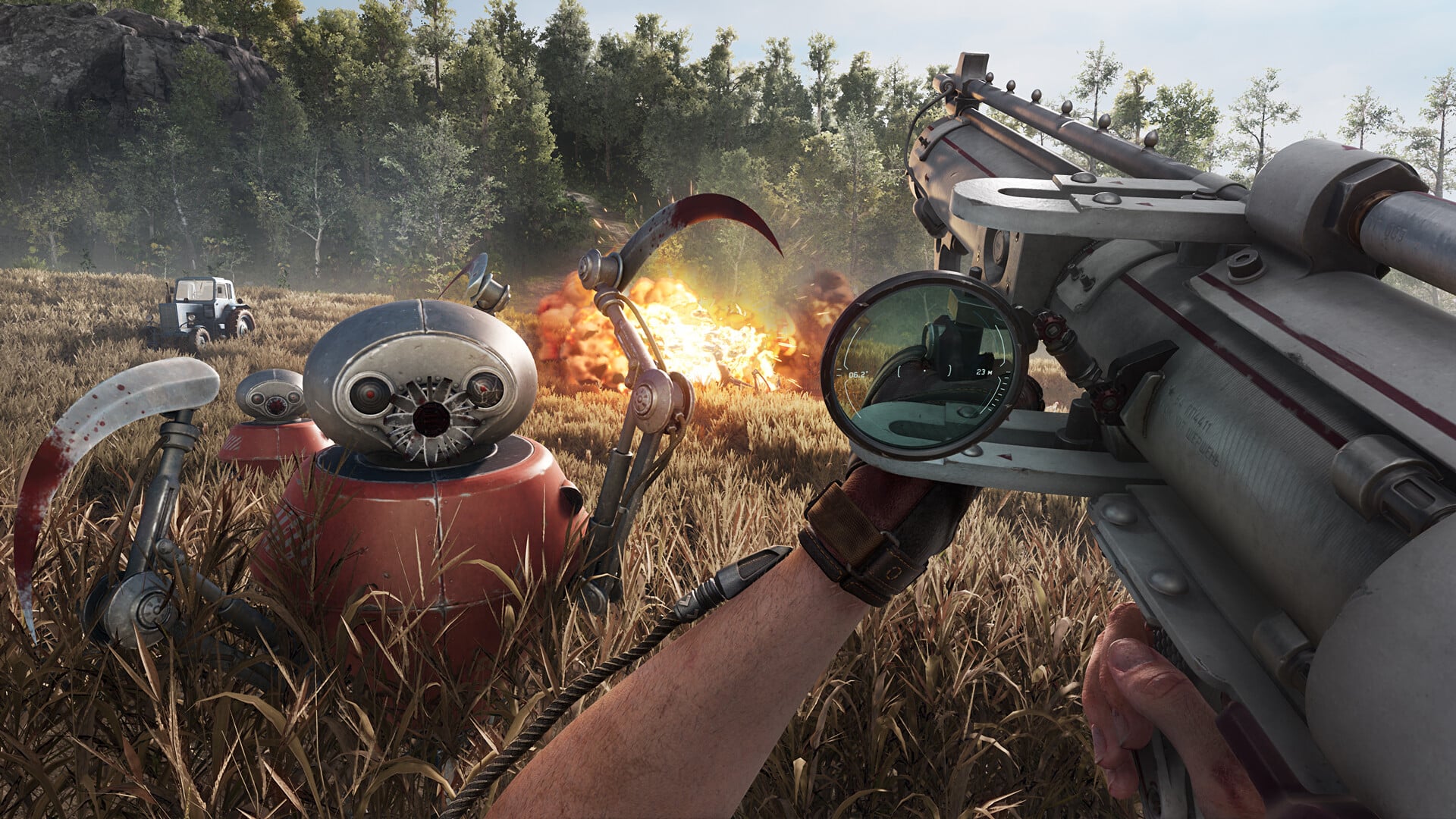 The base game is designed to be a single-player experience. The developers said they are "thinking about co-op mode" but nothing is final as of this moment. What are they cooking up? Only Mundfish knows at this point. So we are categorizing Atomic Heart as a single-player game.
On the multiplayer side, the developers have been a bit more open. They have solid plans for PVP multiplayer in the game. A secret railway will take you to a special region designated for player versus player battle. This much is stated on the official Atomic Heart website. How well the multiplayer component plays out and whether we can take our makeshift weapons on the railway will become clear once the Atomic Heart release date arrives.
Atomic Heart Release Date Editions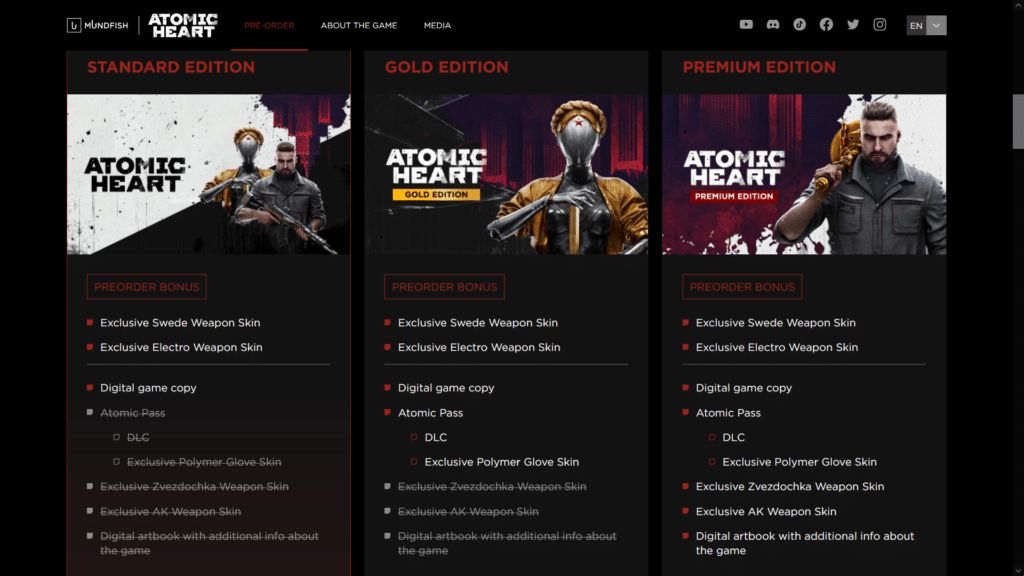 There are 3 main editions of Atomic Heart available for preorder. One additional Limited Edition is exclusive to the Focus Entertainment Store.
Standard Edition – The Standard edition comes with the base game as well as the two preorder bonus skins.
Gold Edition – The Gold edition of Atomic Heart has an exclusive Polymer Glove Skin and the Atomic Pass. The Atomic Pass gives players access to upcoming DLC expansions. The DLC will include new areas, weapons, bosses, and abilities.
Premium Edition – The Premium Edition comes with everything that the Gold Edition has, plus the exclusive Zvezdochka and AK Weapon Skins. This edition will also have a digital artbook that details the development and background info on Atomic Heart.
Limited Edition – The Limited Edition ships with the base game, a metal poster, a Steelbook, and a physical artbook made by the developers.