All-in-one CPU cooling solutions come in several radiator sizes, 120mm being the smallest one. They're efficient, quiet, and both the radiator and CPU block take up very little space. That's why our best 120mm AIO recommendations are ideal for SFF and home theater PCs. You wouldn't want to pair one with an i9-12900K, but such a small AIO can do wonders even for processors like the Ryzen 5 5600G.
Best 120mm AIO's
The variety in this segment isn't as large as for 240 or 360mm alternatives, but there's enough competition to cause confusion. Our guide showcases five prime models, each with unique features or a price to performance ratio that's hard to beat. Check them out and make a chill decision.
ARCTIC Liquid Freezer II 120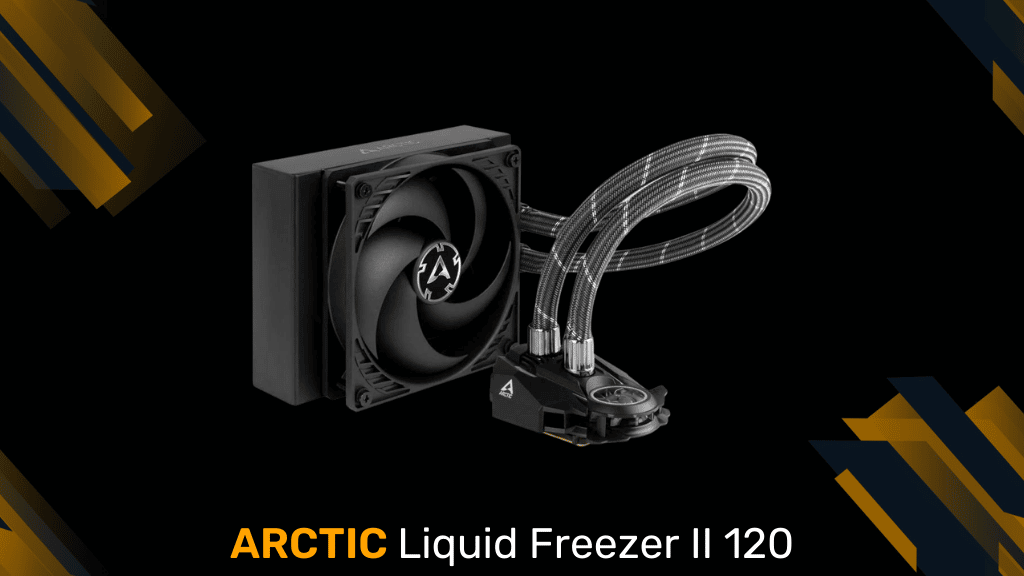 Fan RPM: 200-1,800| Fan CFM: 55.6| Tube length: 350mm | Has RGB: No
You've likely heard of Arctic's cheap yet well-performing air coolers. Their second attempt is our best 120mm AIO, providing jaw-dropping performance at a price point usually reserved for the budget end of the market. It has an innovative VRM cooling fan, no cable clutter, and is among the most straightforward solutions in terms of installation.
You know a product is good when aesthetics are our only nitpick. And that's definitely not on account of the head unit's functionality. This is the most innovative part of the AIO since it sports a separate small PWM fan and three ducts underneath it.
The fan blows air through them, reaching the VRM and either the RAM or GPU. The fan's airflow depends on the orientation you chose during installation. That might not be a big deal for ordinary cases and large motherboards, but it's sure to help cool things down inside a poorly aerated SFF case.
Unlike most, the Liquid Freezer II also sports a unique radiator. It's plain-looking on the outside but has a thicker fin density than average. Coupled with the right fan, this allows for more efficient heat expulsion. The single 120mm P12 fan delivers. Its CFM is a middling 55.6 at max RPM. Still, the high static pressure it produces ensures that hot air expulsion is uninterrupted even if the rest of the case isn't up to snuff.
Installing the AIO is a straightforward affair. You might struggle if you have a smaller Ryzen motherboard with tight spacing around the CPU area. Luckily, you now get an offset bracket that takes care of this. RAM clearance is excellent. Best of all, a finished install is among the tidiest there is since the fan's PWM cable is integrated into the tube sleeve.
The AIO's performance contrasts with its low asking price. It regularly scores at the top when set against the 120mm competition & can even give lesser 240mm rivals a run for their money. This isn't the most silent solution around, but it's certainly not louder than many other components when the fan and pump are at full speed.
Asus ROG RYUO 120
Fan RPM: 800-2,500| Fan CFM: 80.9| Tube length: 380mm | Has RGB: Yes
Most AIOs work well out of the box but lack hands-on adjustment options. What if you could tweak one's performance instantly depending on the situation, though? That's the idea behind ASUS's extravagant ROG RYUO 120, an AIO that's as flashy as it is efficient. It has a versatile OLED screen backed by a plethora of settings in Armoury Crate. Moreover, one of its fan profiles is sure to fit any occasion.
Powered down, the ROG RYUO isn't much to behold. Its radiator is standard in terms of thickness and fin density, and there's nothing visually remarkable about the accompanying fan. Its stats are extraordinary, though. The fan can spin as fast as 2,500 RPM, expelling a whopping 80 cubic feet per minute of air. It does so at a static pressure of 5mmH2O. For context, many fans have a static pressure of around 1 mmH2O or less, and the Liquid Freezer II's is 2.2.
The head unit is round and busy, with a USB port and wires for software, power, & fan control close to the swivel fittings. You get pre-applied thermal paste protected by a plastic cap to make installation easier. The pump's top is the AIO's most interesting bit. It houses an OLED screen you can instruct to show everything from the CPU temperature to a slideshow of your favorite Minecraft blocks.
ASUS made an effort to integrate the RYUO into Armoury Crate flawlessly. Its section offers screen as well as RGB customization. More importantly, that's where you also get to choose between its fan modes. They range from prioritizing silence over cooling efficiency to the opposite and are easy to set up.
As you'd expect, the results vary based on the selected preset. The RYUO is among the most efficient AIOs on the list, rivaling and sometimes even surpassing Arctic's model. That pushes the noise it creates into the mid to high 40dB range, so wearing a quality head set is advisable. Conversely, you can get the RYUO to run quietly at the expense of a few degrees.
be quiet! Pure Loop 120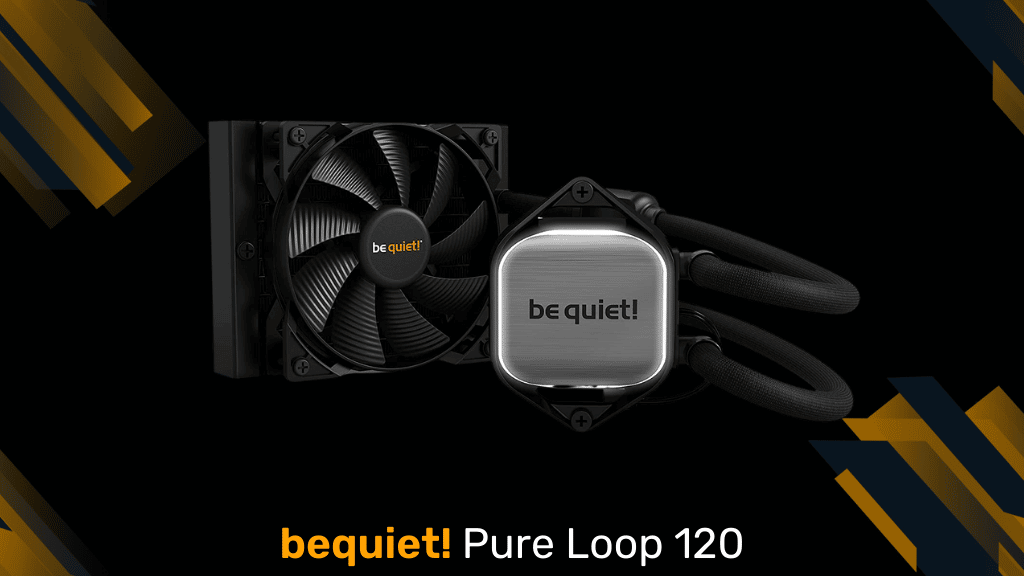 Fan RPM: 300-1,500| Fan CFM: 51.4| Tube length: 400mm | Has RGB: No, white LEDs
You wouldn't want a noisy cooler to wake the rest of your household during a late-night Far Cry 6 session, would you? Be quiet! has got you covered with its second attempt at water cooling and the best 120mm AIO in terms of noise. That's not the Pure Loop's only claim to fame, though. It's designed to allow for refills, has a decoupled pump, and looks great to boot.
The Pure Loop is one of the most tasteful coolers on our list. Its radiator and fan are black as befits the company, but the silver pump head and its rounded top contrast with them well. There's also a ring of white LEDs that you might be disappointed with if you were looking for full-blown RGB. Owners of white cases will adore it, though.
If not for a small cap on one end, the radiator would be as dull as the RYUO's. It allows you to top the coolant up from a generously-sized bottle found in the accessories. You won't need to do so for years, but it's the thought and choice that counts. This is another AIO that arrives with an exceptional fan. You've likely heard of Pure Wings 2 as they grace some of be quiet!'s most successful air coolers. The fan runs silently due to wave-shaped fins that agitate the air more and keep the max RPM a low 1,500.
Unlike other AIOs, the Pure Loop has a separate pump near one end of the 400mm-long tubes. That leads to a smaller head unit design and better compatibility with cramped motherboards. You can also unplug the tubes and use them in a larger custom loop. Finally, the tubes' length and the swivel fittings they end with ensure minimum tension during operation.
The cooler's maker lives up to its name as the Pure Loop is more silent than the competition. It's not that remarkable in idle mode, but the noise level barely increases as the CPU heats up. Thermal efficiency isn't as pronounced as with our first two picks, but it's not sub-standard either.
Cooler Master MasterLiquid ML120R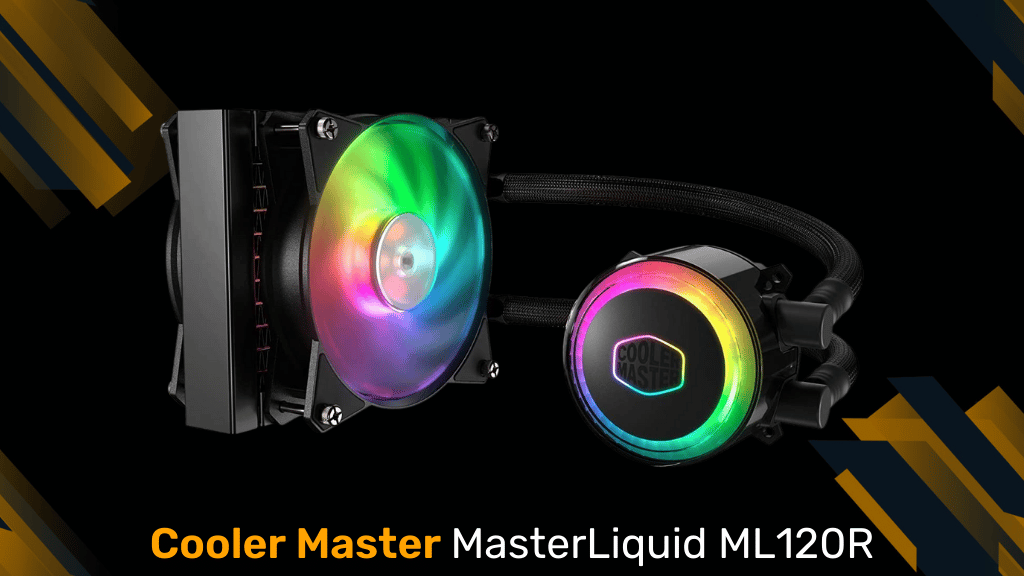 Fan RPM: 650-2,000| Fan CFM: 66.7 | Tube length: Not specified | Has RGB: Yes
RGB has no negative impact on performance
Comes with useful controller
Looks great
Cable management can be problematic
Most coolers in the guide are tame as far as lighting goes. The MasterLiquid ML120R remedies this by introducing RGB galore on its head unit and two capable 120mm fans. It's easy to set up, arrives with a versatile lighting controller, and performs well due to the extra fan. This is the best 120mm AIO if you're looking to introduce a small case to a lot of bling.
Cooler Master wagered everything on the MasterLiquid ML120R's active look since it's among the least inspired AIOs when not in use. The pump head is cylindrical, while there's nothing special about the radiator other than a slight increase in thickness. The tubes are braided and long enough for you to house the cooler in a tall case.
It's no secret that RGB fans usually don't live up to their airflow-focused counterparts. Cooler Master took no chances and outfitted the MasterLiquid ML120R with two in a push-pull configuration. Their RPM range and CFM suggest competence that testing confirms. Double the cooling power means this model does well against single-fan rivals, albeit at slightly higher noise levels. The pump's design is another contributing factor. It's split into two chambers, which prevents the colder liquid entering the pump from contacting the part that's already passed over the cold plate.
Excellent RGB implementation is the MasterLiquid ML120R's main selling point. You'll find addressable LEDs on both fans and in a circle surrounding the Cooler Master logo on the pump. They respond to RGB management software that ships with your motherboard. Additionally, you get an RGB controller that fastens magnetically to the inside of any case. It has enough ARGB and PWM headers to accommodate more than two fans, allowing you to control an entire cast of supporting lights for a dazzling display.
Installing the AIO is simple, other than potential snags you could run into with cable management. There are lots of cables to connect, even if the RGB controller serves as a hub for most of them. It's hard to hide the jumble that will inevitably result during setup, so neat freaks might not be as impressed with this model as we are.
NZXT Kraken M22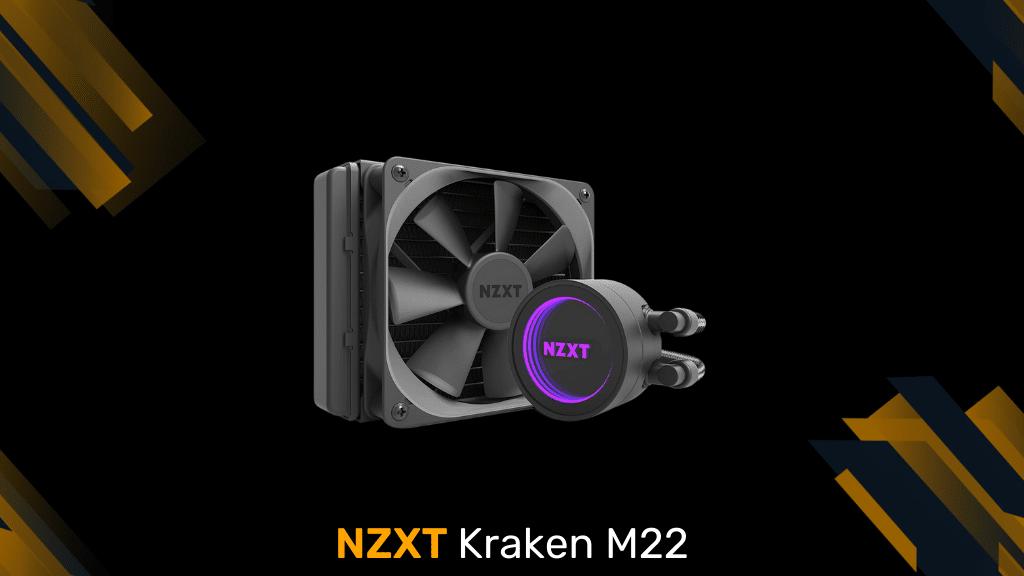 Fan RPM: 500-2,000| Fan CFM: 77.1| Tube length: 400mm | Has RGB: Yes
The Liquid Freezer II has already proven that a cheap water cooler can do wonders. It's joined by one of the smallest members of the venerable Kraken line, the M22. It lacks our winner's innovations, making up for them with NZXT's signature infinity mirror and solid all-around performance. Need an AIO to rival mid-range air coolers in both cooling and price? Then this is it.
The CPU block is the M22's head-turner regardless of your PC's power status. It's a tasteful cylinder topped with a mirror finish that turns into colorful, infinite concentric rings around the NZXT logo in the dark. The block is also home to threads that make attaching and swapping the mounting hardware between Intel and AMD a cinch. Cable and swivel fitting placement is no less important. They're set on adjacent sides to prevent tangling.
This is another AIO with peculiar pump placement. Its pump is located in the middle of the radiator! You'd think that placing the pump there would stifle the already small aluminum array. However, the pump aligns with the fan's center, so its positioning barely makes an impact. The fan in question is a 120mm Aer P with a wide RPM range and a solid throughput of 77CFM.
Your purchase comes with access to NZXT's CAM. It's part control center and part tweaking tool you'll mostly use to set up the lighting. Having the gauges and dials display various types of system activity is handy. On the other hand, you don't need CAM to take full advantage of the cooler.
While not the absolute best 120mm AIO, the M22 isn't far off the mark either. It can keep pace with similarly-priced air coolers like the Dark Rock 4 while taking up only a fraction of the surrounding CPU space. Acoustics are almost on par with the Pure Loop and don't exceed the mid-30s dB range.