Playing games at 60Hz is still enjoyable, but you won't know what you're missing out on until you crank the resolution up even further! Good news is, you don't need a high-powered desktop PC to do this anymore. Want to experience the difference without tying yourself down? Then invest in the best 144Hz gaming laptop!
A gradual shift towards ever greater resolutions & refresh rates leaves 144Hz laptops in a great spot. On the one hand, they offer a clear advantage over 60Hz models of yore. On the other hand, the advent of 4K and 300+Hz displays caused 144Hz model prices to become much more attractive. You can now get such a laptop for less than $1,000! Should you? Read on & find out.
Best 144Hz Gaming Laptop Quick Overview
Lenovo Legion 5 Pro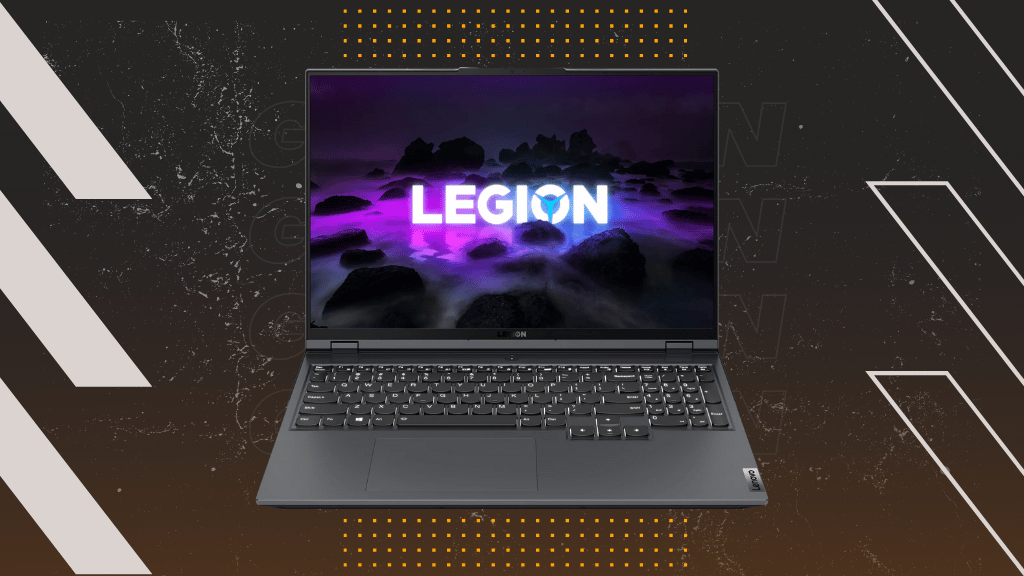 CPU: AMD Ryzen 7 5800H | GPU: NVidia GeForce RTX 3070 | RAM: 16GB DDR4, 3200MHz | Screen: 16", 1440p, 165Hz | Storage: 1TB SSD | Battery life: 5:30h
Sharp & bright screen
Excellent build quality & port selection
Futureproof and upgradable
Keyboard and Trackpad aren't the best
Legion Laptops are a core pillar of Lenovo's lineup that caters to gamers who don't want to settle for less just because of mobility. The latest Legion 5 Pro comes with a fantastic 16:10 screen & plenty of high-end hardware to use that screen to its fullest. The design is sleek, the battery is decent for a gaming laptop, and even the webcam isn't as terrible as on most models.
We're in love with the Legion 5 Pro's unobtrusive aesthetics. The high-quality aluminum chassis melds perfectly with the plastic top, and the screen's almost total lack of bezels is awe-inspiring. The lid is only subtly accented, the large Y logo in the middle being the only exception if on. Everything about the construction feels sturdy, the top is easy to lift, and there's no flex.
The screen is the Legion 5 Pro's defining feature. It adopts an unusual 16:10 format and has a diagonal of 16 inches. It exceeds 144Hz by 25 frames, offering an even smoother experience in games that can take advantage of it. Viewing angles are excellent, and a peak brightness of 500 nits means daylight use won't be a problem. We've seen gaming laptops with more vibrant displays, so 100% sRGB coverage is standard rather than impressive.
The laptop is well equipped port-wise. You wouldn't think it at first glance since the sides are home to only one USB-A & USB-C plug. That's because the rest, including HDMI 2.1 & USB-C with charging, are in the back. Sadly, you don't get Thunderbolt.
We're always glad not to have to hunt for the correct function key combination you're forced to endure on smaller keyboards. Fortunately, all keys are present and accounted for on this one, albeit with a size reduction for the Numpad. Typing might prove divisive since the keys have decent travel but don't feel as firm as on some other models. You'll probably use a mouse for gaming and should stick to it for other tasks since the Trackpad's placement is awkward.
A Cut Above
Current mobile hardware turns smooth gameplay on a panel like this from a pipe dream to reality. The Ryzen 7 5800H & RTX 3070 combo maintains 60+fps on the higher resolution in all but the most unoptimized titles. Nothing switching from Ultra to High or taking advantage of DLSS couldn't address, though.
The Vantage control panel makes it easy to customize the laptop's power output, noise levels, and heat generation. Depending on the situation, you may choose between Quiet, Balanced, and Performance presets. Using the Legion 5 Pro lightly will net you about five hours of runtime, a little more if you use Optimus to switch to the 5800H's integrated graphics when not gaming.
Depending on your favorite presets, the temperatures go from tolerable to cool. Conversely, the fan noise climbs into the 50s if you're hell-bent on pushing for every frame. There are better ways to do this, like replacing the two RAM sticks with more capable ones. The SSD is also replaceable, and you can add a second one.
Acer Predator Helios 300
Acer Predator Helios 300
CPU: Intel Core i7-12700H | GPU: NVidia GeForce RTX 3060 | RAM: 16GB DDR4, 3200MHz | Screen: 15.6", 1080p, 144Hz | Storage: 512GB SSD | Battery life: 7h
Crisp, vibrant display
Good battery life
Decent specs
Loud fans
Do you want a screen almost as beautiful as the Legions at more than a third off? You'll have to step down to 1080p, but the trade is worth it if you go for Acer's newest Helios 300 model. It's rugged, has a decent port & component selection, and won't break the bank. There are better 144Hz laptops if you only consider the spec sheet. However, few come close to the predator's excellent display.
The Helios 300 shares many of its design choices with the Nitro 5 we discuss below. It's a stout laptop with thick bezels and even thicker hinges that project a sense of security and quality. The materials are black & grainy to keep fingerprints at bay. The lid features the softly-glowing Predator logo flanked by two bars.
There's barely a taper to the base, so all of the Helios 300's ports fit on the sides. The left is more about connectivity, featuring two USB 3.2 Type-A ports, Ethernet, the audio jack, and a Kensington lock. The right focuses on multimedia with HDMI, Mini DisplayPort, another USB 3.2 Type-A connection, and Thunderbolt 4.
On the Prowl
The screen is as close as you'll get to the Legion experience on a smaller budget. It's an IPS display with comprehensive angle coverage, uniform lighting, and a respectable max brightness of 400 nits. The contrast is better than on standalone monitors at around 1,200:1, and it covers the entire sRGB color gamut.
The main keyboard area is spacious and feels comfortable. A Numpad is present, while the F-row and the six keys usually found above the arrows are tiny. Acer employs four-zone illumination, which you can easily configure through the PredatorSense software. We'd describe the keys as soft and quiet, with a feel that works better for typing than hard-core strafing.
There seems to be a trend of tradeoffs not even the best 144Hz gaming laptop is immune to. Specifically, the Helios 300 has a great screen yet lags behind MSI's GL66 in the hardware department. The downgrade to an i7-11800H & RTX 3060 translates to a 10-15% performance loss. Still, there's no need to fear that the Helios will become irrelevant for 1080p gaming any time soon. Especially if low-requirement eSports titles like Fortnite are your primary focus.
Sticking to such games may be a good idea from an acoustic aspect as well. Making the Helios sweat also causes its fans to howl, which people in the room with you will not appreciate. At least they keep temperatures in check competently.
To end on a high note, let's also discuss the Helios' battery. It's a good performer for a gaming laptop, clocking in at seven hours of light & mixed media usage. Going on a rampage in Cyberpunk 2077's Night City will drain it much quicker, though.
MSI Pulse GL66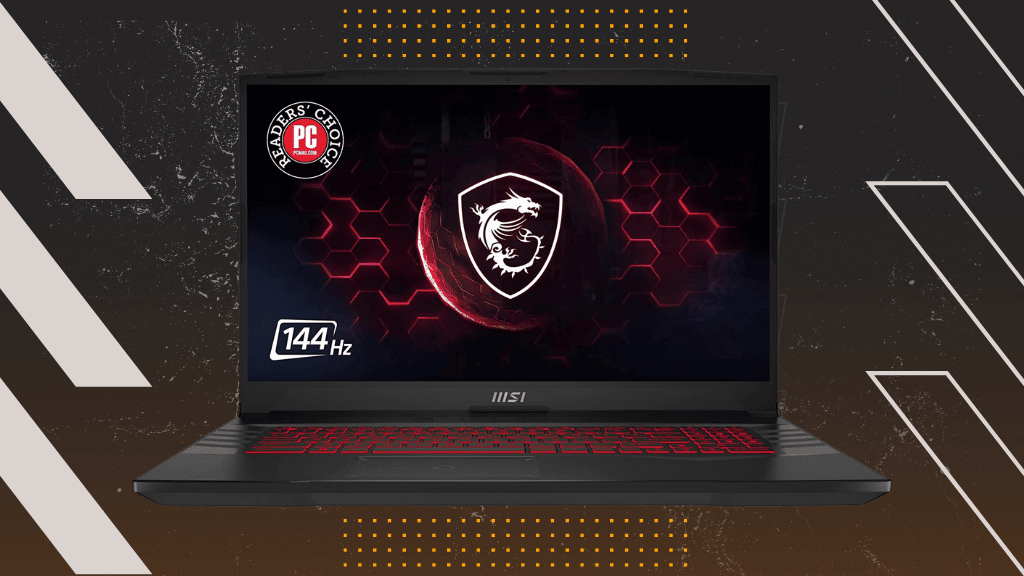 CPU: Intel Core i7-12700H | GPU: NVidia GeForce RTX 3070 | RAM: 16GB DDR4, 3200MHz | Screen: 15.6", 1080p, 144Hz | Storage: 512GB SSD | Battery life: 3h
Excellent performance
Responsive full-sized keyboard
Fair price
Dull display & weak battery
Supreme performance or jaw-dropping visuals? If you can only have one of those and care for smooth competitive gaming the most, the Pulse GL66 is the laptop to get. It's equipped with a powerful GPU, an Alder Lake processor, and other solid hardware you may wish to upgrade in the future. Add to that a reasonable price, and you've got a 144Hz laptop many will jump at the chance to own.
MSI didn't bother hiding the fact that the GL66 is a true gaming laptop. It's chunky, has indents on the lid, and abounds with decorations like parallel lines and crosshairs. It's the kind of laptop you'll want to keep on a desk, doubly so since it weighs more than 4.5 pounds and battery life is mediocre even for its class.
The port selection covers everything but Thunderbolt since you get USB-C, two USB 3.2 Gen 1, and one USB 2.0 port. You may connect the laptop to an external screen via HDMI 2.0. That's something you might consider doing if you plan on retouching photos or are a stickler for colors. While responsive and reasonably bright, the IPS panel has a poor color gamut & viewing angles not intended for sharing.
On a more positive note, the keyboard and Trackpad are both excellent. There's only one RGB zone, but the keyboard makes up for that by including a small Numpad. The switches are clickier than your standard scissor variant. They feel snappy enough to execute precise commands in games like Overwatch. The Trackpad is shallow and has button action built into its edges, making for accurate and responsive navigation.
Yin & Yang
Specs are the best thing about the GL66. Its combo of a mobile RTX 3070 and the great new i7-12700H delivers more than enough raw power to max out any AAA title and get framerates past the 60s. Conversely, optimized titles will have no trouble maxing out the screen's 144Hz refresh rate. The 512GB SSD is speedy, but you might want to upgrade its capacity down the line.
The GL66 handles thermals reasonably well. Its Trackpad and much of the keyboard don't get uncomfortably hot. You'll expectedly notice some heat around the vent area. That being said, stressing the 144Hz laptop can cause the fans inside to ramp up to loud levels. It won't be a problem if you have a good headset but may become one if you rely on the built-in speakers.
ASUS TUF F15
CPU: Intel Core i7-11800H | GPU: NVidia GeForce RTX 3060 | RAM: 16GB DDR4, 3200MHz | Screen: 15.6", 1080p, 144Hz | Storage: 1TB SSD | Battery life: 8h
Good mix of performance and value
Useful profile presets
Outstanding battery life for a gaming laptop
Dim and dull display
TUF laptops straddle the line between performance and affordability with mixed results. Some earlier models didn't have the oomph for the most demanding games, but that changes with the introduction of 11th-gen mobile CPUs and above. The model we're recommending has a good keyboard, excellent specs, & even better battery life. Only the screen holds it back from attaining a higher place on the list.
TUF has matured from its early days of edgy military-themed silliness. The core premise of heavy-duty hardware is still there, but its toned-down presentation almost makes the F15 fit for an office. An attractive brushed texture and huge TUF lettering on the lid solidify its gaming looks, though. The laptop is mainly made from plastic but doesn't flex and is easy to open onehanded.
The right is home to a lone USB 3.2 port, with two more on the left. An HDMI connection, Ethernet, the audio jack, and a Thunderbolt 4 compatible USB-C make that side quite busy. This is another model with a thick bottom bezel. At least there's an excuse for the top one's thickness since the TUF now includes a webcam. It's as crappy as others but an understandable addition.
ASUS has also finally addressed the monochrome keyboard. It still doesn't have RGB lighting, but at least you aren't stuck with yellow anymore. Typing on the keyboard is a tactile experience, and it shows that ASUS had a mixed usage for it in mind. You should be as comfortable with essay typing as with no-scoping the opposition in Call of Duty.
The F15's core hardware got upgraded to an i7-11800H and the RTX 3060. A version with the newer 12700H is available as well but hard to find at the time of writing. Not that the 10% performance uplift will be a deciding factor for your day-to-day 1080p gaming needs. The 11th-gen eight-core chip is also a capable multitasker.
Great Sound, Mediocre Display
If there's anything keeping the F15 from true 144Hz gaming laptop greatness, it's the screen. ASUS cheaped out on the panel, going with an uninspired display that's dark and dull. It peaks below 300 nits, so drawing the curtains is recommended. Its colors cover just 60% of the sRGB gamut and are poorly calibrated out of the box. You can address calibration, but content won't shine in its full glory no matter what you do. Luckily, an external monitor is always an option.
On to other redeeming qualities, like the excellent sound and battery. Excellent might be pushing a bit in case of the audio, but it's punchy and decently loud for coming out of such small speakers. Kudos to ASUS for equipping the F15 with a battery capable of lasting an entire workday or a Netflix binge session.
The F15 comes with three profiles. Performance mode is supposed to offer the most balance. We found that switching to Turbo gives better results with minimal impact on already tolerable temperatures. Alternatively, you can switch to Quiet mode when not gaming to drop CPU & GPU clocks, temperatures, and fan noise considerably.
Acer Nitro 5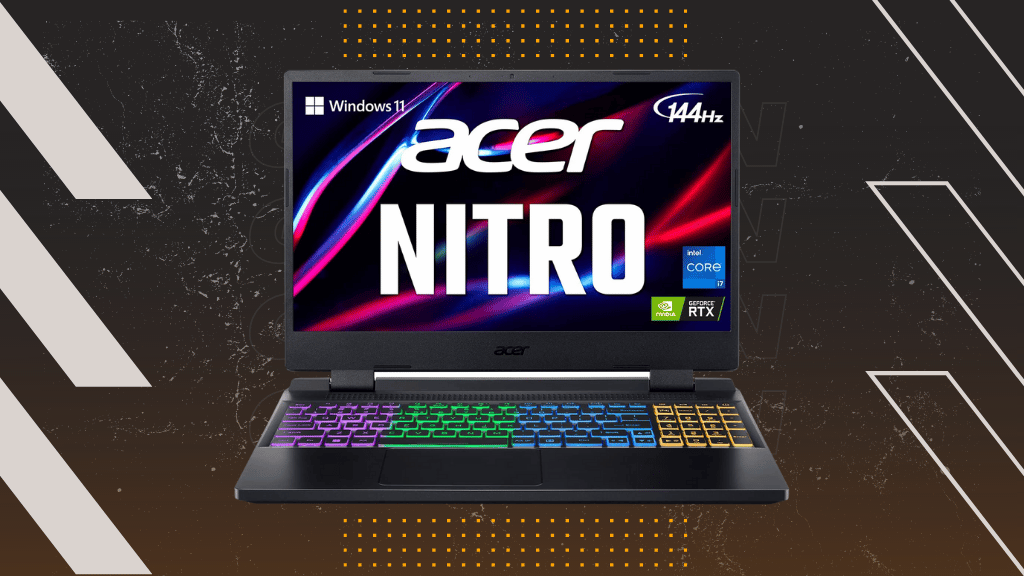 CPU: Intel Core i7-12700H | GPU: NVidia GeForce RTX 3060 | RAM: 16GB DDR4, 3200MHz | Screen: 15.6", 1080p, 144Hz | Storage: 512GB SSD | Battery life: 2:30h
The Nitro series famously consists of accessible laptops that pack a punch. Its latest Nitro 5 arrivals reinforce this point with a robust selection of top-notch components that will put every one of the screen's 144Hz to good use. The keyboard is large & comfy, the sound is great, and futureproofing won't be a problem.
The Nitro 5's aesthetics are classic and dependable. It's a mix of metal and matte plastic with a few flourishes in chassis design made up of a series of decorative lines on the lid. There's more flex to handling it than the Legion 5 Pro, but two thick hinges make this a non-issue. We'd like to have seen thinner bezels, especially the bottom one.
A contemporary port selection is among this laptop's greatest assets. The sides are thick enough to hold several connections yet aren't overloaded since many are found in the back too. Two USB 3.2 Gen 2 ports are on the left, joined by a Gen 1 model on the left. That's also where the Ethernet and combo audio jacks reside. The back is home to HDMI 2.1 and USB-C that moonlights as a charging port, Thunderbolt 4, and DisplayPort.
The keyboard is slightly raised and takes up the Nitro 5's entire width. The Numpad didn't receive a downgrade, and the Enter & Backspace keys are full-sized too. A combination of bold lettering & strong backlighting makes the keyboard easily legible. You may keep it a single color or designate different ones for its four zones. The keys feel responsive and bottom out with a slight click. The Trackpad is serviceable.
Users who don't want to be bogged down by headphones get to enjoy one of the better audio implementations in this price range. The top-firing speakers produce crisp mids & highs, with bass being audible but not too pronounced.
Another Display Dud
The screen is our first point of contention with the Nitro 5. On paper, it has all the specs worthy of a place on the best 144Hz gaming laptop list – decent brightness, good viewing angles, and no burn-in. That may be enough for users who value refresh rate over presentation.
However, you'll be underwhelmed by its meager 66% sRGB coverage if you like your games to be colorful. We would not recommend this 144Hz laptop for any type of color-critical work either, so have a monitor at the ready.
Under the hood, we see a configuration almost identical to the GL66. The RTX 3060 isn't as good a GPU, but it won't need to deal with 1440p like in the Legion's case. Expect snappy response times, smooth framerates, and the ability to have lots of Chrome tabs open without giving your laptop a heart attack.
The Nitro's companion software is ideal for newbies and users who enjoy clutter-free access to crucial settings. It lets you change keyboard colors, set up fan profiles, and monitor the system without a fuss. You'll occasionally hear the fans roar when you're playing a demanding game, but they and the temps the Nitro 5 generates are tame otherwise.
Finally, there's the issue of the battery. This is not a 144Hz laptop you'll want to leave unplugged for long periods since just using it to watch movies drains the battery in less than three hours.
GIGABYTE G5 GD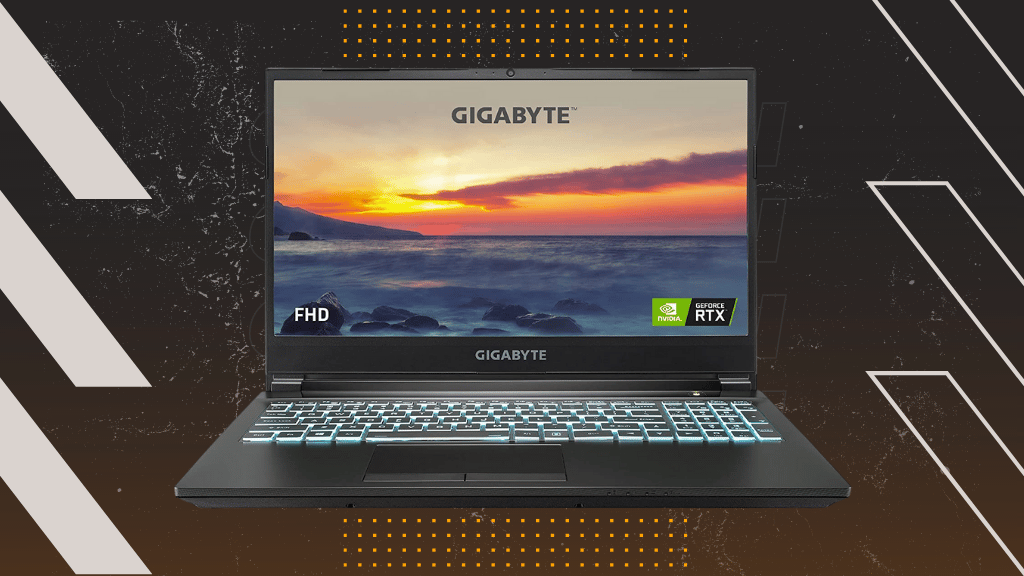 CPU: Intel Core i5-11400H | GPU: NVidia GeForce RTX 3050 | RAM: 16GB DDR4, 3200MHz | Screen: 15.6", 1080p, 144Hz | Storage: 512GB SSD | Battery life: 3:30h
Sometimes, the best gaming laptop is one you can get for a decent price over everything else. That's the case with the G5 GD, Gigabyte's entry-level model you can pick up for less than $900. You would be correct in assuming that it's another laptop with a less than stellar screen. However, we're more forgiving this time, given its other worthwhile qualities.
Nothing about the G5 GD hints at it being a gaming laptop. Some might call its dark gray, almost featureless chassis uninspired. We lean more towards unobtrusive, as you could just as easily play games as give a presentation from it. Look elsewhere if you're into the usual gaming bling; we're glad that's frill Gigabyte got rid of instead of lowering the overall quality.
Speaking of, the build feels solid even though the laptop is made from plastic. We're also fans of the balanced port selection since no side feels underutilized. The right one is home to an SD card reader, USB-C, and USB-A ports. Two more USB ports of the 3.2 and 2.0 variety are on the left, along with separate headphone & microphone jacks. The back houses an Ethernet Jack and Mini DisplayPort.
The keyboard feels cheaply made yet satisfactory to use. You should have no trouble transitioning to it from other chicklet-style models. Backlighting comes in one color and several brightness levels. The Trackpad is placed correctly and has separate clickable left & right buttons. Some users like this layout more than integrated buttons, but we'd go with a mouse either way.
It looks like ASUS and Gigabyte are sourcing screens for their budget offerings from the same manufacturer as their specs are similar. The contrast is alright, but the brightness and color fidelity leave much to be desired. In the G5 GD's case, the response times are slightly worse as well, so keep that in mind if you're getting the laptop for something like CS:GO.
144Hz Gaming for All
Playing Counter Strike at 144Hz happens to be one of this laptop's ideal use cases. The six-core i5-11400H and RTX 3050 are a step down from the hardware we've encountered so far yet still capable enough for smooth 1080p gaming. You'll want to lower some of the highest details to maintain 60fps in AAA games, though.
The thermals are acceptable, with most games not pushing the GPU & CPU past the low to mid-70s. The Gigabyte Control Center has a custom fan curve option. It lets you precisely tailor fans to either be quiet or allow you to push other hardware as far as it will go.
Make sure to upgrade the BIOS to the latest version if you decide to go with this laptop. Several earlier versions introduced bugs that led to heavy throttling. Fortunately, Gigabyte fixed the issue in the meantime.