Skill and luck can get you far in eSports, but you can only get as good as your hardware allows. For example, a high refresh rate monitor can give you the fraction-of-a-second advantage you need to spot and take care of an opponent in time. 144Hz displays used to be the norm; now, you'll want the best 240Hz monitor to keep up with the big boys.
You used to need a TN panel to even get close to such refresh rates. While they're still in use, nowadays you can get relatively affordable IPS screens that are equally responsive yet don't trade speed for color fidelity. Even 1440p monitors have ascended into the refresh rate heavens, allowing gamers with the best setups to experience an unprecedented visual combo of speed and clarity.
Our Best 240Hz Monitor Picks at a Glance
GIGABYTE M27Q X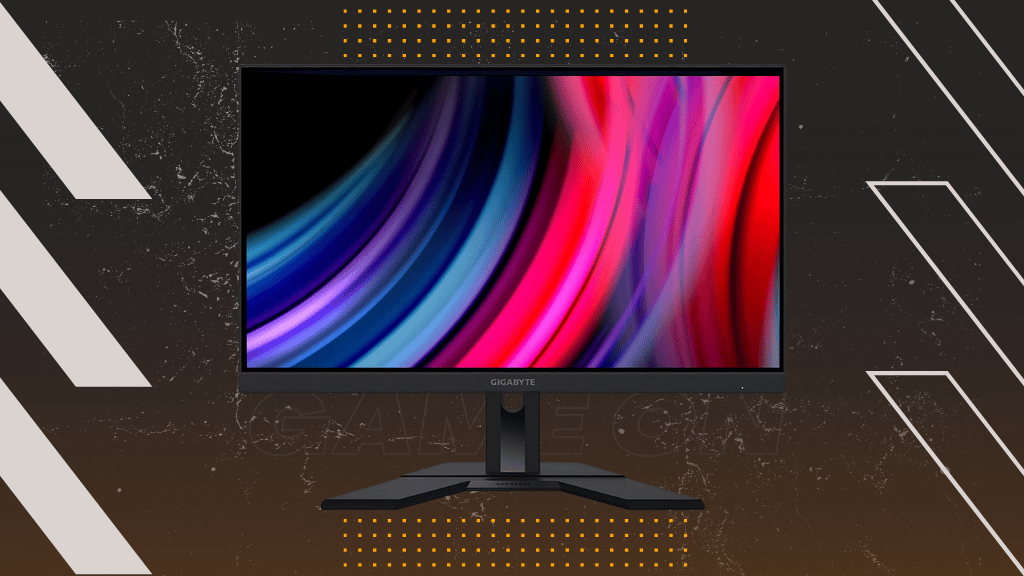 Diagonal size: 27" | Panel type: IPS | Contrast: 1000:1 | Response Time: 1ms | Max Brightness: 350 Nits| HDR: DisplayHDR 400 | Color coverage: 140% sRGB, 97% Adobe RGB, 92% DCI-P3
The age of 240Hz 1440p gaming is upon us, and things are looking sharp! Gigabyte's M27Q X is the best 240Hz gaming monitor to feast your eyes upon if you've got the beastly gaming PC to hit those frames. Its response times and blur mitigation are excellent, the colors are vibrant enough for pro work, and there's a lot you can do & monitor through the OSD. Best of all, this is the most affordable monitor of its kind at MSRP.
Almost nothing about the M27Q X hints at its high-end competitive gaming focus. The stand is thick and cylindrical, with a narrow base that doesn't constrain keyboard placement. You can adjust the height by five inches and VESA mount the whole thing, but there's no rotation or pivoting. Tilt angles are a standard +5/-20°.
The no-nonsense approach continues with the screen itself as no RGB and minimal styling adorn the back. The side bezels are thin. The top one is thicker, and the bottom is chunky enough to house the Gigabyte name and power LED. The M27Q X comes with DisplayPort 1.4, two HDMI 2.1 connections, a headphone jack, USB-C with charging, and three regular USB 3.0 ports. Two of those are downstream. There's also KVM for seamless peripheral switching.
The OSD or on-screen display is large, well-organized, and has excellent contrast for more straightforward navigation. Its main picture modes are on the side and include a default one as well as specific presets for shooters, RPGs, media, etc. You can clamp down on the color by forcing the monitor into sRGB mode, but you'll lose the otherwise great six-channel color customization feature.
You also have access to several gaming-specific features like a frame meter, timers, hardware crosshairs, and a sniper mode that zooms in the central part of the screen. Connecting the M27Q X to your PC via USB opens up hardware monitoring, letting you keep track of fan speeds, GPU temps, and more.
Racking Up Headshots with Style
While it's not a monitor for pros working with color, the M27Q X might as well be. It encompasses almost the entire Adobe RGB and DCI-P3 color gamuts while oversaturating sRGB. The contrast ratio is great for an IPS panel, so the vibrant colors don't all blend into one another.
Maintaining blur-free action at triple-digit framerates is tricky business, so we're glad the M27Q X does it so well. It has five overdrive modes, three of which cover the sub-60 Hz, 60-200Hz, and 200+ Hz ranges admirably. You may engage backlight strobing together with them at 100+ Hz for further picture clarity gains at a small cost to brightness.
Speaking of, the screen has a max brightness of 350 nits, which it can exceed even if you keep HDR off. As is the case with "cheap" monitors and HDR, the bump to 400 nits isn't enough for dramatic increases in contrast. Still, you may find the enhancements worthwhile in certain situations.
ASUS TUF Gaming VG279QM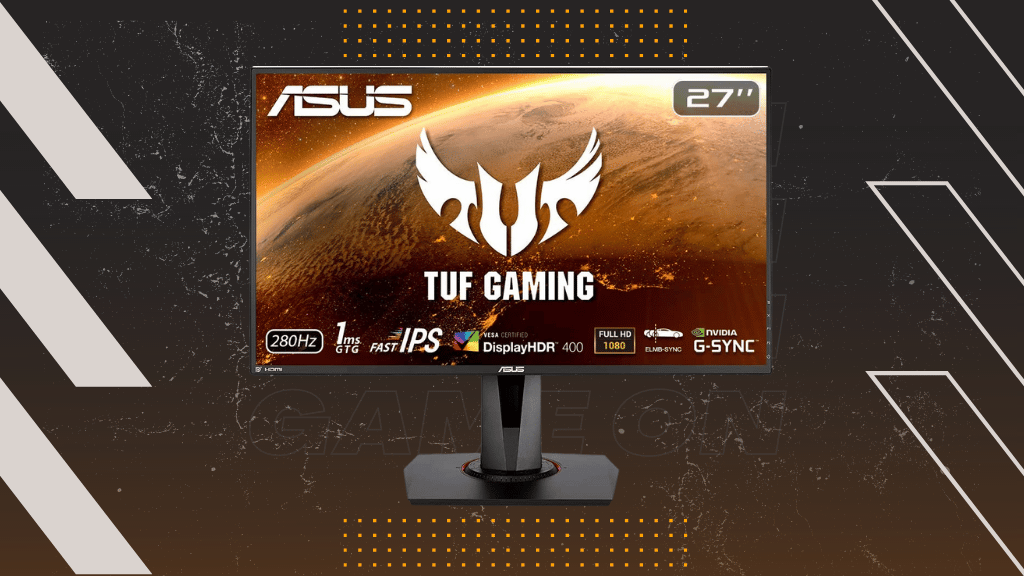 Diagonal size: 27" | Panel type: IPS | Contrast: 1000:1 | Response Time: 1ms | Max Brightness: 400 Nits| HDR: DisplayHDR 400 | Color coverage: 140% sRGB, 97% Adobe RGB, 92% DCI-P3
Can easily be overclocked to 280Hz
Exceptional blur reduction
Wide range of physical and software adjustment options
Poor port selection, ELMB-Sync halves screen brightness
Playing titles like Valorant on a 240Hz panel already feels buttery smooth, but why not go higher? That's the idea behind ASUS's TUF Gaming VG279QM. It's the best 240Hz monitor if you want to crank it up a notch since overclocking the display to a whopping 280Hz is a cinch. The panel is IPS, so maintaining a game's gorgeous look isn't a problem either. Add the simultaneous use of ELMB-Sync & VRR, and you've got a gaming monitor that means business.
Kudos to ASUS for designing the VG279QM to fit the TUF aesthetic yet not feel edgy or over the top. We're especially fond of the stand since it is height adjustable, tilts, swivels, and even pivots for maximum comfort. Three of the four bezels are thin, aiding immersion and multi-monitor support.
Connection variety is limited. Two HDMI 2.0 and a single DisplayPort 1.2 plugs take care of video out. There's also a headphone jack and a single USB port. You'll have to plug your keyboard & mouse directly into your case and can forget about KVM as a result. A shame, but not a deal-breaker.
ASUS menus tend to be orderly and laid out well, so encountering the same traits in the OSD isn't surprising. There's much overlap with other manufacturers, like presets for several game types, hardware cursors, sniper mode, etc. However, the OSD is also where you'll encounter the monitor's most intriguing feature – 280Hz overclocking.
240Hz & Then Some
Turning the overclock on is as easy as selecting any other setting in the OSD. Doing so might not seem to introduce a significant difference. Still, you'd definitely notice if you had another 240Hz monitor for comparison. Already smooth gameplay becomes a tad more buttery, possibly allowing for a few more game-winning split-second decisions.
The color range is nothing special at 99% sRGB and gets the job done for everything except color-critical work. The viewing angles are excellent, and peeking from the side as someone else is having a go at fast-paced demon-slaying isn't spoiled with a blue tinge. Your OS and text might appear blocky if this is your first 27″ 1080p monitor, but the feeling eventually disappears.
Apart from overclocking, fantastic blur reduction is the main reason why the VG279QM is so high on the list. It uses ASUS's ELMB-Sync to reduce motion blur drastically. This works with variable resolutions, so you get a comparable experience not just in optimized competitive shooters. The feature combo works best the higher your refresh rate since backlight strobing becomes noticeable as you dip into double digits.
That brings us to brightness, which is ordinarily a strong 400 nits. Since ELMB-Sync replaces every other frame with a black one, max brightness is halved with it on. Gaming in the evenings or inside dimly-lit rooms won't suffer for it, but the picture might appear too dark in daylight to some users. There's also HDR, but turning it on just unrealistically cranks up the colors instead of introducing real contrast improvements.
LG UltraGear 27GN750-B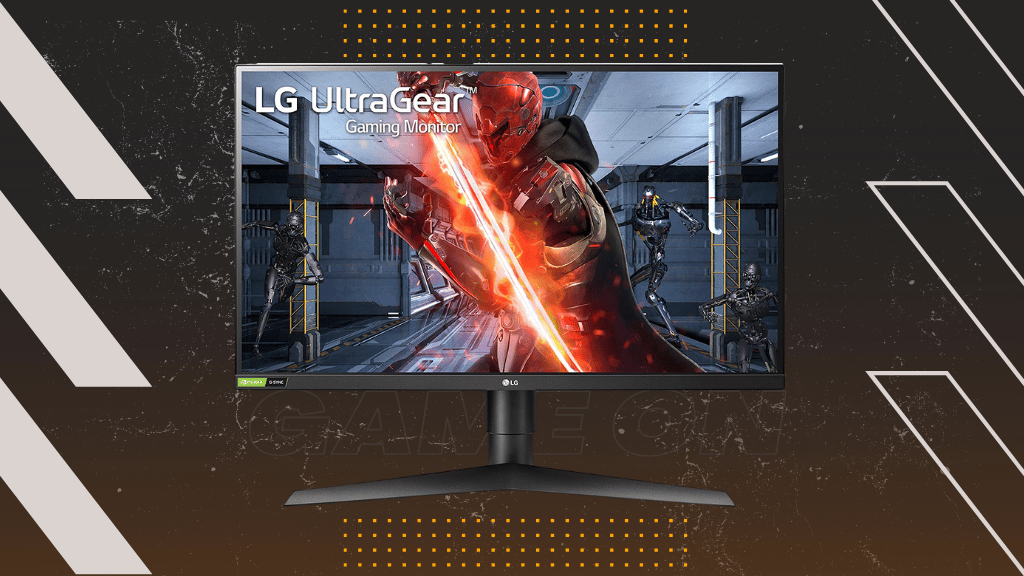 Diagonal size: 27" | Panel type: IPS | Contrast: 1000:1 | Response Time: 1ms | Max Brightness: 400 Nits| HDR: HDR10 | Color coverage: 99% sRGB
Great value for the money
Excellent response times and text reproduction
No screen tearing
Sub-par contrast ratio
A 1080p 27" panel straddles the line between usability and blockiness. The UltraGear 27GN750-B ended up on the right side of that line, offering swift response times without screen tearing for games while still letting you read or balance spreadsheets in comfort. It's not as advanced as some other models on the list, but its overall performance and fair price make up for this.
From the front, LG's monitor is a study in minimalism. It has a large stand with a broad V-shaped base made from plastic that nevertheless feels sturdy. Everything is light enough for you to take to LAN parties yet doesn't wobble or feel unsafe. All but the bottom bezel are satisfyingly thin, so using this monitor next to others should work flawlessly.
The back is where you'll encounter one of the most attractive of the monitor's aspects. There's a large red circle to add some visual interest, and inside is an acceptable selection of ports. It's the same as on our winner minus the USB-C and a downstream USB port. However, everything is located on the back proper, not underneath the screen. This might cause more cable bending, but keyboards, mice, and graphics cards are easier to connect.
We're fans of the OSD's dual approach. You may access its expanded mode and choose between picture presets, overdrive levels, and a smattering of gaming features like black balance. There's also the option to tap the navigation joystick and enter a simplified gamer mode that lets you switch between screen presets on-the-fly. Super useful for when you're transitioning from killing terrorists to writing term papers.
There's not much to say about the 27GN750-B's colors. They conform to the sRGB space and look good as such. You'll get even better results with some calibration since factory gamma settings are off. Color accuracy is great for gaming, but don't expect to color grade movies on this screen.
Feeling Right at Home
What you can expect is excellent responsiveness and picture clarity no matter the situation. LG managed to construct the panel in a way that makes the resolution work for day-to-day application. Text is easy to read, and you can focus on minute parts of the screen without pixels becoming a bother. G-Sync is supported, so tearing at high resolutions isn't an issue either.
A maximum of 400 nits and a matte screen mean you can use the 27GN750-B in bright conditions and overpower sunlight. Not everything is peachy, though. The reported contrast ratio is 1,000:1, the same as on most other IPS panels. The actual number is closer to 900, meaning that grays tend to meld together more. That won't matter during a heated CS:GO match but may break immersion if you're also into horror titles like Resident Evil Village.
BenQ ZOWIE XL2546K
Diagonal size: 24.5" | Panel type: TN |Contrast: 1000:1 | Response Time: 0.5ms | Max Brightness: 320 Nits| HDR: N/A | Color coverage: 99% sRGB, 77% Adobe RGB
Outstanding response time and sync
Solid build quality & adjustability
Protective flaps are a nice touch
Expensive, poor viewing angles
So you don't care as much about getting hues 100% right as you do about improving your LoL ELO? In that case, BenQ has a unique 240Hz monitor for you! The ZOWIE XL2546K is laser-focused on one thing & one thing only – providing the best possible competitive gaming experience at blistering framerate speeds. It largely succeeds in this, but the monitor is not without shortcomings in other areas.
BenQ did an excellent job putting the monitor together. The plastic is hefty and feels premium, and the stand is one of the most flexible in terms of precise adjustments. It has a large cable hole for tidier routing and can move the screen in myriad ways. We've seen thinner bezels, but they shouldn't prove distracting.
Speaking of distractions, you'll experience far fewer thanks to a set of flaps that ship with the monitor. They attach to the sides and obscure glare coming from the left and right. The setup might look silly to outsiders, but you'll appreciate it if you're trying to indiscriminately kill stuff in Doom on a sunny summer day.
Innovations continue with the way you access the OSD. You can do so through a joystick, which BenQ isn't known for implementing often. There's also a remote you plug into the screen that lets you save three presets and toggle between them for different games. Port selection isn't great – three HDMI 2.0, one DisplayPort 1.4, and one headphone jack are all you get.
Eyes on the Prize
The ZOWIE XL2546K is the sole monitor on the list that still uses a TN panel. They were the only ones capable of world-class leading refresh rates until a few years ago, so we understand BenQ's approach. Especially since the implementation here is excellent. The panel uses the proprietary DyAc+ technology that combines frame synchronization and blur reduction. FreeSync and G-Sync aren't compatible, but it's not a drawback since DyAc+ has things in hand.
Coupled with a response time of just 0.5ms, this makes the XL2546K the best 240Hz monitor for competitive gaming purists. In the sense that it offers an outstanding overview of the battlefield from moment to moment. If your CPU and GPU combo can handle the framerate, the XL2546K presents the action better than most.
There is a big caveat, though. TN panels have a more washed-out look than VA or IPS, which results in duller colors even though the monitor has a standard 99% sRGB color coverage. There's also the matter of poor viewing angles, meaning you'll have to get its position just right relative to your line of sight. That shouldn't be too hard due to the exceptional stand, but it might still be a concern.
MSI OPTIX MAG251RX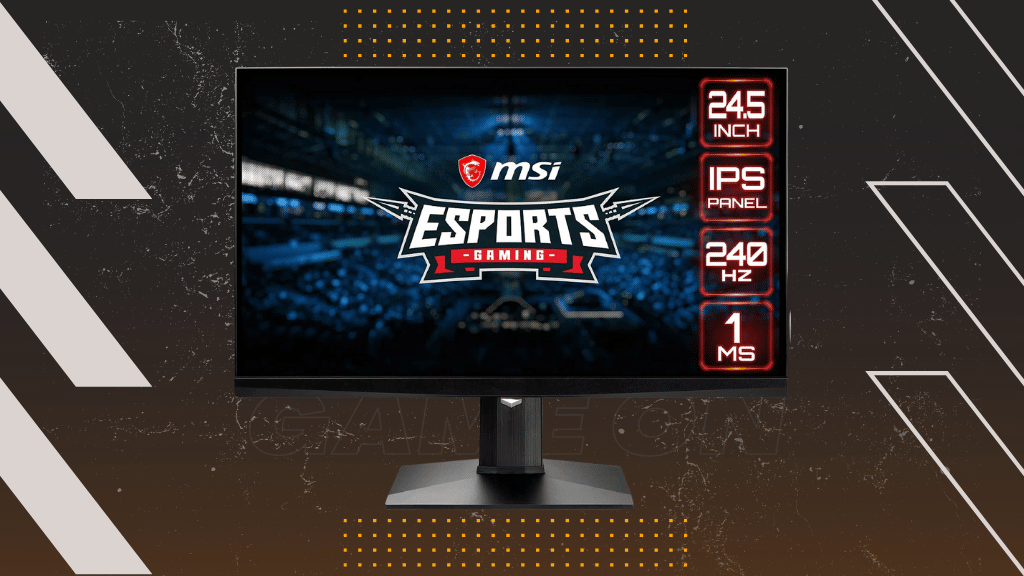 Diagonal size: 24.5" | Panel type: IPS | Contrast: 1000:1 | Response Time: 1ms | Max Brightness: 400 Nits| HDR: DisplayHDR 400 | Color coverage: 100% sRGB
Our penultimate pick is a gaming-oriented panel designed by MSI. It rounds up almost all the features we'd like to see from the best 240Hz gaming monitor – responsiveness, decent contrasts for an IPS panel, and support for industry-standard sync tech. Best of all, you can sometimes get the OPTIX MAG251RX at sale prices even lower than Alienware's.
Even though their specs categorize them as such, none of the monitors we've talked about have had a pronounced gaming aesthetic. That ends with the MAG251RX's sharp lines, aggressive red joystick, and a seven-channel RGB strip on the back. It is compatible with Mystic Light, meaning you can coordinate the lighting with an MSI motherboard and other compatible components.
Port selection is also better than one would expect for the price. USB-C is there alongside HDMI 2.0 & DisplayPort 1.2. It doubles as a second DP while also providing a charging point for your smartphone or tablet. A headset jack is there, as are 3+1 USB 3.0 ports for expanded connectivity and rapid switching.
Keeping in line with the monitor's aesthetic, the OSD is angular and adopts a gray-red color scheme. There's nothing new to report other than different names for gaming-focused settings we've already explained elsewhere. Do note that advanced calibration like six-channel color adjustments is absent.
Pro Features, Attractive Price
That's not a significant concern as the MAG251RX arrives decently calibrated. You can help it along by adjusting the gamma, but the colors look accurate and as vibrant as a 100% sRGB color coverage display can muster. Contrast corresponds to the 1,000:1 claim, and there's no color bleed or noteworthy discrepancy in uniformity.
The MAG251RX's 24.5" size makes it an excellent choice for 1080p gaming due to a good PPI value of 90. Moreover, you get wonderful response times and three overdrive modes that should effectively eliminate blur regardless of the current refresh rate. Speaking of, the monitor is certified to work with G-Sync and FreeSync alike.
MSI has its own implementation of backlight strobing. You'll have to give up your preferred sync method as strobing won't work otherwise. It dims the screen as EMLB does, so we recommend you create a low-light ambient to take full advantage. On the other hand, users who don't want the picture to be pixel-perfect all the time can work & game almost anywhere due to a max brightness of 400 nits.
Alienware AW2521HF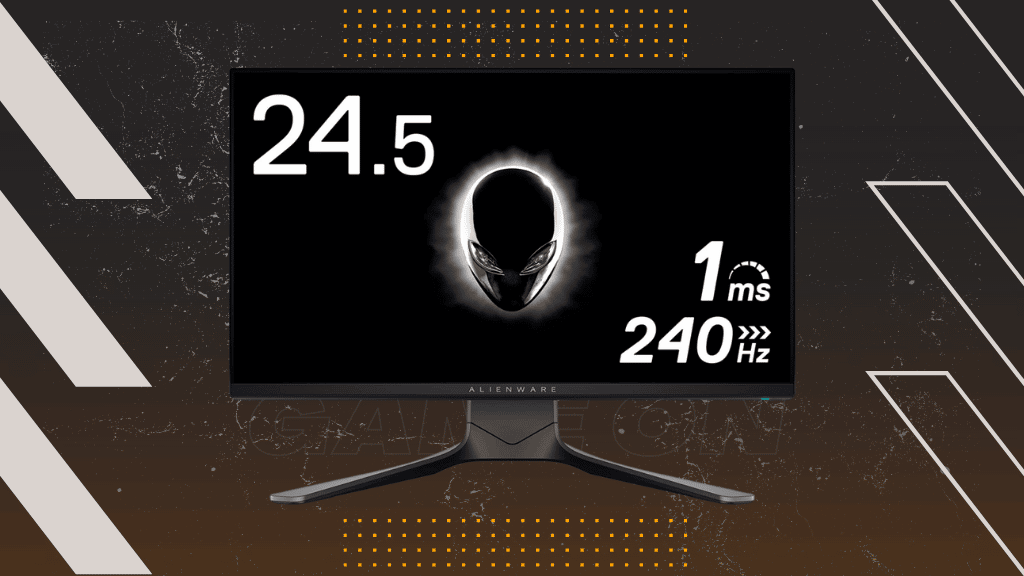 Diagonal size: 24.5" | Panel type: IPS | Contrast: 1000:1 | Response Time: 1ms | Max Brightness: 350 Nits| HDR: N/A | Color coverage: 99% sRGB
Solid gaming performance
Bright screen without tearing
Great port selection
Anti Motion Blur not usable with sync technologies
Can you get a good 240Hz monitor for $300 or less? You can, if you catch MSI's monitor on a sale. Alternatively, there's a 240Hz model from Dell's beloved Alienware line of otherworldly computer components. The AW2521HF is a looker that dishes out fast-paced action and vibrant color in equal measure. It lacks some of the bells & whistles seen on more expensive models. Still, it's the best 240Hz monitor for people on a budget.
Alienware products have a signature sci-fi style that oozes character. In the case of the AW2521HF, it combines a massive pillar sporting an RGB oval in the center with a pristine screen that has a gently curving back surface. You can get the monitor in two moon-inspired colors. One is black, while the other goes great with white cases or Alienware's Aurora R-series prebuilt PCS.
There's no shortage of ports on the AW2521HF's back, Video-out is the same as on BenQ's model. Additionally, you get four USB 3.0 and one upstream port, a headphone jack, and a line-out connection for attaching external speakers.
The OSD is functional and structured for easy access to pertinent settings. It's neat how Dell added several buttons next to the joystick you can map with custom functions to reach controls you frequently fiddle with more accessible.
Otherworldly Ambition
The 24.5″ IPS display is considerably more balanced than BenQ's. Backlighting is more pronounced due to panel differences, but the colors look more vibrant despite adhering to the same sRGB coverage. Both AMD's and NVIDIA's sync technologies are supported. That allows for tear-free gaming even if the framerate dips sharply when you encounter a graphically more demanding situation.
Viewing angles on the AW2521HF adhere to IPS excellence, and picture uniformity is strong even on the extreme edges. You'll want to fine-tune the color settings as the factory preset heavily favors cooler hues. The contrast is slightly better than advertised at 1,050:1. IPS-associated glow is a thing on the bottom part of the panel when viewing dim and low-contrast scenes. It's not problematic otherwise.
HDR is absent, which is just as well given poor HDR performance in this price range. On the other hand, the monitor has a native brightness of 400 nits you'll want to reduce since it can get too bright in dim surroundings. The AW2521HF doesn't employ backlight strobing, so you'll have to experiment with one of its overdrive modes to reduce blur. The fastest ones tend to overshoot and cause inverse ghosting, so it's best to go with more balanced settings.