Specs:

Type: 240mm AIO
Fan RPM: 400 - 1,600
Fan CFM: 75

Specs:

Type: 240mm AIO
Fan RPM: 400 - 1,600
Fan CFM: 47

Specs:

Type: 240mm AIO
Fan RPM: 550 - 2,300
Fan CFM: 75

Specs:

Type: 240mm AIO
Fan RPM: 500 – 2.000
Fan CFM: 73

Specs:

Type: 240mm AIO
Fan RPM: 0 - 2,250
Fan CFM: 64

Specs:

Type: 240mm AIO
Fan RPM: 650 – 1.800
Fan CFM: 62
All-in-one liquid coolers with 240mm radiators are among the most popular of their kind. They fit inside the vast majority of cases and are markedly better than most if not all air coolers out today. They're more expensive than your high-end Noctua or Scythe. Still, the added efficiency makes the best 240mm AIO far more likely to tackle the hottest processors.
Getting an AIO has been the enthusiast's choice thus far. However, the increased heat output of Zen4 and 13th-gen Intel Core CPUs and their increased heat output will aid in cementing liquid cooling as the new norm for many.
Choices abound since the 240mm liquid cooler category attracts so many users. Why waste time comparing prices and charts when we've already done the work for you? Take a look at our curated selection and give your mid-range CPU some well-deserved breathing room.
Corsair iCUE H100i Elite Capellix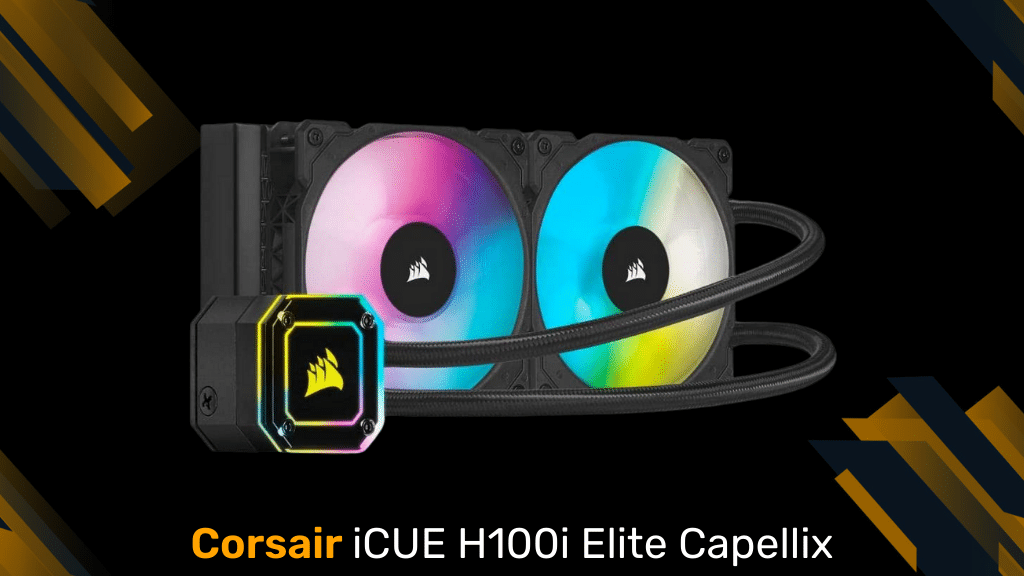 Corsair iCUE H100i Elite Capellix
Fan RPM: 400-1,600 | Fan CFM: 75 | Tube length: 380mm | Has RGB: Yes
Pros:
Performs exceptionally well

Has some of the best-looking RGB around

Commander Core is a useful addition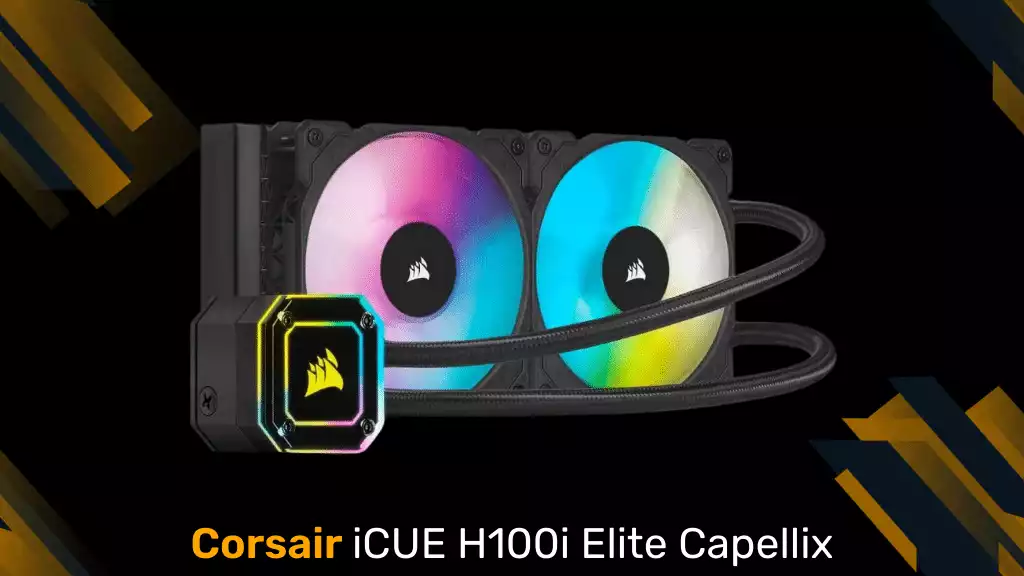 The RGB Pro XT version of the H100i was already a top performer, but it was boring! In true Corsair fashion, its successor isn't an improvement as much as visual candy squared. Its looks have received the Capellix treatment, but the change in pump head & fans didn't impact its chilly disposition. There's no doubt that such a well-rounded cooler deserves to be our best 240mm AIO, even if you'll have to pay extra for it.
Corsair already had a solid design on hand, so changes are there to enhance the RGB experience. The pump head now has a swappable top plate, allowing you to ditch the closed-off version for one that showcases the array of addressable Capellix lights even more. They're small, visibly brighter than ordinary LEDs, and consume a minimum power amount.
The fans have fully embraced RGB too. They're transparent ML 120 units engineered for silent operation and have a cubic feet per minute rate of 75. Two of them stir up enough of a breeze to efficiently eject air out through the aluminum radiator. You can adjust the smallest details concerning their and the CPU block's lighting through iCUE. That's where you'll also find several fan speed presets, including one that turns the fans off entirely while the CPU temp is low enough.
Cool & Bright
Installing the H100i isn't complicated. Its cable management is more straightforward than most since the accompanying Commander Core doubles as a hub for the fans' ARGB and PWM headers. You can use it to power & coordinate up to six Corsair fans.
The H100i wouldn't occupy our top spot were it not an efficient cooler for most AMD and Intel CPUs. Its acoustics are middling unless you turn the fans off completely. However, the decrease in CPU temperature, whether you're overclocking or not, is considerable.
ARCTIC Liquid Freezer II 240
ARCTIC Liquid Freezer II 240
Fan RPM: 200-1,800| Fan CFM: 55.6| Tube length: 450mm | Has RGB: No
Pros:
Excellent performance at an appealing price

VRM fan adds extra utility

Easy, clutter-free install
Arctic's second attempt at AIO cooling is so good that we aren't afraid of comparing it with the likes of Noctua's NH-D15 in terms of impact. A bold statement, but one that the Liquid Freezer II backs up with a host of innovations and efficiency that boggles the mind once you take a look at the price tag. The H100i barely snagged the best 240mm title from it. However, Arctic's model is more accessible and sure to find itself at the core of many builds.
Nothing about this AIO is ordinary, not even the radiator. Its thickness clocks in at 10mm more than usual, with corresponding changes in fin density. That's not a problem since Arctic employs two of its iconic P12 fans for unimpeded and efficient airflow.
The pump head is even more intriguing. The design is divisive since adding another tiny fan makes the part resemble a spaceship. There's no RGB either. These are small concessions for a feature that cools down the motherboard VRM and can even help bring your GPU's temps down. Air blows out in three directions, so how you mount the CPU block has a tangible effect on the surroundings.
Taking Its Own Road to Greatness
None of our picks are hard to install. Still, the Arctic Freezer II is the best 240mm liquid cooler for newbies as much of the prep work is already done. The fans come secured to the radiator. Their power cables travel safely along the flexible tubing into the head unit. A single PWM cable handles all the power requirements from there, meaning plugging it in and securing the pump head is all it takes.
The Liquid freezer II is among the cheapest AIOs we recommend. That doesn't stop it from being among the most capable, however. It's consistently at or near the top whether you're testing sound levels or thermal efficiency.
EK Nucleus CR240 Lux D-RGB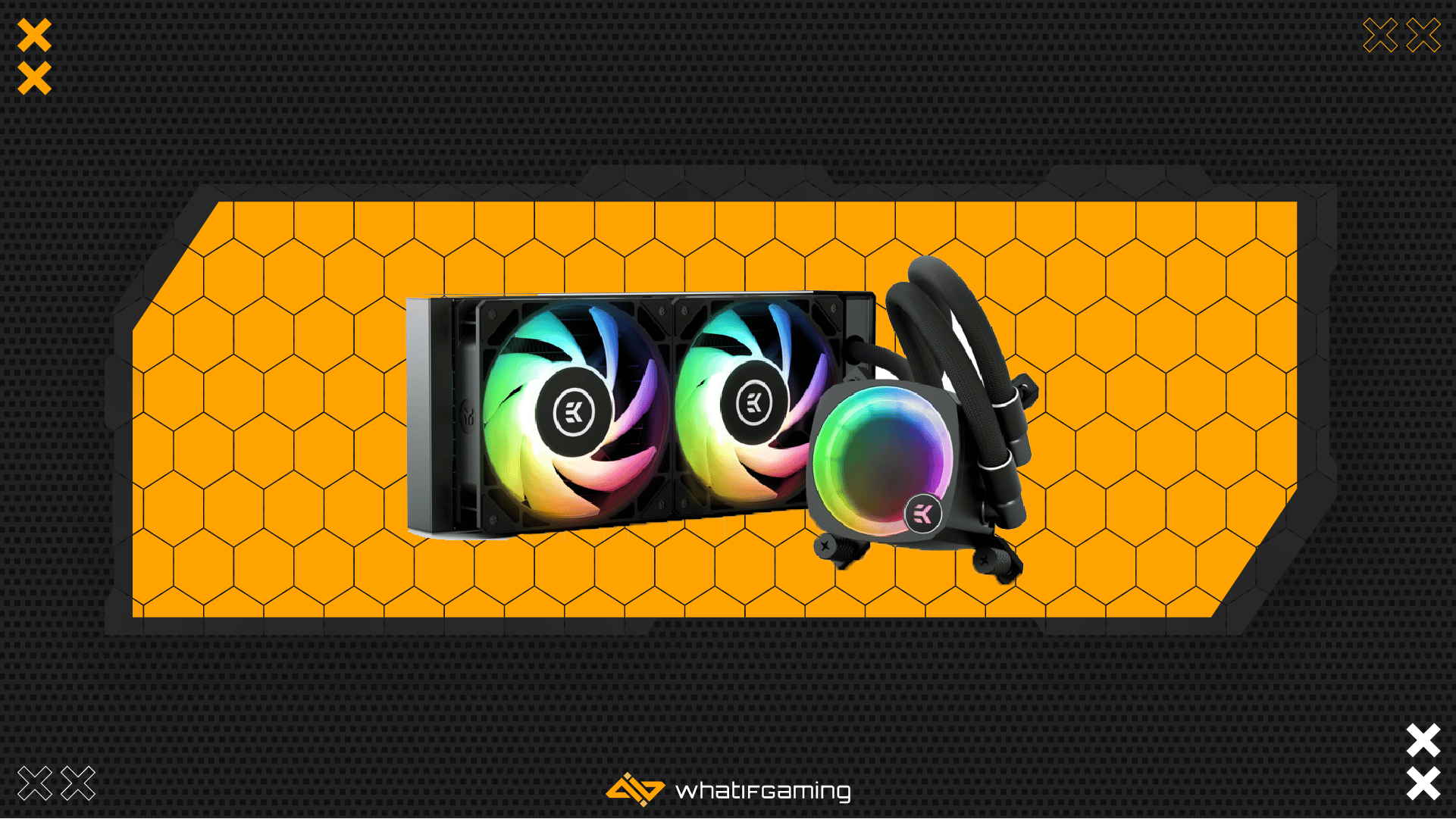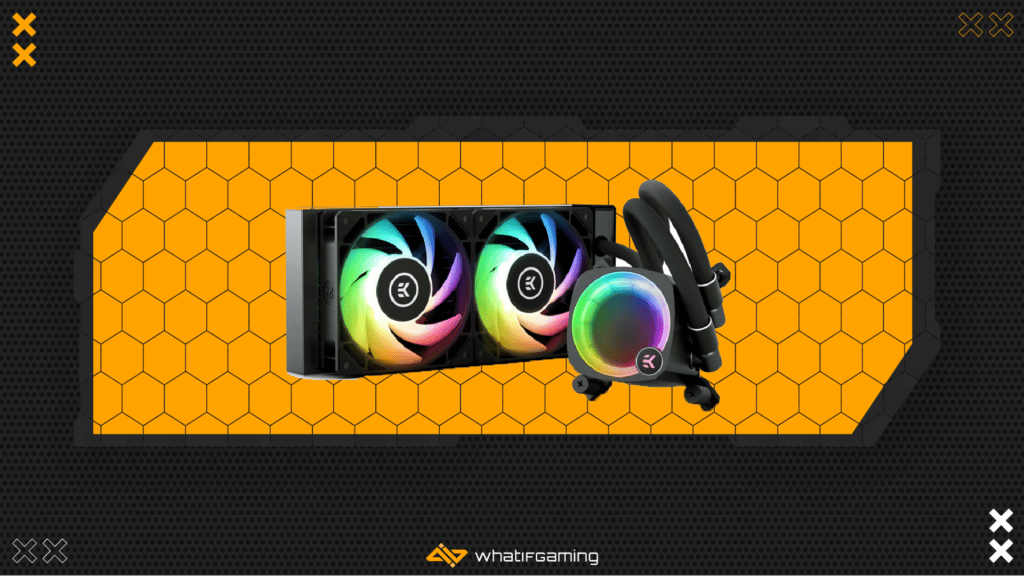 EK Nucleus CR240 Lux D-RGB
Type: 240mm AIO | Fan RPM: 550-2,300 | Fan CFM: 72 | Tube length: 370mm | Has RGB: Yes
Pros:
Fantastic cooling performance

Attractive RGB

Excellent build quality and support
Anyone interested in custom water cooling halfway seriously has heard of EKWB and its high-quality components. Decades of award-winning expertise have also spilled over into their AIO designs, with the nucleus CR240 as the newest and shiniest representative.
It merges outstanding build quality with a unique presentation and performance that rivals 360mm radiators. If you don't mind paying extra, this is the best 240mm AIO for current-gen CPUs.
One can tell this isn't EK's first rodeo by the careful and neatly organized packaging, not to mention the premium feel of each of the AIO's building blocks. We dig the sci-fi shape of the rounded mounting block and its rotating top that ensures the logo is always upright. A finely-polished copper octagon is underneath with thermal paste ready to go.
The tubing has fine mesh braiding and swivel fittings on the pump end to fit inside cramped quarters better. It connects vertically to a part of the radiator to the side of the vents. Apart from this addition, the radiator's dimensions are standard and won't interfere with the vast majority of cases.
Your PC's Center of Attention
The Nucleus uses two full-frame 120mm fans, meaning air has nowhere to escape but hits the radiator with full force. Even though 2,300 RPM is a high max rotation, the noise the fans produce isn't louder than other high-performing competitors. Each moves 72CFM of air and maintains high static pressure.
Style matches substance here as the Nucleus has one of the more unique RGB setups around. The fan blades diffuse their lighting nicely enough, but it's the pump cap that makes the presentation special. It has an opacity gradient that creates what EK calls a tunnel effect. Interestingly, you need no software to manage the lighting and can leave everything up to your motherboard.
Advancements to the pump and fans, not to mention EK's strict standards, all contribute to the Nucleus's superb cooling strength. It ties the H100i in most normal workloads and can even do better when running prolonged system testing. The pump is inaudible while gaming or performing other moderately strenuous workloads, while fan noise remains tolerable since they'll rarely need to speed up past the 50% mark.
NZXT Kraken X53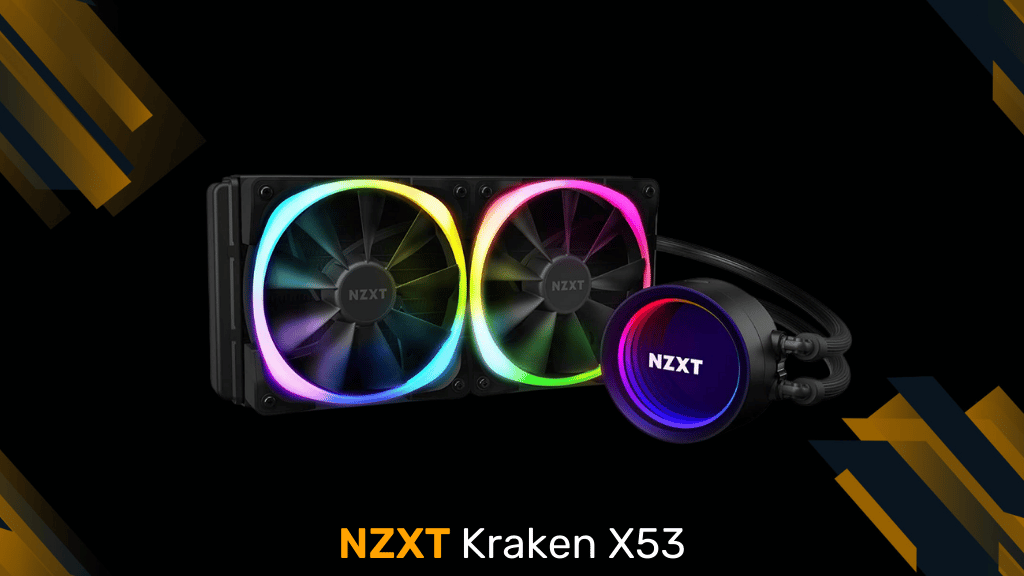 NZXT Kraken X53 RGB
Type: 240mm AIO | Fan RPM: 500 – 2.000 | Fan CFM: 73 | Tube length: 400mm | Has RGB: Yes
Pros:
Excellent performance for a 240mm AIO

Comes with useful monitoring software

Stealthy yet attractive look
Cons:
No splitter cables for the fans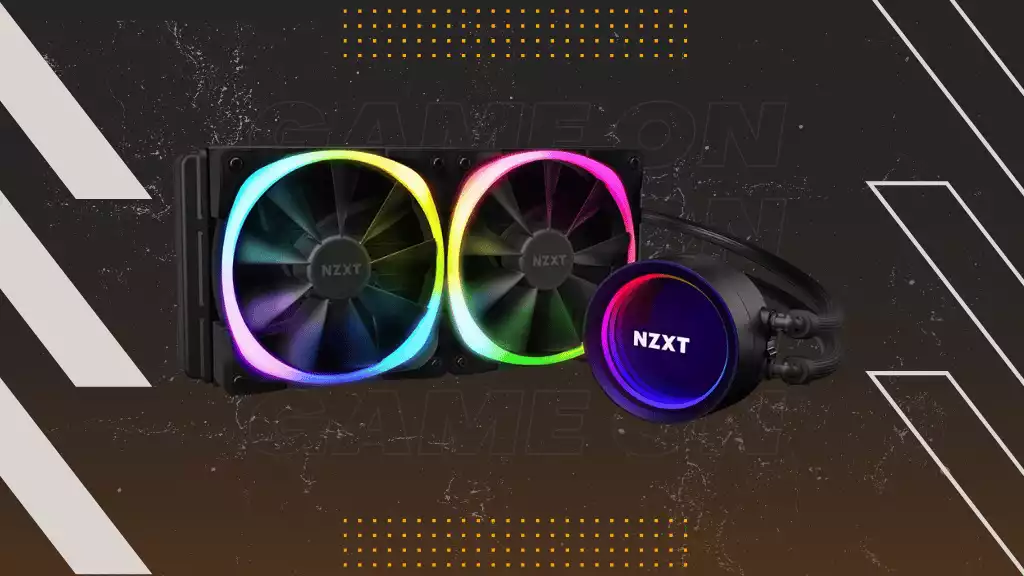 Kraken is NZXT's long-standing line of AIOs. Its latest 240mm entry is the one to look out for if you want an excellent balance of price, aesthetics, and cooling prowess. There's just enough RGB on it to make for exciting visuals without impeding performance. Moreover, the unit is built well & straightforward to set up.
A lot of engineering know-how went into creating the X53's seemingly mundane pump head. On the one hand, it houses a large reflective array responsible for the unique infinity mirror effect. On the other, its connections and swivel fittings are close to each other without tangling. Lastly, the block comes with a preinstalled bracket that fits Intel CPUs up to Rocket Lake. Switching to AMD is a breeze, though.
There's not much to report on the radiator other than its standard density and large embossed NZXT logo. The fans are another matter. You get a pair of Aer P 120mm models that don't look like much but put out respectable pressure at a not too aggressive 2,000 RPM. They don't create clutter either since the splitter that powers the fans plugs into the pump head.
Keeping Temperatures Under Wraps
Turning the X53 on engages the wonderful mirror sheen and lets you experiment with millions of infinite lights. You may do this through your motherboard and its lighting software or by installing CAM if you don't mind the bloat.
Performance-wise, the X53 is where you'd expect a 240mm liquid cooler just north of three digits to be. It can hold its own against larger rivals and regularly ends up in the middle of the pack. Sticking only to 240mm alternative sees it climb into the top third. We've heard louder AIOs, but results in the upper 30dB range at load aren't good enough to win awards.
Alphacool Core Ocean T38 240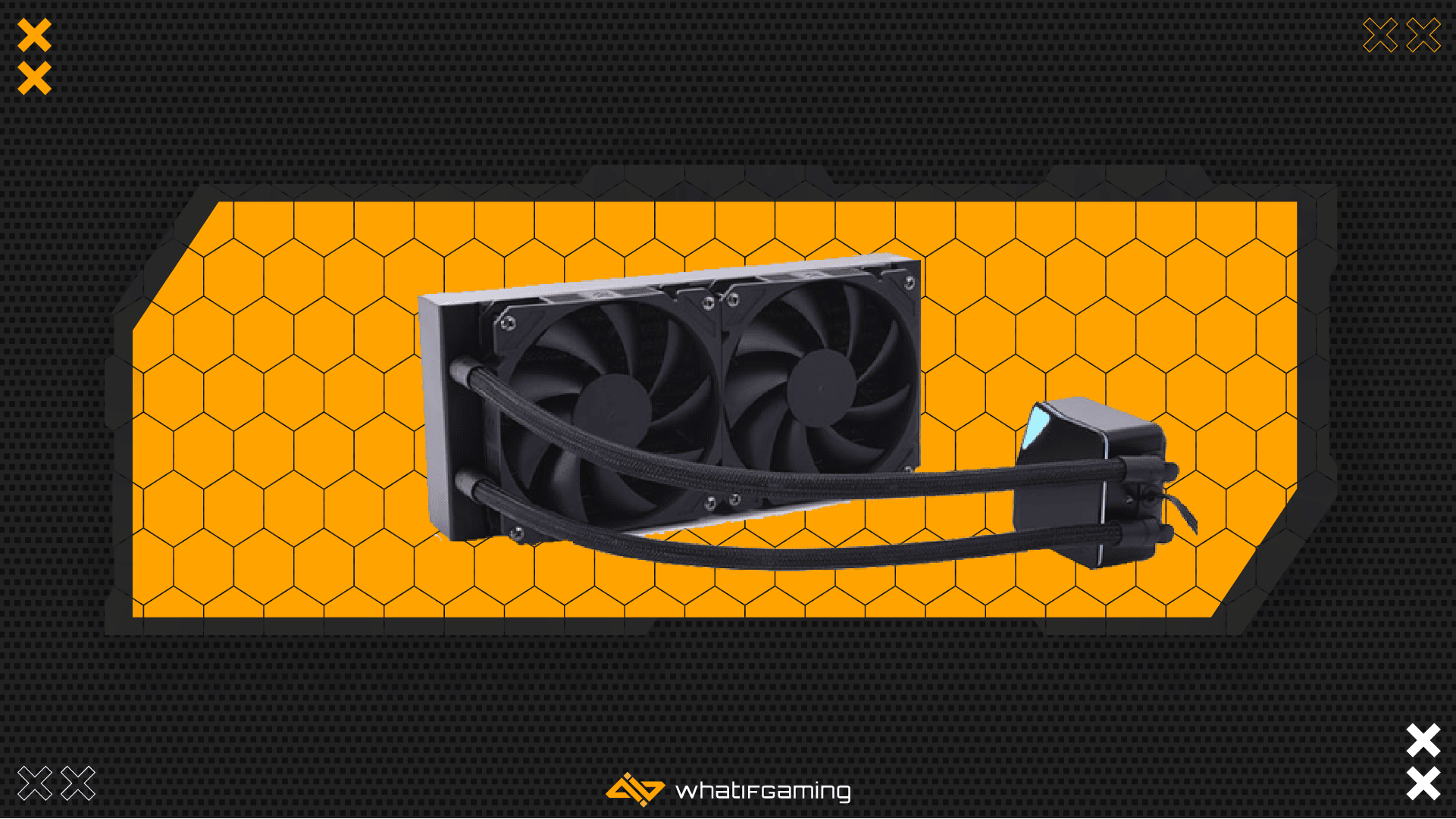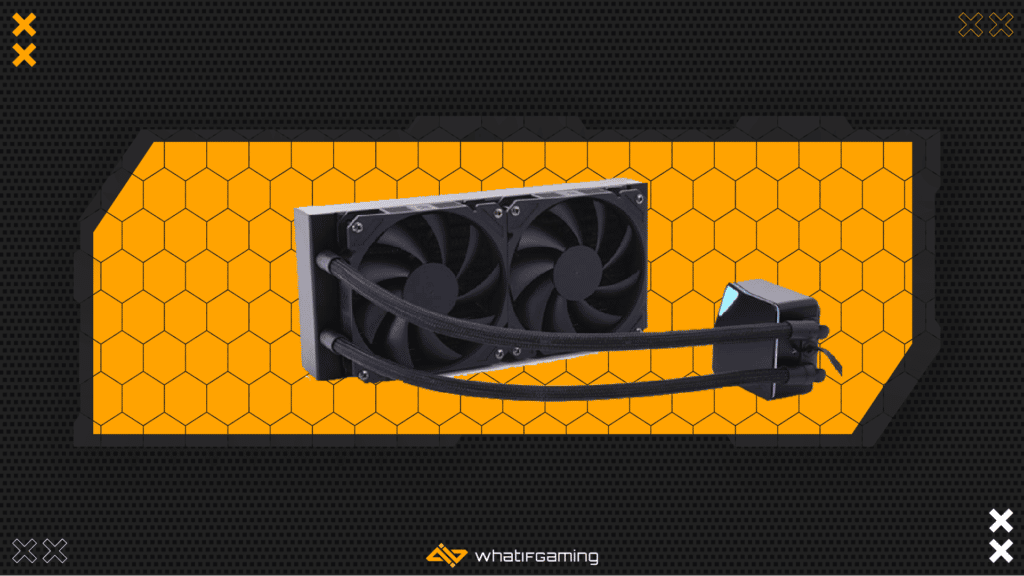 Alphacool Core Ocean T38 240mm
Type: 240mm AIO | Fan RPM: 0-2,250 | Fan CFM: 63 | Tube length: 400mm | Has RGB: Yes
Pros:
Exceptional cooling performance for the price

Affordable

Stealthy look with tasteful RGB
Cons:
Parts of the installation are tricky

Very loud at high fan speeds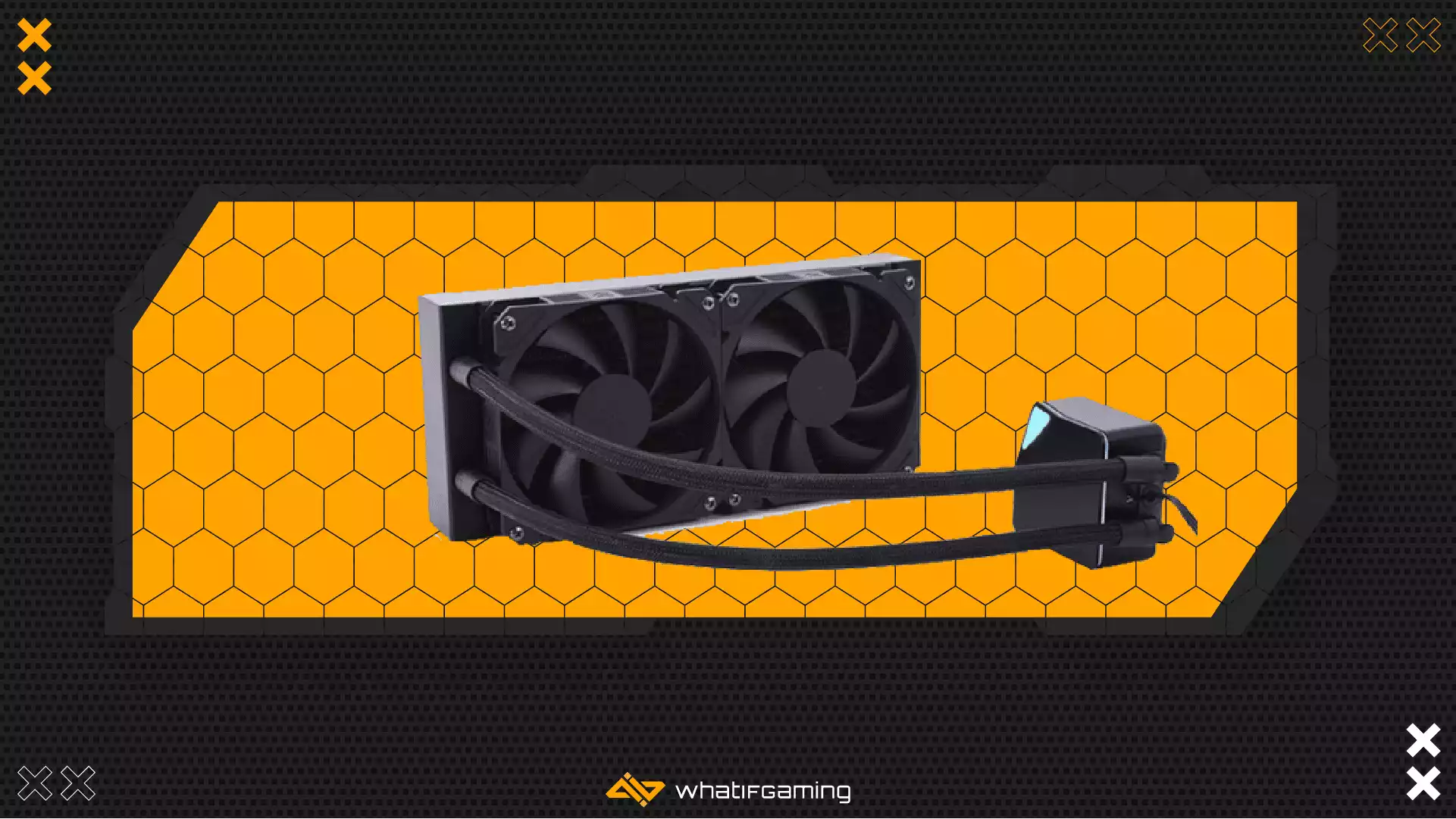 Alphacool is one of the foremost custom water-cooling component manufacturers in the world, and their AIOs are usually high-end as well. We're sure many users will take the T38's arrival as excellent news since it's considerably cheaper than the company's usual fare. It's stealthy, capable, and almost matches far more expensive competitors without breaking the bank. If only it were quieter.
Kudos to Alphacool for keeping the packaging and overall aesthetics minimalistic. The fans are all-black and have no front stickers, while the pump head is little more than a black cube. It does have a corner that slants downward and houses an RGB light. You'll find a slightly convex copper plate on the underside machined to a mirror finish.
The unusual radiator warrants a closer look. Alphacool saw that increasing the thickness worked for the Liquid Freezer and did the same, resulting in a 38mm thick radiator with a fin-per-inch count of 16 to compensate. These alterations are a net positive since there's more surface area without a considerable strain on the fans.
A Roaring Tidal Wave inside Your PC
You get two Core 120 fans that go from not rotating to a blistering 2,500 RPM. 63 cubic feet of air per minute is a bit low for such speeds but not a bad result overall. Static pressure also surpasses 2mmH2O, letting the T38 operate efficiently even when the case's airflow might not be the best.
Alphacool could have refined the T38's installation procedure. The first part is the trickiest since you have to put mounting brackets, screws, springs, and washers onto the pump head first.
Then it's time to add the thermal paste and attach the assembly to the motherboard, which can be tricky in AMD's case due to the stock bracket. Thankfully, mounting the radiator and fans is as straightforward as ever.
The T38 performs admirably for an entry-level AIO. It trails our top-ranking coolers when idle but keeps only a 2-3-degree distance from the H100i during most testing. Performance on Intel and AMD is comparable, so you can keep the cooler even if you change sides for your next build.
If it does so well, why is the T38 so low? Such high RPM comes with a lot of noise that doesn't decrease much by lowering the fan speed. You're already looking at close to 40dB when at 25%, while 100% utilization puts it uncomfortably close to 60dB.
Cooler Master MasterLiquid ML240L RGB V2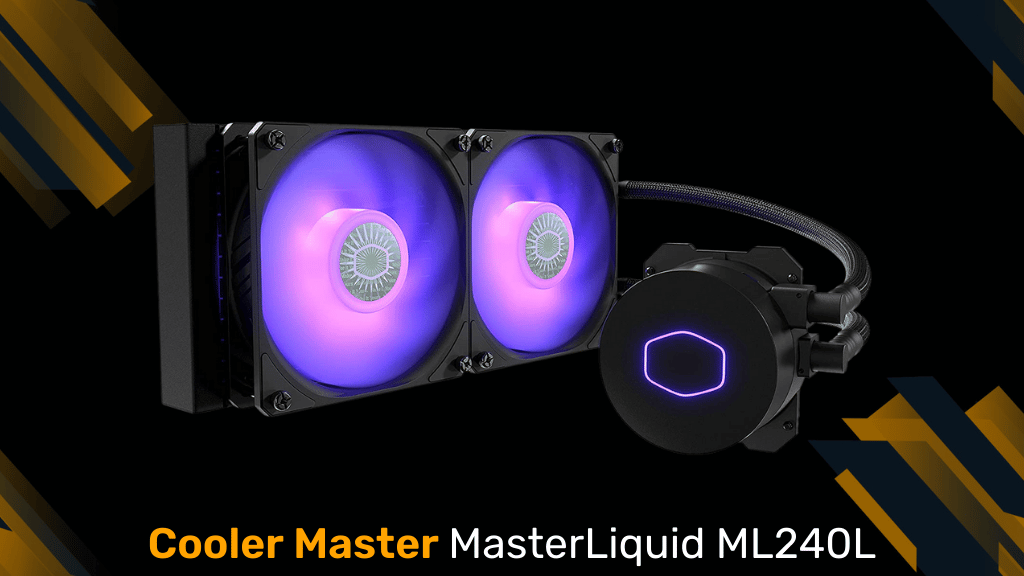 CoolerMaster MasterLiquid ML240L RGB V2
Type: 240mm AIO | Fan RPM: 650 – 1,800 | Fan CFM: 62 | Tube length: Not specified | Has RGB: Yes
Pros:
Excellent value for the money

Quiet operation

Considerably improved over its predecessor
Cons:
Not as effective as more expensive AIOs
The original MasterLiquid ML240L RGB didn't make much of a splash because of its mediocre stats and uninspired lighting. Cooler Master returned to the drawing board and introduced a host of improvements to the second version without raising the price. That leaves you with the best 240mm AIO you can get at an entry-level price.
Users unfamiliar with the first cooler will only see a puck-shaped pump head with the Cooler Master logo tethered to a standard radiator. The pump has had the biggest redesign, however, which resulted in an increase in volume & longer impeller blades to maintain water flow. The size increase reduces the pump's operating speed and helps the entire PC run more quietly.
Enhancements continue with the radiator and fans. The former's density is unchanged, but it has larger tube connections that facilitate better flow. The old fans were duds. Now you get SickleFlow fans with a slight improvement to static pressure and a decent CFM of 62. More importantly, they're not as loud as the fans they're replacing yet look better when you engage the RGB.
Upgrades Galore
Setting this AIO up doesn't take long if you let your motherboard handle illumination control. Users whose motherboards lack RGB headers have to undergo an extra step, though. The AIO ships with a simple controller that connects to the fans' power & ARGB headers on one end and the PSU through MOLEX on the other.
Unlike the Liquid Freezer II, this AIO is firmly in line with its affordable price tag. This means it trails the other models on the list by several degrees and is best used for something like a 5600x or 11600K. That being said, the MasterLiquid ML240L RGB V2 won't have trouble keeping said processors at comfortable temperatures even if you overclock.