AIOs with 280mm radiators are on the rise to becoming the most popular size for enthusiast builders. They take up less space than 360mm units but deliver comparable cooling due to their fans' larger diameter. Want to know which is the best 280mm AIO and integrate it into your PC? Then read on to discover more!
Our Best 280mm AIO Picks at a Glance
All the major players offer a model or two in this rising category, so figuring what to get can be a challenge. Our guide provides a closer look at six AIOs that can take the heat without going bust. Their feature and price variety are considerable. It's worth it to read up on each and make your high-end PC the coolest it can be – both literally and figuratively!
Corsair iCUE H115i Elite Capellix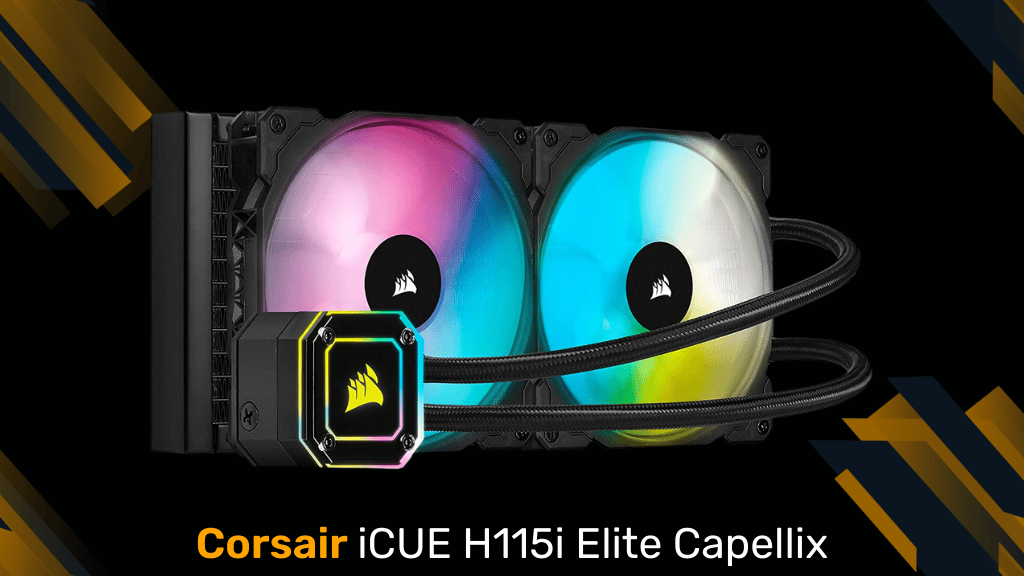 Fan RPM: 0-2,000 | Fan CFM: 97 | Tube length: 380mm | Has RGB: Yes
Corsair released two new AIO lines in the space of one year, each graced by stellar performance. The newer Elite Capellix coolers have the added benefit of fantastic RGB, and the H115i is among the most sought-after. It's the best 280mm AIO whether you're only interested in pure numbers or want a component that will make your gaming PC cooler in more ways than one.
Owners of the RGB Pro XT will find the newer version practically unchanged, except a small tweak to make the CPU block more angular. It also now comes with an acrylic top with the company logo. You may replace that with a cleaner version that's white when not in use, making the H115i a great addition for all-white builds.
Hitting the power button transforms the cooler into one of the brightest and most colorful around, thanks to proprietary Capellix lights. These are much smaller than ordinary LEDs yet give off more light. This allowed Corsair to pepper both the pump head and fans with dozens of them, configurable in zones or individually through iCUE.
iCUE to the ResCUE
Don't mistake the cooler's RGB fixation for a lack of ability, though. It sports two ML 140 fans that each have a cubic feet per minute output of 97 with static pressure reaching 3mmH2O. You also get a Commander Core hub that allows for direct RPM control through iCUE and helps prevent clutter by acting as a hub for the fans' power and RGB cables.
You may choose among several fan presets, including one that turns them off if the CPU isn't hard at work. The rest place increasingly more importance on airflow and cooling at the cost of noise. Cranking the fans up to max produces a lot of sound, but it's also more than enough to keep power-hungry Intel i9s from throttling when overclocked.
ARCTIC Liquid Freezer II 280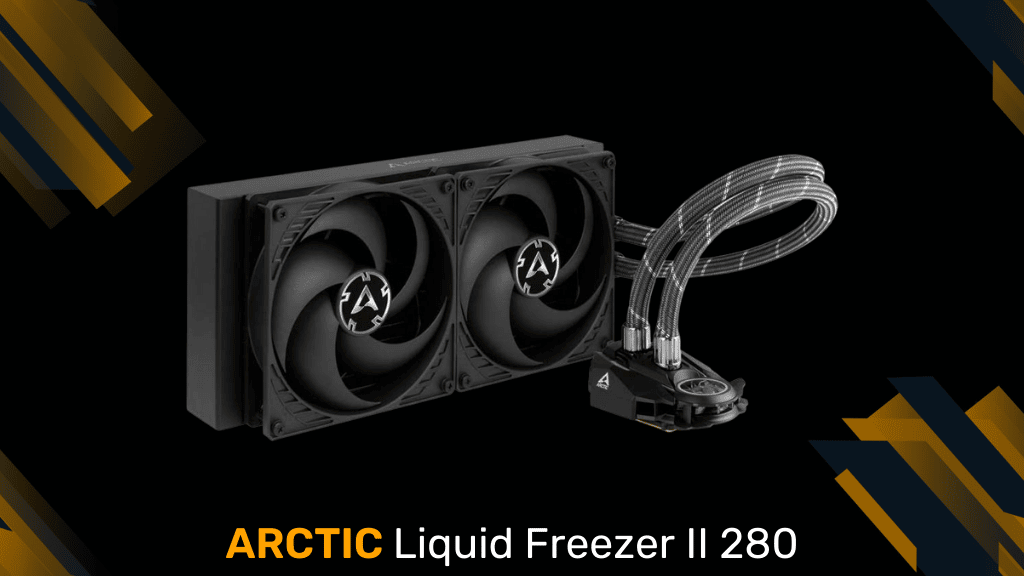 Fan RPM: 200-1,700 | Fan CFM: 72.8 | Tube length: 380mm | Has RGB: No
We've already gushed about the Liquid Freezer II 280's smaller siblings and are happy to report that the second-largest model continues to impress. It's easily the best 280mm AIO out there if you're looking to get amazing cooling for as little cash as possible. The VRM fan isn't just a novelty, and the installation process is the quickest on record thanks to Arctic's helping hand.
Ditching Asetek's pump design in favor of in-house innovation was definitely a smart move. It allowed Arctic to develop a CPU block that won't be to everyone's aesthetic taste but gets the job done & then some. A top-mounted fan is the star of the show, using tree-directional ducts to simultaneously blow air onto the VRM and GPU backplate.
Sweeping changes don't end there. The often neglected radiator is thicker and stores up more heat than average. It takes a pair of special fans to effectively push such accumulated air out of the case. Fortunately, you get a couple of P14 fans capable of either rotating slowly & noiselessly or expelling 73 CFM of air with ease.
Easy on Newbies, Rewarding for All
Speaking of ease, the Liquid Freezer II is the 280mm liquid cooler that anyone can install in a jiffy. The fans are already secured to the radiator, and their cables rout through the tube sleeves into the head unit. That does mean you don't get to control them individually, but the cable clutter reduction is more than welcome.
It's hard to overstate just how great of a value this cooler is. It's among the cheapest on the list yet keeps up with NZXT's and Corsair's models at keeping new CPUs like the Ryzen 7 5800X3D chill. Better yet, it operates without making a ruckus in the rare instances when you do need it to reach peak RPM.
NZXT Kraken Z63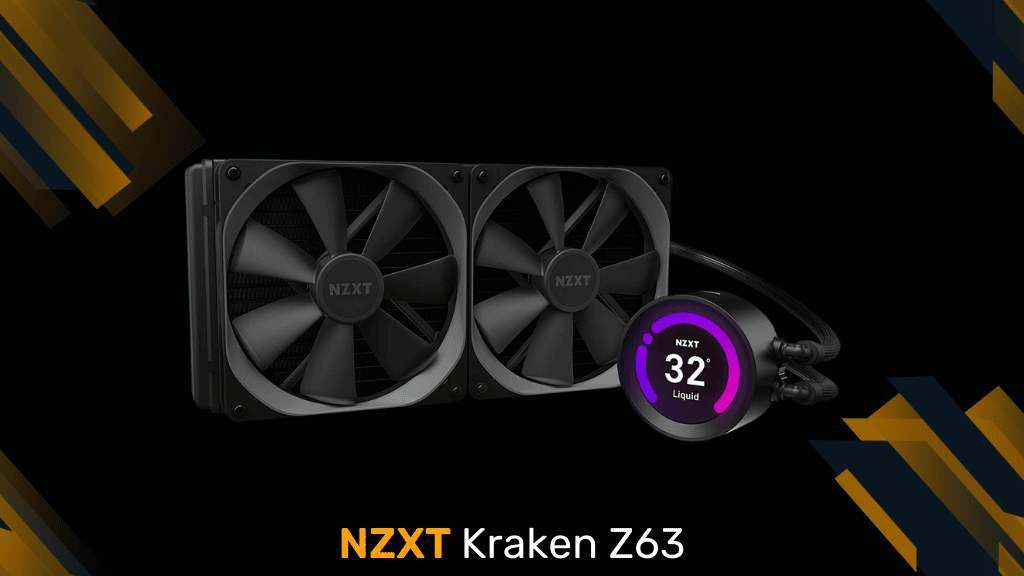 Fan RPM: 500-1,800 | Fan CFM: 98.2 | Tube length: 400mm | Has RGB: Yes
Great performance
Solid build quality
LCD screen can be useful
Ridiculously expensive
The Z subset of Krakens contains the most extravagant AIOs NZXT has ever released. You'll pay a premium for the LCD screen but do get excellent performance as well. The screen is a novelty but can be useful. Don't feel like getting the best 280mm AIO in terms of bling? Then give the X63 a shot instead.
This is the most nondescript 280mm liquid cooler of the lot at first glance. The cylindrical CPU block and solid fans have a stealthy appearance that's sure to fit any build. This can change radically once you set it up due to the 320×320 screen gracing the pump top. It accepts everything from static logos and photos to GIFs of your Genshin Impact home. If you want to be practical, you can always turn the screen into a thermometer that displays pertinent system temperatures.
More Than Just the Screen
The radiator you get with the Z63 is thicker than most at 30mm. It's also denser & able to absorb more heat. This puts added strain on the fans, but the 140mm Aer P-s are more than up to the task. Each has a respectable CFM approaching 100, with a static pressure of 2.7mmH2O to back it up. The tubing is another solidly built component. It's 400mm long & feels sturdy yet can bend enough to make installation more comfortable.
Speaking of which, putting the AIO together requires around 15 minutes and doesn't provide any unforeseen challenges. You're in luck if you have an LGA 1200 or older Intel CPU since the corresponding bracket is already present on the pump head.
The Z63's performance will remain stellar long after the LCD's novelty wears off. Its cooling efficiency comes close to or matches our top two contenders, while peak operation doesn't see noise levels breaching the 40dB threshold.
Thermaltake Floe Riing RGB 280 TT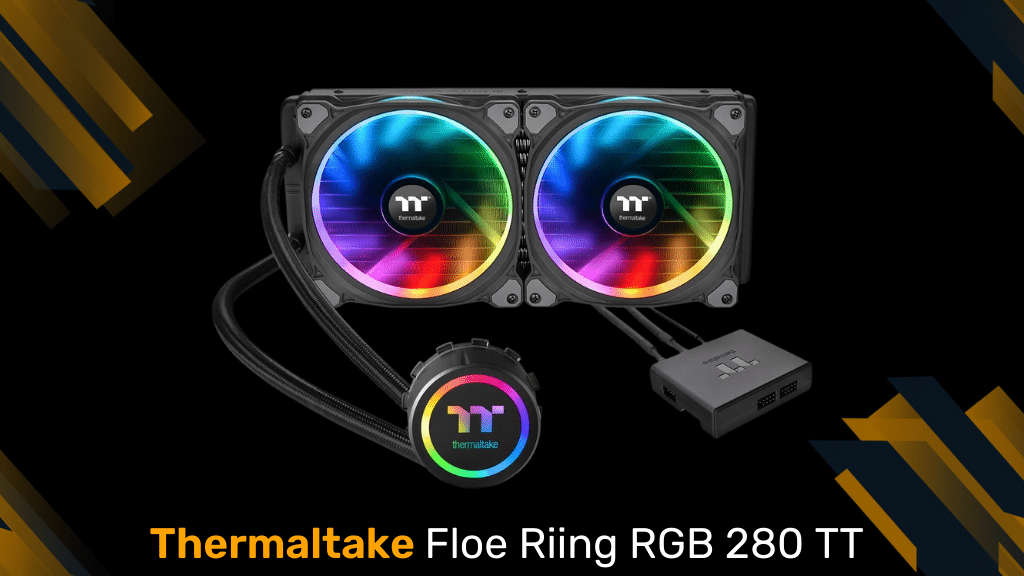 Fan RPM: 500-1,400 | Fan CFM: 63.2 | Tube length: 326mm | Has RGB: Yes
Corsair isn't the only company with an RGB galore approach to its 280mm liquid cooler. Thermaltake steps up to the challenge with a model whose name we'll abbreviate to Floe Riing TT for expediency. It has a similar approach with its separate fan hub & in-depth controls through proprietary companion software. Best of all, performance isn't lacking either.
The uninspired pump design is a dead giveaway of the Floe Riing TT's reliance on Asetek parts. Still, it's small yet can move a lot of water while housing six bright LEDs. The milled copper bottom has a generous layer of thermal paste already in place, and the top bracket is ready for all but the latest Intel CPUs.
The pair of 140mm fans you secure to the radiator are massive. They have nine opaque black blades each despite also carrying 12 LEDs apiece. The blades' nature doesn't interfere with the vivid and uniform glow of the lighting. The max CFM is adequate, and the low RPM limit suggests quiet operation.
Capellix Lite
This is another 280mm liquid cooler that comes with and benefits from a hub lighting controller. The fans use proprietary 9-pin cables to connect to it, and the hub can accommodate five of them. Its companion software isn't as sophisticated as iCUE. Even so, there's a plethora of lighting modes and effects for you to select. We're partial to tying the color to the current CPU temperature, but having it match your keyboard or other RGB fans is equally valid.
The Floe Riing TT is among our more expensive choices, so it's reassuring that its performance is up to snuff. You can expect temperatures to come within a hair's breadth of the H115i's. Noise levels are slightly better at max RPM, but it's far from the best 280mm AIO in that respect.
be quiet! Pure Loop 280mm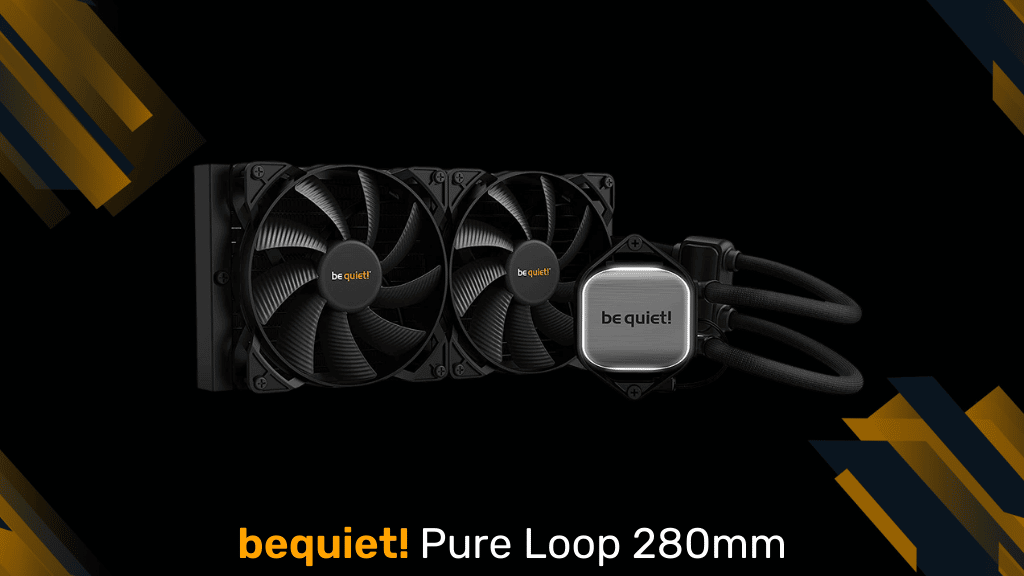 Fan RPM: 1,600 | Fan CFM: 52 | Tube length: 400mm | Has RGB: No, white light
Be quiet! is a household name when it comes to power supplies and CPU air coolers. Their first foray into liquid cooling territory wasn't met with fanfare, but that may change if you embrace the Pure Loop! It's the best 280mm AIO if silent operation is at the top of your priority list. Furthermore, attention to detail and the ability to refill the coolant make using the cooler with multiple successive builds likely.
Let's start with the deceptively simple radiator, which looks like any other 280mm model until you spot a cap at the bottom. Unscrewing this allows you to refill the coolant from a bottle that's part of the accessory set. The radiator and tubing design minimize evaporation. Still, having the means to top the liquid up and prolong the AIO's lifespan is heartening.
Two 140mm Pure Wings 2 fans go onto the radiator. They have rifle bearings for quiet rotation and unique wave-shaped fins that help agitate more air. That helps the fans achieve an OK throughput of 52CFM while remaining whisper-quiet.
Pristine Look, Silent Cooling
The CPU block is mainly made from plastic. It has a nickel-plated octagonal cold plate on the bottom and an acrylic top that glows white and is perfect for drawing attention to equally-colored RAM. The pump isn't part of the block, dangling from the braided tubing towards the radiator instead. Such placement helps reduce noise and prolongs the pump's life since it's exposed to much less heat.
All of these acoustic-focused measures bear fruit! The Pure Loop's idle sound output is in line with others, but it barely increases with processor load. The fans could be spinning at 1,600 RPM, and noise would still remain in the mid-30s decibel range. Sound fixation takes its toll on performance, but not by much. Still, you'll want to go with the similarly-priced Liquid Freezer II if a couple extra degrees bother you.
MSI MAG CORELIQUID 280R
Fan RPM: 500-1,800 | Fan CFM: 84.4 | Tube length: 400mm | Has RGB: Yes
Decent performance for the price
Pump placement doesn't decrease efficiency
Setting the lights up is a cinch
Setup with AMD CPUs can be tricky
We all know & respect MSI for making some of the most successful motherboards & other PC components. The company is a latecomer to the AIO game, but that doesn't mean you should discount the effort! The MAG CORELIQUID 280R is an adequate cooler with solid stats & great-looking RGB that's sure to enhance your build's appearance.
MSI put a lot of thought into the AIO's design, starting with the CPU block. It has a triangular space in the middle for the light-up dragon logo that gives the otherwise cylindrical part some welcome visual uniqueness. Thermal paste and a bracket are in place already, so you're all set to install the cooler on an Intel processor without being concerned about RAM clearance.
The block is among the lightest we've seen since it doesn't house the pump. You'll find it integrated into the aluminum radiator instead. The impact this has on cooling efficiency is negligible as the pump's positioning aligns with most of a 140mm fan's center. The fans in question are white and semi-transparent, allowing a good deal of light to pass through. Their throughput is decent too.
Reasonable Cooling for Intel CPUs
The existence of a thriving ecosystem let MSI design the MAG CORELIQUID 280R without the need to develop new companion software. RGB adjustment works through Mystic light, but you can use similar software from other manufacturers without issue.
This wouldn't be the best 280mm AIO to cool a scalding 12900K with since it's not as capable as more expensive alternatives. Still, you could run a stock i9 or hook it up to any i7 processor and be just fine. Lack of overwhelming noise is another incentive as the MAG CORELIQUID 280R is more silent than most.