It wasn't that long ago that 60fps at 1080p was the gold standard. Then came the first 144Hz monitors, which demonstrated what high-precision gaming could be. Now they're the bare minimum for competitive gaming, with manufacturers pushing the envelope of achievable framerate almost with each new generation. A 360Hz monitor is currently the best you can get. Should you, and if so, which one? Those and questions like them are what this rundown is here to address.
The fastest monitors are still 1080p, which makes sense given how an increase in resolution makes it exponentially more resource-intensive to maintain high framerates. As a result, they all have 24.5″ diagonals to keep the PPI count acceptable. You'll find that such specialized monitors have many more similarities, making it harder to gauge which one you should get. We examine each one more closely below.
Acer Predator X25
Diagonal size: 24.5" | Panel type: FIPS | Contrast: 1000:1 | Response Time: 0.3ms | Max Brightness: 400 Nits| HDR: DisplayHDR 400 | Tilt: -5°/25°
We've already featured Acer's excellent displays in most of our recent monitor roundups, but the 360Hz X25 is something else. Designed for pure gaming while being no slouch in color accuracy, it delivers a fantastic viewing experience and smoothness you'll have to witness to believe. It's highly customizable, compatible with various NVIDIA technologies, and worth the price premium if you have the hardware to support it.
The X25's gaming provenance is hard to miss, whether it's on or off. Its base is a thick metal cylinder with gently arching feet that leave enough room for a full-sized keyboard and mouse to occupy the same desk space. You can tilt the monitor a total of 30 degrees, swivel it by 20 to either side, and adjust the height by four inches.
The back is home to a square RGB strip surrounding the main component area. It syncs with other Acer products via the Light Sense app, or you can use the OSD for general lighting customization. The X25 has a light sensor with various uses, adapting the RGB to your surroundings being one of them. The area above the LEDs is home to the I/O, which consists of DisplayPort 1.4 & HDMI 2.0b for video out, a headphone jack, and four USB 3.0 ports. USB-C is sadly not present.
Acer outfitted the X25 with one of the most comprehensive OSDs on the market. It's easy to navigate using the joystick yet contains a wealth of options that enhance your viewing and gaming experience. For example, you can set the brightness and color temperature to change with the amount of ambient light. There are a handful of gaming-centric features like crosshairs and FPS counters, as well as in-depth color and gamma management.
Instinctive Response
While it's not meant for color grading or other types of professional use, the X25 is an accurate and vibrant monitor. Its existing calibration will be good enough for all but the pickiest tinkerers. The max brightness is a respectable 400 nits, although you'll have to activate it manually in the settings. A variable backlight feature can enhance contrast in SD and HDR modes. It deepens the shadows and raises detail but messes with the black levels.
Competitive players who've experienced a 360Hz gaming monitor like this will have a hard time going back. A caveat is that features like G-sync and motion blur reduction drop the refresh rate to 360Hz. Overdrive works fine at the max framerate, though. You should set it to normal for best results as going Extreme introduces too much ghosting.
The X25 comes with NVIDIA's Reflex Latency Analyzer. This feature lets you hook a mouse up to one of the monitor's USB ports and provide real-time data on its response times. It might not be as useful on lesser displays, but finding out that your rodent can't keep up with a 360Hz panel sooner rather than later might become a game-changer.
AOC Agon PRO AG254FG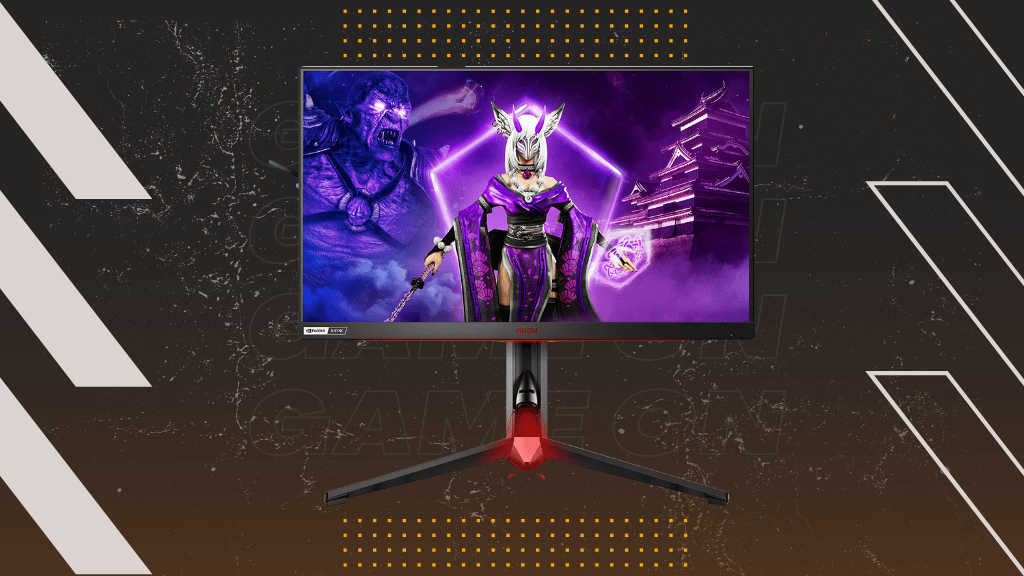 AOC Agon PRO AG254FG
Diagonal size: 24.5" | Panel type: FIPS | Contrast: 1000:1 | Response Time: 1ms | Max Brightness: 450 Nits| HDR: DisplayHDR 400| Tilt: -5°/23°
AOC is among the latest to join the 360Hz gaming monitor fray with its Agon PRO AG254FG. It's one of the most physically configurable displays on the list and offers equally comprehensive picture adjustments. It's made from premium materials, has buttery smooth output, and is among the brightest screens currently available. You'll have to fork over a lot of cash to own one, but we're sure it will go down in price with time.
We're impressed with the AG254FG's overall appearance and the illusion of frailty it gives when viewed from the front. You'd think that the spindly legs and thin upright couldn't possibly hold such a screen up, and yet it stays in place effortlessly without wobbling. Freedom of movement is also excellent, allowing you to pivot, tilt, and swivel the monitor until it feels just right.
Lighting on the AG254FG is extensive, with a bar underneath the thin bottom bezel and six bracket-like shapes in the back. There's even a tiny projector in the base that displays the word AGON or its logo onto your desk in millions of colors. Loads of effects are at your disposal, but we're partial to the one that mimics the lighting currently on the screen.
There are ports galore in the back, starting with the 4+1 USB 3.2 connections. They're accompanied by a standard three-port video out stack, two audio outs, and a microphone jack. A hook on the side makes for a great resting place for your headphones. Moreover, the monitor arrives with three blinds that close off ambient light, allowing you to focus on the action on the screen.
The Customization King
Kudos to AOC for designing such a unique and accessible OSD. It starts in the form of large icons with categories like gaming mode presets and G-Sync settings. From there, you can select a category via the joystick or a puck controller you plug into the monitor. There's little need for calibration, but users unsatisfied with the out-of-the-box experience can tweak color saturation, brightness, gamma, or contrast with impunity.
The panel exhibits all the advantages and relative shortcomings of IPS. It's very bright at 450 nits, allowing you to slay demons or frag others without having to draw the blinds on a summer's day. The color space conforms to sRGB, ensuring vivid viewing only photographers might object to. G-Sync and Freesync both work flawlessly, eliminating screen tearing from 48 to 360Hz.
Ultra-Low Motion Blur makes an appearance and has the same restrictions as on Acer's model. However, its impact on higher settings is lesser due to the brighter panel. You'll be tempted to turn it off even so since the impact 360Hz has on motion resolution is noticeable.
It's also a good idea to keep the overdrive on its lowest setting to combat undue blurring. Finally, you might also want to have HDR mode on all the time since it deepens the contrast and doesn't make SD content look garish.
Alienware AW2521H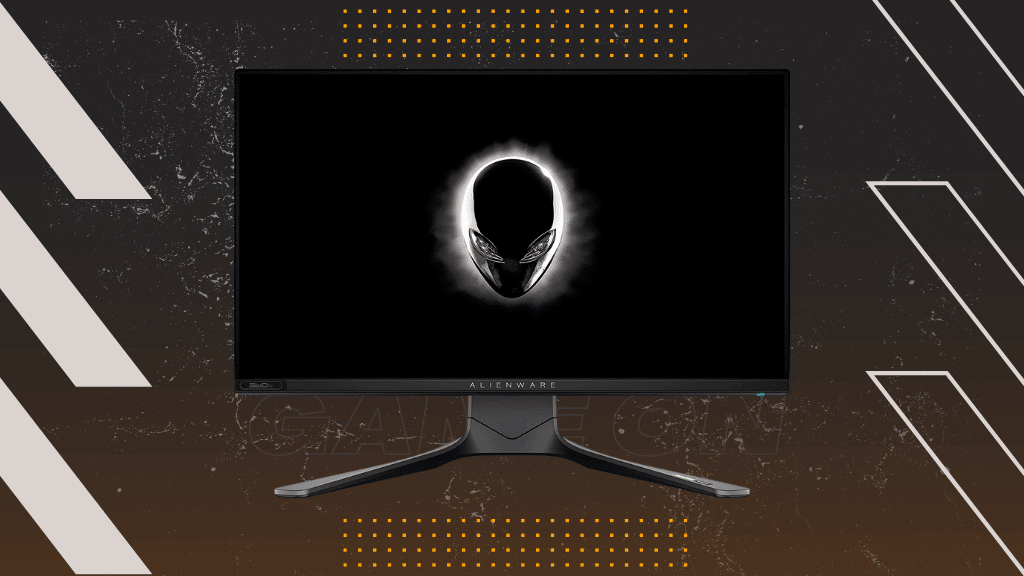 Diagonal size: 24.5" | Panel type: FIPS | Contrast: 1200:1 | Response Time: 1ms | Max Brightness: 400 Nits| HDR: DisplayHDR 400
Excellent responsiveness
Handles motion blur very well
Bright screen with good color accuracy
Comparatively limited picture adjustment, no Freesync
The AW2521H is among the earliest 360Hz monitors that keeps up with the competition thanks to excellent picture quality and blur reduction. Its distinctive design is tailor-made for Alienware prebuilt PCs while looking good no matter your setup. Add to that blazing fast refresh rates & occasional sales, and you've got a monitor you could snatch up at a fantastic value.
Everything about the AW2521H's minimalistic appearance suggests premium quality. The display itself is thin, with almost non-existent 7mm bezels on the top and sides. Most of its bling is concentrated on the stand in the form of a long light strip you can modify through Alien FX or the OSD. The base is broad and sturdy. It allows you to tilt, swivel, and pivot the monitor to get it into. Handy measurements on its inside make it easy to remember your preferred settings when moving the monitor.
There are plenty of connections for your peripherals, headphones, and other gadgets in two places. Most of them are under the middle and a bit awkward to reach. Luckily, several of the five USB ports and the headphone jack are just behind the lower edge and easily accessible.
While visually similar to Acer's OSD, the AW2521H's has a different approach to some presets. General ones conform to game genres like FPS or MOBA, and you may use three to save custom presets. Doing your own calibration is trickier since there's no six-axis color saturation and gamma adjustment. You do get an ambient light sensor and associated options, though.
An Otherworldly Display
The AW2521H's 24.5" FIPS panel has excellent viewing angles and color fidelity. It encompasses 99% of the sRGB color gamut and solid overall uniformity. There's a bit of color bleed towards the edges, which shouldn't be an issue in everyday use. Contrast is better than average for an IPS panel, as is the 400-nit brightness cap.
The monitor recognizes 10-bit color sources and uses G-Sync to maintain tear-free gameplay all the way up to 360Hz. It has three overdrive modes. Fast is the first and most effective one since going further leads to too much ghosting. ULMB is supported too and works well, but it requires that you disable G-Sync and reduce the refresh rate to 240Hz. Since it employs a strobe effect, turning ULMB reduces peak brightness. This shouldn't be problematic given the AW2521H's upper limits, though.
While it's nowhere near the level of today's TVs, the AW2521H's HDR implementation is decent for the price. Turning HDR on ups the contrast and causes colors to pop, adding another degree of immersion. Don't expect inky blacks due to panel limitations and 400 nits of peak brightness. Still, engaging the feature helps you spot hidden details and gain the upper hand.
ASUS ROG Swift PG259QN
Diagonal size: 24.5" | Panel type: FIPS | Contrast: 1000:1 | Response Time: 1ms | Max Brightness: 400 Nits| HDR: DisplayHDR 400| Tilt: -5°/20°
Excellent value for the money
Decent speed and contrast
Great build quality and adjustability
Lackluster I/O
We have ASUS and its PG259QN to thank that 360Hz monitor is no longer a term one would associate with science fiction. It holds on surprisingly well for the first of its kind as competing models offer more ports or secondary features rather than better picture quality. Age has its benefits in that you can now get the screen for $200 less than when it launched.
ASUS knows how to design a monitor! We're fans of the futuristic aesthetic and contrast of towering parts with subtle details on the monitor itself. The chunky base tastefully combines an upright with a sizeable cable management hole with wide feet reminiscent of propeller blades. The bezels are some of the thinnest around, and you can adjust the screen in various ways.
A large ROG eye serves as the PG259QN's only LED source. It's compatible with Aura Sync, meaning you get to align its lighting effects with those of other ASUS components. If there's anything about the PG259QN's physical traits we'd consider lackluster, it's the I/O. You get only two downstream USB-A ports and a headphone jack, while the second HDMI 2.0 connection is absent.
The OSD is functional and covers everything from choosing your preferred picture preset to customizing the lighting effects. There's no support for mouse calibration like on more recent models, but that's far from a deal-breaker.
There are several other gaming-centric features like a timer, fps counter, and your choice of several crosshairs. The calibration controls are thorough, consisting of several color temperature presets, a wide gamma range, and RGB sliders.
The Start of a New Chapter
Like many of the models discussed above, the PG259QN requires little fine-tuning to shine. It's a perfectly capable everyday tool that can display sharp black text on bright backgrounds as easily as distinguish between subtle hues of green. Gentle use of the RGB sliders will make the colors pop, but they're fine as is if you don't want to bother. The screen covers the entire sRGB color space.
Provided your GPU is up to it, maintaining framerates above 300Hz renders the monitor's ULMB limitations moot. It does come in handy for more graphically challenging games like Cyberpunk 2077 at lower framerates, albeit at the cost of some brightness. G-Sync has an even wider reach than on AOC's monitor, spanning the entire 1-360Hz range.
The PG259QN isn't a proper HDR monitor, yet you can still benefit from running it in the corresponding mode. Its variable backlight covers several large zones and isn't as responsive as more sophisticated implementations on more expensive models. It uplifts supported content even so, creating better contrast than an IPS panel would typically be capable of.
MSI Oculux NXG253R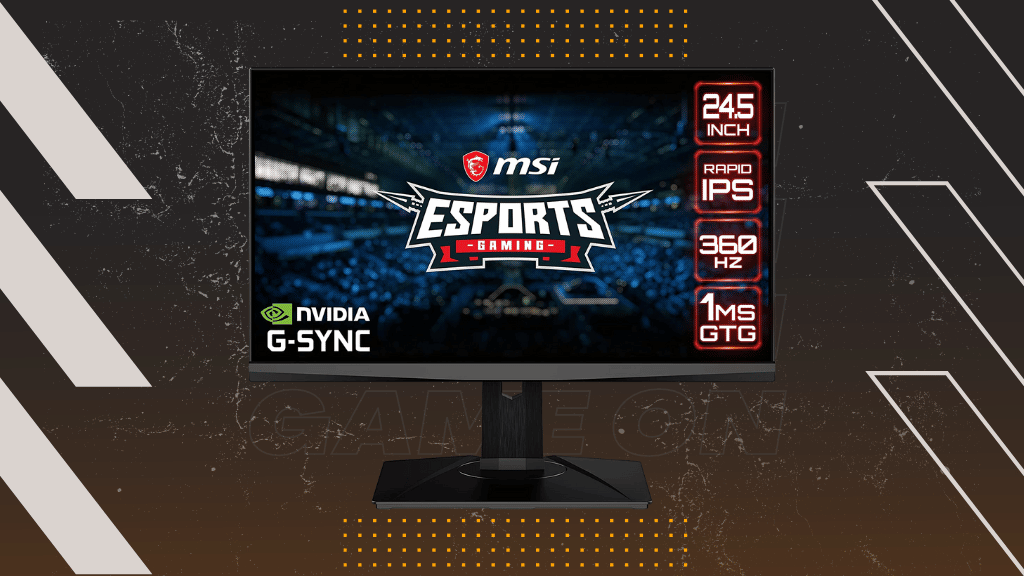 Diagonal size: 24.5" | Panel type: FIPS | Contrast: 1000:1 | Response Time: 1ms | Max Brightness: 400 Nits| HDR: DisplayHDR 400| Tilt: -5°/20°
Great picture quality and brightness
Effective backlighting
No issues with motion blur
Plain aesthetic might not appeal to some
As you might have picked up by now, the 360Hz monitors currently on offer have pretty similar in-game performance. Most entries on our list are interchangeable, with subtle differences rather than glaring flaws serving as placement indicators. Such is the case with MSI's Oculux NXG253R. It's as good a panel as the ones that came before it, but quibbles like aesthetic choices cost it a higher spot.
MSI went for a mi of no-nonsense and gaming when designing the Oculux NXG253R. You'll immediately notice that it's chunkier than the rest, and the base leaves little room for your keyboard. The monitor has a grainy black texture with a contrasting smooth MSI dragon logo that's hard to spot. However, what it might lack in style, the ensemble makes up for with rock-solid stability and decent freedom of movement.
RGB is not a saving grace either since it's limited to a single bar on the bottom. It glows green by default, and the only way to change that is through Mystic light. You may change the color individually or sync it with the lights on other connected MSI products.
MSI's OSD is among the better ones and lets you quickly reach core settings through one of six panels. The red joystick speeds navigation up further, and you can assign custom functions to each of its four directions. You have a high degree of freedom when calibrating the already solid picture. If you don't want to bother with details, several genre-specific presets are also there.
A Jack of All Trades
The panel is akin to others we've come across. It's fast FIPS with almost horizontal viewing angles, full sRGB color gamut coverage, and 400-nit peak brightness. MSI's implementation of variable backlighting is also on point. The color temperature and gamma are acceptable as is, and it's possible to bring them closer to perfection with just a little tweaking.
The Oculux NXG253R shares many features with higher-placed rivals. These include support for G-Sync and adaptive sync as well as the hardware required to run NVIDIA's mouse input latency tool. It's not too lean on ports either. Three USB 3.2 ones are of the downstream variety, and a 3.5mm headphone jack is the only input besides standard video out options. The monitor doesn't have integrated speakers, but these tend to be mediocre at best anyway.
The benefits 360Hz brings to split-second enemy spotting and more accurate aiming are as strong on the Oculux NXG253R as on the best 360Hz monitor from Acer. ULMB is implemented well, and the middle of three settings works best while you're dealing with terrorists in CS:GO at the maximum framerate. Turning HDR on is a boon in most games since it makes details in the shadows more pronounced. You'll want to use your judgment on a case-by-case basis since HDR can blow the highlights out in some titles.
Acer Nitro XV252Q Fbmiiprx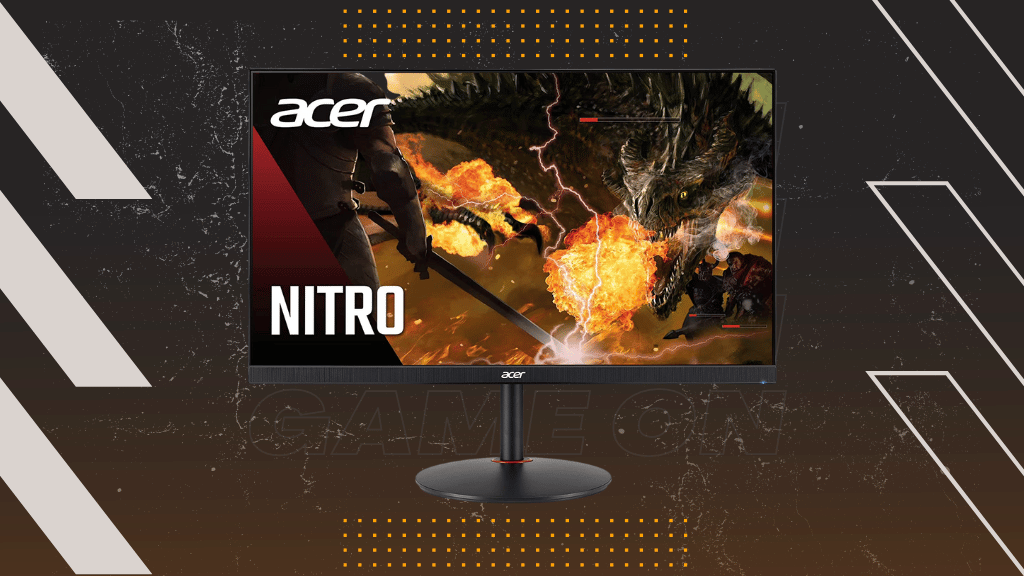 Diagonal size: 24.5" | Panel type: FIPS | Contrast: 1000:1 | Response Time: 1ms | Max Brightness: 400 Nits| HDR: DisplayHDR 400| Tilt: -5°/25°
World-class refresh rate
Solid picture quality
Comprehensive configuration
Basic I/O and mediocre build quality
Acer rounds out our 360Hz monitor selection with a model that pushes boundaries. Think of the XV252Q like one of the souped-up cars from older Need for Speed games – it's mundane on the outside but precision-engineered for lightning-fast gaming under the hood. It's last mainly because ASUS and MSI's price drops make their monitors more compelling. If you're after the pinnacle of modern refresh rate capabilities, then it wins hands down.
Aesthetics was the last thing on Acer's mind when developing the XV252Q. While not ugly, almost nothing suggests that this monitor focuses solely on gaming. It has a red ring around its round base and a V-shaped exhaust on the back. That's it. Some users might take issue with the base since it doesn't allow you to angle the keyboard like spread-out feet would.
We don't mind a visual downgrade, but an I/O like this on a $400+ monitor is disappointing. Your only options are HDMI 2.0, DisplayPort 1.4, and an audio jack. There's no RGB either, which isn't that big of a deal in the grand scheme of things. So, what justifies the XV252Q's high price for a 1080p monitor?
Full Throttle
Its record-breaking refresh rate. Acer successfully dipped its toes into the 360Hz waters with the Predator X25 but wanted to push further. The result is a panel with the same native refresh rate you can push towards 390Hz!
Even the most accomplished graphics cards will have difficulty maintaining such numbers in modern games. The 30Hz difference is more or less imperceptible in older titles too, which makes the XV252Q more of a development milestone than a leap forward.
While the push it introduces isn't revolutionary, the XV252Q is a good monitor in its own right. It conforms to most standards the competition sets, including good peak brightness, excellent viewing angles, and manageable bleed. The color coverage is slightly weaker at 95% sRGB, which you're unlikely to notice unless you have a colorimeter handy.
Picture adjustment is an area Acer did not skimp out on. You can dial in precise changes through controls responsible for modifications to gamma, grayscale, sharpness, and hue/saturation. The HDR is comparable to most other displays on the list due to identical brightness. You don't get G-Sync, but that shouldn't be a turn-off since AMD's open-source alternative keeps the screen equally free from tearing.