We've tackled the smallest AIOs and 280mm newcomers, so it's time for the most sought-after coolers for gaming enthusiasts! They combine long radiators with three fans to deliver exceptional cooling, provided there's space on your case for such a large setup. What's the best 360mm AIO today? Take a look at our careful selection and find out firsthand.
Our Best 360mm AIO Picks at a Glance
They were popular before, but Alder Lake's arrival is sure to increase the demand for 360mm coolers even more. The market is brimming with choices ranging from the extravagant to highly efficient at rock-bottom prices. We've narrowed the search down to six enticing AIOs. Their feature sets are distinct, so finding the right one should be a snap whether you're interested in bling, chill, or the ultimate combination of both.
NZXT Kraken Z73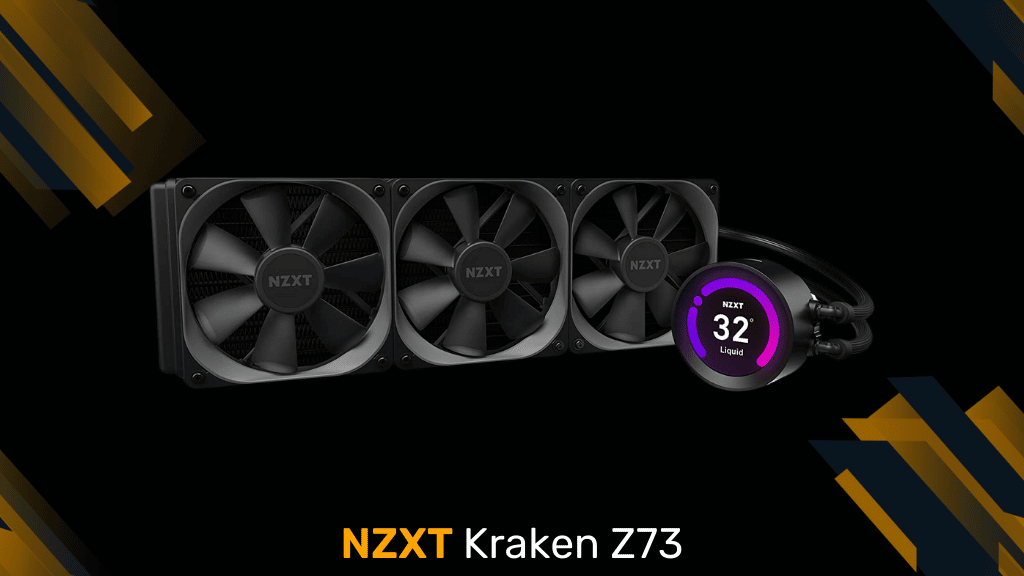 Fan RPM: 500-2,000| Fan CFM: 73.1 | Tube length: 400mm | Has RGB: Yes
Excellent cooling capability
Useful and informative screen
Highly customizable through CAM
Very expensive
What is there to add to a 360mm liquid cooler that already boasts superb performance? If you're NZXT and going all the way, the answer is nothing short of an LCD screen! That's the Z73's standout feature and the one for which you'll pay a premium over similar AIOs. It's worth it for the bragging rights alone, but the screen is more than a shiny bauble.
When off, the Z73 is a stealthy if rather plain-looking AIO. It's an all-black unit with a telltale cylindrical 7th-gen Asetek pump and a standard radiator. Its true colors get a mesmerizing reveal with bootup. Millions of them display proudly on a bright and detailed LCD on the CPU block top. It's genuinely useful for displaying processor or coolant temperature with real-time updates. Or you can set it up to run a collage of your favorite Genshin Impact vistas – we won't judge.
The pump is a capable performer, and so are the three Aer P12 fans strapped to the radiator. Each can rotate as fast as 2,000 RPM and push 73 cubic feet per minute of air through. They get noisy when spinning at 100%, but going that fast isn't necessary since you get diminishing returns past half speed.
The Most Entertaining AIO Around
You need CAM to change the display's image and adjust custom fan curves, but it's much more capable than that. CAM also offers a dashboard that displays complete system settings and monitors changes, so you're always in the know.
The Z73 is right up there with our best 360mm AIO picks performance-wise. It's better than its predecessor and can even keep up with similarly-priced custom water loop solutions. If cooling is your only concern, consider the X73 for similar performance levels at a much more reasonable price.
Corsair iCUE H150i Elite Capellix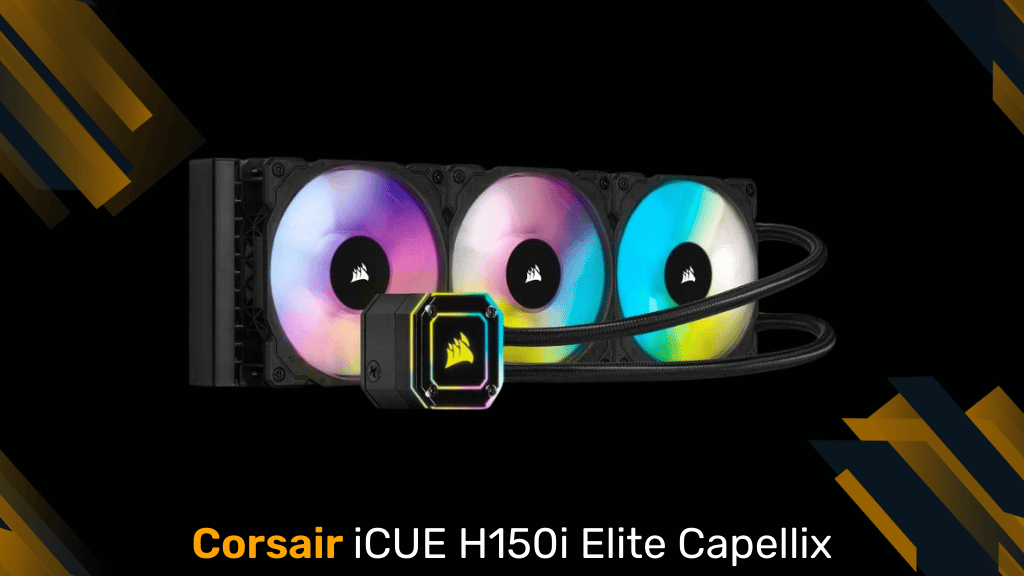 Fan RPM: 0-2,400| Fan CFM: 75 | Tube length: 400mm | Has RGB: Yes
Not a fan of LCDs on AIOs, but still want top-notch cooling? Then Corsair's H150i should be right up your alley! It has the brightest lights around and works flawlessly. Thanks to a hub that handles all your RGB fan connections without creating clutter, it's also easy to install.
Owners of older Corsair 360mm liquid cooler models will notice that the CPU block ha undergone the most changes. It sports more sharply-defined features and a taller top. The latter is necessary to house the new Capellix LEDs and allow for swapping. The default one is mostly black, but the acrylic replacement is much more open to better showcase Corsair's lighting technology. It's also milky white when not in use, complementing similar RAM and cases perfectly.
So what's the big deal with Capellix? In short, they're an improvement upon ordinary LEDs in every way. They're brighter, smaller, and need only a fraction of the power to run. That allowed Corsair to put a whopping 33 of them onto the head unit and eight more on each ML120 fan. That's a lot of RGB for your gaming PC you can customize minutely through iCUE.
More importantly, iCUE is indispensable for monitoring system temps & fan curves as well as choosing the suitable cooling preset. Inexperienced users will love how they can adapt the H150i's cooling output with a few clicks.
Capellix Cooling Magic
You install the H150i like most other AIOs. It's not as straightforward as Arctic's model, but it comes close with the help of the Commander Core. This handy accessory contains ports for six ARGB and PWM headers that handle fan power. It connects to the PSU through SATA and is easy to mount out of the way of other components.
Choosing the extreme preset turns the H150i into the best 360mm AIO on the list. Firing on all cylinders leads to chilly CPU temps but also generates an uncomfortable amount of noise. Luckily, you don't lose much efficiency by switching to balanced, while going to quiet makes this one of the most silent AIOs we've seen. There's even the option to turn the fans off entirely when the CPU is idle.
ARCTIC Liquid Freezer II 360
Fan RPM: 200-1,800| Fan CFM: 55.6 | Tube length: 450mm | Has RGB: No
The Liquid Freezer II has appeared in every one of our AIO articles so far, and the 360mm version is every bit as proficient. The large radiator allows it to cool any desktop CPU on the market while also keeping the temperature of its surroundings in check. The AIO is among the easiest to install, quiet, and costs less than you'd expect.
Several unorthodox design choices come together to turn Arctic's cooler into the best 360mm AIO value-wise. Its radiator is a third thicker than standard, allowing for more surface area and better heat accumulation. It's then up to three of Arctic's iconic P12 fans to expel it, which they do effectively despite the low rotation speed and a CFM of only 55 each.
Then there's the most innovative part, the CPU block. It's weird-looking, but it has to be to house both the pump and a variable speed 40mm PWM fan. The fan is responsible for cooling your motherboard's VRM. Ducts around it expel air in three directions, meaning you can affect the GPU as well as the RAM if you're experiencing thermal problems with either.
Innovative and User-Friendly
We're pleasantly surprised with the Liquid Freezer II's intuitive installation. The tubing is 450mm long and flexible, so you should have no trouble whichever orientation you choose for the CPU block. It also serves to run the fans' power cables to the block, eliminating cable clutter. The fans are already installed on the radiator, leaving you to secure the pump with the right bracket and connect only a couple of cables.
No other 360mm liquid cooler balances cooling, noise levels, and price as adeptly as this one. Feel free to pair it with a Ryzen 7 5800X3D, or an even beefier CPU for that matter. Acoustics are particularly impressive since there's little difference between running the AIO on full blast or barely when idling.
Cooler Master MasterLiquid ML360 Mirror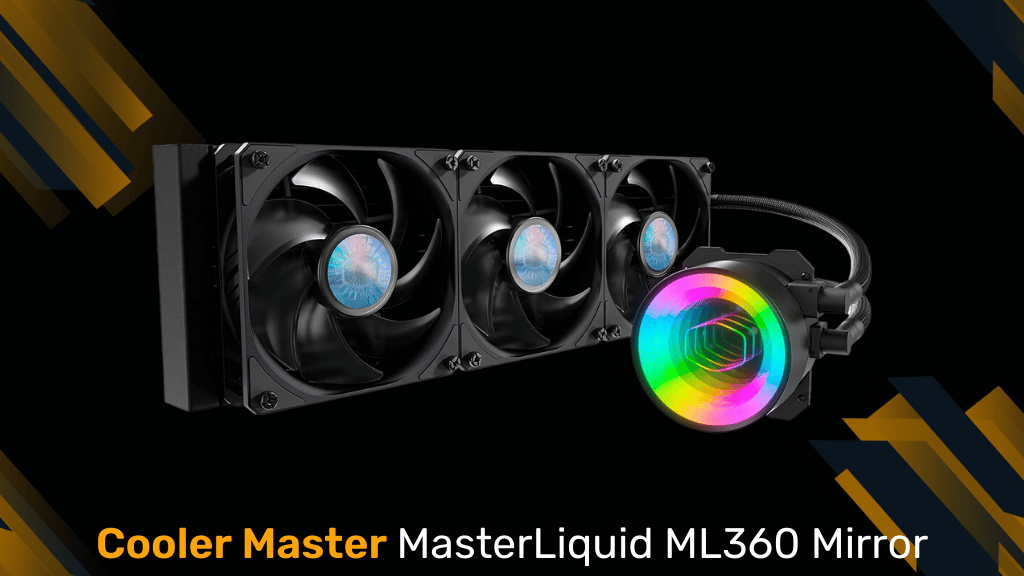 Fan RPM: 650-1,800| Fan CFM: 62 | Tube length: Not specified | Has RGB: Yes
Cools well for the price
Infinity mirror effect looks nice
Straightforward installation
Pump prone to humming when under load
You can get several decent 360mm liquid cooler models for less than $100, starting with the MasterLiquid ML360 Mirror from Cooler Master. It's an AIO that draws attention with its infinity mirror effect while performing better than expected for the price. Get it if you're after an affordable cooler that brings both style and substance without being overbearing.
All of Cooler Master's creativity must have gone into designing the pump head as the rest of the cooler looks dull. The all-black aesthetic works well with all kinds of cases, and we're glad to see that no cheap materials are present. The tubing is long enough to facilitate straightforward installation. Meanwhile, the radiator has a standard thickness & fin density.
The pump design is textbook Asetek, with rotating swivel fittings for the tubing on one end and space for cables adjacent to it. The top needs to be quite high for the mirror array to look its best. And it does, shining with millions of colors in a psychedelic pattern that repeats a ring and the Cooler Master logo seemingly indefinitely.
Cheap Chills
There's no proprietary software to tweak the AIO. However, you do get a small RGB controller with magnetic attachments that handles color selection if your motherboard lacks the proper headers. If it doesn't, Mystic Light, RGB Fusion, and the rest work well instead.
The ML360 cools well for its price. It's not as great as the models from Arctic or Corsair, but you don't need to worry about it throttling your overclocked 12700K. The fans aren't too loud since their top RPM hovers around 1,800. Some users report that the pump can emit a faint hum when pushed to the limit. These reports are few & far between, though.
EVGA CLC 360mm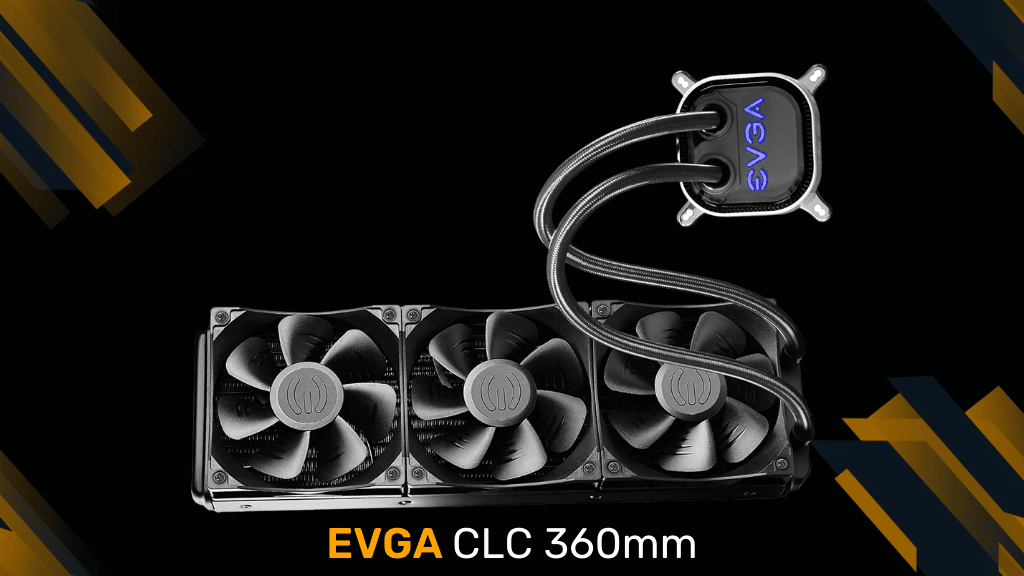 Fan RPM: 5-2,400| Fan CFM: 74.8 | Tube length: Not specified | Has RGB: Yes
Cools very well for the price
Comes with excellent fans
Understated RGB is a nice touch
Very loud fans at 100% RPM
Our second sub-$100 entry is the best 360mm AIO for folks who only care about cooling capability at the lowest possible cost. EVGA did away with every unnecessary frill for the CLC 360mm, even the name. What's left? An above-average cooler that can tackle the 12900K without issue! If you don't mind the noise, that is.
At first glance, there's not much to distinguish the CLC 360mm from other cooling-focused AIOs. It has a cookie-cutter radiator and thick but otherwise unremarkable black tubing. The head unit hides a 5th-gen Asetek pump. Its impeller is plastic instead of metal introduced later, but that has no bearing on actual performance. The tubes connect to the block via its see-through top above the RGB-infused EVGA logo, the only splash of color on the whole thing.
Great Under Pressure
The fans are worth talking about in more detail due to their excellent specs. Their air throughput is 74 CFM, which is neither bad nor outstanding. However, each has a high static pressure of 4mmH2O. This allows for unimpeded air movement even if other fans in the case do little to help circulate it. Being able to blow hot air out with abandon does much to improve efficiency under any circumstance.
And the CLC 360mm is nothing if not efficient. Its approach so that of raw power, achieving low temperatures with a combination of high RPM and pressure. The AIO keeps up with our trio of winners but does so loudly. It's the noisiest cooler on the list when maxed out, eclipsing even the H150i set to extreme. Not even a premium headset will drown it out completely, so experimenting with RPM percentages and acceptable temperatures is the way to go.
MSI MAG CORELIQUID 360R
Fan RPM: 500-2,000| Fan CFM: 78.7 | Tube length: 400mm | Has RGB: Yes
Great-looking RGB
Easy to mount due to smaller CPU block
Great cable management
Not as capable as pricier competitors
None of our affordable picks so far possess the RGB elegance of their more expensive competitors. We've saved the best 360mm AIO in that respect for last! The MAG CORELIQUID 360R combines reasonable cooling chops with vivid lighting both on its fans and the slim head unit. It's innovative, doesn't take long to set up, and works well with mid-tier gaming CPUs.
Most AIO manufacturers use either Asetek or Coolit parts, so it's no surprise that their aesthetics are so similar. MSI chose Apalcool instead, and with it, a different approach to pump placement. Rather than inside the head unit, the MAG CORELIQUID 360R's pump occupies a spot on the radiator. It's centered in the middle of where one of the fans goes to mitigate the resulting area loss. You won't need low-profile RAM to accommodate this cooler.
Budget Cooling for Mid-Range Chips
On the other hand, the CPU block is now smaller and lighter. This helps with the installation, as does the 270 degrees of rotation the top can go through to align the MSI dragon perfectly. You'll have to configure the lighting through your mobo's software. Activating it is a cinch, though, since an included splitter cable takes up only one of the board's ARGB headers.
The only issue, if you can call it that, is with the AIO's cooling capability. It trails behind the Z73 by five degrees or more during normal workloads. This increases if you push a CPU hard enough, even more so when overclocking. You'll want to use one of our other picks for a thermally challenging Alder Lake chip, but this one will be more than adequate for mid-range Rocket Lake or Zen3 builds.