Specs:

Type: 420mm AIO
Fan RPM: 0– 2,000
Fan CFM: 91

Specs:

Type: 420mm AIO
Fan RPM: 500 – 2,00
Fan CFM: 119

Specs:

Type: 420mm AIO
Fan RPM: 200– 1,700
Fan CFM: 73

Specs:

Type: 420mm AIO
Fan RPM: 200 – 1,900
Fan CFM: 69

Specs:

Type: 420mm AIO
Fan RPM: 0– 2,000
Fan CFM: 91
360mm was the largest radiator size you could get for an all-in-one water cooling system for the longest time. Some users felt they needed even better cooling generations ago. More are bound to join them after taking a look at the 13900K's thermals. Hope comes in the form of three 140mm fans and the best 420mm AIO solutions out today. They make case shopping harder, but the added silence and efficiency will be worth it to many.
The AIO roster in this category is slimmer than usual. That's because no other 420mm liquid coolers exist at the time of writing. We're confident that this is about to change since three coolers on the list have appeared in the last two years, and the Ultra is a new release from 2023. We'll be sure to keep the list up to date with new 420mm AIOs. In the meantime, why not become an early adopter and spoil your PC with the ultimate in convenient CPU water cooling?
Corsair iCUE H170i Elite Capellix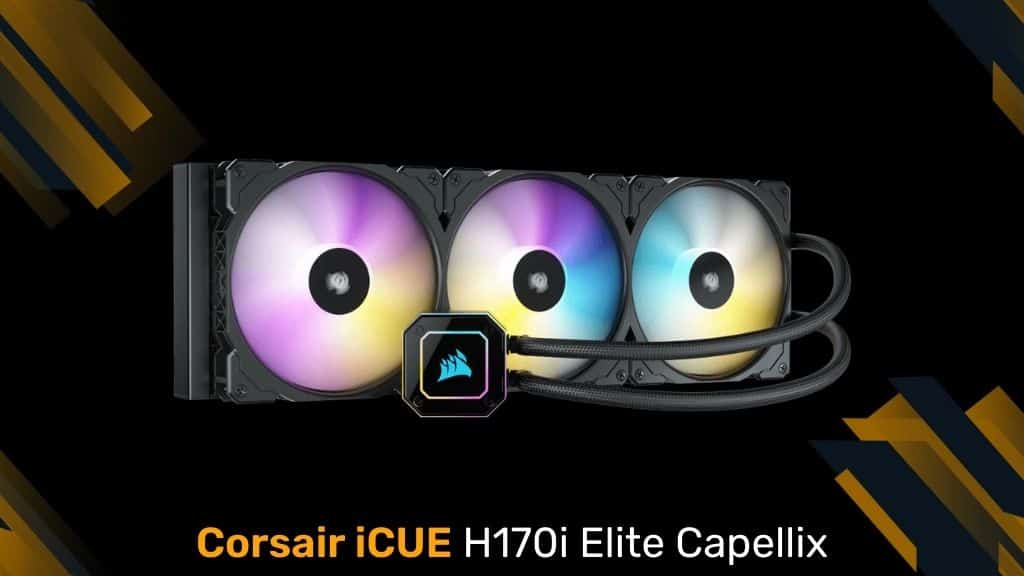 Corsair iCUE H170i Elite Capellix
Type: 420mm AIO | Fan RPM: 0-2,000 | Fan CFM: 91 | Tube length: 450mm | Has RGB: Yes
Pros:
Excellent cooling no matter the preset

Exceptionally quiet in the appropriate mode

High degree of customization through iCUE
Cons:
Using iCUE excludes sync with other lighting
Corsair is the first among major mainstream manufacturers to put out a 420mm liquid cooler. If the H170i's performance is anything to go by, more should follow. The kit runs cooler and quieter than the 150i and doesn't cost much extra. Its RGB capabilities remain the same, which is to say they're among the best in the world.
Corsair has since released the LCD XT version of this cooler. Like Thermaltake's model, its pump head has a colorful screen that can display system data, pictures, and GIFs. We didn't include it in our article update since the original H170i keeps CPUs a degree or two cooler.
There's little visual difference between the H170i and its smaller cousins. Nevertheless, it's easy to tell them apart due to the size and weight disparity. You can get the kit in black or white. We're partial to the latter since it's striking and complements white cases perfectly.
The colossal radiator is rather ordinary in other respects, except for a slight fin density increase. It's home to three white ML 140 ARGB fans with impressive stats. Each can move 97 cubic feet of air per minute out of the case. Additionally, they boast a static pressure of 4.2mmH2O. That allows the fans to overcome resistance brought on by the radiator and cramped conditions inside the case that would otherwise impede airflow.
Corsair AIOs are attractive regardless of size, thanks mainly due to their unique lighting. Dubbed Capellix, the proprietary LEDs excel at everything. They are small, so many more can fit onto the head unit and fans. Each Capellix LED also emits a brighter light than conventional alternatives while needing less power to do so. Such innovation makes the H170i the best 420mm AIO for RGB lovers, but that's just the beginning.
There are 33 LEDs on the head unit, and each fan comes with eight. Rather than use your motherboard's ARGB headers, lighting and PWM fan cables plug into the Commander Core. This hub allows for control of six Corsair fans in total, letting you create a spectacle of color without jeopardizing case tidiness.
Corsair's Best & Brightest
The excellent iCUE software presents you with in-depth RGB customization. You can designate separate colors for each light, have them act as temperature indicators, or go with one of many preprogrammed effects. More importantly, iCUE has a section on fan control where you may choose among a handful of presets, depending on the CPU's current cooling needs.
The 150i was already a fantastic performer, and the 170i ups the ante. While it does keep CPUs even cooler, the difference is negligible on the extreme and balanced presets. However, there's a significant increase in efficiency on the quiet preset. That's excellent since it addresses the main complaint about the H150i – the choice between noise and low temperatures.
Thermaltake Toughliquid Ultra 420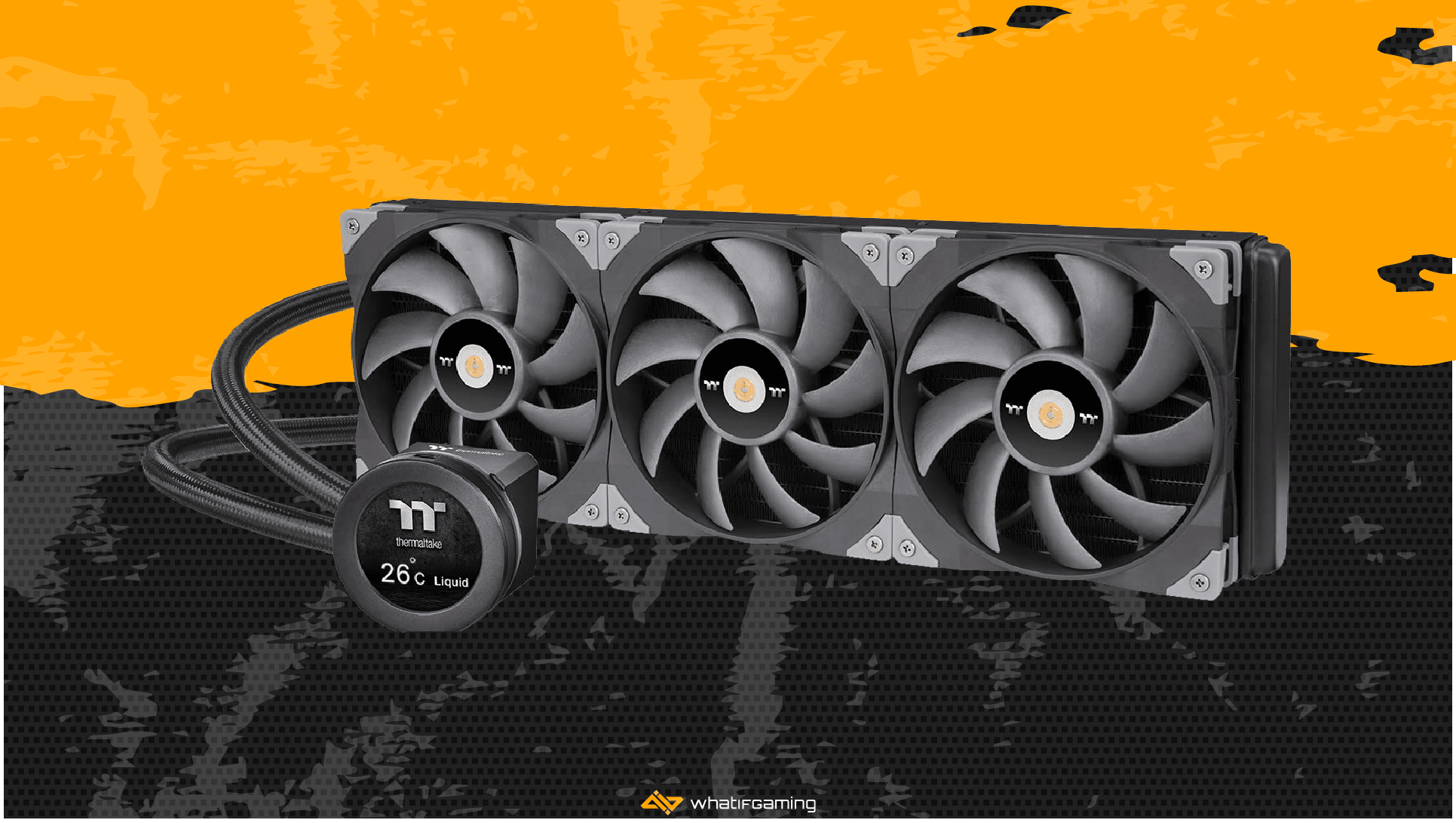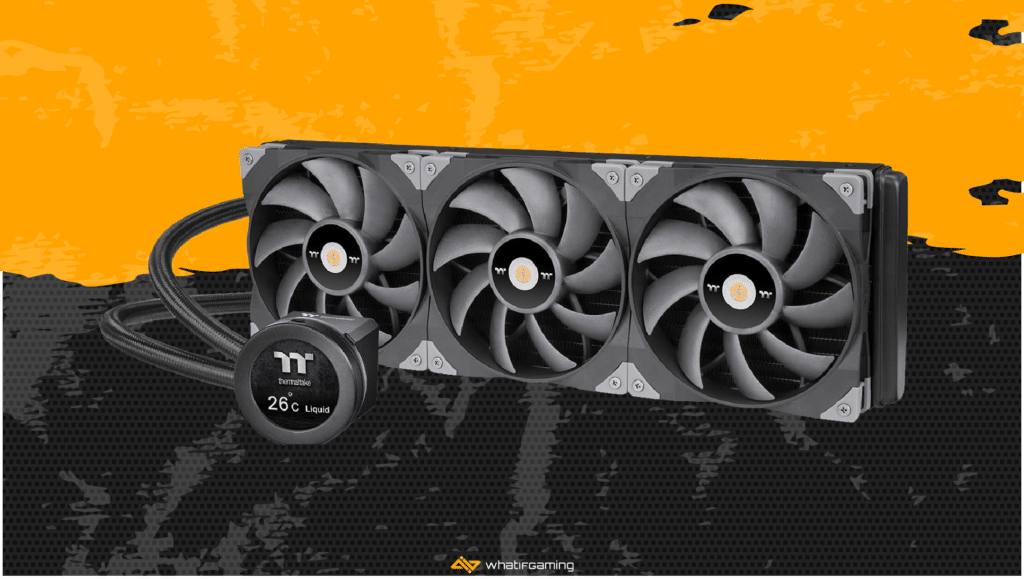 Thermaltake Toughliquid Ultra 420
Type: 420mm AIO | Fan RPM: 500-2,000 | Fan CFM: 119 | Screen diameter: 2.1" | Screen resolution: 480x480 | Tube length: 460mm | Has RGB: Yes
Pros:
Exceptional cooling ability

Vivid screen some will find genuinely useful

Long tubes for mounting in the front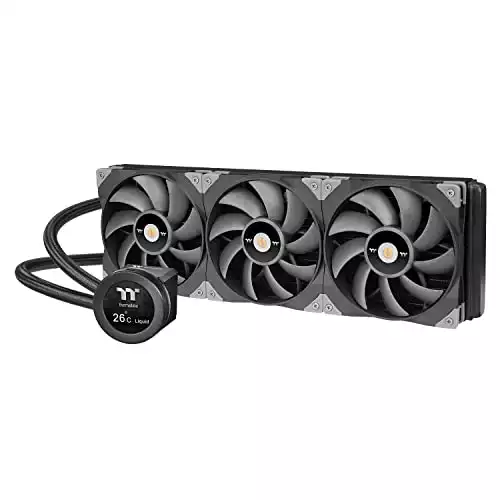 As if providing massive cooling wasn't extravagant enough, Thermaltake ups the ante with its first 420mm AIO. It comes with a full-blown LCD screen for the pump head, letting you display pertinent info or silly gifs to awe-struck onlookers. The bling might be gimmicky, but the AIO itself performs marvelously due to some of the best fans in the business.
For a product with Ultra in the name, the Toughliquid doesn't impress aesthetically when it's off. The all-black pump head goes from a square shape at the bottom to a cylinder on top that holds the screen. Its contact plate has few machining marks and doesn't come with thermal paste. A generous tube full is part of the accessories package, though.
The screen adds much to the Toughliquid's already high cost. Used responsibly, it can become a valuable tool for system builders and overclockers. It can show real-time data on CPU frequencies or various system temperatures, allowing for close monitoring during stress testing without having to alt-tab out of a game.
Of course, there's also the entertainment aspect. Since the AIO doesn't have RGB, the screen is its only – albeit extremely customizable – light source. You can load up any JPEG or GIF that conforms to its 480×480 resolution. The resulting display is bright and colorful.
The Epitome of AIO Bling & Performance
Long tubing connects the radiator, so it's easy to mount the Toughliquid in the front of larger cases. The fans are worth a second look due to superb build quality and performance. Their sturdy frames and stats remind us of Noctua's spinners – high praise indeed. It's deserved, as each 140mm Toughfan can whirl up a staggering 119 CFM while maintaining high static pressure.
Installing the Toughliquid Ultra should present no challenges. You can daisy chain the fans so they take up only one of your motherboard's headers. Our only gripe is with the USB cable the display uses for power. It plugs directly under the screen and can create clutter.
The AIO's impressive CFM potential translates to exceptionally effective cooling. Even an overclocked 13900K shouldn't approach its temperature cap during stress testing, let alone conventional gaming workloads. Noise levels are tolerable despite the amount of air the Ultra can move.
ARCTIC Liquid Freezer II 420
Arctic Liquid Freezer II 420
Type: 420mm AIO | Fan RPM: 200-1,700 | Fan CFM: 73 | Tube length: 450mm | Has RGB: No
Pros:
Fantastic performance at a low price

Remains quiet even when cooling overclocked CPUs

Easier & faster to install than the competition
Cons:
Look & pump design not for everyone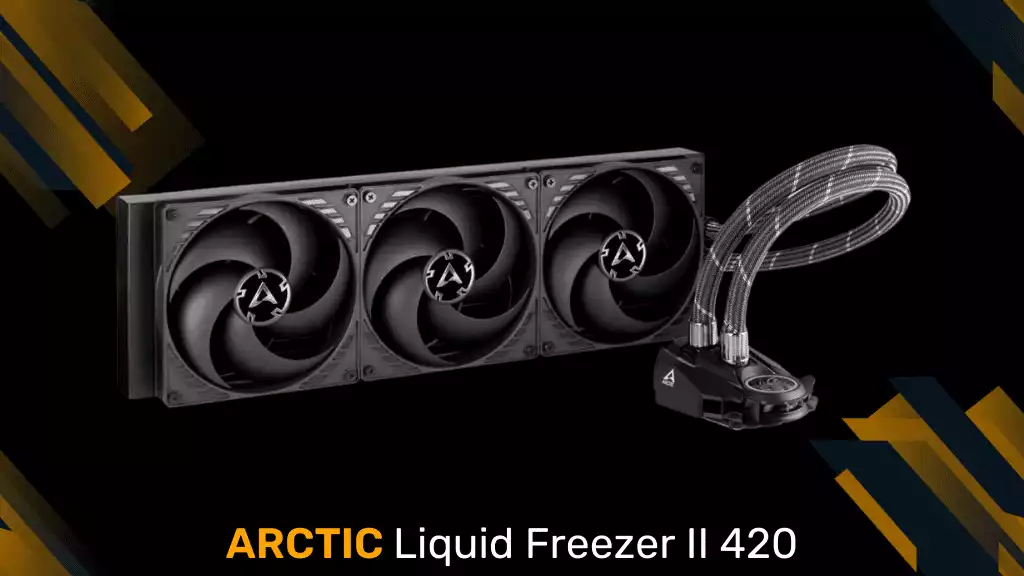 Arctic has been a mainstay in our AIO recommendations since it comes in five sizes and does well whichever you choose. The Liquid Freezer II shines every time, and its largest iteration is no exception. It costs less than many premium and even mid-range 360mm alternatives yet competes with them at every step. This is undoubtedly the best 420mm AIO in terms of value and innovation alike.
Even though we see new AIO releases every year, most manufacturers deliver only incremental improvements. That's because they build their products around components patented by third-party companies like Asetek and Coolit. Arctic didn't want to bother with patent law and dependence, so the Liquid Freezer II is a design that was conceived and realized entirely in-house.
You'll notice the unorthodox approach most clearly in the pump head's outlandish design. It has a low profile and is broader than blocks on other models. Both serve to accommodate a unique addition – a 40mm PWM fan. It rotates in tandem with the three regular fans, generating air that reaches the VRM through ducts underneath. These are three-sided, so either the RAM or GPU backplate benefit as well.
The radiator is the largest we've seen on an AIO yet! It's not only long enough to snugly fit three P14 fans but thick as well. The standard radiator is 27mm deep, while this one measures 38mm. Such size increases result in improvements to surface area and the amount of heat the radiator can hold. Whisking it away are the fans mentioned above, 140mm models with a CFM of 72 that still manage to do their job effectively.
Better Efficiency, Less Clutter
First-time builders will appreciate the lengths Arctic has gone to to make the installation a breeze. You don't have to mount the fans if you're satisfied with a push configuration. Their PWM cables are integrated into the tubing's sleeve. All four fans receive power from the same PWM connection, so the install is clean as well as quick.
Pitting the 420mm liquid cooler against the 360mm version reveals some insightful data. The smaller model was already a quiet performer. That's even more pronounced for this one since the fans need to spin slower to maintain the same temperature. Conversely, the 420mm version becomes better at cooling the CPU the more watts it uses. That gives Arctic's largest cooler a distinct edge for keeping overclocked processors like the thermally demanding Ryzen 7950X in check.
ARCTIC Liquid Freezer II 420 A-RGB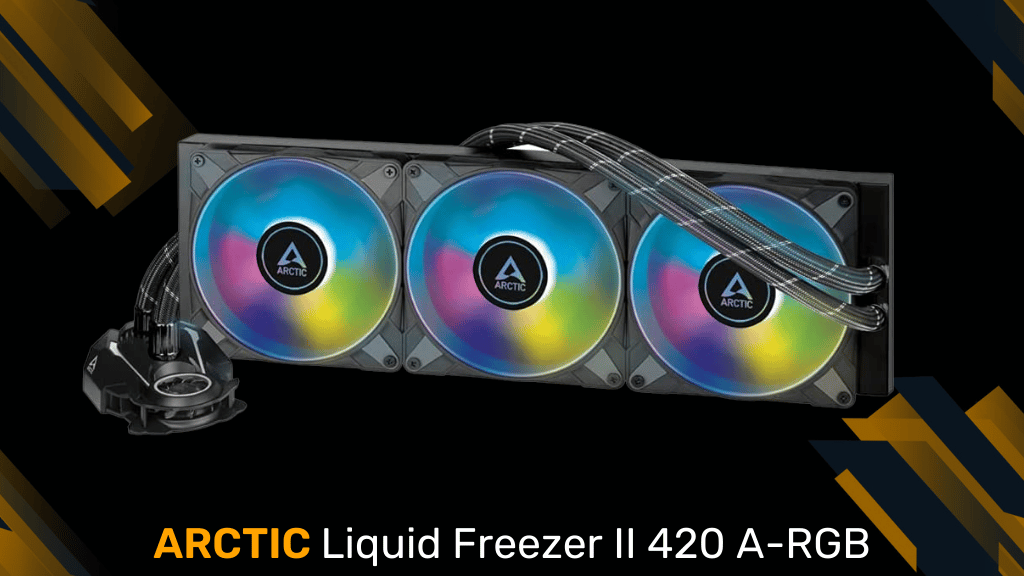 Arctic Liquid Freezer II 420 A-RGB
Type: 420mm AIO | Fan RPM: 200 -1,900 | Fan CFM: 69 | Tube length: 450mm | Has RGB: Yes
Pros:
Performs almost identical to the ordinary version

RGB is a nice touch

Ease of installation is the same
Cons:
CPU block might have clearance issues
Whether it's the tiny 120mm version or bigger, our main nitpick with the Liquid Freezer II boils down to lackluster styling. There's nothing to be done about the pump if you don't like the look, but now you can breathe color even into the most prominent model with some RGB. It's a welcome if unsubstantial update, so don't expect much of a difference between versions. Considering how well the original did, that's alright in our book.
Let's quickly touch on what remains the same, which is the majority of the AIO. There are no changes to the advanced pump design, and the added fan performs as well as ever. The radiator is still the thicker, denser model introduced in the original. The tubing is 450mm long and braided, which will come in handy if you're mounting the radiator to the front of a case.
The addition of colorful lighting is this version's major change. You get a whopping 12 ARGB LEDs for each fan. They aren't as power-efficient as Capellix, but the color is bright enough and free from noticeable bleed.
Understandably, Arctic had to make some changes to the excellent P14 fans to make the lighting work. Their A-RGB alternatives are milky & transparent. They have to spin 200 RPM faster to achieve max CFM. However, the throughput is just three cubic feet per minute smaller than with regular P14s.
The Same Liquid Freezer Excellence, Now in Color!
The second notable change has to do with installation. When it first came out, Liquid Freezer II was criticized for compatibility and install issues when paired with Ryzen motherboards. Arctic subsequently fixed this by adding an AMD offset mount that offers better cold plate contact and shifts the CPU block down slightly. While the situation is much improved, some motherboards with less space around the VRM might still have clearance issues.
Other parts of the installation process remain straightforward. Each fan now has an additional ARGB cable, but these fit inside the tube sleeves along with the PWM cables. Now instead of a single wire, you need to plug in two. The RGB syncs through Aura Sync and the others with ease.
The RGB version will set you back $10 more than the plain one, provided the latter isn't on sale. Their performance is comparable. The modified fans are slightly less efficient, which translates to a difference of a degree or less. Acoustic performance remains unaffected despite the RPM increase.
Alphacool Eisbaer Aurora 420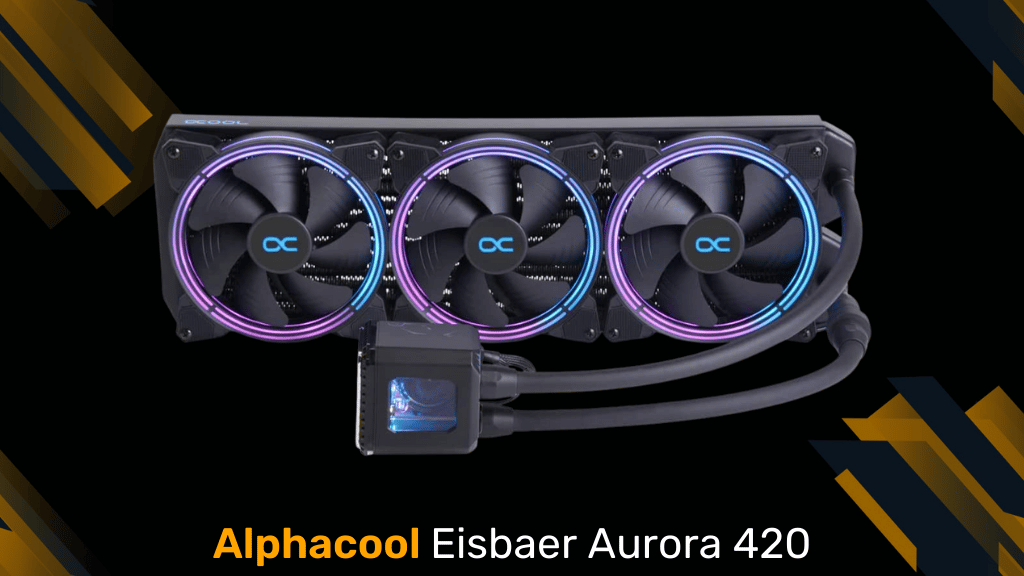 Alphacool Eisbaer Aurora 420
Type: 420mm AIO | Fan RPM: 600 -1,500 | Fan CFM: 42 | Tube length: Not specified | Has RGB: Yes
Pros:
Modular approach great for tinkerers

Quiet operation

Supports HEDT CPUs
Alphacool is a well-known manufacturer of high-end custom water loop parts. Their Eisbaer Aurora 420 was the best 420mm AIO for a while since it was the only one. It's put together from premium components and takes the modular approach that allows you to upgrade it down the line. Better yet, it supports HEDT processors like AMD's Threadripper out of the box.
The Eisbaer Aurora 420 is similar to Arctic's model in that everything you get is custom-made and developed by the manufacturer. One look at the CPU block is enough to confirm this. The part is tall and square-shaped, with fittings for the tubes on top. That's where you'll also find the coolant refill cap. Intriguing, considering these are usually located on the radiator.
Speaking of the radiator, it's an extended version of ones you'd find on 280mm AIOs, but with an Alphacool twist. Both the chassis and the fins are made from copper. That brings the price up, but it also ensures better thermal conductivity than aluminum. Better conductivity also decreases the need for high fin density.
Three opaque 140mm fans fit onto it. Their stats aren't impressive, but keep the lower density in mind. Each has a CFM of just 41.8. Additionally, their mediocre static pressure of 1.5 mmH2O means you'll have to keep the fans free from obstruction.
Your Gateway to Custom Water Cooling
Modularity is the best thing about this 420mm liquid cooler. You can easily detach the tubing from either end without dripping and add components like a GPU water block or an extra radiator. The pump head and fans have interesting RGB implementations. You'll find RGB inside the head unit, conveniently showing off coolant levels. Rather than go with diffuse blades, the fan lighting is circular and located on the perimeter.
Included hardware lets you mount the kit inside any recent PC, excluding those with Raptor and Alder Lake motherboards. You can get an LGA 1700 mounting plate separately. The nickel-plated cold plate is large enough to cover AMD Threadripper processors entirely.
Once installed, the Eisbaer Aurora 420 displays mixed results. Its fans have a low max RPM and encounter little resistance, so the unit is among the most silent regardless of size. On the other hand, the low air throughput decreases its efficiency.