Laptops are finally at the stage where gaming in 4K at any level is becoming feasible. Whether it's through raw GPU power or the magic of upscaling, carefree hi-rez portable monster disembowelment is just a few thousand dollars away! Find the best 4K gaming laptop among our curated picks and start racking up kills or XP points in style.
Our Best 4K Gaming Laptop Picks at a Glance
Razer Blade 17 – An expensive taste of next-gen greatness
ASUS ROG Zephyrus S17 – Last gen's champ
MSI GS76 Stealth Gaming – A lighter, more mobile alternative to the S17
MSI GE66 Raider – 15-inch 4K gaming at its finest
GIGABYTE AERO 15 OLED XD – Picture perfect
ASUS ZenBook Pro Duo – Great for gaming and creativity alike
Razer Blade 15 – 4K gaming for the "thrifty" buyer
Two features are common to all of our choices – some of the world's most advanced portable displays and a high acquisition cost. Their differences warrant consideration, however. Some offer the best possible specs at dizzying prices, while others focus on a handful of features. You'll also want to take productivity, port selection, and heat generation into account. There's a lot to take in, so make finding the best 4K laptop easier on yourself and take a look at the overviews below.
Razer Blade 17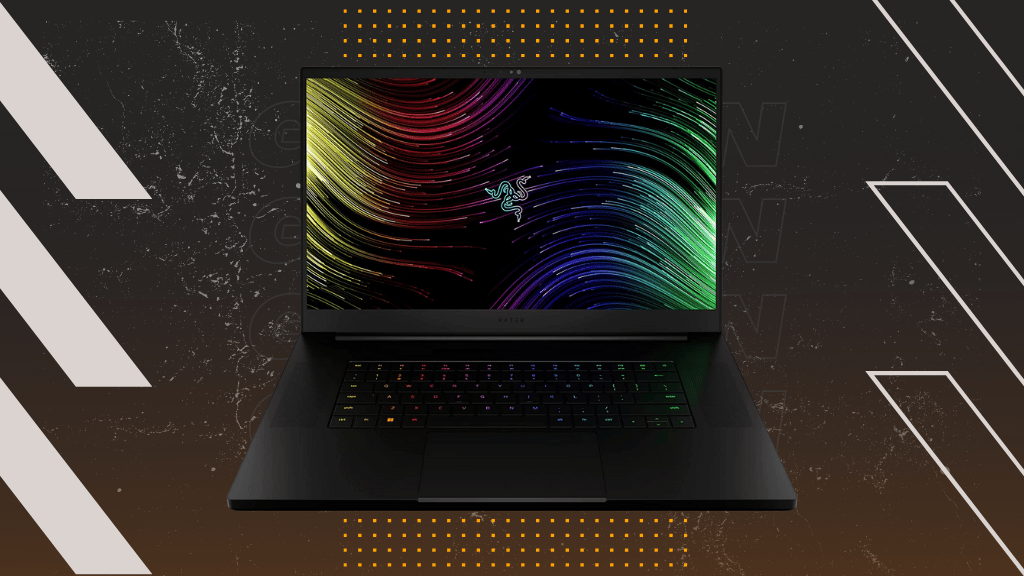 CPU: Intel Core i9-12900H | GPU: NVidia GeForce RTX 3080Ti | RAM: 32GB DDR5, 4800MHz | Screen size: 17.3", 120Hz | Storage: 1TB PCIe 4.0 SSD | Battery life: 5:30h
It took a while after the initial desktop release of Alder Lake CPUs, but their mobile counterparts are finally making it into high-end laptops. The newest Razer Blade 17 is chief among them, sporting the hottest hardware on the market, literally and figuratively. Its performance is off the charts, but so is the price. Have a kidney at the ready as first-class portable gaming does not come cheap.
If you've seen one Razer Blade in the past couple of years, you've seen them all. The laptop is all-black & all-metal, with only the Razer snake logo and your fingerprints breaking up its harmony. Flipping the top open reveals the thinly-bezeled screen and top-mounted 1080p webcam.
Connectivity was high on Razer's priority list as the port selection is varied. You get two Thunderbolt 4 and 10Gbps USB 3.2 Gen 2 ports along with 20Gbps USB-C. The 2.5G Ethernet port handles wired networking, while a Kensington lock prevents thievery. A 3.5mm combo jack and HDMI 2.1 are responsible for audiovisual connections.
You might be as puzzled as we were when looking at the keyboard area for the first time. It's so small that only a tenkeyless version fits, while large parts of the surrounding surface area are reserved for cooling and speakers. Luckily, the supplied keyboard is tactile and comfortable, if slightly stingy with travel distances. Customizing each key's bright backlighting is but one of Razer Synapse's useful functions.
While it adds much to the price, we recommend that you go with the 4K version of the display. QHD is nice too, but the 1080p variant is too dim. The 4K display is not only gorgeous, it's much brighter at 435 nits. Color accuracy is excellent as it covers the entire sRGB and P3 color gamuts along with 89% of Adobe RGB. The blacks are crisp, and the background bleed is minimal.
Sound is another area where the most potent Blade reigns supreme. Remember the thick side speakers? They're two of eight speakers in an array that produces everything from rich base notes to clear highs. The experience doesn't lose its luster as you transition from games through movies to pure music.
On the Razer's Edge of Portable Power
The Blade 17 is the closest portable equivalent to a desktop gaming PC currently out there. Its CPU employs the new performance and efficiency core structure to deliver top horsepower when needed while keeping the laptop cool when not. A 16GB RTX 3080Ti mobile GPU ensures you can play many titles at 4K 60+ fps with some settings tweaking.
You may even upgrade some components down the line. The initial setup includes 32GB of DDR4 RAM and a reasonably fast 1TB PCIe 4.0 SSD. There's room for 32GB more and a second M.2 SSD of up to 4TB.
Unsurprisingly, gaming on the Blade 17 results in high temperatures. The good news is that the laptop is equipped with a vapor chamber and can switch to the chip's iGPU to conserve power while you aren't engaged in pixelated bloodshed. Whatever the task, you'll want to keep it plugged in since a runtime of slightly more than five hours isn't great by global laptop standards.
ASUS ROG Zephyrus S17
CPU: Intel Core i9-11900H | GPU: NVidia GeForce RTX 3080 | RAM: 32GB DDR4, 3200MHz | Screen size: 17.3", 120Hz | Storage: 3TB PCIe 4.0 SSD | Battery life: 7:30h
Trails the Razer Blade only slightly in performance
Outstanding keyboard
Excellent audio & visual experience
Very expensive
Last year, ASUS pulled out all the stops in designing the ROG Zephyrus S17. It's a beastly laptop with everything cranked up to 11, from the dazzling display through crisp audio to hardware that puts many desktop PCs to shame. You might need to rebalance your yearly budget to purchase one, but that's currently the price one needs to pay for the best 4K gaming laptop or its competition.
Most hardware catering to gamers these days is instantly recognizable as such. It's therefore refreshing to see that the S17 could easily pass as a business laptop. It's sleek, black, and entirely clad in a mixture of aluminum & magnesium alloy that exudes class. It has thin bezels and weighs only a bit more than models with smaller screens.
Speaking of screens, the 4K display is stunning. It covers the entire SP-3 color gamut and is Pantone-calibrated out of the box. It's the kind of screen you could do professional color grading on and then jump into Genshin Impact to experience the game's cartoony style in its full beauty. Its refresh rate is a whopping 120Hz.
The audio is worth mentioning separately since it emanates from six speakers and is backed by Dolby Atmos. Prepare for an aural feast, whether you're just chilling or hacking monsters to bits to Doom's heart-pumping soundtrack.
We love the S17's advanced optical-mechanical keyboard. It's clicky and individually backlit. You get the entire F row & Numpad, albeit in a weird layout. There's also a volume roller you can easily reconfigure. The keys have pronounced travel and feel weighty when pressed. Best of all, the keyboard automatically tilts five degrees when you lift the lid.
Checking the sides out reveals a modern smattering of ports. Two of them are USB-C capable of supporting external monitors or charging other devices. One even has Thunderbolt functionality. Three more USBs are of the 3.2 Gen2 A variety. You also get HDMI 2.0, Gigabit Ethernet, and an SD card reader. WiFi 6 and Bluetooth 5.2 round out the networking.
Trailing Our Winner
One look at the S17's specs is enough to tell you why the laptop is so expensive. Everything is just short of being state-of-the-art, from the i9 Tiger Lake CPU to the RTX 3080 that can crush any game you throw at it. There's also 32GB of RAM that you can upgrade by changing out the 16GB that isn't soldered to the motherboard. Games and applications open up instantly thanks to a PCIe 4.0-capable SSD. It's a 3TB unit, so having access to all your favorites is a given.
Such a setup is bound to radiate a lot of heat, but the S17 manages thermals admirably. The keyboard area doesn't get uncomfortably hot, and lifting it ensures the fans underneath get enough breathing room. They're audible but not to the point where the noise would disturb your gaming sessions.
MSI GS76 Stealth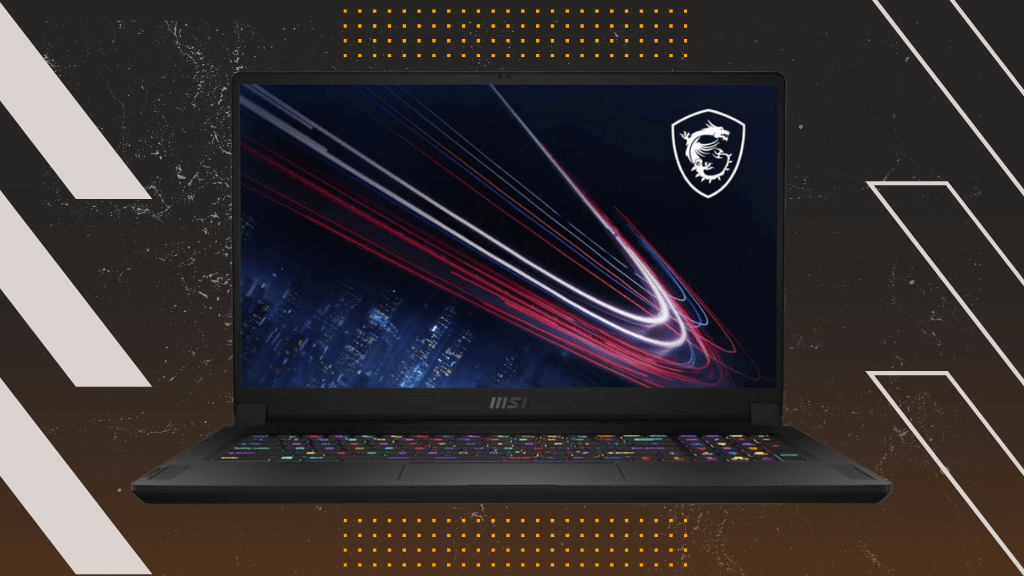 CPU: Intel Core i9-11900H | GPU: NVidia GeForce RTX 3080 | RAM: 64GB DDR4, 3200MHz | Screen size: 17.3", 120Hz | Storage: 2TB PCIe 4.0 SSD | Battery life: 6:30h
Matches the S17 in raw power
Bright screen with excellent response times
Slim and highly portable for a 17-inch laptop
Can flex when you apply pressure
Do you want your gaming laptop to be high-end, large, and portable at the same time? You'd typically have to settle for two out of three, but not with the GS76 Stealth! It's marginally less powerful than our top two entrants, which is to say insanely so. On the other hand, it's among the lightest and slimmest devices of its kind. Perfect for running Forza Horizon 5 at max settings wherever the urge strikes you.
Stealth is an apt name for this laptop. It costs several thousand dollars and packs some heavy artillery yet almost looks like a business laptop all in black. The MSI logo and three sets of prominent vents are your only indication that a real dragon slumbers inside. The GS76 Stealth is remarkably thin and almost half a pound lighter than ASUS's already svelte model. This comes at the cost of stability – the keyboard and touchpad area flex if you apply pressure to them.
The keyboard is excellent otherwise, if a bit confusing due to a unique layout. The Numpad section is slim, but at least you get a complete key complement. The typing experience is flawless as the keys provide tactile feedback and travel more than you'd expect from a laptop. They light up individually in millions of colors, and you can extensively customize the effects through MSI's companion software.
Connection-wise, the GS76 Stealth is almost identical to the best 4K laptop on the list. There's also a Kensington slot to protect your costly machine from theft.
Sneaking into Third Place
The screen is a beauty! It covers 95% of the sRGB color gamut but is brighter than ASUS's model at 450 nits. It also has a faster response time gamers who enjoy competitive titles like Valorant will appreciate. The display has wide viewing angles and a matte surface that makes working or playing in brightly-lit areas a pleasure.
And play you shall for years to come since the specifications are formidable. Pretty much everything is up to end of 2021 standards, so it's no surprise that so much overlaps with the S17. More RAM on the Stealth is the most significant difference. The 64GB DDR4 RAM array will be total overkill for gaming for some time. However, it does help the laptop excel at demanding tasks like video encoding or 3D rendering.
A slim profile and top specs are a known recipe for heat generation. The Stealth isn't immune to getting uncomfortably warm after running games like Elden Ring for hours. Fans within do a good job of expelling heat through the top and bottom vents, though. They're slightly noisier than the S17's, which is another factor to consider if you aren't using a headset.
MSI GE66 Raider
CPU: Intel Core i9-11980HK | GPU: NVidia GeForce RTX 3080 | RAM: 32GB DDR4, 3200MHz | Screen size: 15.6", 120Hz | Storage: 2TB PCIe 4.0 SSD | Battery life: Not specified
Top-tier specs
Vibrant display
Attractive aesthetic rich in RGB
Loud fans
Do you crave Stealth-like performance but want to save a few bucks? MSI has yet another portable powerhouse for you then, the newest GE66 Raider! You're making only a few concessions by purchasing it instead of the Stealth, ones which you won't feel when gaming. Get a headset, though, since the onboard audio is just OK and likely to be drowned out by the fans.
This is the best 4K gaming laptop in the looks department. If you love a grand display of RGB, that is. It's a hefty model at over five pounds and feels sturdier than MSI's other offering. Take special note of the sturdy hinges that keep the screen firmly in place. The screen's top and bottom bezels are pronounced, but the sides are barely there.
A thick bar under the trackpad lights up in dazzling RGB and is impossible to miss. You can configure both it and the per-key lighting in great detail. The keyboard isn't cramped, but it lacks a Numpad due to the smaller size. Typing on the GE66 Raider is pleasant, especially for productivity. It's more similar to office than gaming laptops since the keys are shallow. The trackpad is small yet responsive. Not that it matters since you'll likely be using a real mouse anyway.
There's no shortage of current ports on the GE66 Raider. Starting from the back, you've got HDMI 2.1, DisplayPort 1.4, Gigabit Ethernet, and Thunderbolt 4. The sides offer another USB-C and three USB 3.2 Gen1 Type-A ports along with the combo audio jack & SD card reader. The latter can achieve decent transfer speeds, as can the class-leading 2TB SSD occupying one of two storage slots.
Good for Much More Than Raiding
A slightly higher core clock on the GE66 Raider's i9-11980HK CPU is a marginal improvement compared to our second and third picks. Identical GPUs and RAM frequencies make the distinction academic, especially if you're gaming in 4K. 11th-gen Intel chips have seen a surge in productivity and multithreaded performance, so expect the laptop to do just as well when it's time to get serious.
Speaking of the resolution, the screen is a brilliant 4K IPS panel with a refresh rate of 120 Hz. Its colors are vivid, and both the contrast & response times are excellent. MSI nailed the viewing angles, meaning you and a loved one can take a show in with crystal clarity and get the same awesome experience.
That takes us to the GE66 Raider's only questionable design aspect – the cooling. It's light on the vents, with some on the sides and a more substantial set on the bottom. That's enough to keep the components inside from reaching dangerous levels. However, the keyboard still gets hot in places after prolonged gaming. The fans approach 50dB at max speed, which you'll definitely want to mitigate.
GIGABYTE AERO 15 OLED XD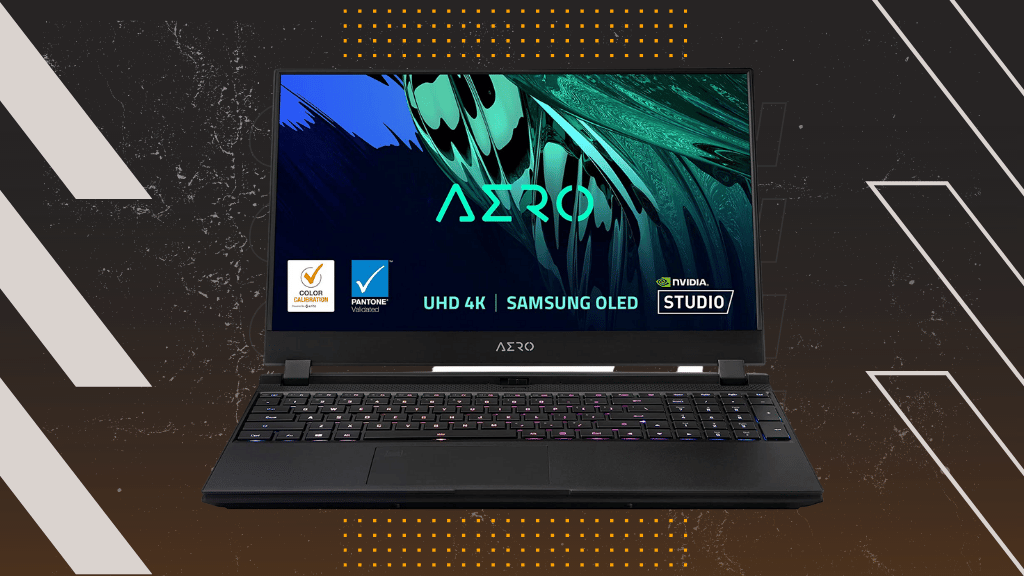 CPU: Intel Core i7-11800H | GPU: NVidia GeForce RTX 3070 | RAM: 16GB DDR4, 3200MHz | Screen size: 15.6", 60Hz | Storage: 1TB PCIe 4.0 SSD | Battery life: 8:30h
Outstanding 4K OLED display
Great price to performance ratio
Lots of ports
Lackluster keyboard
The Laptops we've covered so far all had crisp screens. They also all use conventional IPS panels, meaning that you'll never experience true blacks like you would on ancient CRT monitors. Enter the AERO 15 OLED XD, Gigabyte's champion of color accuracy! It's hands down the best 4K gaming laptop if you value picture quality over everything else. Better yet, its specs allow you to bask in the display's full glory without worrying about framerates.
Gigabyte nailed the AERO's aesthetics in the previous generation, so the i7-11800H-packing model looks the same. It's all-metal with excellent build quality and a sci-fi looking AERO as the only distinguishing mark. The lid handily closes if you tilt it at ten degrees or less, and an indent lets you open it back up with ease. The laptop is light and among the thinnest on our list.
We're in awe of the AERO XD's display! The OLED panel delivers unprecedented black levels, displaying as close to the absence of light as you're likely to get on a modern screen. It covers 99% of the Adobe RGB color gamut, meaning that you can easily use the laptop for professional image or movie color grading. The refresh rate is 60Hz as opposed to 120Hz on the models above. That might bum out people who hoped to play CS:GO, but few others will care. The brightness clocks in at a healthy 440nits. Too bad the panel isn't glare-resistant, though.
The XD's spec sheet reveals hardware optimized for gaming without becoming ridiculously expensive. It has an 8-core Tiger Lake CPU, a mobile RTX 3070 with 8GB VRAM, and 16GB of DDR4 memory. Its storage capacity is 1TB initially, but you can easily add a second PCIe 4.0 device in the future. You should be able to maintain 60FPS at 4K after tinkering with some settings.
OLED Magic
The keyboard is the AERO XD's biggest shortcoming. It takes up almost the entire width and features full-sized keys. On the other hand, typing feels mushy, and the backlighting doesn't account for the special characters in the F row. The trackpad doesn't fare much better. It responds well enough but incorporates a fingerprint reader that decreases the surface area.
Port selection is excellent. It's identical to the GS76 Stealth, down to the 2.5G Ethernet port Gigabyte managed to fit on the thin side. Our only gripe is the placement. The design calls for vents in the back, so the right side is brimming with connections. That might make handling an external mouse difficult unless you're using a wireless one.
Gigabyte prioritized quiet operation over thermal efficiency. It's not uncommon for the GPU and CPU to reach high temperatures and heat the central keyboard area. Pausing your game and taking in a show on the stunning display is a good way of combatting this.
ASUS ZenBook Pro Duo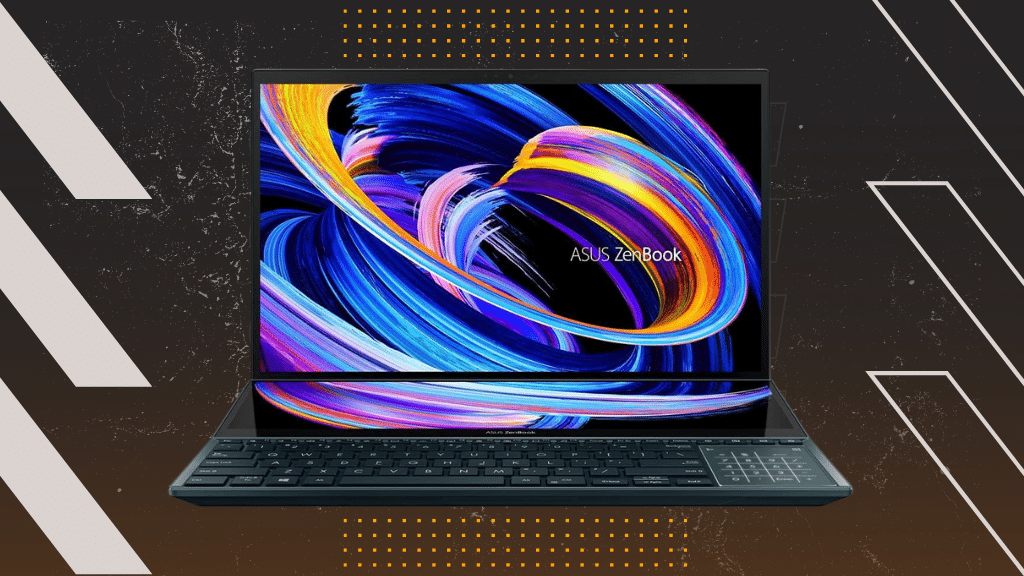 CPU: Intel Core i7-10870H | GPU: NVidia GeForce RTX 3070 | RAM: 16GB DDR4, 2933MHz | Screen size: 15.6", 60Hz | Storage: 1TB PCIe 3.0 SSD | Battery life: 5h
Do you ever wish that laptops came with a second screen? ZenBook Pro Duo ones do, well, sort of. The second screen is small but not just a gimmick. It's useful for productivity and gaming alike. The laptop is a capable performer even when you turn the secondary display off, while its primary one rivals the AERO.
The Pro Duo takes our award for the best 4K gaming laptop aesthetics and innovation. Its metallic teal chassis and iconic off-center ASUS logo are a sight we aren't tired of seeing! The latest model also comes with subtle but welcome improvements. Its second screen tilts upward now once the lid passes a certain angle. Coupled with the tapering base, this contributes to an illusion of slenderness.
We love both of the Pro Duo's screens. The main one is another 60Hz OLED panel and beautiful to behold. It's slightly dimmer than the AERO's, and its color gamut coverage is off by a percentage point. On the other hand, the responsiveness is better, while the general picture quality is on par with its rival.
The second screen has the same horizontal resolution but looks noticeably less sharp since it has a matte coating. You'll quickly find it indispensable for copying files or keeping track of menus in software like Photoshop. You could also use it in games to keep your inventory, stats screen, or map visible at all times.
ASUS had to reposition the keyboard downward and make the touchpad double as a Numpad. While that means there's nowhere to rest your hands, the implementation was successful. The keyboard is comfortable to type on and has solid tactile feedback.
Two Screens, Endless Possibilities
An i7-10870H is at the Pro Duo's core. It's marginally slower than the Tiger Lake counterpart but still does well for various tasks. The GPU is more important for 4K gaming anyway, and the 3070 handles itself admirably. For example, expect to get a proper fright from playing Resident Evil Village at smooth framerates and high settings. ASUS lets you switch between ordinary and performance modes to reduce heat and power consumption.
The memory and SSD are a step down from previously mentioned laptops. The 266MHz lower frequency won't make a big difference, but you might wish for PCIe 4.0 transfer speeds if you frequently move lots of files. You'll struggle to find a port if you do since the Pro Duo only has one USB-A and two Thunderbolt 3 USB-C plugs. That covers the right side – HDMI and a combo audio jack are on the left.
The reduced power draw you experience in normal mode lets the Pro Duo maintain reasonable temperatures without needing huge fans. Their noise generation is tolerable as well.
Razer Blade 15 Base
CPU: Intel Core i7-10750H | GPU: NVidia GeForce RTX 2070 Max-Q | RAM: 16GB DDR4, 2933MHz | Screen size: 15.6", 60Hz | Storage: 512 GB PCIe 3.0 SSD | Battery life: 5h
Fantastic OLED display for the price
Reasonably powerful
Excellent build quality
Mediocre keyboard
The arrival of 30xx cards and frequent sales have made the base version of the Razer Blade more accessible than ever. It still has one of the finest displays on the market and can run many games at its native resolution comfortably. You'll get several more years of gaming & entertainment out of the laptop, so don't hesitate to purchase one when it's on sale.
The Blade 15 Basic is among our guide's best-looking, most minimalistic recommendations. Its chassis is made out of a single piece of machined metal and devoid of any flashy features. You may choose between black and silver, with a white keyboard in case of the latter. We like the brighter one more since it is subdued. Some might find the green Razer symbol on the black version cooler.
Judging by the display alone, you'd never guess this was a 4K gaming laptop for budget buyers. If you can call anything in its price range budget, that is. The panel is OLED, 4K, and brighter than any we've seen so far. The contrast is phenomenal, and the colors match those on more expensive laptops in vibrancy.
On the other hand, the keyboard is nothing to brag about. It's chicklet-style, so long typing sessions are pleasant enough. The kick you get with mechanical keyboards is missing, though, as is individual RGB illumination. The touchpad is large, and the two side speakers put out audio of decent quality if you fiddle with the settings. The palm rest area is a fingerprint magnet, though.
Not as Sharp as It Used to Be
This is the oldest and weakest laptop on the list. Its RTX 2070 Max-Q GPU can handle undemanding games and indie titles, but a stable 60FPS in new AAA titles like Deathloop may be out of its reach at 4K. Luckily, the number of titles with DLSS support is growing.
Gaming on the Blade 15 Base leads to relatively high thermals. The typing area isn't affected severely, but the underside can get hot. Your best bet is to use the laptop on a table or similar surface. This applies only to strenuous tasks. Browsing or watching movies leaves the Blade 15 Base comfortably cool.