Specs:

Size: 32"
Panel type: VA
Refresh Rate: 165Hz
Max Brightness: 330 Nits

Specs:

Size: 32"
Panel type: IPS
Refresh Rate: 144Hz
Max Brightness: 400 Nits

Specs:

Size: 32"
Panel type: IPS
Refresh Rate: 160Hz
Max Brightness: 350 Nits

Specs:

Size: 43"
Panel type: VA
Refresh Rate: 144Hz
Max Brightness: 700 Nits

Specs:

Size: 32"
Panel type: IPS
Refresh Rate: 144Hz
Max Brightness: 500 Nits

Specs:

Size: 28"
Panel type: IPS
Refresh Rate: 144Hz
Max Brightness: 300 Nits
If, by some miracle, you got your hands on one of the newest graphics cards, sticking with an old 1080p monitor would be a total waste. In 2021, 4K displays started rolling out features like an insane color range and mouthwatering HDRI, giving us a glimpse of a bright gaming future. Now, the best 4K gaming monitor is not only packed with features but accessible to a broader audience than ever before.
Which one is the right fit for you? Screen size plays an important role, but so does a monitor's ability to accurately reproduce colors and contrasts. Blur reduction is paramount for high-stakes gaming, while some users will find the ability to switch their peripherals from one system to another in a heartbeat essential. Our picks offer all of these and more, so have a look at each & finally put that GPU to good use.
Samsung Odyssey Neo G7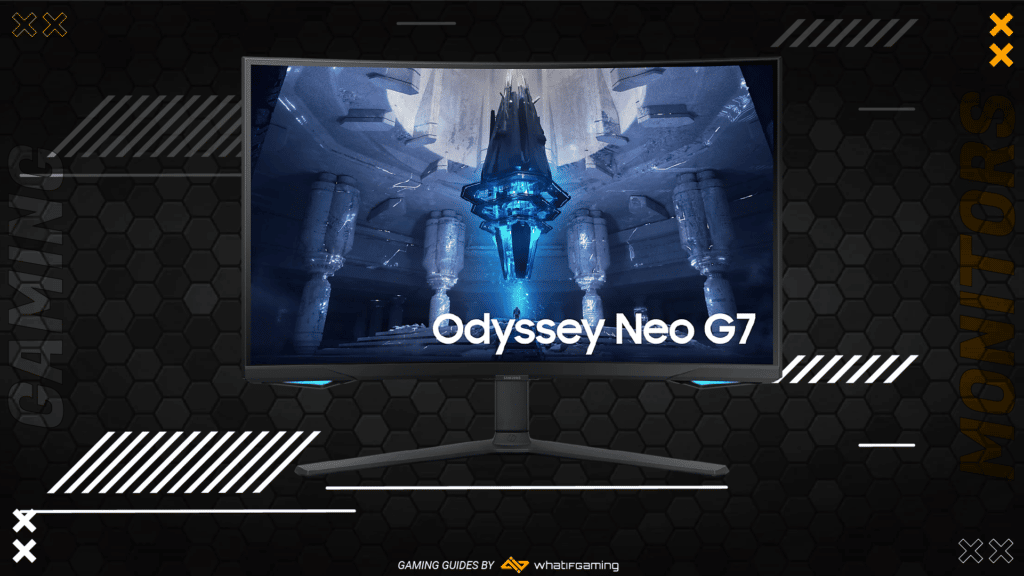 SAMSUNG Odyssey Neo G7
Diagonal size: 32" | Panel type: VA | Refresh Rate: 165Hz | Contrast: 4000:1 | Actual Response Time: 7.4ms | Max Brightness: 330 Nits | Tilt: -12.5° / +7.5° | KVM Switch: No
Pros:
Outstanding contrast and black levels, even for a VA panel

Excellent response times and minimal input lag

Comprehensive and informative OSD
Cons:
Curve might not be for everyone, poor initial calibration one can easily fix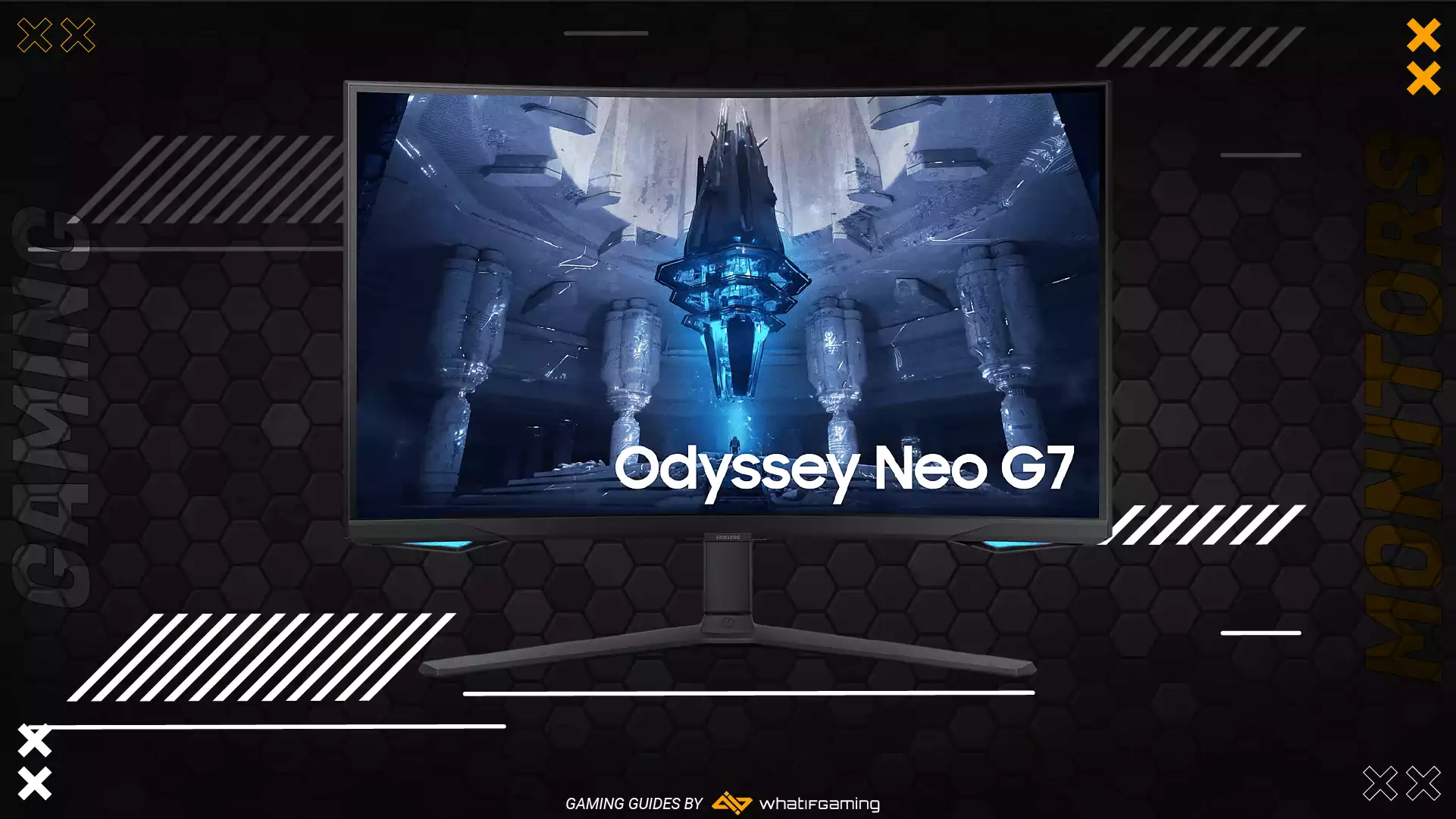 Samsung's high-end monitors have been hit and miss, but they've nailed it with the Neo G7. Some alternatives perform better all-around, but you'll be hard-pressed to find a panel that's as primed for the ultimate 4K gaming experience. It's more expensive than our other picks yet reasonably priced considering all its premium features.
The Neo G7 proudly wears its gaming provenance. It has a round RGB area in the back and accents on the bottom bezel that glow in millions of colors or match the screen content. The display itself is aggressively curved due to the VA panel for extra immersion. It works flawlessly for gaming, but you might want to go with some of our flat picks instead if parallel lines are crucial for your work.
The stand is broad and offers a good array of adjustments. Just make sure your desk can accommodate it. You can't rotate the screen, which makes sense, given its curve. There's only a little wobble if you handle it roughly.
Connectivity is good, with one DP 1.4 and two HDMI 2.1 interfacing with your graphics card. The monitor connects to your PC via USB-B and can accommodate two peripherals as well as analog headphones. You can manage all those cables through a hole in the stand. A KVM switch would have been welcome, but most users will do just fine without it.
The Neo G7 has a curved VA panel with outstanding contrast. VA is already much better than IPS in that regard, yet this one takes it a step further with the best local dimming we've seen on a 32" monitor so far. Almost 1,200 zones ensure darker areas are dim enough while limiting bloom from intense light patches. Only OLED is better, but you'd have to switch to a gaming TV to experience it.
Light and Shadow
Even though Samsung claims the Neo G7 is factory calibrated, the picture is far from perfect when you first turn it on. The colors are oversaturated for sRGB, and there's a clear red tint when looking at grayscale images. Correcting these manually is easy and leads to excellent color accuracy with little overshoot.
Color coverage is in line with the trend of making gaming monitors exceptionally vibrant. It covers 85% of Adobe RGB and more than 90% of DCI-P3. It's not a monitor meant for professional color grading; it can do in a pinch, however.
The interface is easy to navigate and displays several stats like current response times, refresh rates, and the status of Adaptive Sync in bubbles, regardless of which tab you're on. The OSD lets you do much, from activating hardware cursors through adjusting the input lag to controlling the dimming and variable refresh rate.
Most monitor manufacturers advertise response times of 1ms or less, which they achieve with terrible overshoot or ghosting. The Neo G7 is different because you can get close to this ideal while retaining exceptional image clarity. Adaptive Sync should be your overdrive setting of choice for all refresh rates.
Gamers who play twitch shooters will love the Neo G7's excellent response times. Expect a mere 4ms difference between an input happening and it being reflected on the screen at the 165Hz maximum. That's nigh instantaneous and much lower than what even a pro could notice.
Dell G3223Q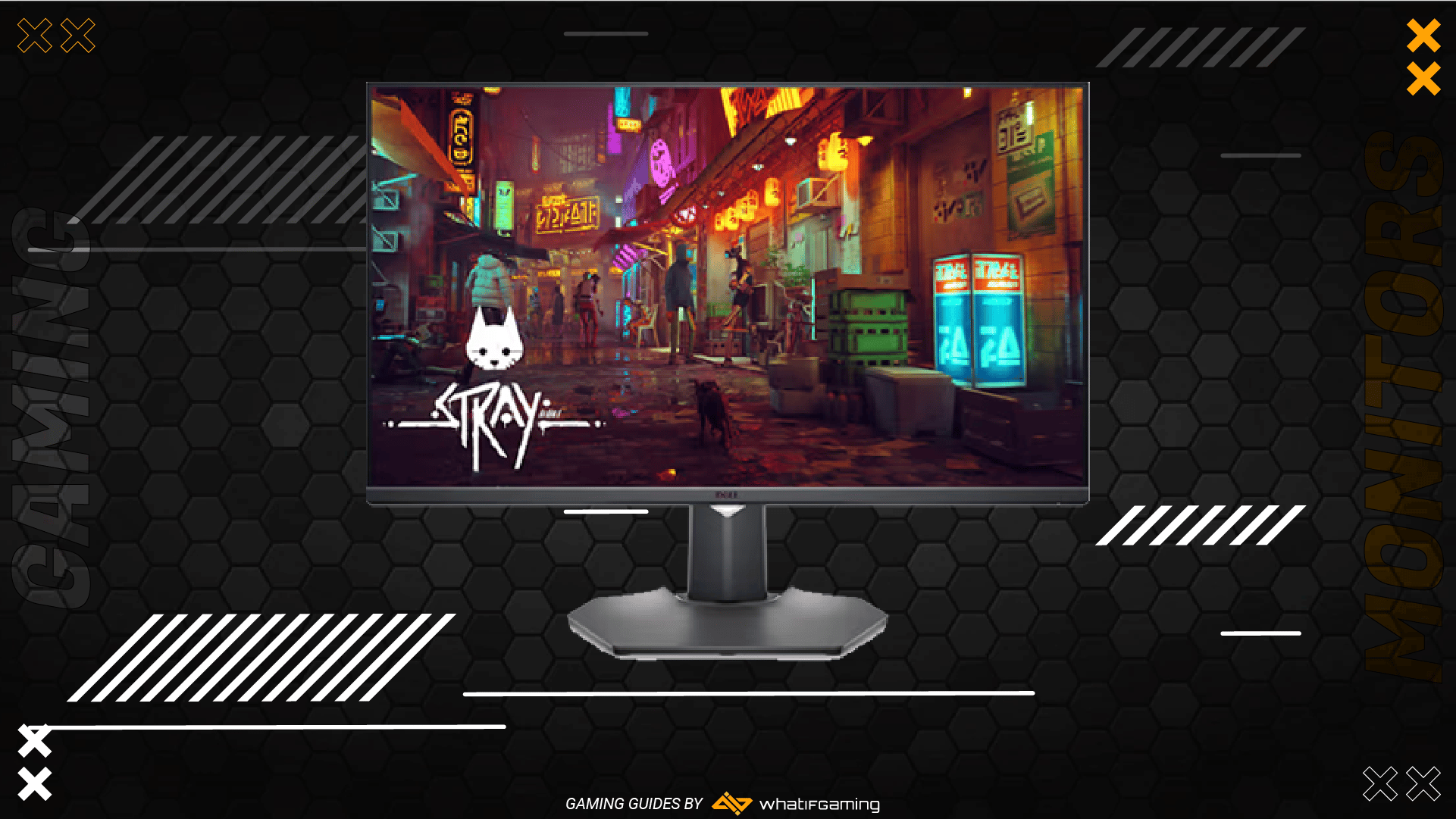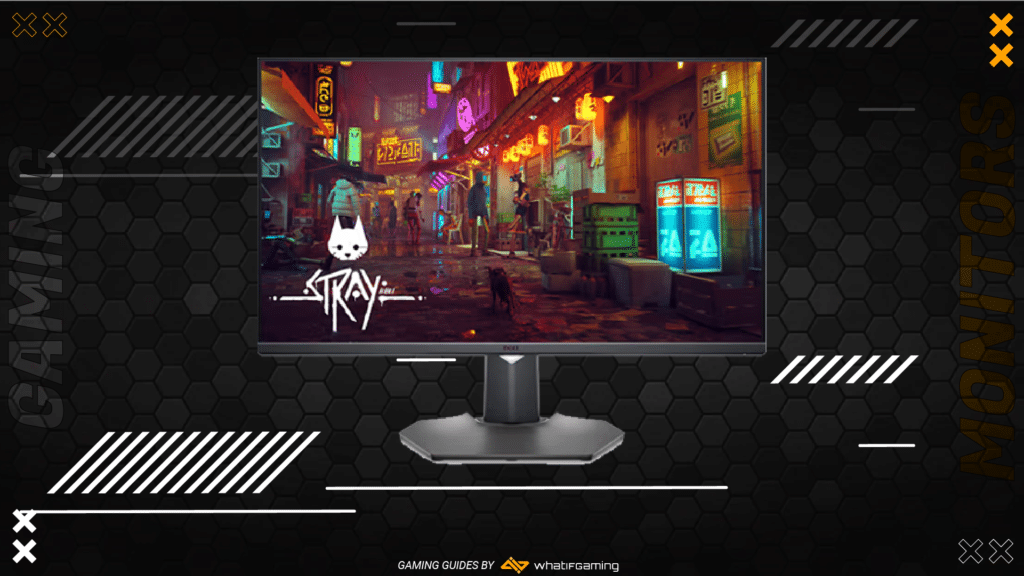 Dell G3223Q
Diagonal size: 32" | Panel type: IPS | Refresh Rate: 144Hz | Contrast: 1200:1 | Actual Response Time: 6.2ms | Max Brightness: 400 Nits | Tilt: -21° / +5° | KVM Switch: No
Pros:
Exceptional color accuracy and wide gamut

Great build quality

Excellent response times and input lag at 144Hz
Cons:
Poor local dimming reduces contrast, mediocre input lag at 60Hz
Curved monitors don't appeal to everyone, and equally worthy flat alternatives exist. Dell's new G3223Q is the best 4K gaming monitor if you crave a responsive, color accurate, and fast 32" panel. IPS imposes some well-known contrast limits, but competitive games' breakneck pace will make that a non-issue for many.
Dell's first high refresh rate 4K display is more subdued than the Neo G7. It's dark gray and made from sturdy plastic adorned with only a blue trapezoid that provides ambient blue lighting. There's no way to turn it off, but the provided glow isn't distracting.
Kudos to Dell for the sturdy design. The entire monitor feels weighty, with a broad stand that keeps everything firmly in place. The stand extends to the front and has a slight curve, so you'll want to ensure there's enough room for your keyboard first. It's lower than others in the first place and has a lower max height than most.
The back is home to the same port complement as the Neo G7's, including the KVM switch absence. You navigate the OSD using a responsive joystick and can customize three of the four buttons to instantly reach frequently used settings.
Color richness and accuracy are some of the G3223Q's most valuable assets. It might be one of the most finely-calibrated monitors we've come across since tweaking brings barely any improvements. While most monitors come with SDR modes, some don't limit their color space to it correctly. This one clamps down to 100% of SRGB in an instant, letting you enjoy web and gaming content the way you were supposed to.
Conversely, the G3223Q can express 95% of DCI-P3 or 85% of Adobe RGB. Relatively low contrast keeps this monitor from being a genuine color grading tool. It comes close, however. Peak SDR brightness is also great – 400 nits. That's enough for gaming during the daytime, provided the sun isn't shining directly into the matte screen.
The G3223Q is only slightly worse than our overall winner when measuring response times. The max framerate difference might be partially responsible. Even so, the G3223Q pumps out an impressively clear stream of images with few ghosting issues. Input lag matches the Neo G7 at 144Hz but slows down noticeably at 60Hz.
Fast and Colorful
Variable refresh rate and both sync technologies work as intended. The G3223Q also has a console compatibility mode that restricts the refresh rate to 120Hz and works seamlessly with the newest PlayStation or Xbox.
You'll find the console mode in the OSD, which looks plain and has a layout that makes finding the setting you're looking for straightforward. It offers extensive calibration options, an fps counter, guiding lines to help the monitor align with others, and more.
Contrast is the G3223Q's only pain point. It's actually decent for an IPS panel at 1200:1, but the display has several large dimming zones that make it worse when turned on. It has a peak HDR brightness of 600 nits that varies based on the content type. The lack of backlighting nuance makes large lighter areas appear brighter than smaller ones.
LG UltraGear 32GQ950-B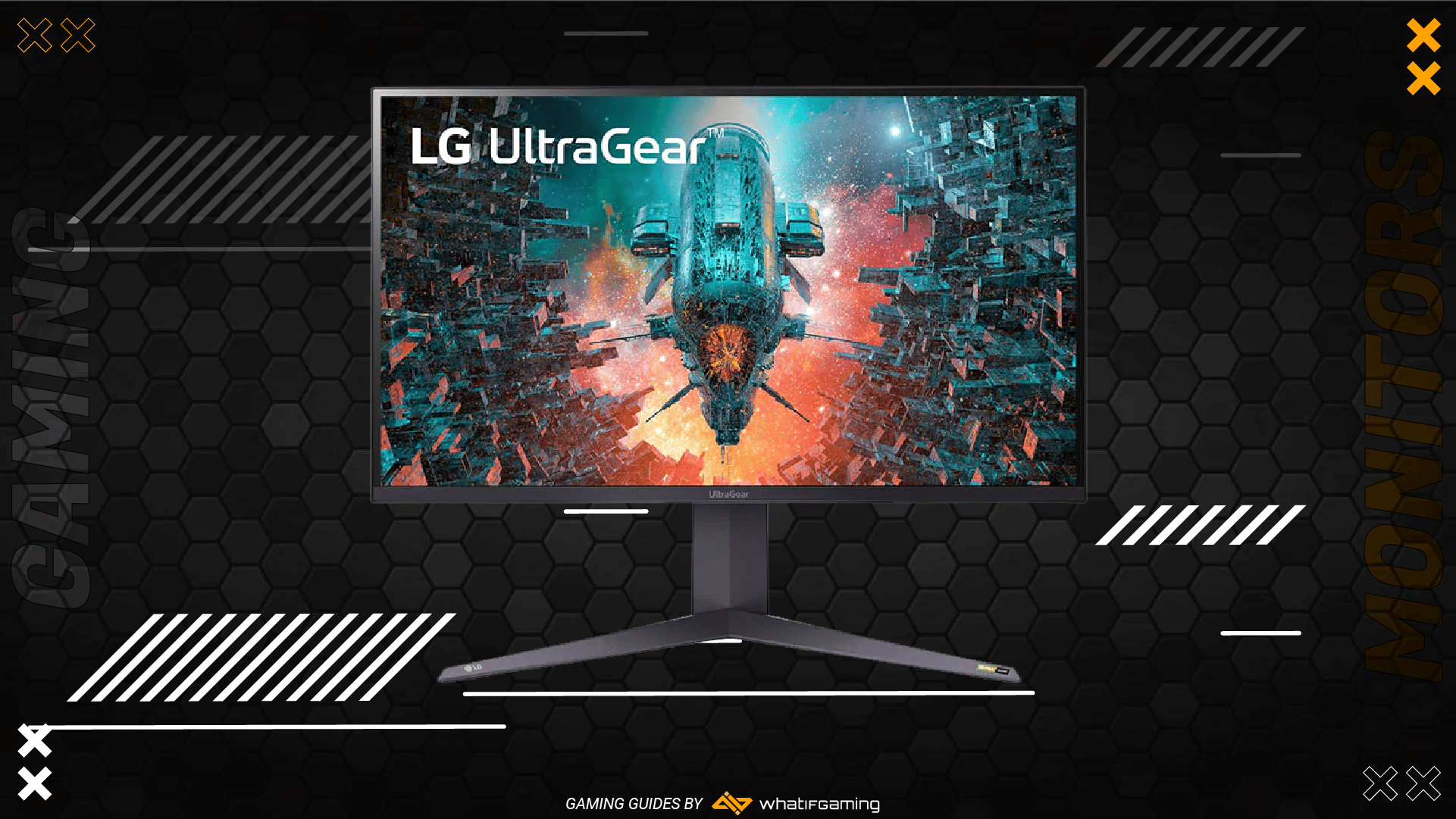 LG UltraGear 32GQ950-B
Diagonal size: 32" | Panel type: IPS | Refresh Rate: 160Hz | Contrast: 1000:1 | Actual Response Time: 5.8ms | Max Brightness: 350 Nits | Tilt: -15° / +5° | KVM Switch: Yes
Pros:
Exceptional response times topped only by OLED TVs

Great HDR brightness

Solid build quality and ergonomics
Cons:
So-so contrast, screen is very reflective
4K gaming isn't a novelty anymore, and we're glad that some of the finest monitors that enable it are finally available for less than $1000. That's where you'll find the UltraGear 32GQ950-B, a display built to satisfy the most discerning competitive gamers. It's the best 4K gaming monitor right now if nearly instantaneous response times are at the top of your priorities list.
We're fans of LG's tasteful gaming aesthetic. This monitor's look is all about defined angles and geometric shapes, from the thin yet expansive stand to the rim-lit hexagonal protrusion in the back. It has some of the thinnest bezels on offer; it's a shame that there's a small gap between them and the first row or column of pixels.
The 32GQ950-B is among the most flexible monitors on our list. It has a broad height range and can pivot 90 degrees in one direction. There's no swivel, so you're out of luck if you frequently angle your monitor toward someone else.
Brightness is a solid, if unremarkable, 350 nits for SDR content. The 32GQ950-B has one of the better HDR implementations on the list, shooting up to 600 nits when the entire screen is white and peaking past 1,000 nits when smaller bright areas find themselves surrounded by darkness. The effects are striking despite only 32 dimming zones and look uniform, whichever type of HDR content is on display.
While brightness is acceptable, you'll need to take the screen's semi-glossy finish into account. It smears reflections across a wide area, so try not to have any bright sources pointing in its direction.
Reacting to Your Every Whim
Calibration is decent and can become perfect with some tweaking. Poor white balance is the worst offender. That's why everything looks tinged with blue when you first turn the monitor on. Lowering the color temperature by a few hundred kelvins eliminates most issues. Applying some final corrections to RGB levels fixes the rest.
LG may have concentrated on gaming, but color fidelity is among the best we've seen too. Sticking to sRGB delivers accurate results while switching to DCI-P3 unlocks almost 90% of the broader standard.
Only OLED TVs like LG's own C2 best the 32GQ950-B in response times. Setting it to the Normal preset sees the total response time fall below 6ms with practically no overshoot! Multiply that by two for 60MHz results that are still excellent. The monitor has an enhanced low input lag feature that turns on automatically at 144Hz and above, ensuring that it stays in harmony with your mouse and keyboard.
You'll find all the 32GQ950-B's ports clustered together to the left of the upright when viewing from the front. Two HDMI 2.1 ports are running at the full 48Gbps transfer rate, one DisplayPort 1.4, two USB 3.2 Gen 1 USB-A, and a USB-B upstream connection. We'd have expected a KVM switch at this price point.
The 32GQ950-B has one of the fanciest OSD menus in the guide. Its fun shape doesn't detract from the clarity and organization of the on-screen presentation, so getting around is a cinch.
Gigabyte AORUS FV43U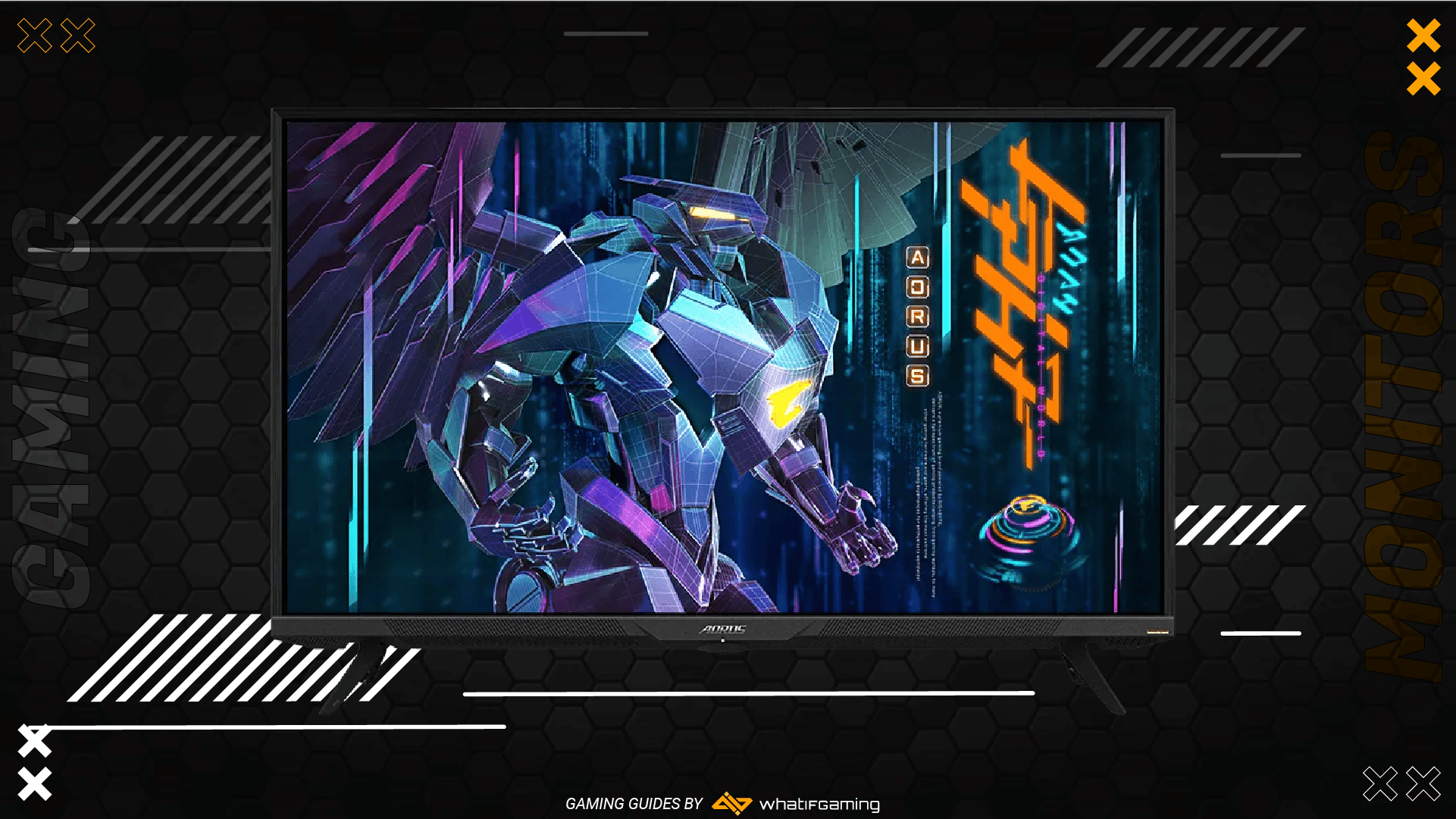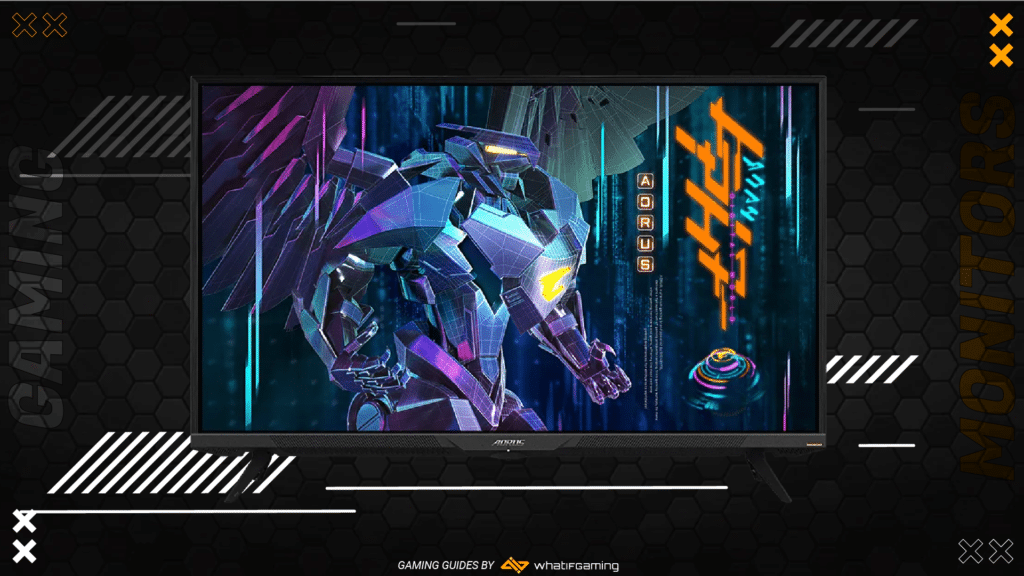 Gigabyte AORUS FV43U
Diagonal size: 43" | Panel type: VA | Refresh Rate: 144Hz | Contrast: 4500:1 | Actual Response Time: 11.6ms | Max Brightness: 700 Nits | Tilt: N/A | KVM Switch: Yes
Pros:
Excellent response times across its frequency range

Decent calibration

Attractive design and useful ambient RGB
Cons:
Could be cheaper, 144Hz achievable only through DisplayPort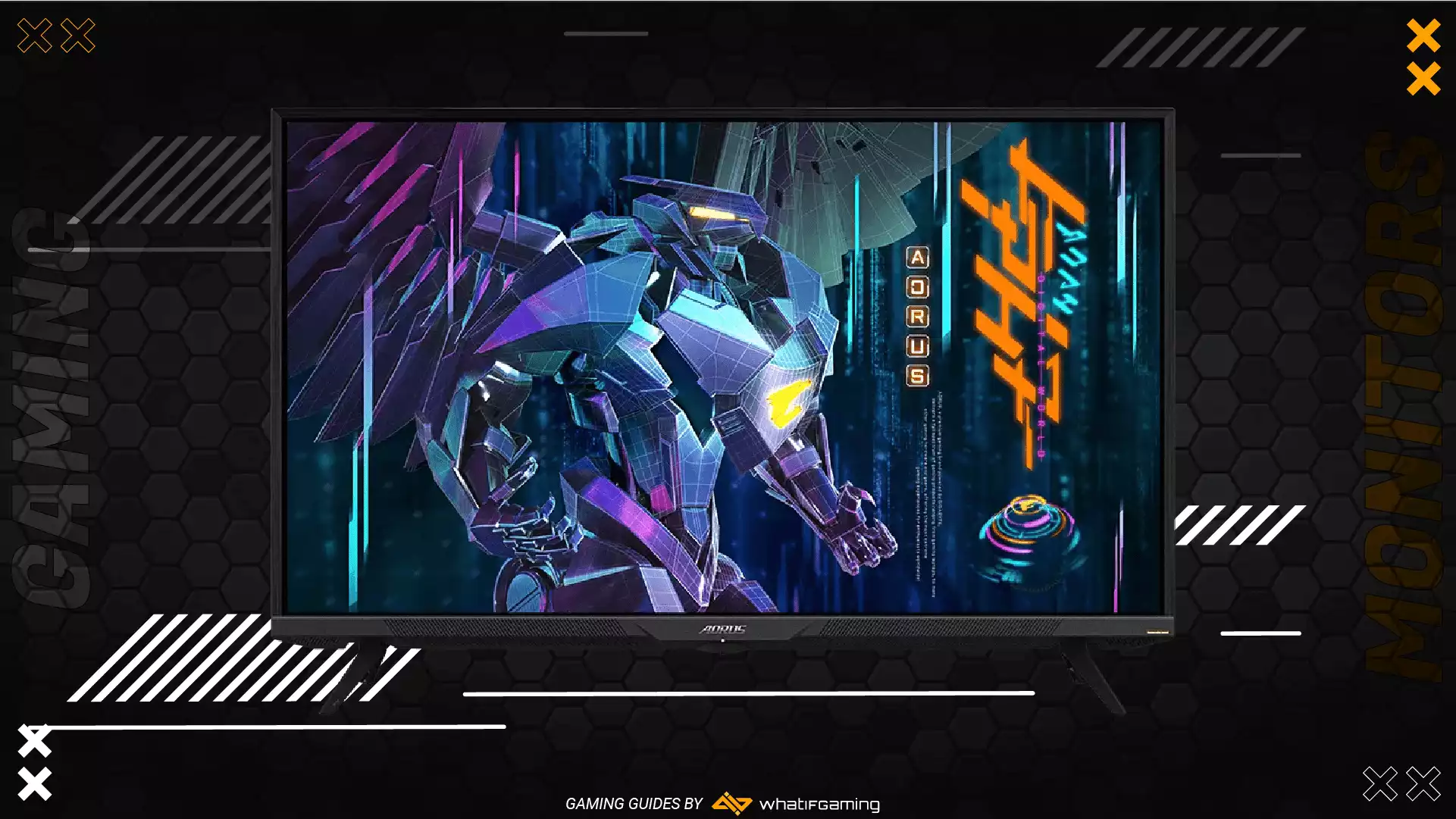 Most of the best 4K gaming monitors have a 32″ diagonal. However, the resolution is high enough to go bigger! The AORUS FV43U is among the first 43" monitors to intrigue buyers with its awesome size and equally impressive gaming chops. There are some caveats to consider, but none of them have to do with its display quality.
You'd be forgiven for thinking the AORUS FV43U is a TV since it really does look like one from the front. While there's no RGB, rotating it 180° reveals a cool-looking shield design with the AORUS logo in the middle. This design also allows for easy port access even if you're VESA mounting.
That brings us to the monitor's most obvious shortcoming – lack of adjustability. It stands on two sturdy feet. They're far enough apart that a soundbar can easily fit in the space between. Such an arrangement is identical to a TV's, meaning you can't adjust the height, rotate, swivel, or tilt the screen. Some users might consider this a deal-breaker.
So, how do we know that this really is a monitor? By taking a look at the I/O! TVs usually have video and audio connections, with Ethernet and USB as more recent additions. The AORUS FV43U has an upstream USB to establish a connection with your PC. There's also USB-C with built-in charging and DisplayPort. Finally, there's a KVM switch so you can toggle control of your keyboard & mouse over from one system to another.
The OSD is another giveaway. It's brimming with features both for picture adjustment and PC integration. The dashboard is particularly useful since it leverages the upstream port to display info about your system, like CPU & GPU usage, temperatures, etc.
While it has a VA panel, the 43" AORUS FV43U remains flat. That helps with versatility since you can do CAD or 3D model on it without worrying about straight lines. Conversely, VA's terrible viewing angles come to the fore. The main user won't be affected, but anyone standing beside them is going to have a tough time.
Expanding Your Horizons
The lack of curvature doesn't take away from the monitor's immersion, which is enforced through fantastic contrast and strong colors. This is one of the brightest monitors we've ever seen! It can sustain 700 nits of brightness whether you're viewing SDR or HDR. You could set it up on a terrace in broad daylight and still be able to see everything unimpeded.
Such a high brightness accentuates the AORUS FV43U's innate VA capabilities, bringing contrast up to more than 4500:1 despite local dimming being far less sophisticated than on our winner.
Colors are up there with the G3223Q – nuanced and vibrant when you need them for pro work & accurate when you don't want oversaturation. The factory calibration is mostly on point, with reds and blues stepping over into garishness. You can tone them down and bring the overall color temperature up effortlessly, though.
Gamers will be able to spot the tiniest movements on a panel of this size. They also won't be hindered by a sluggish display since the AORUS FV43U sports a 144Hz refresh rate. Unless you have one of the latest GPUs, decreasing some details to maintain the refresh rate is worth it as the otherwise excellent response times drop rapidly as you approach 60Hz.
Philips Momentum 329M1RV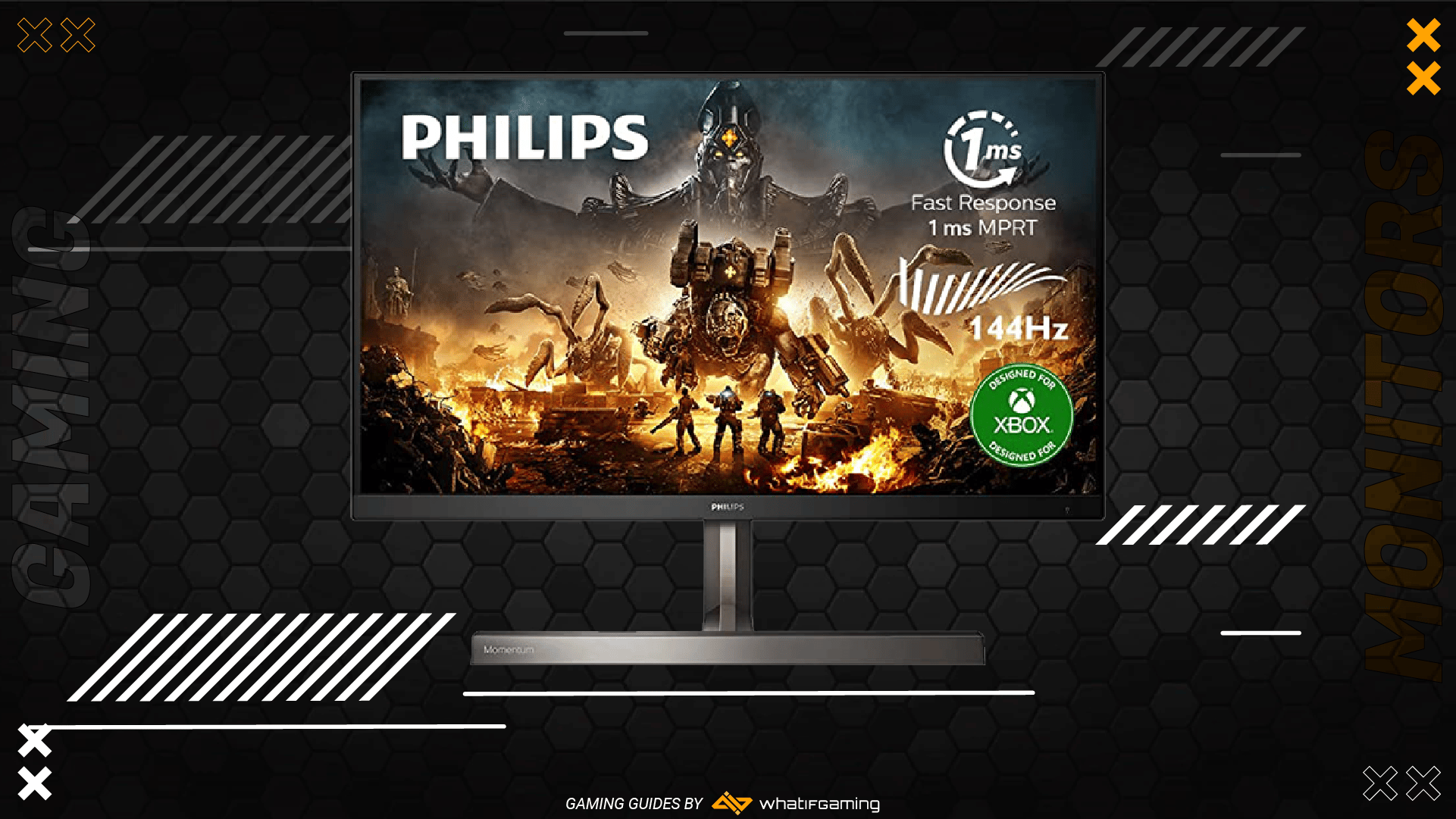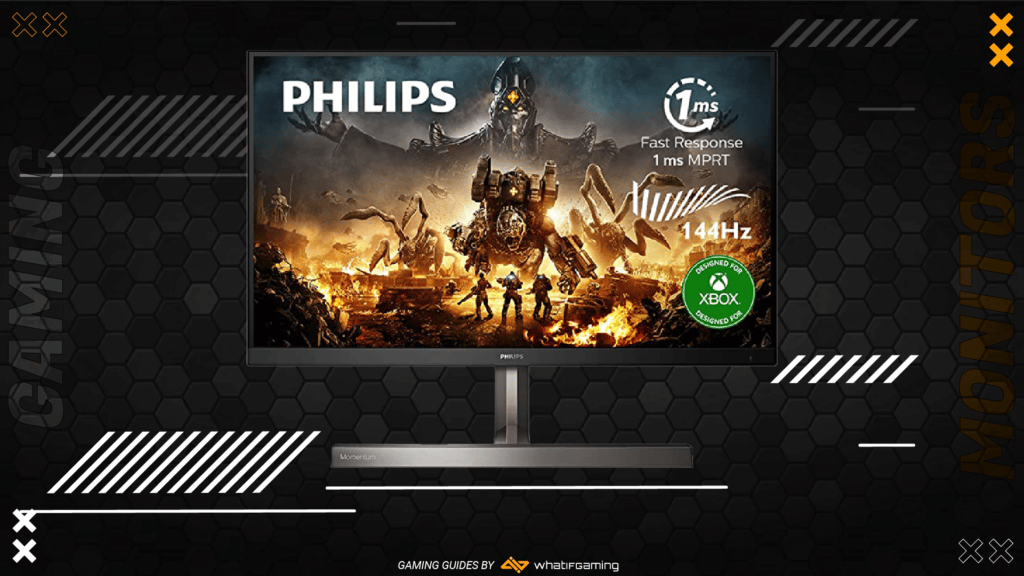 PHILIPS Momentum 329M1RV
Diagonal size: 31.5" | Panel type: IPS | Refresh Rate: 144Hz | Contrast: 1200:1 | Actual Response Time: 7.2ms | Max Brightness: 500 Nits | Tilt: -15° / 0° | KVM Switch: Yes
Pros:
Large screen size with fantastic contrast

Great response times at 144Hz

Colorful and very bright
Cons:
Terrible viewing angles, no ergonomic adjustments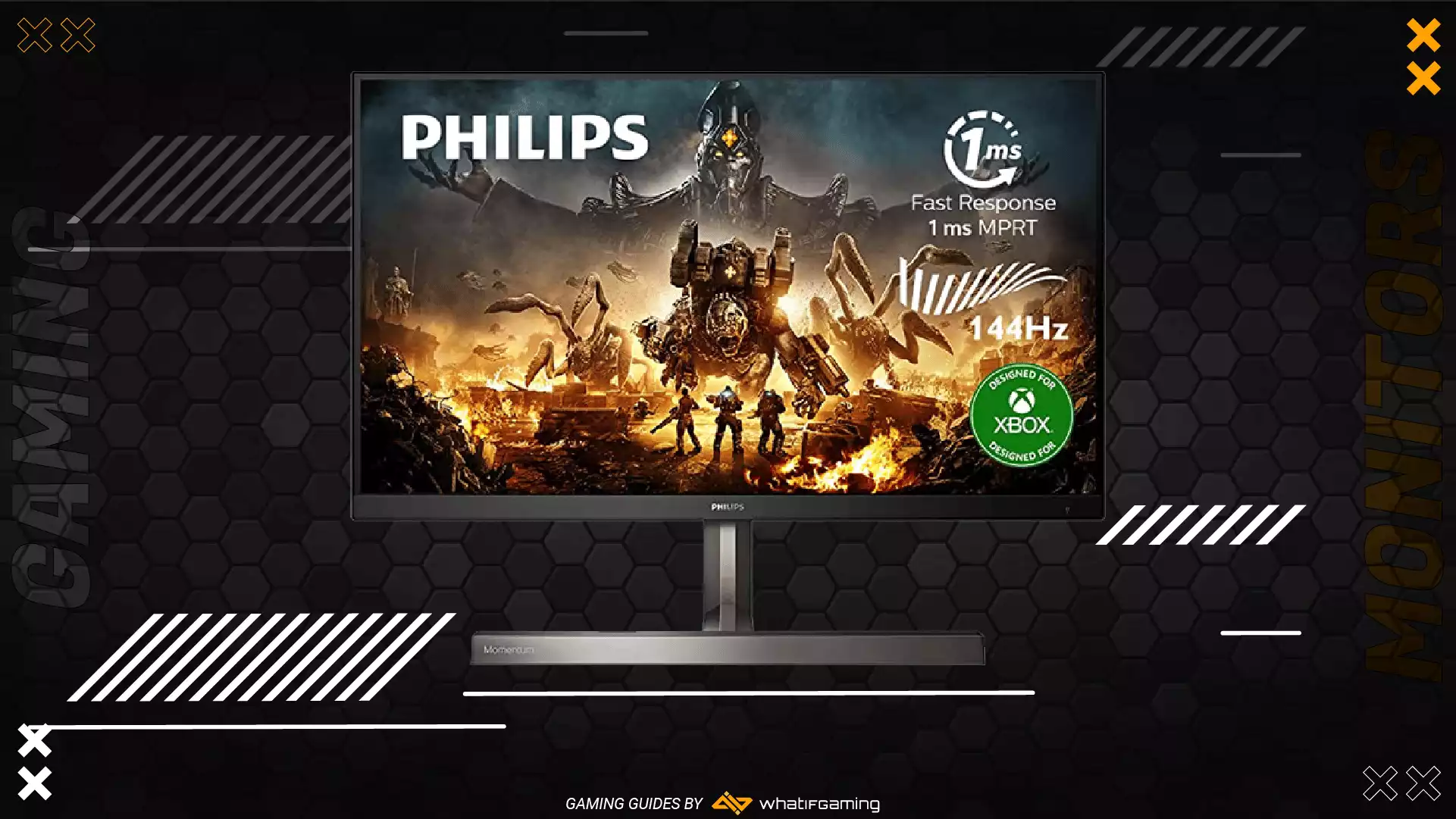 Next is a new IPS display from Phillips that proves RGB lighting isn't just for show. The Momentum 329M1RV leverages its unique LEDs to improve contrast – a stat IPS is always behind on. Add above average sound from its speakers, excellent connectivity, and a fast panel, and you've got a shortlist candidate for our best 4K gaming monitor roundup.
Whereas most gaming monitors proudly flaunt their purpose, one doesn't get that vibe from the 329M1RV. If you keep the ambient LEDs off, its clean angular look suggests high-end office use.
The bezels are also razor-thin except for the bottom one. That's due to it housing two excellent 5W speakers. They won't replace your headphones or sound system but expect much better audio than from other monitors.
The 329M1RV has a healthy I/O and works well as a monitor for multiple sources. It has four downstream USB-A ports for peripherals and data transfer, while the single USB-C port pulls double duty as the fifth video in.
That's right – you get a standalone DisplayPort 1.4 and three HDMI 2.1 connections for good measure. Needless to say, a KVM switch is present as well.
So, what's the deal with the lights? Phillips calls them Ambilight, and they're spread out over the monitor's back edge. The lights can get fairly bright, and their colors are expressive. However, the breadth of effects options in the OSD makes them special.
Users with RGB keyboards, AIOs, etc., will be familiar with presets like color breathing. The solid color option is most useful, though. Setting it to white creates a backdrop that keeps your irises open and ups the perceived contrast. Clever!
You'll need it, as the 329M1RV uses IPS. It's another panel with a 1200:1 contrast ratio, meaning it performs better than most IPS competitors. Peak SD brightness hits 500 nits and makes the monitor suitable for use in bright conditions. The HDR implementation is somewhat brighter but not as accomplished as that on the Neo G7 or modern TVs.
Bringing Your PC and Consoles Together
Colors on the 329M1RV are uniform and saturate the sRGB space nicely. The gamma is slightly off at the default settings. Tweaking red, green, and blue has the potential to throw it off more. This slight imbalance should only dissuade users with a refined eye for detail loss not sticking to correct gamma implies.
We're much more satisfied with the 329M1RV's response times and with how well they hold up as the refresh rate drops. The monitor is ideal for simultaneous connection o multiple sources, so we're glad that console gamers won't feel like they can't perform their best.
Speaking of consoles, users without a PC will experience a maximum refresh rate of 120MHz, which is normal. PC gamers will also be limited to that refresh rate unless they connect the monitor via the DisplayPort plug. While that's not a deal-breaking issue, it may confuse some buyers into thinking that the 329M1RV doesn't perform as advertised.
GIGABYTE M28U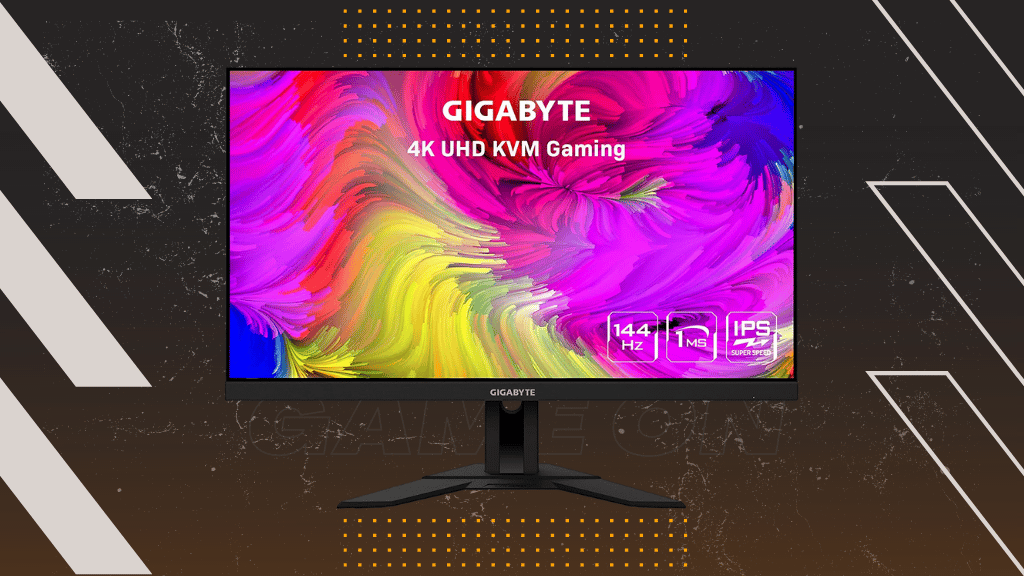 GIGABYTE M28U
Diagonal size: 28" | Panel type: IPS | Refresh Rate: 144Hz | Contrast: 1000:1 | Actual Response Time: 7.7ms | Max Brightness: 300 Nits | Tilt: -5° / +20° | KVM Switch: Yes
Pros:
Excellent value for the money

Solid color coverage

Comprehensive and intuitive OSD
Cons:
sRGB mode has several limitations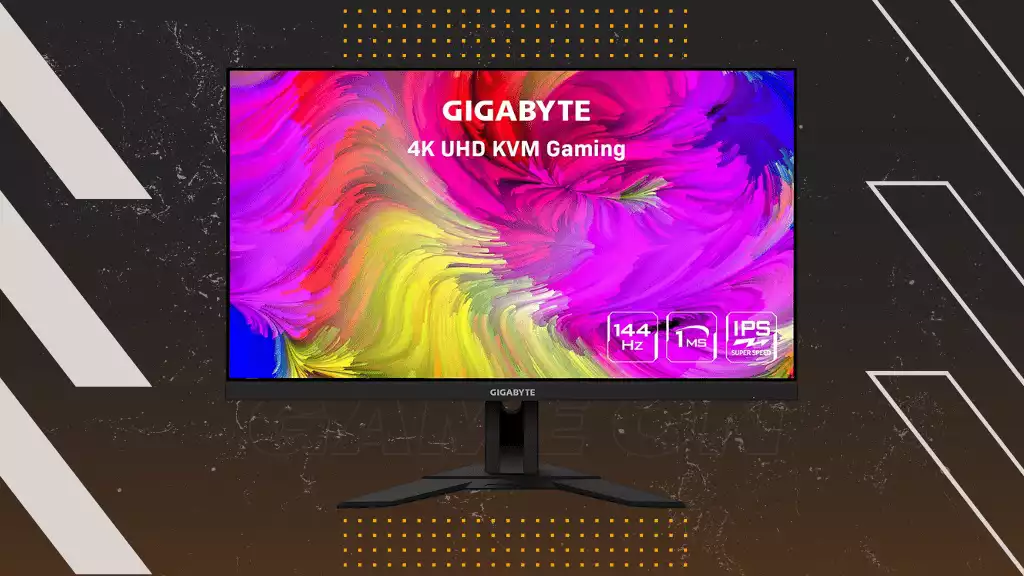 Gigabyte's M32U is prominent in our HDMI 2.1 monitor article, and its smaller sibling is equally enticing. All the monitors we've dealt with so far are costly, so seeing one you can grab for around $600 is heartening. Since we're dealing with exorbitant prices whichever way you slice it, the reduction in cost does not translate into lesser quality. If HDR isn't a consideration, this may be the best 4K gaming monitor for you!
The M28U is best described as sturdy simplicity. There's nothing flashy about its appearance, and only the slim bezels and a few aggressive lines in the back indicate its gaming prowess. We're glad that this is where Gigabyte decided to cut costs!
Port diversity doesn't fall in line with the simplification theme. Two HDMI 2.1 ports and DisplayPort 1.4 ensure you get full use of the 144Hz refresh rate whether gaming on your computer or a console that can keep up. There's also USB-C and a USB 3.2 hub with three connections. A headset jack is present too, which you'll want to use since the speakers are tinny.
Kudos to Gigabyte for structuring the menu layout so that the most frequent settings are easy to reach. You can swap between picture modes on-the-fly, engage the overdrive mode, or dial in the saturation and gamma with great precision. If the M28U is connected to the PC through USB, you can also use the OSD to show useful info on general system stats & hardware usage.
Making Quality 4K Gaming More Accessible
Gigabyte really wants you to take in the M28U's full color capabilities. It shatters SRGB limitations by covering 120% of the spectrum. DCI-P3 coverage is a more than respectable 94% too. It's possible to confine color coverage to the SRGB space, but that brings certain limitations.
Sticking to SRGB disables some key features like adjusting individual color channels and enabling overdrive. Losing the latter results in more motion blur when movement is pronounced. Even when overdrive is on, you'll have to compare between the five modes to find the optimal one since correction tends to overshoot, especially at lower framerates.
The screen's capabilities are excellent for the price. Despite the IPS panel and its nominal 1000:1 contrast ratio, it has one of the best blacks. The relatively small size means pixel density and sharpness are high too. Brightness maxes out at 300 nits, enough for comfortable use in most indoor conditions.
There's not much to say about the HDRI other than it's there. The bump to 400 nits isn't enough to introduce meaningful contrast improvements. The M28U can technically augment the HDR experience with localized zone dimming. Since there are only eight, the feature is highly situational.