If, by some miracle, you got your hands on one of the newest graphics cards, sticking with an old 1080p monitor would be a total waste. In 2021, 4K displays started rolling out features like an insane color range and mouthwatering HDRI, giving us a glimpse of a bright gaming future. Now, the best 4K gaming monitor is not only packed with features but accessible to a broader audience than ever before.
Which one is the right fit for you? Screen size plays an important role, but so does a monitor's ability to accurately reproduce colors and contrasts. Blur reduction is paramount for high-stakes gaming, while some users will find the ability to switch their peripherals from one system to another in a heartbeat essential. Our picks offer all of these and more, so have a look at each & finally put that GPU to good use.
Our Best 4K Gaming Monitor Picks
ASUS ROG Swift PG32UQ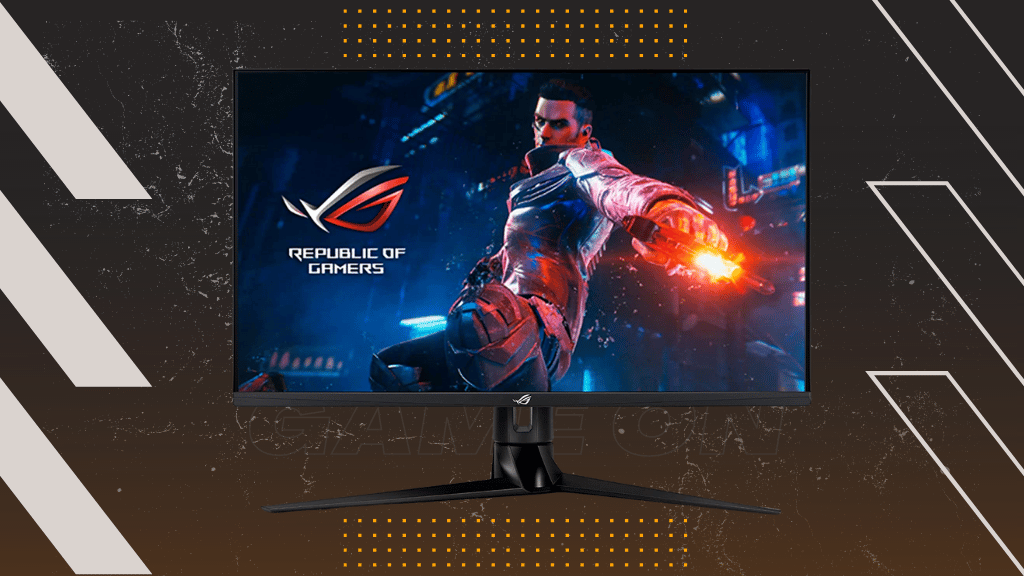 Diagonal size: 32" | Panel type: IPS | Refresh Rate: 155Hz | Contrast: 1000:1 | Response Time: 1ms | Max Brightness: 450 Nits | Tilt: -5° / +20°
World-class color accuracy & saturation
Exceptional HDRI implementation for the price
Intuitive and feature-rich OSD
Improved refresh rate feels underwhelming
One look at the ROG Swift PG32UQ's extended stats is enough to warrant its pole position in our charts. It has one of the highest refresh rates currently available at 4K, absurdly saturated yet subtle colors, significant blur reduction, and the best HDR implementation south of ASUS's $3,000 models. If you have a thousand bucks to spend on a monitor, this should be your first choice.
This monitor is all about contrasts, both literally and figuratively. It has a sturdy metal base that offers excellent support, while three of the four bezels are among the thinnest at 8mm. The bottom one isn't thick either, sporting enough room for a delicate ROG logo. A much more substantial one hides in the back and acts as a colorful LED light source.
The tilt is smaller than on the Predator at -5 and +20 degrees. Still, you get 10cm of vertical adjustment and great viewing angles. Port selection is decent as well and includes two HDMI 2.1 outs, DisplayPort 1.4, USB-C, and a headphone jack. Two more USB ports are downstream (USB-A), with the last being upstream (USB-B). While not necessary, you'll want to connect the monitor to your PC via USB to sync its lighting with motherboards and other ASUS components.
We were impressed with the OSD's depth and ease of use. The joystick makes its menus easy to navigate, and handy markers on the screen ensure you never get lost. Apart from changing the picture and audio settings, you can access several gaming-specific presets. These include crosshairs, an fps display, timers, and even a sniper mode that will zoom the center of the screen in to give you an advantage during long-range showdowns.
Look at All These Colors
If you're longing for color accuracy, there's no doubt the ROG Swift PG32UQ is the best 4K monitor for gaming out there. Setting it to the SRGB mode would be a crime against your eyes since it covers more than 115% of the DCI-P3 gamut by default. That's a level of saturation you'll have to see for yourself since writing about it doesn't do the experience justice.
We can tell you that rather than being garish, the oversaturation works. The colors are more enhanced, but there's also a nuance to them that improves your sense of depth. The feeling is true whether you're playing a realistic-looking game like PUBG or basking in the surreal hellscapes of Doom Eternal.
The matte screen reaches a satisfactory peak brightness of 450 nits during regular use. You can use ELMB Sync to reduce blurring by introducing a strobing effect at the cost of some brightness. G-Sync and Freesync work flawlessly. The real fun starts when you access HDRI content. The monitor recognizes this automatically, cranking the brightness up to 600+ nits and increasing the contrast to 9000:1.
The increased refresh rate limit was the only thing about the ROG Swift PG32UQ that felt underwhelming. You'll need a beastly GPU to reach regular 144Hz at 4K, let alone more. Even when you do, the difference from 144Hz is practically nonexistent.
MSI Optix MPG321UR-QD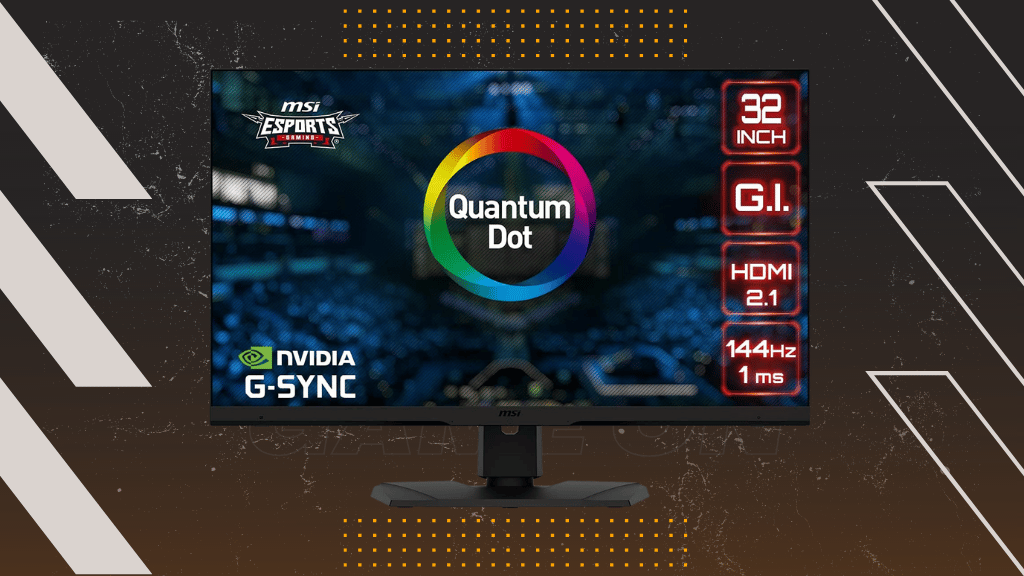 Diagonal size: 32" | Panel type: IPS | Refresh Rate: 144Hz | Contrast: 1000:1 | Response Time: <1ms | Max Brightness: 400 Nits | Tilt: -5° / +20°
It's an exciting time to be buying a new display since 4K is finally starting to shed its niche status. Monitors like the Optix MPG321UR-QD pave the way through innovative technologies and stunning results alike. We ended up handing the title of best 4K gaming monitor to ASUS's model, but honestly, it could have gone either way.
Unlike most monitors on the list, MSI's has a thick base with a massive pillar supporting the display. While it might not be everyone's cup of tea visually, the foundation is more than solid. The monitor's front is bland, lacking thin bezels but sporting a functional control scheme.
You won't experience any visual splendor until you turn the Optix MPG321UR-QD over to reveal a thick back with beautiful streaks that mimic brushed aluminum. A bright yet discrete series of LEDs provided RGB backlighting adjustable from the monitor itself or via MSI's software suite.
The bottom is bursting with ports! So much so that you'd think MSI slapped two or three monitors' worth of them onto this one. There are nine USB ports, including USB-C and three of the upstream kind.
DisplayPort is present, as are two HDMI 2.1 inputs. Combined with the KVM switch, this layout is a boon for streamers who need to quickly shift their keyboard & mouse from their gaming PC to their streaming rig.
MSI's take on interface design is close to ASUS in functionality. You'll find all the usual suspects and can get to them intuitively. Color adjustment is an area the monitor excels at, offering six types of hue correction instead of the usual three. Gamma settings aren't as easy to access, though.
A Bright Future for Pixels
The QD in the monitor's name stands for Quantum Dot, a recent technology breathing even more life into LCD and OLED displays. It introduces a film of tiny particles between blue LEDs and the outer layers of the screen. The particles glow red & green once hit by blue light, producing some of the deepest and most accurate tones yet.
The MPG321UR-QD's implementation of Quantum Dot is stellar, as in color spaces that far exceed SRGB limitations. It covers close to 100% of DCI-P3, so a hint less than our winner. Even so, the colors and their contrasts are markedly better than what was available a mere generation ago. They're a bit oversaturated out of the box, but improving the accuracy is a simple matter of adjustment.
Gamers will love the MPG321UR-QD's sub-millisecond response times and expansive color gamut, especially if they're into fast-paced and colorful shooters like Valorant. The large 32" area is also great for tracking spreadsheets or having lots of panels open in Photoshop. Watching movies in HDR or playing games that support it is a joy since the monitor can reach brightness and contrast levels in that mode similar to our winner's.
ViewSonic ELITE XG320U
Diagonal size: 32" | Panel type: IPS | Refresh Rate: 150Hz | Contrast: 800:1 | Response Time: <1ms | Max Brightness: 250 Nits | Tilt: -5° / +20°
The Elite line has been a consistent hit for ViewSonic as monitors hailing from it have a track record of excellence. It's safe to say the XG320U continues the legacy, bringing innovations like a mild refresh rate overclock and fantastic color coverage. It's also a thoughtful product designed with the focused and tidy gamer in mind.
Nowadays, monitors either have round or V-shaped bases. Both designs discourage placing your keyboard at odd angles, so ViewSonic made the Elite's base flat and pulled towards the back. That's just one of several considerate design tweaks. Two bungee fasteners dangle from the screen's bottom, letting you secure a mouse's cord to ensure your rodent stays in place. There's also a check mark-shaped bulge in the back for hanging up your headphones!
Besides that handy accessory and a hexagon-shaped LED area, there's not much going on in the back. The bottom of the monitor is more interesting, holding the display controls and a smattering of ports. There aren't as many of the latter as on some other models. HDMI 2.1 and 2.0 are present, as is the newest iteration of DisplayPort. Four total USB ports handle input and output but don't include USB-C.
ViewSonic could work on the menu's user experience. It's comprehensive and allows for deep calibration, but some settings are either confusing or hard to get to. For example, you need to access two different menus, Game Mode and Viewmode, to use the breadth of picture adjustment settings.
Among the Colorful Elite
Picture clarity and an expansive color gamut are reason enough to place the XG320U so high on the list. It trades blows with the best 4K gaming monitor and MSI's contender by covering 100% of the Adobe RGB color space and close to it for DCI-P3. Curiously, even though there's an SRGB limit option, it does nothing. You're treated to an explosion of color in the best possible way, whatever setting you're using.
We're not as enthused about the brightness in SHD mode, however. The monitor's spec sheet claims a brightness of 400 nits in this mode, yet real-world testing puts it closer to 250. That's quite the mismatch accompanied by a comparable reduction in real contrast.
None of this should impact gaming performance unless you're in a brightly lit environment. Color uniformity is excellent, and the overdrive mode or ViewSonic's version of ELMB coupled with Adaptive Sync make blur a non-issue.
Switching to HDR is one way of dealing with mediocre brightness. Doing so skyrockets the screen to its HDR-advertised 600 nits and considerably ups the contrast. Games with HDR support like Elden Ring look stunning, as does any 4K footage shot in HDR. The XG320U detects signal changes automatically, so there's no need to switch from a different display mode either.
ASUS TUF Gaming VG28UQL1A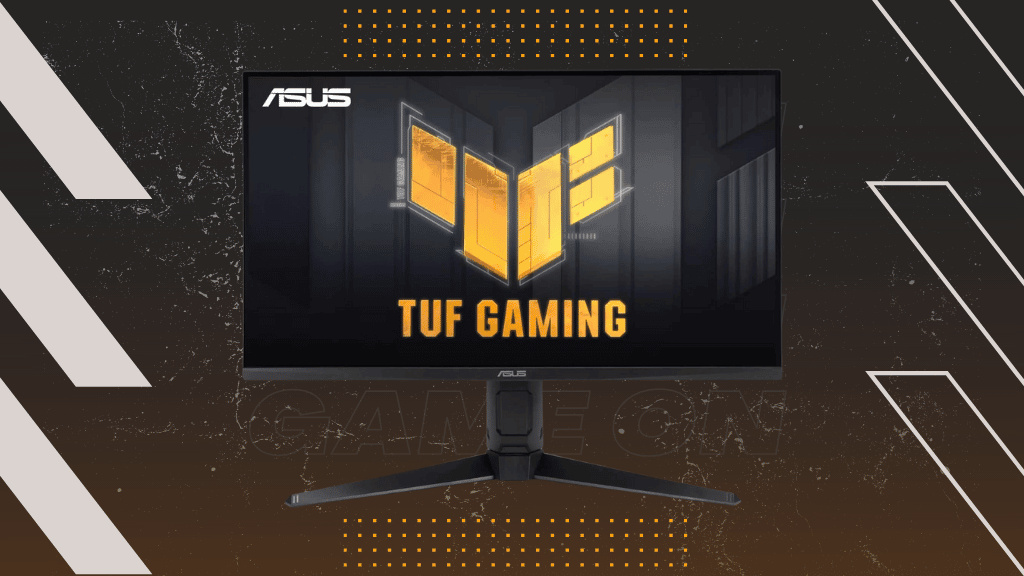 Diagonal size: 28" | Panel type: IPS | Refresh Rate: 144Hz | Contrast: 1000:1 | Response Time: 1ms | Max Brightness: 300 Nits | Tilt: -5° / +15°
Great build quality, PPI, and blur mitigation
Lots of connections for different systems
Highly adjustable
Lackluster HDR implementation
We've only touched on 32″ screens so far. There are excellent 28″ models you can get at more reasonable prices, too!. One such contender comes from ASUS again, this time from the TUF line. The Gaming VG28UQL1A has improved pixel density over larger panels, delivers minimal blur thanks to ELMB, and is accurate enough-color wise for carefree gaming.
TUF focuses on durability at accessible prices, and the Gaming VG28UQL1A embodies is true to its philosophy. We're fans of the broad V-shaped base since it's stout, has a hole for cable management, and has excellent mobility. It makes this the best 4K gaming monitor for people who frequently switch between horizontal and vertical modes or require a killer second display.
RGB is absent from the back, but you get a sizeable port selection. Most of them are HDMI 2.1 and 2.0, so you can connect the monitor to multiple PCs and consoles like the Nintendo Switch. You only get two downstream USB ports, though.
The menu system and controls are similar to our winners, so repetition isn't necessary. We like how you can tap the joystick to bring a simplified menu up for quick adjustments or press again to access the plethora of options.
TUF on Blurriness
Excellent blur mitigation is one of the VG28UQL1A's standout features. Like its larger cousin, the monitor uses ELMB to occasionally introduce a black image between frames to cut down on blur. Moreover, it supports this feature even if you're using G-Sync / Freesync for greater effect without screen tearing. Nice to have for everyone, essential for competitive CS:GO players and the like.
You'll have to do some manual tweaking to get the colors right. They're on the warm side by default but malleable to calibration. After completing the process, you can look forward to accurate and deep hues. They're nowhere near as vibrant as on the best 4K monitor for gaming since the VG28UQL1A accurately displays the entirety of SRGB and 85% of DCI-P3. Still, that's much better than many older displays are capable of.
While the monitor does have HDR capabilities, they aren't fully realized. Its SDR brightness maxes out at 300 nits, which isn't glaringly bright but works well in closed spaces. Engaging HDR ups the brightness by 100 nits and introduces more contrast. That's not enough to rival monitors which focus on the feature more, let alone larger and brighter 4K TVs. That's alright, as the VG28UQL1A is otherwise an above-average monitor.
Acer Predator XB323QK
Diagonal size: 31.5" | Panel type: IPS | Refresh Rate: 144Hz | Contrast: 1200:1 | Response Time: 0.5ms | Max Brightness: 400 Nits | Tilt: -5° / +35°
Excellent color brightness and uniformity
Superb response times
Rich in features
Expensive, could use a joystick
A gaming monitor that's good enough for pro-grade color work even without calibration? That's the Predator XB323QK in a nutshell. It's sturdy, sleek, has a gorgeous display, and actually manages to bring HDRI that looks halfway decent without forcing you to spend thousands of dollars. The price could be a bit lower, but you're getting a lot for it even so.
A lot of heft is the first thing you'll notice upon removing the XB323QK from its secure box. The stylish base holds much of its weight and sports two legs that extend wide, so have an adequately large desk at the ready. You can just as easily use VESA for mounting, though.
The screen itself has three thin bezels, with the bottom one being large enough to house the controls and a wicked Predator logo. The back is home to a cool triangular pattern surrounded by a three-sided built-in RGB strip. It's bright & colorful, and you may cycle between several effects without using any software.
The port selection is excellent. HDMI 2.1 and DisplayPort 1.4 are there for high refresh rate 4K gaming, while an audio jack takes care of sound. You get single USB-C & B on the connectivity front and three more third-gen USB-A ports. Two of them are on the monitor's side, so plugging your keyboard and mouse into them is hassle-free. Better yet, the KVM switch lets you use the same peripherals on two different systems.
The OSD is structured logically, allowing you to make changes to audio, select among several picture presets, or define your own. You navigate the menus via buttons on the bottom bezel. We'd have preferred a joystick since the control layout changes slightly from menu to menu, and it's not uncommon to hit the power button accidentally.
On the Prowl
The Predator XB323QK is a 31.5″ IPS display with excellent response times and viewing angles. A versatile tilt & swivel mechanism allows for precise orientation, so you have a clear line of sight when splattering zombies' brains from afar. A high 144 refresh rate, minimal blur, and a super-fast MPRT of just 0.5ms make the monitor excellent for fast-paced action or racing games like Forza Horizon 5.
Whether you should pay this much for a gaming monitor becomes less debatable once you take a look at its color accuracy stats. It can display more than 125% of SRGB if left unchecked, followed by 90% of DCI-P3 and around 77% of Adobe RGB. All of these are excellent results and the basis for accurate color grading, even at the professional level.
Acer's monitor also has one of the better "low-end" HDR implementations. It's no OLED TV or $3,000 ASUS screen, but turning HDRI on adds a welcome layer of contrast and fidelity. The picture uniformity is great for the most part, with a bit of unevenness along the very edges. The brightness is average at 400 nits, and low blue light levels ensure you can game or create long into the night.
GIGABYTE M28U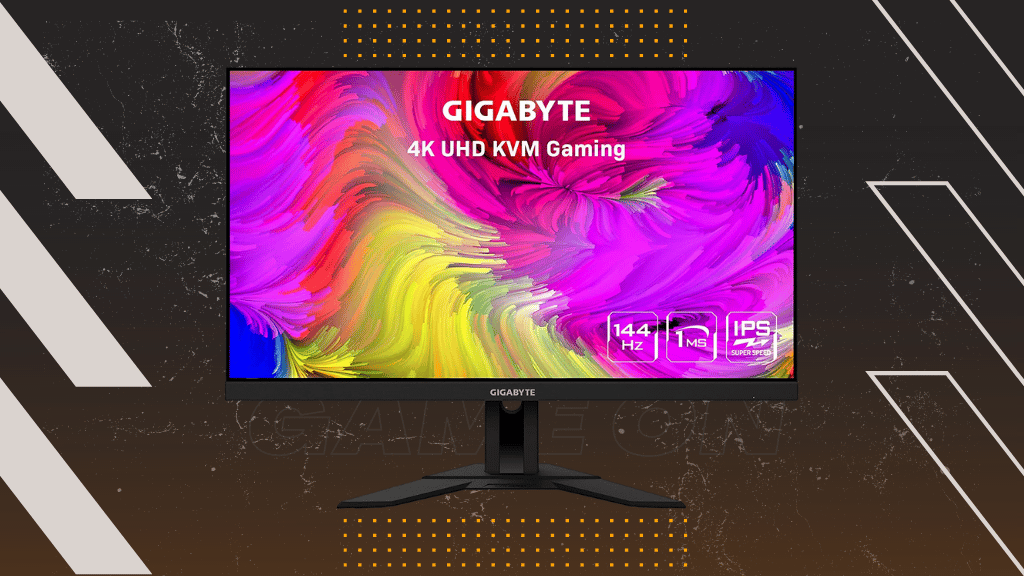 Diagonal size: 28" | Panel type: IPS | Refresh Rate: 144Hz | Contrast: 1000:1 | Response Time: 1ms | Max Brightness: 300 Nits | Tilt: -5° / +20°
Excellent value for the money
Solid color coverage
Comprehensive and intuitive OSD
SRGB mode has several limitations
Gigabyte's M32U is prominent in our HDMI 2.1 monitor article, and its smaller sibling is equally enticing. All the monitors we've dealt with so far are costly, so seeing one you can grab for around $600 is heartening. Since we're dealing with exorbitant prices whichever way you slice it, the reduction in cost does not translate into lesser quality. If you couldn't care less about HDR, this may be the best 4K gaming monitor for you!
The M28U is best described as sturdy simplicity. There's nothing flashy about its appearance, and only the slim bezels and a few aggressive lines in the back indicate its gaming prowess. We're glad that this is where Gigabyte decided to cut costs!
Port diversity doesn't fall in line with the simplification theme. Two HDMI 2.1 ports and DisplayPort 1.4 ensure you get full use of the 144Hz refresh rate whether gaming on your computer or a console that can keep up. There's also USB-C and a USB 3.2 hub with three connections. A headset jack is present too, which you'll want to use since the speakers are tinny.
Kudos to Gigabyte for structuring the menu layout so that the most frequent settings are easy to reach. You can swap between picture modes on-the-fly, engage the overdrive mode, or dial in the saturation and gamma with great precision. If the M28U is connected to the PC through USB, you can also use the OSD to show useful info on general system stats & hardware usage.
Making Quality 4K Gaming More Accessible
Gigabyte really wants you to take in the M28U's full color capabilities. It shatters SRGB limitations by covering 120% of the spectrum. DCI-P3 coverage is a more than respectable 94% too. It's possible to confine color coverage to the SRGB space, but that brings certain limitations.
Sticking to SRGB disables some key features like adjusting individual color channels and enabling overdrive. Losing the latter results in more motion blur when movement is pronounced. Even when overdrive is on, you'll have to compare between the five modes to find the optimal one since correction tends to overshoot, especially at lower framerates.
The screen's capabilities are excellent for the price. Despite the IPS panel and its nominal 1000:1 contrast ratio, it has one of the best blacks. The relatively small size means pixel density and sharpness are high too. Brightness maxes out at 300 nits, enough for comfortable use in most indoor conditions.
There's not much to say about the HDRI other than it's there. The bump to 400 nits isn't enough to introduce meaningful contrast improvements. The M28U can technically augment the HDR experience with localized zone dimming. Since there are only eight, the feature is highly situational.