Specs:

Panel type: OLED
Available sizes: 42" – 83"
Color coverage: 97% DCI-P3
Brightness: 180 Nits

Specs:

Panel type: QD-OLED
Available sizes: 55" – 65"
Color coverage: 100% DCI-P3
Brightness: 200 Nits

Specs:

Panel type: OLED
Available sizes: 55" – 83"
Color coverage: 98% DCI-P3
Brightness: 180 Nits

Specs:

Panel type: OLED
Available sizes: 48" – 77"
Color coverage: 97% DCI-P3
Brightness: 160 Nits

Specs:

Panel type: VA
Available sizes: 43" – 85"
Color coverage: 95% DCI-P3
Brightness: 600 Nits

Specs:

Panel type: VA
Available sizes: 55" – 75"
Color coverage: 98% DCI-P3
Brightness: 700 Nits

Specs:

Panel type: VA
Available sizes: 55" – 65"
Color coverage: 92% DCI-P3
Brightness: 800 Nits
Gaming wasn't high on TV manufacturers' priority lists until relatively recently. Lucky for console and PC users alike, this is no longer the case! The best 4K gaming TV candidates rival top-tier monitors in resolution and refresh rate while dwarfing them in size. Now that input lag & response times are lower than ever and VRR is a thing, the line between the living room and the competitive display has become blurred.
There's been an explosion of gaming TVs as manufacturers scramble to produce ever brighter and more feature-rich models that can keep up with modern consoles' lofty requirements. Our seven recommendations feature panels of different types and sizes that cater to a wide variety of budgets. Be sure to also check out the mini buyer's guide at the end to get a more complete picture (pun intended).
LG C2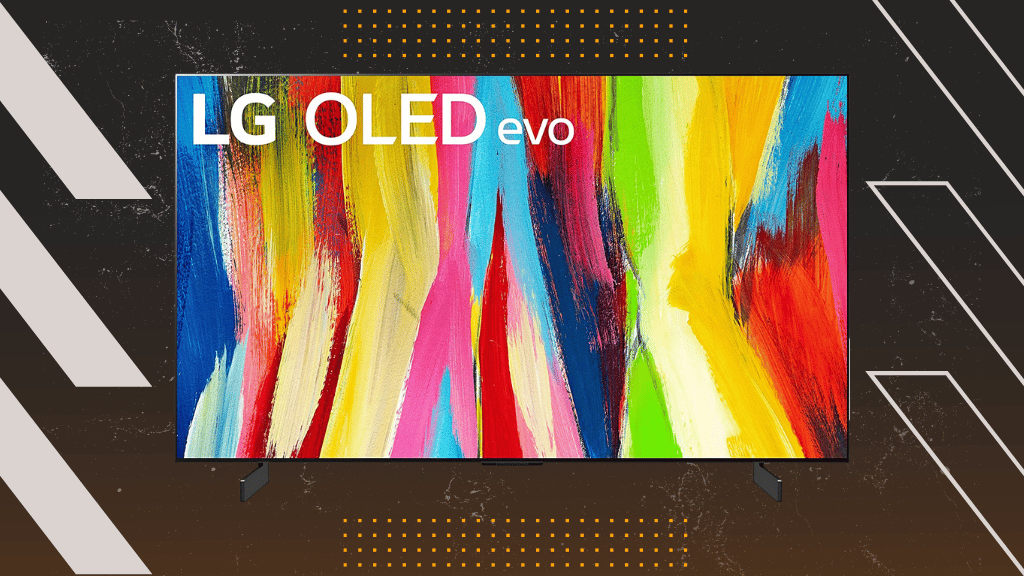 LG C2
Panel type: OLED | Available sizes: 42" – 83" | Max refresh rate: 120Hz | Color coverage: 97% DCI-P3 | Brightness: 180 Nits | Response time: 1ms
Pros:
Outstanding picture quality

Impeccable response times & no ghosting

42" version suitable for desktops
Cons:
Needs calibration, dimmer than LED displays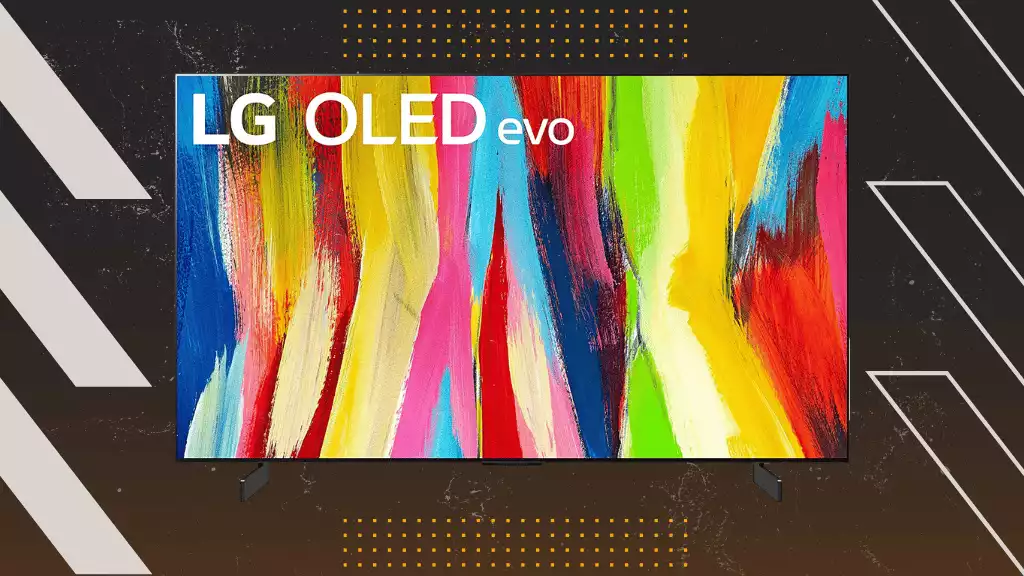 2021's C1 blew buyers away with a stellar OLED panel and a slew of gaming-centric features. It's still a fantastic TV and a better value due to inevitably dropping in price. Its successor brings only incremental updates, but these are enough for it to take the mantle of best 4K TV for gaming. C1 owners can wait another generation or two – everyone else is in for an unprecedented visual treat.
Minimum size reduction is one of the most significant changes LG introduced to the C2. A 42″ version is available and works much better as a PC gaming monitor than the 48″ C1. We'd hold off on buying this particular size just yet since it seems to be shipping with the older model's panel instead of the Evo you get on 55″+ monitors.
The C2 is a supremely elegant and noticeably lighter model than its predecessor. At sizes like these, its bezels appear non-existent. A triangular silver base keeps the larger screens in place, while the 42″ one has two small feet. The screen itself is super thin, with only a bulge in the back for speakers and the port selection. That includes four HDMI 2.1 ports, three USB ports, WiFi, and an optical S/PDIF out port.
The TV uses the second generation of OLED panel that debuted in LG's G-series of high-end displays. It melds the customarily immaculate black levels and contrasts you get from OLED with improved brightness. Keep in mind that regular monitors and LED TVs can get considerably brighter as the C2 is capped to around 200 nits. You'll want to use the TV in a darker environment anyway as the display surface is more reflective than on most models.
Picture quality is sublime, as the C2 covers 97% of the DCI-P3 gamut. The colors are punchy and vibrant without becoming garish. You will want to tweak some settings after turning the C2 on for the first time since it has a blue tint and isn't the most color-accurate TV out of the box. Luckily, you can fix this easily without resorting to third-party software.
Polishing Perfection
The remote is versatile, offering conventional controls along with a wand-style pointer. It has a built-in mic that makes searching for shows in the new WebOS 22 easy. Speaking of, the smart interface is simple to navigate and customize. Profile creation is the best new feature, allowing parents to set appropriate content filters and max sound levels.
The C2's gaming features are no less impressive. It supports both G-Sync and Freesync as well as VRR. Most impressive of all is its response time. Unlike the vast majority of displays that market it, the C2 actually registers 1ms response times and works flawlessly without overdrive. Call off Dr. Venkman and crew, because there's absolutely no ghosting here. Coupled with a 120Hz refresh rate, this makes the C2 one of the finest TVs for fast-paced games like Fortnite.
Finally, a word on audio. The C2 has a 40W speaker system yet manages to reproduce a rich sound stage due to Virtual Surround Sound implementation. It leverages the newest generation of a9 processor to convert stereo sound into the Dolby 7.1 format. The output doesn't compare to a genuine home theater setup, but it's a noticeable step up from most ordinary TV sound systems.
Samsung S95B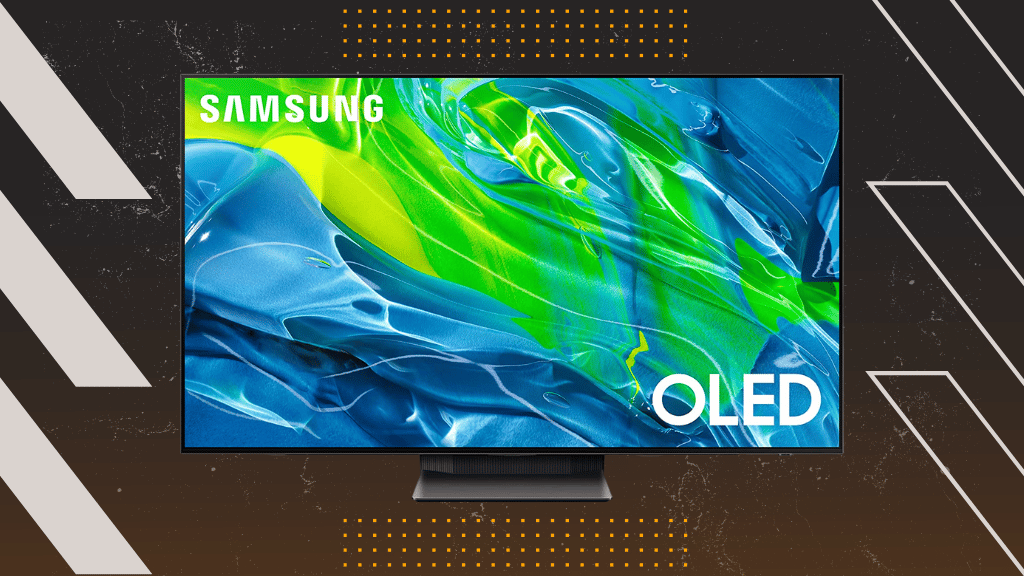 SAMSUNG S95B
Panel type: QD-OLED | Available sizes: 55" – 65" | Max refresh rate: 120Hz | Color coverage: 100% DCI-P3 | Brightness: 200 Nits | Response time: 4ms
Pros:
Jaw-dropping picture quality

Superb response times and input lag

Deep, vibrant colors
Cons:
Limited size availability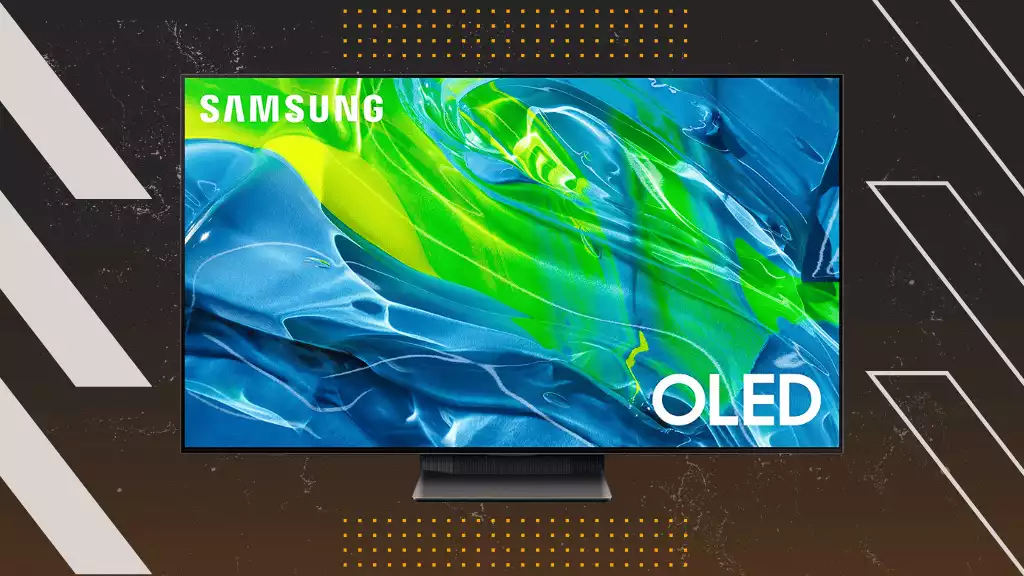 Samsung's contender for the best 4K gaming TV is hot on the C2's heels! While more expensive, the S95B delivers superlative picture quality thanks to a new Quantum Dot OLED panel. It's speedy, has outstanding contrast, and is brighter than our winner if you turn the restraints off. This is as close to a tie as we've ever gotten, so personal preference and the C2's broader size selection will be major decision-making factors.
The S95B is an attractive, razor-thin display with a thick yet comparatively small angular base. It juts out far enough to provide stability while ensuring a sound bar you place in front of it doesn't interfere cover the picture. Four HDMI 2.1 & two USB ports take up the lion's share of the I/O along with Ethernet, optical S/PDIF out, and even an analog 3.5mm jack.
Samsung implemented quantum dots to produce an almost immaculate picture. Instead of the RGB and white LEDs employed by regular OLED, it uses RGB in a triangle shape where green is larger than the others. As these can also be turned off, the result is a display with inky blacks, near infinite contrast, and the finest local dimming currently available.
The color coverage is equally impressive, spanning the entirety of the DCI-P3 gamut and more than 80% of the newer Rec. 2020 standard. HDR content looks mesmerizing, with excellent color fidelity and no blown-out highlights when dark areas and swathes of light collide. The screen is brighter in SDR mode than the C2 but feels restrictive with the automatic balance on. Disabling this restriction sees peak brightness shoot up into the high 400 nit range.
OLED Reimagined
The display itself is slightly less glossy than the C2's. You can let more ambient light in as a result, but it will still get reflected with a slight violet hue due to the lack of a polarizer. The good news is that you don't have to manually tweak the picture settings since they're nearly ideal whether you're consuming media or using Game Mode.
We highly recommend you switch to said mode when firing up a PS5 or a gaming PC as it significantly improves one's gaming experience. The S95B has a real-life response time of less than 4ms. That's not quite on the C2's level but still outstanding for a gaming display. On the other hand, Samsung's TV impresses with a total input lag of less than 10ms – a third of the rate such lag would become noticeable at.
The interface has received a facelift from the previous generation and now takes up the whole screen. Favorites are easy to access, and Samsung's app selection is comprehensive. We're indifferent about the remote. On the one hand, it's slim and recharges via a solar panel. On the other, it has a limited control selection. You can't rebind the four popular streaming service buttons either if you don't find them helpful.
Sony A90J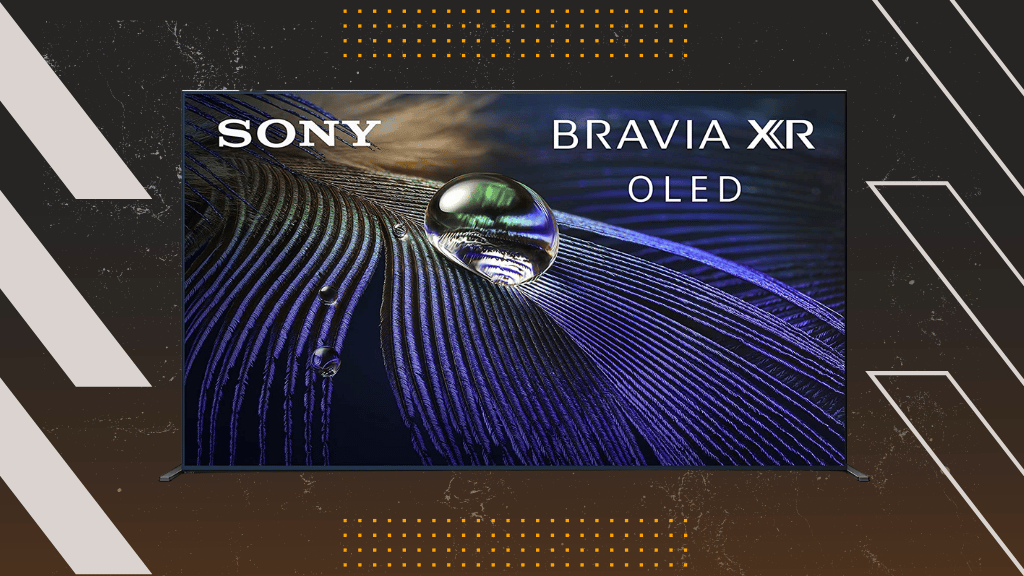 Sony A90J
Panel type: OLED | Available sizes: 55" – 83" | Max refresh rate: 120Hz | Color coverage: 98% DCI-P3 | Brightness: 180 Nits | Response time
Pros:
Innovative sound output

Excellent picture quality and response times

Functional remote & good user interface
Cons:
Expensive, could be brighter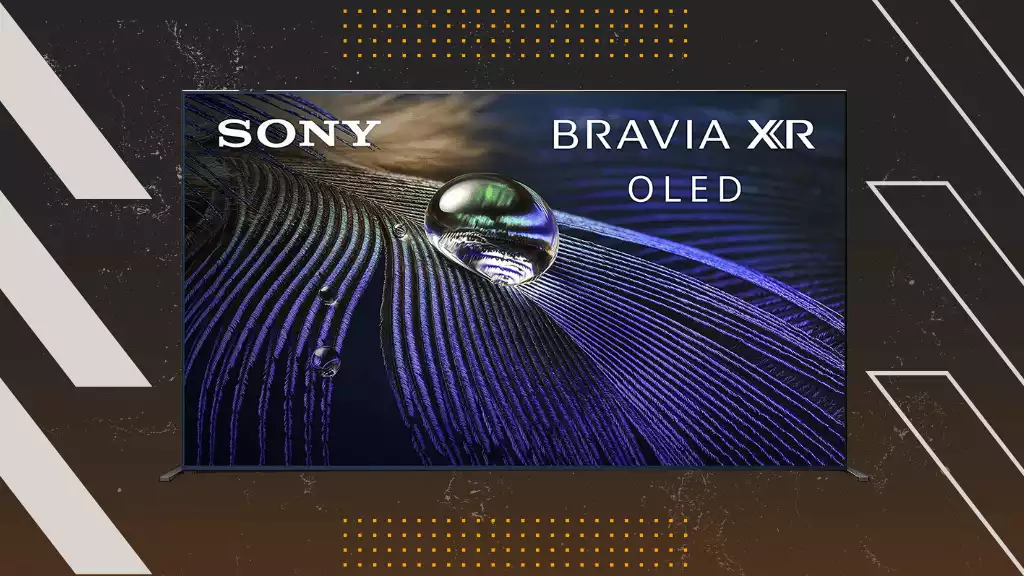 Our top two picks were released this year, but 2021's models aren't out of the race yet! Sony's A90J is among the first to come to mind if you're looking for a comprehensive 120Hz 4K TV for gaming. It's a feat for the senses, augmenting a superb visual experience with equally impactful audio. The A90J is our most expensive recommendation, yet it's also the most complete and well-rounded of the bunch.
Like most modern OLED TVs, the A90J is thin and elegant. Its feet are unique in that you can either lower them to have it almost flush with the bottom surface or raise them for a sound bar to fit under the display. Alternatively, you can angle the feet to reduce their footprint if you own the 83-inch version. A standard smattering of ports awaits in the back, including HDMI, USB, Ethernet, TV tuners, and a headphone jack.
Keep in mind that only two of the four HDMI ports adopt the 2.1 standard. You'll need to plug your console or graphics card into one of them to not be limited to 4K at 60Hz.
While the A90J is a traditional OLED display, it doesn't trail far behind the S95B's visual excellence. It has a similarly broad contrast & backlight uniformity, not to mention the ability to display a breadth of colors. Factory calibration is also on point, scoring well in the color temperatures and gamma departments.
Sounds as Good as It Looks
Audio quality is what distinguishes this display from the rest. Rather than go only with conventional backfiring speakers, Sony implemented something called Acoustic Surface Audio+. This technology turns the entire area of the TV into a source of sound. Only two tweeters remain in the back, so most of the sound hits you dead on. After decades of conventional LCD speakers, the effect is both startling and welcome. You can even integrate the TV into a surround sound setup as the central channel.
Nothing can touch the C2's response times, but the A90J's 3ms come pretty close. Its input lag is higher than on Samsung's model yet still well within seamless territory. A firmware update introduced VRR for tear-free gaming, but FreeSync is not yet supported.
We're fans of the remote since it's both easy to handle and functional. The device is brimming with controls, so much so that you can use it as a universal remote. Sony switched from Android TV to Google TV for the A90J's interface. The TV is better off for it as navigation is seamless whether you're using the remote or giving verbal commands to the Google Assistant.
Mediocre max brightness is an issue present in all three TVs so far. It's one of OLED's inherent limitations most noticeable on the A90J. While the display can emit concentrated bright flashes even more pronounced in HDR mode, it's limited to less than 200 nits when tasked to show a uniformly white image. That, coupled with a relatively glossy coating, means you'll want to remove as many outside light sources as possible to experience full immersion.
LG CX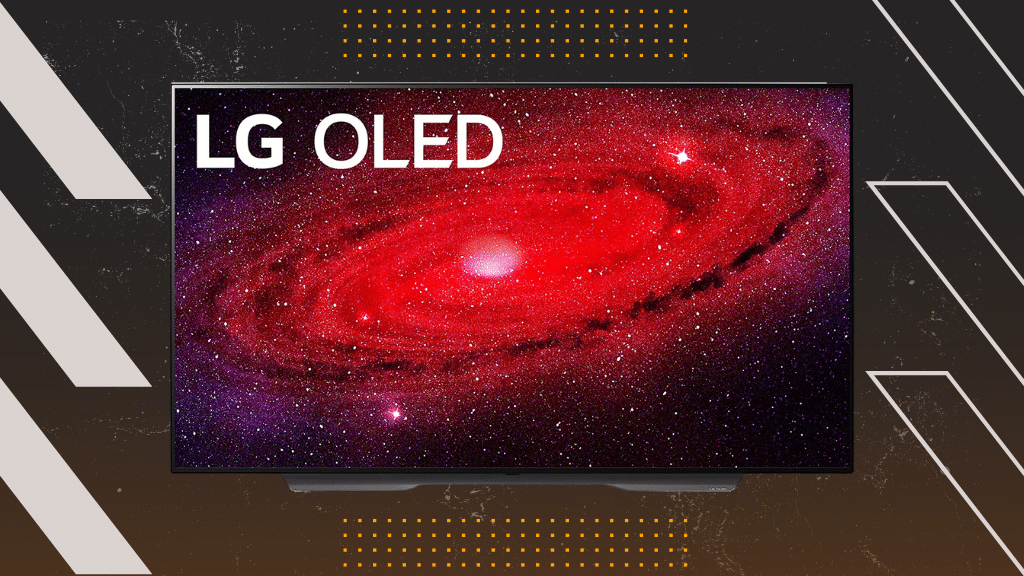 LG CX
Panel type: OLED | Available sizes: 48" – 77" | Max refresh rate: 120Hz | Color coverage: 97% DCI-P3 | Brightness: 160 Nits | Response time: 2ms
Pros:
Picture quality and response times almost on par with C2

Game Mode as calibrated and vibrant as rest

Versatile remote
Cons:
Low peak brightness, even in HDR mode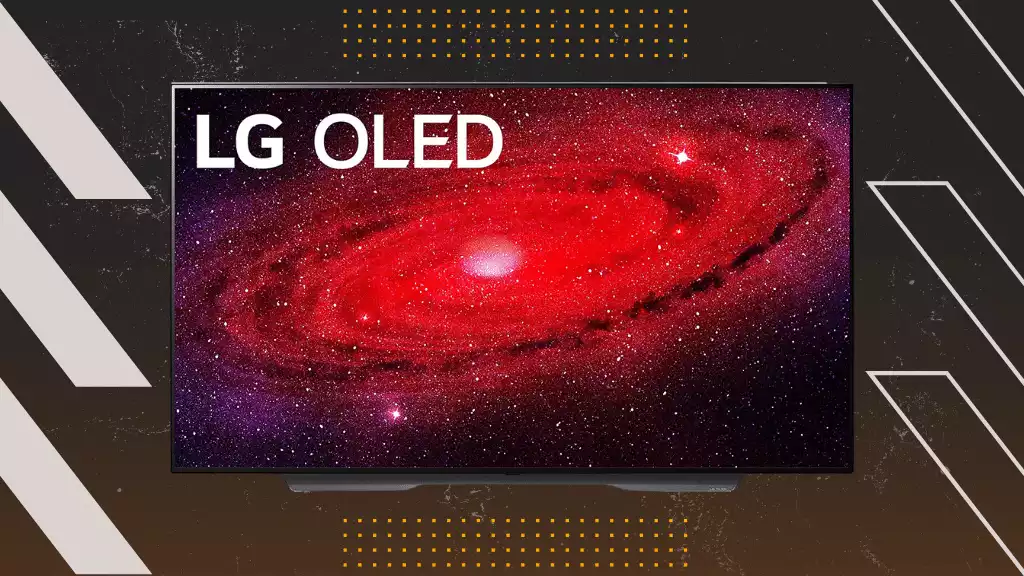 Want stunning visual fidelity akin to the C2's at a lower price? That's exactly what you get in the LG CX if you don't mind going back two generations. We sure wouldn't, as the older display still delivers fantastic 4K 120Hz visuals, punchy sound, and magnificent colors. Just be sure to watch in a dark environment and avoid prolonged use in Windows due to considerable burn-in risk.
The C2 is an alluring mixture of black metal & slightly textured plastic, with only its bottom third departing from the otherwise paper-thin display. Unlike the TVs we've mentioned so far, it has an elongated foot that's very sturdy but takes up more space. The foot's lip is also close to the screen, so you'll want to move any accompanying soundbar to the front to avoid obstruction.
Despite being a 2020 model, the CX has almost all the hallmarks that make its successors' screens so great. The OLED panel combines superb contrast with ideal black levels and appreciable uniformity. Color gamut coverage is wide enough to let HDR content shine while not oversaturating older shows or games.
Calibration is slightly off by default, as is the case with LG's newer models. Fortunately, you can look up the optimal settings online and achieve a markedly better white balance with minuscule delta-e color values. There's no difference in vibrancy or contract levels when switching to Game mode.
Still in the Picture
Less input lag in Game Mode does make a difference, though. It sits at 13ms, meaning you won't perceive lag even in the most heated of Valorant matches. The CX's response times are only slightly worse than the C2's. Its close to 2ms isn't the pinnacle of responsiveness anymore, but it's still a world-class showing.
The CX performs well even if your console is struggling. It's certified to work with G-Sync, FreeSync, and VRR, providing a tear-free experience throughout its refresh rate range. The minuscule response times don't increase with lower frame counts, and the lack of ghosting translates to small, rapidly moving objects being easy to spot.
The remote is oblong and rich with controls. It uses the magic wand feature as well as a handy wheel that navigates long menus more efficiently. Users not accustomed to these control types might need to adjust, but they'll soon be selecting content with the best of them. Speaking of, WebOS is present in a less refined capacity than on the C2 yet continues to provide access to the best streaming providers and useful apps.
OLED's brightness pain point is present on this TV too. The peak brightness is worse than on the C2, so get ready to adjust your gaming & media schedule for the nighttime or buy some heavy curtains. To end on a positive note, though, you can look forward to rich sound and surprisingly sharp upscaled footage that makes watching non-4K YouTube videos or playing at lower resolutions more enjoyable.
Samsung QN90B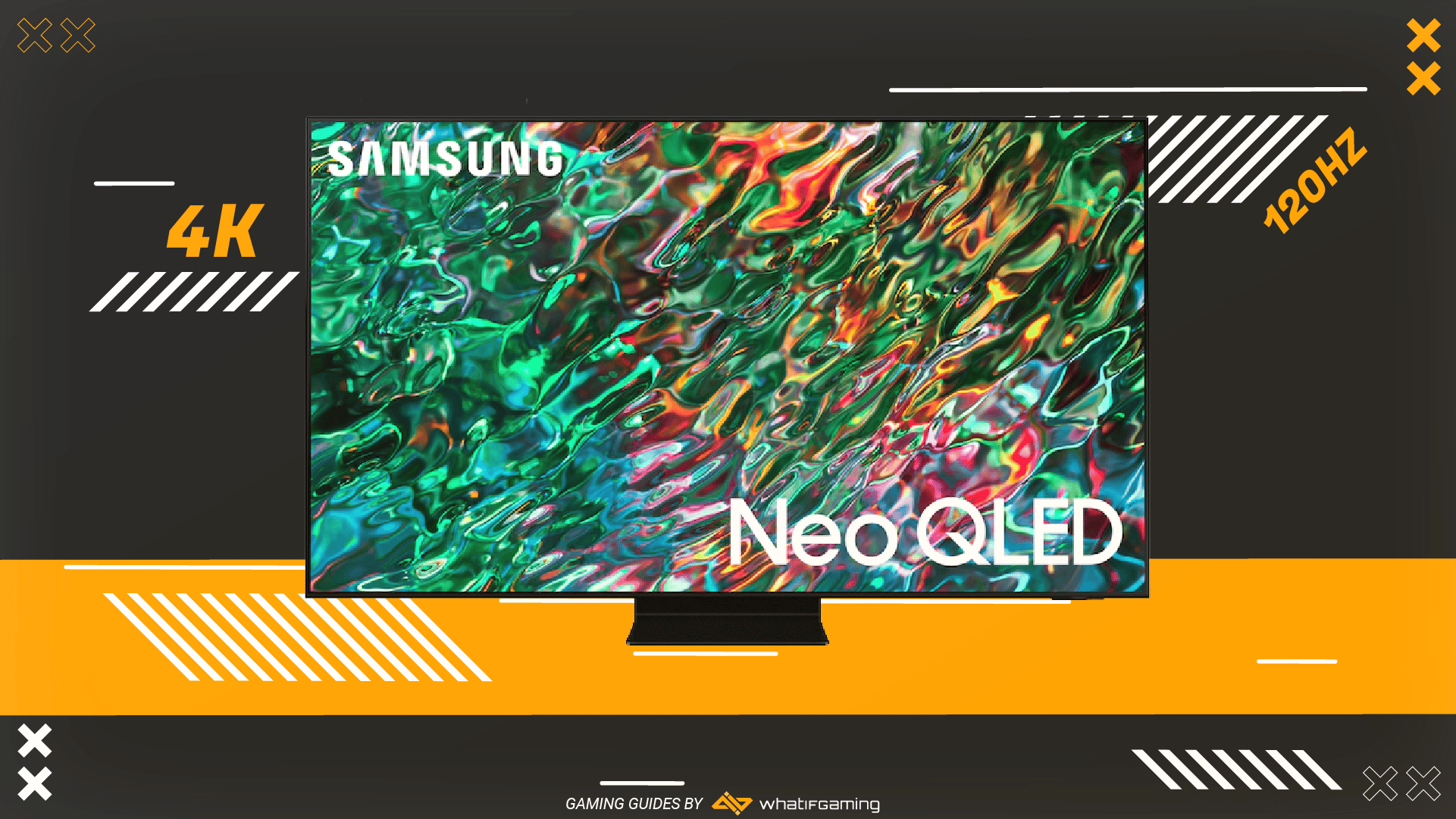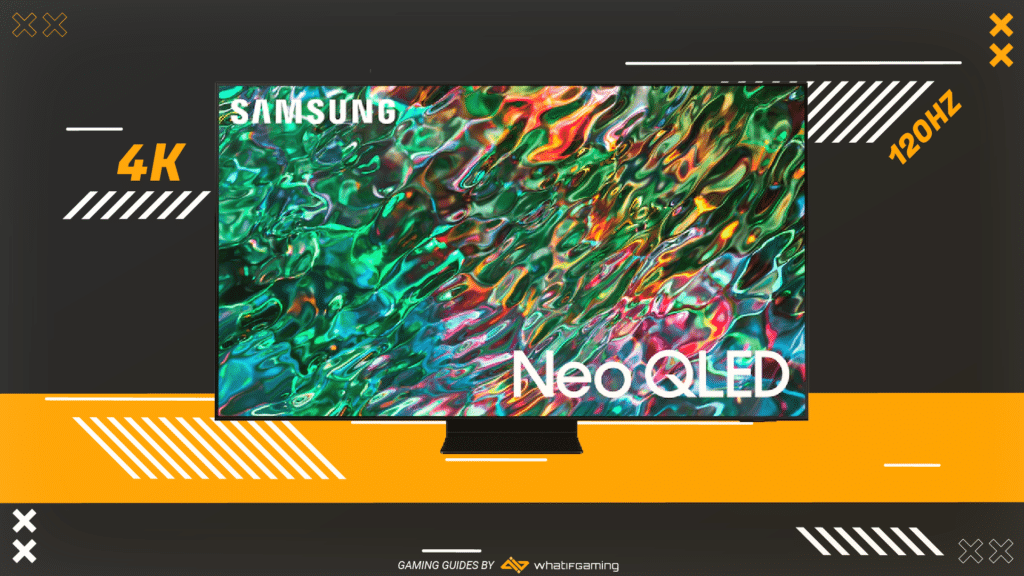 SAMSUNG QN90B
Panel type: VA | Available sizes: 43" – 65" | Color coverage: 95% DCI-P3 | Brightness: 600 Nits | Response time: 8ms
Pros:
Outstanding local contrast, even for a VA panel

Excellent brightness and minimal reflections

Decent response times
Cons:
Smallest variants have mediocre viewing angles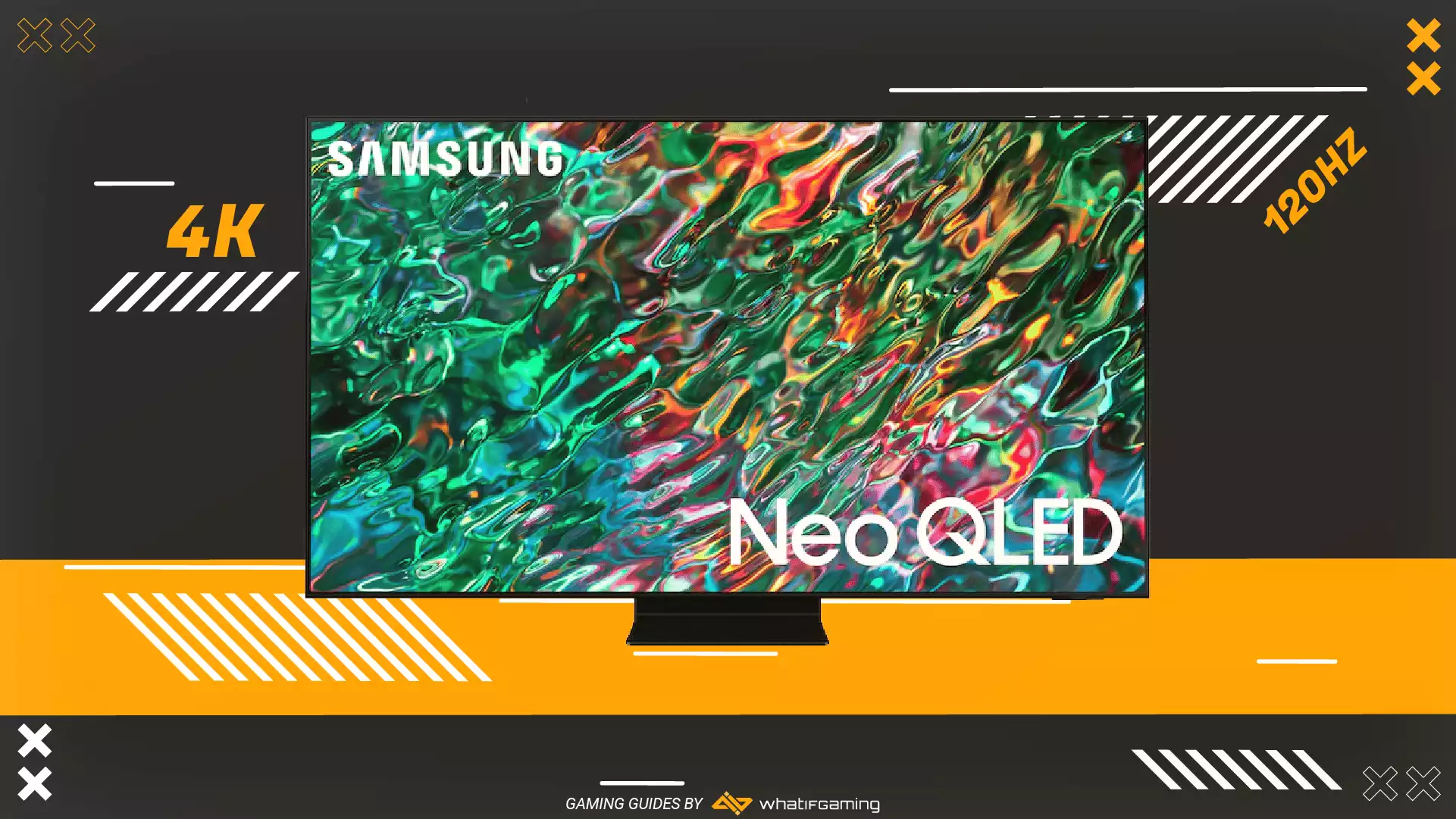 Samsung might offer cutting-edge OLED technology, but their recent VA TVs are also worth considering. The QN90B balances strong features with a price that won't leave you reeling. It features excellent local dimming, flawless console compatibility, and response times in line with high-performance gaming monitors.
The QN90B impresses with its understated modern design. Its base curves down and forward, offering sturdy footing for the TV proper while letting you unimpededly place a soundbar in front. The base is heavy but narrow, so the TV might wobble if you manhandle it. While the back is plastic, it has a cool brushed aluminum pattern that elevates the aesthetics.
The I/O is recessed to the left and holds a satisfactory port spread. Optical S/PDIF out and an Ethernet jack accompany two USB-A ports and four HDMI connections. Analog audio isn't an option. Audiophiles will have to connect their systems digitally since the TV's built-in sound is just OK. However many devices you connect, the built-in cable channel keeps things tidy.
A VA panel is usually already a sign of excellent contrast, but the QN90B takes it to the next level with outstanding local dimming. Unlike some gaming monitors with only a handful, the hundreds of zones successfully keep light bleed at bay while making bright pinpoints surrounded by black a joy to behold.
Initial color calibration is decent, with some room for improvement. The blues are somewhat inaccurate, and colors in general are slightly warmer than they should be. Spend a minute to correct this, and you'll have a vivid and accurate picture. 95% of the DCI-P3 gamut is covered, making for nuanced and vivid shades that pop without being blown out.
Viva La VA!
Viewing angles are a challenge for VA panels, but Samsung has a solution for its bigger TVs. Larger models have the Ultra Viewing Angle Layer, which improves color fidelity and diminishes brightness when viewed at extreme angles. The 50″ and 43″ versions lack this feature and lose some blue hues when viewed from the sides as a result.
The QN90B looks breathtaking in any environment due to the excellent panel and its coating. VA is much brighter than OLED, resulting in 600 nits of brightness when viewing SDR content. Let the sunshine in, as power like that won't be bothered by it. The finish is glossy and mitigates much of a direct reflection's potency. This results in great visibility slightly marred by the Ultra Viewing Angle Layer's color shift effect.
Console compatibility is flawless, and three different variable refresh rate implementations ensure tearing is non-existent regardless of platform. The TV's response times in Gaming mode measure a very reasonable 8ms, while ghosting is manageable.
The QN90B is an up-to-date TV that runs on the same version of Tizen as the S95B. It also uses the same remote, so the shortcomings we mentioned earlier still apply.
Hisense U8H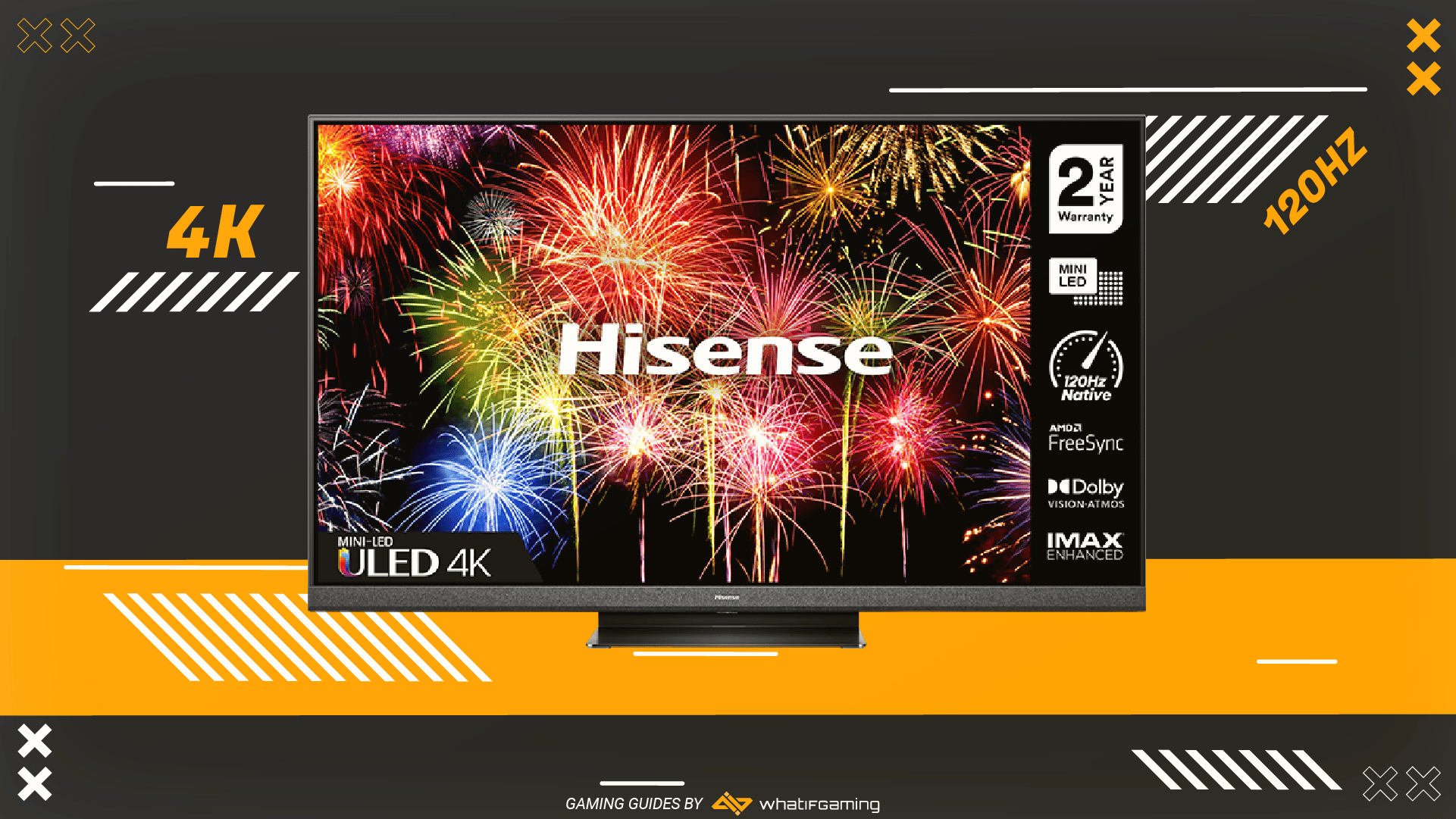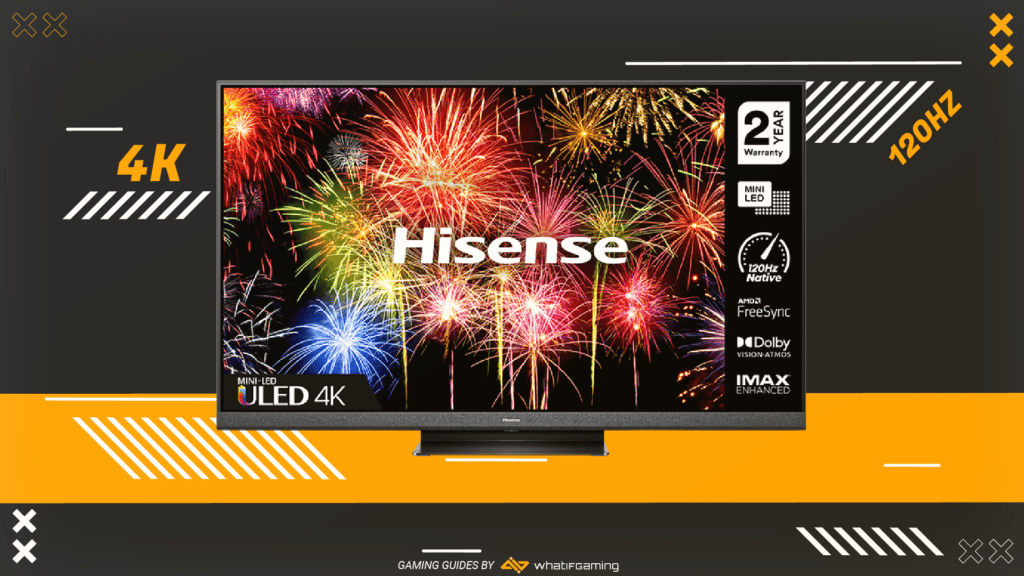 Hisense U8H
Panel type: VA | Available sizes: 55" – 75" | Color coverage: 98% DCI-P3 | Brightness: 700 Nits | Response time: 8ms
Pros:
Very high sustained brightness

Excellent color calibration and port selection

Commendable response times and low input lag
Not all worthwhile gaming TVs are a disposable income sink. Case in point, the comparatively affordable but still feature-rich U8H from Hisense! The TV surpasses its previously featured predecessor in brightness, contrast, and response times. Best of all, you can snag a 65″ model and still stay in triple-digit territory.
We love the U8H's minimalistic design and thin yet wide metal feet. They're close to the edges, so wobble isn't a concern. Both feet have cable channels for a cleaner appearance and lift the TV more than three inches. The plastic back is thicker than on most competitors, and the I/O is on the right. Plan your console and PC placement accordingly.
The U8H's port selection is modern and generous. It has four HDMI connections, two of which work with the newest HDMI 2.1 standard. These share space with USB 3.0 and an analog headphone jack. There's also a separate area to the left and down where you'll find the Ethernet jack, an optical S/PDIF out, and a USB 2.0 plug.
While not as intricate as the QB90B's, the backlight dimming here is excellent for the price. Bloom is kept in check, and few details are lost when a scene involves high contrast with small bright spots. This is the best 4K gaming TV if you live in a modern open space since a whopping sustained brightness of 700 nits is enough for any situation unless the sun is shining directly into the screen.
Lighting It Up!
That brings us to the U8H's only major drawback – poor viewing angles. It's not the kind of TV you'd want to put in a room with wide seating arrangements since brightness and colors start to fall off quickly if you aren't directly in front of the screen. There's no dedicated wide-angle enhancement layer like on some competitors, regardless of the TV's size.
There are enough redeeming qualities to make this a non-issue for many, though. For example, the color coverage is excellent at 98% DCI-P3. Hisense ships the U8H with superb factory calibration and accurate color temperatures. You could rein in the blues if you're a perfectionist, but other hues and the gamma are spot on.
High points continue with the U8H's gaming features. It's more responsive than the U8G, with an 8ms response time. Input lag at 4K 120fps is a mere 8ms, too, allowing you to take advantage of the fastest peripherals and see your movements reflected on the screen instantly. Ghosting is present but tolerable and shouldn't be distracting during heated gameplay.
Google TV 11 is the U8H's new user interface. It's easy for newcomers and veterans to get around but can be annoying due to prominent and unavoidable ad placement. We have no complaints about the remote. It's slim, has a decent button selection, and works well whether you're tapping away or directing a voice assistant.
TCL 65R646
TCL 65R646
Panel type: VA | Available sizes: 55" – 65" | Max refresh rate: 120Hz | Color coverage: 92% DCI-P3 | Brightness: 800 Nits | Response time: 11ms
Pros:
Superb picture quality & brightness for the price

Accurate colors once calibrated

Low input lag
Cons:
Poor viewing angles, OS is a bit buggy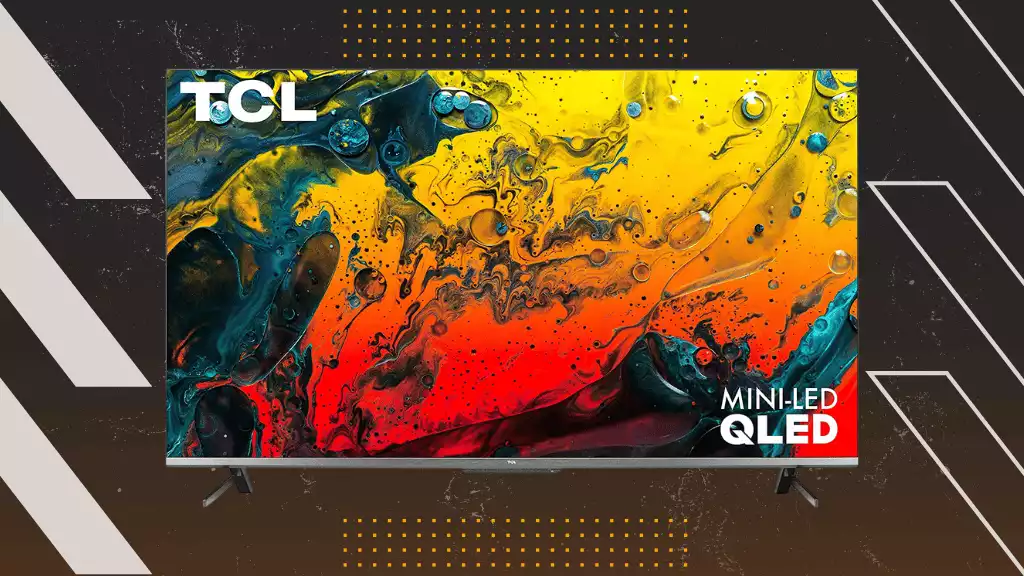 The last TV we're looking at currently suffers from tunnel vision. It's among the finest budget 4K TVs available for gaming, touting picture quality and overall responses you wouldn't associate with its price tag. Software hiccups are the only thing that might prevent some users from getting the TCL 65R646, especially if they consume other types of media as often as they game.
There's nothing too thrilling about the 65R646's shape. It's as pleasingly thin as other modern displays, and there's plenty of room under its tall feet for unobstructed soundbar placement. The back is split between a glossy top and matte bottom section where you'll find a standard smattering of inputs. Two of the HDMI ones are 2.1, and one supports audio passthrough.
Overall picture quality is the 65R646's strongest asset. It leaves others in the dust in terms of brightness, easily sustaining a blindingly bright 800 nits on the entire panel. This can spike to more than 1,300 nits when displaying concentrated flashes in HDR mode, so either bring your sunglasses or tone it down. Screen uniformity is good, with only slight darkening in the very corners.
Factory calibration is so-so as colors are warm by default and somewhat inaccurate. That's just a temporary annoyance since some creative tinkering is enough to put the TV back on track. Color coverage is the "worst" on the list at 91% DCI-P3. That's still above what all but high-end monitors can manage and more than what you need for sRGB content.
The Bright Side of Couch Gaming
All three VA TVs on our list use a BGR LED layout instead of traditional RGB. That's not a problem for content consumption and gaming but might reduce text clarity if you hook the 65R646 to your desktop. We highly encourage you to do this since the shift in screen real estate is dramatic and carries no risk of burn-in like the OLED competition.
The 65R646 doesn't support G-Sync. FreeSync and VRR work as intended, so you're not in danger of losing a match due to screen tearing. Input lag isn't a problem either, as it's slightly lower than the 55U8G's. You might notice some ghosting when quickly shifting your view since pixels require 11ms to transition completely. Casual gamers likely won't mind, but competitive players may want to step up their purchase.
Two things keep the 65R646 from greatness, and we're relieved that neither impacts its use as a gaming TV. Viewing angles as bad as or worse than the 55U8G's are the first. There's no yellow tinting like on Hisense's model. Instead, the image gets noticeably darker. Gamers will want to keep their eyes on the center of the action, so this shortcoming is moot.
The other has to do with the state of the 65R646's interface. It uses a buggy version of Google TV prone to kicking you out of apps or changing picture presets without asking. Things have improved noticeably through updates TCL keeps releasing, so it's only a matter of time before all the bugs are ironed out. Buyers are perfectly justified in not wanting to wait, though.
How to Pick the Best 4K Gaming TV for Your Needs
We keep throwing the term gaming TV around, but what does it mean for the average user? Which criteria does a TV need to fulfill to qualify as a gaming model? Here's everything you should consider before buying.
Resolution & HDMI 2.1 Support
When the PlayStation 4 and Xbox One were originally released, 1080p at 60Hz was the golden standard. A lot has changed since then, spearheaded by PC gamers' thirst for ever more frames and the evolution of TV resolution. The PS5 and Xbox S/X embrace this evolution fully and play games natively at 4K 120Hz.
Your TV needs to have at least one HDMI 2.1 port to fully unlock the potential of contemporary consoles. HDMI 2.1 is a futureproof standard that supports 8K at 60Hz or 4K at 120Hz with a bandwidth of 48Gb/s. It also introduced Variable Refresh Rate or VRR to TVs. This development lets console owners enjoy tear-free gaming by syncing the TV's framerate with the console's signal output.
Ideally, you'll want two HDMI 2.1 ports or more. Even if you don't need it now, it's common for TVs with multiple HDMI 2.1 ports to have one that works with eARC. This lets the audio signal from your desired source piggyback on the HDMI connection and reach your speaker system or soundbar without degradation.
Game Mode & Input Lag
The presence of Game Mode is as if not more important than your TV's resolution. Whereas 120Hz makes for smooth gameplay, low input lag ensures that frames your console or GPU render arrive on screen as quickly as possible. Game Mode turns off superfluous post-processing that might distract you from the action anyway, resulting in reduced input lag not even pros will notice.
Panel Type
Today's TVs come in two main flavors – LCD and OLED. The former uses a layer of liquid crystal to polarize a white light shining from behind to be restricted to either red, green, or blue. OLED panels forgo the polarization step, so each RGB or white LED either gets turned on via electrical impulse or remains black.
IPS and VA are the most common LCD panels, while TN has fallen out of fashion on all but monitors with the highest refresh rates. VA panels can produce more consistent blacks and have better contrast ratios, while IPS has almost perfect viewing angles. It used to be more vibrant as well, but quality VA TVs have since caught up.
By eliminating light completely when it's not needed, OLED panels have achieved an impressive level of contrast & black uniformity. Markedly lower max brightness is the most impactful drawback. Since most OLED screens also have reflective surfaces, they're less suited for daytime gaming.
Screen Size
Screen size is the most subjective parameter yet. What size to go for depends entirely on how far from the TV you're going to sit and whether or not you plan to use local coop on the handful of games that still support split screen.
The larger the display, the farther away from it you can sit without noticing individual pixels. The introduction of 4K has diminished that distance since displays now have four times the detail. Even so, you'll want to pick a size that lets you encompass the entire TV from your favorite position.
LCD TVs remain more versatile in this category as they come in smaller sizes suitable for desktop use. The C2 signals a possible shift in the market with its 42-inch option. It's still the exception that proves the rule, though.
HDR
HDR or High Dynamic Range is a media standard that's gaining increasing traction. It's characterized by deeper contrasts, brighter highlights, and more nuanced colors than the prevalent SDR format supports. The number of TV shows, movies, and games which use the new format is steadily increasing, so making sure your TV has decent HDR implementation is key to current and future enjoyment.