Tiny keyboards are no longer a well-kept secret of the mechanical elite! Their space-saving stature means there's more room on desks for mice and mice pads. That makes them instantly appealing to players who need the extra space to pull off large sweeping motions or aim more accurately. The best 60 percent keyboard is more than just a cut-down typist's tool, though.
It's true that you get to roughly 60% of a regular keyboard's size by chopping off the function keys, Numpad, and the arrow key section. That leaves you not just with considerably fewer keys but a different approach to using the remaining ones. Function switching and macro creation become paramount, as does the ability to store multiple profiles.
The keyboards we've selected are compact, mechanical, and versatile in their application. Most of them might not be cheap, but their feel & functionality are as premium as any regular model's. See which features make each stand out and get a tiny keyboard of your own.
Our Best 60 Percent Keyboard Picks
Razer Huntsman Mini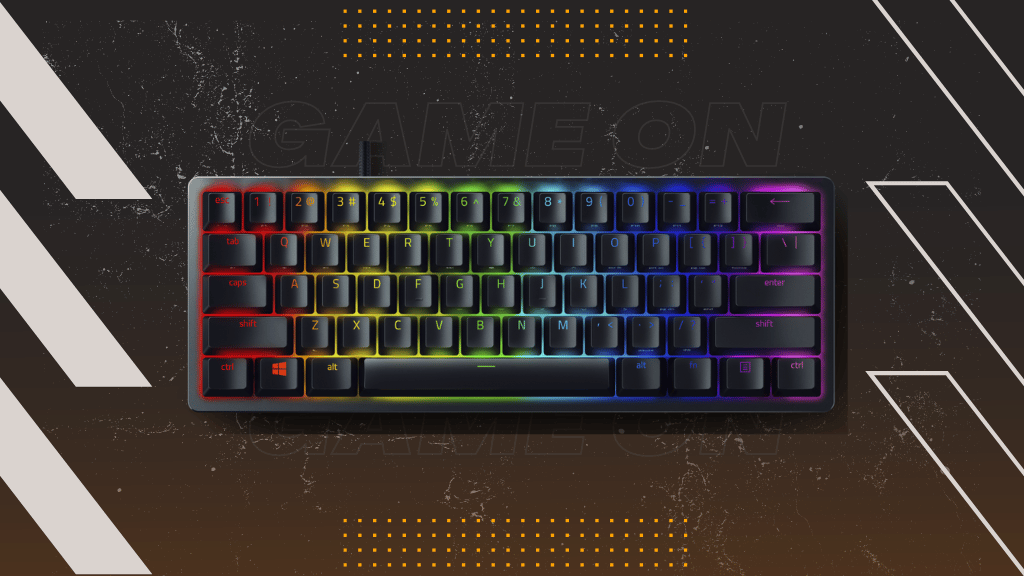 Type: Optical mechanical, wired | Switches: Proprietary Analog, Linear, or Clicky | Onboard profiles: 5 | N-key rollover: Yes | Per-key backlighting: Yes | USB passthrough: No
The Huntsman Elite was among the best-selling keyboards for a year when it came out, and the tenkeyless Tournament edition kept the trend going. Fans still demanded a 60 gaming keyboard, and Razer delivered. The Huntsman mini is a quiet, compact, and versatile keyboard that's as good for writing assignments as it is for helping you win FPS tournaments.
The keyboard's top is made from aluminum, while the base is plastic. You can get it in black or Mercury, Razer's term for white. Whichever you decide on, the thin font is attractive and legible. The per-key RGB is a bit much at 100% but shines through the keycaps without excessive bleed once you tone it down.
Speaking of keycaps, they're now of the double-shot PBT variety. Those on larger Huntsman were ABS, which isn't as durable or grippy. Being doubleshot means that the font is almost impossible to erase. The switches underneath are Razer's second-generation Optical. You can get them in three varieties, Linear being the most responsive and quiet for gaming.
The actuation point on Optical switches is reached by interrupting a beam of light, so there's no midpoint. You only need to apply 40g of force at an actuation point of 1.5mm, so expect slightly faster reaction times than usual if you're coming from a Cherry MX Red keyboard.
The Huntsman Mini is a wired keyboard that connects to your PC via a high-quality braided cord. It plugs in at both ends, so you can exchange the cable if it gets damaged. Two legs allow you to prop the keyboard up at either six or nine-degree angles.
Swift & Silent
Quick reaction speed is one of the Huntsman Mini's core advantages. It lets you tap a key for rapid adjustments or keep moving without bottoming out. There's also a gaming mode that prevents you from accidentally pressing unwanted key combinations. The responsiveness, textured keys, and tiny footprint allow you to perform sweeping gestures with your mouse while maintaining left-hand placement even if you start to sweat.
The Huntsman Mini ships with Razer Synapse, a comprehensive tool for creating macros, assigning lighting, or choosing among lots of effects. Synapse is among the more resource-intensive programs of its kind, though. Luckily, the Huntsman Mini works well without it. You may save five onboard profiles, toggle through several lighting settings, and record macros, all without installing Synapse.
ASUS ROG Falchion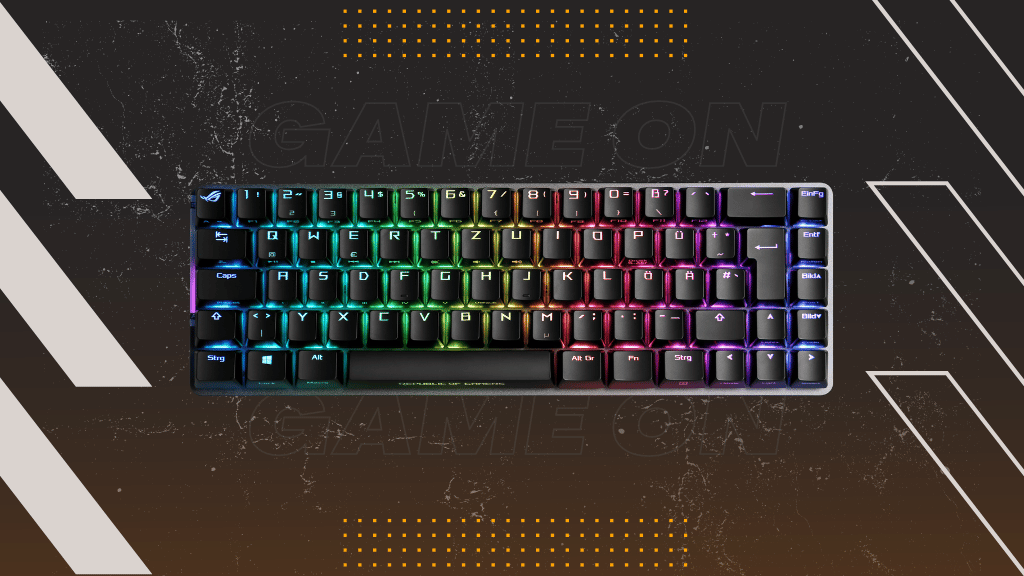 Type: Mechanical, wireless | Switches: NX or Cherry MX Red, Blue, or Brown | Onboard profiles: 5 | N-key rollover: Yes | Per-key backlighting: Yes | USB passthrough: No
Want all the benefits of a 60 keyboard with a bit more wiggle room? That's the idea behind the Falchion, a 65% model that didn't drop the arrows and keys above them. The result takes some getting used to, but you'll navigate spreadsheets as easily as rack up headshots once you do.
There's not much to report on the Falchion's look – its keys are crammed together to maximize the limited space. The caps are matte and resistant to slipping, and the telltale ROG font is easy to make out. All keys also have white labeled alternate functions on the front sides you access via the FN key.
The Falchion comes with a protective cover that strengthens its base while not in use. The cover is excellent for protecting the keys during transport. It has an opening for the Falchion's most unique feature – a touch-sensitive volume slider on the left. It controls the volume by default, but you can program two slides and three taps to execute other functions as well.
ASUS went with Cherry MX as well as its own NX version for the three most popular switch types. The NX versions are comparable to their Cherry MX counterparts, with slight actuation point differences. Going with either Red version is your best bet for gaming since it offers the smoothest and most responsive experience at the cost of a slight loss in typing accuracy.
Cutting the Chord
It's rare for 60% mechanical keyboards to also be wireless. The Falchion comes with space for a dongle that provides a stable wireless connection. Leaving the RGB on gives you roughly 55 hours of runtime, while turning everything off boosts that to an excellent 450 hours. Checking the level involves a series of lights next to the volume slider, so you're better off using software instead.
Armoury Crate is a comprehensive companion tool that takes care of everything from macro assignments to creating game-specific profiles. There's also an AURA Sync tab where you can have the Falchion change its effects in line with other ASUS components. Like with the Huntsman Mini, you can save five onboard profiles and make core changes without installing anything onto your PC.
HyperX Alloy Origins 60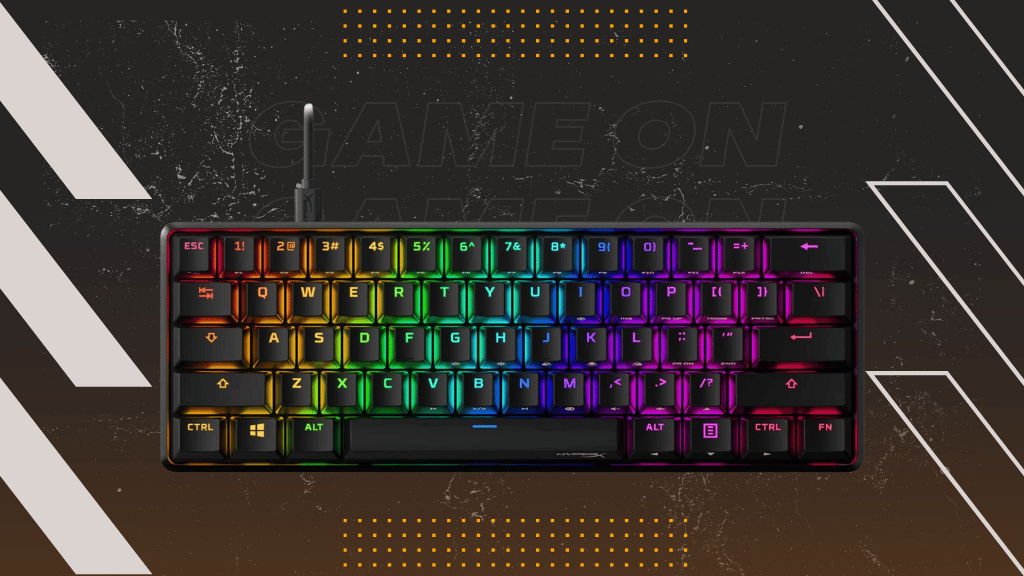 Type: Mechanical, wired | Switches: HyperX Red, Aqua | Onboard profiles: 3 | N-key rollover: Yes | Per-key backlighting: Yes | USB passthrough: No
Our first two candidates for best 60 percent keyboard are quite costly, but you can get a comparable experience without crossing the $100 mark. HyperX's Alloy Origins offers the same kind of tight package, quality materials, and lightning-fast responsiveness at a slightly more palatable price point.
This is another true 60 percent model, so arrows and the keys above them are absent. Various system keys have retained their length, so it won't take long to get used to typing on the smaller format. The font is large and blocky, so it's hard to miss the proper letter. There's quite a lot of light coming from the underside, which should please RGB lovers and touch typists.
The keyboard boasts excellent build quality overall. Its top plate is made from aircraft-grade aluminum, and the base doesn't feel wobbly even though it's plastic. Two feet with three positions each provide comfortable typing angles.
The Alloy Origins 60 uses doubleshot PBT caps similar to the Huntsman Mini's. The switches underneath are HyperX Red. These are another successful attempt at mimicking the Cherry MX Red feel, albeit with a slight loudness increase. The required actuation force remains the same at 45g, while the actuation point is 1.8mm with two more mm before bottoming out.
Gaming at the Speed of Thought
Twitch shooter players will love how the Alloy Origins registers keypresses nearly instantly. The responsiveness is the same whether you're using CTRL to crouch or Q & E to peek out from corners. While louder than Cherry, HyperX Red switches are still quiet enough to let you pick out footsteps during an intense CS:GO match.
The NGenuity app drives all of the keyboard's deeper customization options. It's there to adjust the effects & brightness as well as assign different colors to individual keys. You can assign several command types or macros to keys and disable some of them in Game mode. The Alloy Origins 60 has three onboard profiles for saving such configurations.
Finally, a word on the accessories. Apart from a removable braided cable, you get a keycap remover and a unique-looking Spacebar. While attractive, the replacement is made from ABS plastic instead of PBT.
Anne Pro 2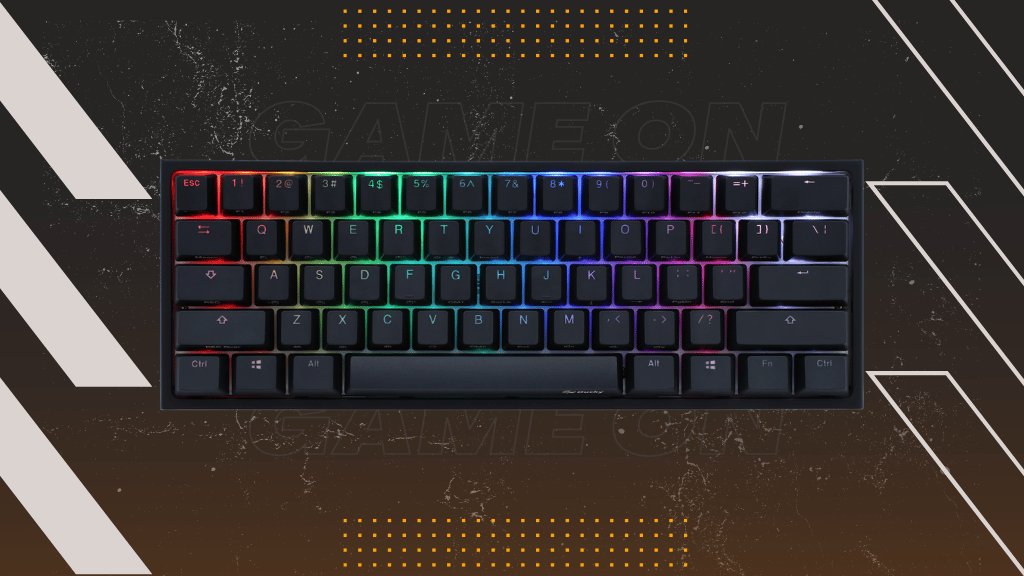 Type: Mechanical, Bluetooth | Onboard profiles: Yes | Switches: Gateron, Kailh | N-key rollover: Yes | Per-key backlighting: Yes | USB passthrough: No
Can connect to four devices using Bluetooth
Extensive switch choices
Excellent companion software
No adjustable feet
The Anne Pro 2 is an old favorite, having found itself among our white keyboard recommendations. It's just as compelling as a best 60 percent keyboard candidate, thanks to smart customizability, abundant switch options, and a great typing feel. You can sometimes get it on sale for as low as $70, which really is a deal for all you get.
The Anne Pro 2 ranks among the smaller keyboard models, even in the most compact category. It's also lightweight and taller than most models since it doesn't have feet. The rows gently slope down to compensate. You can get it in black or white and get a set of colorful replacement keys to add some personality to its layout. Obinslab thought it fitting to supply each keyboard with a bright red USB cable, too, for some reason.
The Anne Pro 2 tackles its lack of keys through several clever means. There's the standard switching using the FN key, but pressing it alongside Caps Lock also engages a mode that permanently turns the numbers into the F row. You may also enable a function that turns the keys in the bottom right corner into arrows if you tap instead of pressing them.
The keycaps are made from doubleshot PBT and display a nondescript font that's easy to make out. They have a noticeable texture great at preventing your hands from slipping. The RGB illumination is intense and even, with a uniform base and invisible individual diodes.
Obinslab partnered up with Kailh and Gateron to offer more switch choices than the competition. Kailh switches are a tier below Cherry, but we're finding the Gaterons to be a worthy alternative. If anything, Gateron Red is just as responsive as the more well-known variant yet smoother and slightly less loud.
Small Footprint, Lots of Choices
This is the second wireless keyboard on the list. Unlike the Falchion, it can communicate to four devices wirelessly through Bluetooth. While too unstable for competitive gaming purposes, it's a fantastic way of controlling several computers, phones & consoles without fuss. A charge lasts more than a week with all the bells & whistles on. It's possible to massively prolong it if you turn on the built-in power-saving features, though.
Using ObinsKit to configure various aspects of how the Anne Pro 2 behaves is a cinch. It's logically laid out in tabs for color & effect management, key mapping, macro creation, and more. The lighting tab is particularly elaborate since it lets you set each key's color or choose from an extensive effects list.
Corsair K65 RGB MINI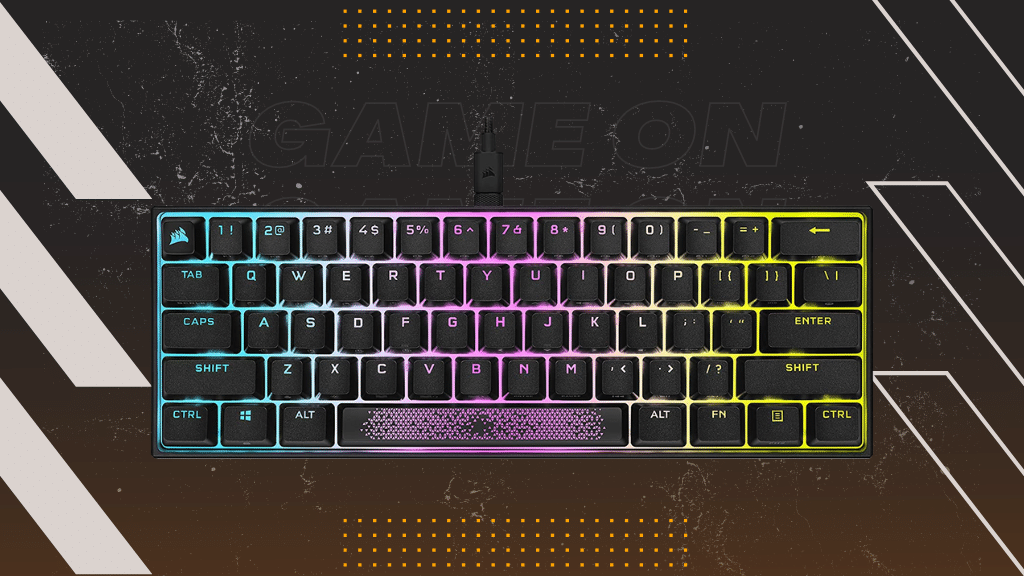 Type: Mechanical, wireless | Onboard profiles: 50 | Switches: Cherry MX Red, Speed Silver | N-key rollover: Yes | Per-key backlighting: Yes | USB passthrough: No
Corsair is another company whose 60 gaming keyboard happened relatively recently. The tenkeyless K65 was already a decent offering, and the Mini continues the trend. It has some unique features like hyperpolling, and you'll find more function commands on it than some other models. Still, a lack of visual identity and physical adjustments prevents it from attaining a higher spot on the list.
It's a challenge to make a keyboard with emphasis on pressing keys together also look different. Corsair didn't try particularly hard, so while attractive, the K65 RGB Mini isn't memorable. Its sloping rows and lack of feet remind us of the Anne Pro 2. There's even an Alloy Origins-like replacement Spacebar, this time with a fractal graphic instead of topological lines.
As there are only 61 keys, Corsair had to get creative with the alternatives. The K65 RGB Mini is among the more advanced keyboards when it comes to built-in function distribution. It offers access to a myriad controls through the FN and Menu buttons. Some are standard, like the function row and multimedia controls. Being able to simulate mouse movements and buttons, not so much.
Everything about the K65 RGB Mini is built for speed. The layout and spacing remain the same as on large keyboards, so you probably won't even need an adjustment period. Both the available switches – Cherry MX Red & Speed Silver – cater to gamers with hair-trigger reflexes. The Speed Silver variant is similar to red but has an even shorter actuation point at just 1.2mm.
Clear Lines of Communication
Corsair also introduced a feature called Hyperpolling. Other keyboards top out at a 1,000Hz polling rate. This keyboard is eight times faster, resulting in a mere 0.125ms delay. While this sounds like something that could seriously help you improve your Valorant game, there's no discernible difference in reality.
You might have already seen us praise iCUE's lighting chops when discussing RAM. It's just as intuitive and detailed for keyboard lighting, allowing for individual key presets or sweeping changes with little effort. Even all the preset effects have several settings each for deeper customization. There's also the standard macro creation & key rebinding side.
Interestingly, the K65 RGB Mini has 8MB of onboard memory. Depending on the number of changes you make, it can store more than 50 profiles for the ultimate in portable game-specific preferences.
Royal Kludge RK61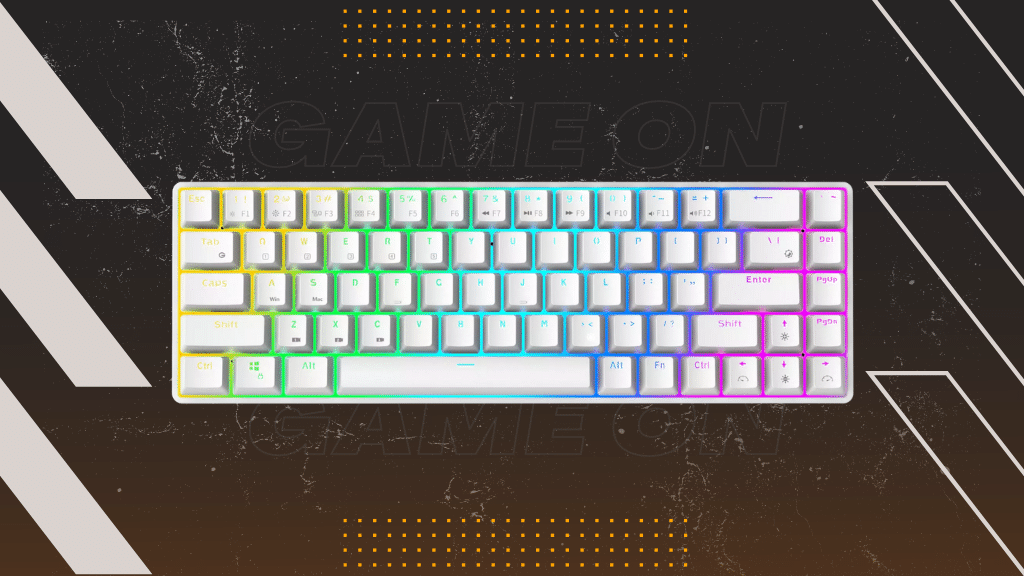 Type: Mechanical, wireless | Onboard profiles: No | Switches: Proprietary RK Red, Blue, & Brown | N-key rollover: Yes | Per-key backlighting: Yes | USB passthrough: No
A 60% gaming keyboard with genuine mechanical switches that costs less than $50? It's not a pipe dream, but Royal Kludge's RK61. We won't deny that some corners were cut to get the keyboard to what it is, but anyone who's only used to typing on a membrane is still in for a positive shock. This is the best 60 percent keyboard to get if you're curious about the format or the mechanical typing experience but don't want to spend too much.
While it's another of the less aesthetically inclined models, the RK 61 won us over with its large Shift & Enter keys and the Royal Kludge logo on the bottom right. It's mostly made from ABS plastic, and there's definitely some give to the build. It's a lightweight model for having a battery but doesn't move thanks to four rubber feet. Sadly, they aren't adjustable.
This is the second keyboard on the list that uses Bluetooth, albeit the older 3.0 standard. It also has a standard cable with kinks left over from packaging, so consider replacing the cable if that bothers you. Bluetooth supports three sources you can toggle through using FN + Q, W, or E. We'd stick with the cord for gaming. Still, wireless will do fine for other uses and last 10+ hours per charge if the lighting remains on.
A Taste of the Mechanical
Each color choice is available with either monochrome or per-RGB lighting. It's great that you can adjust the lighting on the RK61 itself since the software needs work. Users report being unable to run it without using workarounds that can disrupt the keyboard's firmware. We hope Royal Kludge will find a solution soon that lets everyone access their product's full potential.
As for the switches, they're RK-branded Red, Brown, and Blue. They aren't on the originals' level but do a passable job trying to mimic them. Browns are tactile, Blues clicky, while the Red linear switches are best for split-second decisions. They're not too loud either, so you won't need a noise-canceling headset to compensate.