Specs:

Form Factor: ATX
Memory Speed: 6400MHz
Max RAM: 128GB

Specs:

Form Factor: E-ATX
Memory Speed: 6600MHz
Max RAM: 128GB

Specs:

Form Factor: ATX
Memory Speed: 6400MHz
Max RAM: 128GB

Specs:

Form Factor: E-ATX
Memory Speed: 6400MHz
Max RAM: 128GB

Specs:

Form Factor: ATX
Memory Speed: 6400MHz
Max RAM: 128GB

Specs:

Form Factor: ATX
Memory Speed: 6400MHz
Max RAM: 128GB

Specs:

Form Factor: Mini-ITX
Memory Speed: 6400MHz
Max RAM: 64GB
The arrival of Zen 4 CPUs signifies a shift in the home computing landscape. The 7000-series brings not only generational uplift that ranges from excellent to staggering – it introduces a host of new technologies for AMD lovers to put them on equal footing with Alder & Raptor Lake users. Embracing new Ryzen processors also means adopting a new platform, and our guide on the best AM5 motherboards will help you take your first steps.
AM4 was a triumph for AMD, supporting four generations of processors and catapulting Team Red back into relevance. Technology marches on, and AMD had to adapt by bringing out AM5. The socket transitions from PGA to LGA like we're used to from Intel chips. This fresh start promises another 3+ years of continued support while introducing PCIe 5.0 and mandatory DDR5 for AMD users.
Instead of the enthusiast Xx70 and more approachable Bx50, there are now four motherboard lines to choose from. The two high-end variants were available at launch, while B650E and B650 models were released a few months later. Add four form factors into the equation, and you've got a recipe for confusion. Read on to escape its perils & end up with the motherboard that will serve your needs the best!
Asus ROG Crosshair X670E Hero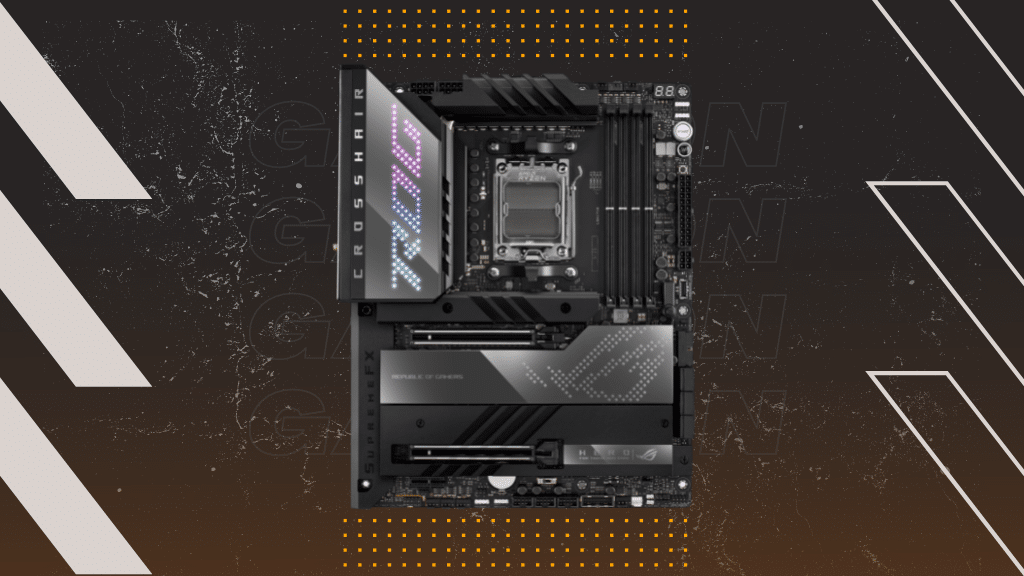 ASUS ROG Crosshair X670E Hero
Form Factor: ATX | Memory Speed: 6400MHz | Max RAM: 128GB | M.2 sockets: 5 | Audio: Realtek ALC4082
Pros:
Impressive build quality & connectivity

Two USB4 ports and five M.2 slots

Robust VRM & cooling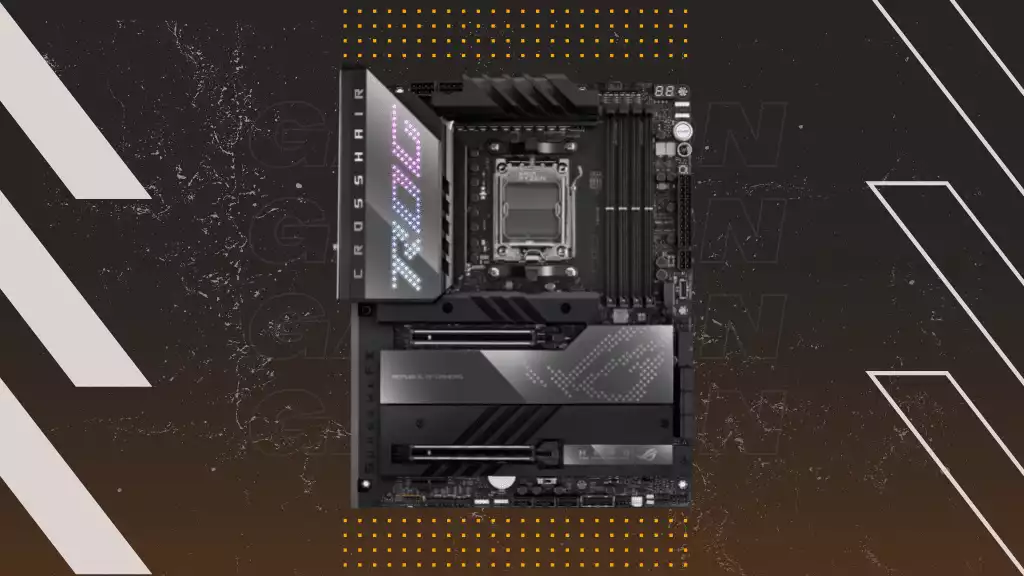 If you've been keeping up with our mobo lists, you know that Hero is a name often seen at the top. ASUS might have ditched the numbers in this one, but the X670E version proudly continues to carry the torch! It's filled to the brim with the latest technological advancements & does almost everything just a bit better than the competition. Have a credit card or kidney nearby, as Zen4 greatness does not come cheap.
The Hero's aesthetic evolution has more in common with the recent Z690 Hero than its X570 predecessor. Prepare for a stealthy black PCB that contrasts with swathes of mirror-finished surfaces covering the I/O shroud and much of the bottom armoring. RGB lighting is on point as well, taking on the form of pixelated graphics on the shroud. Users who crave more can use three ARGB and an AuraRGB header.
A comparison with the Crosshair VII Hero's VRM reveals how vast the generational jump is. ASUS's last AM4 mobo had 12+2 60A stages. The latest Hero has 18+2, and ones reserved for the CPU supply it with a jaw-dropping 110A each. The cooling has to be beefy to keep up, and the heatpipe-connected set of heatsinks is up to the task. As you'll see below, this isn't even the most extreme VRM setup out there! Even so, it can support an overclocked 7950X with ease.
Spearheading the AM5 Revolution
Many X670E boards needed a size increase to E-ATX to house everything. The Hero remains an ATX board, making your search for an adequate case easier. It doesn't lose functionality, however. In fact, the mobo is better than others in aspects like storage. It natively supports four NVMe drives in PCIe 5.0 and PCIe 4.0 pairs. Like with the Alder Lake variant, ASUS includes an add-in card you can connect to the second PCIe 5.0 slot to bring the number of most advanced storage drives up to three.
Both the x16 slots are PCIe 5.0 compliant. Keep in mind that the X670E chipset allocates only 16 lanes to them, so slotting a second card in makes both run at x8. There are no PCIe 5.0 GPUs yet, so that shouldn't be problematic. A PCIe 4.0 x1 slot for other add-in cards rounds out the selection, while six SATA plugs provide access to older storage media.
Upcoming CPUs and graphics cards are bound to heat things up. ASUS strives to prevent undue thermals by equipping the Hero with a slew of cooling features. It has three headers for the CPU, whether you go the cooler or AIO route. ASUS also wants you to experiment with custom water cooling if the four headers dedicated to various related components are any indication. Lastly, four fan headers should take care of the case in general.
Other internal components also hint at the Hero's overclocking inclinations. There's a power button and the FlexKey button whose function you can define in the BIOS. Troubleshooting takes the form of a two-digit debugger. On the internal USB front, we have USB-C with charging and two third-gen headers for the case I/O along with three USB 2.0 headers for internal expansion.
The I/O is preinstalled and easy to read due to white text on a black textured background. The BIOS flash and clear CMOS buttons are on the far left, followed by an HDMI port. A cornucopia of USB connections is next, featuring two USB4 plugs with 40Gbps transfer speeds. Two more are of the USB-C kind, with 12 ports in total. 2.5G Ethernet and WiFi 6E are next, followed by the trend-defying 5+1 audio stack running on the latest ALC4082 codec.
Gigabyte X670E AORUS Master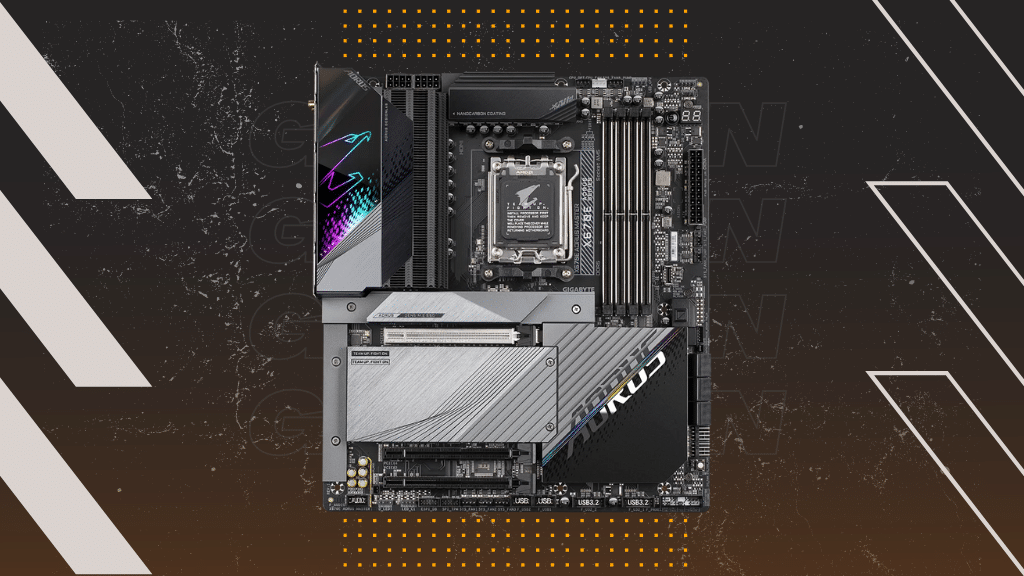 GIGABYTE X670E AORUS Master
Form Factor: E-ATX | Memory Speed: 6600MHz | Max RAM: 128GB | M.2 sockets: 4 | Audio: Realtek ALC1220-VB
Pros:
Excellent value if you're looking for a high-end board

Outstanding cooling

Excellent connectivity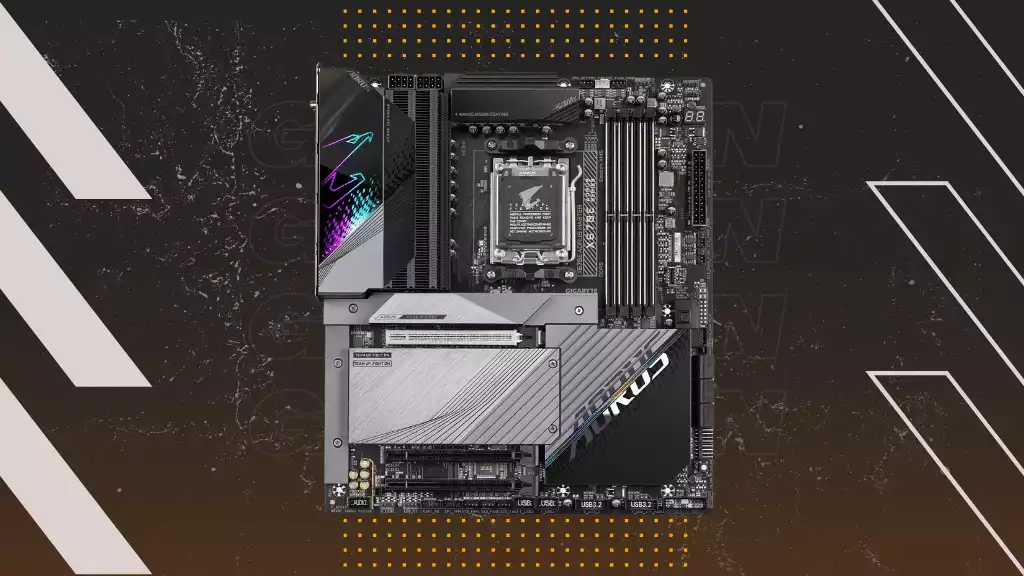 Another generation, another Master of overclocking, heat management, and storage! Gigabyte continues to impress even when faced with the challenge of adapting to a new socket. There's little the Master won't let you accomplish unless you're looking to take advantage of the newest audio & USB technologies. Best of all, its pricing is reasonable compared to even more extreme alternatives.
Gigabyte's departure from the X570's design is both drastic and welcome. It's grown in size to E-ATX, for one, which may cause you to rethink your case choices. The ample armoring high-end Gigabyte boards are known for is back. RGB is also out in full force with a light-up version of the AORUS falcon decorating the I/O shroud and a strip on the chipset heatsink. The new black & silvery-gray color scheme looks more mature, at least until you crank those RGBs up.
The long-standing tradition of outstanding VRM continues with the newest Master. It's divided into three parts – 16 105A phases for the CPU and pairs of 90A ones for the SOC & PCIe lanes. While this reflects Zen4's increased power demands, it's also more than even serious overclocking demands for continued stable service.
Mastering AM5's Challenges
The cooling is on another level due to more mobo real estate and the newest VRM heatsink fin design. The I/O shroud and top heatsink are massive, while the louvered layout of the fins allows for much more surface area than conventional designs. Lastly, the VRM and chipset areas are linked by a chunky 8mm heatpipe capable of transferring 30% more heat than the comparatively small 6mm standard.
The Master has the potential to thoroughly cool your entire system. Apart from two headers for the CPU, it sports four regular and four more hybrid headers that work equally well with either case fans or water cooling loop components. Gigabyte's recent boards also offer several ways of internal system monitoring. These include noise and temperature sensors along with several voltage read points.
Pairs of USB 2.0 & USB 3.2 Gen 1 headers, USB-C, and a plug for a Thunderbolt 4 header complete the noteworthy internal connection listing. Let's not forget the four RGB headers and one more for the CPU cooler, either. Gigabyte made overclocking easier by including power and a configurable reset button as well as two-digit and LED boot debuggers.
The board's bottom half is home to three full-length PCIe lanes. Thanks to X670E, two of them use the PCIe 5.0 standard, while the last one is a PCIe 3.0 x2 holdover. Populating it will disable two of the six SATA ports. The top slot customarily receives the most attention, including armoring and a new quick-release button. We'd hoped that ASUS's Alder Lake mobo innovation would spread and are glad to see Gigabyte's interpretation.
SATA only covers old & sluggish drives. For the ultra-fast kind, you'll have to turn to the Master's four M.2 slots. The topmost one has a much larger heatsink and is PCIe 5.0 compatible. Considerate, given the next SSD generation's more substantial cooling requirements. The other three sockets come with pleasingly thick thermal pads and occupy the space between the first and second x16 slots. Removing their armoring also exposes four WIMA capacitors.
Much about the I/O has changed, but we're glad that a small army of USB ports remains at your disposal. They range from USB 2.0 remnants best for plugging your keyboard into to USB 3.2 Gen 2 with DisplayPort and another 2×2 plug with 20Gbps speeds. Standalone DisplayPort & HDMI are there if you want to use Ryzen's new iGPUs. There's also the greatly reduced audio stack with ALC1220-VB backing, 2.5G Ethernet, WiFi 6E antennas, and the Q-flash button.
ASUS ROG Strix B650E-E Gaming WiFi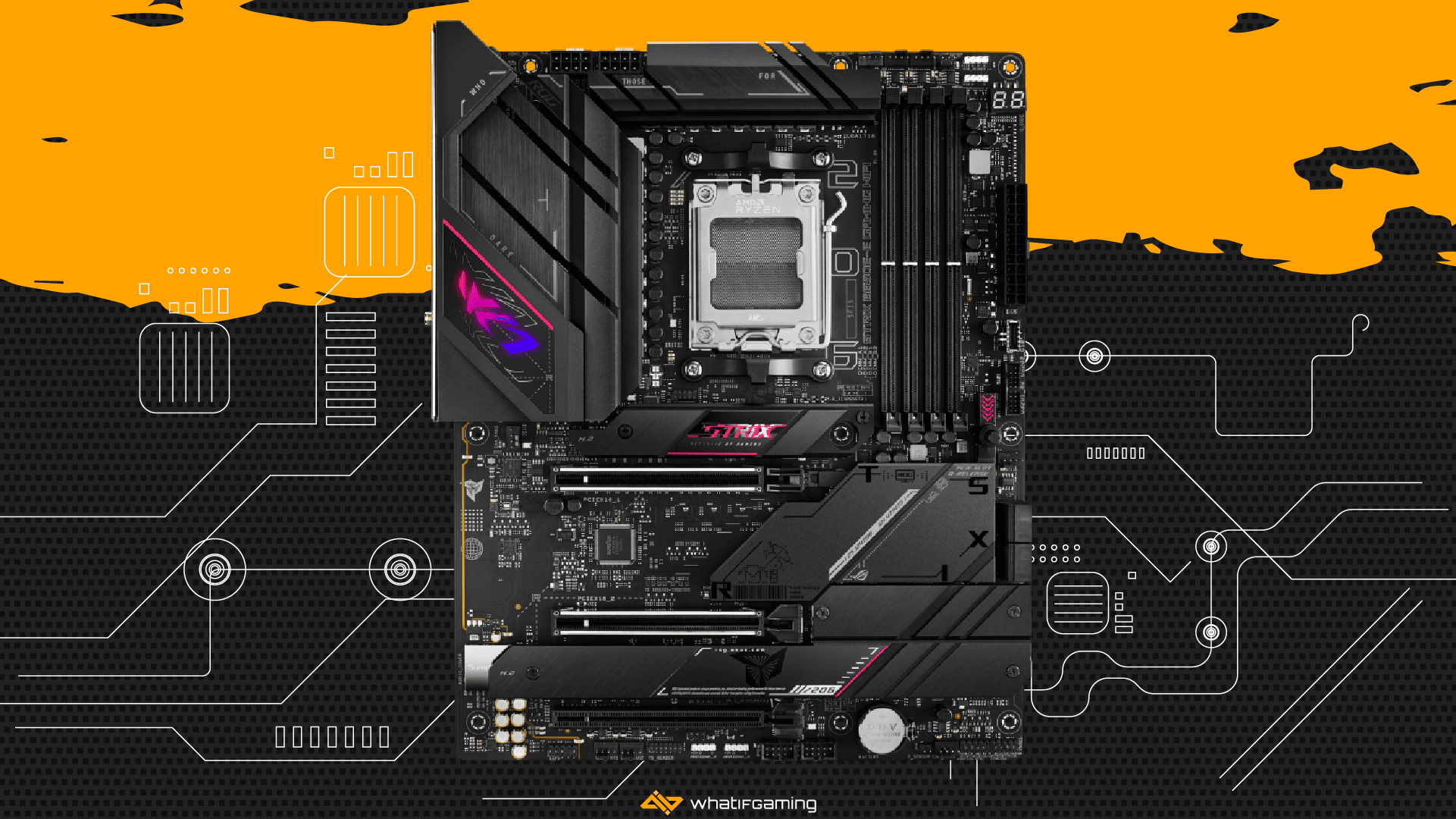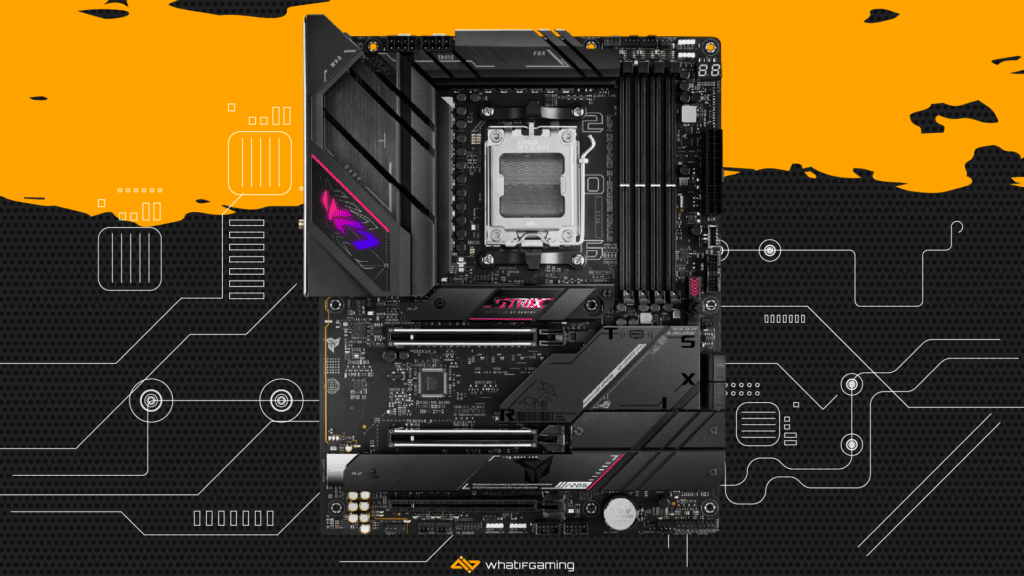 ASUS ROG Strix B650E-E Gaming WiFi
Form Factor: ATX | Memory Speed: 6400MHz | Max RAM: 128GB | M.2 sockets: 4 | Audio: Realtek ALC4080
Pros:
Exceptional value if you're after high-end features

Four M.2 slots, two with PCIe 5.0 support

Outstanding I/O
Cons:
Most other B650 boards are cheaper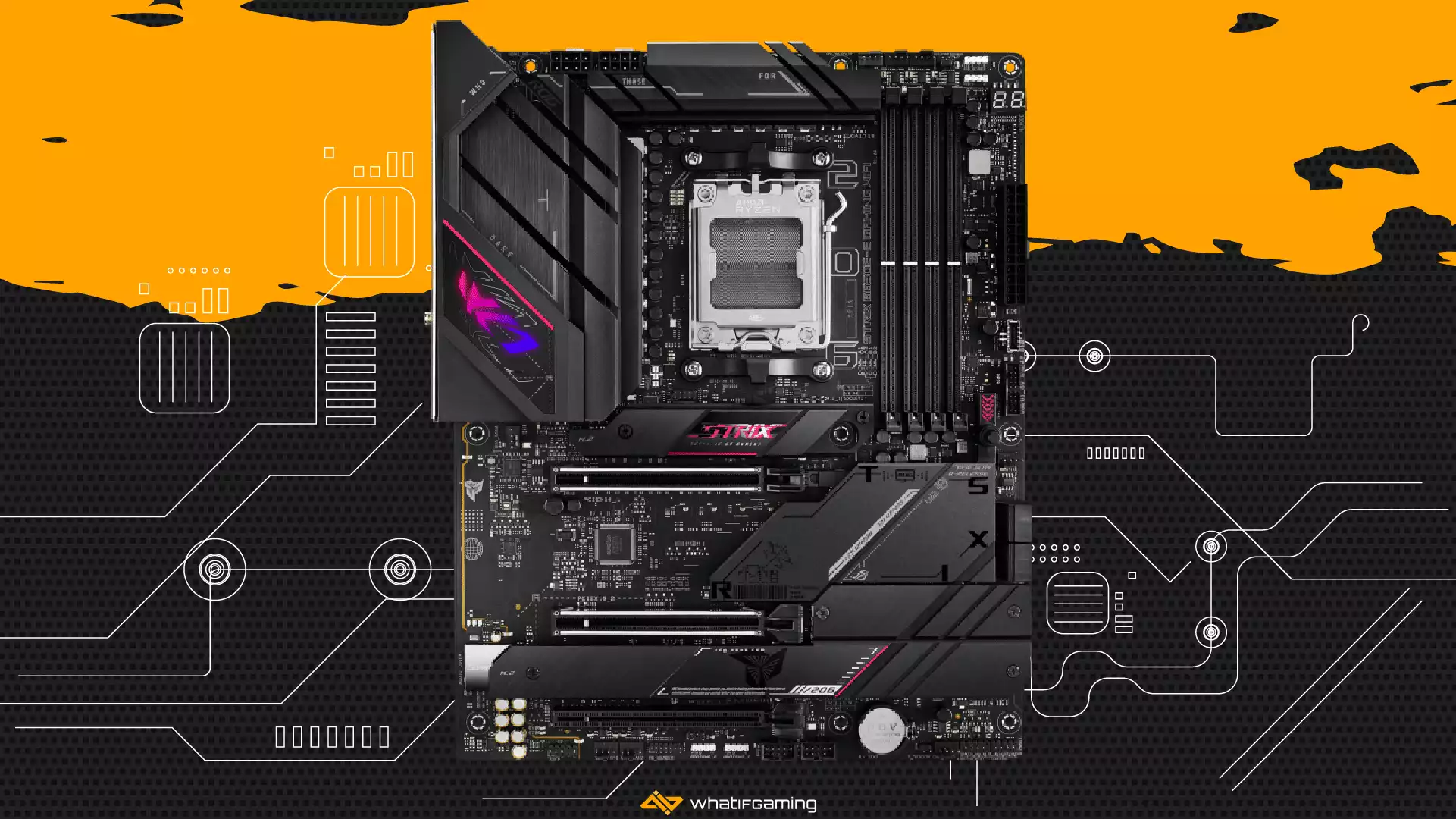 AM5's generational price increase is one of the biggest hurdles standing in the way of Zen4's success. Luckily, savvy buyers who don't mind researching their options can get away with practically all of X670E's features while paying prices comparable to last generation's finest boards. Those who do so will quickly find that the B650E-E Gaming is the best AM5 motherboard in terms of high-end value.
While it's a contemporary ASUS board, the B650E-E Gaming has a distinct style. You'll see it in the reddish-pink accents, the shape of its chipset heatsink, and the subtle lighting on the I/O shield. Its PCB has eight layers – a rarity for a B-class mobo. The added thickness boosts audio signal isolation, stability, and thermal conductivity.
The VRM area is where we encounter the first downgrade from the board's X670E version. On paper, the shift to 16 70A CPU-centric phases and a max output lower by 1,000A sounds like a painful loss. That's until you realize there are still 1,120A left, much more than any first-generation AM5 chip could use.
ASUS is so confident in this setup and its two coolers that they don't get a heatpipe. Double-contact padding and old-fashioned heft get the job done. Things are similar with the thickly-padded heatsinks for its four M.2 slots. Eight headers for CPU and system fans round out the comprehensive cooling section.
Full PCIe 5.0 lane availability is among the best arguments to give X670E a pass. Two of the B650E-E Gaming's slots use the newest standard, considerably upping its appeal for anyone with a vast media library that needs to be ready to be transferred at any moment. The other two are capped at a still speedy PCIe 4.0. Four SATA III plugs handle copious amounts of more traditional storage.
Putting X670E's Value into Question
The expansion slot situation is similar since the first two of three x16 slots use PCIe 5.0. There are enough lanes to limit each to x8 if both are populated. That equates to each running at PCIe 4.0 x16, the standard current and upcoming GPUs still use. We're glad ASUS's quick-release mechanism for the top GPU slot made it in, too.
The B650E-E Gaming isn't short on case connectivity. A 10Gbps USB-C header with charging is the highlight, but the 5Gbps USB-A header is equally useful. Dissatisfied users may also get an add-in card to get the Thunderbolt 4 header up and running.
Overclocking isn't as important here as on something like the Master, but it doesn't lack troubleshooting features. You get both the traditional set of four boot-up LEDs and the more modern POST code display that diagnoses problems much more accurately.
USB lane availability is the most practical difference between this motherboard's two versions. The B650E-E Gaming has a 20Gbps USB-C port and one instead of two 10Gbps ports seen in the X670E version.
Four of its USB-A plugs are version 2.0, whereas the more expensive board's entire complement is USB 3.2 Gen 2. You'll need two of these for peripherals anyway, so the loss isn't major.
The rest of the I/O befits a board of this caliber. You get WiFi 6E and 2.5G Ethernet for internet connectivity and a BIOS flashback button for easy updates.
A few users will finally get some value out of the DisplayPort and HDMI connections as well. The ALC4080 codec and a slew of capacitors support the board's 5+1 audio stack.
ASRock X670E Taichi
ASRock X670E Taichi
Form Factor: E-ATX | Memory Speed: 6400MHz | Max RAM: 128GB | M.2 sockets: 4 | Audio: Realtek ALC4080
Pros:
Outstanding build quality & cooling

Monstrous VRM

Abundance of storage and general connectivity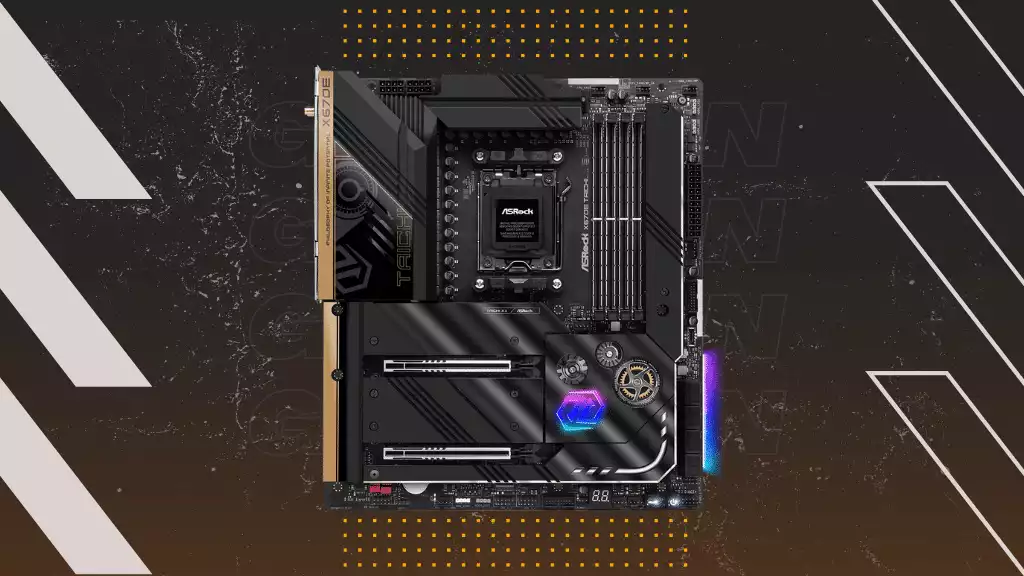 Are you an early adopter who wants to test Zen4's limits regardless of cost? The generation is rife with the likes of Extreme, Godlike, and other overkill motherboards, but ASRock's Taichi stands on top of the best AM5 motherboards for the ultimate enthusiasts. Its breadth and versatility of features clock in at an eye-watering price that's even more pronounced than the generational adjustment. At least you'll know you're getting everything but the kitchen sink.
While the Taichi still implements the line's iconic gear aesthetic, much has changed in the layout due to the transition to AM5. The VRM area looks like a bona fide football stadium, and there's room for an NVMe drive next to the RAM! ASRock had to switch the form factor to E-ATX to accommodate all of this, so consider your case choice carefully. There's also a commemorative Cararra version with marble-like accents perfect for fans of white PCs.
One can't help but stare in awe at the sheer number of phases present in the Taichi's VRM. It uses a mind-boggling 24+2 teamed phases, each capable of carrying no less than 105A to the new LGA 1718 socket. That amounts to more than 2.500 amperes for the CPU alone, ensuring clean & stable power even if you're gunning for the world record in overclocking a 7950X.
It's good that the gears are in place, else the amount of armor on this tank-like mobo would have you believe it was Gigabyte's creation. The VRM heatsinks and I/O shroud are substantial, and only the two PCIe 5.0 x16 slots peek from under the otherwise impenetrable bottom half. The PCIe 5.0 SSDs slated to release later in the year need substantial cooling to prevent throttling. That's why the Taichi's accessories include a fan-equipped heatsink for this exact purpose.
Larger than Life
High-speed or otherwise, storage is something the X670E Taichi does not lack. It has four M.2 slots, the one closest to the CPU being PCIe 5.0 compatible. The rest are all PCIe 4.0 x4, as there are plenty of lanes from the chipset and processor to go around. SATA is still with us in the form of two pairs of four 6Gb/s plugs.
ASRock made sure there were plenty of internal connections for cooling, overclocking, and general tinkering. It has six fan headers alongside the two reserved for CPU cooling. On the RGB front, there's one standard and three ARGB connections. Internal USB connectivity is split into pairs of USB 2.0 and USB 3.2 Gen 1 headers with support for two devices each, accompanied by 20Gbps USB-C. Power & reset buttons are present on the PCB's bottom, right next to the two-digit error code display.
The I/O marks a departure from previous iterations. Not going with a 5+1 audio stack would have been unheard of for the high-end even a generation ago, yet here we are. The optical S/PDIF out and headphone / mic outs are powered by the ALC4080 codec and supported by several WIMA capacitors. WiFi 6E, 2.5G Ethernet, and HDMI 2.1 follow the clear CMOS button.
There are ten USB ports on the Taichi's back, including two Thunderbolt 4-compatible USB4 plugs. The rest are all third-gen of varying bandwidths. Two of them are yellow and labeled as Lightning Gaming. Plugging your mouse & keyboard into them supposedly lowers latency. Whether that's true or not is up for debate, though.
MSI Pro X670-P WiFi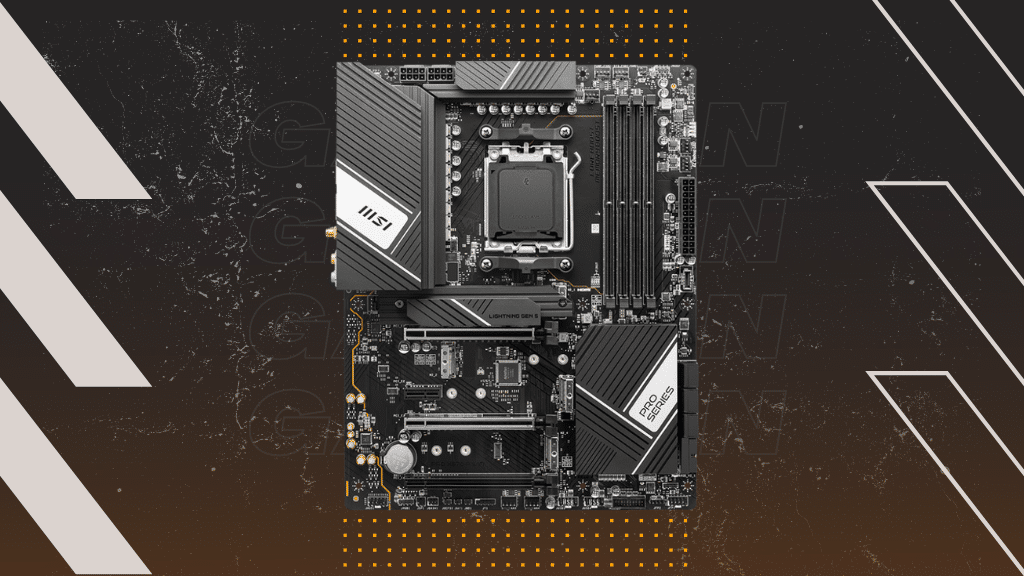 MSI PRO X670-P WiFi
Form Factor: ATX | Memory Speed: 6600MHz | Max RAM: 128GB | M.2 sockets: 4 | Audio: Realtek ALC4080
Pros:
Good value for the money

Reasonable concessions compared to X670E

Two USB-C ports on back I/O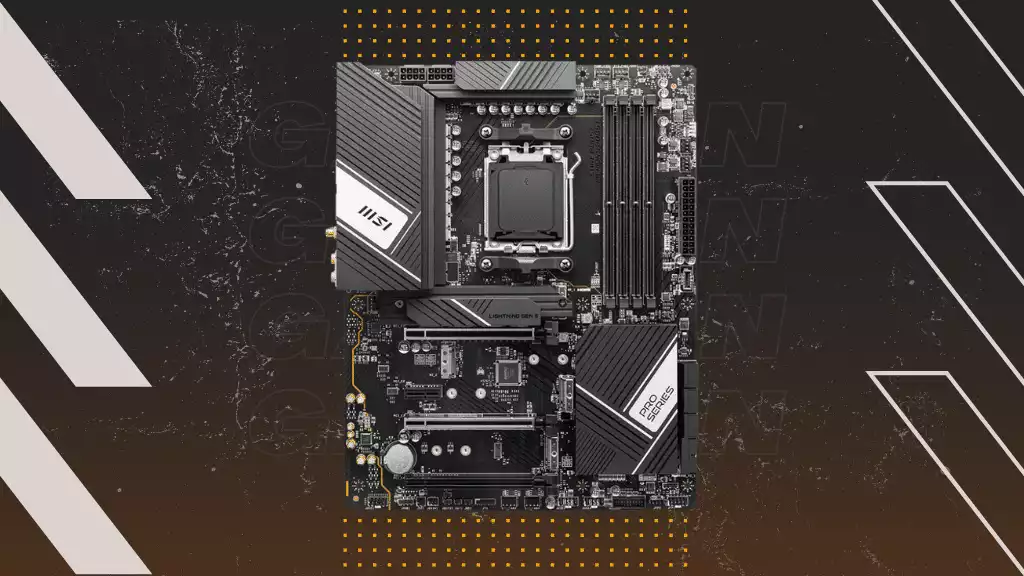 It wouldn't be a list of best AM5 motherboards without all the big four! Rather than go with yet another X670E board at a headache-inducing price, we turn our attention to the mid-range and MSI's Pro X670-P WiFi. Its feature set isn't as varied nor as cutting-edge as those seen on our first three picks. However, this is the board to get if you want to embrace the 7000-series straight away while keeping costs reasonable.
Unlike the competition's and MSI's own more extravagant designs, the Pro X670-P keeps things simple & tidy. It has a uniformly black PCB with predominantly black covers. Silver accents & diagonal lines break the monotony up on the M.2 cover, I/O shroud, and chipset heatsink. Lighting is something you'll have to plug in yourself using either two ordinary or two addressable RGB headers.
So, what are the differences between the E and non-E boards like this one? E stands for extended. It offers more PCIe 5.0 lanes, has a higher USB port cap, and has native USB4 support. The maximum number of VRM phases is 24, whereas x670 boards get "only" 20.
Even though you are limited to only one PCIe 5.0 SSD, the board's high-speed storage capabilities are still impressive for the price. It can work with three more PCIe 4.0 drives and has six vertically-positioned SATA plugs. Only the top PCIe 5.0 drive gets a nice pad, while the rest need to rely on their own heatsinks or go commando.
We don't see the lack of PCIe 5.0 in the expansion slot area as a con, especially since it helps keep the Pro's price in check. You get three full-length PCIe 4.0 lanes and one PCIe 3.0 connection instead. Take note of what you connect where since the bottom two x16 lanes run at only x4 and x2 speeds, respectively.
You can use the same advanced DDR5 memory on this as on any X670E board since the Pro maxes out at 6600MHz. Two VRM heatsinks with deep cuts corner the LGA1718 mount next to it. Even this board has two 8-pin EPS connectors for stable power delivery to your processor.
The Price-Conscious AM5 Experience
MSI's board is a step down when considering some internal connections yet surprises with others. There are six non-CPU cooling headers, so you've got all your case fan needs covered. There's also ample opportunity to connect components inside & out thanks to a USB-C header & four USB 2.0 / USB 3.2 Gen 1 connections each. No buttons are present, and debugging is limited to the four indicator lights seen on previous budget-conscious boards.
Speaking of budget, the lack of a preinstalled backplate is another sign of the Pro's price class. However, you wouldn't suspect it if you only had the ALC4082-backed audio stack, 2.5G Ethernet, or WiFi 6E to go by. USB4 would be too much to hope for. Still, you won't find two USB-C connections on the vast majority of last-gen's boards, let alone the affordable ones. Four more are 10Gbps USB-A, while the last two max out at 5Gbps. HDMI, DisplayPort, and a BIOS flash button round things out.
ASUS TUF Gaming B650-PLUS WiFi
ASUS TUF Gaming B650-PLUS WiFi
Form Factor: ATX | Memory Speed: 6400MHz | Max RAM: 128GB | M.2 sockets: 3 | Audio: Realtek 7.1 Surround Sound
Pros:
Decent feature set at a better price than X670 boards

Three M.2 slots

Good power delivery
If AM5's release brought anything to grumble about, it's the lineup-wide generational price hike. Access to new technologies or not, it's hard to take the extra financial strain in stride. Unless you're willing to go with a B650 board, that is, in which case you can look forward to most of the features high-end models bring at a reduced price. The B650 TUF is such a board, offering excellent storage, the latest DDR5 & PCIe support, and good VRM for a price that's much easier to stomach.
We're glad that ASUS brought back some playfulness to this TUF board's design. It's not as subdued as the recent Intel versions and features several yellow accents with surprising intricacy. It's also impossible to miss the tiered heatsinks that loom over the CPU area like ominous towers. Even so, you'll have to provide any RGB yourself.
The quality and amount of available PCIe lanes is the main difference between X670 and B650 boards. ASUS chose to focus the TUF's precious PCIe 5.0 allotment on the top M.2 slot. The associated heatsink is a bit more substantial than the long one that covers the two M.2 slots. It's not as beefy as on some other boards, however.
Users in need of plenty of expansion will find the TUF obliging. The main GPU slot is PCIe 4.0 x16, which makes sense since PCIe 5.0-compliant GPUs don't exist yet. Another full-length x4 and two x1 slots are also present, all sharing the speedy fourth-gen standard.
While more modest than on its X670 peers, the VRM here is much improved over the B550 version. It's made up of 12+2 80A phases, offering almost 1,000A of clean energy sufficient to power any Zen4 CPU without overly taxing any single phase. They get their power from two power connectors that are tricky to reach due to their proximity to two heatsink edges.
A More Down-To-Earth Alternative to X670
Speaking of heatsinks, the bulky and cool-looking metal slabs do their job well despite not sharing a heatpipe connection. Seven headers make up the other part of this board's cooling equation, offering plenty of connectivity for CPU and system-wide thermal management with no need for piggybacking.
The internal connection complement is standard for a B-class motherboard. Case connectivity is decent, with 5Gbps USB-C and A headers providing the basis for three ports. Enterprising users can also purchase an add-in card that will let them use the Thunderbolt 4 header.
The back I/O received upgrades as well as setbacks. The inclusion of a second USB-C port is a high note, especially since one is now of the super-fast 20Gbps variety. You can make good use of the DisplayPort or HDMI connections now that regular Zen chips support integrated graphics. WiFi 6 antennas and 2.5G Ethernet present a solid networking ensemble.
We're not as keen on the audio, though. ASUS vaguely mentions 7.1-capable audio hardware but omits an optical S/PDIF out that was part & parcel on similarly-priced older boards. A BIOS flashback button is in its stead, which might look good but doesn't excuse the oversight.
ASUS ROG Strix X670E-I Gaming WiFi
Our final recommendation is another ASUS board. This time, it's an engineering marvel aimed at users looking for the most compact Zen4 experience possible. If you're one of them and have the cash to spare, the ROG Strix X670E-I Gaming WiFi is the best AM5 motherboard you can currently buy.
It's challenging to come up with a compelling design when you're limited to the size of one's palm. ASUS has succeeded in making its mini-ITX board attractive. There's no room for elaborate logos or LED light shows, so the glossy surfaces of the I/O shroud and mezzanine will have to be enough to proclaim the board's allegiance.
SFF ASUS boards always pride themselves in delivering the best-possible VRM in impossible conditions. This one continues the trend with 8+2 phases that provide plenty of clean power to any Ryzen chip you can adequately cool in such cramped quarters. Its smaller heatsink understandably needs a helping hand, so a fan built into the I/O shroud adds active cooling into the mix.
The new socket, adjacent cooling, the single PCIe 5.0 GPU slot, and the two remaining RAM slots take up almost the entire board. ASUS had to get creative to ensure everything else a premium mobo like this needs could fit. The result is an ingenious three-pronged attack on conventional motherboard design.
Bite-Sized Innovation
The first alteration is a mezzanine or tiered segment used for SSD storage. It sandwiches one PCIe 5.0 and PCIe 4.0 drive between thickly-padded dividers, ensuring thermal stability. The second is a daughterboard that debuted on the Z690 version of this board. It slots into two USB-C connections on the PCB and adds two SATA ports together with headers for CMOS clearance and the front panel. That's also where the board's two internal USB 2.0 ports reside.
The final addition is a literal example of out-of-the-box thinking. There was no more room on the board for the audio solution, so ASUS put the codec, DAC, a volume knob, and the FlexKey button onto a separate controller. The contraption is known as the ROG Hive and plugs into one of the I/O's USB ports. Clever or clunky? Only time will tell.
There's no doubt that the I/O falls within the clever category! All the audio connections are now on the Hive, so there's plenty of room for ten USB ports. That's unprecedented for a micro-ITX board, especially since it's also among the first to exchange older USB-C formats for two USB4 plugs. Conversely, three of the remaining seven ports are USB 2.0, while one is dedicated to the Hive. HDMI, WiFi 6E, and an Ethernet jack take up what space the VRM fan doesn't need to breathe.
If there's anything to grumble about besides the price, it's mini-ITX's constant struggle with fan headers. The X670E-I Gaming WiFi only has one, so pick your fans and their placement carefully. Fortunately, USB-C didn't get sacked, and one USB 3.2 Gen 1 header also remains. We mustn't forget RGB, which you can bring to life via three dedicated headers.