Specs:

Weight: 63g
Buttons: 5
Connection type: Wireless
Ambidextrous: Yes

Specs:

Weight: 58g
Buttons: 5
Connection type: Wireless
Ambidextrous: No

Specs:

Weight: 63g
Buttons: 5
Connection type: Wireless
Ambidextrous: No

Specs:

Weight: 55g
Buttons: 6
Connection type: Wireless
Ambidextrous: Yes

Specs:

Weight: 55g
Buttons: 5
Connection type: Wireless
Ambidextrous: No

Specs:

Weight: 64g
Buttons: 5
Connection type: Wired
Ambidextrous: No
Apex Legends' arrival added a twist to the familiar battle royale formula. Small teams, an eclectic roster of characters, and a focus on fast-paced action continue to engage regular players and pros alike. Want to get closer to the latter? The best Apex Legends mouse may help.
Which mice do the pros use?
Apex Legends is an FPS above all else, so you'll see top players mainly sticking to the usual suspects.
| Name | % of pros who use it |
| --- | --- |
| Logitech G Pro X Superlight | 29.1 |
| Razer Viper V2 Pro | 12.3 |
| Razer Deathadder V3 Pro | 7.8 |
| Xtrfy M8 Wireless | 2.8 |
| Pulsar Xlite V2 Mini Wireless | 1.4 |
| Roccat Kone Pro | 1.2 |
Agility, accuracy, and flawless performance rule the day. All the top mice excel in these, but meaningful differences still exist. Take a look at our overview to see which of these apex performers conform best to your hand, playstyle, and budget.
Logitech G Pro X Superlight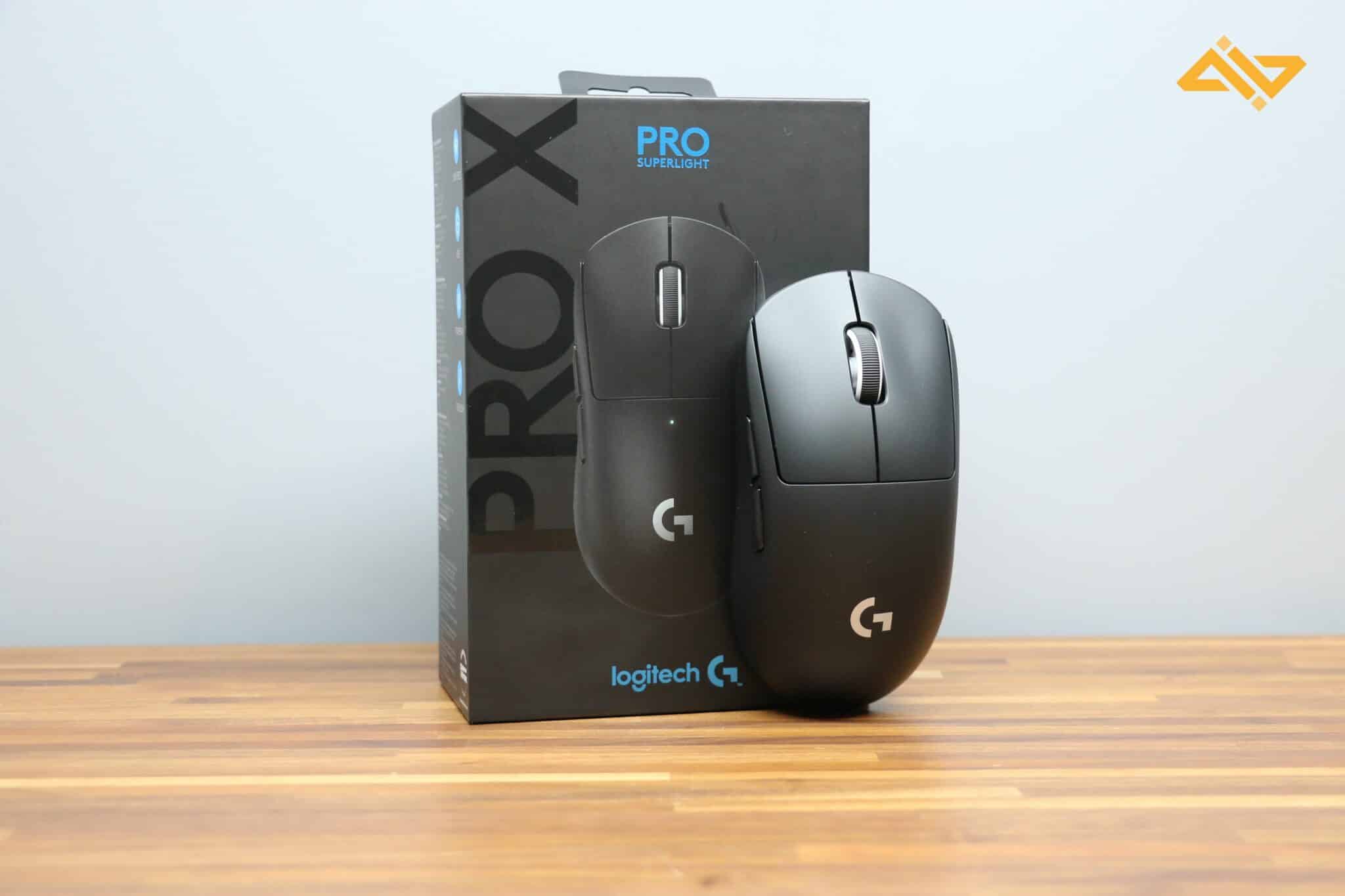 The Superlight keeps stealing the limelight in all our shooter mouse lists, and Apex Legends is no different. Why do most pros use this particular rodent? A combination of lightness, responsiveness, and a feel that's easier to experience than describe. It's expensive for such a plain-looking mouse. However, the stats speak for themselves.
You'll instantly recognize the Superlight if you've been keeping up with Logitech's mice. It's an almost direct copy of the G Pro Wireless, an older mouse we highly encourage you to consider if the Superlight's price is too steep. The new mouse has two fewer buttons and no RGB, which results in a mere 61g of weight, with honeycombs nowhere in sight.
Upon testing the Superlight, we noted excellent ergonomics despite the ambidextrous design. Its main buttons are snappy, while the side ones could be a bit stiffer. Still, everything feels in place. We also love the broad Teflon feet that let you expertly control the mouse whether you're flicking it or lining up precise pokes.
Grip-wise, the Superlight is a crowd-pleaser. It accommodates all three, with a caveat. You might not be able to comfortably reach the side buttons if you have small hands and prefer the fingertip grip due to the Superlight's high hump.
The Hero sensor is also unchanged, not that it needed perfecting. Its tracking speed is exceptional, and there are no notable DPI deviations at the most common steps. The sensor is also power efficient, allowing you to get a solid 70 hours of playtime before it needs a DOC drone intervention.
Part of G-Hub's functionality is lost with the absence of RGB, but it's still decent companion software. It's not as bloated as Synapse, while rebinding buttons or creating custom game profiles is straightforward.
Razer Viper V2 Pro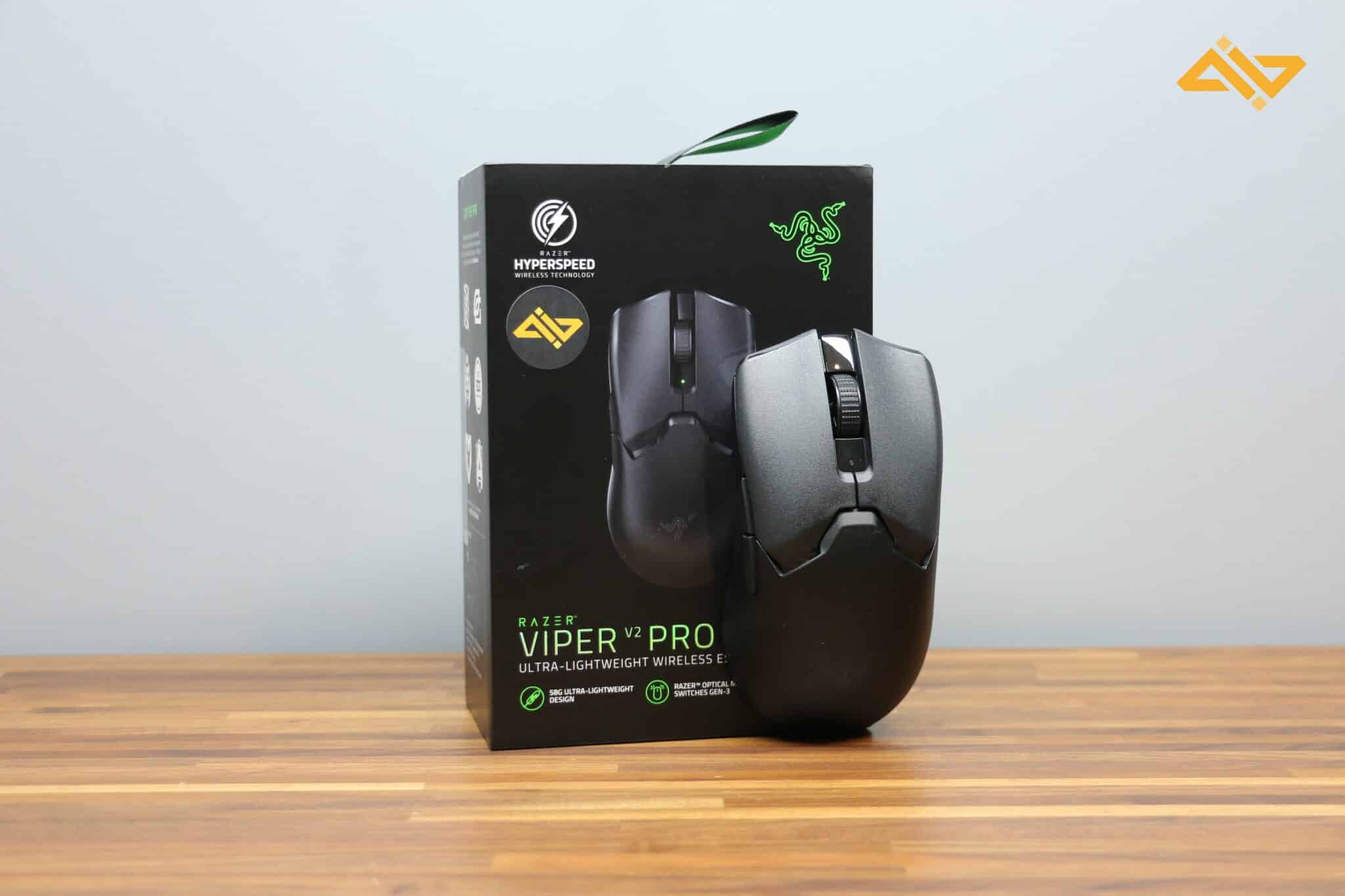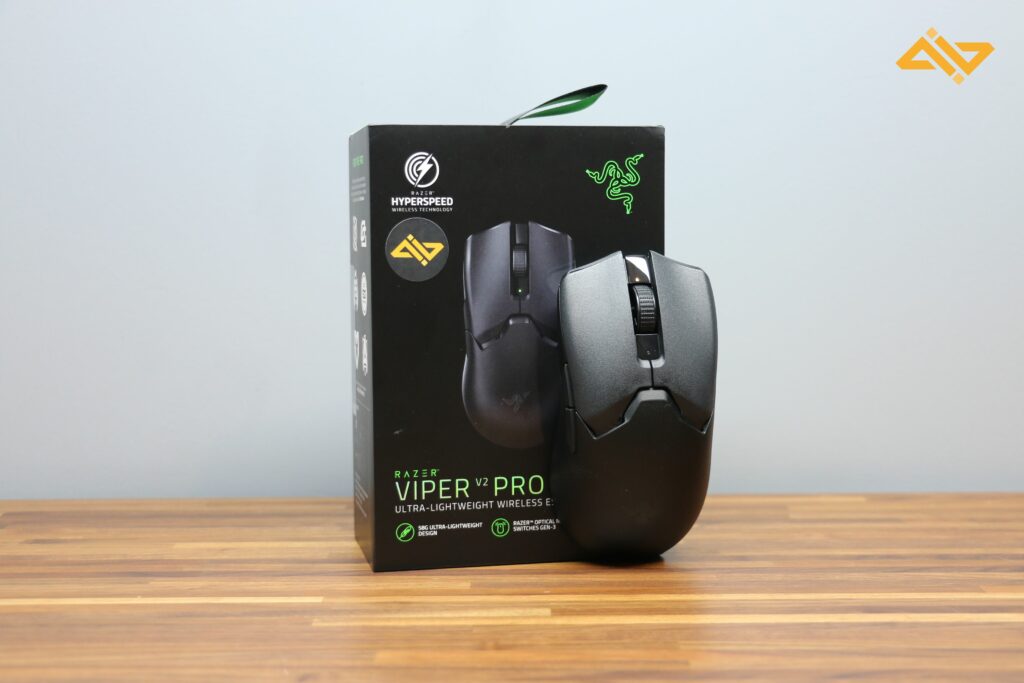 Razer Viper V2 Pro
Weight: 58g | Buttons: 5 | Sensor: Focus Pro | DPI: 30,000 | Connection type: Wireless | Ambidextrous: No
Pros:
Lighter and more durable than the Viper Ultimate

Excellent responsiveness & minimal latency

Minimalistic design with improved side buttons
Cons:
Expensive

No dongle storage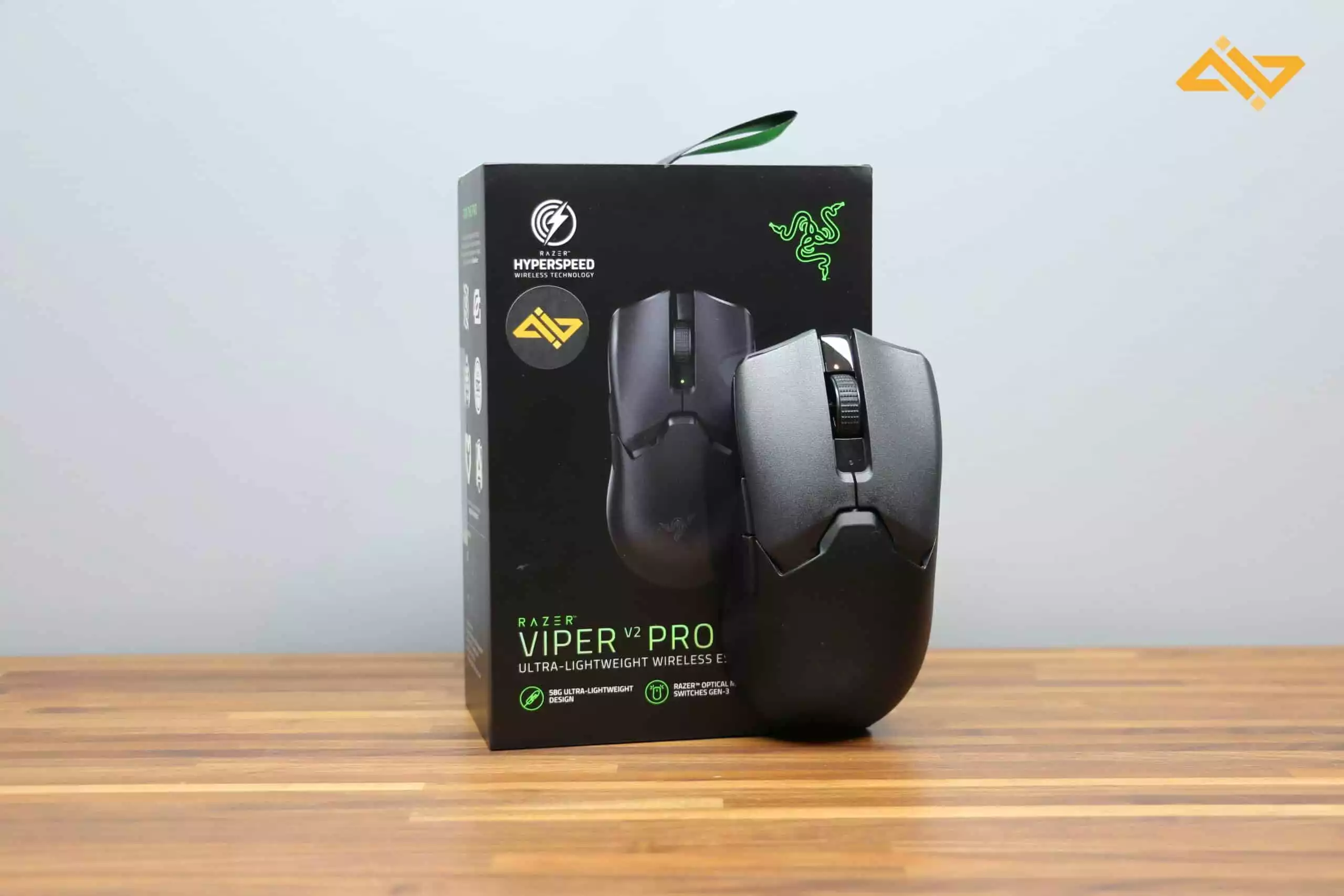 Another regular at the Apex Predator stage, the Viper V2 Pro is the best Apex Legends mouse if your hands are small to mid-sized and you prefer the fingertip grip. Its side buttons are excellent, as is the new sensor. Its polling rate stability and responsiveness are already excellent. You can push for even better results if you invest in an optional accessory.
Razer mimicked Logitech when developing the new Viper since it, too, has roots in an older ambidextrous model. There's little love for southpaws now since the number of buttons went down from seven to five. The upside is that the Viper V2 Pro weighs 3-4 grams less than the Superlight, depending on your color preference.
Unlike Logitech's champion, the Viper barely has a hump. This makes it more accessible to anyone who doesn't prefer the palm grip. The curvature provides enough support for your fingers & thumb despite there being no pronounced indents.
The main buttons have some pre & post-travel. They use optical switches and will last through 90 million clicks of Ranked Leagues carnage. We especially like the side buttons since they're more pronounced but react instantly, whichever part you press on. Perfect for mapping your tactical & ultimate or replacing B for alt fire.
The Viper has excellent response times at 1,000 MHz polling due to Razer's impeccable Focus Pro sensor. You can increase these well beyond wired mouse levels if you replace the ordinary antenna with the HyperPolling wireless dongle. It's a small investment on top of an already expensive mouse. Those who push for perfection may find it useful regardless of which legend they main.
The Viper has Logitech beaten in battery life at 80 hours. We like G-Hub more, though.
Razer Deathadder V3 Pro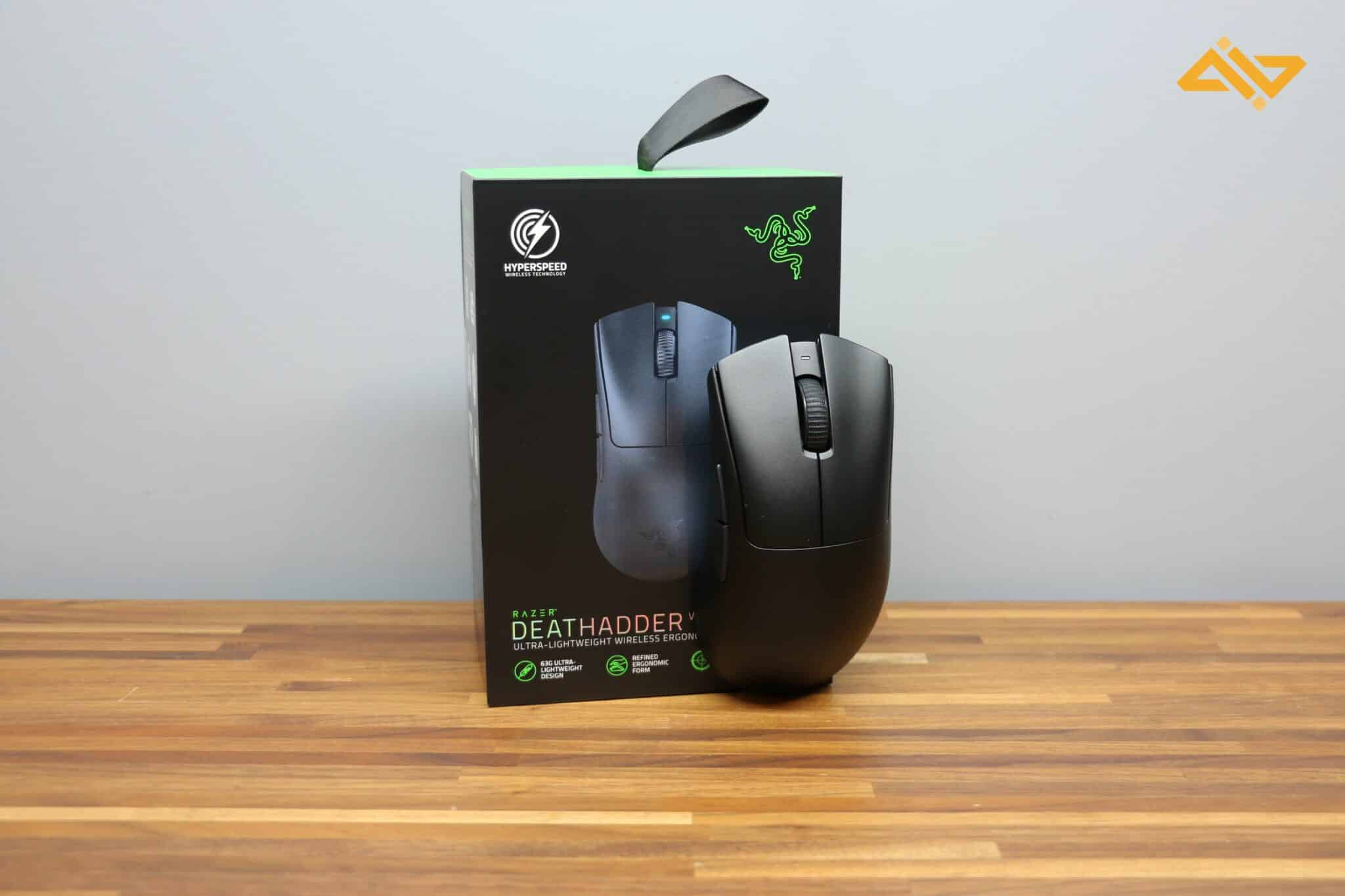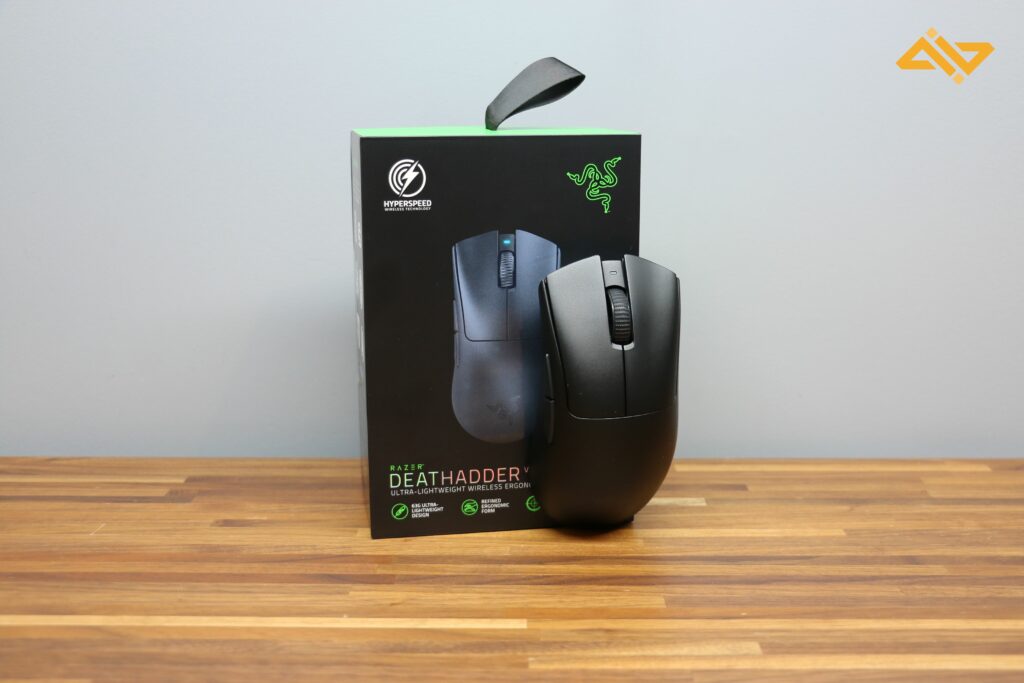 Our tried & true trifecta continues with a mouse for those of us with Gibraltar-sized hands. It shores up Razer's high-end market perfectly, offering exceptional right-handed comfort and build quality. It can run for weeks, barely weighs anything, and works on any surface except mirrors. Add the core components it shares with the Viper, and it's easy to see why we couldn't resist giving two spots on our list to Razer.
Finally, a revamp that looks different than the rodents that preceded it! If you're familiar with the Elite, you'll notice how the V3 Pro's hump shifts to the left to conform to one's wrist better. The buttons still use optical switches but aren't part of the shell anymore. The Deathadder gives you something to grip, perfectly fitting inside large hands.
Despite catering to a different demographic, the Deathadder is only two grams heavier than the Superlight. An even more impressive feat if you pop it open and note the absence of honeycombs. The main buttons activate with a gentle touch yet aren't trigger-happy. Razer moved the side buttons closer together, so applying pressure is easier. The scroll wheel remains almost perfect, with excellent spacing and tactility.
At 90 hours, the Deathadder is the most long-lasting mouse so far. It sports the same flexible charging cable that doubles as a wireless extender. It also has the same sensor as the Viper and will work with the HyperPolling accessory. Annoyingly, neither mouse has a storage compartment for the receiver. People playing from home won't mind – frequent LAN and tournament attendants will want to put it somewhere safe.
Synapse sports exceptional functionality. Apart from stuff like remapping and macro creation, it also offers three LOD levels and the ability for the landing distance to differ. It's great you can save all these settings to one of the Deathadder's onboard profiles and turn Synapse off. You should, unless you want your system to feel like it passed through one of Wattson's node fences.
Xtrfy M8 Wireless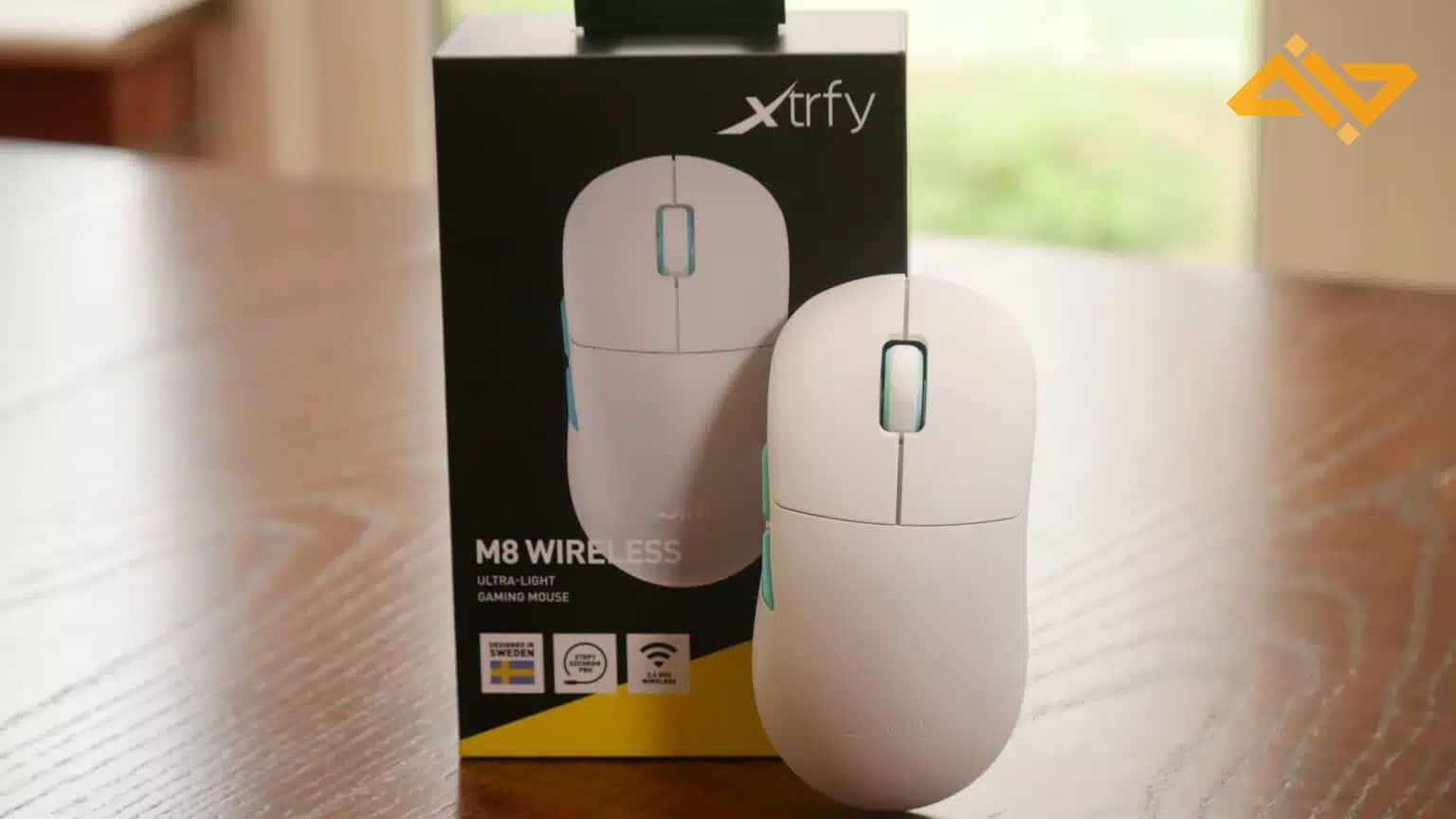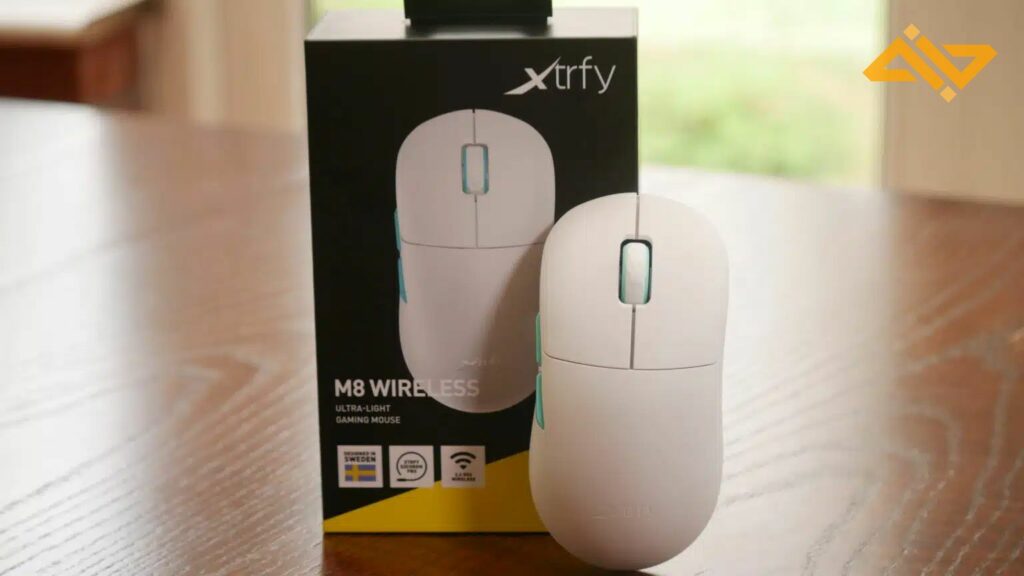 Xtrfy M8 Wireless
Weight: 55g | Buttons: 6 | Sensor: PixArt PAW3395| DPI: 19,000 | Connection type: Wireless | Ambidextrous: Yes
Pros:
Outstanding build quality & handling

Innovative shape works well

Intuitive configuration without the need to install software
Cons:
Might not be suitable for users with large hands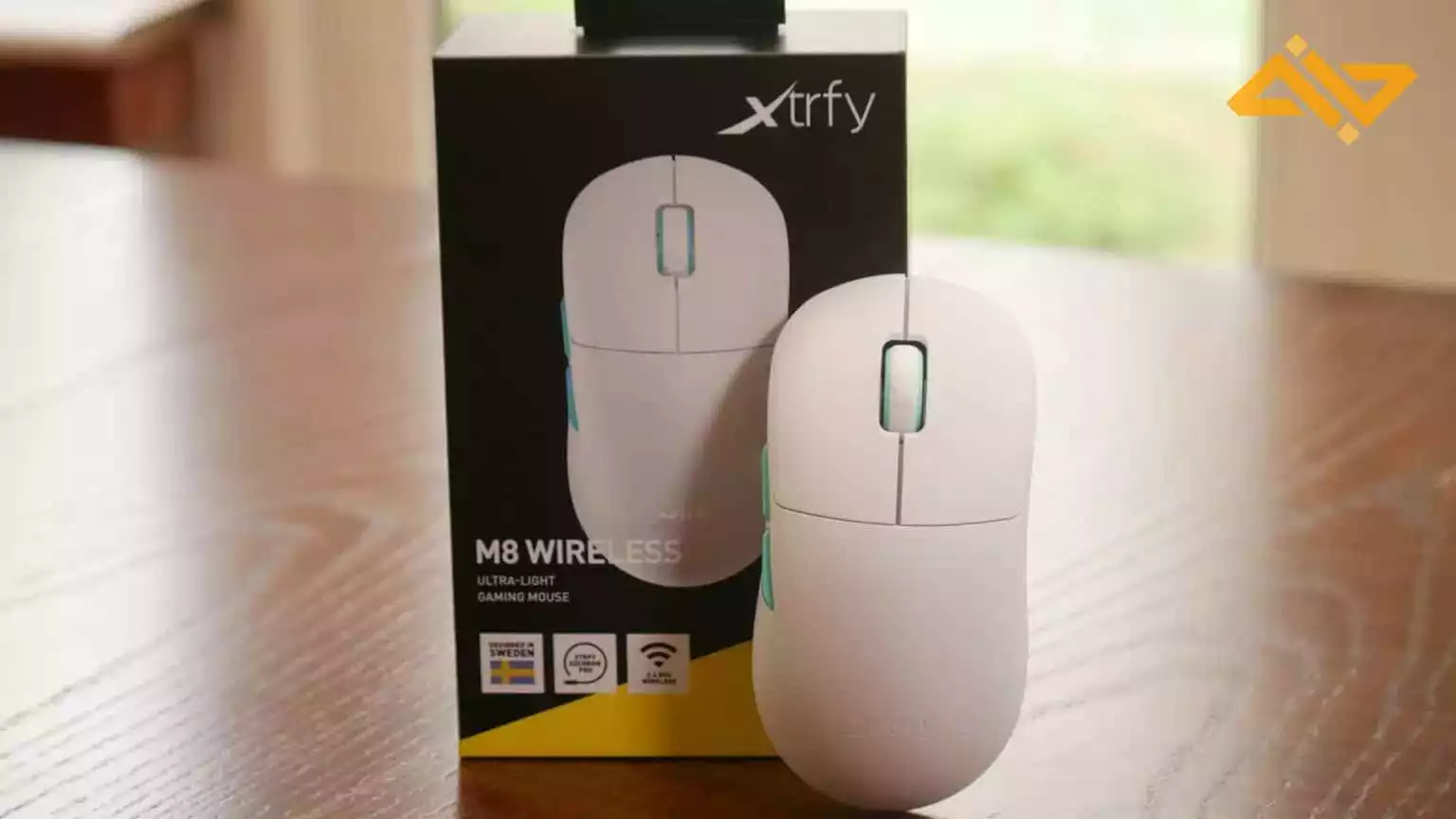 Our next legend won't come as a surprise if you've read our recent FPS mouse coverage. If not, the M8 wireless may catch you off guard. It's a small, fleet, and unorthodox mouse that's quickly gathering a following in the pro scene. It might turn out to be the best mouse for Apex Legends if you're willing to take a chance on its novel design.
From the back, the M8's even slope and hump resemble our winner's silhouette. Looking at it from the front paints a different picture, with rounded buttons and a pronounced downward slope that defies convention.
The M8's smaller size isn't great for the palm grip unless you have small hands to match. However, its ergonomics work well even so since they coerce larger hands into forming a claw. You might need to adjust, but once you do, you'll find how the shape naturally supports increased accuracy and reaction times.
Our picks keep getting lighter, as evidenced by the M8 Wireless's skinny 55g. Xtrfy had to resort to holes, but they did so smartly by placing them on the bottom to minimize dust buildup. That's where you'll also find the only means of controlling the DPI, polling rate, and liftoff distance via a switch and button combo.
Xtrfy doesn't have the resources to develop their switches in-house, so they turn to PixArt for the sensor and Kailh for the main buttons. Both decisions are winners! In fact, the Kailh GM 8 switches are a distinctive upgrade over anything Xtrfy has done so far. The sensor is PAW3395. It offes a jitter-free experience with minimal lag or motion delay.
Battery life is a solid 75 hours. You recharge the mouse by plugging its cable in sideways. Kudos to Xtrfy for developing a flexible paracord-style cable that doesn't get in the way when you draw broad arcs. While strange now, it wouldn't surprise us if the M8's cable placement kicks off a trend.
Pulsar Xlite V2 Mini Wireless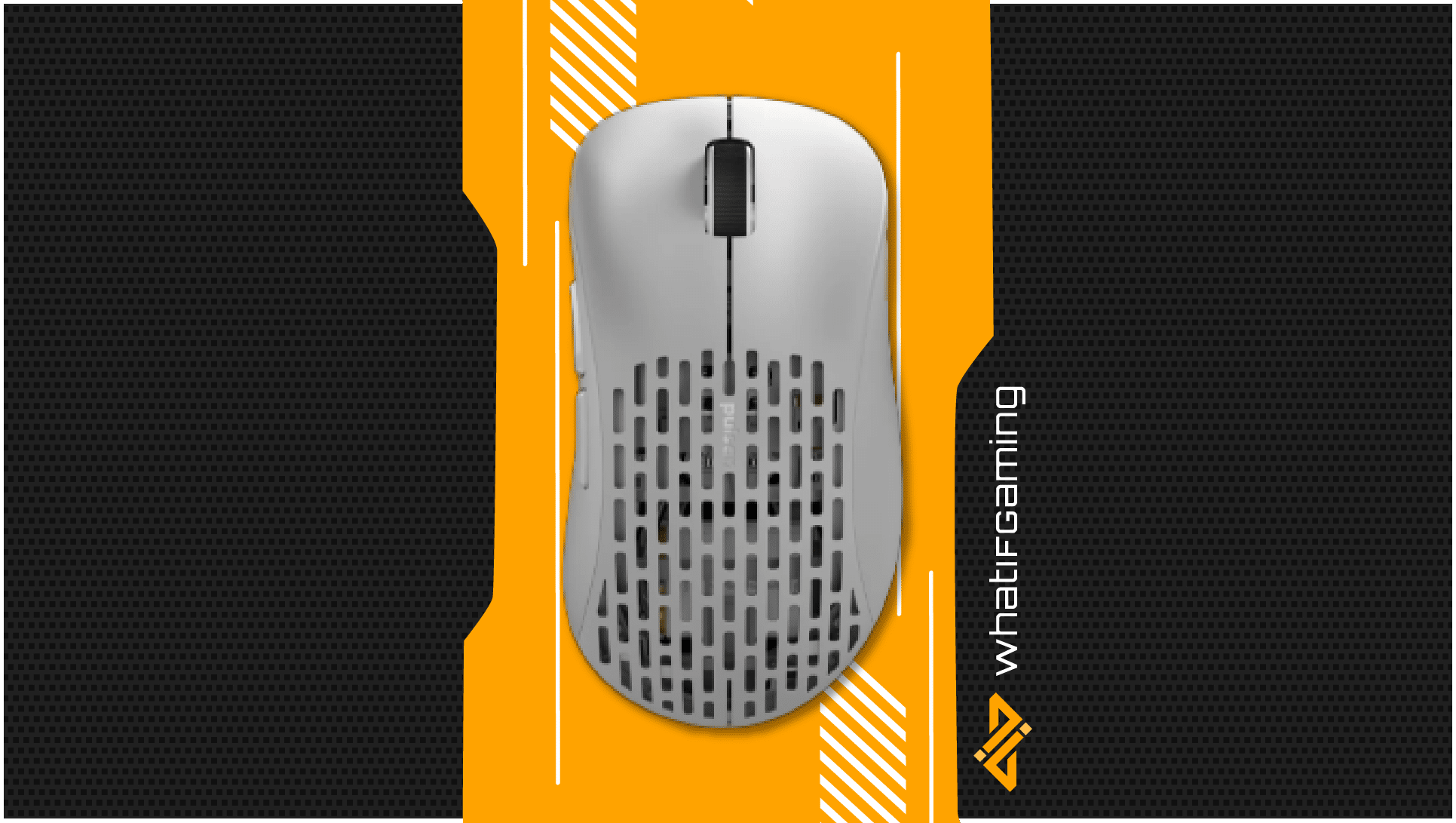 Pulsar Xlite V2 Mini Wireless
Weight: 55g | Buttons: 5 | Sensor: PixArt PAW3370 | DPI: 20,000 | Connection type: Wireless | Ambidextrous: No
Pros:
Excellent durability despite perforated design

Responsive buttons

Lightweight and useful configuration software
Cons:
Large holes make dust accumulation inside mouse easy
Pulsar has been making mice for only a handful of years. However, Xlite's build quality, snappy responses, and intuitive software speak of far more experience. We went for the V2 Mini Wireless here since it's slightly smaller and weighs only 55g. Feel free to pick the regular version up instead if you want a rodent with better palm grip & large hands support.
The V2 Mini is a mid-tier right-handed mouse with superb ergonomics and sturdiness. Even though it looks like it had a run-in with Rampart's minigun, it neither creeks nor flexes when squeezed. There are fewer holes than on the original since the sides are now solid. Apart from a uniform size decrease, the V2 and V2 mini are identical.
Pulsar is another manufacturer that embraced the Kailh and PixArt combo. The main buttons have some travel, which you won't notice or care about unless you're thoroughly testing the mouse. The side buttons are excellent, responding instantly wherever you press. The scroll wheel is quiet and not as defined as the likes of Zowie's EC3-C but does well.
Maximum DPI seems to be the major difference between PAW3395 & 3370. The latter usually maxes out at 19,000, but expect 1,000 more here. It doesn't follow DPI steps as accurately, and polling is sometimes unstable if set below 1,000Hz. Strange on paper but irrelevant as you're zipping around Broken Moon.
Razer could learn something from the lightweight tool you use to tweak the Xlite V2's settings. It has tabs governing button configuration, DPI adjustments, and macros. There's no RGB in the true sense. Rather, you can assign a color and breathing effect to each DPI preset.
Roccat Kone Pro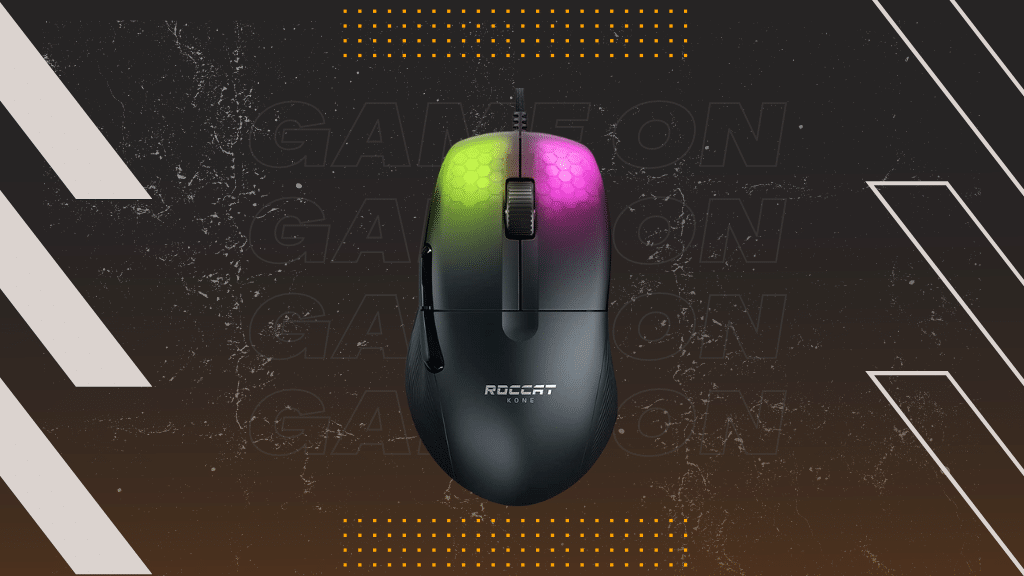 ROCCAT Kone Pro
Weight: 64g | Buttons: 5 | Sensor: PixArt PAW3370 | DPI: 19,000 | Connection type: Wired | Ambidextrous: No
Pros:
Superb ergonomics

Fun RGB implementation

Excellent sensor
Cons:
Software required to change default DPI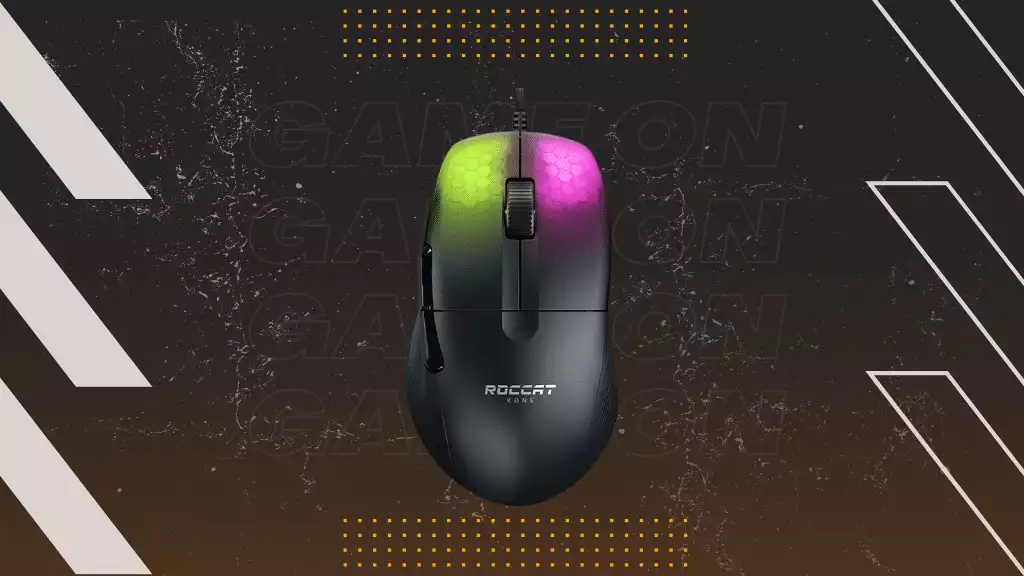 Pro mice require a pro budget, or do they? The Kone Pro is here to challenge this assumption! It has a cable yet weighs just one gram more than the Deathadder. Despite not being that old, you can often find the Kone Pro on a deep sale. That's why we dub it the best Apex Legends mouse for budget buyers.
Roccat's mid-sized mouse makes a good first impression with its focus on right-handed ergonomics and thumb comfort. It has grooves on the left, to that end, and the main buttons contour to cradle your fingers. Interestingly, their tips are translucent, revealing an undermesh and some brightly-colored LEDs.
Teflon feet on the underside make for smooth gliding. The cable is excellent, almost rivaling Glorious's models in flexibility and unobtrusiveness. Combined with just 64g of weight, no need for charging, and the lightning-fast response times a cable affords, the Kone's setup makes a compelling argument for ditching wireless.
This is our second pick to feature the PAW3370 sensor from PixArt. Pulsar's modifications must have messed with DPI accuracy since the Kone has practically no deviations. Being wired helps, since the mouse executes thought into motion precisely and quickly.
Swarm is another competent configuration utility. Standard options like macros, button remapping, and DPI are all there, as is a shift function that uses a second set of controls when you press a designated button. Handy for taking some of the load off your keyboard. The RGB is limited to a single zone despite covering both main buttons. You can set its color and choose among several effects presets.