Specs:

Form Factor: ATX
Memory Speed: 6400MHz
Max RAM: 128GB

Specs:

Form Factor: ATX
Memory Speed: 6400MHz
Max RAM: 128GB

Specs:

Form Factor: ATX
Memory Speed: 6400MHz
Max RAM: 128GB

Specs:

Form Factor: ATX
Memory Speed: 6666MHz
Max RAM: 128GB

Specs:

Form Factor: mATX
Memory Speed: 6400MHz
Max RAM: 128GB

Specs:

Form Factor: ATX
Memory Speed: 6400MHz
Max RAM: 128GB
The arrival of 7000-series AMD CPUs has finally laid the legendary AM4 platform to rest. Team red might have caught up with the times, but the newest features also bring rising prices. The best B650 motherboards keep core improvements intact while cutting costs on things like more USB lanes and far too elaborate VRM. See which ones we prefer and start building a cheaper Zen4 while reaping all the benefits!
ASUS ROG Strix B650E-E Gaming WiFi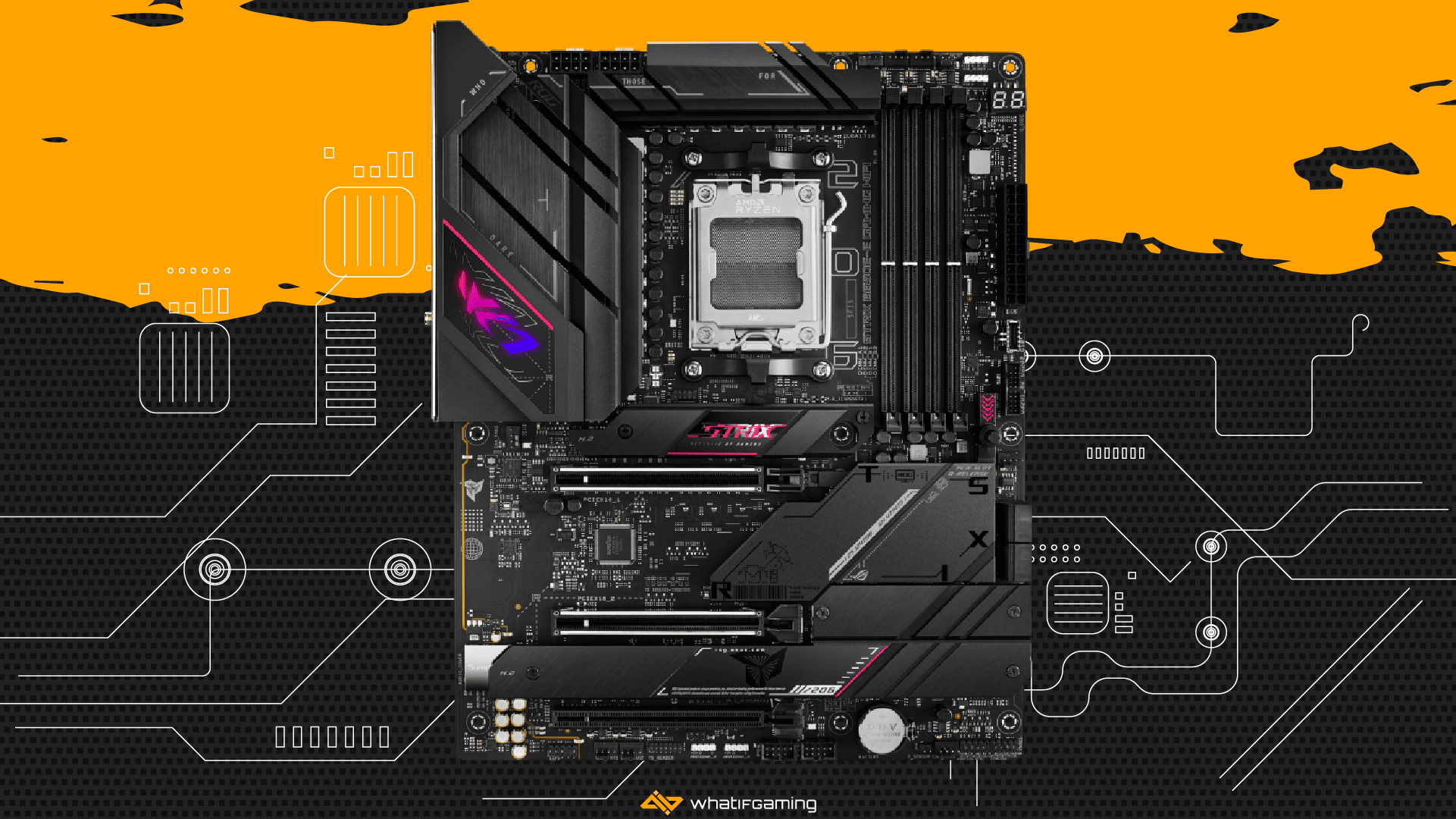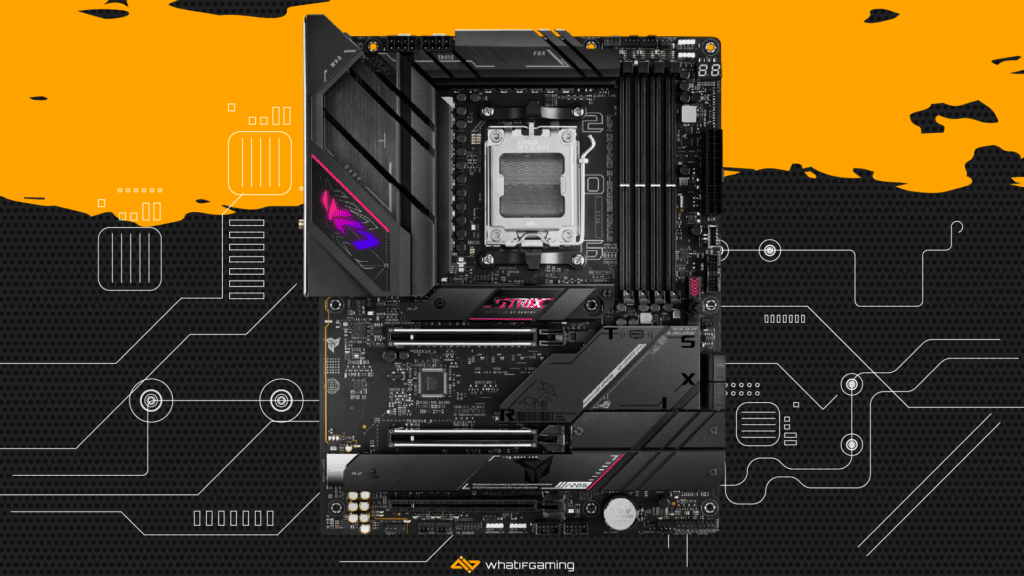 ASUS ROG Strix B650E-E Gaming WiFi
Form Factor: ATX | Memory Speed: 6400MHz | Max RAM: 128GB | M.2 sockets: 4 | Audio: Realtek ALC4080
Pros:
Exceptional value if you're after high-end features

Four M.2 slots, two with PCIe 5.0 support

Outstanding I/O
Cons:
Most other B650 boards are cheaper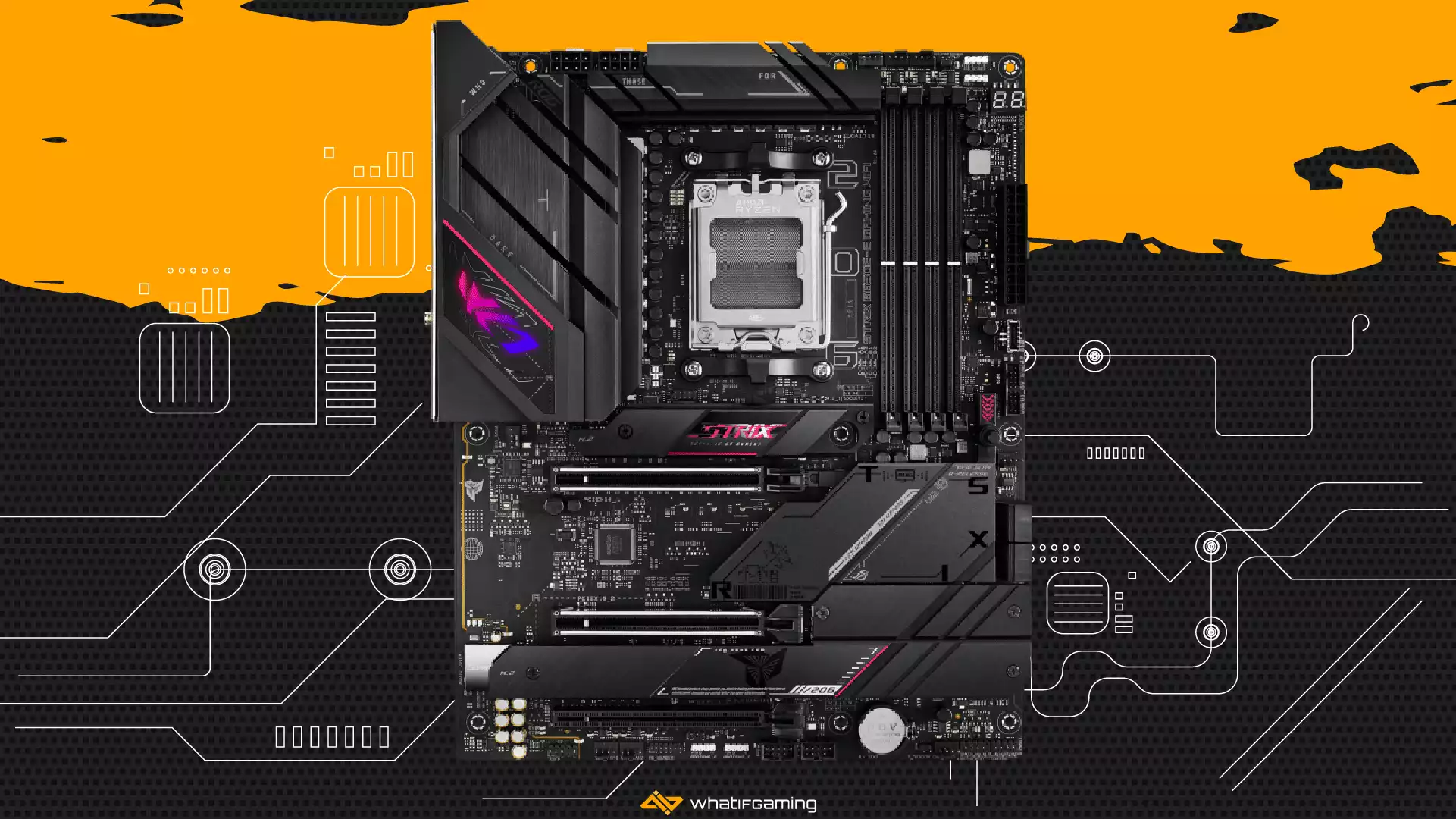 AMD has rightfully caught some flack upon the Zen4 release since all the new motherboards are more expensive than before. The same goes for B650, whose predecessors didn't cross the $300 threshold. The B650E-E Gaming is among the costlier offerings in an already expensive generation. However, it has so many outstanding features that you may need nothing more powerful, even if you're an enthusiast.
ASUS leveraged B650E's full PCIe 5.0 lane count to make this motherboard as competitive as the premium X670E when it comes to high-end features. Futureproof storage comes first, with two of its four padded M.2 slots offering PCIe 5.0 SSD support. The rest work with PCIe 4.0 drives, which is all gamers need anyway.
The fact that two of three expansion slots are also cutting-edge speaks much about the B650E-E Gaming's quality. Using the second slot brings the GPU's lane count to eight, which won't matter until PCIe 5.0 graphics cards arrive 2+ years from now.
The board's X670E version has one of the most overdeveloped VRMs in the generation, so even a 40% reduction to 16+2 70A stages has little impact. Feel free to stick a 7950X in there, overclock it, and marvel as temperatures stay balmy.
Several other features make it hard to believe this is a B650 board. Eight headers cater to system-wide cooling, while a four-light debugger and Q-code display offer strong troubleshooting. ASUS even includes the awesome GPU release latch, a first for a B-series board.
The I/O is only slightly less versatile than on the X670E version. It has twelve USB ports with two USB-C among them. DisplayPort & HDMI let you use any Zen4 CPU's integrated graphics, while WiFi6E and 2.5G Ethernet add robust network connectivity. The audio stack is 5+1 and uses the advanced ALC4080 codec. BIOS flashback and CMOS clear buttons seal the deal.
Gigabyte B650 AORUS Elite AX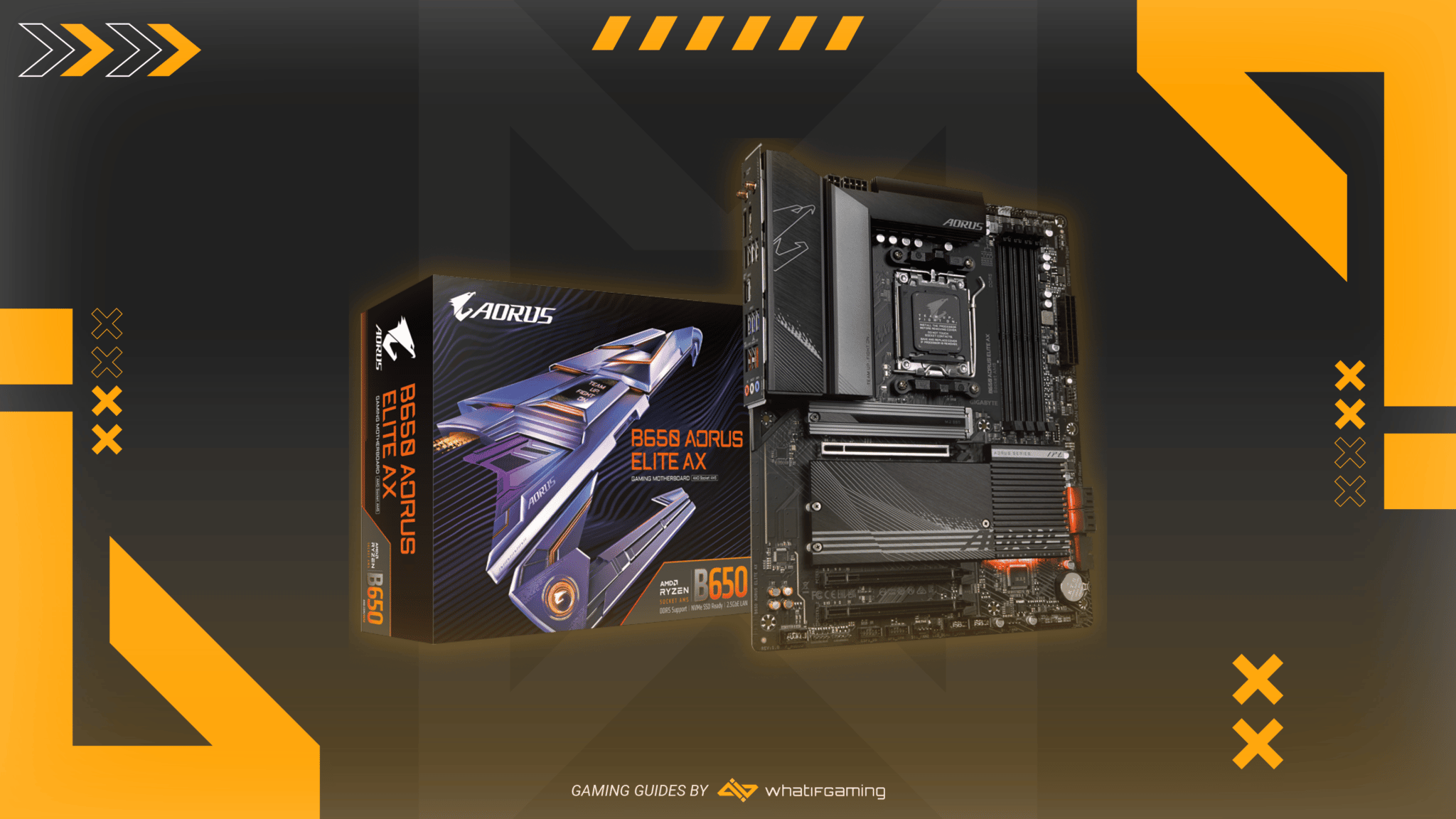 Gigabyte B650 AORUS Elite AX
Form Factor: ATX | Memory Speed: 6666MHz | Max RAM: 128GB | M.2 sockets: 3 | Audio: Realtek ALC897
Pros:
Comes with a PCIe 5.0 M.2 slot

Excellent VRM cooling

12 USB ports on back I/O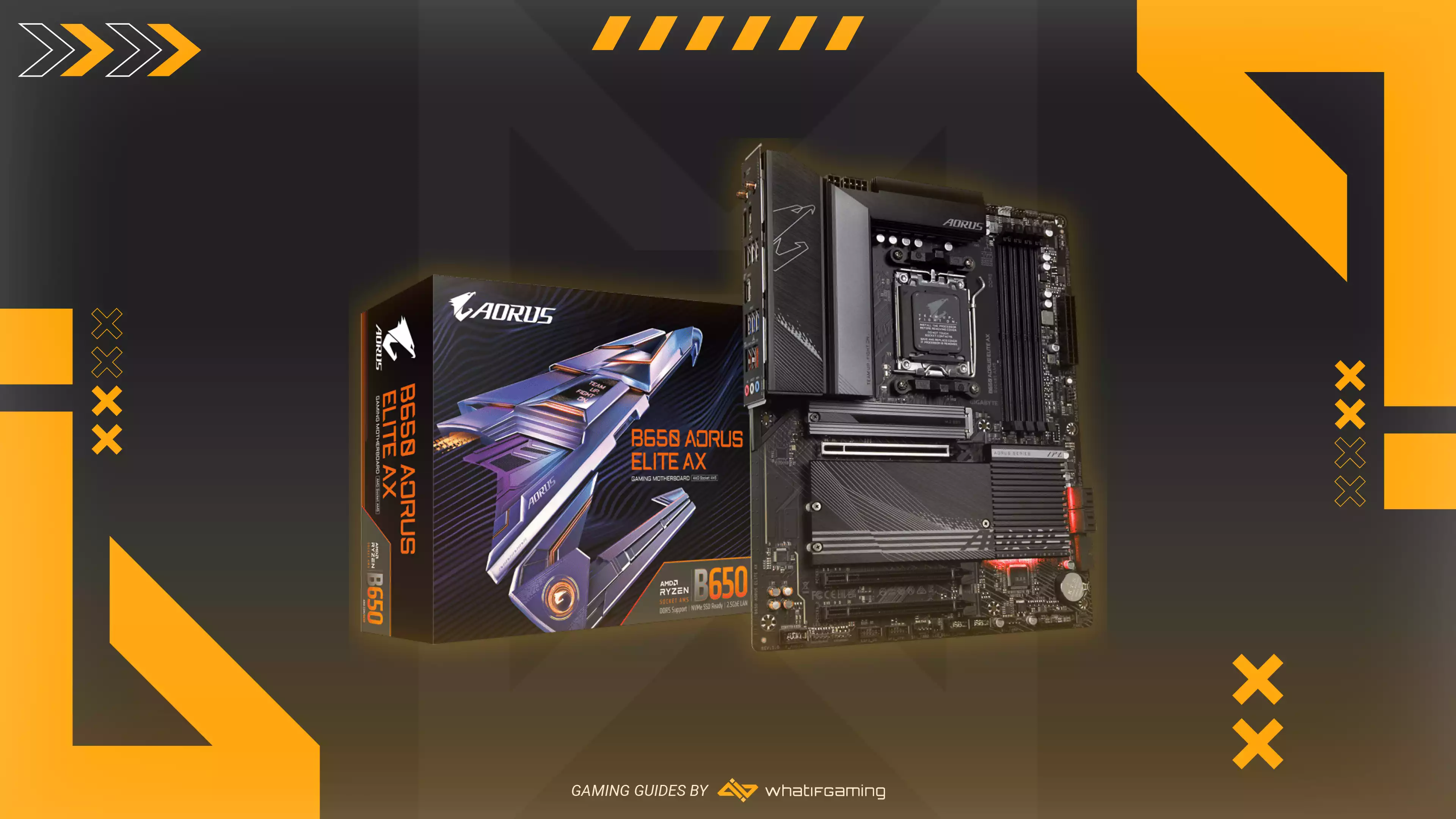 B650 is supposed to be the cheaper Zen4 mobo option, and our winner costs as much as a full-fledged X570 board would have. The B650 AORUS Elite AX is thus the best B650 board if you're looking for a model in line with B-series expectations. It won't break the bank yet offers robust VRM, storage, and connectivity options.
Gigabyte designed the Elite AX more subtly than its higher-end offerings. Brushed blacks contrast with the silver on its oversized PCIe 5.0 M.2 heatsink, and a faint LED glow surrounds the chipset heatsink. Adding more is easy, thanks to ARGB and RGB header pairs.
The board supports one fewer PCIe 4.0 drive than the B650E-E Gaming, which should still be enough for most. It's not an Extreme model, so PCIe bandwidth is more limited in general. The GPU slot is PCIe 4.0 and makes sense for current graphics card needs. Its two companions are full-length, yet both are PCIe 3.0 x1. They're good for capture or sound cards, but not much else.
The VRM has a 14+2+1 layout, while your CPU gets power from 4- and 8-pin EPS connectors. Gigabyte doesn't leave cooling to chance, as you'll notice when examining the chunky VRM heatsinks and seven system cooling headers. Internal connectivity isn't bad either, as you can get 20Gbps transfer speeds if your case's USB-C supports it.
The I/O is strong, sporting 12 USB ports, modern networking connections, and the usual video outs for anyone who wants to hook their monitor up to the iGPU. The audio isn't as thrilling since it lacks optical S/PDIF out and runs on an outdated codec.
ASUS TUF Gaming B650-PLUS WiFi
ASUS TUF Gaming B650-PLUS WiFi
Form Factor: ATX | Memory Speed: 6400MHz | Max RAM: 128GB | M.2 sockets: 3 | Audio: Realtek 7.1 Surround Sound
Pros:
Decent feature set at a better price than X670 boards

Three M.2 slots

Good power delivery
Is ASUS your go-to brand, but you don't want to splurge on the B650E-E Gaming? Its trusty and more affordable TUF line saves the day again! The B650-Plus WiFi isn't as cutting edge. Still, it delivers all the expansion, storage, and connectivity options that make Ryzen chips competitive in the modern PC landscape.
After a few subdued attempts, the TUF design returns to form. The B650-Plus WiFi is predominantly black with yellow and white military-themed accents. It has less armoring than costlier boards, limiting itself to the chipset and covers for its three M.2 slots.
The VRM is a step down from the boards we've recommended so far. It adopts a 12+2 60A power stage configuration and has the same EPS connector layout as the Elite AX. The B650-Plus WiFi isn't ideal for overclocking your 7950X. However, it will do just fine with gamer-centric CPUs like the 7700X or the locked 7800X3D.
ASUS put B650's modest PCIe 5.0 lane count towards high-speed storage. Two more PCIe 4.0 drives and four legacy SATA III ports provide solid backup. Expansion potential is decent, doubly so since all four slots use PCIe 4.0. The main one uses all 16 lanes and is reinforced against sheering, making it the natural choice for your GPU.
You won't find as many USB connections on the I/O as on our first two picks. The B650-Plus WiFi tries to compensate for this by including 20Gbps USB-C along with Thunderbolt if you're willing to get a separate expansion card. This is another mobo with an analog-only audio stack. Its network and video connectivity are competitive, though.
Gigabyte B650 Aero G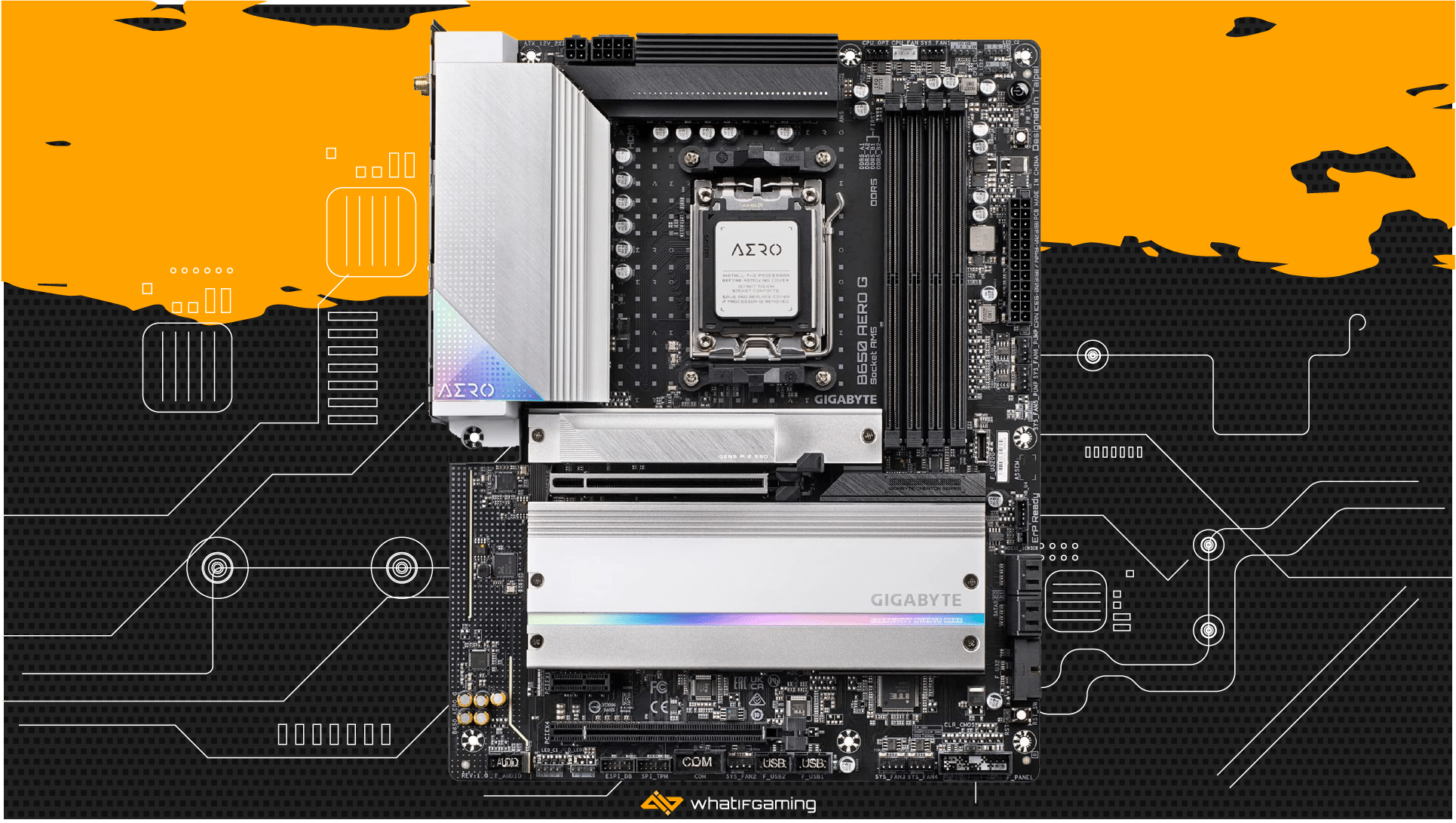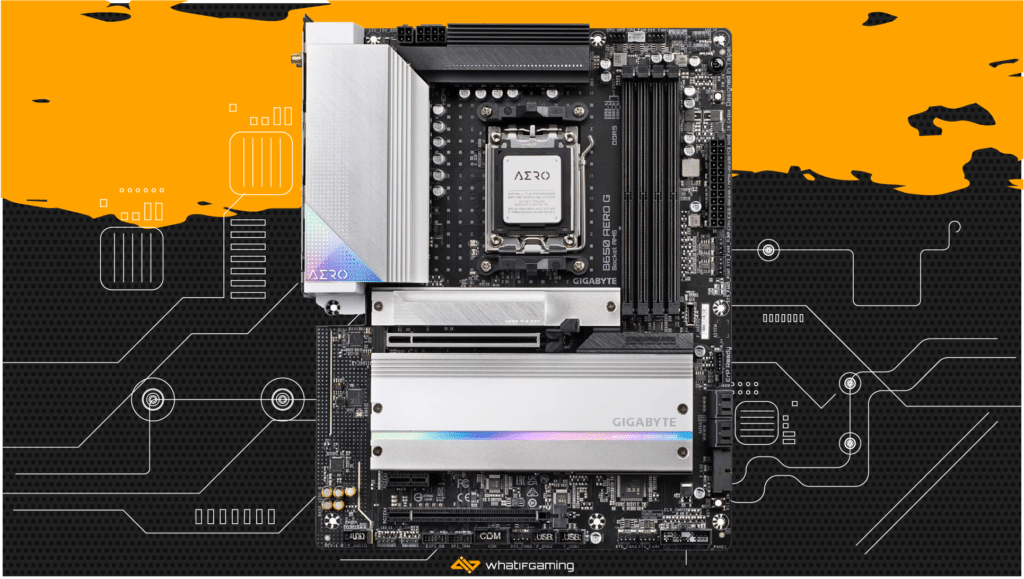 Gigabyte B650 AERO G
Socket: AM5 | Form Factor: ATX | Memory Type: DDR5 | Memory Speed: 6666MHz | Max RAM: 128GB
Pros:
Has several useful features catering to creatives

Great audio and storage options

Appealing aesthetic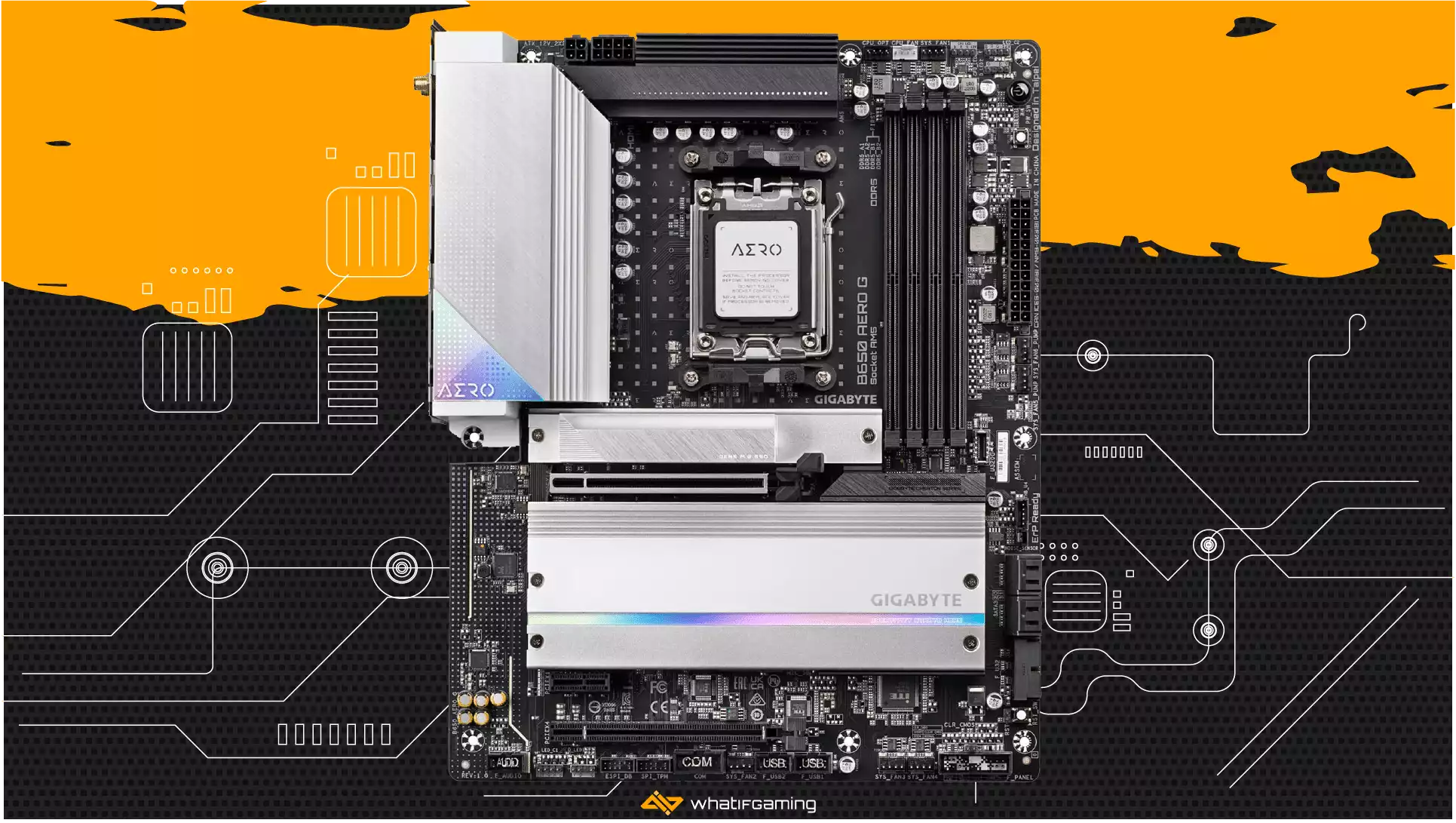 The most powerful AMD CPUs have a deserved productivity reputation, so it's unusual that so few motherboards cater to such PC users. Luckily, one of them is affordable yet rich in features. The B650 Aero G is the best B650 motherboard for anyone who uses their PC to create art or content. Gamers shouldn't dismiss it either, as the creative focus doesn't mess with its well-rounded gaming capabilities.
Gigabyte continues to nail the AERO G design with plenty of contrasting silver parts and a complete lack of gamer aesthetic. It's an awesome choice for white PCs and anyone tired of RGB or garish looks.
At its core, the AERO G is similar to other boards in the price range. It has three M.2 and four SATA slots, just like the Elite AX. Their expansion slot layout is identical as well. AERO G users are more likely to use those PCIe 3.0 x1 slots for capture cards, though.
Other features subtly give away the board's intent. It supports 6666MHz DDR5 RAM, which is higher frequency than on most B650 alternatives. This lets you slot in more memory without suffering max frequency drops. Unlike the Elite AX, the AERO G also uses ALC1220-VB. The codec might not be current, but it's still high-end enough for almost any recording or streaming needs.
The AERO G's purpose becomes clear when you examine the I/O. Ten USB ports should be enough for external drives, SD card readers, and all peripherals. The 10Gbps USB-C is a VisionLink port, meaning it can transfer data and video as well as charge connected devices. There's also DisplayPort in that acts as an additional GPU connection, letting you max out your card's physical ports yet still connect a graphics tablet.
MSI MAG B650M Mortar WiFi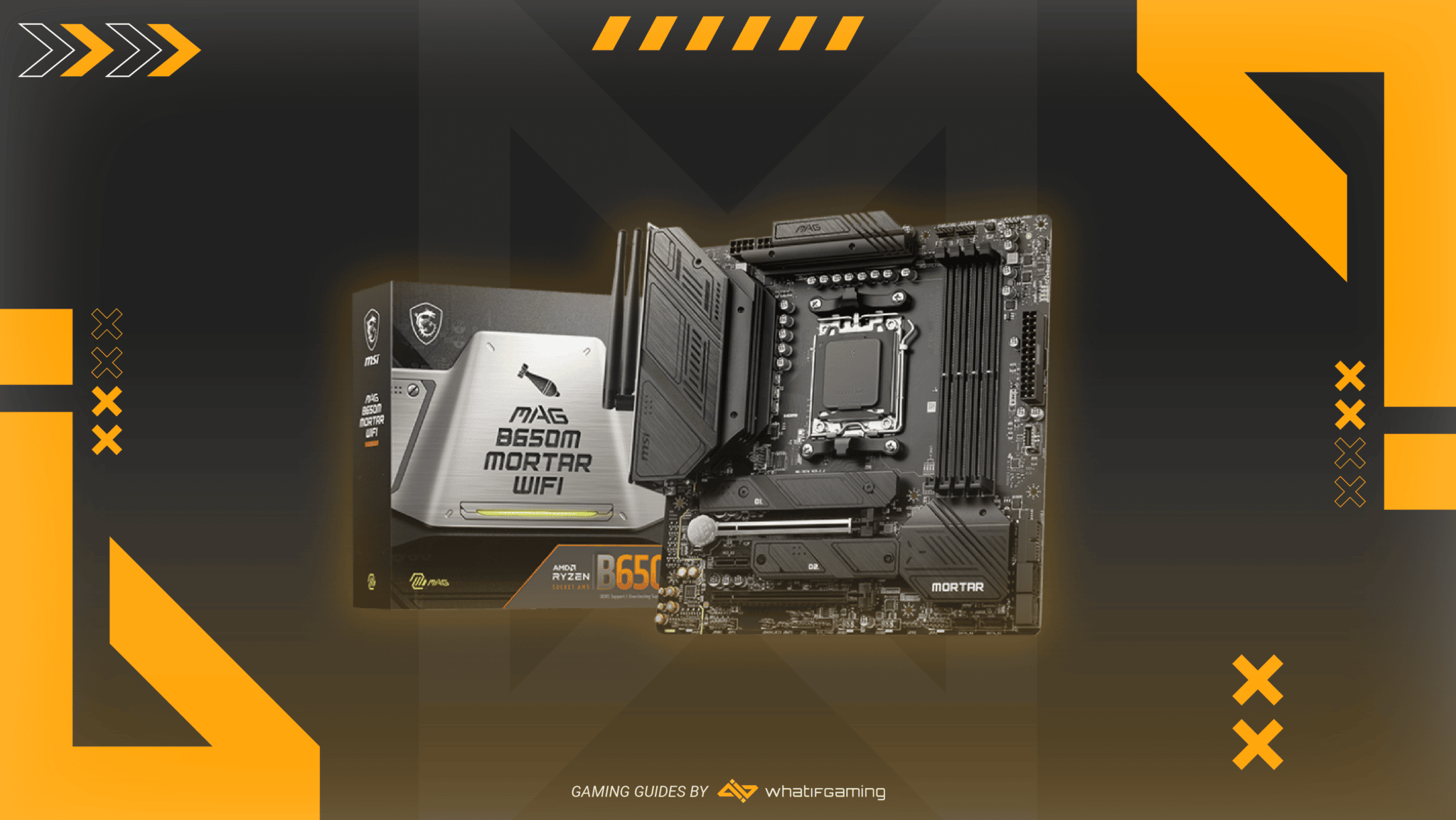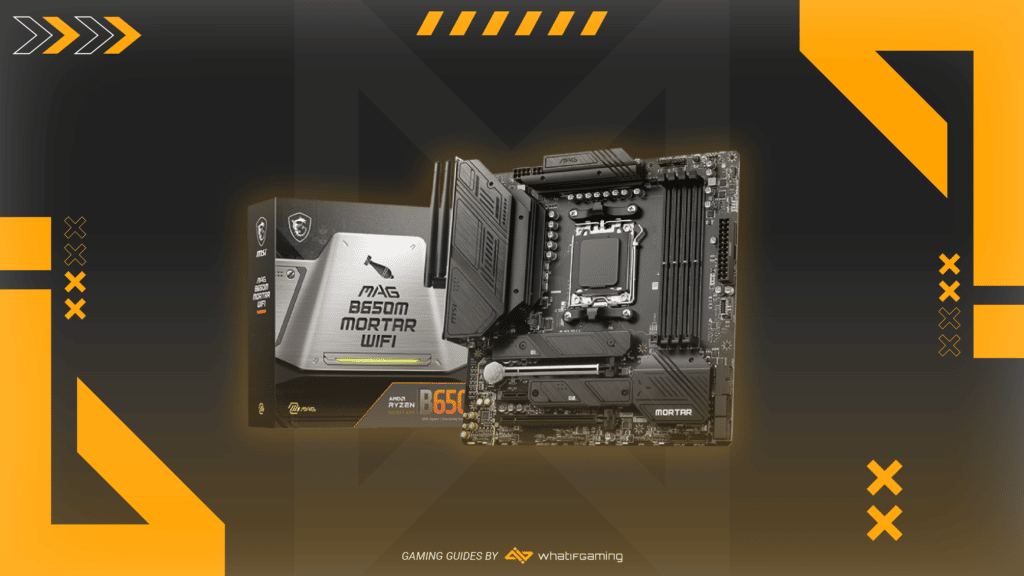 MSI MAG B650M Mortar WiFi
Form Factor: mATX | Memory Speed: 6400MHz | Max RAM: 128GB | M.2 sockets: 2 | Audio: Realtek ALC4080
Pros:
Affordable & perfect for SFF builds

Good I/O despite size limitations

Supports 128GB of RAM & six SATA ports
Cons:
Could use more fan connectors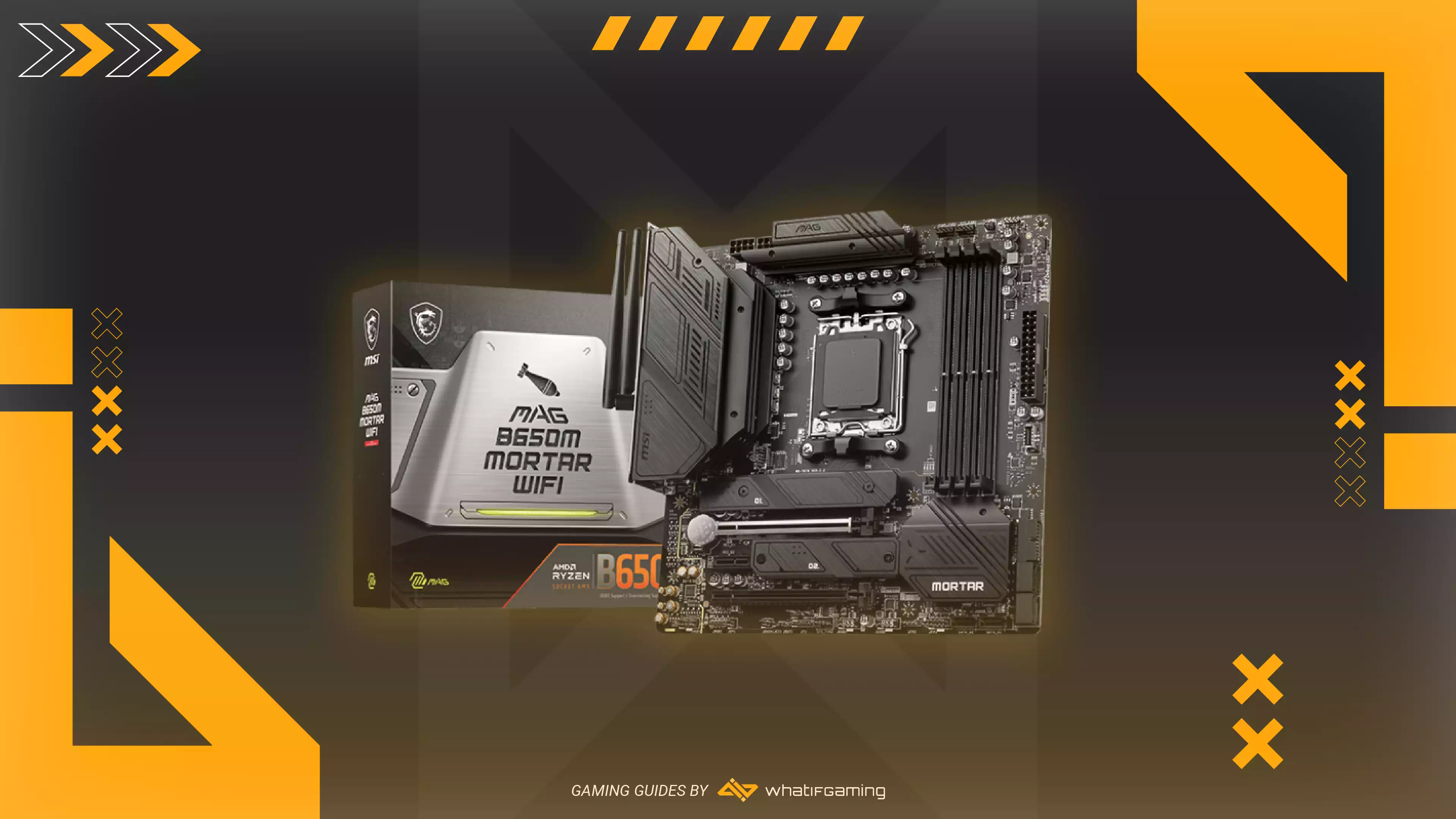 There's a renewed interest in mATX PCs, and the Mortar WiFi is the best B650 board if you're looking to build one. While it does make a few concessions due to size, the board remains well-rounded. It's also more affordable than many competitors and a worthwhile value buy.
The Tomahawk is our stealthiest B650 recommendation. Rather than focus on multiple colors, MSI decorated its heatsinks & covers with attractive diagonal patterns. They're hard to spot inside a case if your other components are as devoid of RGB as this board.
Considerable VRM strength is among the board's positive surprises. Its 12+2+1 power stages each put out 80A. That's close to 1,000A dedicated to powering any Zen4 CPU coolly and efficiently. While they aren't connected, the VRM heatsinks are thick enough to handle overclocking.
Modern storage suffered the most as a result of mATX compromises. You only get two M.2 slots, and both are PCIe 4.0. Plenty of excellent drives are fourth-gen PCIe, so it's not a big deal. The board offers six SATA ports by way of compensation. Two are vertical, while four stick out on the side for easier cable routing.
Most components have no such setbacks. The armored graphics card slot is as robust as on any B650 model. You can still slot in 128GB of RAM, and five cooling headers are enough to get your case's airflow in order without piggybacking.
The I/O impresses with modern USB connectivity. Micro ATX users shouldn't need more than the eight provided ports and will be thrilled that one is 20Gbps USB-C. MSI even managed to set up a 5+1 audio stack & include a BIOS flashback button.
ASRock B650 PG Lightning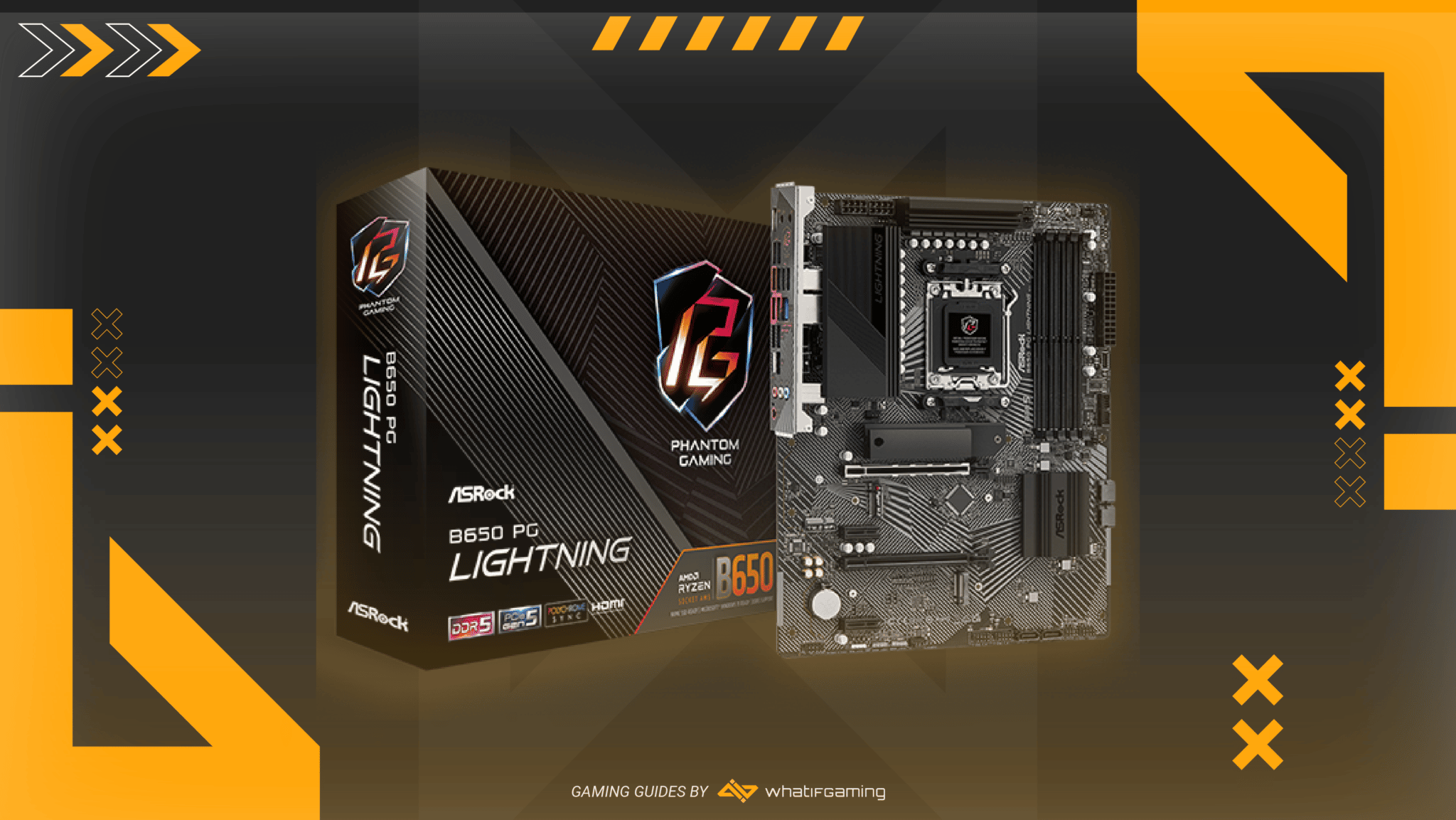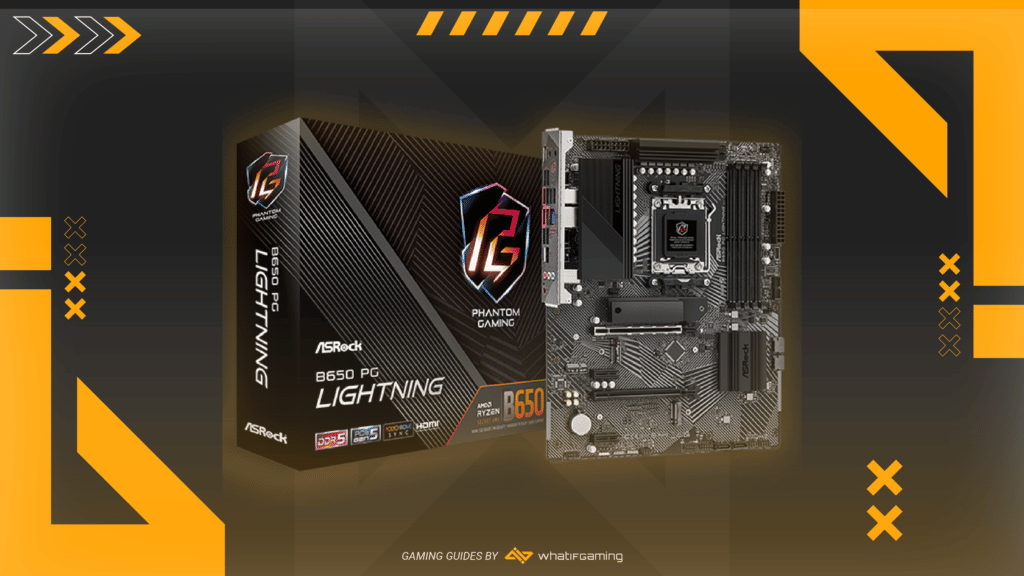 ASRock B650 PG Lighting
Form Factor: ATX | Memory Speed: 6400MHz | Max RAM: 128GB | M.2 sockets: 3 | Audio: Realtek ALC897
Pros:
Outstanding value for the money

Three M.2 slots, one of which is PCIe 5.0

Comprehensive I/O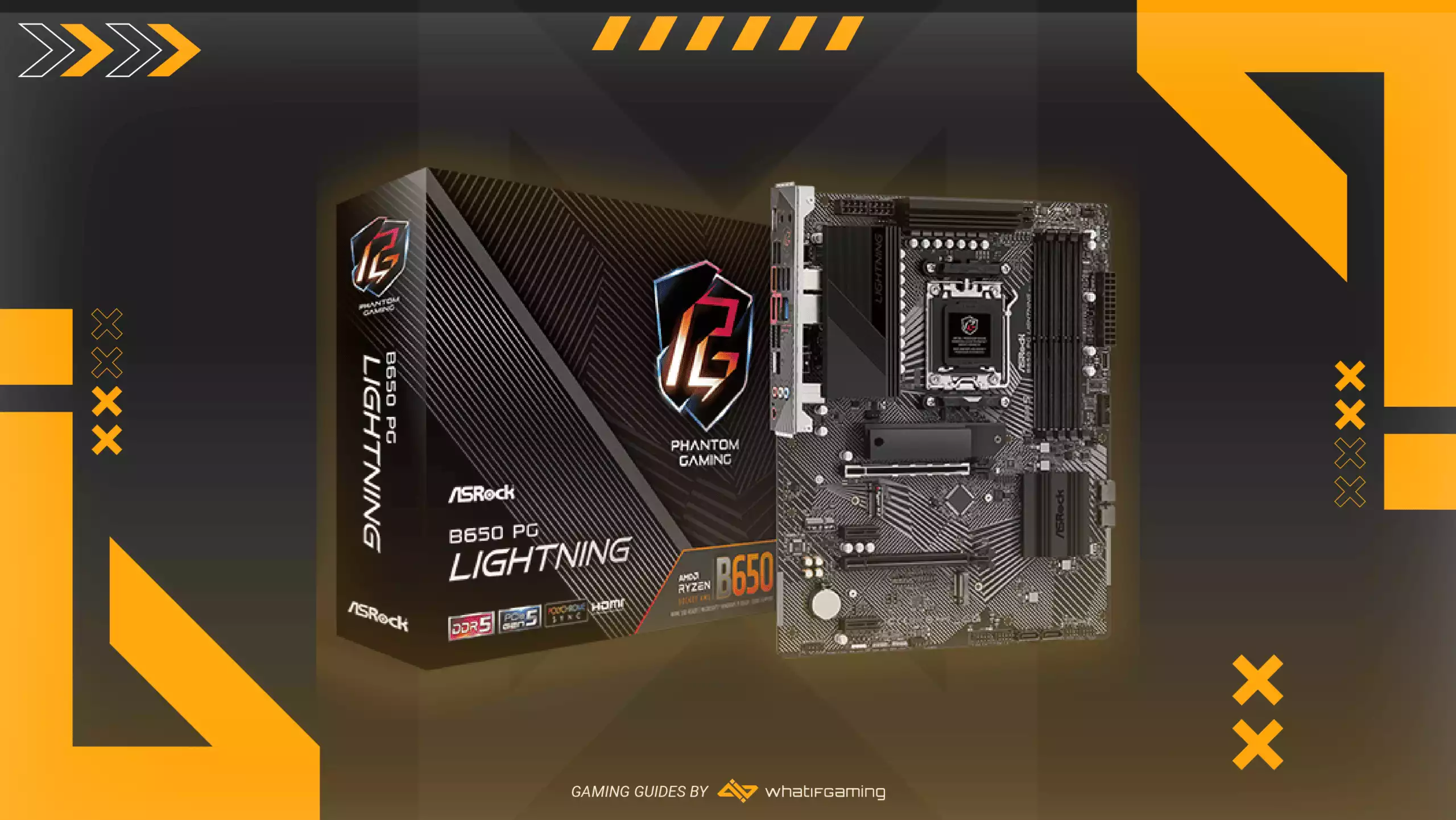 Our last pick is the best B650 motherboard in the sub-$200 category. The PG Lightning might not have WiFi, but its other features are all on point. Users unconcerned with wireless connectivity should give it a try since they're giving up virtually nothing compared to some of our considerably more expensive picks.
The PG Lightning is a barebones mobo, which you won't notice at first due to its busy 8-layer PCB. Light-gray diagonal lines range in thickness and cover the board in a pattern it's hard to look away from. Once you're done being mesmerized, you'll also notice that only the PCIe 5.0 M.2 slot has a heatsink.
Support for three M.2 NVMe drives is great for the price, even if the last one maxes out at PCIe 4.0 x2. That's also the bandwidth on the second full-length expansion slot. Naturally, the first has all the reinforcements and lanes you'd expect from your graphics card connection.
The PG Lightning deftly handles any AM5 CPU. Its 14+2 +1 design keeps individual power stages cool with the help of two multi-tiered heatsinks. Cooling in general is high on the board's priority list. All its headers are hybrids, making it equally easy to set up all-fan cooling or a custom water loop.
I/O connectivity is amazing since you won't find 12 USB ports on many costlier boards, let alone 20Gbps USB-C among them. Not everything is rosy, though. Audio is limited to three 3.5mm jacks and uses the meh ALC897 codec. Cutouts for WiFi are there, but you'll have to supply it yourself through an add-in card.