The final quarter of 2021 marked the end of an era as Intel finally awoke from its slumber and wowed us with its heavy-hitting Alder Lake lineup. However, we only got Z690 motherboards with which to pair the chips. Mainstream and entry-level CPUs have landed in the meantime, and with them, a crop of more budget-friendly boards to whet your appetite. Keep reading to discover the best B660 motherboard for your PC build.
Going with B660 makes a lot of sense, depending on your use case. You don't need a more advanced version if you never plan on overclocking, let alone if you're keen on something like an i3-12100F. B660 supports all standard upgrades Alder Lake brings, so you can invest in DDR5 or look forward to PCIe 5.0 SSDs without fear of incompatibility. There's a limit to high-speed storage support on such boards, but the more refined ones let you use three PCIe 4.0 drives simultaneously.
Our Best B660 Motherboard Picks
GIGABYTE B660 AORUS Master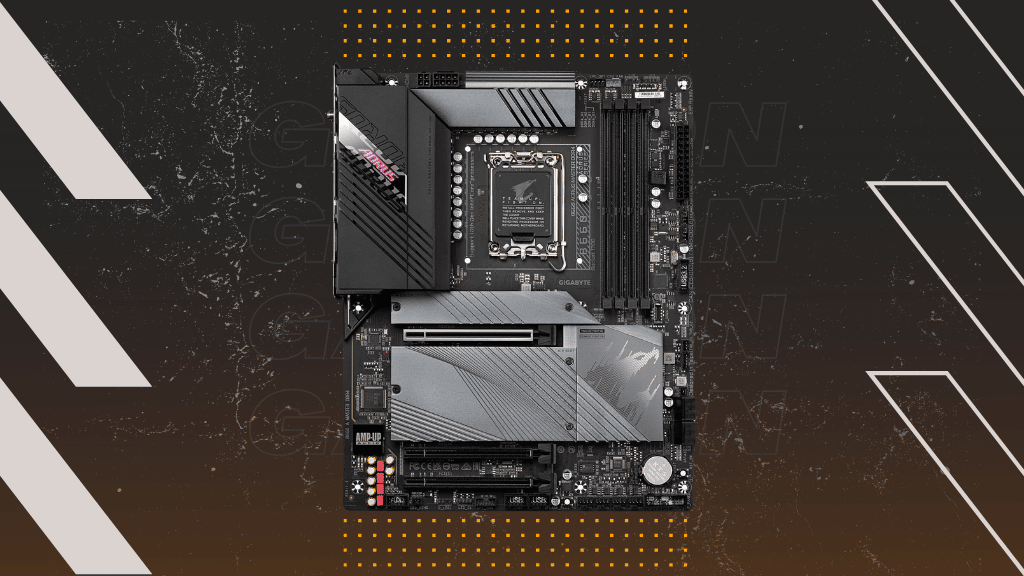 Socket: LGA 1700 | Form Factor: ATX | Memory Type: DDR4 | Memory Speed: 5333MHz | Max RAM: 128GB
Well-rounded feature set
Excellent audio and internal connectivity
20GBps USB-C
Doesn't accept SATA M.2 drives
A Master board already found itself on top of our Z690 motherboard charts, so snagging the B660 crown is no surprise. The more accessible version comes with most amenities you'd expect from B660 without crossing the $200 threshold. Any processor you socket into it will run smoothly, provided you had no overclocking aspirations for them.
While they're part of the same family, the B660 Master's aesthetic differs from its older brother's. It's a primarily black board with noticeably less armor. Its shielding is gray, which contrasts nicely with the PCB and accents like the four red WIMA capacitors in the audio area. You get RGB as a strip on the right edge's underside and a light-up AORUS logo on the I/O shroud.
Gigabyte's Master boards always go a step beyond when it comes to VRM design regardless of class. Here it's a teamed 16+2 setup where the Vcore phases supply 60A each to your chip. Even though we'd be more comfortable pairing the mobo with something like an i5-12600K, it will work with a stock i9-12900K without thermal issues.
The storage area is clad in armor and concentrates on modern drive types. There's room for three 110mm NVMe drives that won't get overly hot because of excellent padding. However, you can't connect SATA SSDs since these aren't supported. Speaking of SATA, users with lots of legacy drives might need to cut ties with some since only four slots are available.
An Approachable Master
While the board does come with three full-length PCIe slots, it only makes sense to slot your GPU into the upper one. It's reinforced to prevent shearing, and, more importantly, it's the only one capable of fully utilizing PCIe 4.0 speeds. Modern graphics cards barely tap into this potential, so futureproofing is a given.
A versatile mix of cooling headers is another feature that made it onto the B660 version. There are eight in total – two for the CPU and water pumps, four for fans, and two more hybrid connectors that will take either fans or water loop components. The board itself is also cooled well, courtesy of the thick chipset shroud & grooved VRM heatsinks.
The rest of the Master's internal connections don't disappoint either. Your case will benefit from a 5Gbps USB-A header and 10Gbps USB-C. Moreover, it's possible to add two Thunderbolt cards and four sources of RGB awesomeness through as any connection points. A noise sensor header lets you monitor your PC's sound levels, while a debugger with four LEDs makes diagnosing startup errors easier.
The preinstalled I/O is organized exceptionally well and comes with everything you'd need at this price point. WiFi 6 and 2.5G Ethernet cover your networking needs, while DisplayPort and HDMI ensure you can get a signal if you're using an iGPU. The audio stack has optical S/PDIF out and uses last gen's premium ALC1220-VB codec. That brings us to USB, of which there are ten ports. Four are USB 2.0 3.2 Gen 1, with another USB 3.2 Gen 2 port and 20Gbps USB-C rounding things out.
MSI MAG B660 Tomahawk WiFi DDR4
Socket: LGA 1700 | Form Factor: ATX | Memory Type: DDR4 | Memory Speed: 4800MHz | Max RAM: 128GB
The title of best B660 motherboard could have just as easily gone to the runner-up, MSI's B660 Tomahawk. Which to pick will come down to your personal preference. Choose this board if you're not enamored with RGB, crave the fastest possible wireless internet, or need more than four SATA ports. The pricing is currently identical, so it all comes down to nuances.
We're very much in favor of the Tomahawk's super stealthy aesthetic! The design isn't dull despite everything being black due to the subtle appearance of brushed streaks and indented hole arrays on the various heatsinks. The dark theme is so prevalent that native RGB is absent. If you want to expose the board inside your case, you'll want to use the provided four RGB headers.
VRM is where we see the first significant divergence from the B660 Master. The Tomahawk uses a similar teamed setup, only it has 14 instead of 18 phases in a 12+2 configuration. Two 8-pin EPS connectors ensure stable power delivery. Even so, an i7-12700K running at stock is the farthest we'd go to ensure a balance of performance and thermal stability.
There's good news on the storage front since the Tomahawk has six SATA ports. Part of its PCB is even cut out to help with associated cable clutter. Three M.2 drives are the norm again, only this time SATA is supported, and the two lower slots accept 80mm long drives. MSI thoughtfully includes some nifty clips, so you don't have to fiddle with screws.
Give & Take
Three full-length PCIe slots give way to a more sensible two x16 and one x1 slot combo. The upper GPU slot remains the only viable one, while the smaller PCIe 3.0 x1 slot is ideal for capture or expansion cards. Even though there's a DDR5 version, we opted for DDR4 due to much lower adoption costs. The Tomahawk supports 4800MHz DDR4 RAM with a max frequency falloff as more slots get populated.
Internal connections aren't as abundant and varied as on the Master. The Tomahawk has one less cooling header, and all not pertaining to the CPU only accept system fans. The case I/O USB options and debugging tool are the same, and there are no Thunderbolt add-in options.
Not even the I/O is clearly better or worse than our winner's. There's one less USB-A port, but all four USB 3.2 Gen 2 connections are of the 10Gbps variety. There's also 20Gbps USB-C. DisplayPort and HDMI are up to date, while the audio relies on last generation's ALC1220P codec. WiFi received a bump to the 6E standard, and 2.5G Ethernet is present for a grounded connection.
ASUS ROG Strix B660-A Gaming WiFi D4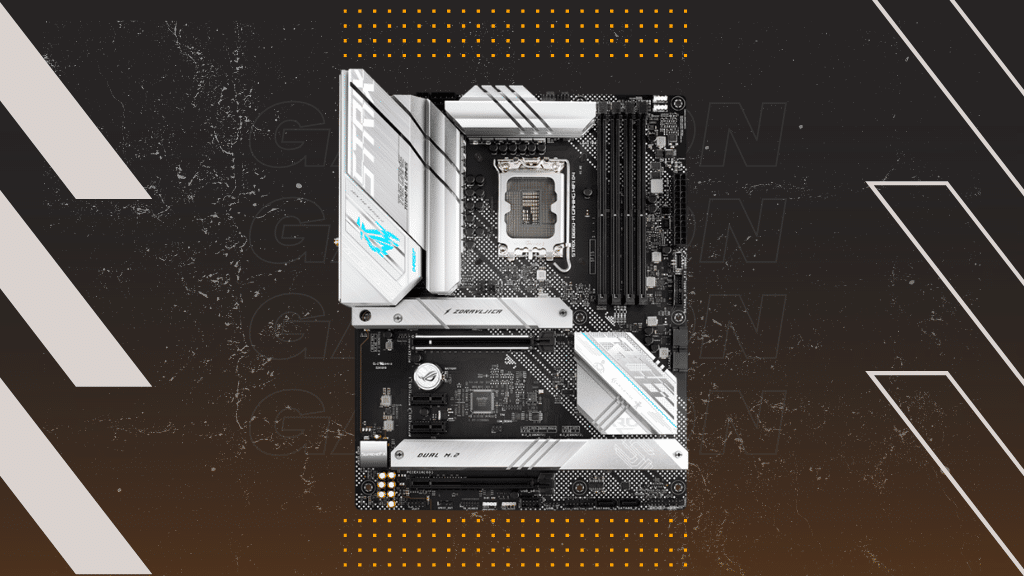 Socket: LGA 1700 | Form Factor: ATX | Memory Type: DDR4 | Memory Speed: 5333MHz | Max RAM: 128GB
Supports latest PCIe standards
Excellent audio
Decent connectivity
Expensive for B660
ROG is synonymous with ASUS' premium gaming-oriented products. The third of our B660 motherboards is evidence that premium exists on several tiers. It has class-leading features like compatibility with future PCIe 5.0 graphics cards and the latest audio codec. The price you have to pay for this is literal as it's the most expensive board in the B660 lineup. While you might not be tempted now, buying the board may become a good idea once prices drop.
White case owners rejoice, for this motherboard was made to be shown off. It's quite the beauty with a strong metallic presence in the heatsinks and shrouds. The PCB is black and dotted with arrays of white squares that give it a busy yet orderly look. RGB areas on the I/O shroud and chipset heatsink enrich the two-toned experience with millions of colors.
Let's address the bottom half first, as that's where you'll encounter most of the board's advantages. It only has two full-length GPU slots. The upper one has metal reinforcements and works with the latest PCIe 5.0 standard. Since the cards releasing later this year still use PCIe 4.0, it's evident the board is in it for the long haul.
The implementation of cutting-edge technology continues with the fastest storage. This is the first motherboard on the list whose three M.2 slots run on PCIe 4.0. The second one is capped at x2, but that's beside the point. You may complement your fastest disks with four more spacious SATA counterparts.
The Price of Excellence
The VRM lags behind our top two picks. It is similarly teamed and adopts a 12+1 setup. However, the Vcore phases only carry 55A each from the 8- and optional 4-pin EPS connectors. The resulting 660A is an OK result by Alder Lake standards and more than enough to accommodate an i5-12600K, for example.
Cooling expansion doesn't hold a candle to the Master's potential since the Strix only has four system fan headers on top of those reserved for the CPU and water pumps. On the other hand, three addressable RGB headers and one specifically designed for Aura Sync compatibility place it above the competition. Other noteworthy internals include USB-C, Thunderbolt, and USB 3.2 headers.
The premounted white I/O panel comes with easy-to-read labels and plenty of utility. The nine USB ports include 20Gbps USB-C as well as a USB 3.2 Gen 1 USB-C connection on the audio stack. Speaking of, the implementation of ALC's new 4080 codec makes the B660-A Gaming WiFi D4 all the more tempting for audio enthusiasts.
DisplayPort and HDMI cover iGPU connectivity, while 2.5G Ethernet and WiFi 6 antennas facilitate online connection. There's even a BIOS flashback button usually reserved for overclocking-focused Z690 boards.
GIGABYTE B660 Gaming X AX
Socket: LGA 1700 | Form Factor: ATX | Memory Type: DDR4 | Memory Speed: 4400MHz | Max RAM: 128GB
Among the more reasonably priced B660 options
Supports three M.2 drives
Substantial heatsinks
No USB-C on the back I/O
Our second Gigabyte pick might be the best B660 motherboard for users who want to get everything out of their mainstream Alder Lake chip without heavy financial investment. It's not as sophisticated as the Master, but that's OK given the audience the board tries to capture. Many won't even feel the differences and will be glad to put the $20-$30 savings towards other components.
Gigabyte's B660 boards share several design elements, like the focus on a lot of space-expanding grooves or the gunmetal gray accents. It's evident that the Gaming X is the cheaper version since there are no covers for two of its three M.2 slots. There's no sign of RGB either, meaning you'll have to get some yourself to bring the bling.
VRM-wise we've got a serviceable if unremarkable package. Ten phases are there in an 8+1+1 configuration. This is a noticeable step down from the Master and best for non-K i5 CPUs like the 12400. Whichever CPU you slot in there, its surroundings won't become toasty due to the thick and able heatsinks covering the VRM area.
While only the M.2 slot closest to your graphics card is covered, three in total cover high-speed storage needs adequately. The setup is identical to the Masters in that all three slots accept long drives, with the bottom one only able to reach PCIe 3.0 speeds. Four SATA plugs are another similarity, as is the lack of SATA support on the M.2 front.
Scaling Down
Cost-cutting resulted in a decrease in available cooling headers. There's one less system fan header, and only one other header is a hybrid. The USB-C header for your case is state-of-the-art Gen 2×2, which is good news since it's the only kind of USB-C the board supports. Standard USB 3.2 Gen 1 and USB 2.0 headers are also present.
There are two versions of this model. We chose the AX one since it comes with WiFi 6 and Bluetooth, but you can always rely solely on the 2.5G Ethernet jack if you're looking to save even more. No USB-C in the back is a shame, especially since it's all but certain to replace older standards in the coming years. Eight conventional ports aren't bad for the price, though.
The optical S/PDIF out you'd usually expect has been replaced by a sixth analog connection. Gigabyte doesn't specify which codec the Gaming X uses, only stating it's Realtek ALC. Users who don't want to invest in a discrete GPU may choose between HDMI 2.0 and DisplayPort 1.4 when connecting their monitors. Be sure to get a CPU without an F in its name if you're one of them.
MSI MAG B660M Mortar WiFi DDR4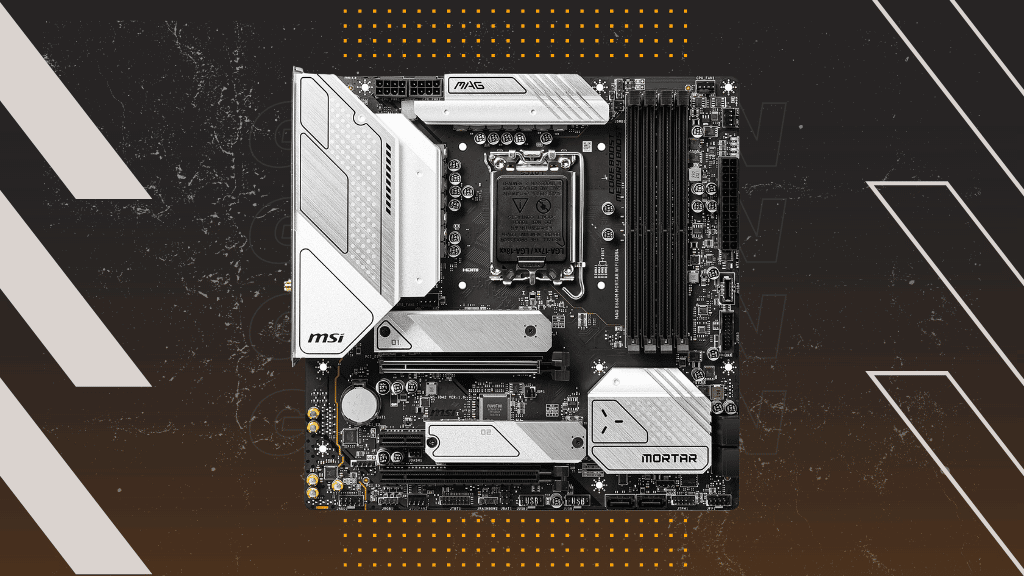 Socket: LGA 1700 | Form Factor: Micro-ATX | Memory Type: DDR4 | Memory Speed: 4800MHz | Max RAM: 128GB
All the mobos discussed so far were ATX, but what if you need something smaller? The current crop of B660 ITX models is either too expensive or has limited functionality, so we turn to Micro-ATX as the next best thing. There, MSI's Mortar establishes its dominance through excellent VRM, high-grade audio, and a sizeable selection of connection options.
The Mortar is more reminiscent of MSI's older military-themed models than the Tomahawk. It's less flashy than its urban camo-inspired predecessors. Even so, the black outlines, brushed texture, and indented circles seen on its silver heatsinks make for an engaging visual experience. You'll have to augment that experience with additional LED purchases since RGB is not on the menu.
The Mortar is the best B660 motherboard if you're looking for an excellent mix of size and VRM prowess. Its phase assembly is on par with the Tomahawk's, featuring 60A 12+2 teamed power stages and two 8-pin EPS connectors to draw power. We'd go for a more advanced LGA 1700 board that has overclocking, but nothing about this one's build quality or performance is a deterrent if you want to go for a stock i9-12900K.
A Compact Balancing Act
Conversely, the Mortar's comparatively limited current-gen storage support might be put off some users. Ditching the third M.2 slot was the steepest price it had to pay to conform to the smaller form factor. The loss is somewhat offset by six SATA ports ready to take on older storage hardware. Using two NVMe drives places comes with no lane limitations, giving you potential access to eight drives.
The Mortar is another model that doesn't go all out in the PCIe department. Its top x16 slot is the only viable one for GPUs at PCIe 4.0, while the others are PCIe 3.0 x4 and x1, respectively. Both M.2 drives can tap into PCIe 4.0 x4 speeds, however.
Cooling headers are the second category to take a hit due to mATX constraints. Only two remain for case fan connection, so choose wisely. The internal USB headers offer a standard spread of case connections, and we're glad that the LED-based debugger also made it in.
Nothing stands out about the I/O, except maybe the white of its integrated plate. Ports follow a functional layout starting with four USB 2.0 plugs and video-out through HDMI & DisplayPort. Then we arrive at the modern part of the USB selection consisting of 20Gbps USB-C and three 10Gbps Type-A plugs.
Above them is a 2.5G Ethernet jack followed by two WiFi 6 antenna connections. Lastly, the 5+1 audio stack uses the ALC1200 codec, one of last-gen's more upscale implementations.
ASUS Prime B660-PLUS D4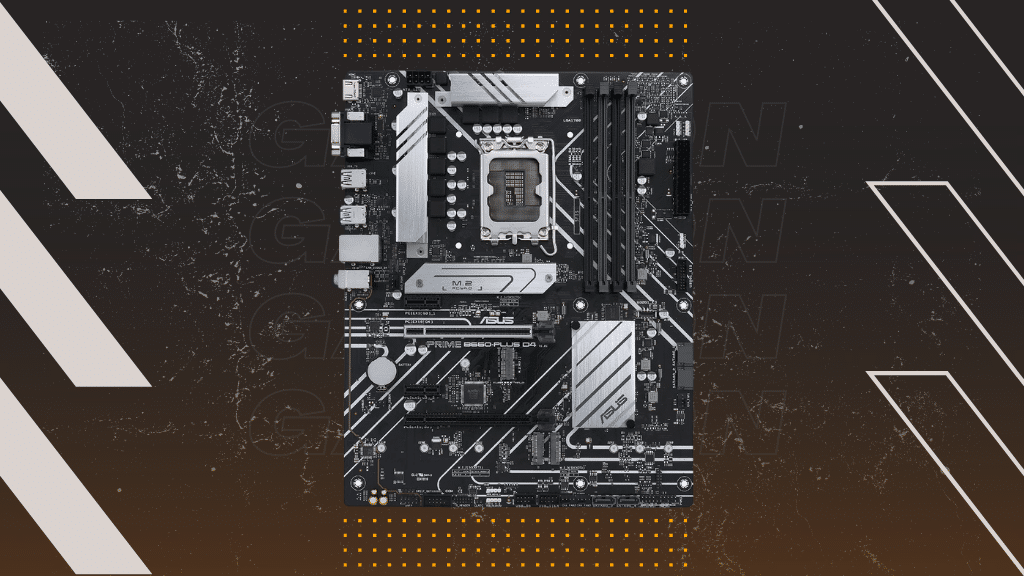 Socket: LGA 1700 | Form Factor: ATX | Memory Type: DDR4 | Memory Speed: 5066MHz | Max RAM: 128GB
Three M.2 slots
USB-C for the front and back
Can be expanded for WiFi capability
Lackluster VRM and audio stack
ASUS likes to cover its bases, so occupying places on our list with the cheapest and most expensive B660 motherboards isn't particularly surprising. Unlike its more upscale counterpart, the Prime B660-PLUS D4 targets the entry-level segment with attractive pricing and features that reflect it. Basics like three M.2 drives and diverse connectivity are covered. However, you'll want something beefier for Alder Lake K processors.
One look at the Prime B660-PLUS D4 is enough to relegate it to a lower tier than the ROG alternative. There's no I/O shroud, and you must screw the associated backplate yourself. The PCB is black and decorated with sets of winding parallel lines. These and the sparse silver heatsinks offer a welcome visual diversion on what would otherwise be a bland board.
Based on storage potential alone, the Prime is a steal. It keeps pace with our frontrunners, offering three M.2 slots and four SATA plugs to boot. Of course, heatsinks are among the first to go when cutting costs, so only the topmost drive will be protected. Better yet, you can take advantage of PCIe 4.0 transfer speeds regardless of drive.
Restricting the GPU slot count is an even more sensible cost-cutting measure. The board only comes with two, which is one more than the vast majority of users will need anyway. Fortunately, the top slot is both reinforced and primed for PCIe 4.0 graphics cards of the future.
Alder Lake for Everyone
Not everything about the Prime B660-PLUS D4 is so rosy, though. Its VRM is the least developed on the list, consisting of only 6+2 phases. While that's enough to comfortably support any i5 Alder Lake CPU, fewer phases mean that each needs to work and heat up more. Heat won't be a problem due to cheaper CPUs' lower power consumption and the small yet thick heatsinks that draw heat away from the area.
The internal connection spread is another mix of highlights and cutbacks. Three addressable + one Aura Sync header are among the former, along with front panel USB-C and even a Thunderbolt header. Conversely, only three fan headers are available. There's also the matter of WiFi. It's not integrated into the board, so you have to purchase an adapter and connect it to a separate fourth M.2 slot.
It's reassuring that 20Gbps USB-C made its way even on this affordable mobo's I/O. In an amusing display of coexisting technology, it sits close to a VGA output for legacy monitors. You may hook two more up using HDMI and DisplayPort. Five Type-A ports of various generations provide connectivity for external devices & peripherals. That leaves 2.5G Ethernet and a disappointing audio stack with only three analog plugs.