Rocket League has got a massive boost to its player base lately, and everyone wants to be the next Cristiano Ronaldo and Lewis Hamilton's chimera. If you're going to be the very best, there's something else you need besides a beastly computer, driver's license, and the urge to pursue your dreams: a controller. And do you know what the best controller for Rocket League is? We do.
Best Controller for Rocket League
1. Microsoft Xbox Wireless Controller
2. Playstation DualSense Wireless Controller
3. Razer Wolverine Tournament Edition Controller
4. Steam Controller
5. Nintendo Switch Pro Controller
There are a lot of amazing controllers for Rocket League to start wheeling the ball through the net. But Hick's law states, the more options available for the users, the longer time it will take for them to make a decision. So we want to ease the burden of your decision by listing all the positive, negative points, and particularities of five specific controllers.
No fanboyism here. Each controller is from a different brand, but our impartiality will prevail because we want you to have fun, be comfortable playing, and become a wealthy professional. Because then it will be our time to collect royalties.
Needless to say, this guide is about the best controller for Rocket League PC players because if you play it on a console, you should fancy their native controller. Also, even though Epic's official site states only a couple of controllers works in Rocket League, we assure you all listed here works.
But there's a catch. After Rocket League went to Epic, things got a tad complicated. Besides needing to update some controllers' specific firmware before leaping into the field, Epic Launcher doesn't officially support controllers.
We won't teach in detail how to make the controllers work, but know that one of the best workarounds is to add Rocket League, or the Epic Game Launcher, as a non-steam game on Steam. Valve's launcher supports most controllers, so it will do the magic that Epic can't. If you already have Rocket League on Steam before it's left, be glad; no workaround is needed. With that out of the way, know that we did thorough research, so you don't regret your final buying decision and neither sue us for misinformation. Please, don't sue us.
1. Microsoft Xbox Wireless Controller
First off, if you play on Windows, what can go wrong with buying a Microsoft controller, right? Apparently, some things. So let me start listing why you should grip your beautiful hands on this sculpted surface if you aim to do a hat-trick in every single game.
If you plan to play a lot, you need comfort, and the Xbox gamepad design is ergonomically made just for that. And have you felt its surface? It has smooth tactile textures like it's been bathed in milk moisturizer since birth. The elevated geometry also makes the handling comfortable, allowing long hours of gameplay to perfect your dribbling. Players used to play on Xbox will recognize that familiarity but with improvements worthy of the new generation.
Also, even though the controller is the same size as its granddaddies, bumpers and triggers were redesigned with a rounded style that is easier to reach if you have small hands, so you don't have to stretch much when air rolling with your flying car. The only downside button is the Share. While it's fantastic to screenshot your highlights on the go or eternalize you ramming your enemy into destruction, the button position makes its access a bit difficult and can thwart your fine moments. Like taking a picture on a roller coaster, it seems nice in theory, but the trembling and the risk of losing your cellphone are always there to annoy you.
On the good side, we have a wireless adapter that can connect up to 8 Xbox Controllers at once! Oh wait, actually, it's not that good. The wireless adapter, which accompanies the controller, seems wonky and inefficient. Plugging the adapter directly into the PC will lead you to frustration. Windows is known to be relatively inflexible with new hardware, so before using the adapter, you will have to update the firmware by searching for the Xbox Accessories app in the Microsoft Store. Only then will the adapter start working according. If you can't update the firmware by any chance, you can rely on Bluetooth or even a wired connection, even though that is a bummer.
Now, on the actual good side, Xbox Controller has custom controller profiles, which means you can remap all the buttons to match Rocket League professional players' mapping to understand what trick of the trade they use to get on top. Ultimately, it's really up to you to decide what mapping makes your playstyle comfortable, but I must confess, air rolling was a move I never used, and once I learned how to, nothing changed… cause I suck at the game.
I know we are talking about Rocket League, but a player can play many games, right? With the Xbox Controller, you can quickly pair and switch between Windows 10, Xbox consoles, and Android. No more plugging or pairing every time you want to relax playing puzzle games after another 7×1 overwhelm loss. I will never forget…
Xbox Controller worst part? AA batteries in 2021. Make sure you buy rechargeable ones, so you manage to save money or play with the USB-C connected all the time.
---
2. Playstation DualSense Wireless Controller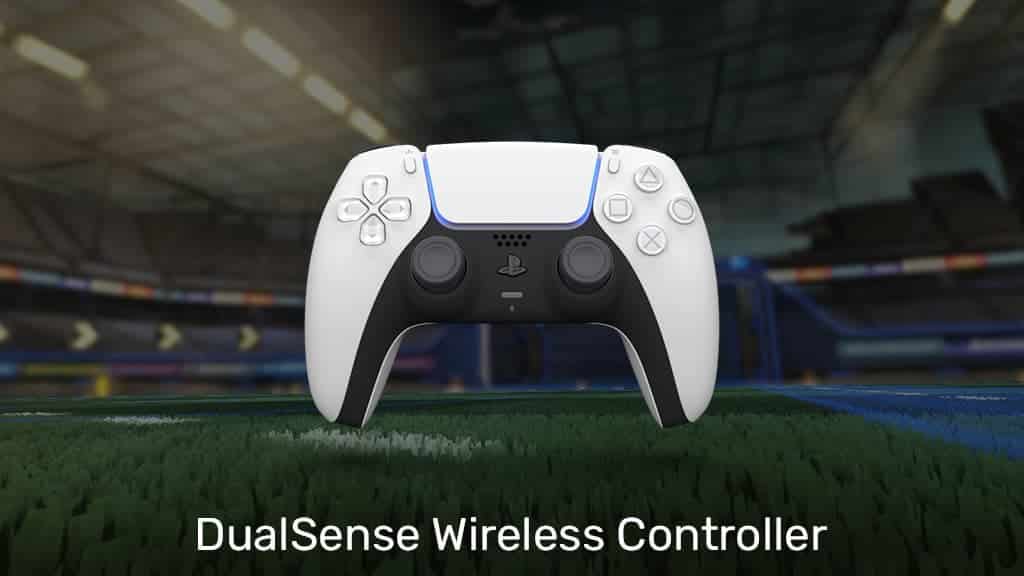 Extremely sturdy design
Built-in mic
Haptic feedback
Battery life
It's not unusual to see players stating that PS5's best innovation is its controller. With the haptic feedback and the adaptive triggers that make you nervous, as if you were really shooting at people in WW2, the DualSense experience truly exceeded console players' highest expectations.
However, it's important to note that said features don't work perfectly on a PC at the time of this writing. While the haptic feedback works on some of Steam's games, primarily former PlayStation exclusive, and on Spotify (after checking some boxes in configuration), Rocket League is originally a PS4 game, so even the console doesn't provide all its features yet. Keep in mind those features are on the innovative spectrum of the controller, and while they heighten your gaming experience quite a lot, the DualSense is still a spectacular option if you fancy a Rocket League controller.
For instance, the PS4 Dualshock is a fantastic controller, but compared to the DualSense the former looks like a third-party controller, like a toy you would give your younger brother just to let him stop bugging you to play. The DualSense is heavier than others listed here and slightly bigger, but that doesn't prejudice its quality or comfort. Overall it's better built for your grip.
Actually, it's so well designed that the D-Pad is top-notch. Unfortunately, for Rocket League, that just means you will be spamming $#@%! faster whenever you fumble. The analog has loosened up a bit, at the point where players thought their purchase was from a pre-used controller, but they are overreacting. The analog flow nicely around your finger, and the input response is faster due to that, something you will certainly enjoy in a fast-paced game like Rocket League, where a slight tilt to the side can make or break your match.
The buttons are flatter than their predecessor, giving the feeling that the response is faster. Bumpers and triggers are pretty much the same and since the adaptive feature isn't present, expect the trigger resistance to be somewhat pointless. And let's not forget the big elephant in the center of the controller, the touchpad. It just lies there, minding his own business of doing nothing because it does precisely that. The Create button will create whatever you configure it to.
It has a built-in battery, and, IMHO, it's a mandatory feature nowadays. No one wants to be kept from playing just because they forgot to buy batteries or don't have a cable lying around. You can charge the DualSense with the USB-C to USB-A cable in any hole you can plug it on, especially if it's one powered by electricity. Also, the built-in microphone and headphone jack work on PC. But if you're not playing with your friends, using a microphone in a random match is like listening to The Four Horsemen bringing armageddon on Audible. Online people can be cruel.
If history tells us anything, it is that DualSense support is getting better with time. At first, most games barely recognized the controller, but now, even haptic feedback functions somehow. So you can either wait to see if the DualSense entire roster of features will be carried over to the PC or just buy it to use for what it offers today. Either way, you are in for an excellent investment, one you shouldn't worry about if you desire to ride to glory in Rocket League with a controller.
3. Razer Wolverine Tournament Edition
The Razer Wolverine Tournament Edition's biggest asset is that the controller was made with Xbox and PC in mind, so you don't have to worry about any features not working appropriately. However, while still designed with a PC in mind, you need to install one software to fully enjoy all the controller offers.
First of, the design. Beautiful craftsmanship. If there's something most controllers exceed nowadays, it's their on-point aesthetics. It's incredible to see your controller lying on your desk exuding vogue. Its appearance is quite similar to Xbox Wireless Controller but sharper at the edges. The green details at the D-Pad give an extra flair to it, and the controller comes equipped with the Razer Chroma RGB to lighten up those golden hands of you, which will boost your team to the Rocket League's world cup. Razer rubber grip also prevents your hand from slipping; just make sure to not eat too many Cheetos while playing.
Buttons are amazingly responsive and suave. A light tap and your command go through. Triggers and bumpers are pretty regular within a comfortable reach. However, the four extra paddles are where the controller shines. Two located at the top of the controller and two at the back, entirely remappable. You can change your playstyle, response time, and car maneuvers with these additions. Sometimes pressing two triggers to roll left isn't quick enough to defend that one overtime shot, but with the paddle, your spin will be faster than Zangief on steroids. Keep in mind the extra triggers on the bottom aren't mechanical, so besides being in a kind of awkward position, they aren't so simple to press.
Ok, great, so now I have to press a trigger and one of the paddles to fast roll? That isn't fast, more like a hassle. That's why this controller comes with the hair-trigger mode! You can activate it to its corresponding trigger side at the back of the controller to cut in half the trigger input depth, so the responses are way faster. Slightly pressing the trigger while the mode is activated will launch full rapid fire. Just remember to turn it off if you change to an FPS game, or you will be killing your teammates before they can say "ouch."
Unfortunately, if you like to play on a wireless controller, this isn't the one. You will need to play with it plugged into a power source, and the power cord is long, so you don't have to glue yourself to the screen—however, more cable means more pet accidents when they trip over it. Also, as stated above, you need to install one software to rebind controls and enjoy some features. It's the Razer Synapse, easily found on their official website. While the controller is intended to be plug-and-play, you will undoubtedly boost your gameplay even more with the software.
4. Steam Controller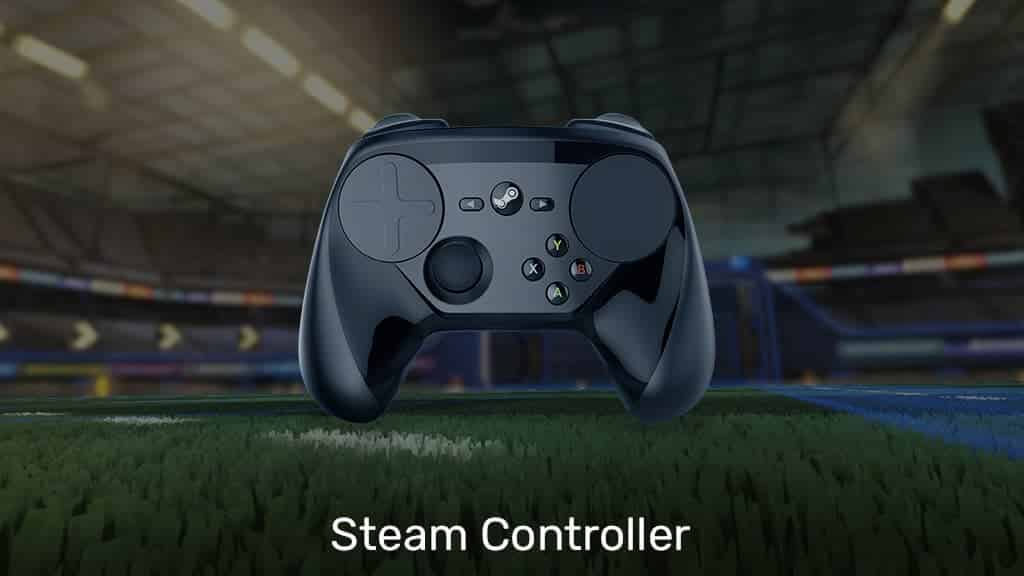 At first glance, the Steam Controller is pretty weird looking. At second glance, it still is, but once you understand how it works, you will be fascinated. However, let me start by saying something: the Steam controller does wonder, for Steam. If you have Rocket League on it, rejoice and ignore the following sentence. If you don't, there's that little workaround to be done I mentioned in the intro. If you want to wholly enjoy the controller, and if you have the patience to configure it, it can be one of the best Rocket League controllers in the market.
I don't wanna dwell on the design too much because it's not flashy or attractive like the competition. It does have its appeal, but it probably wouldn't easily win a beauty pageant. The flat D-pad on the left is just that, flat. The face buttons feel tightly close, but they work well. Even though face buttons seem compacted together, they have been positioned by frequency of use, and it's magically comfortable and ergonomically approved by the player's wrist.
Now, what's that sort of velcro on the right? It's the gyro movement. You can configure it to work as a steering wheel, to move around the camera as a second analog, or as a mouse, more like a touchpad. It works seamlessly and fulfills its function of merging the mouse with a controller that Steam advertises. Of course, a mouse is more precise, but don't look a gift horse in the mouth. Or do, if you paid for the horse.
Aside from the dual trackpads, back grip buttons, and dual-stage triggers, the inputs are totally customizable to the point where pressing A can make B exchange its command. The dual-stage triggers can be used as analog or digital, and both stages can act independently. Of course, you require a precise mastery over your fingers and buttons coordinance to evoke this feature, but I know you have it in you.
Where DualSense left something to be desired, the Steam Controller delivers. It comes with HD haptic feedback. You feel the controller vibrating in different positions according to the activity that is taking place. While the technology is not as refined as the PS5, it at least works.
However, there are downsides. Holy hell, it's expensive. You can buy 2 or even 3 other controllers with this price tag. If you intend to invest in playing several games on Steam, then it's assuredly your money's worth. If not, it will depend a lot on your savings. But have no doubt that this controller is terrific, even more so when you can adjust the controller schemes to amp up your Rocket League game.
5. Nintendo Switch Pro Controller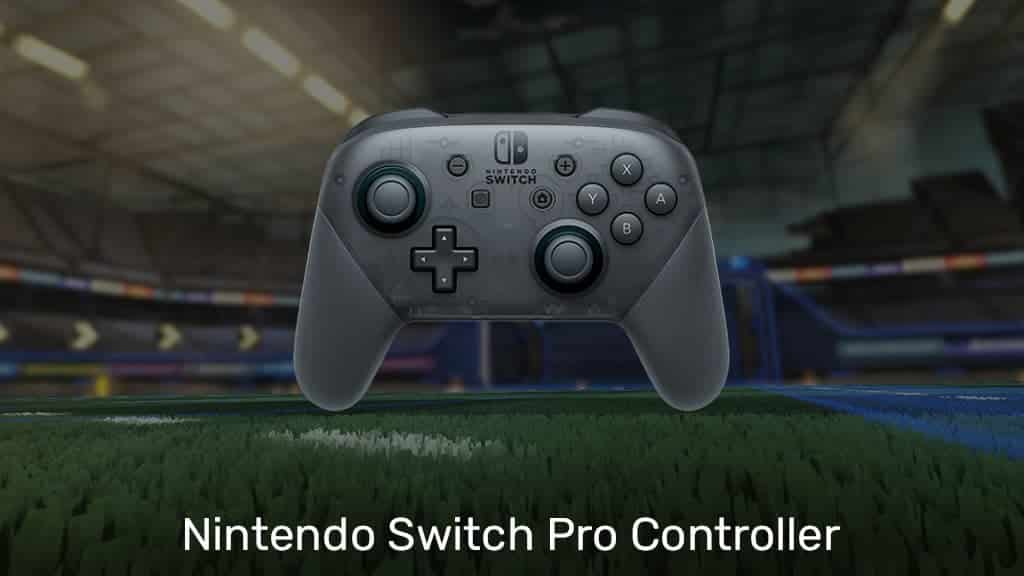 No products found.
Here it is our final controller among the best controller for Rocket League. Nintendo Switch Pro Controller is the sole definition of simple yet efficient. If using Steam as an intermediate, just plug the controller on the USB port or pair via Bluetooth to make it available.
This is the best controller to play Rocket League on Switch; that's a no-brainer. So far, we are considering you're a PC player (writes down another article idea: best system to play Rocket League). That is to say, the Pro Controller overwhelms the Joypad any day in Rocket League in case you are older than seven.
The trigger can make your life a bit difficult because it functions like a button. That is, you can't control the trigger intensity, it only operates as fully pressed. If you just want to slow drive to have better control in dribbling, you will need to lightly tap the trigger so that your vehicle doesn't burn out and throw the ball into space thinking you are playing baseball. Other than that, the buttons are pretty straightforward, friendly, and manageable.
Battery life is incredible! While you may play it plugged, you can opt for wireless and be comfortable knowing you won't have to recharge it for quite a while. The battery can last up to 40 hours, reducing its duration through usage time, and takes 6 hours to fully recharge, easily done when you are resting and massaging your wheels to take on the next opponents.
Nintendo's price tag is well-known for not being so favorable, but in this case, it is. Just make sure you aren't buying from a third party or a scalper, or else the price will skyrocket. However, Amazon doesn't show the price until you add the item to the cart due to their policy, so we disclaim this analysis if the price randomly waves. In conclusion, there isn't any remarkable innovation in the Switch Pro Controller, but if you aren't looking for any and just want to swap the keyboard/mouse for a controller, then it's a good call.