The mouse and keyboard combo is in many ways an ultimate extension of a player's will. PC gamers take their superiority in shooters, MMOs, or strategy games as a given. Still, controllers are more than welcome on the platform and come with their own benefits. It's time to get the best controller for PC and start enjoying games like Elden Ring the way the developers wanted you to experience them.
The three console giants have decades of experience designing awesome controllers, so it's no wonder their current offerings made it onto the list. However, third-party manufacturers make for a stiff competition with aggressive pricing and innovative features. We bring eight of the most distinguished controllers around with enough info on each to help you make an informed choice.
Our Picks for Best Controller for PC at a Glance
Microsoft Xbox Wireless Controller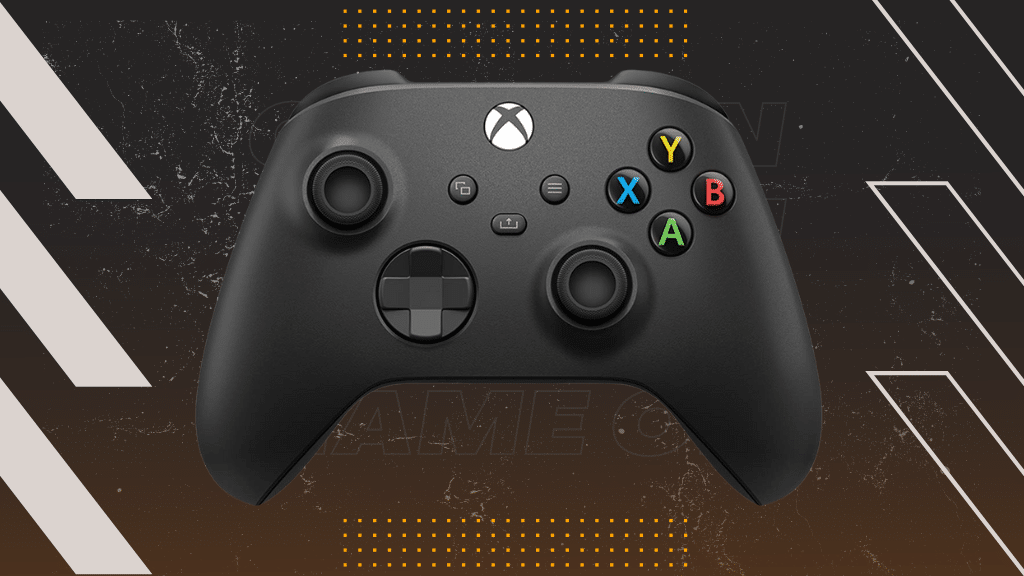 Layout: Xbox | Connection type: USB-C, Bluetooth, wireless adapter | Headphone jack: Yes | Battery: Yes, AA
The newest iteration of Microsoft's wireless controller might have the same name, but it's a marked improvement over the Xbox One version. It has several welcome ergonomic tweaks and boasts excellent build quality at a more than acceptable price. Most importantly, it's a plug & play controller that Windows recognizes immediately and without a hitch.
Gamers familiar with older Xbox controllers will immediately recognize the new model's contours. Even so, Microsoft implemented several subtle tweaks to make it more accessible. For example, the paddles and triggers are slightly smaller, so the controller is now better suited for younger players and those with small hands. It's firm and has some weight but doesn't feel too cumbersome for longer play sessions.
The new Share button allows you to capture crucial moments and let your friends know about your unmatched ganking skills. A single press takes a screenshot, and holding the button down records a 15-second video of the action. The button's placement isn't ideal, so you might not be able to reach for it in the heat of the moment reflexively.
A Seamless PC Experience
Improvements continue with the texture, which is now grippier and more pronounced without being rough on your hands. The buttons and analog sticks remain dependable, but the most significant changes happened on the D-pad. It wasn't the best before but now sports a hybrid design reminiscent of the Elite Wireless controller. It retains four main directions but is easy to press diagonally too.
You can connect the Xbox Wireless Controller through the supplied USB-C cable or use Bluetooth if your motherboard supports it. If not, there's a PC-friendly bundle that includes a wireless dongle with excellent range that makes for interference-free gaming. The controller runs on two AA batteries, which provide around 40 hours of gameplay. You may also want to invest in a battery recharge pack to not have to buy disposable ones anymore.
PowerA FUSION Pro 2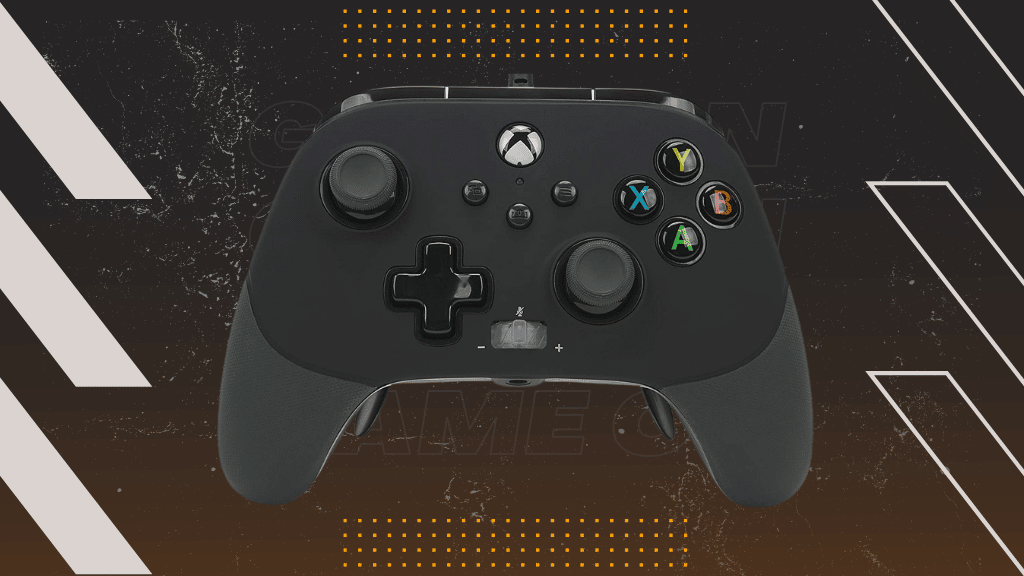 Layout: Xbox | Connection type: Wired | Headphone jack: Yes | Battery: No
In-depth customization options
Comes with additional paddles
Has volume controls
Wired only
Do you like tinkering with your controllers by changing their look or tailoring the controls to your needs? In that case, the FUSION Pro 2 from PowerA is the best controller for PC you can get. It's ergonomically sound, built to last, and has a degree of modularity only the Elite comes close to.
The Pro 2 adopts an Xbox One controller's layout and general shape. Its standard top plate is matte black, and the sides are textured so you can grip the controller naturally without slipping. It's possible to snap the top plate off since only magnets hold onto it. You may then replace it with a white top that has stylish green rims around the analog sticks.
While the top is off, you may also replace the sticks. If you're the type who plays first-person shooters with a controller for some reason, this will come in handy to deck the Pro 2 out with sniper thumbsticks.
Customization continues with the triggers in the back. Switches next to each let you define their travel distance individually. That way, racing games like Forza Horizon 5 will benefit from long & gradual squeezing while limiting their movement improves the triggers' rapid-fire capabilities.
Superb for Players and Tinkers Alike
The Pro 2 comes with a detachable pack of paddles that snap into place next to each handle. They jut out a bit more than similar paddles on the Elite controller and provide four more controls. Some people will love this, especially if they like playing MMOs like Guild Wars 2 on controllers. We welcome the addition but don't see much use for it.
Volume control on the controller itself is an innovation we wish other manufacturers would implement. Apart from being able to plug a headset into it, the FUSION Pro 2 lets you change or mute the volume along with the mic.
Lack of wireless connectivity is the controller's only drawback. It does come with a 10-foot cable, but some users who enjoy PC gaming from their couch might find it too short.
8BitDo Pro 2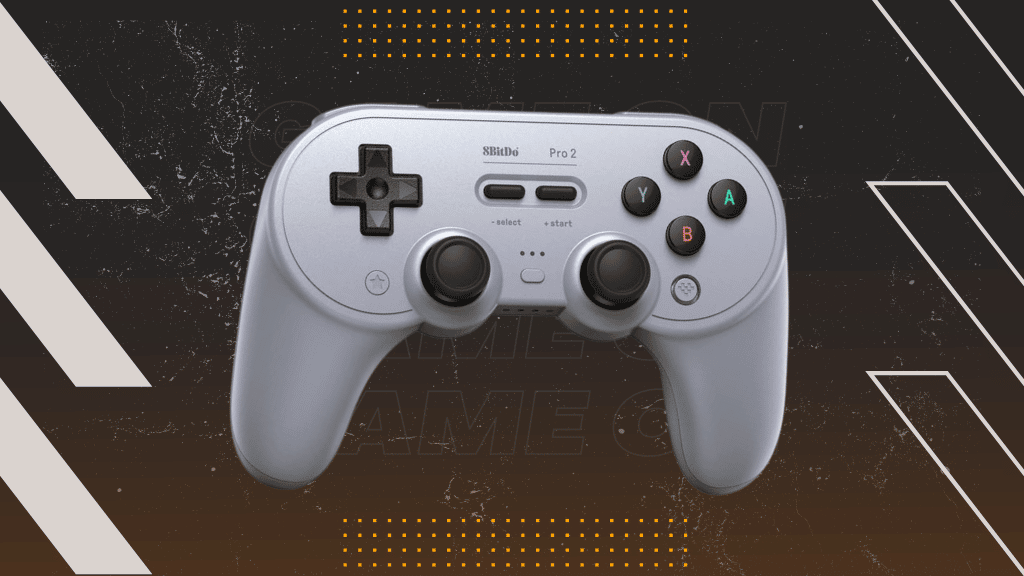 Layout: Xbox | Connection type: USB-C, Bluetooth | Headphone jack: No | Battery: Yes, rechargeable
Who would have thought that one of our best pc gaming controller picks would develop out of a salute to Nintendo controllers past? Not to be confused with PowerA's model, the 8BitDo 2 is a highly versatile gaming instrument you'll love to use not just for computer gaming but for your Android or Switch as well. It's reasonably priced and comfortable to hold, sweetening the deal further.
The Pro 2 has evolved from 8BitDo's SN30 and SN30 Pro, which are reminiscent of the SNES and original DualShock controllers. 8BitDo hammers the point home by offering its models in the originals' color schemes.
The colors might be old-school, yet the layout is anything but. The Pro 2 adopts the button layout of the Switch Pro Controller while adopting Sony's practice of keeping the thumbsticks parallel. The Start, Select, & Share buttons retain their Switch positions, while a new Profile button piques our interest.
The triggers are responsive and springy, and the bumpers don't feel cheap. You'll also find two buttons labeled P1 & 2 on the grips. These are customizable to either mimic any other control or execute macros. The Pro 2 has a built-in gyroscope, so playing Breath of the wild or any other game that benefits from the technology is as natural as a first-party controller.
A Blast from the Past
You access customization options through the excellent 8BitDo Ultimate Software. While physically static, the software gives the Pro 2 much more mapping freedom than you'd get from PowerA's FUSION. You can remap almost all the buttons, set up macros, adjust your rumble preferences, and even switch out the D-pad & thumbstick controls.
Even the connection options are versatile. You may play wired or wirelessly over Bluetooth with excellent connection stability. The accompanying battery pack is rechargeable, and you can replace it with regular AAs if you want.
There's nothing about this controller that would warrant genuine criticism. Some of the originals are built better, but they're also slightly more expensive as a result. As there are no noteworthy complaints, we're slightly dinging the Pro 2 for not having a headphone jack.
Xbox Elite Wireless Controller Series 2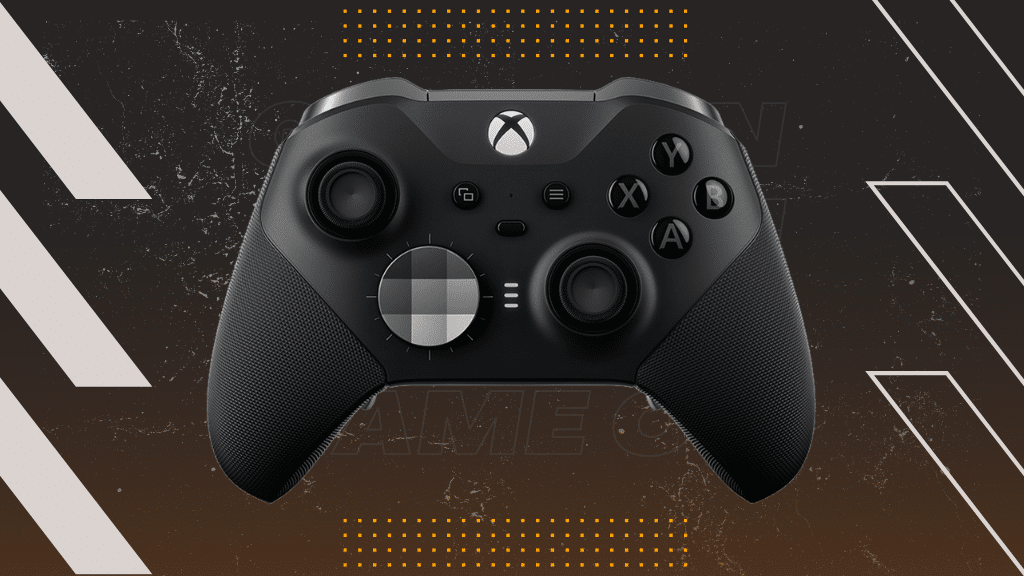 Layout: Xbox | Connection type: USB-C, Bluetooth, wireless adapter | Headphone jack: Yes | Battery: Yes, integrated
Superb ergonomics and grip
Comes with several interchangeable parts
Has a handy carrying case with charging support
Expensive, inconsistent quality
The first Elite Wireless Controller made a big splash in 2015, and a substantial improvement arrived four years later. The series 2 is still a worthy contender, touting premium build quality, effortless charging, and lots of physical extras as its main advantages. Were we back in 2019, it could have easily snagged the title of best PC controller. But times are changing, and the competition never sleeps.
There are few outward changes to the Series 2's physical appearance. Holding it reveals more heft than on standard Xbox controllers, and the textured sides are a joy to grab onto. The triggers are some of the most responsive we've seen and come with three adjustable actuation points. Tools accompanying the controller also let you dial in each stick's tension for even more precision.
The four side paddles and disc-shaped D-pad are the most apparent innovations. The paddles are implemented better than on the FUSION Pro 2 as they're subtler and more flush with the grips. Microsoft introduced the innovative disc pad Mortal Kombat & other fighting game aficionados will love. It allows for fluid and precise diagonal movements and half or quarter turns for instinctual combo execution.
Pulling Out All the Stops
Don't like the changes? No problem – you get a conventional D-pad along with two convex thumbsticks and a longer one that facilitates precise aiming. The Series 2 also arrives with a carrying case with a practical hole for the USB cable. Its internal battery charges reasonably quickly and is good for 40 hours of use.
We did nothing but sing the Series 2's praises, so why isn't it higher up? It's a costly controller, but the price feels somewhat justifiable if you consider the whole package. Inconsistent quality is this model's Achilles' heel. Yours might work perfectly for a decade, or it might start developing bumper issues and dead zones in a matter of months.
Razer Wolverine V2 Chroma
Layout: Xbox | Connection type: Wired | Headphone jack: Yes | Battery: No
We're pretty deep into the best PC gaming controller list, yet one crucial element has been conspicuously absent so far. We're talking about the mainstay of gaming gear, of course – RGB! The Chroma version of Razer's Wolverine V2 has a healthy dose of it, but that's hardly what makes it best controller for PC material. Superb controls and an innovative layout do.
This is one of many controllers on the list that adopt the Xbox's layout and general ergonomics. The Chroma augments them by shifting its center of gravity towards the middle, so it feels lighter than it is. The handles have a pronounced texture and marked RGB borders shining in millions of colors.
Razer nailed almost all of the Wolverine's controls. It touts the face buttons as being 40% more responsive due to improved actuation. They feel snappier indeed, letting you activate abilities or jump around quicker. The analog sticks are almost as responsive. They come with replacement caps that are easy to screw in and a longer rod you can use to enhance aiming accuracy.
Most of the Wolverine's innovation happens in the back. There you'll find a set of decent bumpers and triggers. The latter have locks that halve their travel time, allowing for hair-trigger responses when you need to unload on your enemies at first sight.
Controls, Controls Everywhere!
The selection of back controls doesn't end there, as Razer included L3 and R3 buttons next to the bumpers. The placement is just right, so you'll get used to and appreciate them in no time. In true pro controller manner, there are also four paddles further down. These bring the customizable control total up to ten but are harder to reach than on the Elite and FUSION Pro 2 due to their central placement.
The Controller Setup software allows you to customize the RGB or turn it off. More importantly, it lets you remap most buttons and create profiles for individual games. You can also set the vibration intensity.
The Wolverine V2 Chroma sounds like an excellent choice, but there are some caveats. It's the second most expensive controller on the list and doesn't feel as premium as the Elite Series 2. There's also the matter of it being wired only. While this guarantees a lag-free experience and means there are no more batteries to mess with, this might turn some gamers off.
PlayStation DualSense Wireless
Layout: PlayStation | Connection type: USB-C, Bluetooth | Headphone jack: Yes | Battery: Yes, integrated
Each new PlayStation generation brings eagerly anticipated updates to the official controller, and the DualSense introduced alongside the PS5 is the most awesome yet. It's not the best controller for PC due to the most innovative features working primarily on the PlayStation. Even so, it's still a masterfully designed controller that will improve your gaming experience if you're willing to take the plunge.
The DualSense is a clear evolution of DualShock 4, sporting a familiar yet elongated body that conforms to your hands much better. The face buttons are now made from glass-like plastic, and the concave analog sticks are much less prone to wear & tear. The triggers are customarily responsive and weighty without being too hard to push.
Sony implemented several groundbreaking features into this controller. Haptic feedback uses many small zones to issue pinpoint vibrations more refined than rumble. Game companies can use this to simulate sensations like falling rain or slogging through the sand. The triggers are adaptive, meaning the effort it takes to use one can vary depending on what you're doing in-game.
Breathing New Life Into an Old Favorite
Along with the headphone jack, DualSense now has a built-in microphone. While it's no replacement for the finest PC headsets, it's a nice feature to have when you're up for some couch co-op. Long-time DualShock users might find the swapped Start & Select buttons confusing at first, but you get used to it rather quickly.
There are two things to consider before getting this controller for your PC. Meager support for haptic feedback and adaptive triggers is the first as only a handful of titles take advantage of it. Poor battery life is more concerning. The integrated battery lasts about 10 hours, which some persistent gamers can drain in a session or two.
Nintendo Switch Pro Controller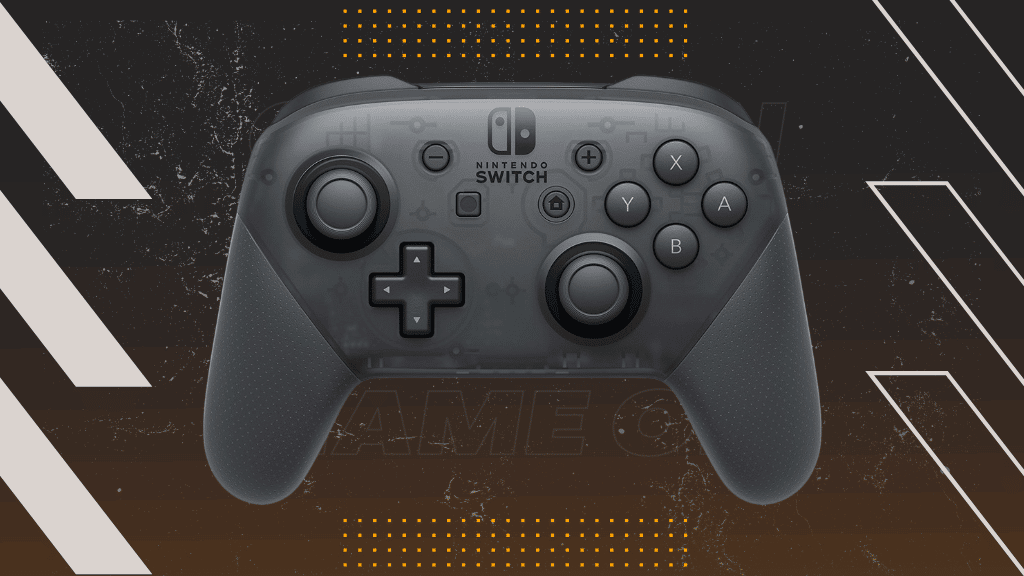 Layout: Xbox | Connection type: USB-C, wireless | Headphone jack: No | Battery: Yes, integrated
No products found.
Switch users who were dissatisfied with their console's cramped JoyCons could finally sigh in relief when the Switch Pro Controller made its debut. Better yet, it's a surprisingly capable model for PC gaming too. The controller used to be more expensive than the competition's first-party offerings, but that's no longer the case.
Unlike the other two models with Pro in their name, Nintendo's doesn't have physically customizable controls. Rather, it's a drastic step up in quality and usability from the JoyCons that ship with the Switch. It adopts an Xbox layout and a similarly round shape stylishly augmented by a vaguely translucent front. Nintendo released many themed controllers over the years, so it's easy to find one with your favorite characters.
Build quality is where Nintendo's controller shines. It has the finest D-pad on the market, which isn't surprising if you consider the company's stellar track record in that respect. The face buttons have a high profile but are otherwise easy to press and responsive. Dead zones are absent from the thumbsticks, and their rubberized concave design ensures precision.
Nintendo's Worthy Upgrade
Nintendo equipped the controller with a USB-C cable and an excellent battery. You can recharge said battery with your phone's USB-C cable, too, if you can't find the original. Doing so takes six hours but nets you a whopping 40 per charge. Take note, Sony!
Using the controller on a PC is a cinch. Steam recognizes it straight away, and games that launch differently don't have trouble with it either. A few titles like Rogue Company even support its built-in gyro, allowing you to supplement aiming by turning the entire controller instead of just the right thumbstick.
The triggers are the only potential thing to complain about. They work fine but have shallow travel, which racing game lovers won't appreciate. The omission of a headphone jack won't matter as much but is worth mentioning.
SteelSeries Stratus Duo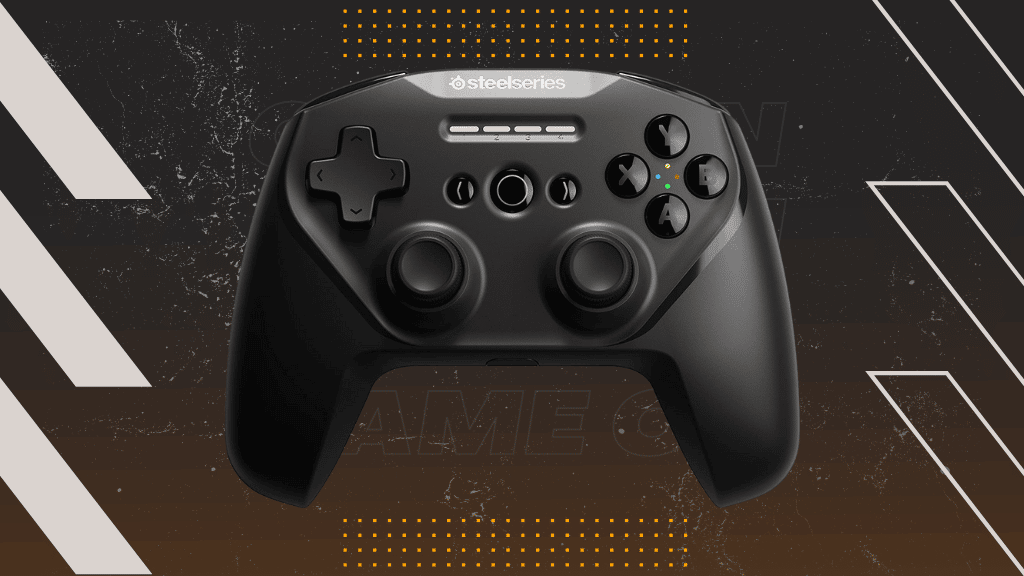 Layout: PlayStation | Connection type: USB-C, Bluetooth, Wireless | Headphone jack: Yes | Battery: Yes, integrated
All the controllers so far were primarily made for one console or other and just happen to work well on computers. It stands to reason that a contender for best controller for PC should be built with the platform in mind, and that's exactly what the Stratus Duo promises. It has a convenient platform switch, is built to last, and offers almost everything you'll need for carefree wireless gaming.
The Stratus Duo won't be winning any controller design awards since it's built for function rather than form. Its body resembles the Switch Pro Controller, while its layout is a mix of Xbox face button mapping and parallel thumbsticks you'll encounter on PlayStation controllers. A bar in the center has four LEDs with varying functions. It can display the battery level, connection source, and how many controllers are active at once.
Split Personality
The Duo in the name alludes to the Stratus' ability to shift between two connection methods. One involves 2.4GHz wireless and is perfect for PC gaming. Bluetooth is more suitable for mobile, as SteelSeries' marketing makes abundantly clear. Couple that with a clip you can purchase to prop your phone up, and you've got the ideal means of Fortnite dominance regardless of platform.
A tour of the Stratus Duo's controls leaves a mostly positive impression. The face buttons are as well made as on first-party controllers, and the thumbsticks have a low concave profile. The D-pad is on the mushy side but reacts appropriately. We're not sold on the bumpers since they're quiet and have short travel. The triggers feel a bit hollow and cheap despite having sensors that last far longer than conventional ones.
For all its talk of connectivity, the Stratus Duo is a restrictive controller since it doesn't work with consoles. It also has no rumble or haptic feedback, which gamers used to this added sensation will rightfully object to.