The first Zen3 chips launched towards the end of 2020 with resounding success. Almost a year and a half later, it's time for a fresh batch to step up and plug the holes in AMD's initial lineup. One of them is the Ryzen 5 5600, a chip that may prove most attractive to owners of AM4 boards & older chips who are itching for one last upgrade. The Wraith Stealth is alright if you want to ensure your CPU functions properly, but it's far from being the best CPU for Ryzen 5 5600X. Let's take a look at some that deserve the title far more.
Our Picks for Best Cooler for Ryzen 5 5600 at a Glance
There's only a 200MHz drop-off in both base and OC frequencies when comparing the 5600 with the X variant. Add a 65W TDP, and you've got a CPU with modest cooling requirements. Our list reflects this while still considering factors like affordability, efficiency, and futureproofing. Whether you're looking for an AIO that will outlast your current system or a bargain bin air cooler, our picks should cover everything.
Cooler Master MasterLiquid ML240L RGB V2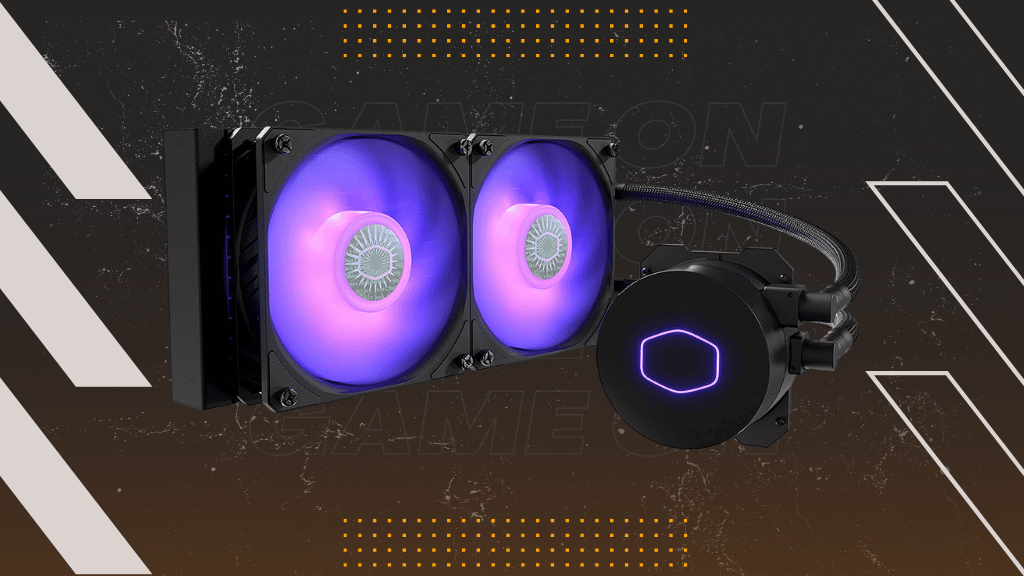 Type: 240mm AIO | Fan RPM: 650 – 1.800 | Fan CFM: 62 | Tube length: Not specified | Has RGB: Yes
Users look at cheap all-in-one water coolers with skepticism. As they should, since anything that brings liquids inside your precious case should have an air of quality. We'd never have suggested you get the original ML240L because it is prone to leaking, let alone put it on top of any CPU cooling list. Cooler Master have learned their lesson in the meantime, as the second version is much more structurally sound & efficient. It comes in at a very reasonable price too, which is always lovely.
Tight sealing all around is the V2's most fundamental improvement. There's no chance of leakage now, not even after prolonged use. But that's just the first step – Cooler master has tackled efficiency on all fronts to make the V2 the best cooler for Ryzen 5 5600 it can be.
While it's another cylindrical model, the pump has received the most attention. Its improvements are twofold. On the one hand, the chambers that keep hot and cold water separate are now larger. On the other, improvements to the motor's design ensure it has enough driving force to keep things moving while being quieter than before.
Improvements to the radiator are subtler but equally important. The fins are longer, and the channels that distribute liquid inside it are wider. That equates to increased heat transfer efficiency due to greater liquid exposure.
AIO Performance at Air Cooler Prices
Previous fans weren't up to the task, so Cooler Master replaced them altogether. SickleFlow sounds so much more badass than MF120R, and they perform better two. The new fans have a decent if not outstanding CFM or cubic feet per minute rating of 62. The high static pressure at which they can do this is noteworthy since it means air will be pushed effectively even if it encounters resistance inside the case.
The addition of RGB is luxurious considering the V2's cost and a feature many gamers are sure to appreciate. It's a bit basic as the LEDs aren't addressable, though. You're limited to effects using one color at a time, but that's still a great deal better than nothing. The V2's lighting works with RGB Fusion and other popular motherboard lighting programs. An old-fashioned button controller lets you cycle between colors and a dozen effects if you'd rather do things manually.
The V2 isn't high up on the 240mm AIO totem pole. However, it's overkill for the 5600 no matter what you throw at the CPU. The AIO can cool some older notoriously hot Core i9 chips without throttling, so a 65W processor like the 5600 will be child's play to handle. It's not jet-engine loud, but there are quieter entries on our list. That being said, you're likely not to notice it over the hum of other fans.
Scythe Fuma 2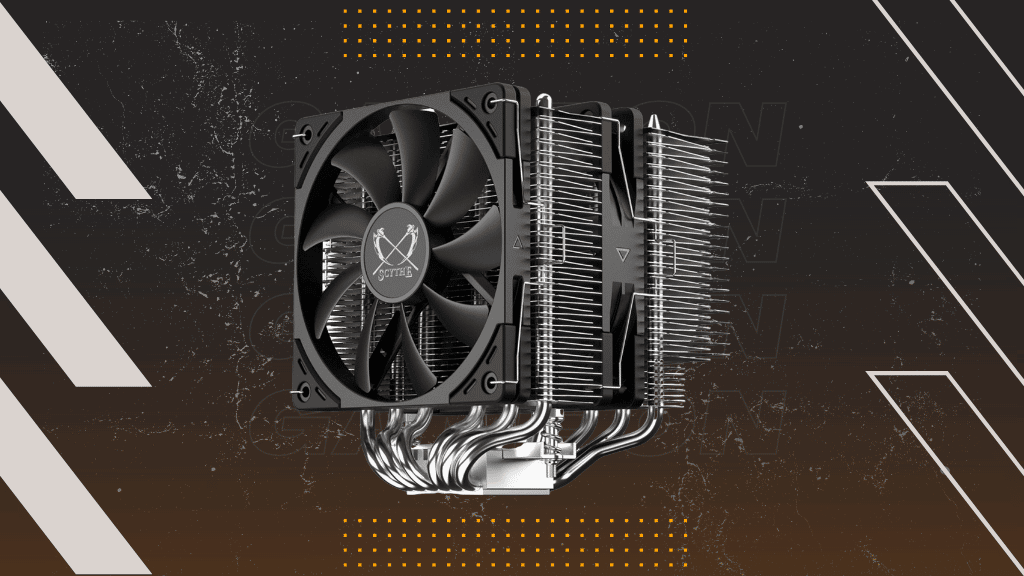 Type: Air cooler | Fan RPM: 300 – 1.200 | Fan CFM: 51 / 34 | Has RGB: No
Almost inaudible
Provides solid cooling for its price
No clearance issues
No RGB
Do you want your 5600 to be cooled as silently as possible without getting unduly hot? Then turn to Scythe and their massive Fuma 2! Well, it's not as gargantuan as some of Noctua's models, but it's an imposing dual tower nevertheless. Expect to pay little for low and stable temperatures, not to mention barely any noise you won't even notice.
We commend Scythe for not skimping on quality while keeping the price reasonable. You'll see it in a million tiny details, like the classy black top fins or nickel-plating that includes the bottom of the base. The twin stacks both hold 48 fins. Each fin is either straight or has sawtooth cutouts. They alternate for maximum air agitation, helping the fans reach their optimum performance.
Speaking of fans, the Fuma 2 has two of varying thicknesses. You'd usually get identical models, but the middle of the Kaze Flex fans is 25mm thick while the outer one is 10mm thinner. They have eleven blades and come with wire clips corresponding to their width.
The throughput is also tied to thickness. The fan in the middle moves 51 CFM of air while the outer one is limited to 34. You may exchange the thinner fan with a regular one or even add a third to the back.
The heatpipes are made from copper but tastefully clad in nickel. They spread out from the base, the frontmost pairs winding at odd angles towards the fins to keep RAM clearance from becoming problematic. The base they converge to has a barely perceptible convex bulge that improves contact with the CPU HIS.
Quieter Than The Size Would Have You Believe
You install the Fuma 2 like you would any CPU air cooler. Scythe provides a generous assortment of accessories, including splitters for the fans' PWM power should your motherboard lack separate headers for them.
A syringe of thermal paste is present, as is a special screwdriver used to fasten a crossbar into the base and AM4 bracket underneath it. The base's top part is thick and has chunks missing. It doubles as a mini radiator and helps with heat dissipation.
Performance-wise, the Fuma 2 is above average when you take price into account. Better air coolers exist, but you'll have to pay upwards of $20 more to get them.
However, it's hard to dispute the Fuma's title of best cooler for Ryzen 5 5600 when looking at acoustics. You'll have to strain those earlobes if you want to hear it while idling over other sounds coming from the case. Better yet, the situation barely changes, even if 100% effort is required from the cooler.
EVGA CLC 240mm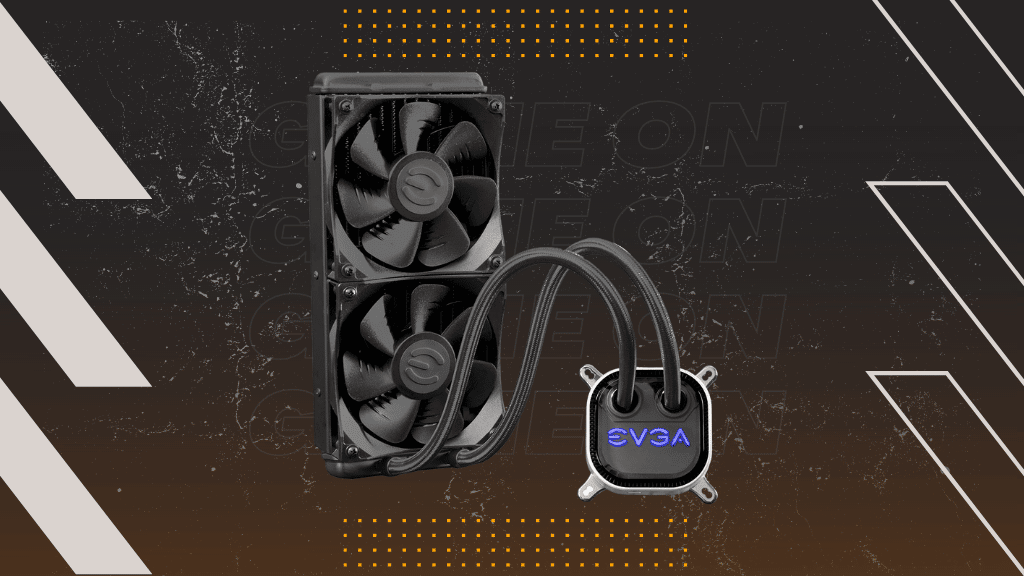 Type: 240mm AIO | Fan RPM: 500 – 2.400 | Fan CFM: 75 | Tube length: 400mm | Has RGB: Yes
Excellent performance at 100% speed
Inexpensive
Comes with comprehensive monitoring software
Noisy fans at 100% speed
The second and last AIO on our list has much in common with the first. It's a bargain for a water cooling solution and made to last. In fact, EVGA's cooler has the edge over the ML240L due to a higher max RPM. It's the model to get if you're after top-tier efficiency at low prices and don't mind a bit of a hum as its accompaniment.
It's always nice to see companies breaking away from the dull cylinder and cube pump heads. Granted, the CLC's pump head is a highly rounded and flat cube, but progress is progress! Rather than have swivel fittings, the braided tubes enter it through the top. There's some wiggle room during installation, but you should find a comfortable angle that doesn't cause the tubes to twist too much.
The bottom is a circular milled copper surface that closely adheres to your CPU. Some thermal compound is already there, making installation easier. The fans are mounted onto the radiator, further simplifying the process. The radiator itself is as mundane as they come, but the fans are unique.
EVGA used two 120mm FX12 fans, the likes of which we'd expect from more expensive competitors. They have seven blades with sets of four notches each that introduce more turbulence as air passes. Each fan has a respectable CFM of 75 when spinning at 2.400 RPM. Their static pressure is also better than SickleFlow's.
Do note that the fans are concave and have slightly bulging frames. That signifies they're meant to be used in the preinstalled push configuration. You're free to position them in the front of your case to draw air inside, but it won't be as aesthetically pleasing.
Lighting on the CLC 240mm is limited to the EVGA logo on the pump head. It draws power from the base, and you use EVGA Flow Control for lighting adjustments. While it doesn't rival iCUE in that respect, Flow Control is excellent companion software for users who want to stay abreast of system performance.
Loud Fans & Frosty Temps
It offers fan and pump curves, letting you adjust speed based on load. There's also a temperature and RPM monitoring graph, all brought together inside a functional and attractive interface.
The CLC 240mm offers excellent cooling. Cranking it up to 100% produces temperatures several degrees cooler than noted for the ML240L. That comes with a big caveat – a whole lot of ruckus. Allowing the fans to spin at their max settings produces upwards of 50dB of sound. That's enough to drown out every other fan in your system and put a serious damper on immersion unless you're wearing a good headset.
Cooler Master Hyper 212 EVO V2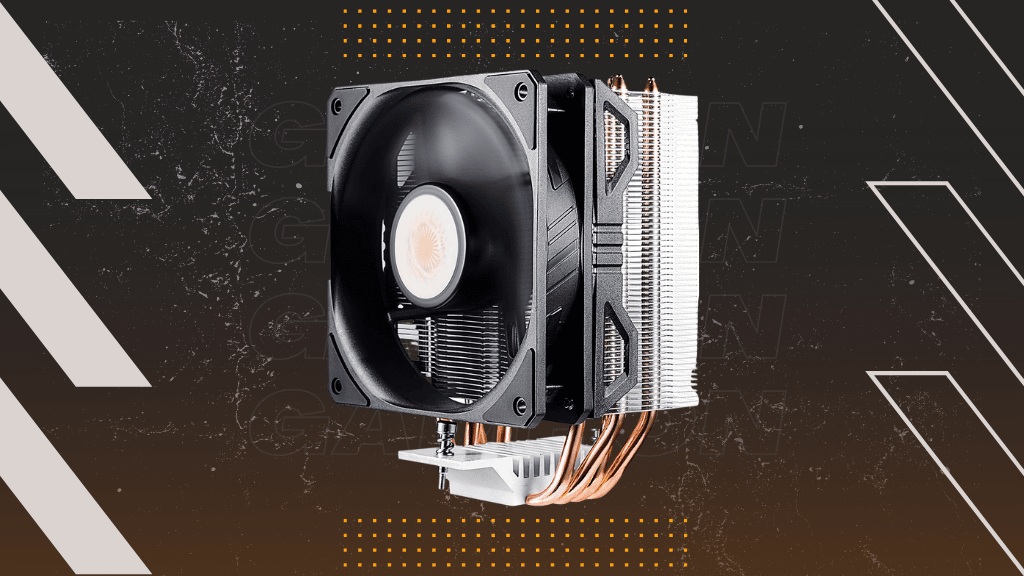 Type: Air cooler | Fan RPM: 650 – 1.800 | Fan CFM: 62 | Has RGB: No
Performs well with mid-range CPUs
Installation now on par with other coolers
Works quietly
Price creep
Some of our readers who were building rigs a decade ago will remember the hype surrounding the 212 EVO. It was justified, as the cooler came at an entry-level price while being able to keep mid-range CPUs in check.
They might also remember cursing Cooler Master and the original's fiddly swing arm mount. The V2 sets things straight, providing nostalgic and thrifty buyers alike with capable cooling minus the hassle.
Compared to the Fuma 2, the EVO V2 is slender and sleek. It only has one fin stack, but it's engineered to offer every advantage. Its sides aren't blocked off, so heat can escape more easily in all directions. The fins are also slightly concave in front, providing room for apr to speed up before hitting them.
The base is made from milled aluminum and has large sawtooth-like bits that turn it into a small radiator. Four copper heatpipes are fixed into it and machined so that their and the base's bottom provide a flat contact surface. The pipes use alternating angles to enter the fin stack, ensuring there's little contact between them.
The fan that drives air through the fins is a familiar sight. SickleFlow 120 is as effective here as it is in the ML120L, only you get a single one. Cooler Master does provide another retention clip if you decide to go for a second fan later.
Finally, an End to Setup Woes!
Installation isn't exactly fun to cover under normal circumstances, but we're excited this time since it's so much simpler now! First, you have to take the backplate and secure pegs to it with clips on the appropriate spots for AM4 motherboards. Then you have to put in four support screws the mounting bracket will rest on. Next, you place the AM4 bracket and apply some thermal paste to the CPU. Finally, you need to tighten the base's crossbar to the bracket and clip on the fan.
Installing the V2 takes less than 10 minutes and immediately leads to better temps than what you'd get with the supplied stock cooler. We were even more impressed with how quiet it is. The Fuma 2 has nothing to fear, but Cooler Master's model isn't far off.
We listed price creep as the EVO V2's con. The cooler was priced at around $40 when it came out, and most retailers ask for $45 or more now. That puts it uncomfortably close to the Scythe Mugen 5 and Arctic Freezer 34 eSports DUO. You should explore both of these compelling alternatives if the price you can find the EVO 2 for isn't appealing.
Be Quiet! Shadow Rock LP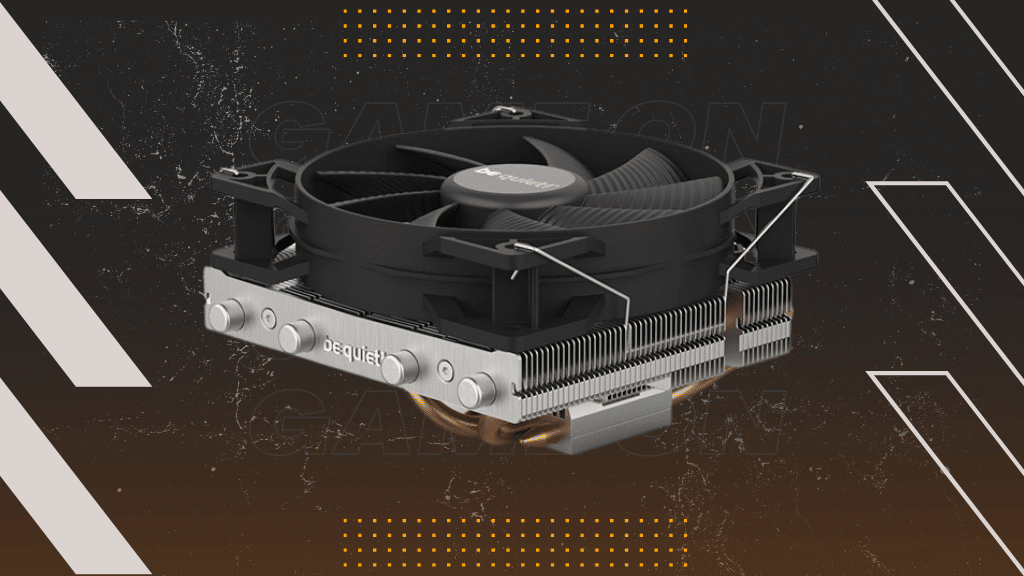 Type: Low-profile air cooler | Fan RPM: 200 – 1.500 | Fan CFM: 51 | Has RGB: No
The Ryzen 5 5600 has a modest thermal output, which makes it ideal for small cases and home theater PCs. You can barely fit anything in those things as is, let alone a beefy cooler. Be quiet! has you covered with the Shadow Rock LP, though! It's a slim cooler designed to take up as little vertical space as possible without suffering much in the performance department.
The shift away from verticality means that the fin stack needs a total makeover. You wouldn't expect it from a cooler this small, but two horizontal stacks of fins are on heatsink duty. The bottom stack has only 34 fins, while the top one extends by 20 more. Unlike on regular coolers, no fan separates the two. There is, however, a piece of metal that runs along the edges to better focus airflow.
Producing said airflow is the responsibility of the single 120mm Pure Wings 2 fan. It's among the company's trademark components, boasting silent operation and a low-key RPM range. The nine blades come with a distinct wavy pattern that fulfills the role of air agitation you'd see on sawtoothed fin stacks otherwise.
A closer look at the base reveals a healthy amount of pre-applied thermal grease on a nickel-plated convex plate. Its top has grooves similar to the EVO V2's, if smaller. There's also room for a crossbar that screws into the provided AM4 bracket during setup.
Four pipes come out of the base. They're a regular 6mm in diameter. Only two go through the bottom fin stack, while all four pierce the top one.
A Different Perspective on CPU Cooling
The steps you need to set the Shadow Rock LP are similar to the EVO V2's improved installation. This brings us to the cooler's only concerning flaw – bad RAM clearance. There's so little room under that top stack that only low-profile RAM will fit. It makes sense to buy such kits for an SFF case, to begin with, but make sure yours is short enough just in case.
The Shadow Rock LP is slightly bigger than the Wraith Stealth but does considerably better in thermal testing. While there's a definite upgrade, don't expect this model to rival the best cooler for Ryzen 5 5600, fan or otherwise. On the other hand, it's a silent cooler on a list that's already chock full of them.
ARCTIC Freezer 34 eSports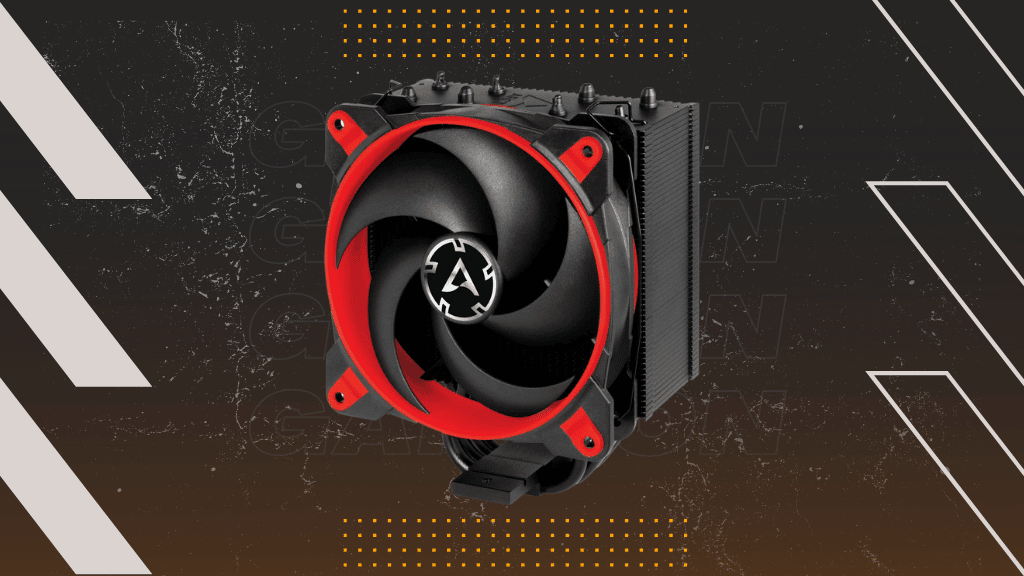 Type: Air cooler | Fan RPM: 200 – 2,100 | Fan CFM: 68 | Has RGB: No
Cheap
Decent upgrade over stock
Easily upgraded with a second fan
Other color options – especially white – cost extra
Trying to find the best cooler for Ryzen 5 5600 kept us coming back to one question – what's the cheapest you can go and still get a sizeable performance boost over stock? Turns out it's around $35 if you get the aesthetically barebones version of the Freezer 34 eSports from Arctic. Yes, it's just the acclaimed Duo with one less fan, but that's all you need for the 5600 to be sitting pretty.
All the air coolers we've discussed so far placed utility above stylishness. Arctic treats both with respect, offering a product that's as good at it gets at this meager price with color options to boot. You can go super stealthy with the black & grey version or make a 180° and get the blindingly white one for your white case.
Appearance doesn't detract from the cooler's thoughtful design. Its heatsink array has closed-off sides and sawtooth patterns adorning the front and back. These should cause a stir that's both directed and turbulent enough to seriously bring temperatures down. There's an Arctic logo on the topmost fin as a nice touch.
The fan is a BioniX P120 model with rubberized corners and fluid dynamic bearings. The latter allow for frictionless rotation at speeds as high as 2,100 RPM. Achieving them produces a CFM of 68. Apart from being wickedly curved, the five blades have no special markings.
A Cheap Yet Noticeable Upgrade
The base doubles as the installation crossbar yet lacks the mass needed to help with heat dissipation on its own. That's the heatpipes' job, which they do well enough. Pairs of pipes curve inward on either side to allow each other more breathing room.
So, how does the Freezer 34 eSports stack up against our other contenders? In short, it performs on par with the price. Certainly well enough to justify the upgrade even if it trails behind the EVO V2 slightly. Nothing adding that second fan couldn't fix if you wanted to.