Specs:

Type: 280mm AIO
Fan RPM: 200 – 1.700
Fan CFM: 73

Specs:

Type: 240mm AIO
Fan RPM: 500 – 2.000
Fan CFM: 73

Specs:

Type: Air cooler
Fan RPM: 1,500
Fan CFM: 66

Specs:

Type: Air cooler
Fan RPM: 300 – 1.500
Fan CFM: 82

Specs:

Type: 240mm AIO
Fan RPM: 650 – 1.800
Fan CFM: 62

Specs:

Type: Air cooler
Fan RPM: 200 – 2.100
Fan CFM: 68
The 5700x's 65W TDP puts it at the lower end of power consumption and heat generation. It can still get pretty hot if you try overclocking, in which case you'll want an AIO or high-end air cooler to cover your bases. We've taken all eventualities into account and recommend three of each at several price points to help you make the right decision.
ARCTIC Liquid Freezer II 280
ARCTIC Liquid Freezer II 280
Type: 280mm AIO | Fan RPM: 200 – 1.700 | Fan CFM: 73 | Tube length: 380mm | Has RGB: No
Pros:
Outstanding value for the money

Provides active cooling for adjacent components

Straightforward installation
You don't necessarily need a 280mm AIO to cool the 5700X efficiently. However, it would be foolish to pass up one as impressive as the Liquid Freezer II if you have around $100 to spend.
Arctic's brainchild introduces welcome changes to almost every part, from the pump head to the radiator. It's highly efficient, can help cool other critical components, and costs next to nothing to boot. There's no doubt it's the best cooler for Ryzen 7 5700X.
The Liquid Freezer II differs from other 280mm AIOs considerably. Its pump head is a product of Arctic's attempts to break away from the monopoly imposed by third-party manufacturers and try out something new in the process.
The result is a shorter, broader base that takes up more space but compensates for that with a 40mm fan. The small blower is connected to a three-sided duct which directs its output. You can position the head at 90-degree angles and direct it towards any combination of RAM, graphics card, and the motherboard's VRM.
Radiators are usually the most nondescript parts of AIOs, but Arctic has made an effort even here. The Liquid Freezer's radiator is close to 50% thicker than average, offering a significantly increased area for heat dissipation. Fin thickness is adjusted accordingly so the fans don't have to labor harder than necessary.
The Power of Imagination
The fans are two 140mm P14 models already screwed onto the radiator. They have a wide rotation span ranging from 200 to 1,700 RPM. Running them at 100% produces a respectable throughput of 73 cubic feet per minute. The static pressure they can maintain is above average, so expect uninterrupted airflow even if the case's internal layout isn't optimal.
Premounted fans are just one way in which Arctic simplified the installation. The Liquid Freezer II isn't just the best cooler for Ryzen 7 5700X overall; it's also the easiest to manage. PC building vets and newcomers alike will appreciate how little work there is to do if you're going for a push configuration. There's no fiddling with wire clutter either since all the fans draw power through a single PWM extending out of the pump head.
Breaking the mold has paid off as the Liquid Freezer excels on all fronts. Idle temperatures don't exceed 30°C. Running tests at load or with overclocked CPUs regularly puts the AIO in the top quarter. It can outpace even 360mm units. It's not as outstanding when noise is concerned, but you shouldn't need to run it at 100% speed on a processor like the 5700X anyway.
NZXT Kraken X53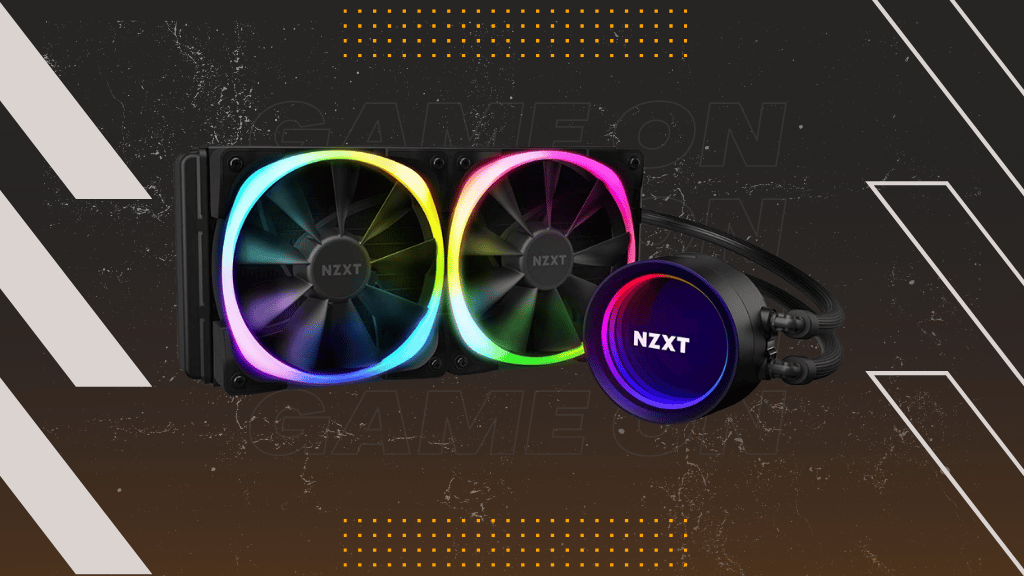 NZXT Kraken X53 RGB
Type: 240mm AIO | Fan RPM: 500 – 2.000 | Fan CFM: 73 | Tube length: 400mm | Has RGB: Yes
Pros:
Excellent performance for a 240mm AIO

Comes with useful monitoring software

Stealthy yet attractive look
Cons:
No splitter cables for the fans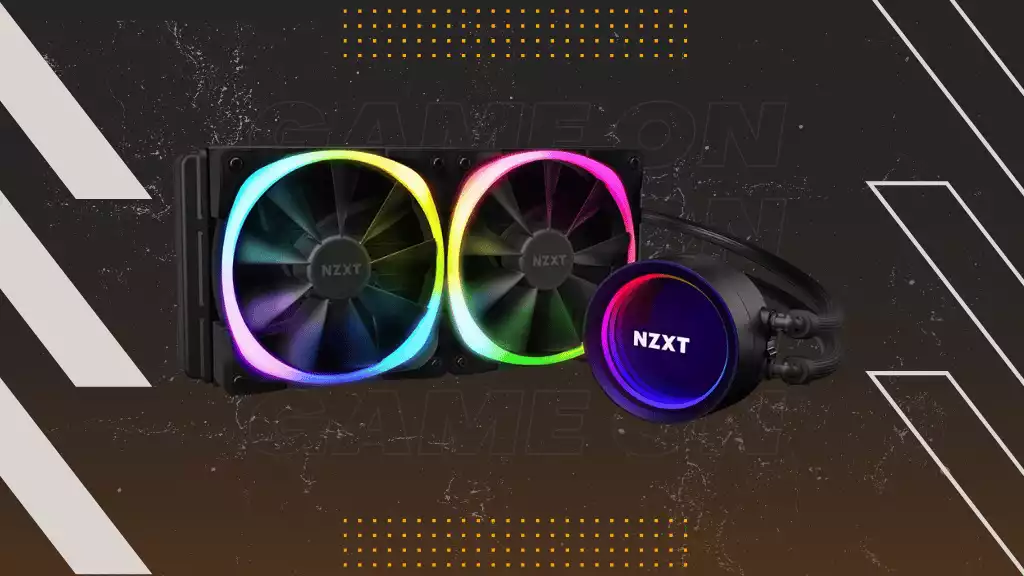 Not every case will have room for a 280mm radiator, if you're still going with an AIO, then the 240mm Kraken X53 from NZXT is all you need. It's a performance-focused cooler with considerable control and monitoring options. While it is a little more expensive than the larger Liquid Freezer, the Kraken's quality justifies the difference.
Have some more cash to spare for a visually stunning upgrade? Then consider the Kraken Z53 instead! It's the same excellent cooler we recommend here but with an LED screen built into the pump head. Diehard overclocking fanatics will appreciate the screen as a convenient monitoring tool that can display real-time system info.
Whereas Arctic's AIO was unconventional, the X53 is traditionally personified. You've seen the likes of its cylindrical pump head before if you've dealt with Asetek-style AIOs. NZXT says this one is ten percent bigger than that on the X52, contributing to better thermal exchange while providing more room for visual effects.
The Liquid Cooling Elite
The pump's top is home to an infinity mirror that surrounds the NZXT logo with ever-fading concentric circles. You can use NZXT's CAM software to specify the colors for the mirror effect and logo separately.
The cap rotates freely in 360-degrees, so it's easy to position the logo prominently. The cold plate on the bottom is machined to perfection and arrives with a pre-applied thermal compound.
The radiator is like many others, albeit slightly thicker at 30mm. It connects to 400mm of braided tubing and houses two Aer-P fans. These are smaller than Arctic's at 120mm yet can pull off almost identical CFM & static pressure results. They need to spin 300 RPM faster to get there, which makes sense given the smaller diameter.
Setting the X53 up is easy. It comes with a screwed-on Intel mounting bracket, so you'll first have to exchange it for the AM4 version. Following a standard AIO installation procedure thereafter, you should have everything up and running in less than 20 minutes. We wish that the fans came with a splitter cable. As it stands, you have to connect each to a separate PWM header.
The X53 is among the best 240mm AIOs. It decisively outperforms air coolers and keeps pace with some of its larger competitors. We were also impressed with the X53's quiet operation. Idling doesn't exceed the 30dB threshold, and running the fans on full blast raises that by only a handful of decibels.
Thermalright Peerless Assassin 120 SE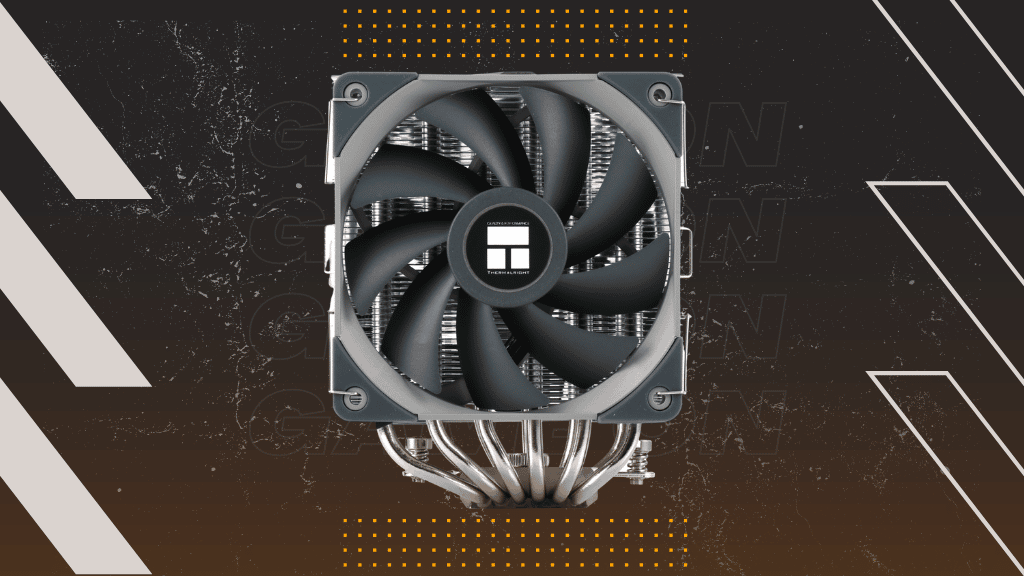 Thermalright Peerless Assassin 120 SE
Type: Air cooler | Fan RPM: 1,500 | Fan CFM: 66 | Has RGB: Yes
Pros:
World-class price-to-performance ratio

On par with more expensive coolers when paired with low and mid-tier CPUs

Lots of color and lighting options
Cons:
RAM clearance could be better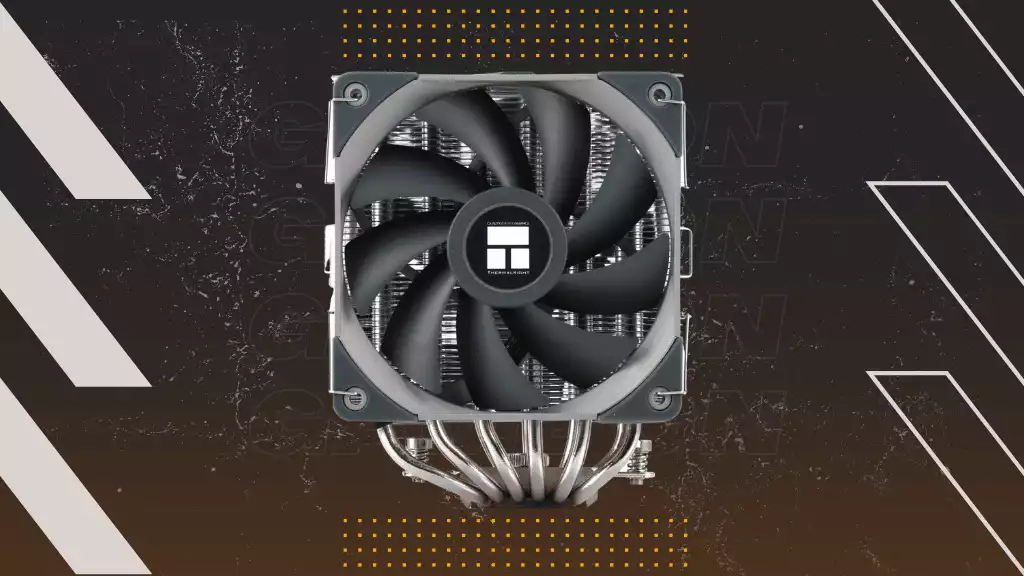 PC components have become expensive in the last couple of years, egregiously so for some parts like the best graphics cards. Examples of exceptional value are few & far between, but the Peerless Assassin 120 SE stands out among them. It might fall slightly behind the U14S in terms of noise, but it's by far the best cooler for Ryzen 7 5700X if you don't want water near your PC.
The sheer variety of coolers on offer is Thermalright's first pleasant surprise. We're focusing on the barebones, slightly less put-together SE since it offers unbelievable value. However, only a few bucks more separate you from either the RGB or white versions. There are few enough air coolers for white PC builds as is, and we're glad that one this competent also comes in that color.
At first glance, the Peerless Assassin isn't all that different from other two-tower coolers. The design is reminiscent of high-tier Noctua and Scythe alternatives, albeit with plastic rather than metal top fins. The array sides are partially welded together to promote a more directional airflow. The front and back of each fin also have deep sawtooth cuts for increased air turbulence.
Two TL-C12C fans aptly blow hot accumulated air through the fin stacks and out into the case. Thermalright doesn't list the minimum RPM, but the 1,500 max is on par with most other coolers. Each fan delivers a CFM of 66 and has snug rubberized corners that neutralize vibration.
The Modern Cooling Marvel
None of this seems remarkable until you glance at the price tag. A dual-tower setup with two fans for less than $40? We have no idea how Thermalright is making money on this cooler, but we're sure glad it exists.
The base is nickel-plated and milled to a high standard. Part of the mounting hardware is already secured to it for easier installation. Similarly-priced coolers usually have four heatpipes, yet the Peerless Assassin packs six of them as thick as on any high-end alternative.
Thermalright's decades of experience produced mounting hardware that seasoned builders and newcomers will find approachable. You screw the standoffs and mounting brackets into the motherboard's backplate, secure the heatsink, and clip the fans on. Everything should remain compatible with AM5 motherboards once it's time to move on from the 5700X.
Calling the Peerless Assassin's performance astonishing isn't an exaggeration. More expensive alternatives eventually outperform it on CPUs with a higher TDP rating. However, not even the NH-D15 cools 65W chips like the 5700X better. Its noise-normalized results are among the best for air coolers, and the higher noise output is an easy tradeoff to make.
Coming up with a con for this cooler was difficult. Still, we're dinging it ever so slightly for RAM clearance. You'll have to adjust the front fan's height if you're rocking any kit taller than 40mm.
Noctua NH-U14S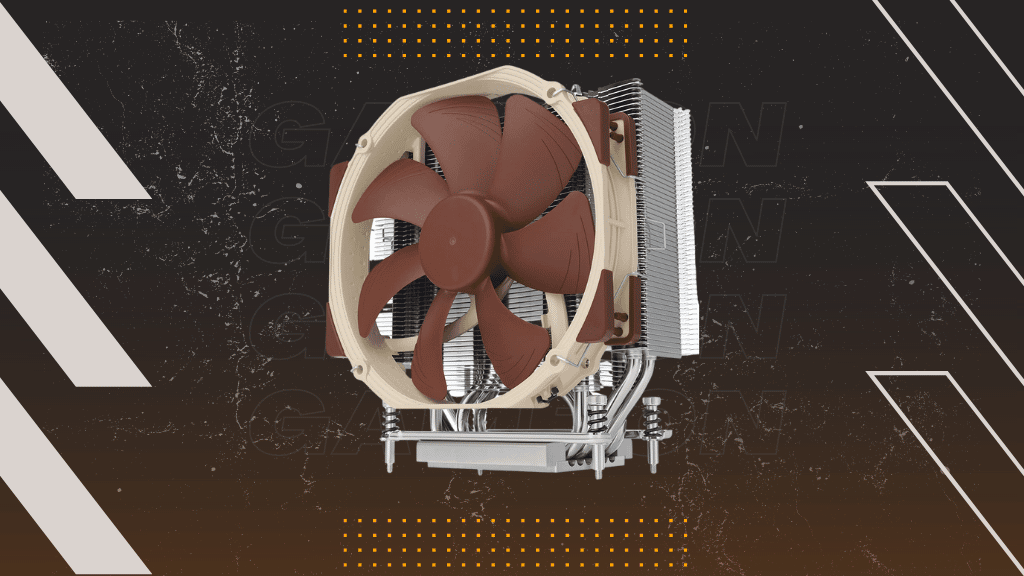 Noctua NH-U14S
Type: Air cooler | Fan RPM: 300 – 1.500 | Fan CFM: 82 | Has RGB: No
Pros:
Exceptional build quality

Quiet operation

Easy installation
Cons:
Might have clearance issues on some motherboards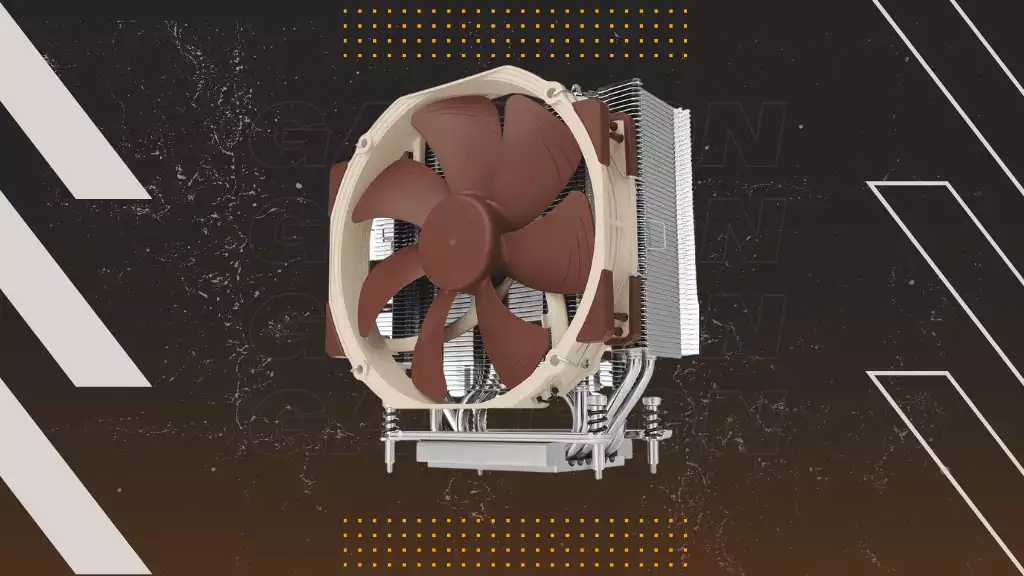 Not a fan of liquid cooling? The 5700X can do without one to run comfortably cool. It doesn't need a world-class air cooler either, which is why the NH-D14 doesn't grace our list. Its smaller sibling, the NH-U14S, is a cheaper alternative more than capable of maintaining the CPU's frosty disposition. It's more compact and maintains Noctua's exacting build quality standards.
There's something to be said about a CPU cooler made nine years ago that's still relevant & going strong! The NH-U14S owes its success to precision engineering and the use of high-quality materials for each component.
Its fin stack is made out of aluminum, while the six heatpipes and base are nickel-plated copper. That leaves the desert-themed fans, an iconic staple of Noctua's visual identity.
Not everyone will like the look, but the fan's effectiveness is undisputed. It's the same model NF-A15 PWM-powered fan as the pair found on the NH-D15. Its blades have notches near the tips that help introduce turbulence.
The fan's 150mm diameter lets it spin slower while generating an excellent throughput of 82.5 CFM when spinning at 1,500RPM. Noctua also provides a low noise adapter that drops max rotation speed to 1,200RPM, which results in quieter operation.
The heatsink is a single-tower model with a deceptively simple design tweaked towards maximum efficiency. For example, the sides are closed off to promote one-directional airflow. A sawtooth pattern towards the edges stirs the air up as it passes. The heatsink gets slimmer towards the center, allowing fan-driven air to gain momentum before hitting the fins. The second set of spring clips allows for the mounting of another fan in the back should you need it.
A More Approachable Noctua
The base is rather thin but machined to a mirror polish and slightly convex to better adhere to the processor's IHS. It's the point of convergence for six pipes, each exiting at its own angle for minimal contact. Thermal paste is part of the package, and you'll have to apply it during installation. Speaking of which, Noctua's SecuFirm 2 mounting system simplifies the process.
The NH-U14S is slimmer than Noctua's flagship, so RAM compatibility shouldn't be concerning. However, it's just as broad, so make sure your motherboard is large enough to accommodate it and a GPU in its top x16 PCIe slot.
Pairing the NH-U14S with the 5700X is a fantastic idea since the former is built for performance while the latter is undemanding. Expect low temperatures regardless of workload. It's not as silent as some alternatives at low fan speeds. Ramping up causes only a modest decibel increase, making the NH-U14S competitive in the noise category too.
Cooler Master MasterLiquid ML240L RGB V2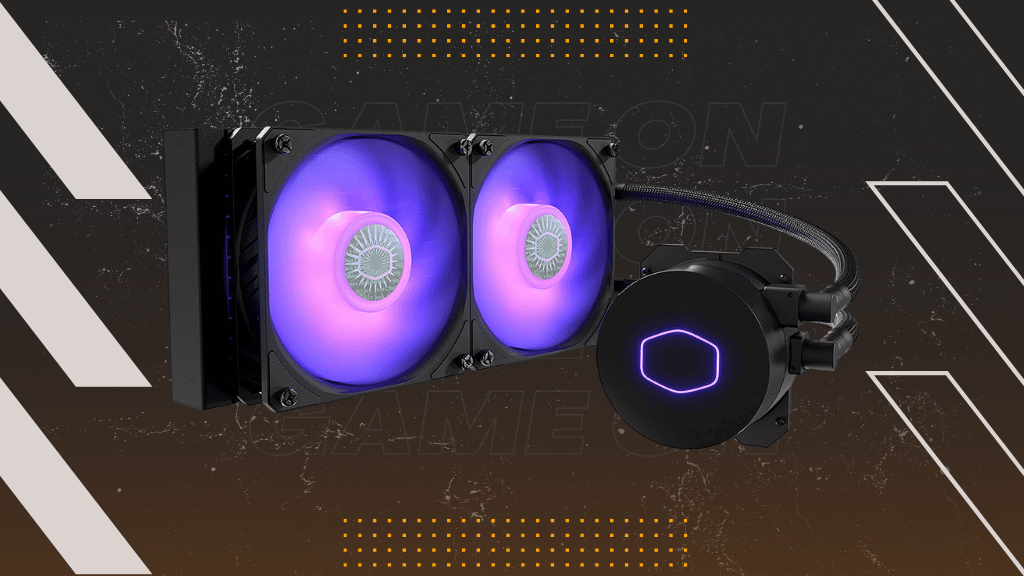 CoolerMaster MasterLiquid ML240L RGB V2
Type: 240mm AIO | Fan RPM: 650 – 1,800 | Fan CFM: 62 | Tube length: Not specified | Has RGB: Yes
Pros:
Excellent value for the money

Quiet operation

Considerably improved over its predecessor
Cons:
Not as effective as more expensive AIOs
With hardware prices as volatile as they are, it's refreshing to see a company like Cooler Master offering quality AIO cooling for far less than $100. Like MSI's X570 Tomahawk motherboard, the second version of the ML240L RGB is an apology of sorts. It addresses the original's significant flaws while offering comprehensive improvements on almost all fronts.
Readers unfamiliar with the first ML240L RGB might be wondering what was wrong with it. Frequent reports of leakage were the most damning, but it also wasn't a particularly efficient cooler when it did work properly. Cooler Master addressed the former by reinforcing all of the V2's seals. Fixing the latter took a multi-pronged approach.
The V2 has a new pump. It's still based on Asetek patents, but it's larger and has a different dual-chamber architecture. The impellers inside are redesigned too. All of this combined makes for a quieter and more efficient operation.
Cooler Master Redeemed
The radiator underwent a minor redesign as well. Its fins are longer and denser, leading to an increase in surface area and improved heat draw. Denser fins meant that the old fans couldn't cut it anymore, so Cooler Master introduced a pair of new SickleFlow 120 units. The milky-white fans diffuse the LED glow behind them for greater effect. A compromise between efficiency and aesthetics resulted in a CFM of 62.
Getting RGB at this price point is pure luxury, but don't get too excited about it. The V2 works with motherboard management software that syncs all your RGB hardware. It also comes with an analog controller that lets you cycle through various colors, effects, and brightness levels. The LEDs aren't addressable, so a single color is used at any given time.
The reduced CFM takes its toll on the V2's cooling capabilities. It's still more than enough to handle the 5700X, but expect a few degrees more than with Arctic's or NZXT's models. On the other hand, the V2 doesn't generate much noise even though it rotates faster than the others.
ARCTIC Freezer 34 Esports Duo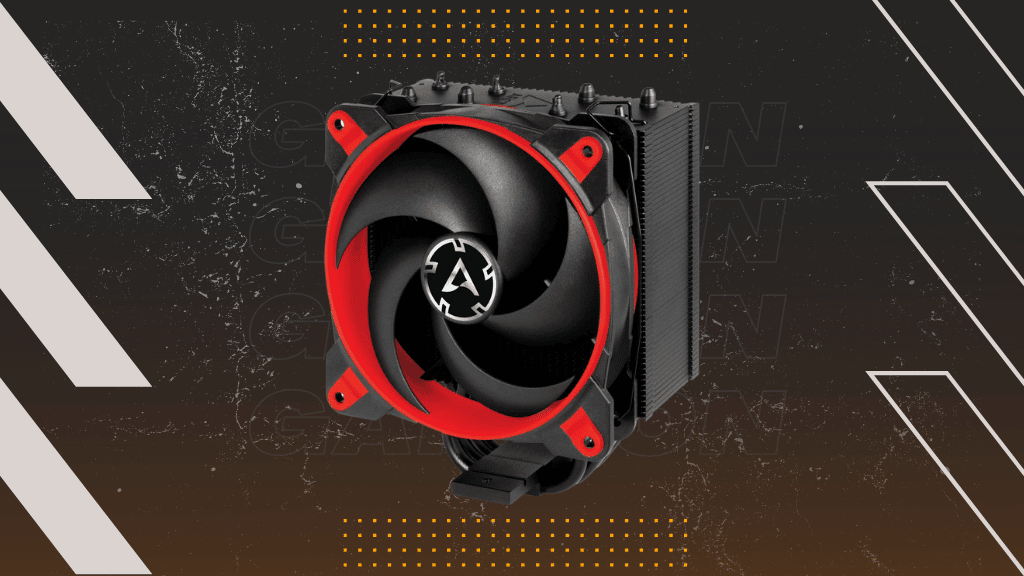 ARCTIC Freezer 34 Esports Duo
Type: Air cooler | Fan RPM: 200 – 2.100 | Fan CFM: 68 | Has RGB: No
Pros:
Good ratio of price and performance

Almost silent

Fans come in several colors
Arctic's second entry on our list is more traditional yet no less intriguing. The Esports Duo is a known quantity to budget-conscious system builders, promising solid cooling chops at reasonable prices. We're a bit miffed that you can't get it anywhere at the original $40 MSRP anymore. Still, it's worth picking up if you're after a no-stress cooling solution for your 5700X.
There's a noticeable difference between this and Noctua's cooler in the looks & build quality department. Arctic's model is arguably more attractive, especially since you can choose the color. The fans are Bionic P120, with tough plastic cases and rubberized anti-vibration pads surrounding their five blades. Said pads are available in several colors. You can even get an all-white version if you're into building white PCs.
The fans have a CFM of 67, yet the static pressure they can generate matches that of Arctic's AIO. They'll need every bit of it to force air through the powder-coated fin stack and out into the open. The stack's front and back are entirely covered in saw teeth and closed off at the sides. This creates turbulence while enforcing a single airflow direction.
Two Fans Are Better Than One
There's not much to say about the base other than it's thin and exposed at the bottom. That's where you'll see the greatest difference between Arctic's and Noctua's coolers since the heatpipes are flattened and completely exposed. Luckily, their integration into the base is seamless. As with the NH-U14S, you get a tube of thermal paste you need to apply while mounting the cooler.
The Esports Duo works well with the thermally reasonable 5700X. Having only four heatpipes decreases heat transfer, so leaving the CPU several degrees hotter than the NH-U14 does isn't surprising.
On the other hand, this is the quietest entry in our roundup. A low idle RPM lets it hover in the mid-20s dB range. Better yet, stressing the processor doesn't cause the cooler's sound to breach 30dB.