The 5800X3D is AM4's swansong CPU. It sends AMD's most successful socket in decades off with a bang by introducing a huge L3 cache sure to boost gaming performance to new levels. Such improvements carry with them an increase in thermal stress, as we can see by the chip's lower boost frequencies. Get the best cooler for Ryzen 7 5800X3D in time and give your CPU the best possible start.
Best Coolers for Ryzen 7 5800X3D
An increase in thermal output doesn't mean numerous coolers aren't up for the challenge! In fact, several models across multiple categories have what it takes to tame the new CPU. Our recommendations encompass AIOs of varying sizes along with the best air coolers, so finding a cooling solution suited to your preferences and budget should be easy.
Corsair iCUE H150i Elite Capellix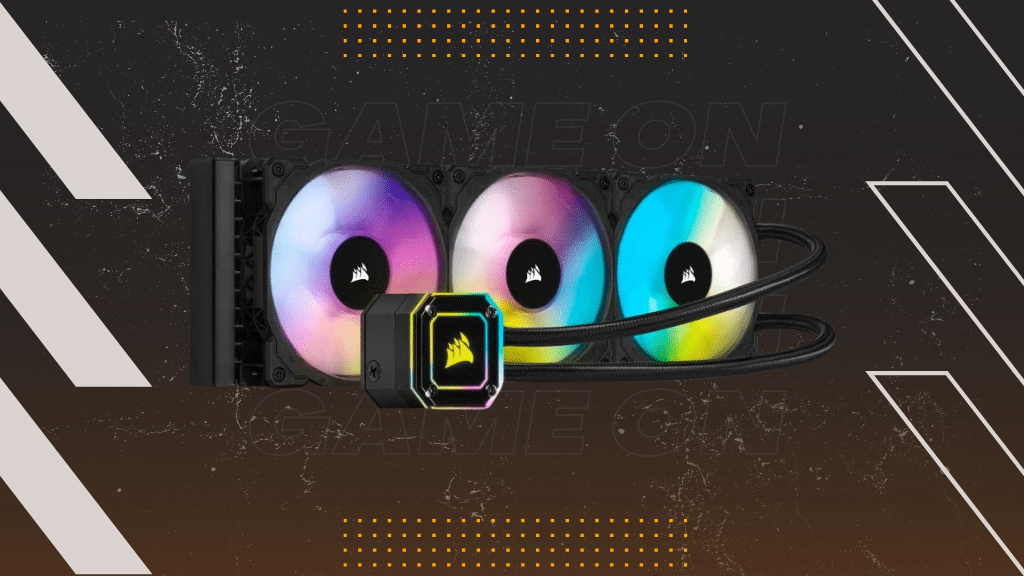 Type: 360mm AIO | Fan RPM: 400 – 2.400 | Fan CFM: 75 | Tube length: 350mm | Has RGB: Yes
Corsair has been churning out a steady stream of high-performance AIOs, with the H150i Elite Capellix as their crowning achievement. The cooling system is unparalleled in performance, but you can also tweak it to be among the quietest if you don't currently stress your CPU to its limits. Add in one of the most vibrant & comprehensive lighting setups around, and you've got the best cooler for Ryzen 7 5800X3D by a country mile.
Visually, the H150i isn't that impressive with the lights off. The CPU block is square-shaped and has a top plate with the Corsair logo. You may exchange it for a brighter version that shows more lighting off by handling a few screws. The copper plate on the bottom is finely milled and slightly convex for the thermal paste to adhere better to the CPU. Some paste is already conveniently pre-applied.
The radiator is 28mm thick and has a standard fin density. It's large enough to radiate heat and efficiently house three 120mm fans. These are Corsair's respected ML120 models made transparent for better LED appreciation. Making them so had no impact on the fans' effectiveness since they're capable of putting out 75 CFM or cubic feet per minute. The fans also boast high static pressure that allows them to maintain a strong airflow even if your case is cluttered with components.
Lighting is one of the H150i's integral features. You've already seen us gush over Capellix LEDs if you've checked out some of WhatIfGaming's RAM articles. For a quick recap, they're smaller, brighter, and more power-efficient than your average LEDs. There's far more real estate to work with on an AIO, so you get to play with 33 lights on the pump head and eight more per fan.
Putting on a Light Show Inside Your PC
The H150i's packaging includes a valuable accessory, the Commander Core hub. It's a box-shaped add-on you plug into SATA and USB headers on your motherboard to monitor the system. More importantly, the Commander Core offers lighting and power/speed control for six Corsair components, with room for three more case fans after you connect the AIO. You won't be able to control the lighting via your motherboard. That might put some people off, best cooler for Ryzen 7 5800X3D or not. Still, that shouldn't matter if you're already invested in Corsair's ecosystem.
This brings us to iCUE, a program that seamlessly brings together the H150i's lighting and fan management. It lets you choose among numerous visual effects or tune the LEDs on an individual level to create a truly unique lighting setup. iCUE is also a capable monitoring tool, offering real-time info on temperatures and system performance.
None of that makes the H150i the best Ryzen5800X3D cooler, which is where its presets come in. The presets are undoubtedly the AIO's highlight since they tailor it to your momentary needs. The aptly titled "Extreme" could easily keep an overclocked i9-12900K in check, albeit at the cost of excessive fan noise. On the other hand, "Quiet" introduces barely any spin to the fans and will likely be drowned out by your GPU or HDDs if you still have any. Striking a balance between the two results in cool and reasonably quiet operation, which is what you'll want to stick to in all but the most work-intensive situations.
NZXT Kraken X63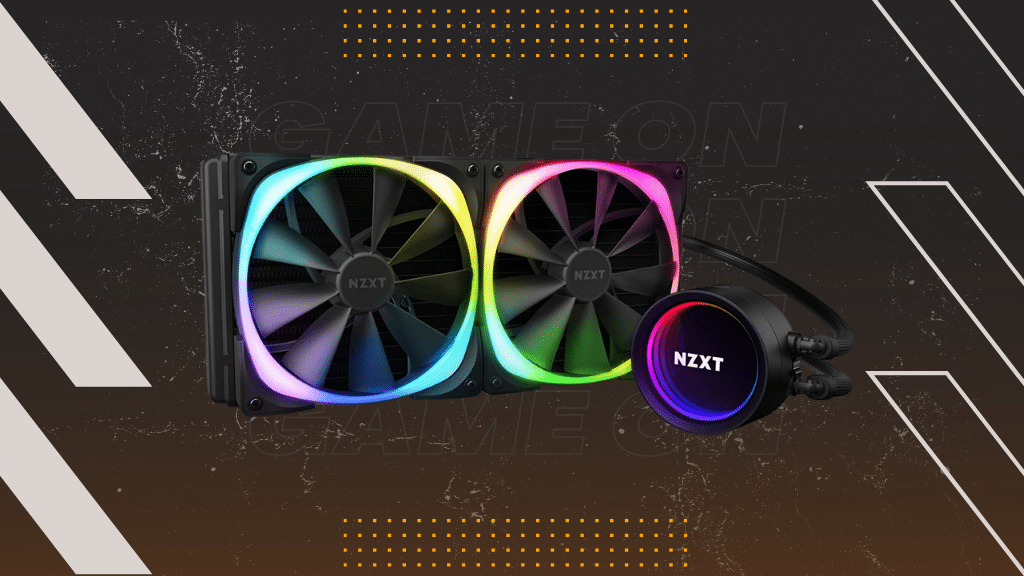 Type: 280mm AIO | Fan RPM: 500-1,800 | Fan CFM: 98.2 | Tube length: 400mm | Has RGB: Yes
Kraken AIOs have kept top gaming CPUs in check for generations, and the X63 continues the tradition with high marks. It's a no-nonsense AIO focused on performance with a bit of style thrown in due to the infinity mirror on the pump head. There's also an RGB version if you don't mind paying a little extra for some bling without sacrificing cooling power.
We'd be remiss if we didn't mention NZXT's other 280mm AIO, the Z63. The two coolers are fundamentally identical, but the Z63 has a standout aesthetic feature. Its pump head has a fully functional LCD screen that can display anything from cat GIFs to continuous system temperature and frequency data. The screen carries with it a price premium. Still, it might be an invaluable investment if you're into serious overclocking and require meticulous data tracking. A breadth of options like this is just one of the reasons Krakens are in the upper echelons of our list.
You'll find little has changed if you're familiar with the X62. The pump head is a little bigger so that the logo can be seen better, and you can rotate it so that NZXT is never upside down. Other than that, it's still a matte black cylindrical block that's unmistakably Asetek by design. While it isn't as flashy as the Z63's screen, the cap is home to an infinity mirror that lights up to bathe the logo in an attractive repeating effect.
The radiator is thicker than the norm for 280mm AIOs at 30mm. It does a fine job accumulating heat for the two Aer-P fans to blow out into the open. Sturdy opaque materials and seven broad blades let each move close to 100 CFM of air with ease.
Roars Like a Lion, Cools Like a Blizzard
Installing the X63 is simple, especially if it isn't your first AIO. The fans need screwing into the radiator, and you have to connect them to the appropriate PWM headers. That leaves ensuring there's thermal paste on the contact plate, screwing in the pump, and providing power. The tubing is braided & long, and the cables exit the CPU block at a 90-degree angle to avoid entanglement.
The X63 fares well in thermal tests. CPUs cooled with it exhibit excellent idle temperatures as well as stable and low thermals when pushing for performance. The fans ramp up to an impressive 2.800 RPM, with sound that exceeds 40dB and can overshadow the fans on your graphics card. That being said, you shouldn't need to push the AIO so hard unless striving for the lowers temperatures is your top priority.
Noctua NH-D15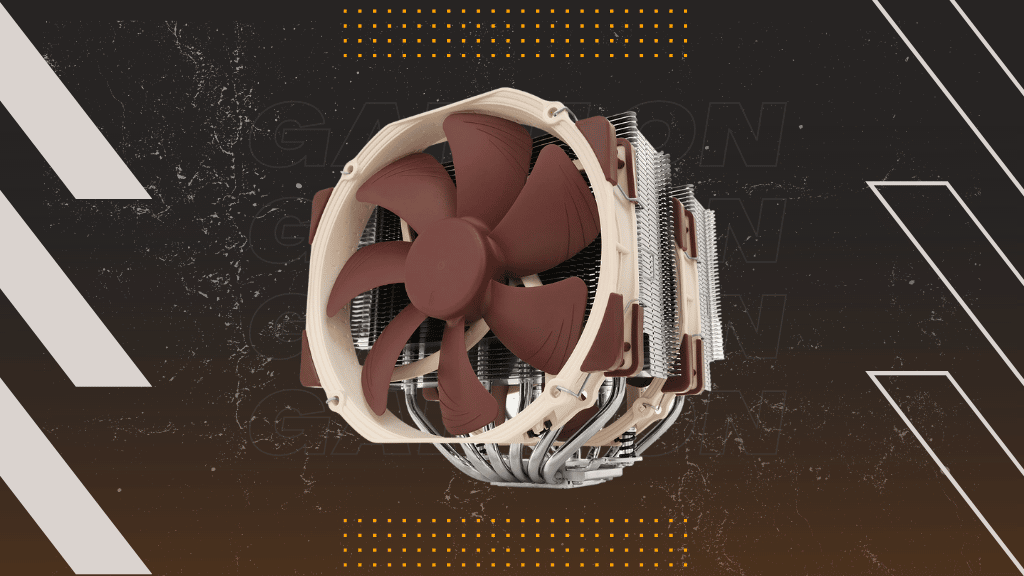 Type: Air cooler | Fan RPM: 300-1,500 | Fan CFM: 82.4 | Has RGB: No
Eight years might as well be an eon in the PC world. There isn't a processor, GPU, or storage drive that old anyone in their right mind would recommend today, yet one component persists. Noctua's NH-D15 is as capable as it was back in 2014 and with as little true competition in the world of CPU air cooling. It's the best cooler for 5800X3D if the prospect of having water near your precious components puts you on edge. Heck, it gives many of those costlier options a run for their money!
Thanks to the fans ' distinct desert-themed color scheme, you can identify a Noctua cooler from a mile away. That was the only version available for ages until the company finally relented and released the Chromax Black a couple of years ago. It's every bit as capable as the original NH-D15 but receives a coveted coat of matte black paint. This turns the highly visible – some might even say gaudy – cooler into a stealthy beast that can seamlessly blend into any case.
Purists and stealth lovers alike get to enjoy the same degree of outstanding production quality and attention to detail. Take the fin stack & base, for example. There's enough space between the fins for increased airflow, and a sawtooth pattern on one side of each stack agitates the air as it passes through to further aid with heat dissipation.
The Old Workhorse Has Still Got It!
Six nickel-plated heatpipes made from copper protrude from two sides of the sturdy base. Each sets out at a different angle to be as far from the others as possible. The fins are also all individually soldered to the pipes, drastically increasing heat transfer efficiency between them.
That leaves you with a chunky, scalding hot metal assembly it's the fans' job to keep cool. Fortunately, the NH-D15 employs 140mm twin NF-A15 units that are up to the challenge. They can blow a respectable 82CFM of air away from the fin stack and remain quiet while doing so. You get a Y-splitter so both fans can draw power from a single header. A pair of low-noise adapters come in handy if you know you won't overclock the CPU and want to limit max RPM in favor of less sound.
Even though Noctua coolers now come with AM4 brackets, the SecuFirm installation system is as straightforward and intuitive as it was upon release. First-time builders and veterans alike should have no trouble with installation, especially since Noctua made in-depth videos on the process.
Compatibility with other components might be problematic and is the only thing we can think of to put down as a con. The layout of some motherboards might force the cooler's edge uncomfortably close to the GPU's backplate. Moreover, you'll want to invest in some low-profile RAM so that you don't have to reposition the front fan.
The NH-D15 is among the most expensive air coolers, yet the price is justified. It easily keeps up with most 240mm AIOs and can work with any modern CPU without throttling, unless it's the furnace-like i9-12900K. Better yet, cranking fan speed up doesn't cause sound to venture out of the mid-30s decibel range.
ARCTIC Liquid Freezer II 280
Type: 280mm AIO | Fan RPM: 200-1,700 | Fan CFM: 72.8 | Tube length: 380mm | Has RGB: No
The ancient NH-D15 might still be a contender, but that doesn't mean the world of CPU cooling is standing still. Arctic's Freezer II line is proof that innovation is still possible, thanks to an entirely new take on pump design. The 280mm AIO is silent, efficient, innovative, and considerably cheaper than the competition. Is it the best cooler? Users looking for excellent thermal mitigation at a price that's hard to believe will certainly think so.
It says a lot about a product when the only negative we could think of after wracking our brains is a lack of RGB. Style-conscious buyers don't need to worry as Arctic has recently released RG versions of all Liquid Freezer II models. The 280's colorful counterpart goes for around $20 more, but that's a slight difference if you insist on the luxury.
Liquid Freezer coolers result from Arctic's desire to operate independently of patents imposed by Asetek and Coolit. Other manufacturers source their pumps from said manufacturers, yet Arctic wanted to create something new. The resulting pump head is a resounding success. Its unusual shape is necessary to house the cooler's most intriguing addition – another fan.
Going Against The Grain
You can mount the pump head in 90-degree increments that determine which part of its surroundings gets a helping hand. Depending on placement, the fan can cool the motherboard VRM, the memory, or your GPU's backplate.
Experienced users will note that the radiator isn't ordinary either. It's a third thicker than standard, offering even more surface area to release heat off of. The P14 fans are another engineering feat. They rotate slower and move less air than the fans we've encountered so far, yet efficiency doesn't seem to suffer for it.
Ease of installation is another of the Liquid Freezer's highlights. You don't need to fiddle with the fans unless you aim to mount the radiator in a pull configuration since they're already secured to its surface. The fans' power cables also use the braided tubing to travel down to the pump head. Not only does this reduce clutter, it means you need to plug only one PWM cable into the mobo for the AIO. Advanced users may find the resulting lack of control restrictive but can always plug each fan in individually.
All of this translates into superb real-world cooling. You may test the 5800X3D's gaming prowess against challenging titles like Elden Ring, knowing that the Liquid Freezer II will keep it well within safe operating temps. It can do so while remaining inaudible since the low max RPM prevents its fans from becoming unduly loud.
be quiet! Dark Rock Pro 4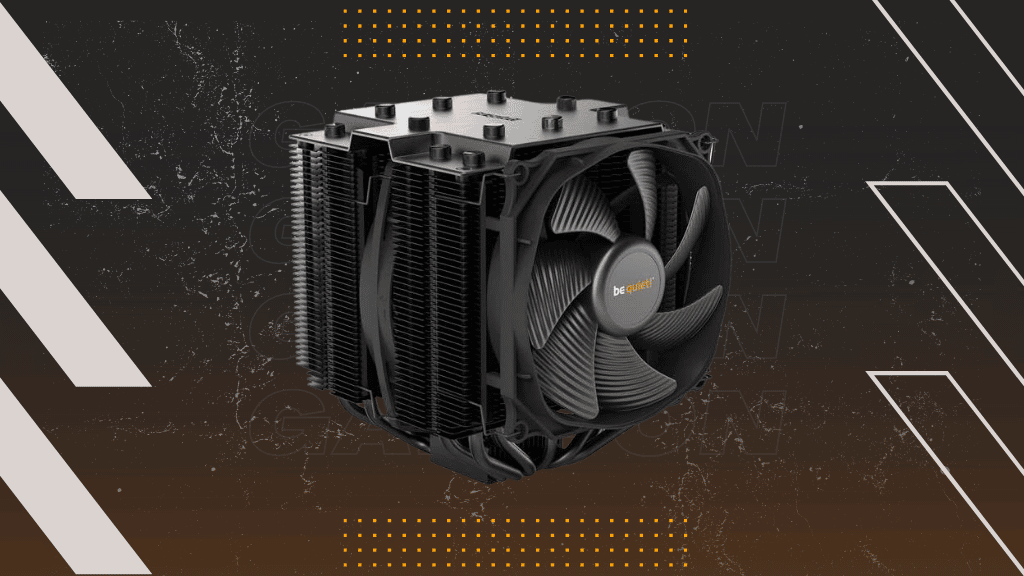 Type: Air cooler | Fan RPM: 300-1,500 / 300-1,800| Fan CFM: 50 / 57 | Has RGB: No
Do you often play games like Shadow Warrior 3 late into the night? No one likes a noisy neighbor or roommate, and getting the Dark Rock Pro 4 brings you one step closer to practicing stealthy gaming. It can't help with rage quits, but the air cooler is superb when it comes to keeping your CPU in check while barely making a sound. There's no doubt it's one of the best coolers if silence trumps all other considerations.
The Dark Rock Pro 4 is almost as bulky as Noctua's cooler. To that end, be quiet! offers a generous selection of alternatives. There's the single-fan Dark Rock 4, not to mention the Slim and TF versions for cramped and small form factor cases. All are graced with stealthy black paint that looks even whether it's coating plastic or metal components. Mind how you handle the cooler since the coat is thin and tends to flake off.
Despite the inconspicuous look, the Dark Rock Pro 4 is one of the most attractive air coolers on the market. It has a brushed aluminum top plate and caps on each of the seven powder-coated heatpipes. It also sports one of the most elaborate fin designs out there. The twin stacks have the same sawtooth pattern we saw on the NH-D15 on one side. The other features fin ends of varying lengths that create terrace-like clusters that further improve air turbulence.
The baseplate is the only part of the cooler with its original color intact. It's thicker than many, with deep square cuts that turn the base into an auxiliary radiator. Those deep grooves double as the foundation for a crossbar needed to screw the cooler in place. Securing it during installation involves using a slender magnetic screwdriver that comes with the cooler. Seven pairs of heatpipes jut out of it, ensuring swift and even heat distribution.
Two Fans For The Win
While the Dark Rock Pro 4 adopts a two-fan layout, their sizes and capabilities aren't the same. Air first passes through the smaller 120mm Pure Wings 3 fan and the first fin stack. Then the mightier 135mm model pushes it out through the remaining fins. The fans rotate comparatively slowly. They have a moderate throughput and static pressure. However, their blades adopt a wavy design that agitates air more than conventional models.
The Dark Rock Pro 4 is a heavy cooler and might conflict with some RAM even though it's smaller than the NH-D15. It's not as efficient as Noctua's cooler, so expect temperatures to be several degrees higher despite comparable prices. That's not the category for best 5800X3D cooler the Dark Rock is aiming for, anyway. It's by far the most silent cooler on our list, not even reaching 30dB at full load and when stress testing.
Cooler Master MasterLiquid ML240L RGB V2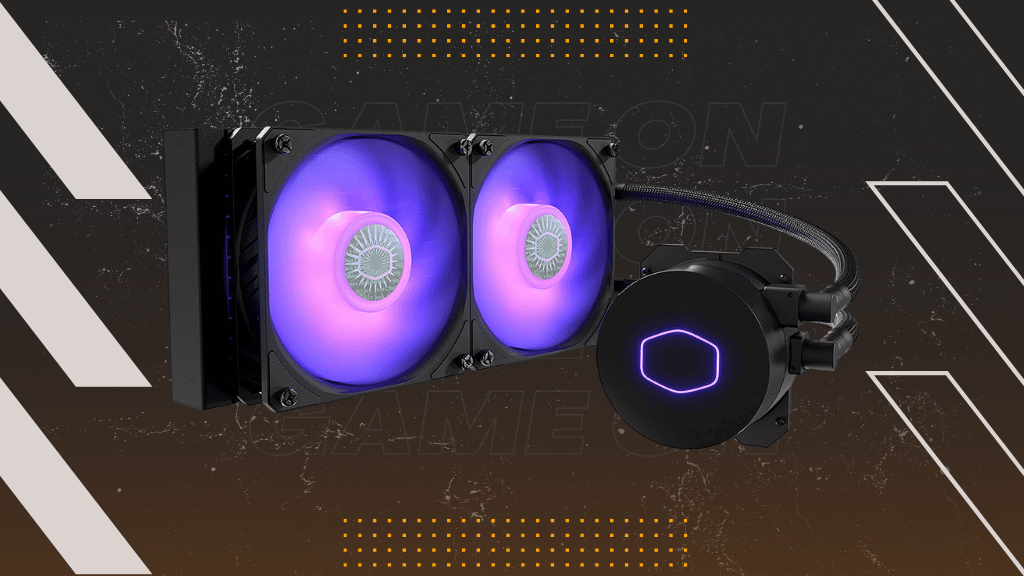 Type: 240mm AIO | Fan RPM: 650-1,800 | Fan CFM: 65.6 | Tube length: 300mm | Has RGB: Yes
Cooler Master produces a plethora of quality cases & case-related components. Although they've been making AIOs for a while as well, their budget offerings didn't measure up. Some were inefficient, others loud, while a few were even guilty of an AIO's worst sin – a tendency to leak after some use. Fortunately for the thrifty buyer, Cooler Master made a complete redesign of the MasterLiquid ML240L V2 as a result. It's not the most efficient.
The V2 has received welcome upgrades in several key areas. The original's pump was lacking, so the new one has more volume, longer impeller blades, and a better connection between chambers. Viewed together, these improvements do much to increase the pump's efficiency and throughput. The exterior design is still cylindrical with a subtle yet welcome LED Cooler Master logo in the middle.
The radiator is nondescript save for a Cooler Master stencil on top. Its fin density is slightly higher than usual, and thick tubing connects it to the pump head. The tubes are braided but short and stiff, so take care during installation. They end in swivel fittings on the pump head side, so making adjustments shouldn't prove problematic.
The Fruits of Redemption
The fans are another new addition. Out with MasterFan and in with SickleFlow 120, newer and sturdier fans with milky white blades that produce a diffuse glow. They – like much of the V2 in general – don't have mediocre stats you'd associate with a 240mm AIO this cheap. The CFM is decent, the static pressure even more so, and the housings have noise-canceling rubber pads.
RGB is icing on the budget AIO cake. It's not as sophisticated as Corsair's, but you can still achieve wonderful monochrome hues and cool effects. The V2 is compatible with major motherboard color management software, so you can sync it with memory, fans, and other colorful components. Alternatively, you can use a basic RGB controller that ships with the AIO if you hook the fans' RGB headers to it instead of your mobo's appropriate header.
We're not going to pretend that pricing an AIO close to $70 doesn't come with drawbacks. Its thermal performance is worse than the Liquid Freezer's by several degrees. It wouldn't throttle an overclocked 5800X3D, but the temperature margin might be too close for comfort. The V2 isn't the most silent cooler either, as 100% load will have its fans produce noise in excess of 40dB. Even so, the AIO is enough for a smooth gaming experience.