Let's face it, that's no joke of a CPU when you obtain an i9 11900K. Just like all CPUs, it will heat up in a hurry. The absolute last thing you'd want is to run it into is a heating problem. Ok, there's a chance that the above image won't be seen as the greatest method to prevent that heating problem! Unfortunately, the real list of CPU cooling methods is a gigantic one. Make no mistake about it. You'd want nothing less than the best CPU cooler for i9 11900K. Let us see about cutting that list down dramatically to provide you exactly that.
NZXT Kraken Z63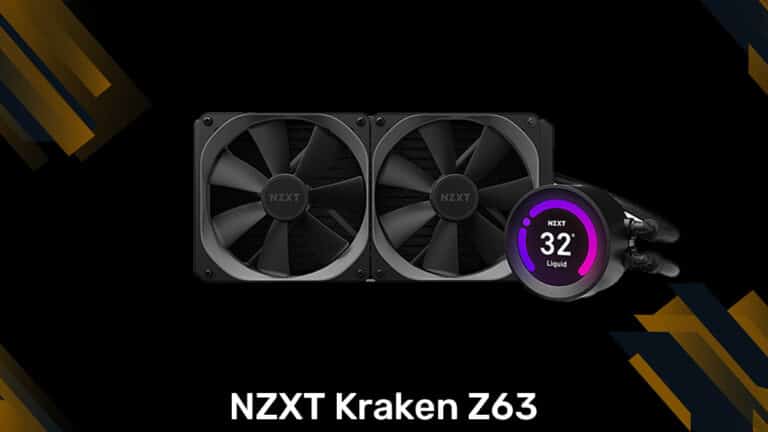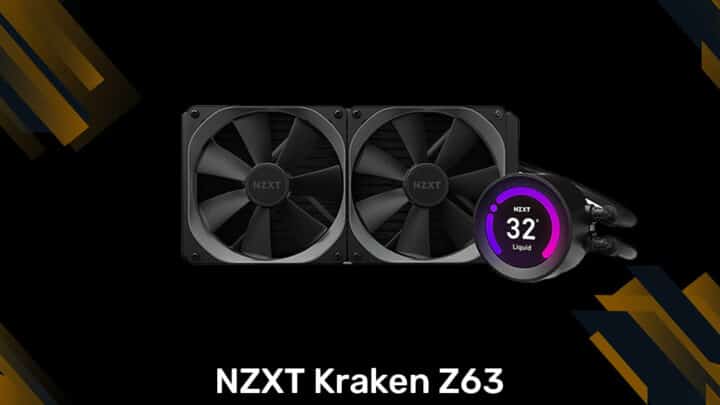 Size: 280MM | Display: Customizable | Noise Level: 21dB | Speed: 500 – 1800 RPM
If by chance you haven't heard of NZXT, you have some reading to do! Yes, they make several different CPU coolers. No, this CPU cooler does not have tentacles that will drag ships down! Yes, this AIO is really great for CPU cooling! You can even swap the really nice fans that come with it. The popular idea is to match the RGB in the rest of your PC case. With this, you can stick to your decorating guns and watch as your i9 11900K doesn't go up in smoke!
This starts with the pair of chamfered designed Aer P fans. These will crank up quietly at 21dB. No alarming the entire area! Notice how the speed is listed as 500 to 1800 RPM? That's because the fans are designed to move lots of air with less effort. Next are the fairly flexible nylon mesh tubes to help prevent water park mode! Last but not least is the large, customizable LCD that sits on top of it. It uses animated GIFs for a wide variety of crazy customizing included into your PC's design!
The big concern with this AIO is the cost. Yes, it can make your wallet hate you for a while. Then again, you most likely didn't get that CPU at a super wallet friend price. So don't start! However, being the best cooler for 11900K makes up for it. It's not overly difficult to install. It's extremely customizable or looks good as is. Ultimately, it gets the job done. That's without annoying your video recordings, gaming sessions or the neighborhood!
Corsair iCUE H115i Elite Capellix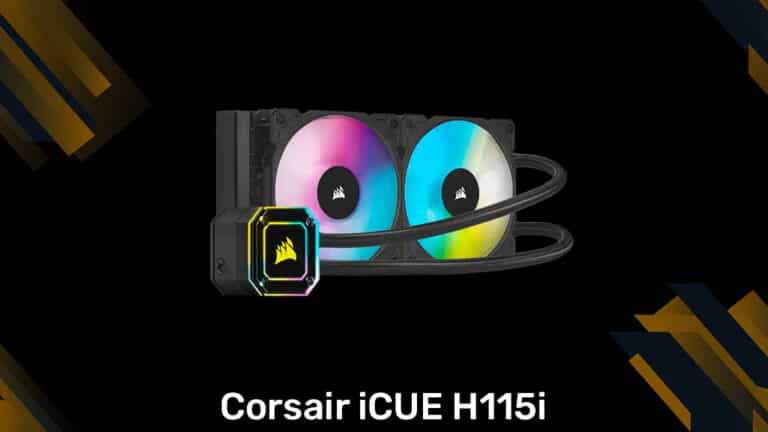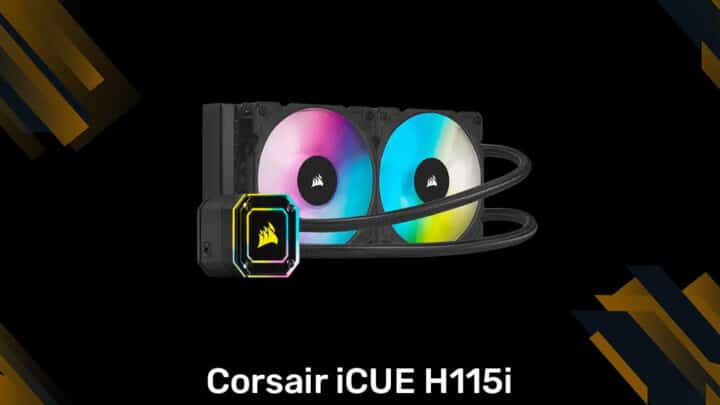 Size: 280MM | Display: RGB | Noise Level: 36dB | Speed: 400 – 2000 RPM
Includes a nifty hub
iCUE controls/monitors everything
Can keep CPU temps nice and low
Note storage power connectors first
This is one of the latest CPU cooling offerings of Corsair. Nope, they did not mess around or skimp out on you! The H115i Elite Capellix AIO is one really strong i9 11900K cooler. Imagine that. Your CPU is kept under 60°C while gaming or stress testing. All the while you're not aiming to soundproof the room your PC is in! Then if your CPU is cooled off enough, the fans can shut off to reduce power consumption and wear and tear.
To get things going, Corsair put together a pair of Magnetic Levitation bearing RGB fans. They'll last, shut up and provide plenty of airflow. Also keep it quiet with the centrifugal pump which has a nice 0.82L/min flow rate. The iCUE Commander Core (the nifty hub) lets you connect this AIO with more Corsair fans or other fans. One YouTube video later and you'll easily be up and running. The downloadable iCUE software controls the entire setup. This includes the fan speeds and the complete RGB setup, pump header and all.
Although this is a really nice CPU cooler, you'll need at least 1 SATA power connector to use it. So mind your storage option requirements first. More often than not, a PSU in a custom PC build will have plenty of SATA power connectors anyway. Ultimately, this AIO works well and looks nice too so it's hard to go wrong here!
Asus ROG RYUO 240 RGB AIO
Size: 240MM | Display: OLED | Noise Level: 37.6dB | Speed: 800 – 2500 RPM
Customizable screen
Nice, strong, flexible tubing
PowerShell programmable display
Needs an Asus motherboard
Asus is one of the top brands, if not the top brand, of PCs and PC parts. Of course they'd be included here! Vying for the title of best cooler for i9 11900K is the Asus ROG RYUO 240 RGB AIO. Just don't get confused with the RGB part here. It's on the pump header and not the included fans. The idea behind it is to have a type of under glow going. It's a pretty nice effect to make the pump header really stand out from all the other RGB in your case or match it. Yes, we know you overdid the RGB in your case!
Asus started you out with custom ROG designed fans. They're no slouch in the speed or radiator cooling departments. You have your PC case and so do we. So does everyone else. The point being, the sleeved tubing must bend to your will. Yes, it does and it doesn't trigger a waterfall inside your PC! The OLED display on top of the pump header is a nice screen complete with animated GIF compatibility. You can also make PowerShell scripts to display things on it. All in all, this is one really something for an AIO and has nice performance too!
This AIO is really meant for Asus motherboards. Even though that's listed as a "con", it's not really a bad idea. That's considering just how popular Asus PC parts really are. Without the Asus motherboard, the features of the OLED are limited. Even still, the PowerShell programming can help provide info to display.
Thermaltake Water 3.0 ARGB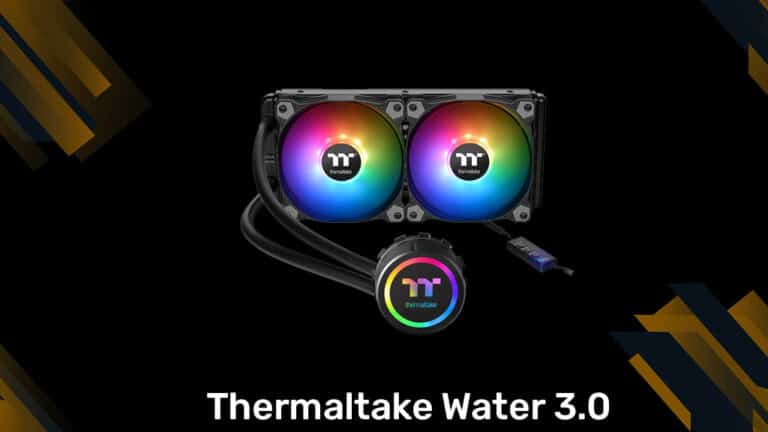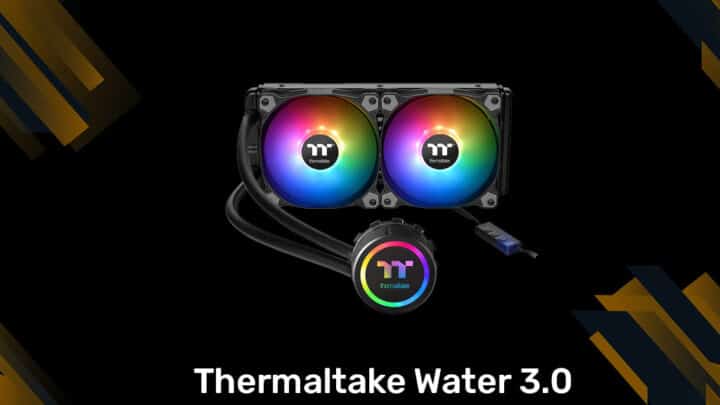 Size: 240MM | Display: RGB | Noise Level: 25.8dB | Speed: 800 – 2500 RPM
Low evaporation rate
RGB controller or use various apps
Pretty easy to install
Instructions get tricky for some
Nope, Thermaltake doesn't just make PSUs! Sure enough, they put together a wide range of PC products including full-blown PC cooling systems. So here we have the Thermaltake Water 3.0 ARGB AIO. The surprisingly entertaining part is the RGB controller. With that, you can just keep clicking until the ARGB matches your PC case or looks how you want it to. Just don't confuse the Speed button with what it's controlling. It's the LED speed and not the fan speed.
This little beasty comes complete with the high-speed water block matched with the highly efficient radiator. Also note that the radiator has a really slim design so it'll fit into just about everything. The hydraulic bearings and compression fan blades mean it'll crank the airflow nicely. If you eventually get bored with the RGB controller, you can use a wide variety of software to control the whole setup. The way it was built with the reinforced tubing provides an incredibly low evaporation rate. This will make it last for years.
The good news is that this AIO as your i9 11900K cooler comes with instructions. Oddly enough, some folks deemed that as the bad news too! That's fine and all since it really is pretty easy to install. I mean, the lady in the YouTube video did it in only 5 minutes. She only had deadly, blood painted fingernails and an ordinary Phillips screwdriver! Come to think of it, I think she was swearing in that video too. She was holding the instructions. You'll be fine!
Cooler Master MasterLiquid ML240L RGB V2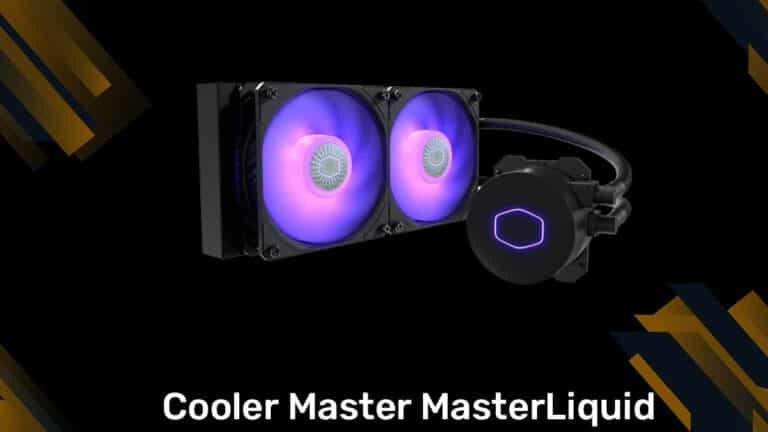 Size: 240MM | Display: RGB | Noise Level: 15dB | Speed: 650 – 1800 RPM
It's a pretty good looking RGB AIO from a pretty well-known brand. The Cooler Master MasterLiquid ML240L RGB V2 not only sports the longest AIO name, it also sports one really big water pump! Don't worry. It's packing an industrial grade seal so you won't be breaking out your surfboard! What you will be breaking out is your plans for other things. With its wallet friendly price tag, you can salvage your money for other parts. Or a dinner date. Either way, this AIO won't cost a small fortune!
The reason the water pump is so big is because it's a dual chamber water pump. It's nice on the performance and still leaves plenty of room for your RAM kit. Now mix in the Sickleflow fans rifle bearings. Oh, that's why it's so quiet! Naturally, you get more buttons to push with the RGB controller. If that doesn't float your rock, you can control the various RGB and other aspects with other RGB software. It won't take long to get it all glowing how you like it.
When you look at the pump header, it's clearly not very decorative. Yes, it is a RGB setup on it. Unfortunately, it's not terribly useful compared to other AIOs. However, if you're busy looking at your monitor instead of your case, you'll be fine! Besides, the real aim to these AIOs is to prevent CPU meltdown. That's how the Cooler Master MasterLiquid ML240L RGB V2 go onto the list vying to be the best cooler for 11900K.
Noctua NH-D15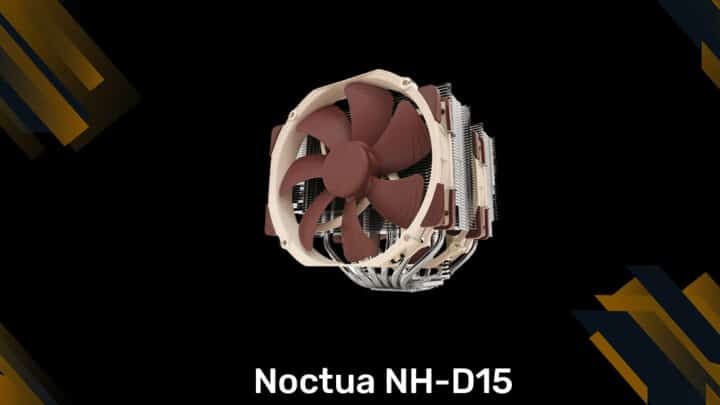 Size: 140MM | Display: Nope | Noise Level: 24.6dB | Speed: 300 – 1500 RPM
What makes you think we're just one way about CPU cooling?! Without doubt, without question, the Noctua NH-D15 must be included. This little monster earned its way onto this list. It's used and praised by gamers, PC builders and crypto miners alike. I'm guessing there's a really good reason it has 250+ awards. It also comes with Noctua's special blend of thermal paste. You can get all that and never have to worry about Water Wonderland inside your PC!
The NH-D15 starts out with a dual heat tower design. This comes with 6 heat pipes to full on drag heat away from your i9 11900K. With the pair of premium Noctua 140mm fans, heat from the towers goes for an immediate "bye-bye"! Now add in the PWM support. This will allow you to control the fan speed. It also helps to prevent sounding like a Ghostbuster's proton pack activation! Lastly, include the all too easy to use mounting setup to make sure the installation is easier than blinking!
The main rule is to make it work first. Then make it pretty if possible. Ok, that one wasn't too possible here. That's ok since it cools CPUs easily on par with AIOs. In many situations, it even does better than AIOs. The bigger concern is the sheer size of this air based cooler. Unfortunately, many have had problems fitting it into their case. The main problem is the RAM kit size. As long as you research your setup before buying, you'd be fine. In terms of air coolers, it's the very best for the 1190k
What's the Best CPU Cooler for i9 11900K?
With all its features, large screen, prettiness, lack of ship destroying and a really cool name, it'll be the NZXT Kraken Z63. This AIO is no joke of a CPU cooler. Again, you'd want pretty much everything it offers. Then top it off with a well-known and trusted brand. It's not hard to imagine why the Kraken Z63 wins.