Heat is in fact one of the top problems of electronics. When it comes to CPU temperatures, you absolutely do not want to let yours hit maximum operating temperatures. The idea is that it can and it can survive. Unfortunately, it won't last long. You run the risk of outright frying it and at the minimum, you'll heat throttle it. Now that you've gotten a recently released Ryzen 7 APU, let's see about not instantly roasting it! So whats the best cooler for Ryzen 7 5700G?
NZXT Kraken Z53
Size: 240MM | Display: Customizable | Noise Level: 36dB | Speed: 800 – 2800 RPM
One of the main features of an AIO is having a really cool customizable pump header. It's when you are the best cooler for Ryzen 7 5700G, you add in an LCD screen! Yes, it's a whole new world of fun when your pump header is entertaining. All it takes is a little creativity. Next thing you know, your friends are asking why your APU looks like it's targeting them! Also, all that "preventing your APU from exploding" stuff is included too. It's just a typical day for an NZXT Kraken Z53.
I know you want to hear about those seriously sweet Aer P fans. They're not only seriously sweet but they're also chamfered. They won't make tons of noise but they will produce great APU cooling. Naturally, you'd want the hoses to be flexible enough to fit your custom PC builds. With its fine mesh nylon hoses, that won't be a problem. They're tough as can be and help provide easy installations. Oh let's face it. You just wanted this AIO for the customizable screen. The rest is just bonuses!
The outright truth of the matter is that many things are getting more expensive as we go along. Unfortunately, some AIOs have also become "that guy". Then again, you didn't just wake up to find out the Tooth Fairy left you a Ryzen 7 5700G under your pillow. So while you're busy spending, you might as well add in some money for a great cooler! The Ryzen CPUs/APUs are known to run very hot. Think of this as one of the nicest melting prevention methods available!
Corsair H100i RGB Platinum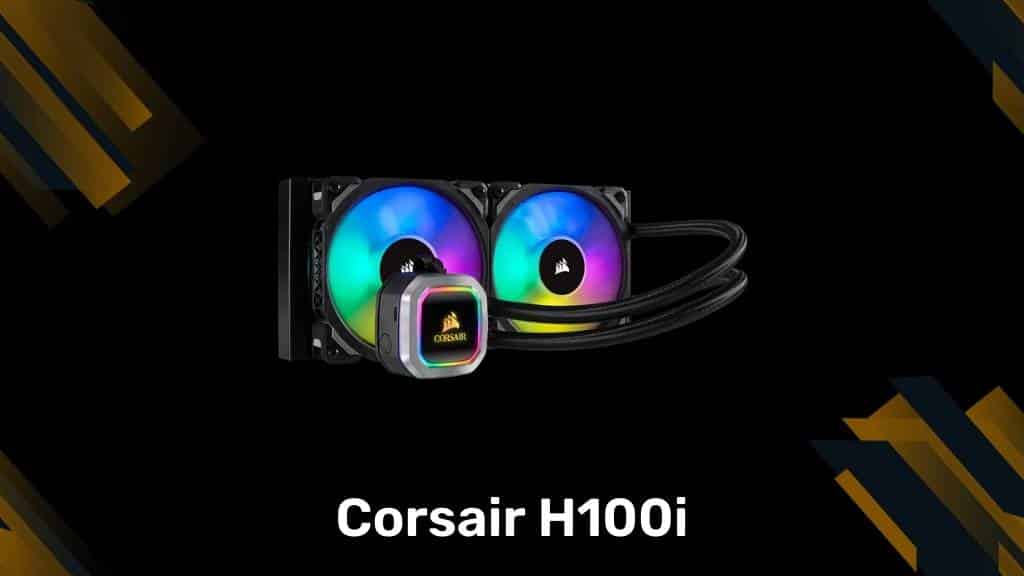 Size: 240MM | Display: RGB | Noise Level: 37dB | Speed: 400 – 2400 RPM
When it comes to CPU coolers, and a bunch of other parts, Corsair tends to show up high in the rankings. Yes, that explains why they're here vying to be the best AIO for Ryzen 7 5700G. Here we have the Corsair H100i RGB Platinum AIO just for you. No, not for the potentially thousands of others reading this. It's just for you! They're also here with one seriously good looking CPU cooler. All the more reason you'd want one! Just don't let its looks trick you. Its performance can definitely speak for itself.
When looking for a great AIO, you'll notice a lot of folks switching their included fans to the Corsair Magnetic Levitation (ML not Mobile Legends!) fans. That's because they're surprisingly quiet and they look better than others. Yes, I suppose their performance would be the other reason! Another thing to look for when going for a great AIO is the included thermal paste. This one happens to be Shin Etsu thermal paste which is well respected stuff. This is what helps produce great performance in a CPU cooler.
As it turns out, the installation of the Corsair H100i RGB Platinum can be troublesome. Many folks really didn't like the hook and screw system here. This setup feels flimsy and easily broken. Those with motherboards that can handle 8 sticks of RAM also won't like this AIO. The radiator side hose connectors don't swivel. This could lead to extra unwanted bending. You could end up with a blocked connector on the pump side of things. Check things closely before buying this.
ARCTIC Liquid Freezer II
Size: 240MM | Display: None | Noise Level: 22.5dB | Speed: 200 – 1800 RPM
Very low power consumption
Wallet friendly
Extra fan on the pump
Several issues to deal with
The thing is, performance is always king when it comes to AIOs. Not just the cooling performance. You also have to consider the noise generated, ease of use, and multiple other factors. So here we have the ARCTIC Liquid Freezer II trying to be your best AIO for Ryzen 7 5700G. Quite honestly, it's a pretty strong contender. It definitely has the capabilities and potential to be the best. Then ARCTIC went ahead and made sure you can still afford the Ryzen 7 5700G later on to go with it! Some may call this completely backwards. Others will call it being prepared!
As it turns out, this AIO showed up with a rather low price tag. Once you've picked up an ARCTIC Liquid Freezer II, you'll notice you still have money left. Don't be alarmed. Just go get the required beer for PC building! Upon checking your fancy new AIO, you'll notice it has an extra VRM fan. No, that wasn't just a gimmick. It certainly helps produce the lower temps. What also produces lower temps is the lower power consumption. With this, some of the heat generated is already gone. Depending on your particular build, the Liquid Freezer II is also very quiet.
Unfortunately, this AIO is not for everyone. It's really meant for PC builders that have plenty of experience with AIOs. This was found out the hard way with the instructions. In several cases, the lack of instructions was to "thank". It seems some folks didn't appreciate that connecting wire under the pump. Others didn't appreciate the very short wires.
Noctua NH-D15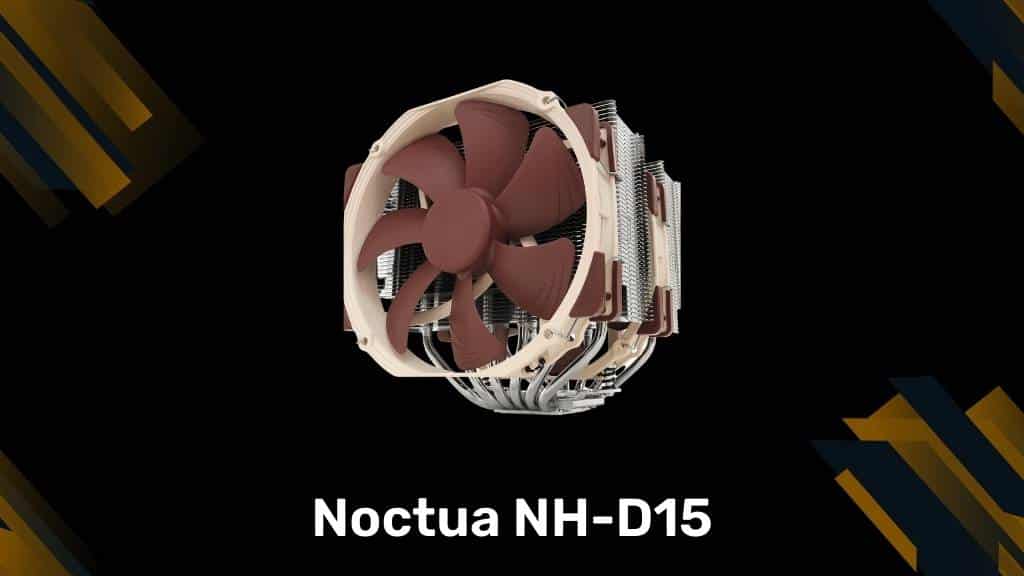 Size: 140MM | Display: None | Noise Level: 24.6dB | Speed: 300-1500 RPM
For those that are worried about a liquid CPU cooling solution, you can always use an air based CPU cooling solution. It's a lot easier to deal with compared to moving to a snow capped mountain! When it comes to air based cooling, the Noctura NH-D15 isn't the best AIO for Ryzen 7 5700G. Thankfully, it's the best air based cooler available anyway. This is how you avoid liquid death for your custom PC build!
One of the main problems with AIOs is the installation. Air based coolers don't have nearly as much of a problem. With all CPU/APU coolers, your main concern is the RAM clearance. Simply adjust the front/outside fan of this one to fix that. Naturally, you'd want a CPU cooler to perform just as well or better than AIOs. The NH-D15 has done this repeatedly. It's featured in many YouTube videos doing exactly that. There's a reason why the NH-D15 managed to win so many awards. Free tip: it wasn't because of lousy performances!
With pretty much all of the parts for a custom PC build, you better check sizes of everything first. The CPU cooler you use is not exempt from this. In this situation, you'd have to check the sizes of your RAM kit and PC case. Yes, you really should do this before buying anything. It can be a real headache and a half finding out the hard way. Even though manufacturers say this and that can work together, this doesn't mean they always fit together. Thankfully, size information is always either present or can be easily found/requested somewhere online.
be quiet! Dark Rock Pro 4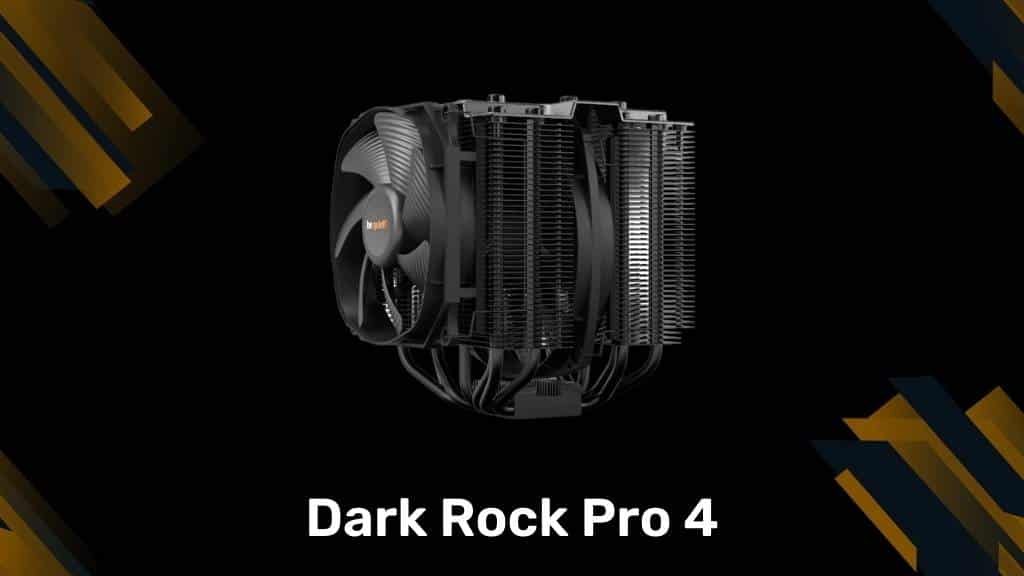 Size: 135MM | Display: None | Noise Level: 24.3dB | Speed: 1500 RPM
When it comes to air based coolers, you want two things. The first is for it to do a great job. The other, of course, is to do it without producing more noise than a Tesla turbine (YouTube it!)! So here we have the be quiet! Dark Rock Pro 4 aiming to be the best cooler for Ryzen 7 5700G. No, it really doesn't look like a rock, dark or otherwise. Honestly, it's rather nice in the appearances department. Yes, it is quite professional in its performance. Best of all, you can still afford a cheeseburger at the end of the day!
This little beastie starts out with a pair of Silent Wings PWM fans. They're fast, perform nicely, and don't make the neighborhood nervous. These really nice fans are attached to a pair of aluminum heatsinks. That would be the double towers. You can attach another fan to the other side to create a tornado. Failing that, you will create a really nice breeze to prevent CPU/APU from melting! Each of the towers comes seven heat pipes. That will drag tons of heat off your CPU/APU. Lastly, top it all off with a price tag so your wallet won't hate you!
You'll notice very quickly that this thing is big. Thankfully the included outside fan sits up higher than the middle fan. A lot of situations will fit it. However, do yourself a favor and research all sizes before buying these things. Also note that due to its size, the Dark Rock Pro 4 can sit in your build which ends up covering your RAM kit. So check that first!
The best CPU cooler for Ryzen 7 5700G is?
Again, there really is a lot to consider when trying to get that perfect CPU/APU cooler. Many folks might not think of it, but sizes also apply to AIOs. They look puny enough but you'd be surprised sometimes. Anyways, here, you're after the best. The others can certainly qualify so you do have choices. Ultimately, it's the NZXT Kraken Z53 that came out on top. All of that and a really cool LCD screen to play with! Congratulations to NZXT!
FAQ
As always, if you have questions, feel free to ask in the comments section below. In the meantime, we'll try to save you time!
1. What's with the different thermal pastes/grease?
Thermal paste helps transfer the heat off the CPU/APU and into the heatsinks. As it turns out, no, they're not all the same. Take the examples of Noctura NT-H1, Shin Etsu and ARTIC thermal pastes. Each has their pros and cons. Each has a group of people that would swear by them. Which one happens to be the best is another story altogether.
2. Is the disaster known as "liquid death" a real and/or big concern?
It is a real concern. It's not a big enough concern to stop the majority from using AIOs. The problem shows up when an AIO or custom loop leaks. Here, we're concerned with AIOs. Whatever the reason, sometimes they spring a leak. Basically, electronics + liquids = dead electronics. Should this stop you from going after an AIO? That's only if you really don't know how to install and use the AIOs.
3. Shouldn't that have said "Google it!"?
If you don't know what a Tesla turbine is or what it sounds like, you'll be using YouTube anyway!
4. Which is better, the air-based or the liquid based coolers?
More often than not, it's the AIOs that can perform better. The air based coolers are typically easier to work with and less hazardous to your PC. Both would still rely on the temperature of the room your PC is located in as well. More often than not, the winner is whichever one fits in your PC build and inside your budget!