Specs:

Type: 280mm AIO
Fan RPM: 200 – 1.700
Fan CFM: 73

Specs:

Type: Air cooler
Fan RPM: 300 – 1.500
Fan CFM: 82

Specs:

Type: 240mm AIO
Fan RPM: 800-1,800
Fan CFM: 66

Specs:

Type: Air cooler
Fan RPM: 500 - 1,850
Fan CFM: 69

Specs:

Type: Air cooler
Fan RPM: 1,500
Fan CFM: 66

Specs:

Type: 240mm AIO
Fan RPM: 650 – 1.800
Fan CFM: 62
AMD has ousted Intel from the gaming throne yet again, and the CPU that accomplished this puts the 13900K's power consumption and thermals to shame! That means the best CPU cooler for Ryzen 7 7800X3D doesn't need to be an AIO behemoth to do its job well.
The chip's comparatively meager thermals give you lots of options. AIOs will still come in handy if you push the chip frequently, while capable air coolers are all you'll need if you only use it for gaming. Peruse our diverse selection and get a cooler that jives with your style and budget.
Arctic Liquid Freezer II 280
ARCTIC Liquid Freezer II 280
Type: 280mm AIO | Fan RPM: 200 – 1.700 | Fan CFM: 73 | Tube length: 380mm | Has RGB: No
Pros:
Outstanding value for the money

Provides active cooling for adjacent components

Straightforward installation
Gaming processors might be steadily advancing, but the Liquid freezer remains all you need & more to cool them. The reasons to get one keep piling up – it's cheaper than many similarly-performing competitors, comes with a slew of innovations, and works well. The lack of LEDs might be another benefit for some. If you're not among them, another $15 will get you the LED version.
Even though it's a few years old now, the Liquid Freezer remains one of the most unique AIOs. Its unique-looking pump contains a small PWM fan that spins to cool the VRM. 7800X3D owners who want to pair their CPU with a cheap motherboard will find this feature genuinely useful.
Arctic continues to surprise with the radiator. The part that's usually the most boring is 11mm thicker, offering more surface area and a lesser fin density to compensate. That still results in increased heat radiation which the two 140mm P14 fans handle easily due to their high CFM and static pressure. While it's more efficient, keep the radiator's thickness in mind when shopping for your PC case.
The AIO's installation isn't as involved as most since you have little to do. The fans arrive mounted on the radiator in a push position. The cabling that powers them and the pump runs down the tube sleeve for a neater look. This means you can't adjust the fan speeds individually without installing a splitter manually, but not many users will care.
The Liquid Freezer II 280 is average while idling but quickly jumps ahead of the competition once things heat up. It's notably better than any air-cooling alternative and performs on par with all but the most capable 360mm AIOs. We've listened to quieter AIOs at full blast, but it shouldn't need to ramp up that much unless you're stress-testing the processor.
Noctua NH-U14S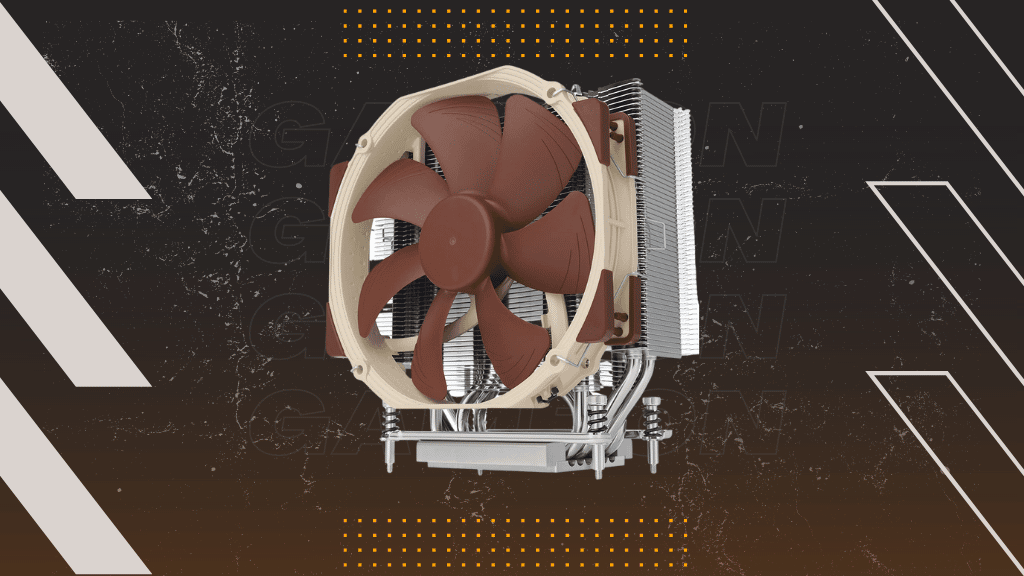 Noctua NH-U14S
Type: Air cooler | Fan RPM: 300 – 1.500 | Fan CFM: 82 | Has RGB: No
Pros:
Exceptional build quality

Quiet operation

Easy installation
Cons:
Might have clearance issues on some motherboards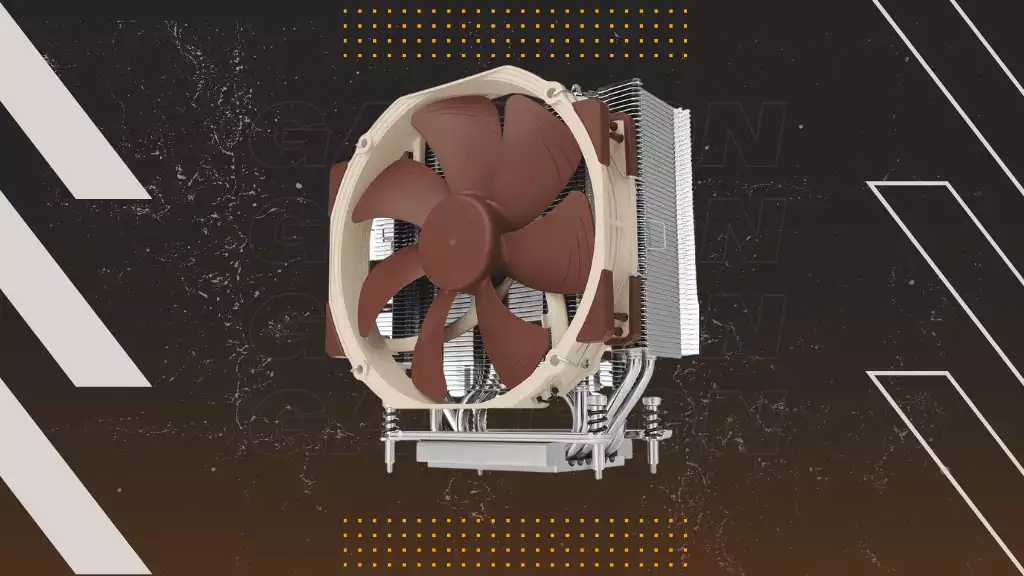 Lower power consumption and heat generation are among the 7800X3D's major advantages over Intel's hot-headed competition. That's great news if you're looking to offset your motherboard costs since it means air coolers are powerful enough to handle it. The NH-U14S is the best CPU cooler for Ryzen 7 7800X3Do if you're going the air-cooled route.
World-class build quality is among the main reasons the NH-U14S remains highly competitive despite its age. No single feature stands out. Rather, it's subtle details like the concave indent of its heatsink or the partial sawtooth pattern alongside it which reveal the design's genius. The single-tower design doesn't prevent six heatpipes from spreading out and dispersing heat evenly through each fin.
Noctua made a statement by outfitting the cooler with one of its trademark fans. The NF-A15 is instantly recognizable due to its irregular size and polarizing color scheme. It's taller than the heatsink and can produce more than 80 cubic meters per minute of airflow. It's not noisy by default, and Noctua supplies an LNA to double down on acoustic efficiency.
Noctua practically wrote the book on modern CPU cooler installation with the SecuFirm system. AMD boards come with preinstalled backplates, so mounting the cooler is even easier. You just have to use some thermal paste and make sure you're applying equal pressure to both sides while screwing it in.
The NH-U14S won't prevent the 7800X3D from reaching its TJMax of 89°C during intense testing with software like AIDA64. However, the CPU remains firmly in the 60s while gaming, which is around 20°C better than the 13900K.
Lian Li Galahad 240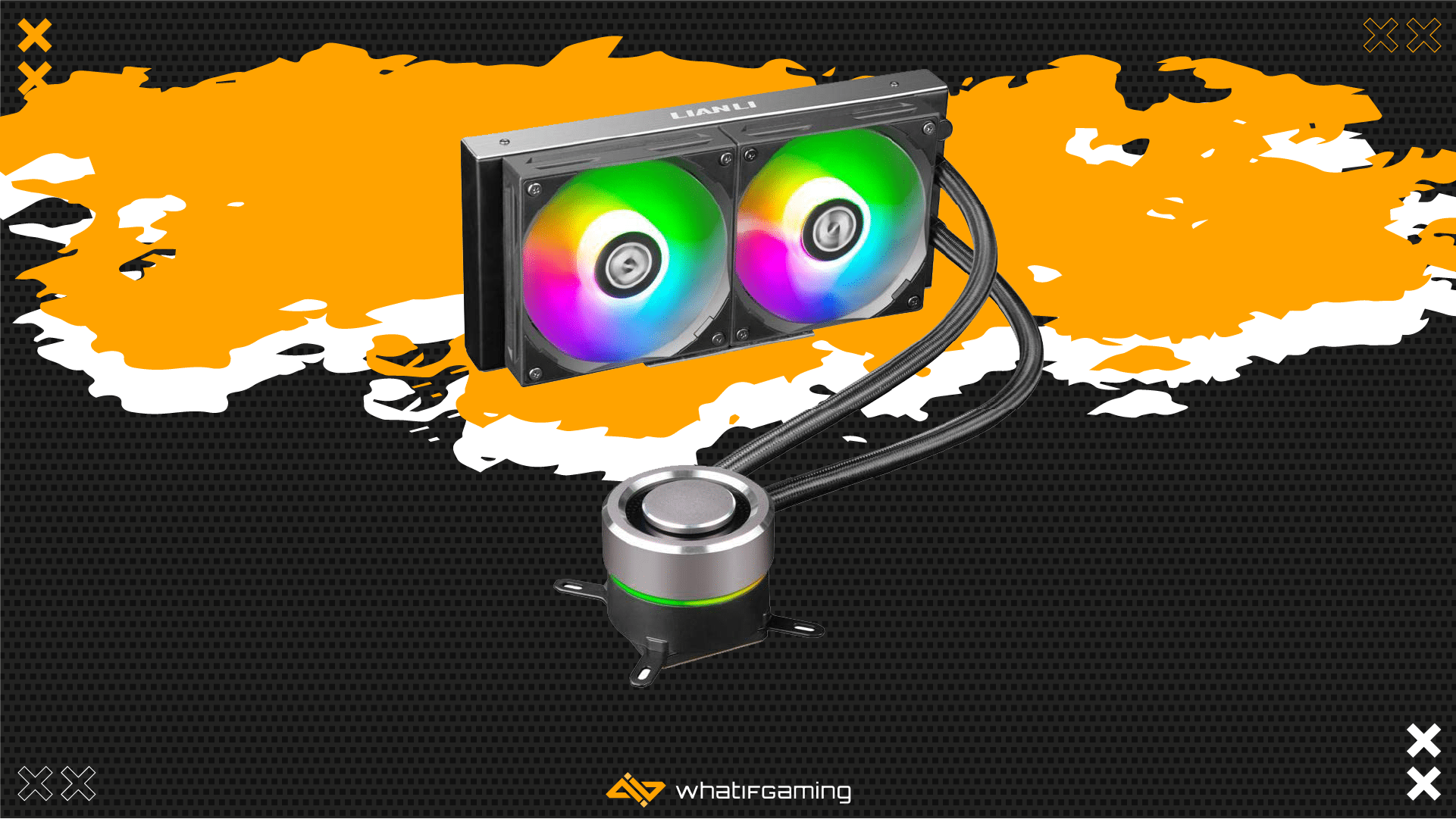 Lian Li Galahad 240
Type: 240mm AIO | Fan RPM: 800-1,800 | Fan CFM: 66 | Tube length: 400mm | Has RGB: Yes
Pros:
Exceptional performance for a 240mm AIO

Attractive RGB and overall look

Straightforward installation
Lian Li doesn't branch out of the PC case niche much. When it does, we get standout products like the Galahad 240. It's one of the most powerful 240mm AIOs in existence, easily keeping up with larger radiators. It's only third on the list since the RGB adds to its cost. Even so, don't hesitate to get it over the Liquid Freezer if you need a smaller but supremely capable cooler.
Even though the Galahad already has a successor, we're sticking to the original since it's cheaper and performs the same. Its RGB fans and a removable magnetic plate on the pump head provide a visual treat compatible with major motherboard software when you plug it into the appropriate header.
Despite its cylindrical shape, the pump head has a three-chamber design not made by Asetek. Its copper bottom is machined well and should adhere to the 7800X3D tightly. It connects to the radiator through 400mm of tubing. Said radiator is standard except for reinforced sides that add to its length.
The two 120mm fans have decorative notches and fluid bearings that minimize vibration. Their nine blades are transparent, which can negatively impact throughput. Not here, as they rotate at 1,800 RPM yet can shift a respectable 66 CFM out into the open.
You can set the Galahad up almost as speedily as our winner. Nothing is premounted, but securing the fans and connecting all the wires only adds a couple of minutes to the hassle-free install.
The Galahad 240 is well worth its price premium since it's among the best-performing coolers, period. That's right – it will cool the 7800X3D as well as some 360mm and most 280mm units! Everyone benefits from this, but the impact is especially noticeable in smaller cases.
DeepCool AK620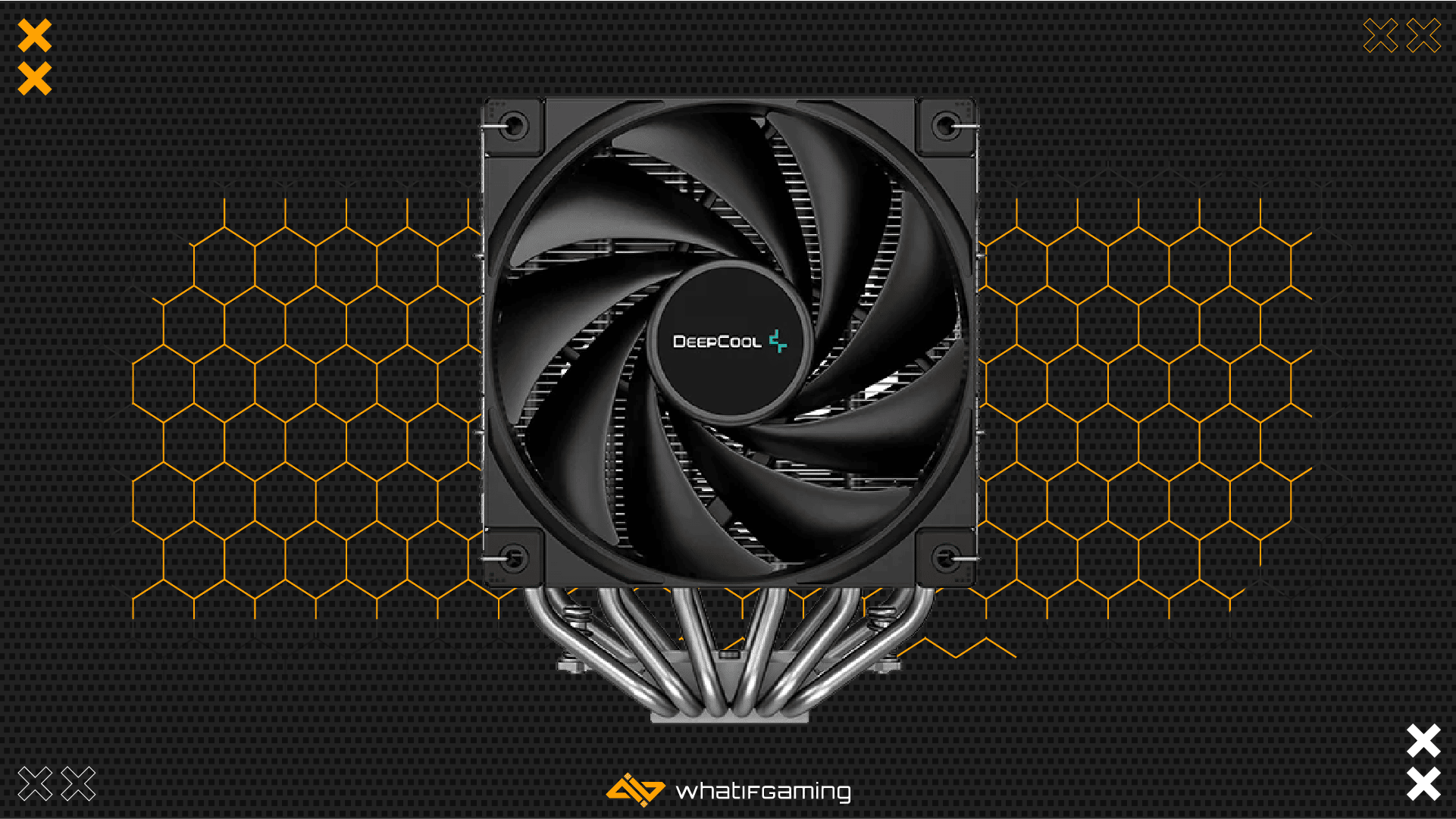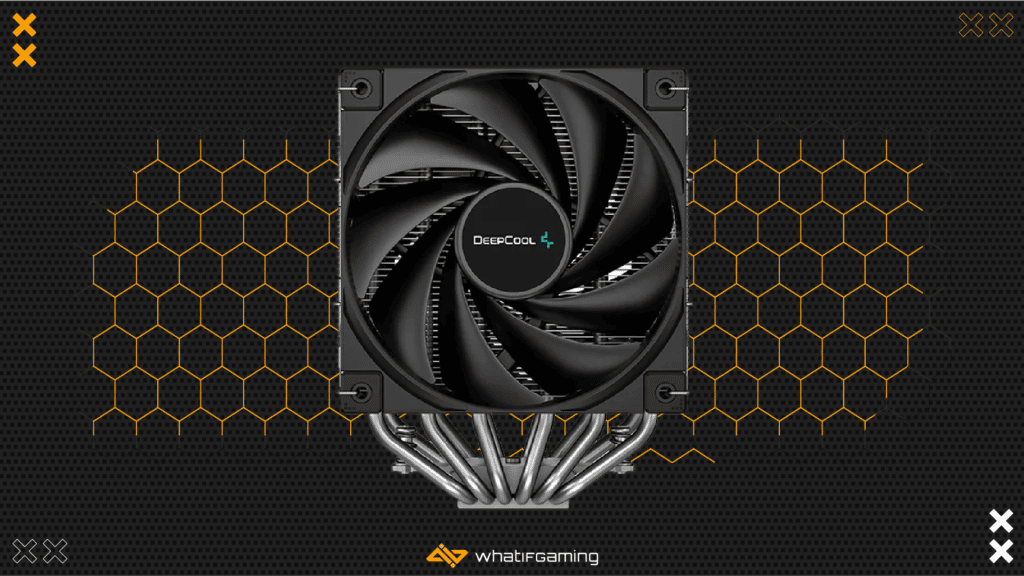 DeepCool AK620
Type: Air cooler | Fan RPM: 500 – 1.850 | Fan CFM: 69 | Has RGB: No
Pros:
Excellent value for the money

Decent case and RAM compatibility

Easy to install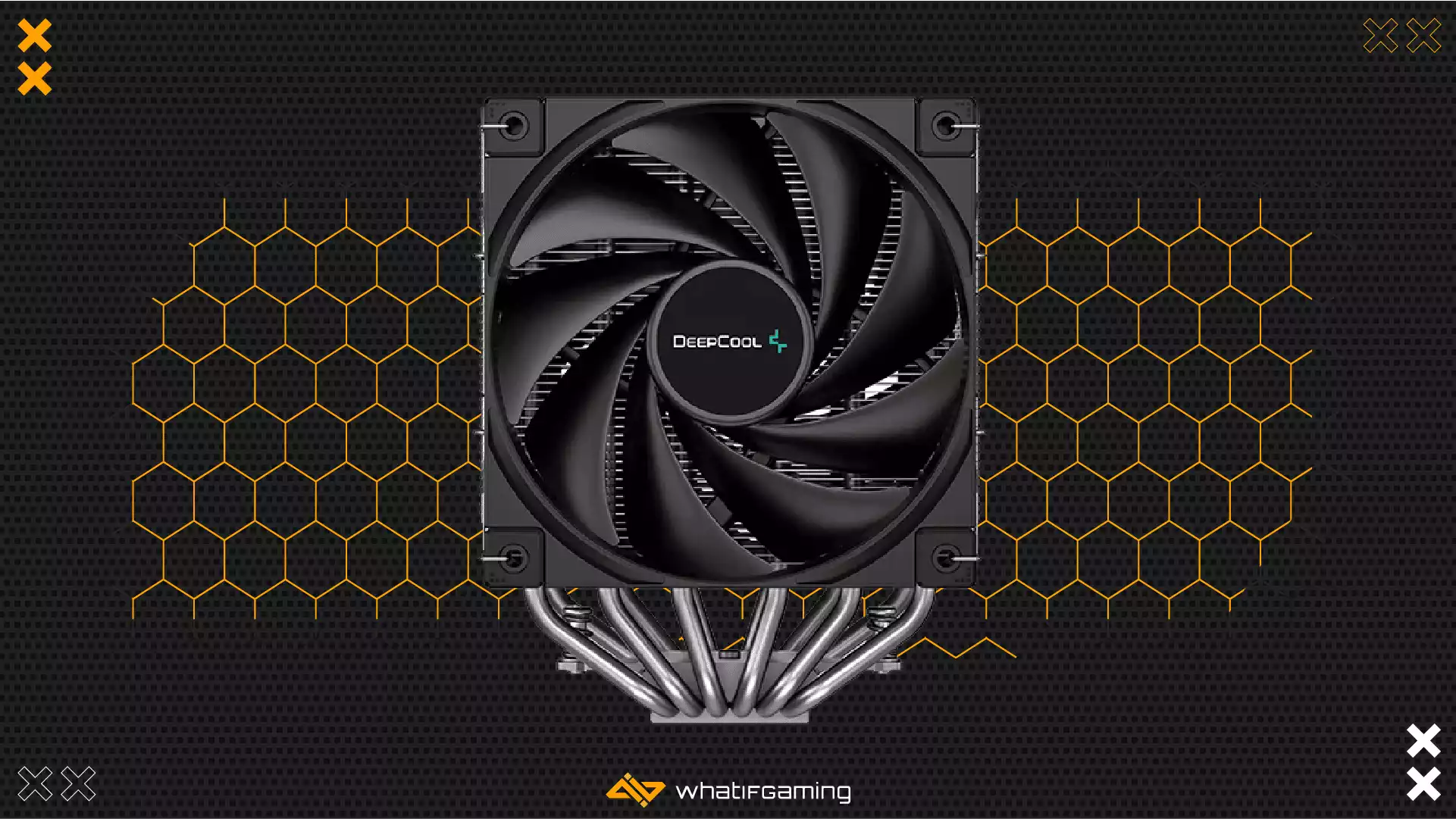 It's not well-known if you aren't keeping up with PC tech, but the budget to mid-tier CPU cooling space is in the middle of a renaissance! DeepCool's line of AK coolers are frontrunners, and we chose the AK620 as the best CPU cooler for Ryzen 7 7800X3D in the under-$60 category. It's weighty, built to last, and performs far better than the price would indicate.
The AK620 combines high mass with a relatively short height of 160mm. This makes it fit inside most cases, while 43mm of RAM clearance ensures you won't need to adjust the front fan unless you use Corsair's oversized memory.
The heatsink consists of 49 fins forming two identical towers with a decorative plastic cover. DeepCool takes decorating to a new level with fins that are slightly shorter in intervals, creating a checkerboard pattern. Sets of six heatpipes transfer heat from the polished base to each tower and spread out to maximize efficiency.
The fans get the same attention to detail. They have closed-off corners and a wide RPM range. Such adaptability lets them run quietly while idling yet move close to 70 CFM apiece when engaged fully. Noctua's mounts heavily inspired the installation process, so look forward to smooth sailing.
As expected, 500 RPM makes for quiet fans and higher idle temperatures. The situation flips once you start playing or working. At its peak, the AK620 can match our runner-up and comes close to the NH-D15. You don't need to run it at 100% for efficient cooling. Nor should you, as it can get loud.
Thermalright Peerless Assassin 120 SE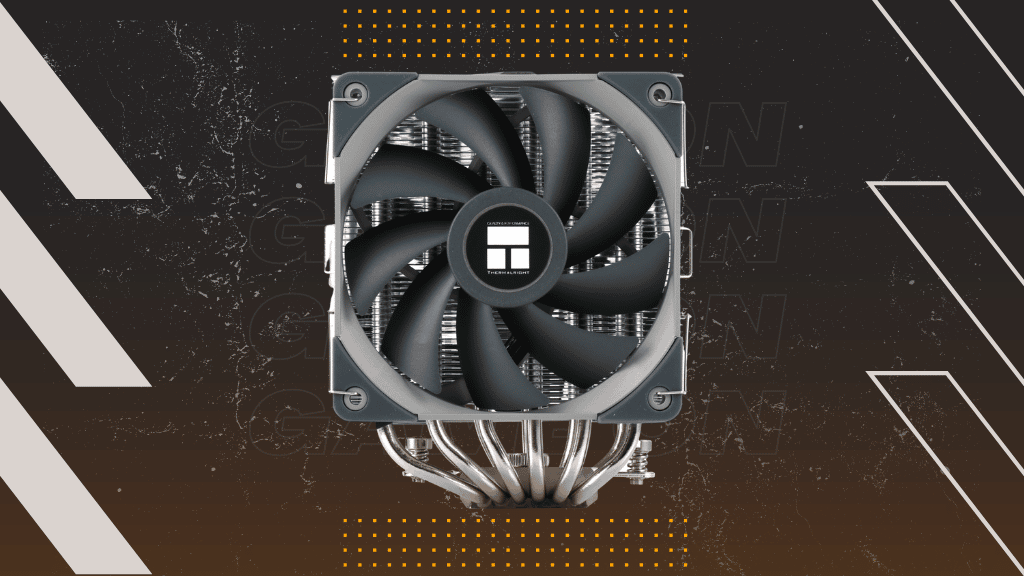 Thermalright Peerless Assassin 120 SE
Type: Air cooler | Fan RPM: 1,500 | Fan CFM: 66 | Has RGB: Yes
Pros:
World-class price-to-performance ratio

On par with more expensive coolers when paired with low and mid-tier CPUs

Lots of color and lighting options
Cons:
RAM clearance could be better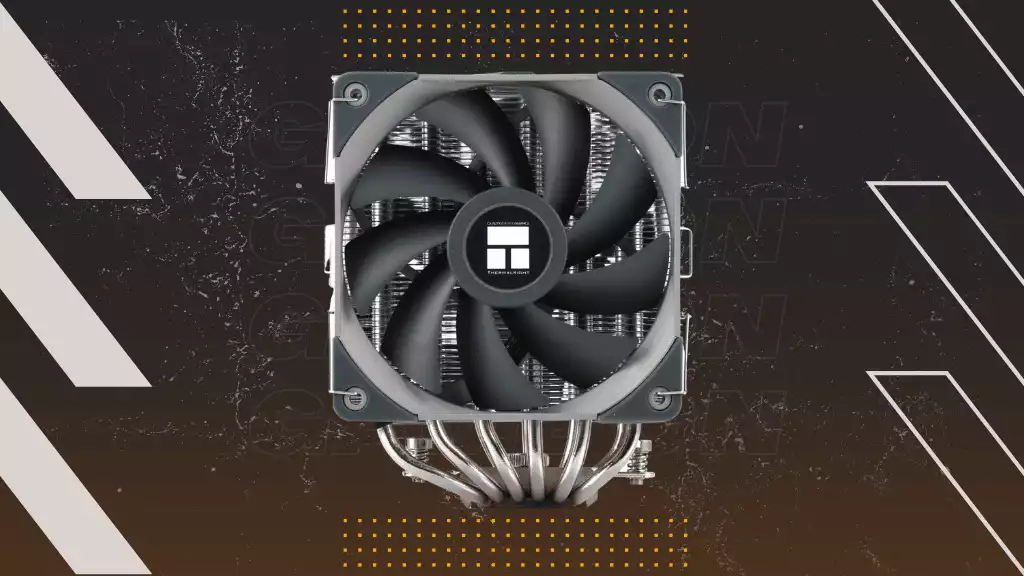 On to the best CPU cooler for Ryzen 7 7800X3D if you're looking to save the most money. We aren't usually prone to using superlatives, but the Peerless Assassin 120 SE is nothing short of incredible. Its basic version costs a healthy $40 yet competes with more expensive coolers and even AIOs! We still wouldn't entrust a fully-engaged 13900K to its care, but the Assassin is more than sufficient for AMD's more economical chip.
So many aspects of the cooler's design are worthy of a double take. The packaging offers ample protection, and the components inside are a higher quality than we'd expect from a $40 product. The heatsink is 3mm shorter than the AK620's and will fit inside an even wider assortment of cases.
Thermalright went with function over form with a standard fan design. What they lack in originality, the fans make up for with low noise and decent throughput for 120mm. Their static pressure is mediocre, so make sure your case airflow is on point.
The dual tower, six heatpipe layout wouldn't be noteworthy if not for the bargain bin price. The heatsink sides are closed off for more directed airflow and have sets of diagonal cutouts that introduce turbulence as air passes.
Extraordinary performance is what will keep us coming back to the Peerless Assassin for many future builds. It's on par with the AK620, meaning that the NH-D15 isn't out of reach, either. Noctua's legendary cooler still makes sense for CPUs with a higher TDP. However, it looks far from appealing for mid-range CPUs with competition like this upturning the market.
CoolerMaster MasterLiquid ML240L RGB V2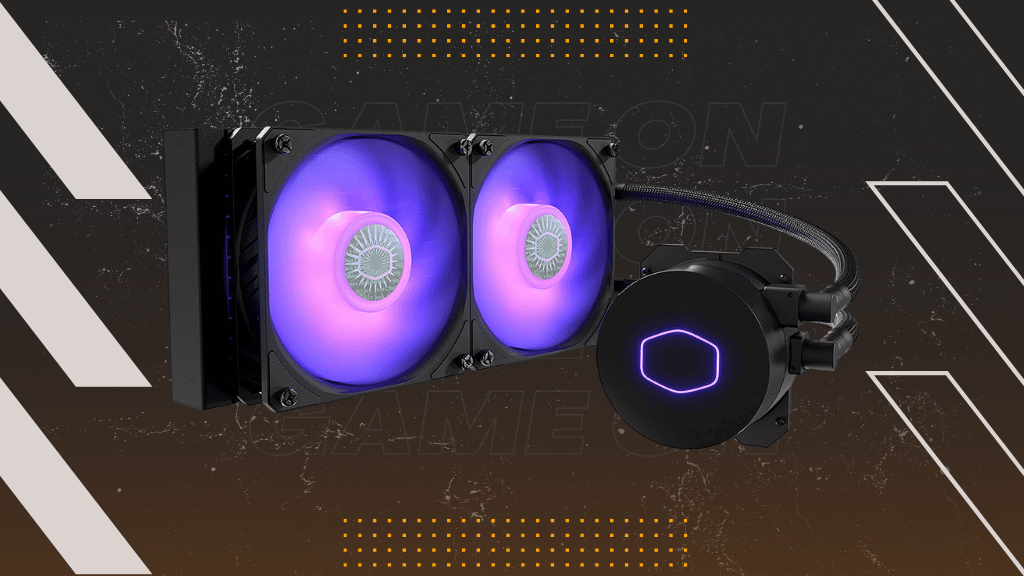 CoolerMaster MasterLiquid ML240L RGB V2
Type: 240mm AIO | Fan RPM: 650 – 1,800 | Fan CFM: 62 | Tube length: Not specified | Has RGB: Yes
Pros:
Excellent value for the money

Quiet operation

Considerably improved over its predecessor
Cons:
Not as effective as more expensive AIOs
CoolerMaster is another household name in PC case manufacturing. Unlike Lian Li, their first AIO offerings weren't as polished. Rather than abandon their water cooling pursuits, CoolerMaster doubled down & ironed out previous mistakes. The result is our favorite affordable AIO, the revamped ML240L RGB!
The pump head looks like yet another puck with a hexagonal light-up company logo. Inside, however, the design is much improved. The chambers are more spacious than the original's, and longer impeller blades drive liquid with greater force while making less noise. The contact plate is highly polished and doesn't have pre-applied TIM. You get some as an accessory, though.
The tubing is short and stiffer than most, so this may not be the best AIO if you have a large case and plan to mount it in the front. Everything fits well otherwise. The textured radiator gives off a premium feel, and the SickleFlow fans are both quieter and more adept than the spinners on the original.
CoolerMaster provides mounting hardware for the most common systems and a thorough manual you can consult if you run into trouble. Nothing about the installation process should throw experienced builders off guard. First-timers won't struggle either if they stick to the instructions.
It's great that you can get an RGB AIO at this price, but the lighting implementation is just OK. All the effects & presets use a single color since the LEDs aren't ARGB. Your motherboard can sync it up with the rest of your system, or you can set the color & effect manually through an included controller.
The V2's performance is excellent for the price. It costs less than the NH-D15 yet keeps the 7800X3D 2-3°C cooler while gaming. It's also a quiet performer, coming in at just over 40dB at load.