It's all kinds of fun being listed as one of the proud few owners of a brand new Ryzen 9 5900X. That's if you managed to get one! The last things you need to see it do are either shut down from overheating or end up heat throttling. Either way amounts to seriously not good. Using liquid nitrogen to prevent meltdown seems like a lot of fun. Let's not try that! Searching for the best CPU cooler for Ryzen 9 5900X can be zero fun. So here we'll save you the time and provide you with some of the best options currently available.
NZXT Kraken Z63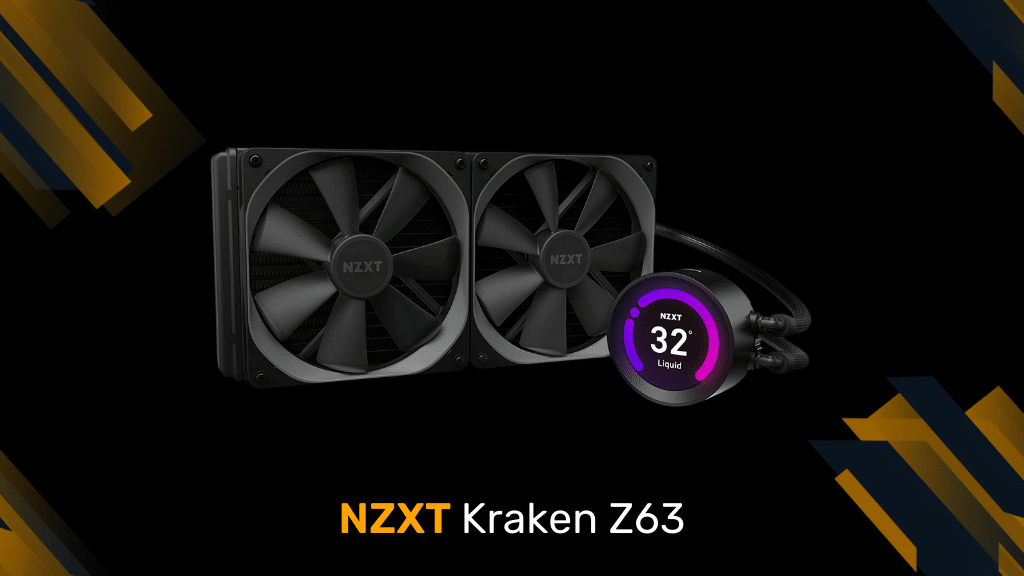 Size: 280MM | Display: Customizable | Noise Level: 21dB | Speed: 500 – 1800 RPM
Easy installation
Very cool LCD screen
Great performance
Might need a fan switch for RGB
Let's kick things off with one very cool AIO. The NZXT Kraken Z63 is not only the best CPU cooler for Ryzen 9 5900X. It's also the only one with a whole lot of fun to it. There're a large variety of AIOs currently available. Unfortunately, not a lot of them have a LCD screen to play with. Yes, you can set it up in all kinds of ways. It's when animated GIFs get involved, there's a whole new world of fun coming with it! Also note that the performance and other aspects are also what gained it the top spot!
Start out your Ryzen 9 5900X build with the quietest CPU cooler here. During gaming, streaming and/or recording you won't be listening to this AIO! Since it's really quiet, you might want to eyeball it once in a while to make sure it's still there! The Aer P fans are custom-designed to crank the airflow. This will keep that liquid as cold as your beer (don't drink it!). The installation is pretty easy with all the included connectors/parts. Lastly, this AIO will keep you plenty busy trying to decide that perfect animation. Just try to keep it pleasant!
Only naturally, custom PC builders and gamers are very interested in RGB. Unfortunately, even though the included fans work great, they're without RGB. This does upset the RGB lovers of the world. You can always save yourself the time, money and effort and use the included fans. Otherwise, research for a pair of replacement fans with the RGB. Yes, do research it before buying things.
Corsair H115i RGB Platinum
Size: 280MM | Display: RGB | Noise Level: 36dB | Speed: 400 – 2400 RPM
Great looking AIO
Nice thermal paste included
Really great Magnetic Levitation fans
Loudest AIO here
So many custom PC builders are in it for the looks of their builds. No, they don't just give up entirely on the capabilities and performance of a PC. However, they might end up going a bit overboard with the looks! It's all in the idea that RGB makes you a better gamer, ice cream maker and puny human at the same time! In any case, here we have the rather pretty Corsair H115i RGB Platinum trying to be your best AIO for Ryzen 9 5900X.
Most PC builders would know, or at least we hope you know, the thermal paste is seriously important. The H115i does come with some top-notch Shin Etsu thermal paste. Even though the fans have a really cool name, they look good and they're very sought after. As it turns out, these Magnetic Levitation fans are the ones many PC builders replace their AIO fans with! These fans are absolutely not taken lightly. Lastly, the iCUE software will let you customize the RGB all you like. The 16 LEDs are each addressable.
The bad news is that this CPU cooler can cause a weird problem. As you should know by now, any and all electronics produce heat. This also includes the RGB LEDs. The temperature sensors can pick this up. In turn, it'll make the fans move faster. This is why the noise level is the highest here. It's not a giant problem but can be a weird problem!
Thermaltake Floe Dual Riing RGB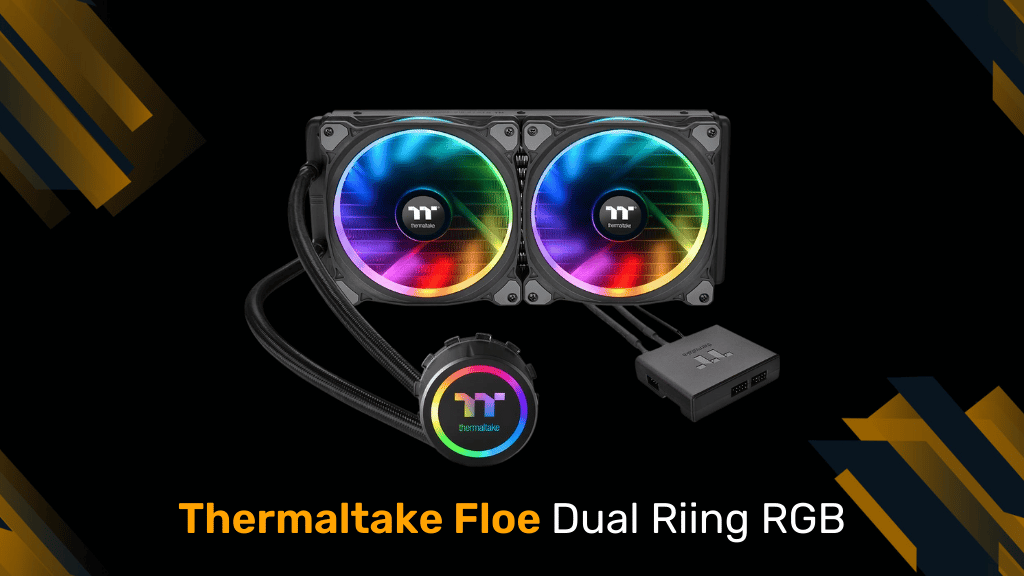 Size: 280MM | Display: RGB | Noise Level: 27.2dB | Speed: 500 – 1400 RPM
As a custom PC builder, or a PC builder in general, one of your main aims is to be able to stay within a budget. Of course your other aims would be to make sure it all works and doesn't melt! However, there's a special feeling involved when you can still afford your girlfriend after building a PC! Here we have the wallet friendly Thermaltake Floe Dual Riing RGB vying to be your chosen Ryzen 9 5900X cooler. Now go get more RGB that you can still afford!
This little beastie starts out with static pressure fans. Do note that for your intake/exhaust setup. The hydraulic bearings in the fans and the "footpads" on each corner are what are reducing the noise levels. The footpads on the corners of both fans also reduce vibration problems. It's when the fan speed picks up the pace; you wouldn't want it shaking your system as though you're a bartender! To make it look good, the Riing Plus RGB software lets you control all the colors. It also lets you control the fan speeds. Top that off with the ability to control and monitor it all via their mobile versions. Don't worry, this AIO can certainly keep CPU/APU temperatures nice and low even on really strong systems.
Yes, the instruction manual is included with the package. Unfortunately, many found that to be the bad news too. Thankfully, there're plenty of support websites available to help should problem arise with this AIO. There's a chance you may have heard of the main support website. It's called YouTube. Oddly enough, it does have more than cat videos!
EK AIO 240 D-RGB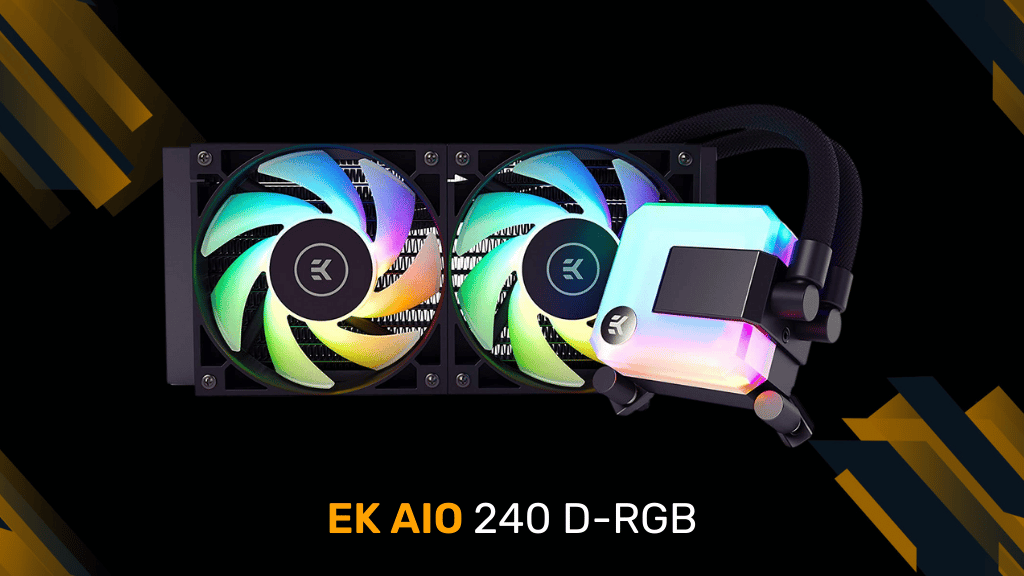 Size: 240MM | Display: RGB | Noise Level: 36.4dB | Speed: 550 – 2200 RPM
Various software compatibility
Easy installation
Surprisingly quiet
Check tube positioning for RAM clearance
The EK-AIO 240 D-RGB liquid cooler shows up here as a great option for being the best AIO for Ryzen 9 5900X. As it turns out, it has a lot going for it. One of the things that many PC builders run smack into is the RGB and fan controlling software. It can be quite the nasty smack too! This CPU cooler doesn't need controlling software. Yes, you can use a variety of them and they will work here. Otherwise, you can skip it and let it run as is. It just depends on how important you deemed RGB at the time.
The EK-AIO 240 D-RGB starts out with industrial-grade EK-Vardar S fans. This means that they're really moving the airflow and they won't die easy. While they're at it, the pump and the fans won't be imitating jet engine levels of sound! The pump is a strong little piece of cooling "yes please" with a custom-designed RGB display. The hoses are tough as nails with the aluminum covers. They're reinforced and sleeved rubber tubes so they also won't die easy. All that and it's known to be a top performer in terms of cooling your CPU/APU no matter the use. Top it all off with the complete parts which help make installation very easy. We told you this AIO has a lot going for it!
One of the top problems for liquid CPU coolers is the hoses. There's always a chance that they'll crash into your RAM sticks. The good news is that you can simply rotate the pump/block and you should be fine.
Noctua NH-D15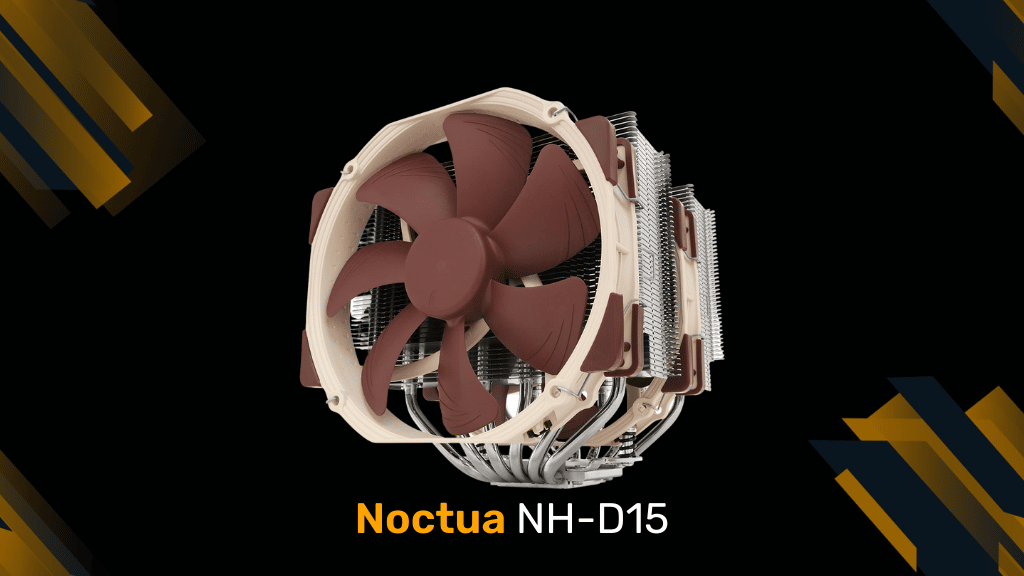 Size: 140MM | Display: none | Noise Level: 19.2dB | Speed: 300 – 1500 RPM
The Noctura NH-D15 is pretty much known as the standard CPU air cooler which others compete and compare with. This goes so far as to even make crypto miners mention it often. In case you're wondering, if crypto miners don't keep things cooled off, it absolutely will roast systems. Oh, is that why it shows up in so many articles, guides, reviews, videos and PCs?! Perhaps it's why it wins so many awards?! In any case, this is the best air based cooler for Ryzen 9 5900X.
In terms of performance, there's a good reason why so many compare their CPU coolers to this one. This starts with the pair of NF-A15 140mm fans. They're also adjustable to help with RAM clearance. No, they won't make a lot of noise while they're preventing CPU detonations! Those fans are not on sitting lonely in the cooling performance. The 6 heat pipes on each of the dual towers will certainly drag heat off your Ryzen 9 5900X. The included and popular NT-H1 thermal paste is no slouch in terms of pulling heat off the CPU. Lastly, the fun part is that most users won't care about the looks when they see the performance!
Let's face it. This thing is pretty big. You might even wonder how it stays in place instead of dragging itself down! Stop listening to the person that tells you it's a great idea to install this CPU cooler into a Mini-ITX case! Do listen to the person telling you to check the dimensions, including RAM, of everything before using the NH-D15.
BeQuiet! Dark Rock Pro 4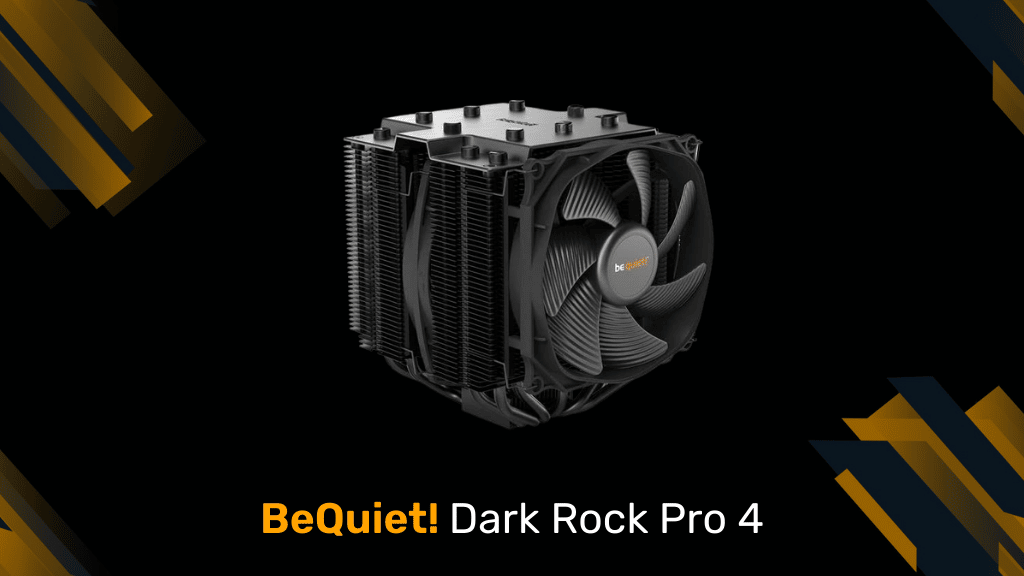 Size: 135MM | Display: none | Noise Level: 24.3dB | Speed: 1500 RPM
As it turns out, "be quiet!" wasn't an instruction here! No, it happens to be a rather popular brand of various PC parts. This time it's the be quiet! Dark Rock Pro 4 aiming to be your chosen CPU cooler. Being cost-effective is one thing. It's a whole new brand of fun when you're the least expensive part in the entire PC build. This should help you to afford a new girlfriend, more RGB or at least some window shopping! Let's face it. That unicorn Ryzen 9 5900X wasn't exactly a cheap stocking stuffer, was it?! The better part is that this isn't some piece of cheap junk.
The Dark Rock Pro 4 is built starting with a pair of aluminum tower heatsinks. Each one has seven heat pipes for a hefty amount of heat pulling. With that, you have the standard pair of Silent Wings fans. To really crank the heat out of there, you can add a third fan. It may seem like a great idea and it's capable but don't use this as a hairdryer! The nice part is that this air-based CPU cooler is crazy quiet. Even at the full fan speed, the 24.3dB it reaches is the maximum noise level. Lastly, the color will make it blend in with most modern motherboards.
The bad news is that you sometimes get a thermal paste. A lot of people like getting some extra thermal paste just to have some extra. Experienced PC builders would have some anyways. Often times they have a particular brand of thermal paste laying around to use.
Who's the best CPU cooler for Ryzen 9 5900X?
There's a hefty amount to consider when looking for the best CPU cooler for the Ryzen 9 5900X. We certainly wouldn't want to see our CPUs/APUs melt and you wouldn't also. With just the price alone of the Ryzen 9 5900X, anyone would be crying themselves to sleep if it got damaged via heat problems. Topping them all off is the NZXT Kraken Z63 AIO. With its features and capabilities, Kraken certainly produced a top-notch AIO. However, for you air-based lovers, the Noctura NH-D15 is your best bet.
FAQ
Sometimes things get confusing. It's no different when it comes to CPU coolers. Yes, there really is a lot to consider. We'll answer some common questions here. If you have any other questions, feel free to ask in the comments section.
1. What's the best bet for the fan orientation?
For those that are not familiar with this, it refers to the placement and direction of the radiator and cooling fans. This depends on the setup of your other fans as well. Get the right airflow and stick with it. For the most part, the direction of your radiator and fans won't make a big difference. Those can be rigged as either intake or exhaust and the performance is around the same. Beyond that, keep the top of the radiator located above the pump.
2. What's all this heat throttling stuff?
When your CPU/APU gets to or beyond its maximum temperature point, there're only two options. It'll either shut down the system or slow it down significantly. Slowing it down significantly is the heat throttling. The last thing you'd want to see is your CPU/APU literally melting. This is how your PC is trying to prevent that. Pushing things way too far in a hot/warm environment is usually how this type of thing happens.
3. Which one is really better, air based or liquid CPU coolers?
They can be nearly the same in terms of performance. A lot of it would depend on your specific situation compared to anyone showcasing the coolers. Different situations such as ambient room temperature and how someone sees a cooler type can make a difference.
4. Which CPU cooler type is riskier?
Quite honestly, they're both equally risky. When it comes to liquid CPU coolers, you always have a chance that something malfunctioned or being damaged right out of the box. Of course, if it leaks, your PC will be dead in the water. Don't start thinking you're 100% safe with air based CPU coolers. If you happen to apply the thermal paste poorly/incorrectly, the cooler's performance can drop to damaging levels. If the air based cooler is not seated properly, that'd be another potential big problem.
5. Will any of these fit my motherboard and CPU combination?
All the CPU coolers here will fit a wide variety of combinations. This includes the motherboards combined with the Ryzen 9 5900X. However, this is only the beginning. There're massive amounts of combinations. No, these won't work with everything as expected. The good news is that if your specific CPU and motherboard combination is listed on the manufacturer's website, you have a good start. Keep researching it to make absolutely sure first.