Specs:

Type: 280mm AIO
Fan RPM: 200 – 1.900
Fan CFM: 69

Specs:

Type: 280mm AIO
Fan RPM: 1.600
Fan CFM: 52

Specs:

Type: 240mm AIO
Fan RPM: 800-1,800
Fan CFM: 66

Specs:

Type: Air cooler
Fan RPM: 300 – 1.200 / 300 - 1,500
Fan CFM: 50 / 57

Specs:

Type: Air cooler
Fan RPM: 300 – 1.500
Fan CFM: 82

Specs:

Type: Air cooler
Fan RPM: 500 - 1,850
Fan CFM: 69
AMD's second-generation 3D V-cache CPUs are redefining the gaming landscape and establishing new thermal rules. The 7900X3D retains the original's multi-threaded prowess while finally matching Intel's top chips in gaming performance. A lower base clock and a much more frugal approach to power consumption will make finding the best CPU coolers for Ryzen 9 7900X3D a lot easier.
We explained Zen4's thermal behavior when talking about AM5 coolers in general, so check it out if you're unsure. The difference is that the 7900X3D's max temperature is 89°C instead, and fewer cores mean air coolers can handle the thermal load too. Here are the ones whose performance, features, and fair pricing impressed us the most.
Arctic Liquid Freezer II 280 A-RGB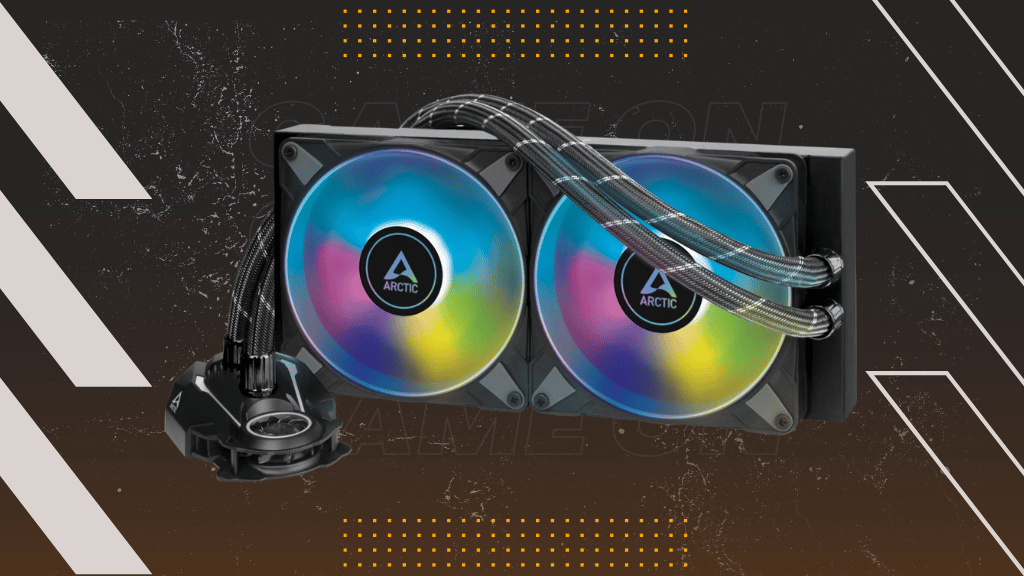 ARCTIC Liquid Freezer II 280 RGB
Type: 280mm AIO | Fan RPM: 200-1,900 | Fan CFM: 69 | Tube length: 450mm | Has RGB: Yes
Pros:
Excellent value for the money

Easy to install and connect

Attractive RGB
One Arctic Freezer or another always has a prominent spot on our cooler lists. Why? Because Arctic's AIOs never disappoint! The 280mm version will keep the 7900X3D cool in gaming and maintain peak boost frequencies if the chip is firing on all cylinders. Its price is reasonable, and you even get to trick your rig out with some decent RGB.
Arctic stuck to the Liquid Freezer's acclaimed design, so RGB and the modified P-14 fans that support it are the only changes. This is Arctic's first time experimenting with RGB. The vividness and uniformity of the glow are definite indicators of success. Better yet, the fans only needed 200 more max RPM to maintain comparable airflow potential.
Other components were already so innovative that there was no need to exchange them. The pump head diverges from the norm the most. Its built-in fan can genuinely help improve VRM temperatures on less expensive motherboards. Its look might not please everyone, but we'll take function over form any day.
Increasing radiator thickness by almost a third is a simpler refinement but no less important. The fin layout isn't as dense, so the P14 fans can still expel air without obstruction. Even so, the net gain in surface area boosts efficiency.
The original Liquid Freezer II was easy to install since everything was already mounted & you had to plug in a single cable. RGB slows the process down only slightly, as there's now another cable for one of your board's RGB headers.
It's hard to beat this AIO in terms of bang for your buck. It matches or barely falls behind more expensive 360mm rivals. That means your 7900X3D should stay in the 50s and 60s while gaming, depending on the individual title's power draw. The fan noise is tolerable but can become distracting at 100% speed.
be quiet! Pure Loop 280mm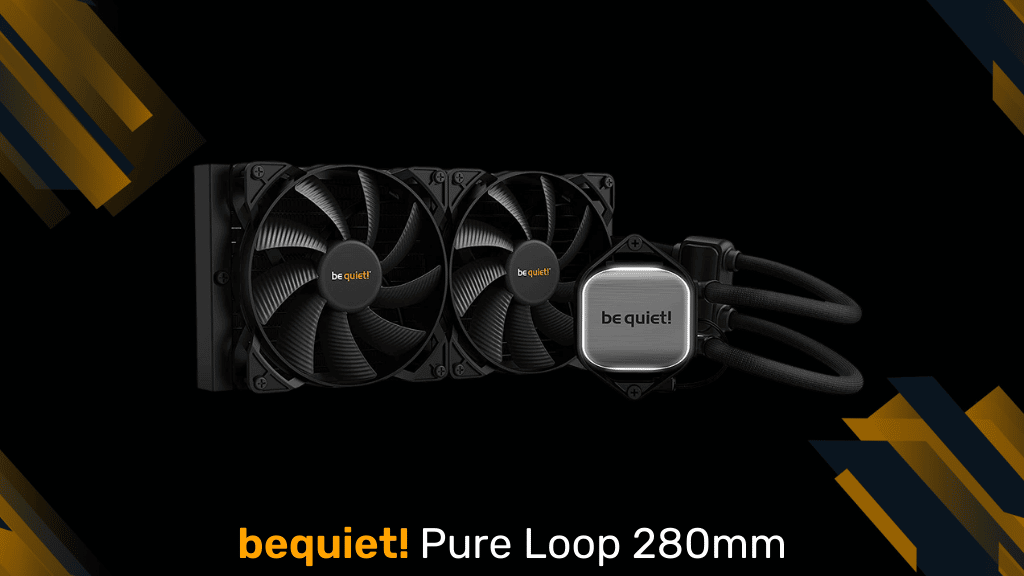 be quiet! Pure Loop 280mm
Fan RPM: 1,600 | Fan CFM: 52 | Tube length: 400mm | Has RGB: No, white light
Pros:
Exceptionally quiet

Refillable

Excellent build quality and longevity
Cons:
Unremarkable cooling performance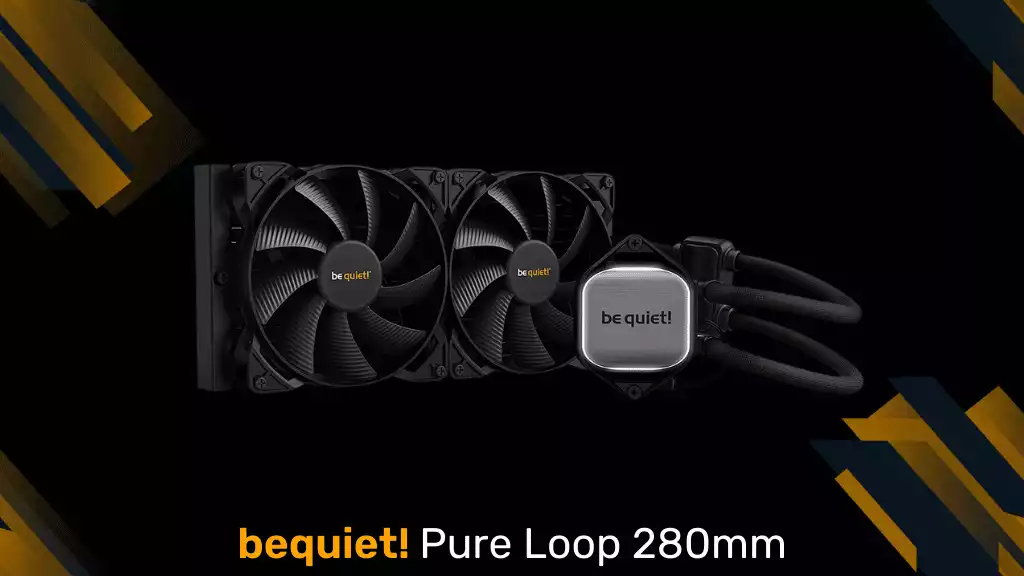 Do you crave the cooling power of the best AIOs but couldn't care less about RGB? The Pure Loop is be quiet!'s inexpensive solution, then. The 280mm variant holds its own against the best CPU coolers for Ryzen 9 7900X3D, barely makes any noise, and comes with unique useful goodies!
A predominantly black aesthetic and signature Pure Wings fans make the Pure Loop one of the most attractive stealthy AIOs around. White LEDs illuminate the contact plate. They aren't as flashy as the newer Pure Loop 2 FX's RGB.
Readers who know their way around AIOs will note the cold plate's lack of thickness. That's because it doesn't house the pump and only serves as the heat transfer point. The pump itself is suspended on the tubing towards the radiator. This reduces vibrations and exposes the pump to less heat, promoting longevity.
Be quiet! really wants you to get your money's worth and includes some spare coolant with your purchase. A cap on the otherwise unremarkable radiator screws off, allowing you to top the liquid off after a few years of use.
The unusual pump placement and modified radiator don't make the installation harder than usual. Some AIOs come with pre-applied thermal grease, but you'll have to do it manually here. Other than that, the procedure is standard.
A CFM of 52 isn't much for a 140mm spinner, which reflects on the Pure Loop's performance. It's a step below the Galahad and as good as the finest air coolers. However, the Pure Loop is much less noisy than your typical AIO. Its max RPM is a mere 1,600, so not even breaching 40dB at 100% fan speed isn't surprising.
Lian Li Galahad 240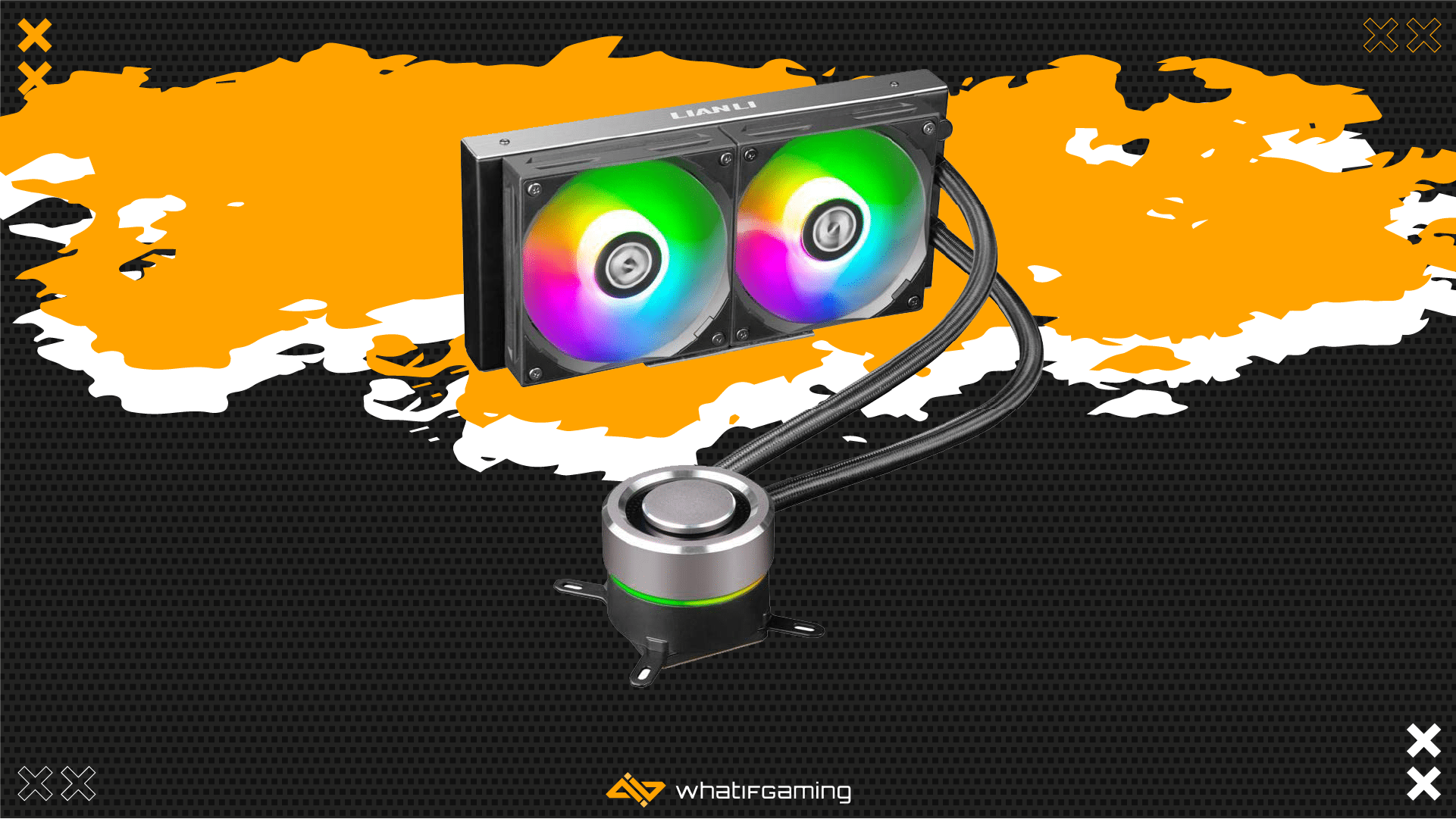 Lian Li Galahad 240
Type: 240mm AIO | Fan RPM: 800-1,800 | Fan CFM: 66 | Tube length: 400mm | Has RGB: Yes
Pros:
Exceptional performance for a 240mm AIO

Attractive RGB and overall look

Straightforward installation
Most readers likely associate Lian Li with world-class PC case design. They've branched out into several niches, and cooling is proving to be the most successful. Two AIO generations are under Lian Li's belt, but we went for the first one. The Galahad is the best CPU cooler for Ryzen 9 7900X3D if you need one with a small footprint and no performance compromises.
Even though the cylindrical pump head suggests an Asetek design, it's an original. The three-chamber pump is silent and efficient, while two hexagonal swivel fittings help ensure stress-free tubing placement. Everything is enveloped in bright aluminum, and you can cover the logo on top if you don't like it. There's also a more expensive white version ideal for all-white builds.
The metallic radiator sports another set of fittings and a decorative reinforced plate. Its dimensions and fin density are standard. The fans you attach to it have notched frames and transparent blades. Their minimum RPM is high, but so are the CFM and static pressure they can exert.
Users with prior AIO experience will encounter no issues during installation. Even if you get stuck with the RGB wiring, the manual explains everything well.
The Galahad justifies its expense with superb cooling ability. It matches the Liquid Freezer's performance and can even beat it or comparable 360mm AIOs in some scenarios. Two 120mm fans have to spin faster, so expect it to be louder when all the 7900X3D's cores are in use.
be quiet! Dark Rock Pro 4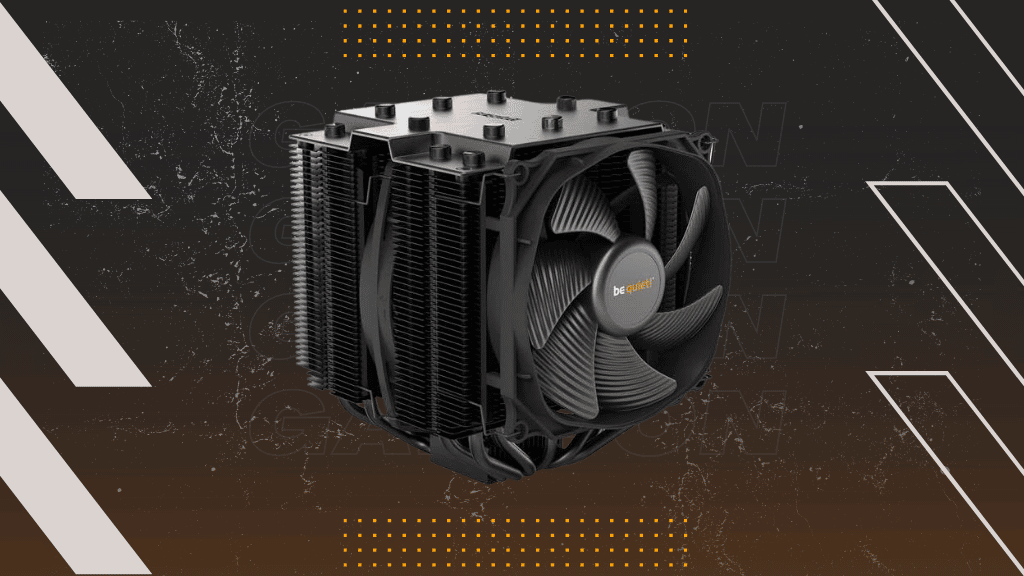 be quiet! Dark Rock Pro 4
Type: Air cooler | Fan RPM: 300-1,500 / 300-1,800 | Fan CFM: 50 / 57 | Has RGB: No
Pros:
Outstandingly quiet

Great build quality & documentation

Stealthy look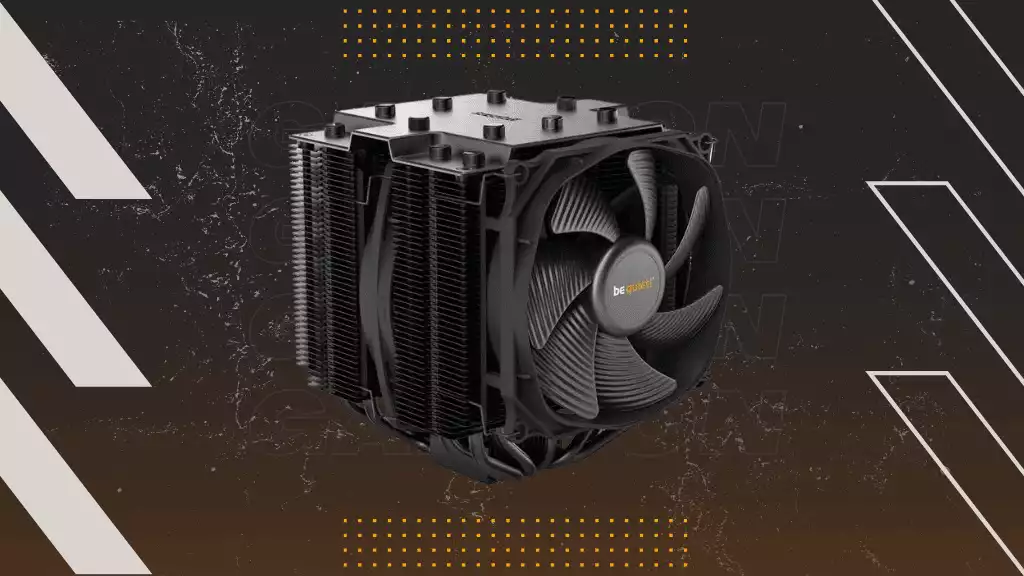 Our first air cooler pick is the flagship Dark Rock Pro 4, another be quiet! product. It's a toss-up between it and Noctua's NH-D15 if you want the absolute best air cooler. However, we're going with the Dark Rock since it's cheaper and more aesthetically pleasing while being of similarly superb build quality.
If the Pure Loop was already stealthy, then the Dark Rock is a true ninja! Every visible inch of it is black, either as a powdered ceramic coating on the fins and seven heatpipes or in the form of brushed aluminum on the fin cover. Stealth doesn't mean a lack of mass or cooing ability, though!
The fin array is extensive and among the most elaborate you'll see on any air cooler. The fins' front sides on each stack are wavy, which helps create turbulence and adds to cooling efficiency. Their backs have unique protrusions that extend out a bit, adding visual flair. Several bottom fins are shorter, helping with RAM clearance.
You usually get identical fans with dual-fan coolers, but the Dark Rock does things differently. The front Pure Wings fan has a 120mm diameter and spins faster. The middle one is 135mm. You get three sets of mounting clips and can purchase another fan separately to augment the Dark Rock's effectiveness.
You could spend your money more productively, as there's little to improve. The Dark Rock Pro 4 matches most 240mm AIOs, lagging by a couple of degrees at most compared to our top pick. It's much quieter, though, and you don't have to worry about potential leakage.
Noctua NH-U14S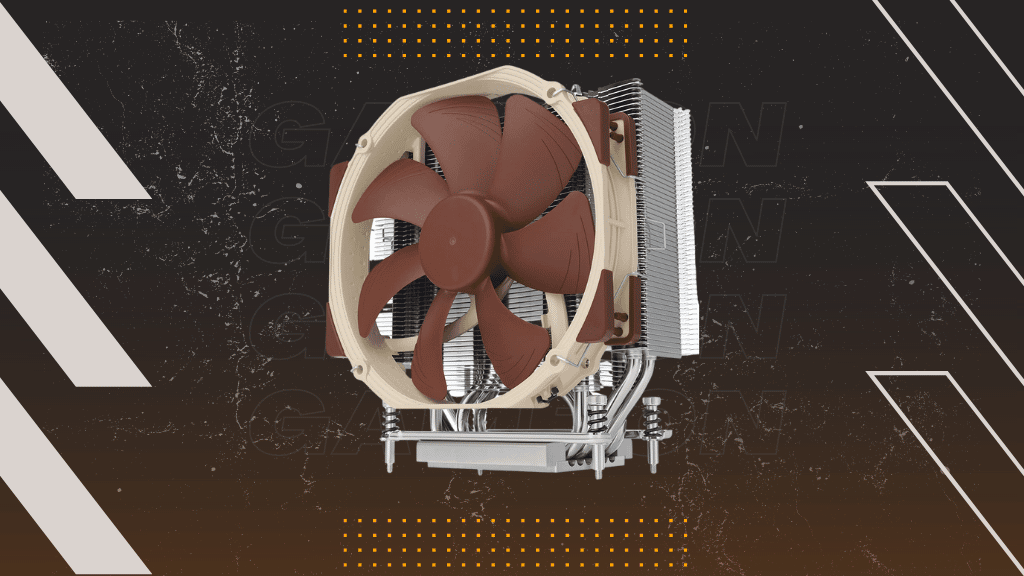 Noctua NH-U14S
Type: Air cooler | Fan RPM: 300 – 1.500 | Fan CFM: 82 | Has RGB: No
Pros:
Exceptional build quality

Quiet operation

Easy installation
Cons:
Might have clearance issues on some motherboards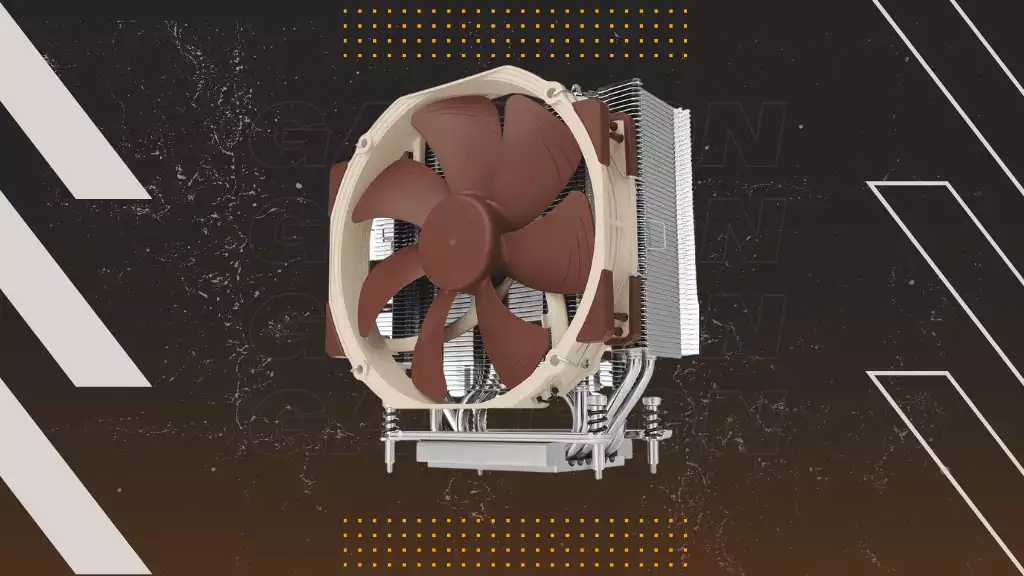 One can't have a roundup involving air cooling that doesn't include at least one Noctua product! We decided to recommend the popular NH-U14S due to its excellent compatibility and reasonable price-to-performance ratio. It's the best CPU cooler for Ryzen 9 7900X3D if you dislike bulky twin tower models yet want comparable cooling quality.
Even though it's slimmer than the Dark Rock and NH-D15, the NH-U14S upholds Noctua's impeccable design standards. It doesn't look special at first glance. However, the construction is rock-solid, and several subtle details give away the attention to detail employed in its creation.
A bird's eye view of the fin stack highlights its hourglass shape. That's to ramp the speed up further as air exits the fan and crashes into the fins. It has nowhere to go but through since the sides fold downward. Six plated heatpipes exit the highly-polished base, alternating their approach angles so that each has some free space for more efficient heat radiation
The fan is a legend in its own right. It's the NF-A15, the same brown-beige behemoth that ships with the NH-D15! You might only get one, but its high CFM and static pressure keep the NH-U14S competitive. You can even hook up a low-noise adapter to dampen the fan's already meager noise output.
Noctua's mounting hardware is the industry standard, so installation should flow smoothly for novices and pros alike. The slimmer heatsink does away with RAM compatibility fears since the fan can't reach the first slot.
DeepCool AK620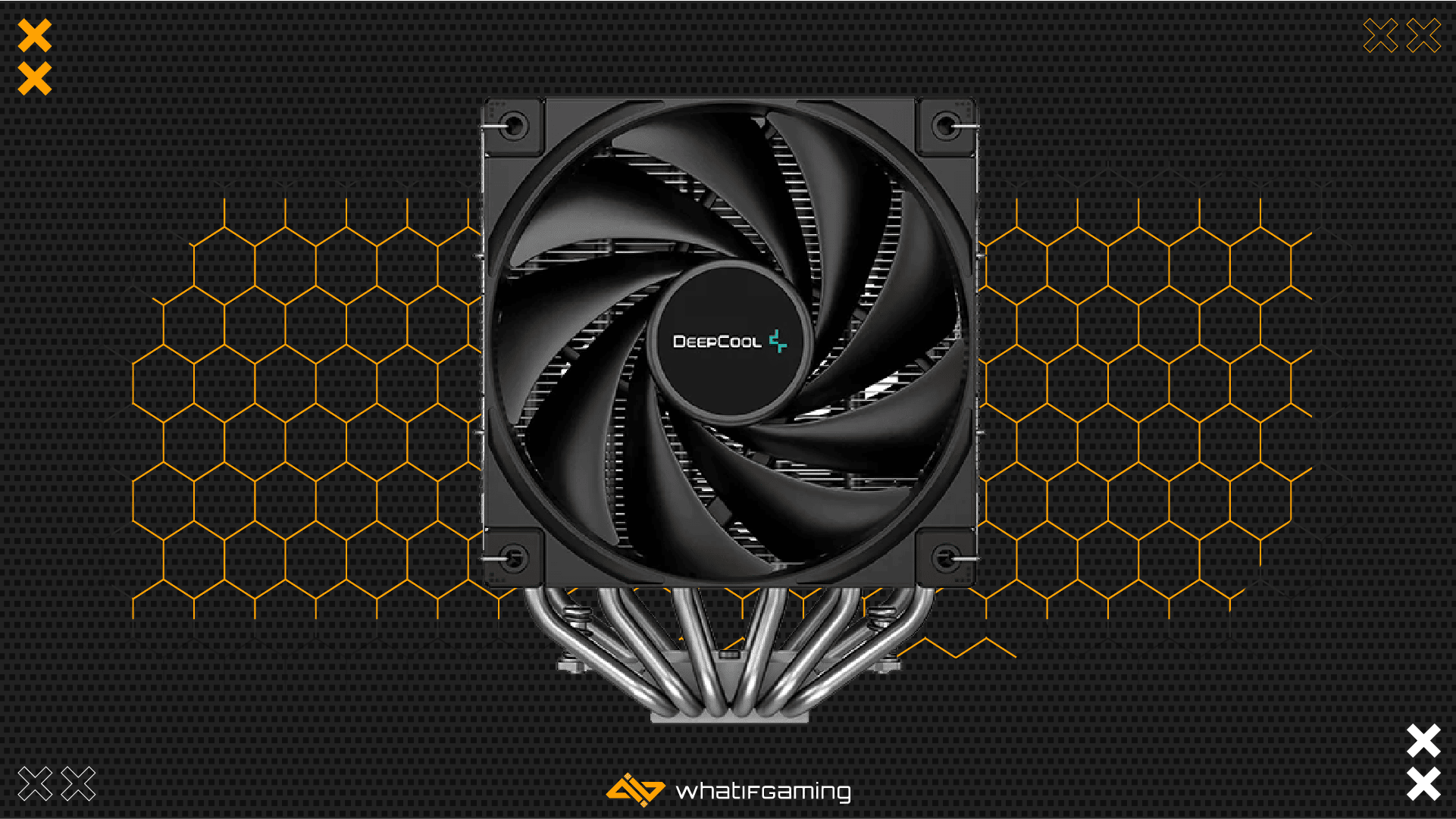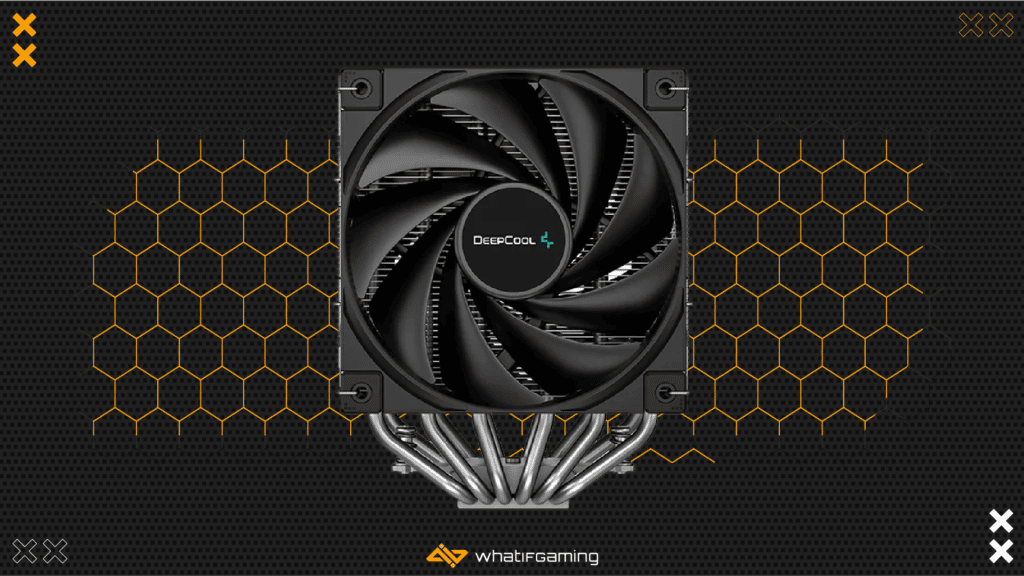 DeepCool AK620
Type: Air cooler | Fan RPM: 500 – 1.850 | Fan CFM: 69 | Has RGB: No
Pros:
Excellent value for the money

Decent case and RAM compatibility

Easy to install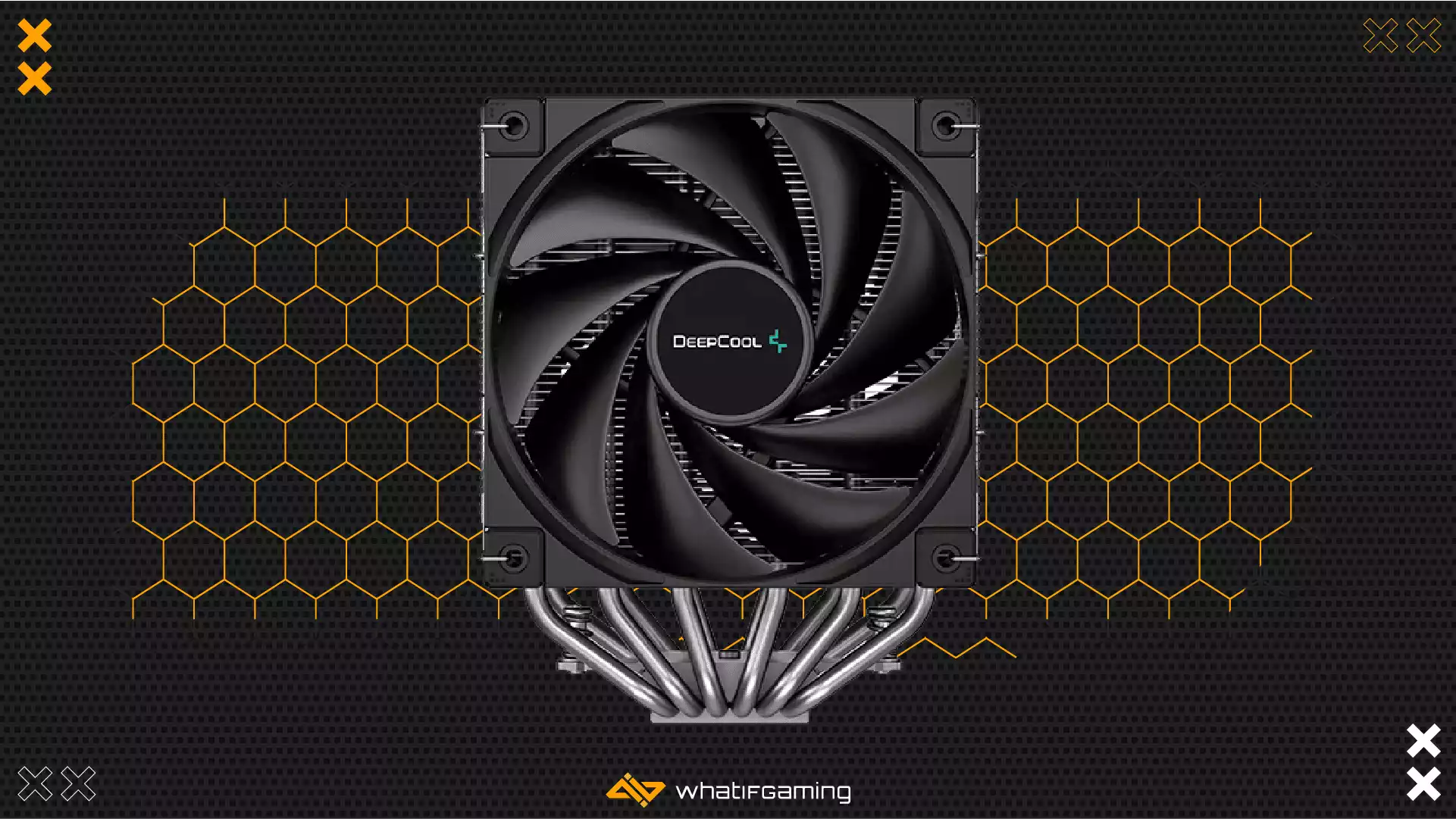 DeepCool has been around since the 90s, and it's not far-fetched to say it's in its prime today. The company recently put out several coolers ranging from 360mm AIOs to low-budget blowers. The AK620 impresses us the most. A dual-tower model that does well on AMD, works with a wide range of cases, and is on the south side of $70? Sign us up!
The AK620 attracts attention with a checker pattern and gray fin covers. Its otherwise simple aesthetic hides tweaks like closed-off sides and reduced height, ensuring excellent case compatibility. Like the NH-U14S, the AK620 has shorter bottom fins. You can slot in 43mm-high RAM without issue, so even a Trident Z5 NEO kit fits.
The fans are an identical pair this time. Their sealed corners help dampen vibrations, and the Teal logo in the middle is a nice touch. More importantly, they have high static pressure, and each can shift 69 cubic feet of air per minute.
DeepCool sticks to conventional mounting hardware inspired by Noctua's designs. Following the usual steps will get the AK620 up and cooling quickly as a result. Performance-wise, it's a direct competitor to the NH-U14S, even reaching NH-D15 levels at times.
Specifically, all-core workloads should see temperatures rise into the 80s yet not impact the 7900X3D's boost potential. Gaming results depend more on individual titles and their power requirements. Still, expect temperatures to hold steady in the 60s.
Loudness is the AK620's only downside. It doesn't roar like an engine, but stressing the fans will make it the loudest component in your PC. Sticking to gaming mitigates this problem, though.