Specs:

Type: 360mm AIO
Fan RPM: 500 – 1.500
Fan CFM: 52

Specs:

Type: 280mm AIO
Fan RPM: 200 – 1.900
Fan CFM: 69

Specs:

Type: 280mm AIO
Fan RPM: 2,200
Fan CFM: 71

Specs:

Type: Air cooler
Fan RPM: 300 – 1.500
Fan CFM: 82

Specs:

Type: Air cooler
Fan RPM: 300 – 1.500 / 300 - 1,800
Fan CFM: 50 / 57

Specs:

Type: Air cooler
Fan RPM: 500 - 1,850
Fan CFM: 69
The first Zen4 chips introduced a shift in the way AMD approaches temperature maximums. Their X3D successors have lower base frequencies and are more power efficient. That's great news for gamers since it means some of the best CPU coolers for Ryzen 9 7950X3D don't need to be AIOs!
Everything we've explained about Zen4's thermal behavior in the AM5 cooler article is still relevant. Testing or all-core workloads like Blender rendering will see the 7950X3D shoot up to 89°C instead of 95°C. Lesser coolers will reach that threshold quicker, and the CPU won't boost as much to compensate. Luckily, even our least expensive picks will keep that from happening.
NZXT Kraken X73 RGB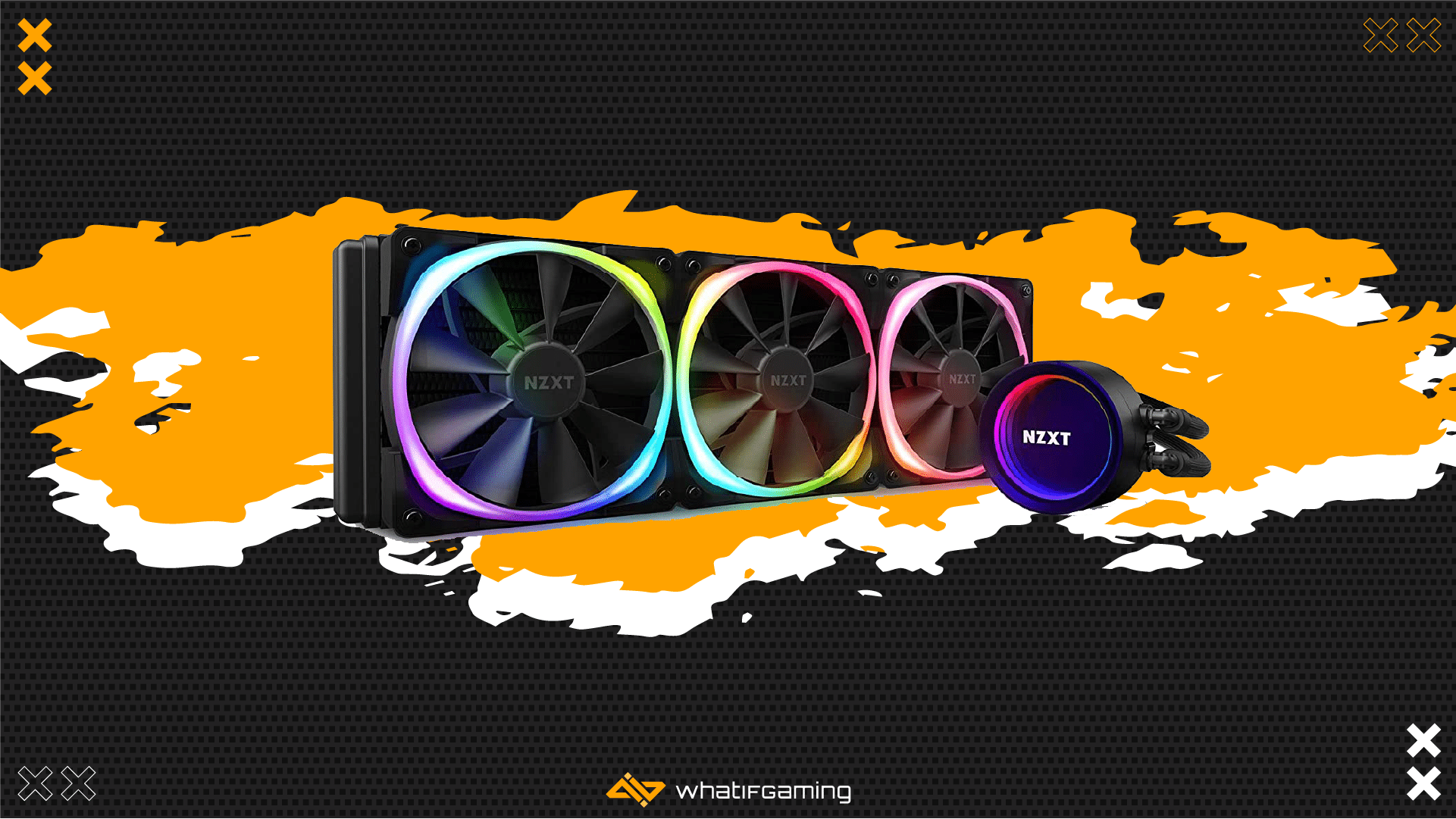 NZXT Kraken X73 RGB
Type: 360mm AIO | Fan RPM: 500-1,500 | Fan CFM: 52 | Tube length: 400mm | Has RGB: Yes
Pros:
Excellent cooling performance

Attractive RGB lighting

Acceptable noise levels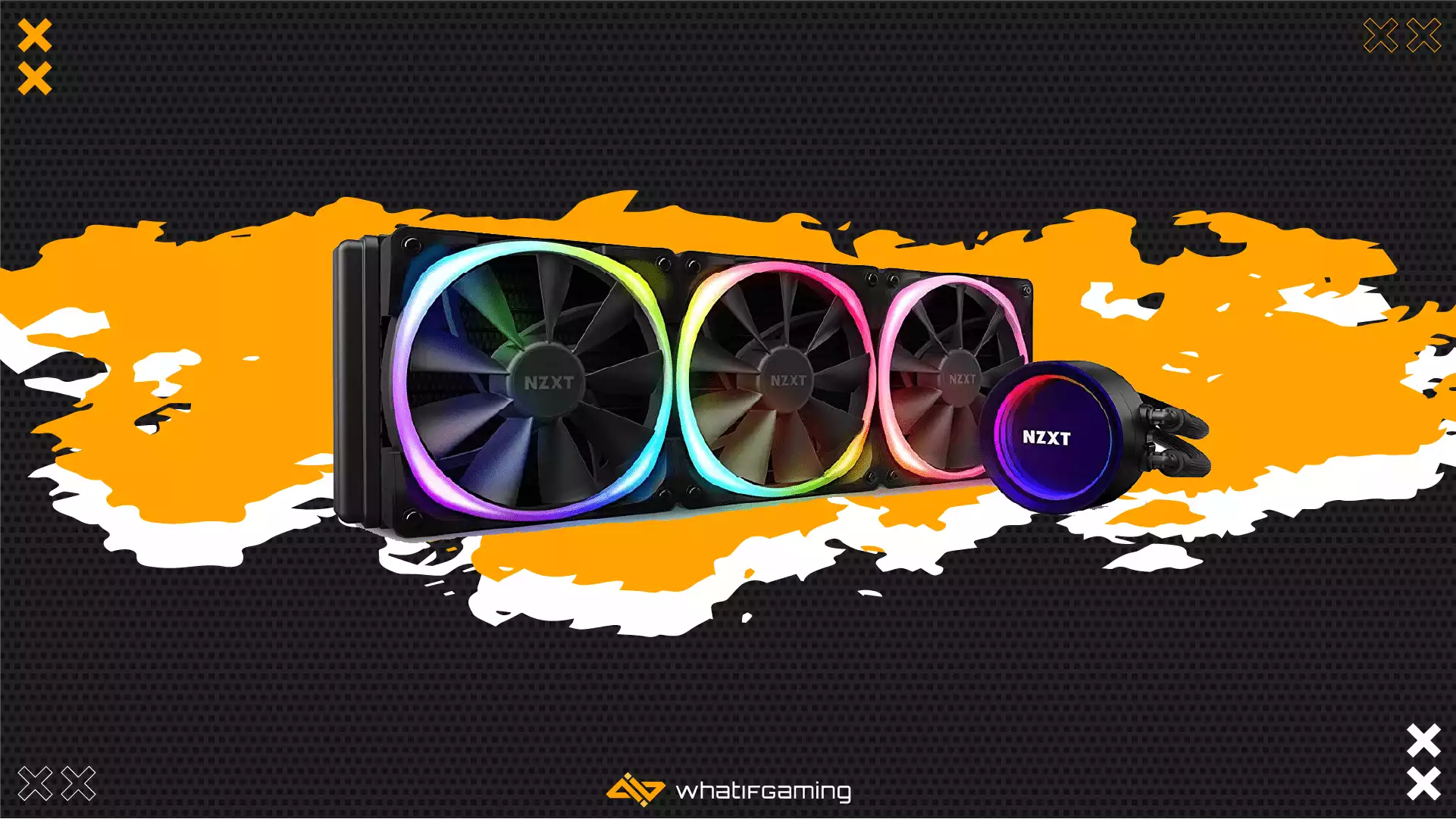 The Kraken is on everyone's lips when talking about the best-performing AIOs. So far, pricing and a lack of extravagant RGB have been its only flaws. NZXT is sticking to the former but beefing up the eye candy in the X73's RGB version. It's efficient, attractive, and not too loud. If you want to squeeze every last MHz out of your 7950X3D, this is the cooler to get.
NZXT made almost no changes to the X73's appearance. Without the RGB, it's still a rather ordinary AIO with a strong Asetek aesthetic. The round pump head is an Asetek staple that NZXT augmented with some RGB lighting and a far-out infinity mirror effect. Its copper bottom is round and comes with thermal paste for your convenience.
Nothing except the NZXT logo makes the radiator stand out. It's a standard base for three not-so-standard AER RGB 2 fans. They're chunkier than the original's AER Ps and have two more blades. Instead of placing the RGBs behind the blades, NZXT went for a translucent ring design with eight LEDs per fan.
The new lighting adds an extra step to the otherwise straightforward installation. You can daisy-chain each fan for reduced clutter but still have to connect them to the pump head and find a USB 2.0 header to power everything.
Cooling efficiency is the X73 RGB's main selling point. Modifying the fans to account for RGB made it only slightly less efficient than the original. Expect the 7950X3D to be cruising along in the 50°C range while gaming. Stress testing won't push it out of the 70s while keeping boost frequencies high.
Arctic Liquid Freezer II 280 A-RGB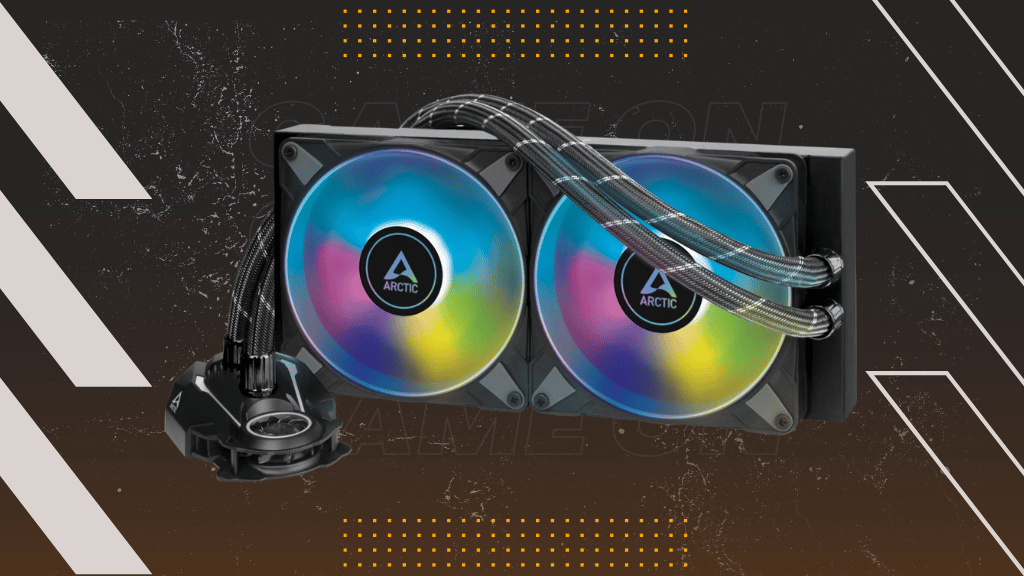 ARCTIC Liquid Freezer II 280 RGB
Type: 280mm AIO | Fan RPM: 200-1,900 | Fan CFM: 69 | Tube length: 450mm | Has RGB: Yes
Pros:
Excellent value for the money

Easy to install and connect

Attractive RGB
One of our favorite AIOs ever also finally got an RGB facelift! The Liquid Freezer's 280mm version is the best CPU cooler for Ryzen 9 7950X3D if you're looking for the ultimate fusion of value and performance. It's bursting with innovation, fun to look at, and much easier on the wallet than the X3.
Arctic's AIOs are unique, which you'll realize the moment you remove the Liquid Freezer from its packaging. For example, its radiator is noticeably thicker than usual. This might cause compatibility issues with a few cases. Still, the gain in surface area means better heat transfer from your CPU.
The fans are a modified version of the original's acclaimed P14 140mm spinners. Their RPM starts at 200, which is almost noiseless when idling. The blades are now transparent and diffuse the RGBs at their center. Arctic's first crack at LED lighting is successful since the LEDs are bright and their colors mix well.
The pump head is this AIO's most unique and controversial part. Its design is a drastic departure from the norm since it accounts for a tiny VRM fan. A motherboard fit for the 7950X3D won't need it, but the extra targeted air stream can help cool the VRM on lesser boards.
Everything on the Liquid Freezer is preinstalled, so setup is easier than usual. The tubing is long but rigid since there are no swivel fittings, so forget about pulling tight turns. You can also forget about high temperatures, especially if the AIO is pushing towards its max RPM. The CPU gets a few degrees hotter than with the X73. Still, the Liquid Freezer performs noticeably better than any air cooler.
be quiet! Pure Loop 2 FX 280mm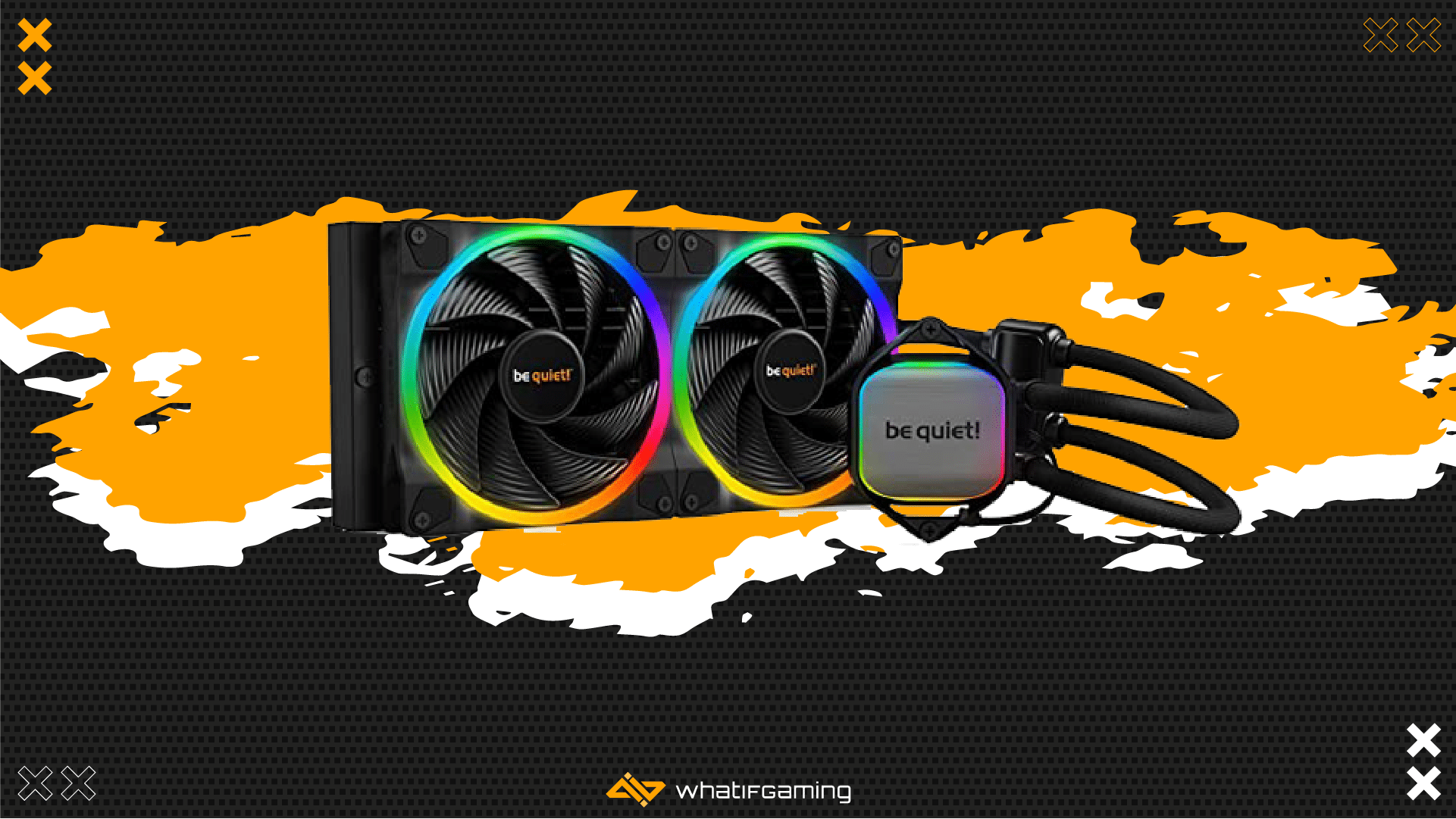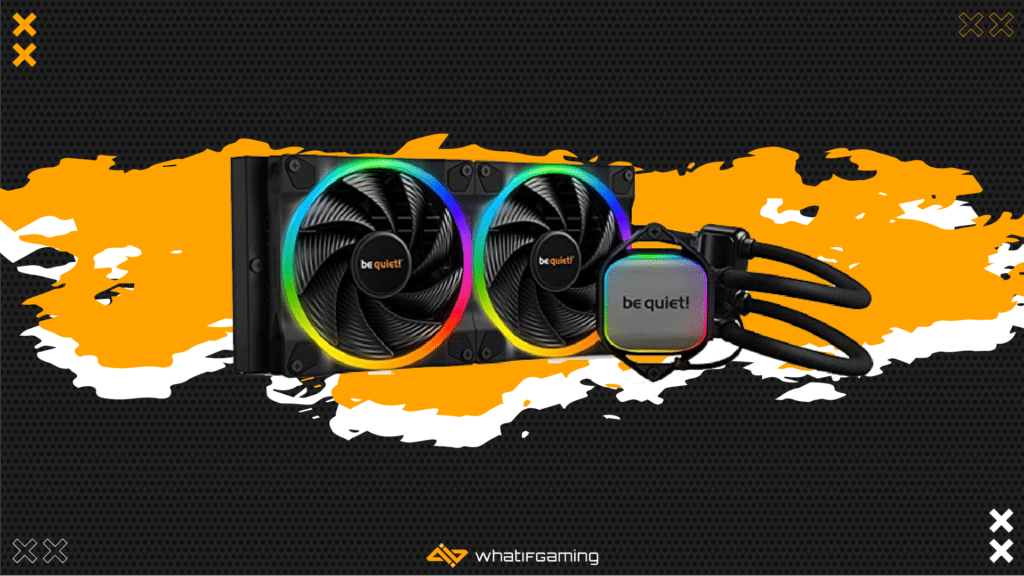 be quiet! Pure Loop 2 FX 280mm
Type: 280mm AIO | Fan RPM: 2,200 | Fan CFM: 71 | Tube length: 400mm | Has RGB: Yes
Pros:
Unusual yet efficient pump placement

Comes with extra cooling liquid

Attractive RGB doesn't slow down performance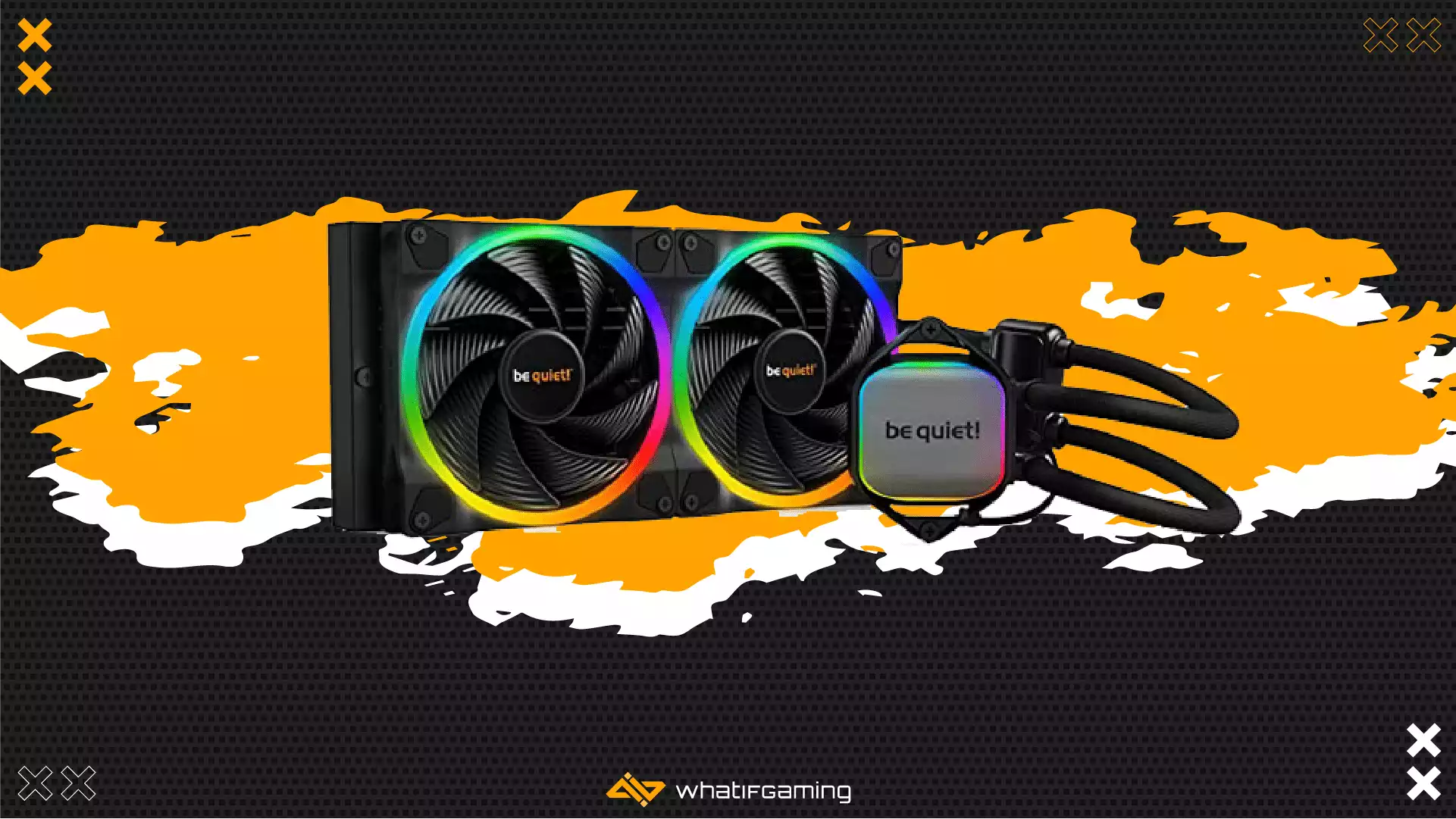 It looks like embracing RGB is a common trend, as even be quiet! has jumped on the bandwagon. The original Pure Loop had some lackluster lighting, but the FX version sets things right. It still comes with a separate pump and a generous helping of extra coolant. Better yet, adding the bling did nothing to reduce the AIO's excellent cooling potential.
The Pure Loop already had an unusual design, so RGB is the extent of the FX's modifications. Its implementation is successful, as now the slim pump head and Pure Wings 140 fans shine in harmony with your PC. You can make individual LEDs out if you're close, but the effect looks cool overall.
Cool is what the FX also aims for in operation. It uses two unusual features to do so – a tube-mounted pump and a refillable radiator. Relocating the pump reduces its vibrations and allows for the mounting portion to be smaller.
The radiator has a cap you can unscrew to add more coolant. This would usually void your warranty, so kudos to be quiet! for thinking about their product's long-term health. The radiator is otherwise standard and connects to 400mm of flexible tubing.
Installing the Pure Loop 2 FX isn't a chore since you have to follow standard AM5 mounting procedures for the most part. A convenient hub unifies the power & RGB cables, so hooking everything up is more intuitive and clutter-free.
Performance matches the Liquid Freezer's, with temperatures only rising by a degree or two more when stress testing. Contrary to the company's name and mission, the AIO isn't very quiet.
Noctua NH-D15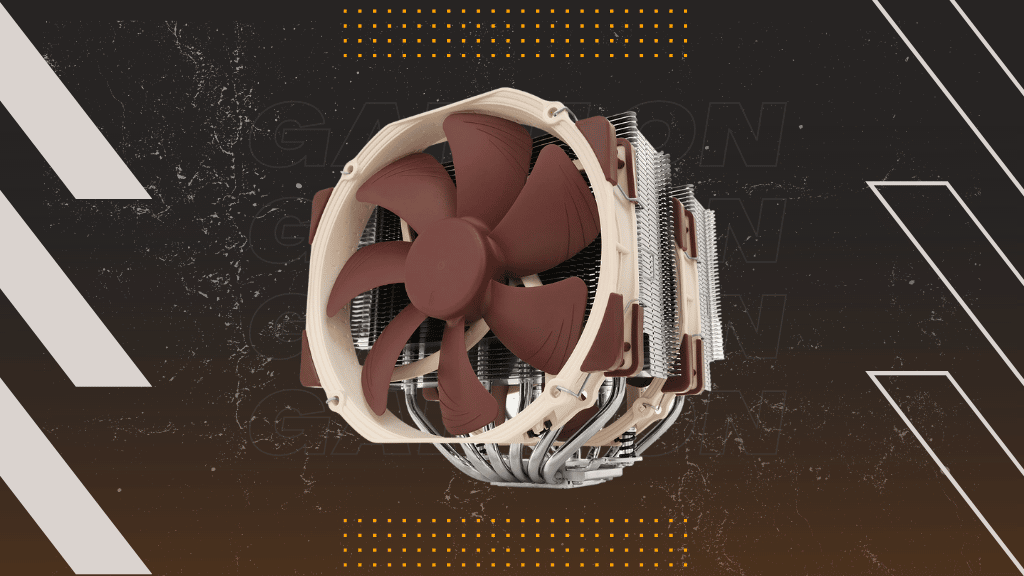 Noctua NH-D15
Type: Air cooler | Fan RPM: 300 – 1.500 | Fan CFM: 82 | Has RGB: No
Pros:
World-class build quality

Exceptional performance that rivals many AIOs

Quiet
Cons:
Expensive for an air cooler

Clearance issues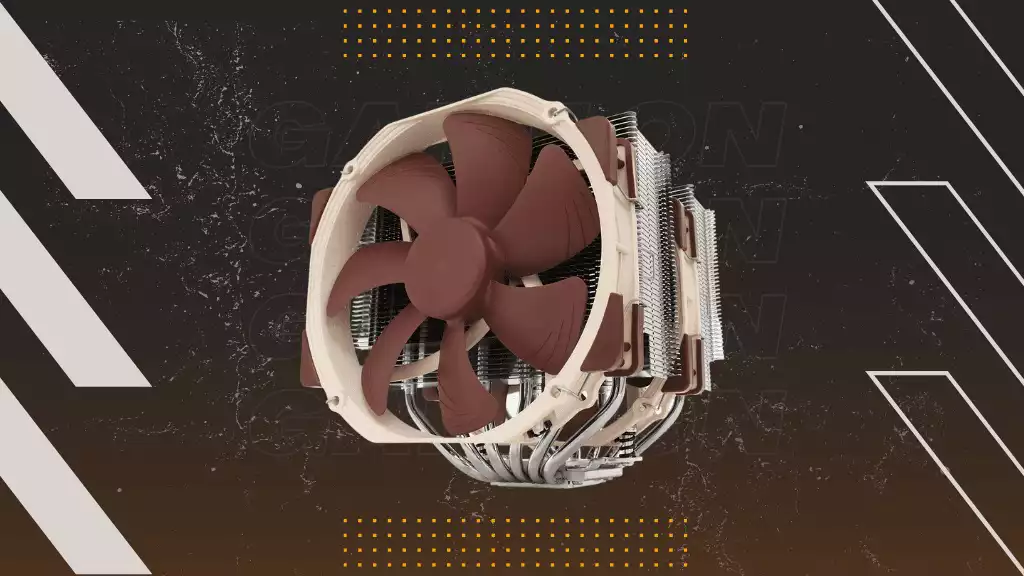 Despite its excellent productivity potential, the 7950X3D is a top-tier gaming CPU. It will rarely see the blazing temperatures associated with all-core workloads. That means you can successfully use it with an air cooler, and the NH-D15 should be your first choice.
Noctua postponed its successor to later in 2023, so the original remains the best cooler for Ryzen 7950X3D if you're not a water fan.
Everything's already been said about Noctua's funky color choices and the cooler's massive size. However, it's worth highlighting its build quality once more. The NH-D15 is the standard other manufacturers look up to.
Several points of interest reflect the impeccable build quality. The concave fin stack sports closed sides and rows of serrations. These funnel the air one way and give it enough turbulence to make heat extraction more efficient. Each fin connects to the six heatpipes individually, and the base adheres firmly to your CPU.
The massive stack holds two NF-A15 fans. They're larger than most air cooler fans and can spin slower while still moving impressive amounts of air. The NH-D15 also ships with low-noise adapters for both if you don't mind trading some efficiency for even quieter operation.
The SecuFirm mount is another Noctua staple others emulate. It's a testament to Noctua's engineers that the NH-D15 is among the easiest coolers to install ten years later despite the bulk. It doesn't play nice with tall RAM, but even that isn't an issue if you remove the front fan.
The NH-D15 almost keeps up with our AIO choices. It's relatively cheaper and noticeably quieter than most, though. Not many air coolers can claim the same.
be quiet! Dark Rock Pro 4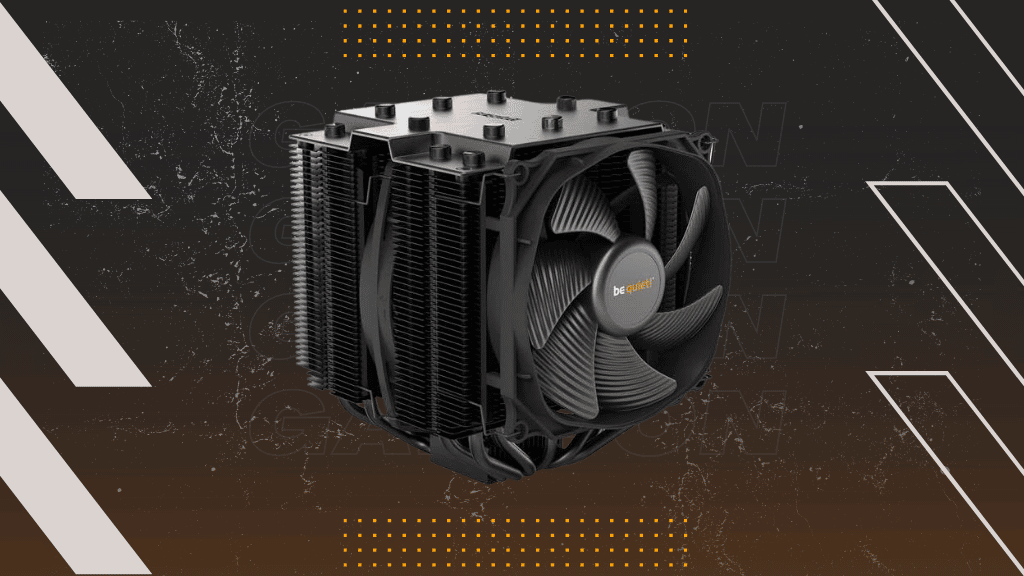 be quiet! Dark Rock Pro 4
Type: Air cooler | Fan RPM: 300-1,500 / 300-1,800 | Fan CFM: 50 / 57 | Has RGB: No
Pros:
Outstandingly quiet

Great build quality & documentation

Stealthy look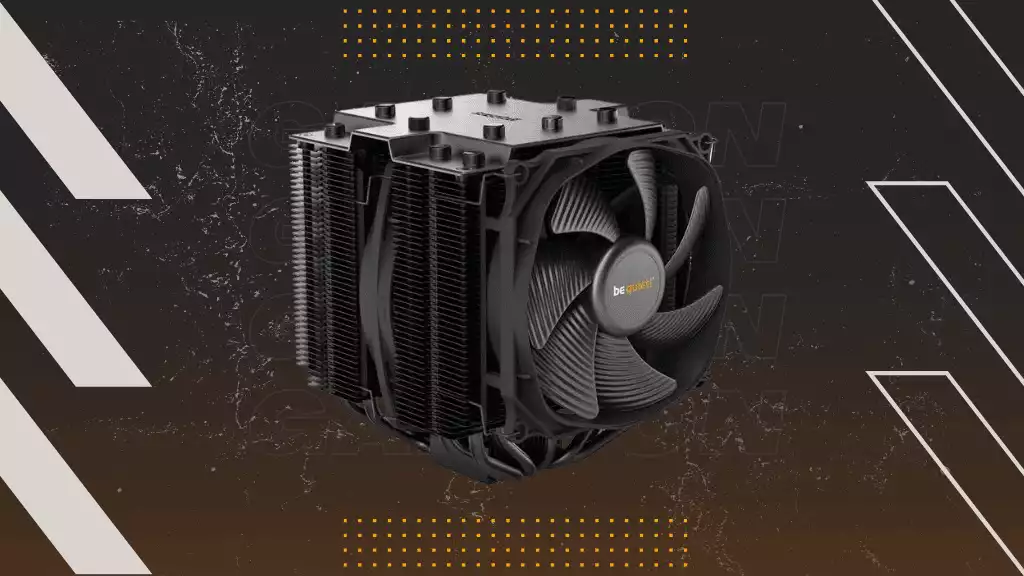 Our second be quiet! model is one of only a handful of air coolers that hold up to NH-D15 standards. It's slightly smaller, less expensive, and not as outlandish. That's enough for many looks-obsessed PC enthusiasts to consider it the best CPU cooler for Ryzen 9 7950X3D. If you don't mind the small temperature difference, you should too.
This is another cooler with an iconic look and superb attention to detail. Everything except the plate that transfers heat from the CPU is black, letting the Dark Rock Pro 4 live stealthily inside your PC despite being so imposing.
A thick aluminum top plate and caps hide the cooling hardware underneath. The elaborate fins have wavy patterns on one side and terraces on the other. They also adopt an open design, opting to let more air escape into the case.
While you get two fans, each is different. The outer fan has a diameter of 120mm and pushes air through the first stack at a slower pace. The second one is 15mm larger and expels air through the second stack with more force.
Installing the Dark Rock Pro 4 involves mounting a crossbar and screwing it in through gaps in the middle big enough for the provided screwdriver to fit. The finished cooler is handsome and embodies the company name better than the Pure Loop 2 FX.
DeepCool AK620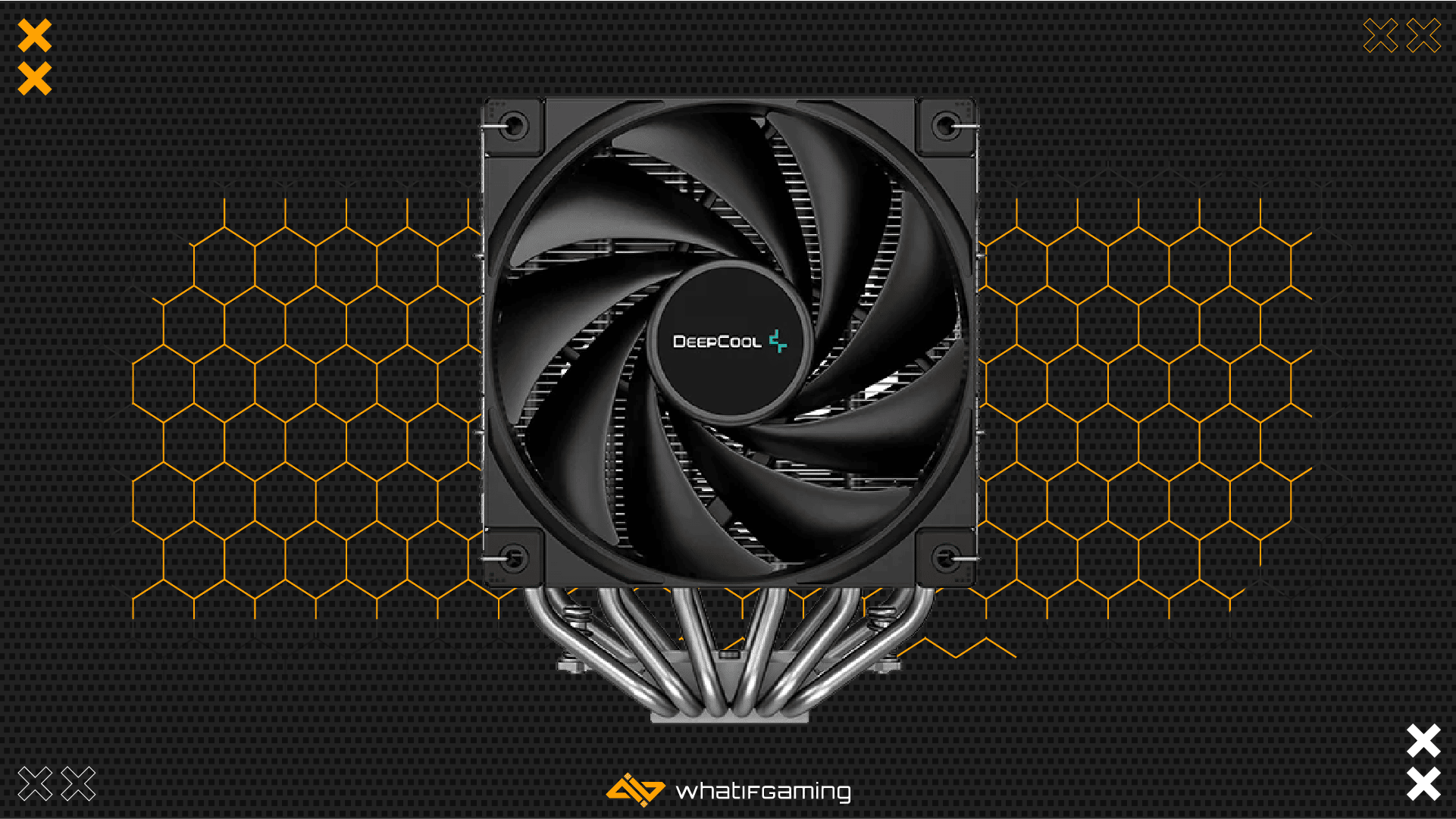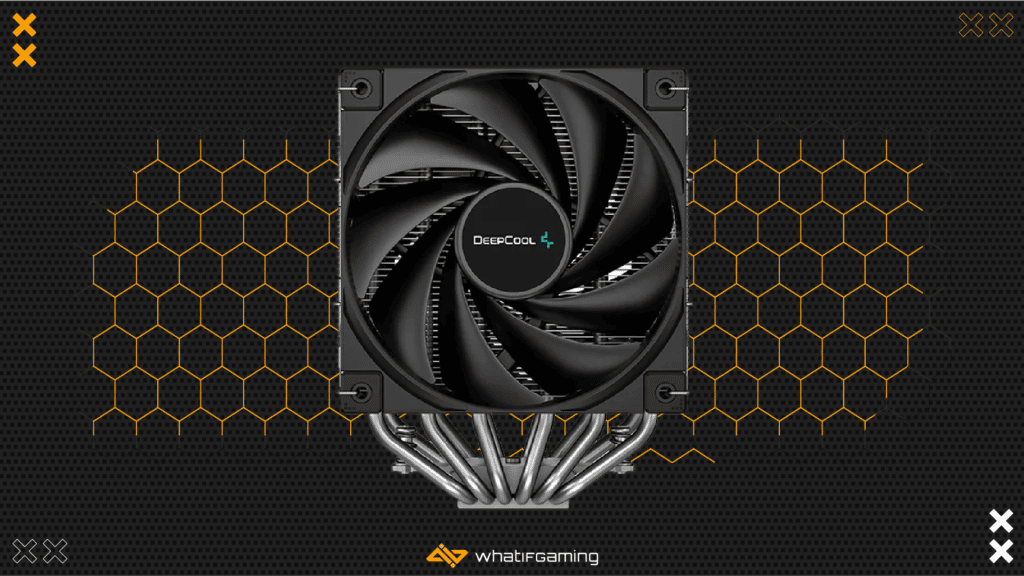 DeepCool AK620
Type: Air cooler | Fan RPM: 500 – 1.850 | Fan CFM: 69 | Has RGB: No
Pros:
Excellent value for the money

Decent case and RAM compatibility

Easy to install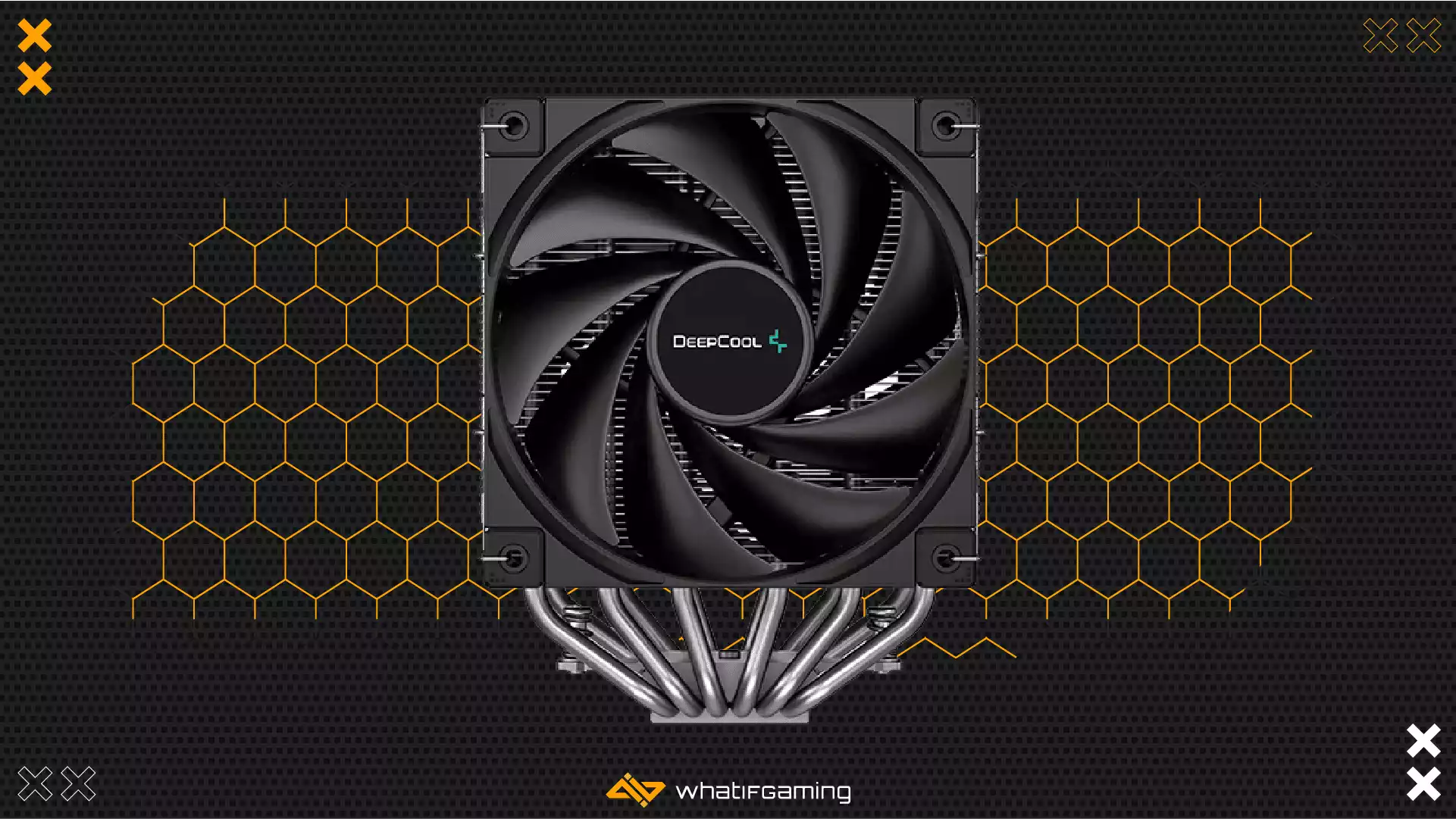 The final list item is also among our favorite recent releases! DeepCool's AK620 proves how air cooling still has room to grow, especially in the mid-range and entry-level segments. It costs less than $70 yet competes with our pricier and more well-known air coolers on an almost even playing field.
Despite being another dual-tower model, the AK620 is more compact than the competition. It has two 120mm fans and a height of just 160mm. Coupled with 43mm of RAM clearance, this makes the AK620 one of the most compatible coolers of its kind.
The AK62 packs more than three pounds of solid metal into a relatively compact frame. Its fins are closed off like the NH-D15's and have a decorative checker pattern. The top ones are gray plastic with the teal DeepCool logo. While it lacks the Dark Rock's elegance, the AK620's clean look will complement any build.
The fans have fluid bearings and solid corners that reduce vibration. Their RPM range is similar to most 120mm models, yet 69 CFM points to an efficient design. Competent execution is the main hallmark of the base and heatpipes. Both components have a polished nickel-plated finish.
The cooler's idle temperatures are the highest so far. However, disappointment turns to awe as the workload increases. Gaming sees the AK620 fall behind the NHD15, but it catches up if all cores start to sweat. You're looking at 6-9°C more than with the X63. That's still within the 7950X3D's limits and fantastic given the price difference.