Specs:

Type: 360mm AIO
Fan RPM: 600 – 2.200
Fan CFM: 70

Specs:

Type: 360mm AIO
Fan RPM: 0 – 2.100
Fan CFM: 66

Specs:

Type: 360mm AIO
Fan RPM: 500 – 2.500
Fan CFM: 73

Specs:

Type: 280mm AIO
Fan RPM: 500 – 1.800
Fan CFM: 91

Specs:

Type: 360mm AIO
Fan RPM: 800 – 2.500
Fan CFM: 60

Specs:

Type: 280mm AIO
Fan RPM: 0– 1.800
Fan CFM: 82
There are already so many products with integrated RGB that it's easier than ever to turn your PC into a bastion of color. AIO manufacturers weren't satisfied with boring ol' RGB fans and decided to go further than anyone! The best CPU cooler with screens is the exciting result!
Most users might find them overkill, but these screens have legitimate uses. It's nice to be able to check the CPU temperature or frequency just by glancing at your case. And yes, the potential for amusement their support of JPEGs and GIFs brings is endless.
Note: Most of our picks are available with several radiator sizes. These have no impact on the screens.
ASUS ROG Ryujin II 360 ARGB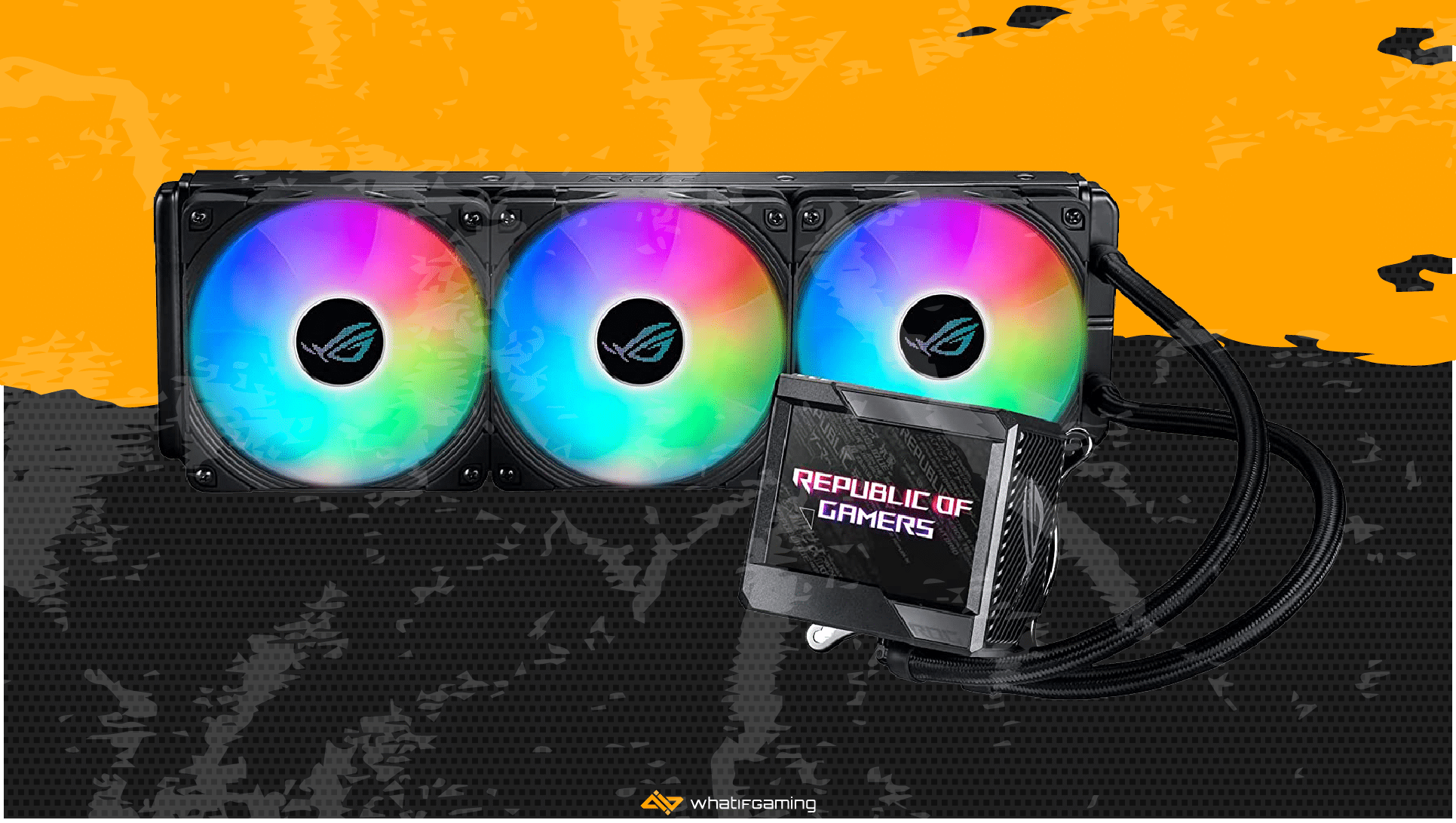 ASUS ordinarily needs no introduction since it produces some of the finest motherboards, GPUs, and monitors. It's not as prominent in the cooling space, but the few coolers ASUS does produce stand out. The ROG Ryujin II is among the most extravagant AIOs out there. It has a crisp screen augmented with a full complement of RGB fans for ultimate bling. More importantly, it takes its cooling duties very seriously.
Much of the Ryujin's magic happens in the pump head. The pump itself might be 7th-gen Asetek, but its housing is unique. It is cube-shaped with a tucked-in corner that accommodates the cables. Swivel fittings take the strain off the tubing, while a separate fan helps cool the CPU further.
The 3.5″ OLED screen is among the finest. It's vibrant and informative if you install Armoury Crate and AIDA64 to configure it. One glimpse can tell you everything from the time and temperature to fan RPM and CPU usage. It's easy to set up custom graphics or let the ROG branding do its thing.
Speaking of ROG, it's the only thing that sets the otherwise standard radiator apart from others. The fans you mount on it are ASUS models, unlike the Noctua spinners on the plain version. Still, they spin only slightly faster while maintaining high static pressure and CFM.
The Ryujin's performance is superb. Expect it to handle even tough nuts like the 7950X without limiting the CPU's boost potential. We just wish that the pump head fan wasn't so loud. Luckily, tinkering with custom fan curves in Armoury Crate helps a lot.
Corsair iCUE H150i Elite LCD XT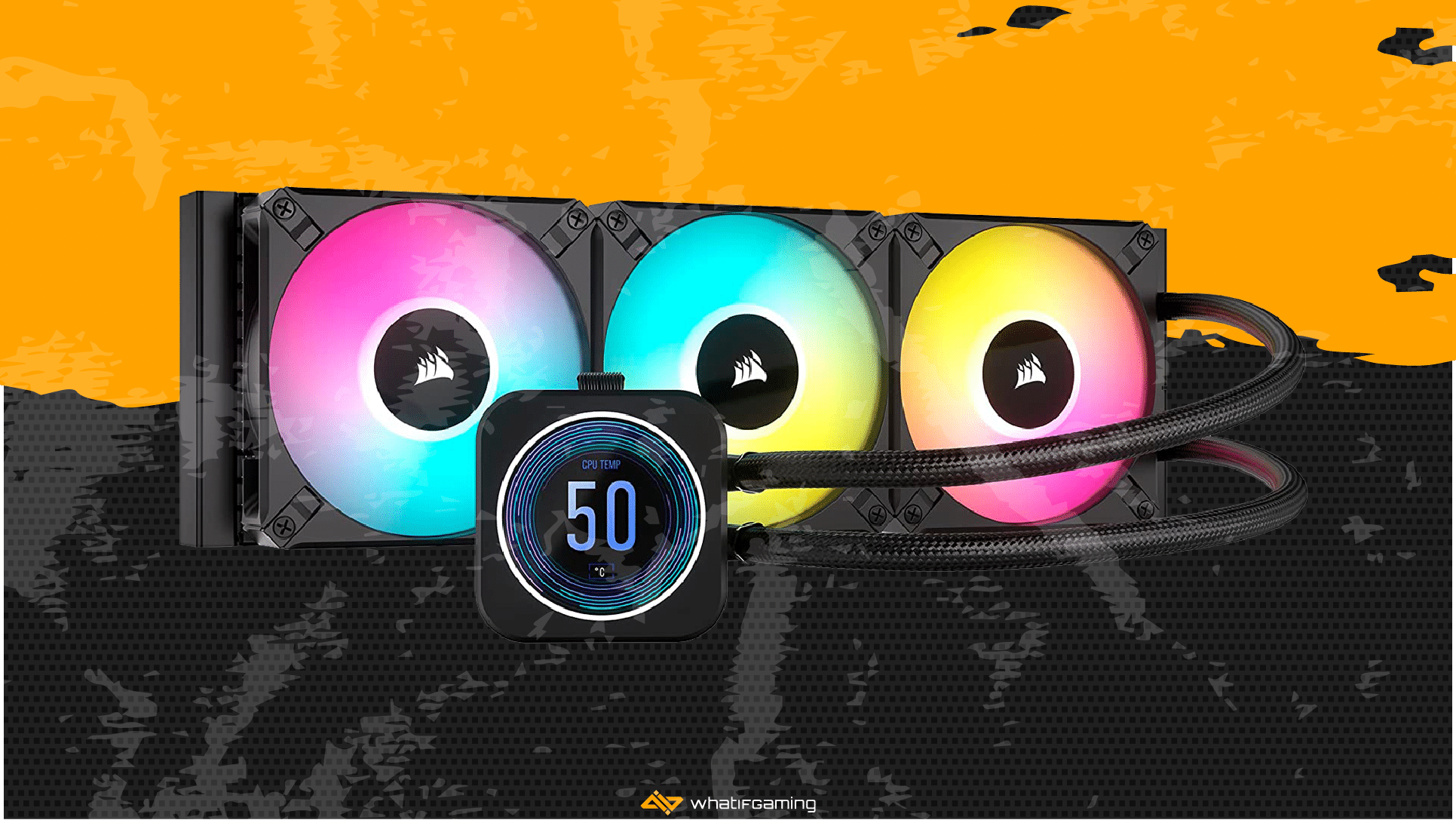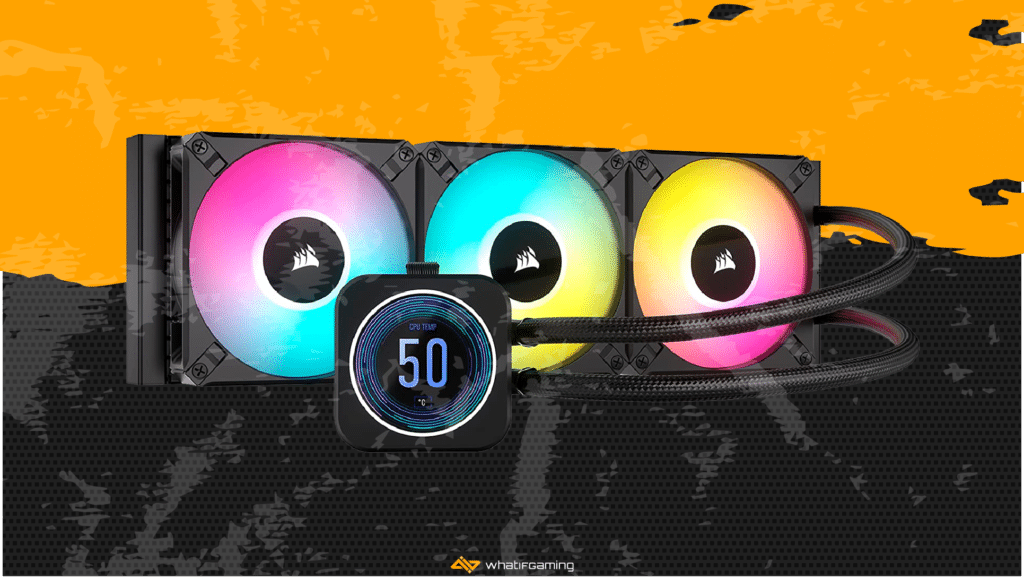 Corsair iCUE H150i Elite LCD XT
Type: 360mm AIO | Fan RPM: 0-2,100 | Fan CFM: 66 | Screen diameter: 2.1" | Screen resolution: 480x480 | Tube length: 450mm | Has RGB: Yes
Pros:
Outstanding cooling at 100% fan speed

Bright screen with high resolution

iCUE offers exceptional customizability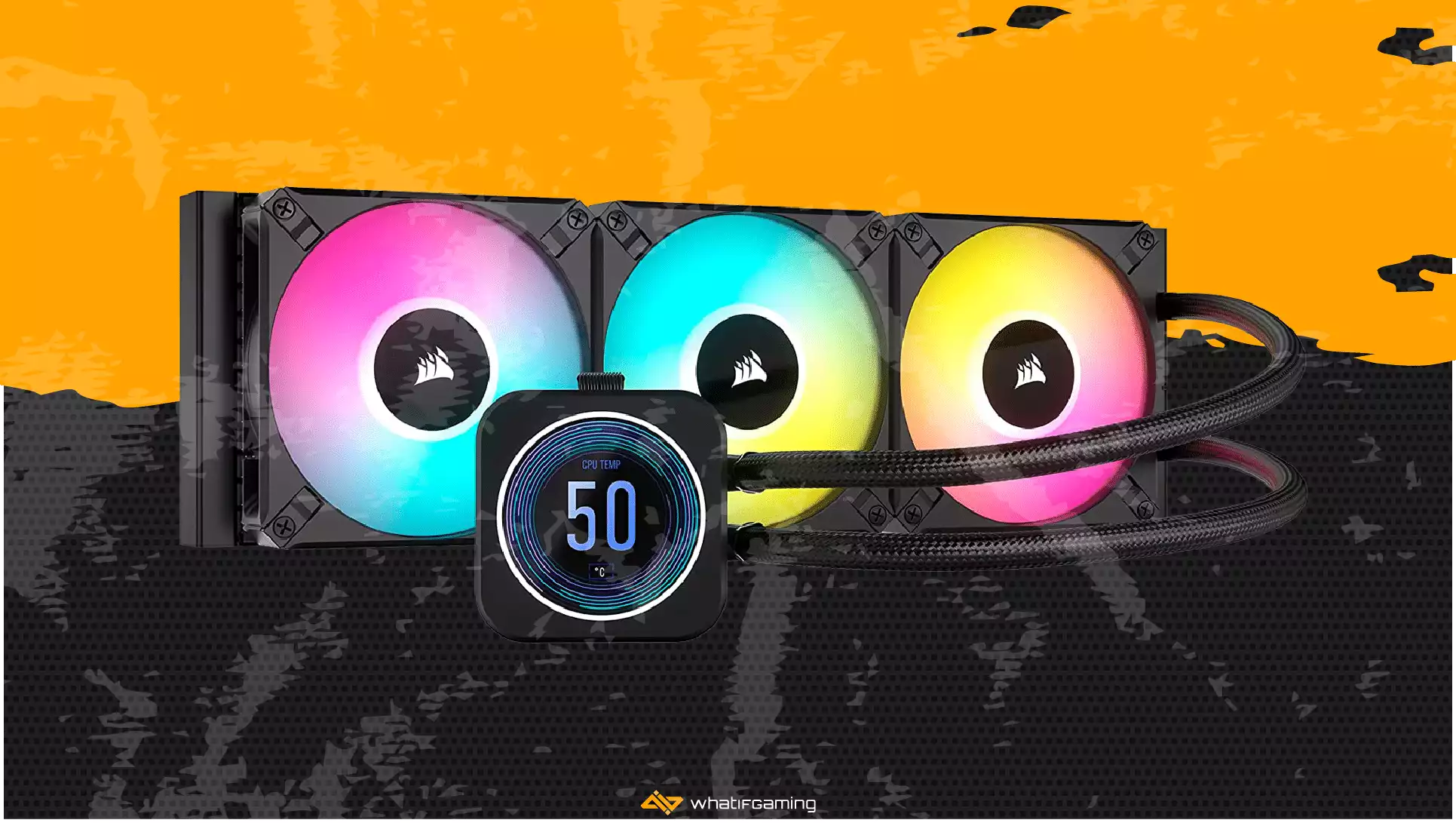 Loyal readers know that Corsair's H-series are among our favorite AIOs. The company continues the trend with its newest iteration, now with a snazzy IPS screen & longer tubing for easier installation. This version of the H150i is the best CPU cooler with screens if you want impeccable performance and crystal LCD clarity. We just wish the price was lower.
The Elite LCD XT's pump block retains the H150i's rounded rectangular shape .there's now a 2.1″ circular LCD on top. While smaller than the Ryujin, it has a higher resolution and is as bright as the Capellix LEDs it replaces. Corsair also redid the wires so they're easier to access and extended the tubing for more mounting options.
The bog-standard radiator is home to three AF 120 RGB Elite fans. Each comes with the Capellix LEDs that made the original popular. More importantly, the fans have high static pressure and can shift 66 cubic feet per minute each. They also have a zero RPM mode that's perfect for silent idling.
iCUE is among the most robust configuration programs in the business. The screen gives it additional features, allowing you to set pertinent info like the temperature or amuse onlookers with silly cat GIFs. The software's RGB customization features remain fantastic.
Corsair's AIO trails most in idle temperatures due to inactive fans. However, straining your CPU through stress tests or other all-core loads shows 2-4°C more favorable results than on the Ryujin & company. This goes for the loudest extreme preset. Choosing another or playing with the fan curve will decrease the loudness and bring the Elite LCD XT in line with other high-end competitors.
Thermaltake Toughliquid Ultra 360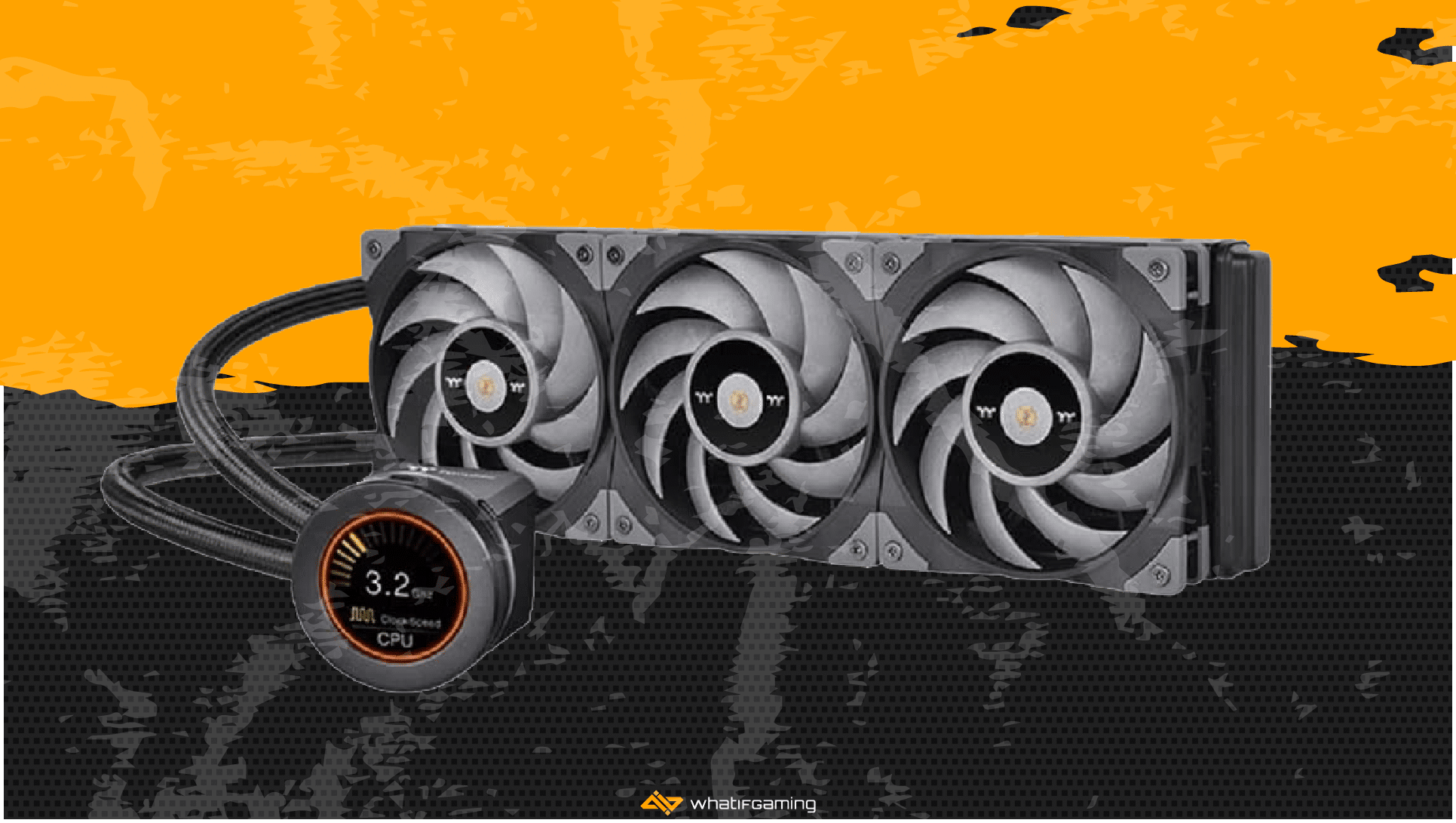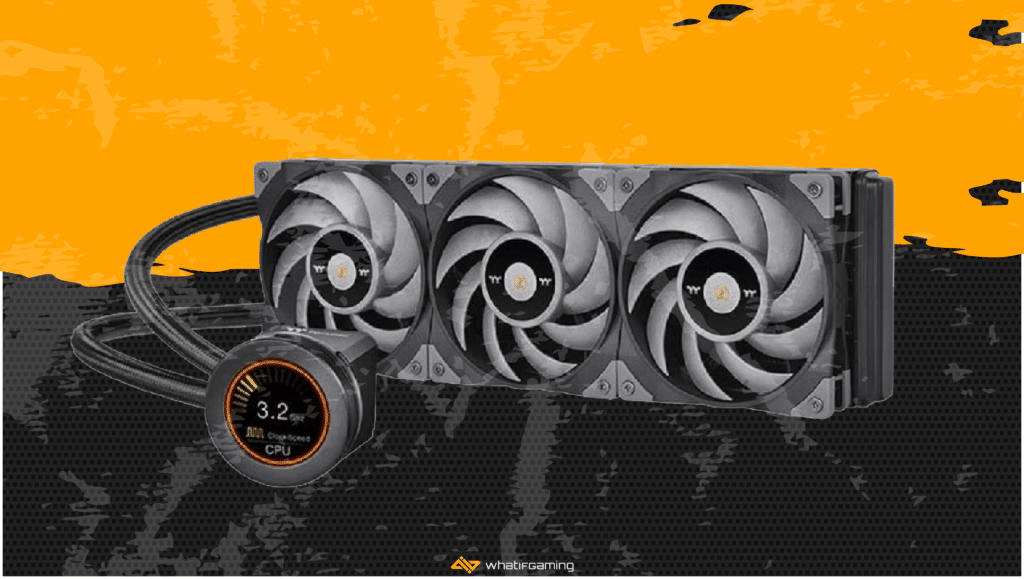 Thermaltake Toughliquid Ultra 360
Type: 360mm AIO | Fan RPM: 500-2,500 | Fan CFM: 73 | Screen diameter: 2.1" | Screen resolution: 480x480 | Tube length: 400mm | Has RGB: No
Pros:
Excellent value for the money

Small yet bright and detailed screen

Easy & tidy installation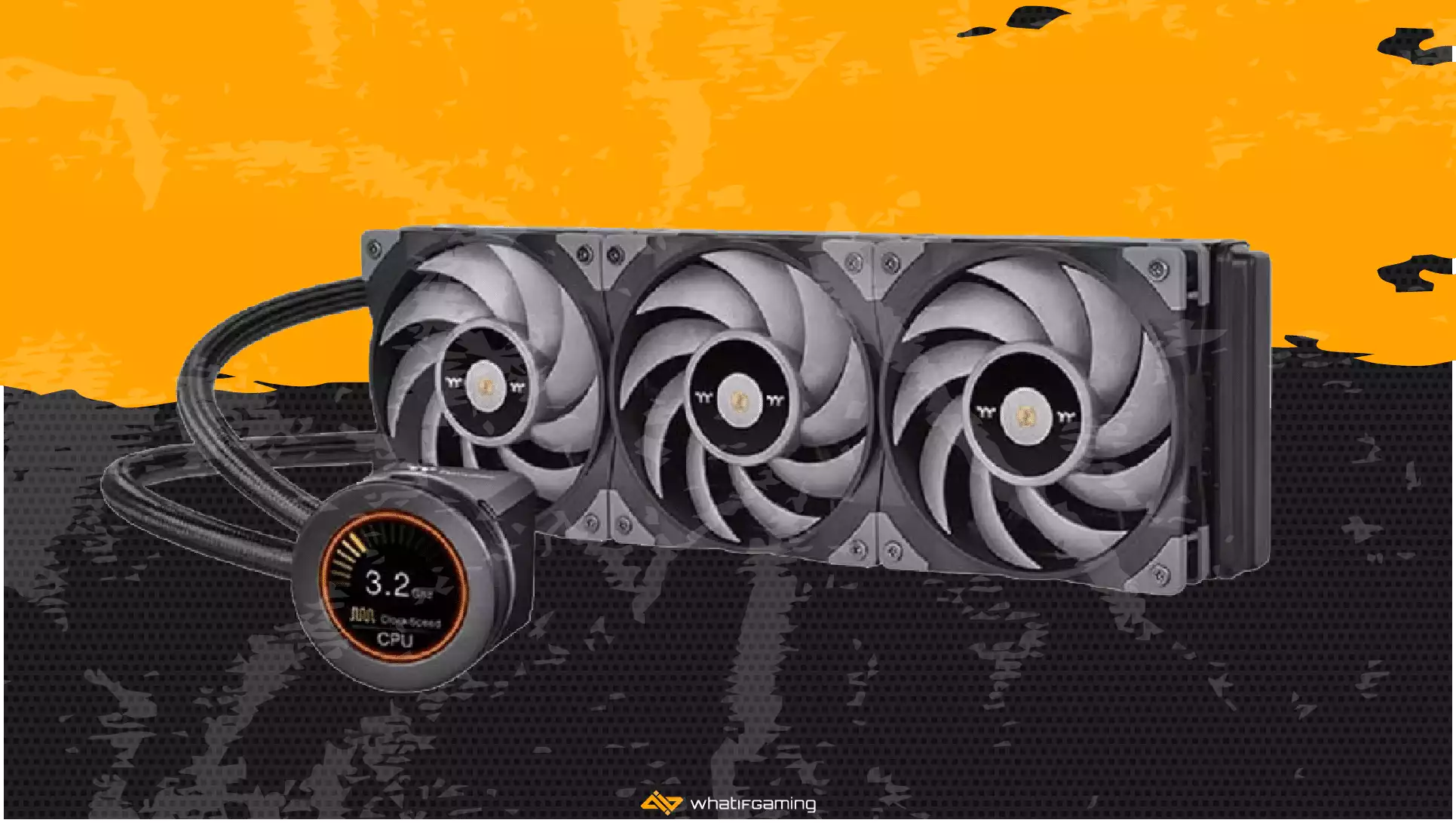 Thermaltake is a respected cooler manufacturer known for excellent products at fair prices. While it's as premium as the others, the Toughliquid Ultra 360 will "only" set you back a bit over $200.
It's also telling that we couldn't find anything serious to complain about other than a lack of light-up fans. You can remedy that by paying extra for the RGB version, though.
The pump head is intriguing in that it combines the two most popular designs. It's a rounded cube on the bottom that expands into a cylinder top holding the 2.1-inch display. The screen is similar in brightness & resolution to the Elite LCD XT.
The fans have no formal name yet rival models from Arctic and even Noctua in quality. They're hefty, each with nine blades and effective vibration damping. 73 CFM is excellent output for a 120mm fan. Better yet, their static pressure can reach 4mmH2O, ensuring air keeps moving even in stuffy cases.
Thermaltake used a jumble of apps to manage the lighting on all their fans. You may now control them all using TT RGB Plus. Its simple interface and breadth of options for the LCD make for intuitive use. The physical installation isn't painful either, and you can daisy-chain the fan power cables for a cleaner look.
The Toughliquid Ultra 360 keeps pace with our frontrunners. That's unsurprising since there's barely anything to improve past a certain point other than the LCD. The fans aren't as quiet as on Gigabyte's AIO, but they won't cause headaches either. All in all, a great balancing act from Thermaltake!
NZXT Kraken Z63 RGB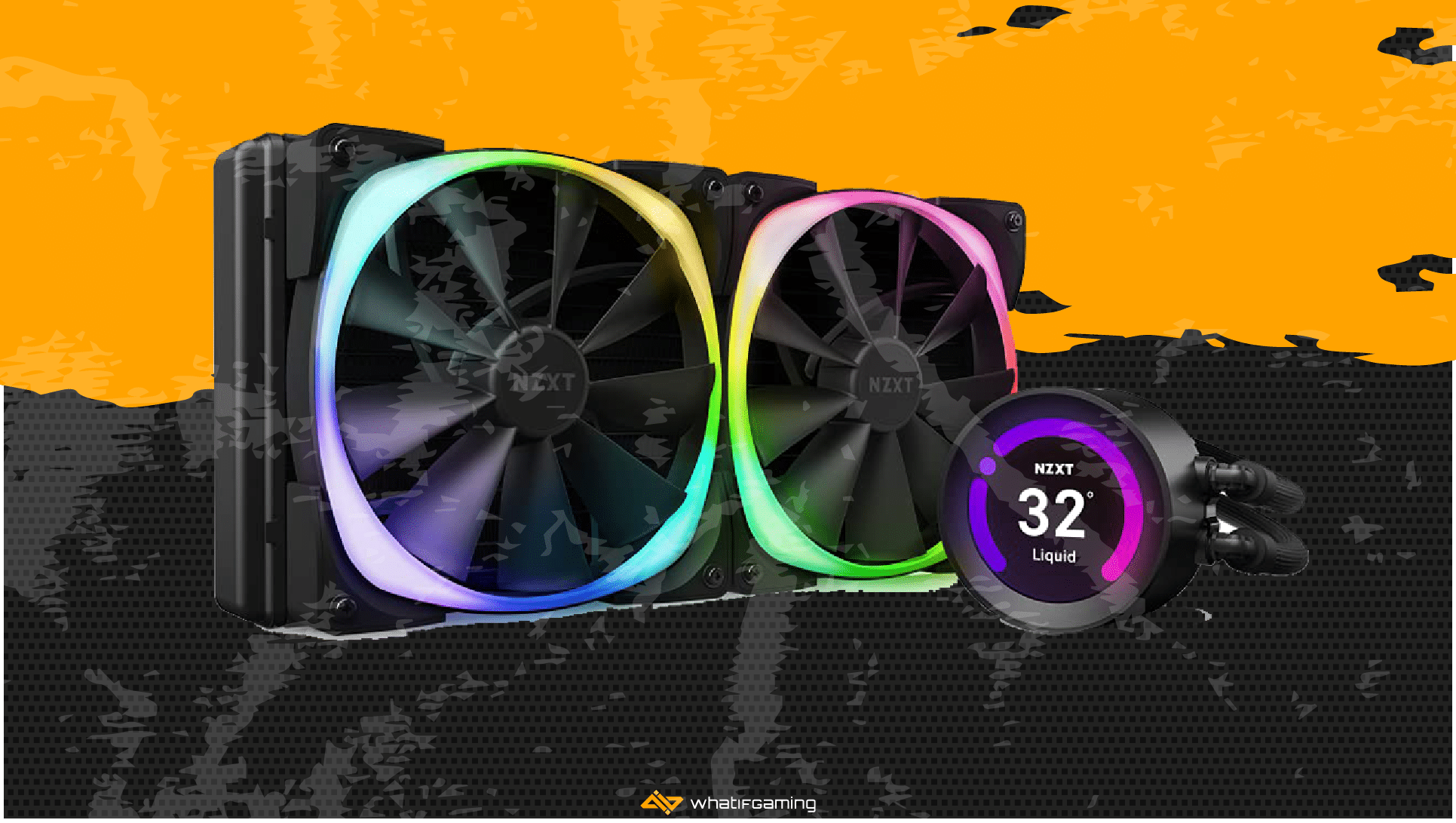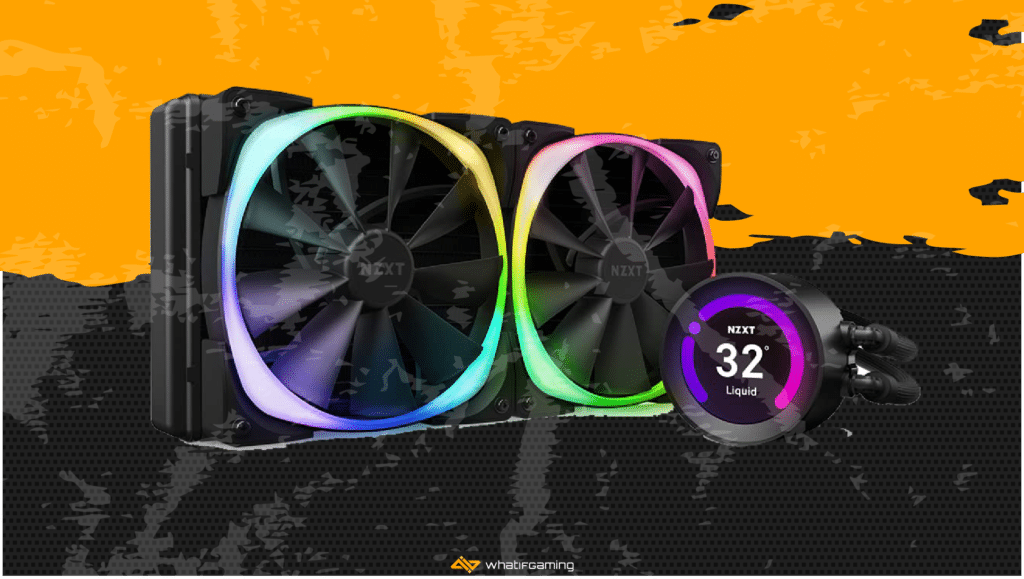 NZXT Kraken Z63 RGB
Type: 280mm AIO | Fan RPM: 500-1,800 | Fan CFM: 91 | Screen diameter: 2.53" | Screen resolution: 320x320 | Tube length: 400mm | Has RGB: Yes
Pros:
Great fans unaffected by RGB

Attractive LCD screen

CAM is useful as configuration utility and monitoring tool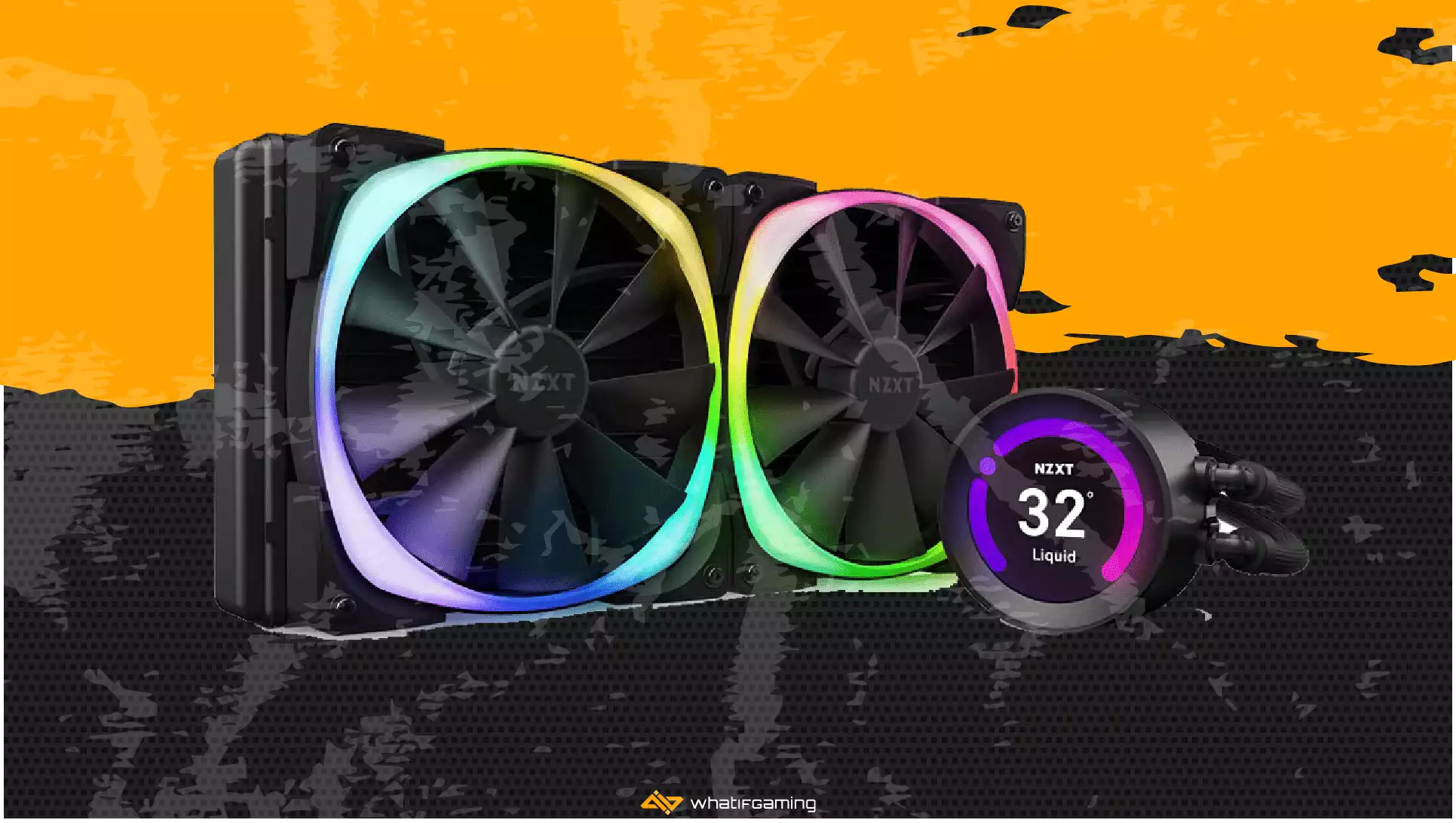 The Kraken is another iconic AIO line and sits among the LCD craze pioneers. It had ordinary fans at first, but that's no fun! Enter the Z63 RGB version, complete with shiny new fans and the cooling potential worthy of the mythical monster its name evokes.
Kudos to NZXT for their uncompromising fan design. The AER RGB 2 140mm spinners have LEDs on their inner edges. That takes nothing away from the awesome light display, while performance doesn't suffer. In fact, the high CFM at low rotation speeds places the AER RGB 2 among the most powerful fans on the list.
The round pump head uses Asetek components and houses an attractive screen. Its diameter is larger than the Elite LCD XT's, but the Z63 can't compete with Corsair's higher resolution. Still, the brightness and refresh rate are high enough for everything from real-time thermal updates to low-quality memes in GIF form.
The Z63 RGB is a 280mm AIO that outperforms most 360mm alternatives. Despite having a minimum RPM of 500, it's another cooler with high idle temps. That changes once programs or games apply pressure to your processor. Stress sees the Z63 excel as it reaches and even surpasses others in terms of raw temperature numbers.
You'll need CAM to configure the screen beyond the basics. Some find it bloated, but CAM can be an excellent monitoring tool.
It aggregates data on various system operations and presents them in a manner that's easy to digest. Some users prefer its sleek look and ease of use over tinkering with fan curves and lighting settings in their motherboard software.
Gigabyte AORUS Waterforce X360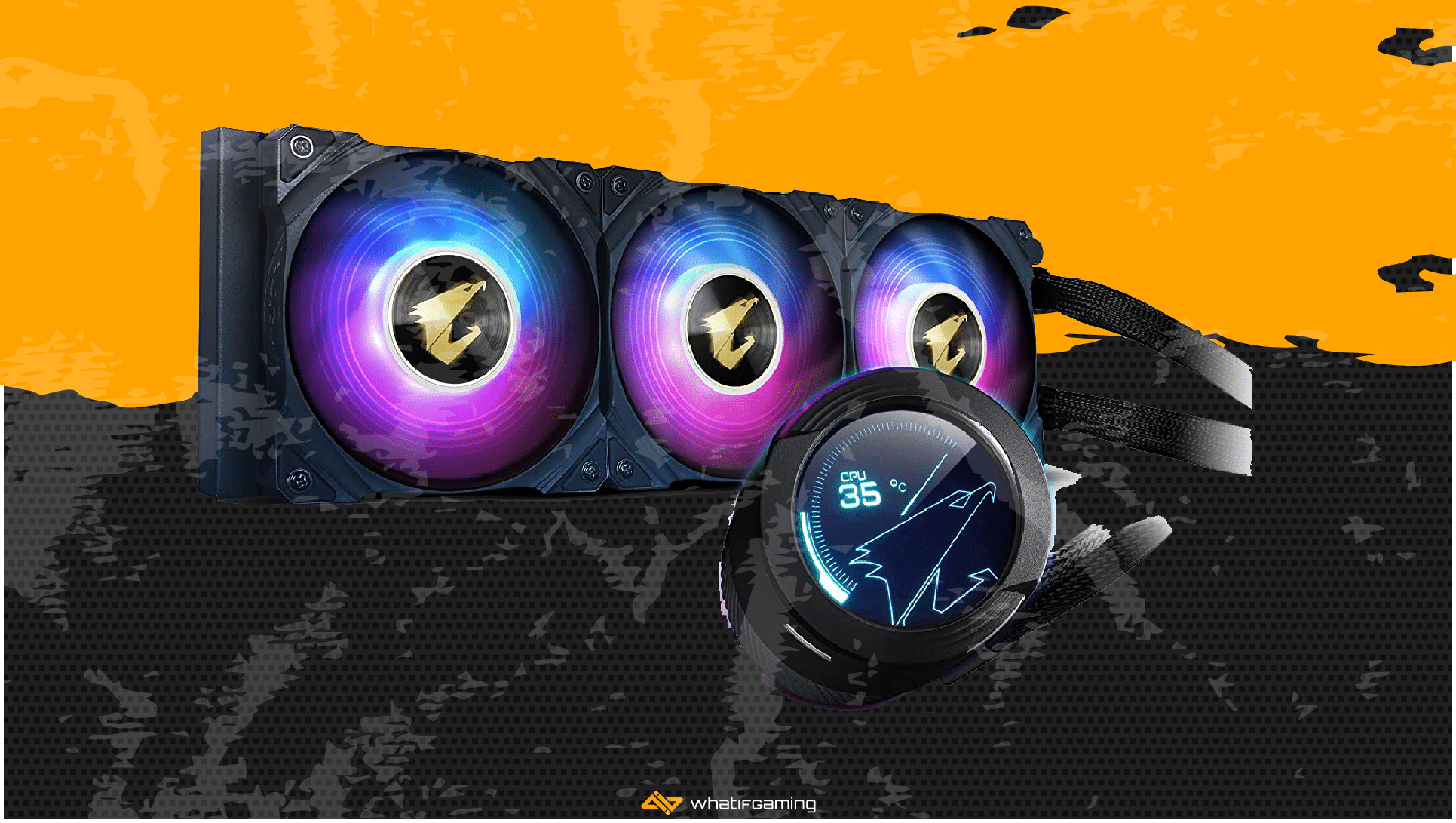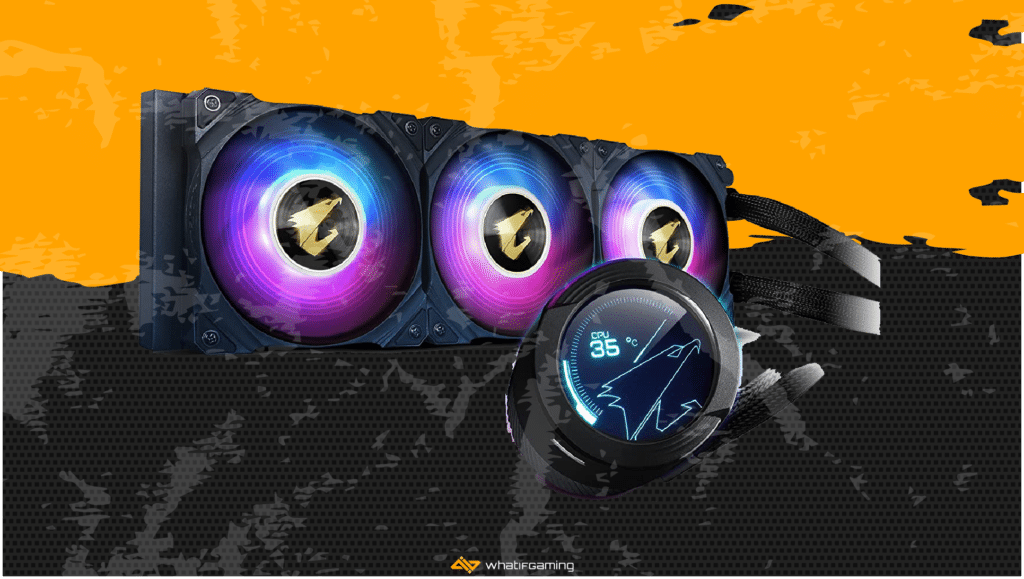 Gigabyte AORUS Waterforce X 360
Type: 360mm AIO | Fan RPM: 800-2,500 | Fan CFM: 60 | Screen diameter: 2.36" | Screen resolution: Not specified | Tube length: 400mm | Has RGB: Yes
Pros:
Quieter than most competitors

Crisp, rotatable screen

Negligibly worse temperatures than with top competitors
Cons:
Needs two apps to run and customize the screen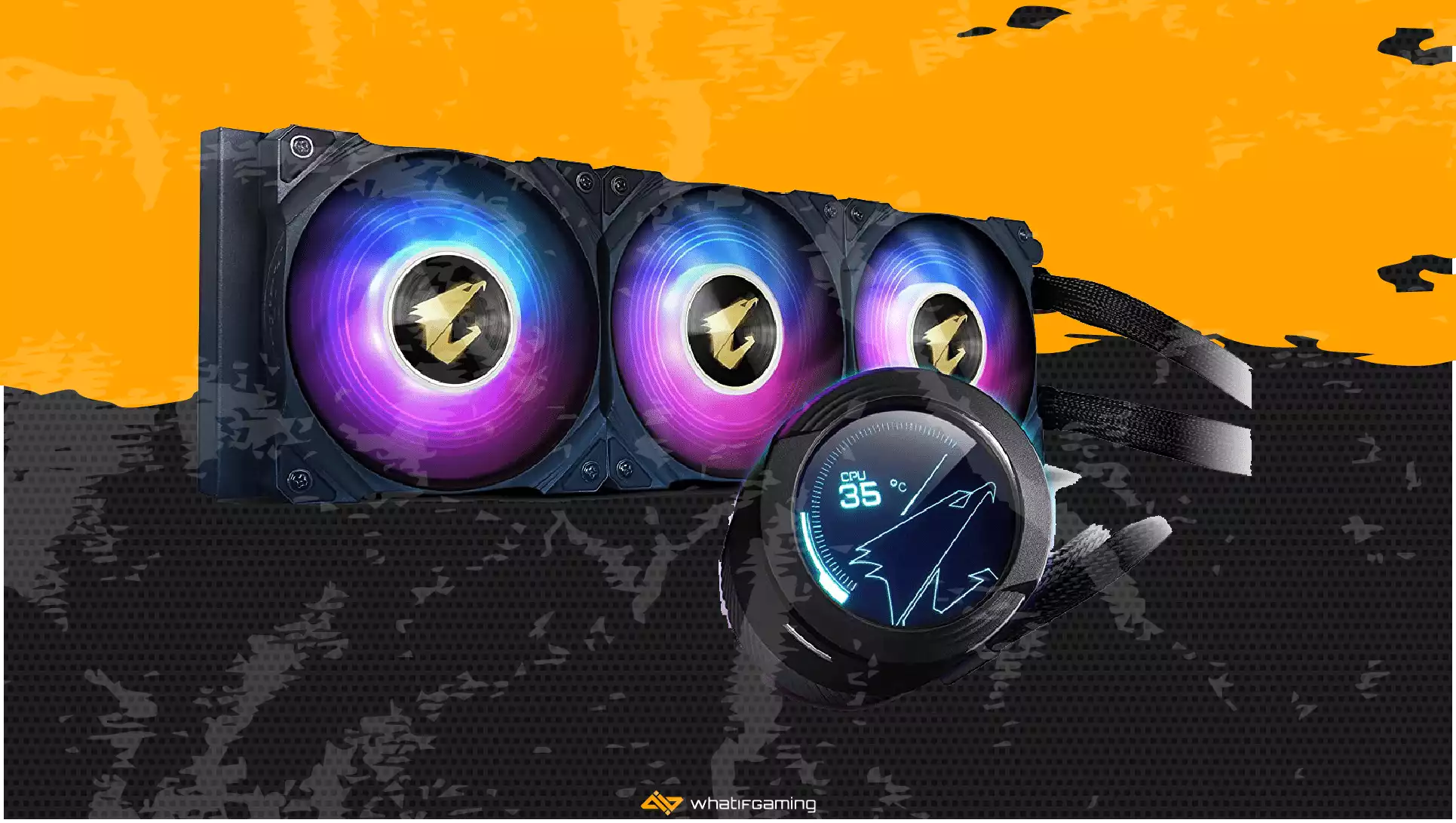 Next up is a capable 360mm AIO from another computer hardware titan. The Waterforce X360 is Gigabyte's second attempt at an LCD-powered cooler. It's a bit less expensive than our top two and considerably quieter. That's enough to make it our choice for best CPU cooler with screens for users who value silence at no performance cost.
Nothing about the AIO's design rocks the boat. It has a cylindrical pump head, and the radiator has default dimensions for its size. Even so, details like the retention teeth and finely-milled copper plate speak of quality.
Gigabyte doesn't specify the screen's resolution, but it's clear enough for system info and a detailed AORUS logo to coexist.
You can rotate the top freely to have everything line up and insert an SD card into the base if you want to play movies back. Controlling the display involves using RGB fusion and the AORUS engine. You also have to plug a cable into one of your motherboard's USB 2.0 headers.
Installing the Waterforce X360 shouldn't be problematic if you've set up AIOs before. It has a few extra cables compared to most, so tucking those away to make things tidy will take up more time.
The fans have high min and max speeds yet don't get as loud as the AIOs we've encountered so far. They trail the H150i and ROG Ryujin by a few degrees.
That's still in line with the best coolers and shouldn't dissuade you from buying this model. Many users will gladly trade the temperature difference for the Waterforce's comparatively quiet fans anyway.
MSI MEG Coreliquid S280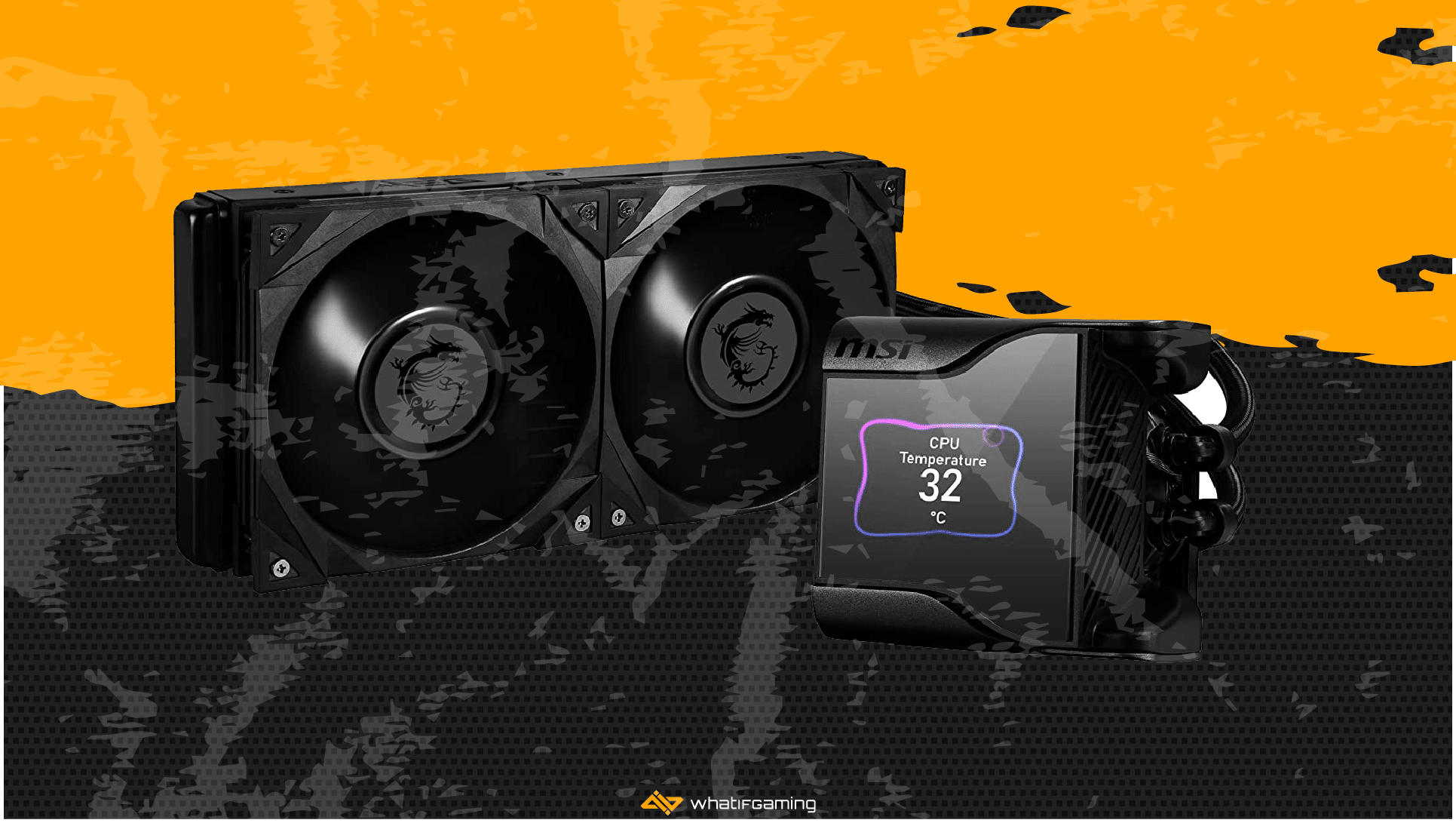 MSI MEG Coreliquid S280
Type: 280mm AIO | Fan RPM: 0-1,800 | Fan CFM: 82 | Screen diameter: 2.4" | Screen resolution: 320x240 | Tube length: 400mm | Has RGB: Yes
Pros:
Good performance overall, exceptional on Intel CPUs

Affordable for an AIO with an LCD screen

MSI Center provides comprehensive customization and monitoring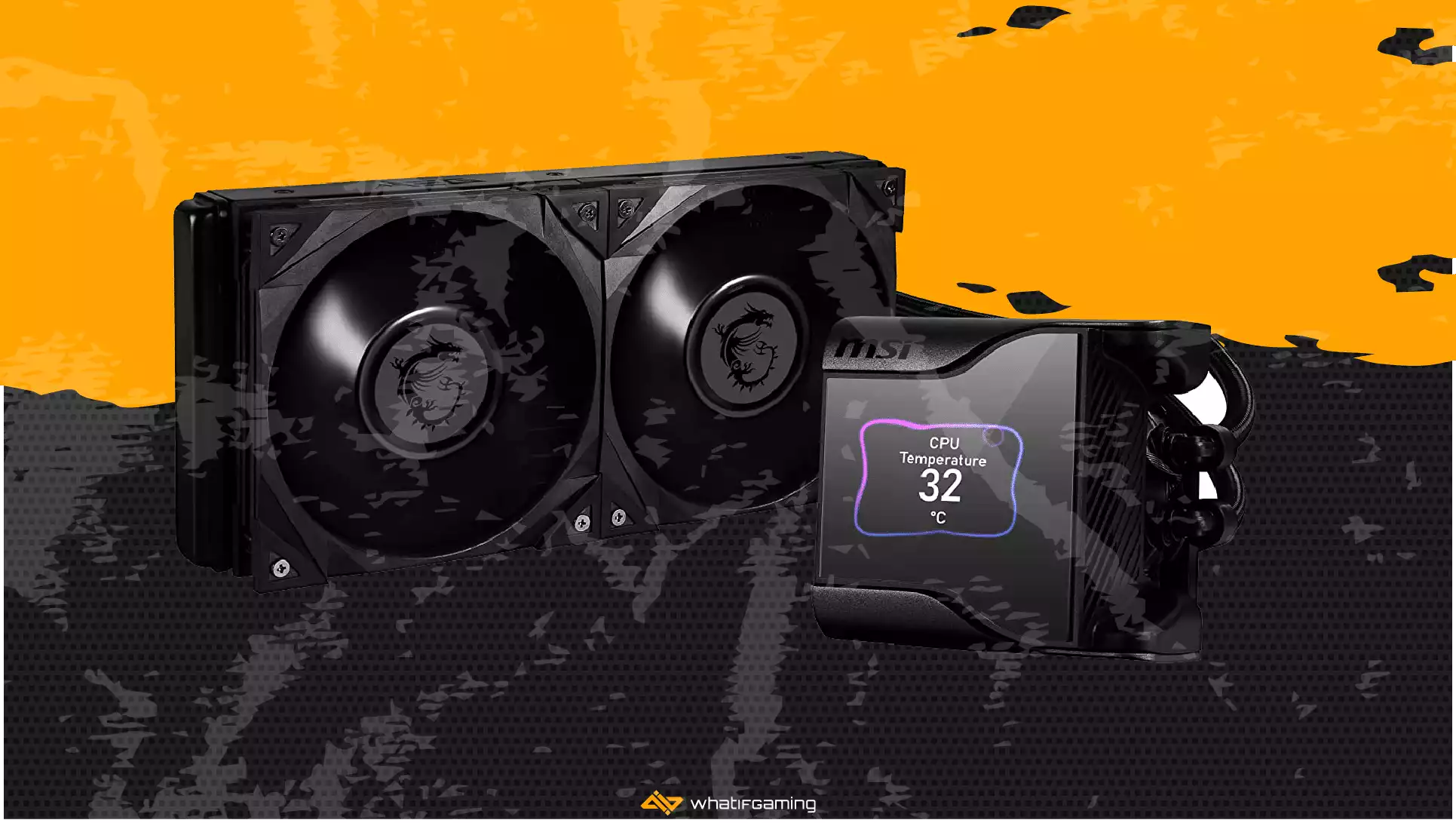 Out of the big four, it looks like ASRock is the only manufacturer that hasn't jumped on the LCD bandwagon. MSI's attempt might not be the best CPU cooler with screens, but it does most things right. The performance is excellent, its display is as pretty as the others, and a price tag south of $200 will prompt many to give it another look. Loudness might turn you off, though.
The Coreliquid S280 hides its ordinary-looking pump head below a fancy magnetic cover. The cover has vents so an embedded fan can blow air into the surroundings. It adds mass and size to the pump assembly but doesn't interfere with RAM or GPU clearance.
While it's a standout feature for AIOs in general, there's not much about the screen that sets it apart from others. Its size is decent, and the colors are vivid. The brightness is slightly lower than on the rest, which is only noticeable in direct comparison.
MSI Center is the hub for all your screen customization and fan curve adjustment needs. It lets you personalize the system info readout with several border choices and can even have the screen display real-time weather info.
The Silent Gale P14 fans have hydrodynamic bearings and sport superb build quality. They can't push as much air as the ones on the Z63, though.
All the AIOs we've recommended so far perform equally well on AMD and Intel. While it's a fine choice on AMD, the Coreliquid clearly prefers Intel systems. It might have something to do with the mounting hardware, as it jumps ahead of most competitors regardless of which Intel CPU you pair it with.
Most of our picks are unusually loud, but MSI's AIO is the worst offender. The fans almost reach 60dB at 100% speed, forcing you to compensate through custom fan curves. It remains loud even after optimization.