Owning a PC is a fantastic experience. Tracking down every component and buying them piecemeal over several months? Not so much. Wouldn't it make more sense to get everything in one place and not have to worry? That's exactly what the best custom PC builder websites are all about!
Sites like these streamline your purchase without robbing you of the experience of putting together a killer build on paper. Taking this route is reassuring for newcomers since there's no risk of using incompatible parts. More experienced buyers who like using their PCs more than assembling them can jump straight in. Everyone benefits from the support and warranty policies such sites offer.
CyberPowerPC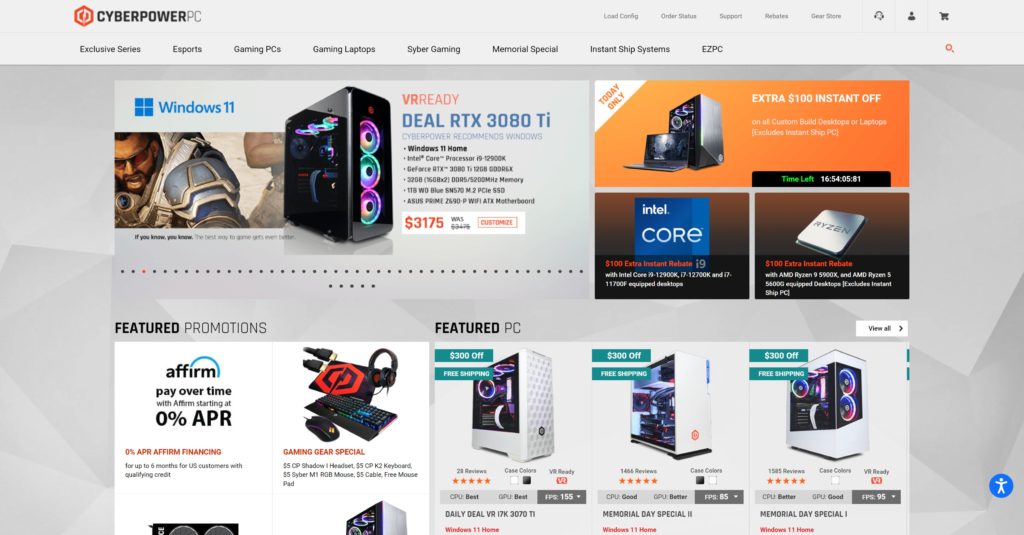 Visit CyberPowerPC
Locations: USA, Canada, UK
CyberPowerPC is one of the most comprehensive websites for anything about PC hardware & accessories. It's the best prebuilt PC company due to the sheer scope of already assembled systems on offer. Need a good laptop for eSports? They've got it. Want a desktop PC blinged-out exclusively with Corsair's iCUE-compatible lighting? No problem!
We wouldn't recommend CyberPowerPC to someone who's putting together a custom PC for the first time since the choices can be overwhelming. Everyone else will find their huge assortment and the ability to make changes to almost every build within it a huge plus. There's also a builder feature similar to NZXT's. You get PC recommendations based on a selection of games, your budget, and preferences. However, it's not as intuitive and sometimes returns no results.
The customization aspect is handled competently and is full of welcome extras. You can add routers, capture cards, and even gaming chairs as part of the purchase, just to name a few. CyberPowerPC offers several colors for your cooling loop's liquid as well as laser engravings fur further personalization.
Accessibility is another of CyberPowerPC's strengths. The most affordable PC costs a mere $700, while an entry-level laptop will set you back by $15 less. You don't have to pay everything at once since the site offers financing through Affirm. PCs get a one-year warranty and free lifetime technical support. Paying extra bumps the warranty up to a max of three years.
iBuyPower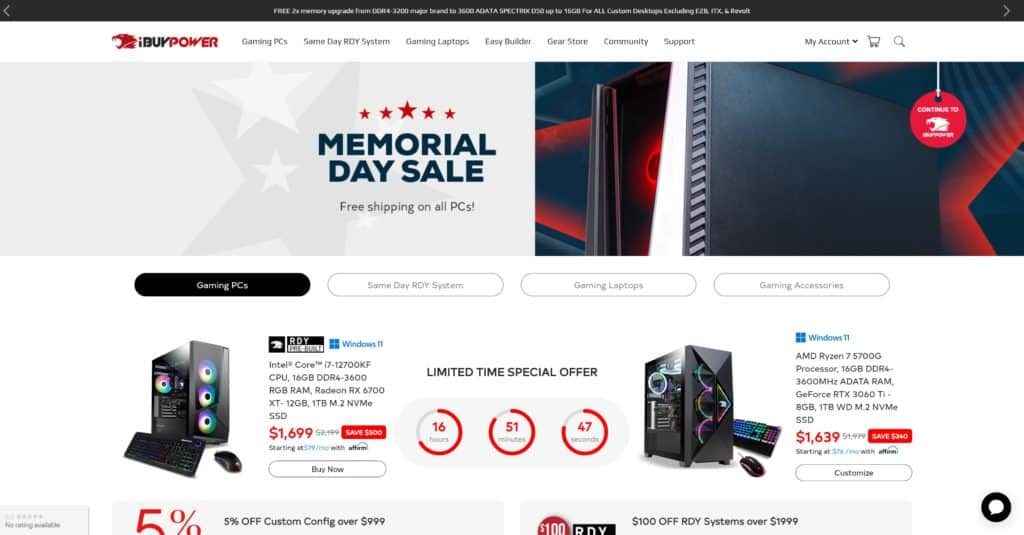 Visit iBuyPower
Locations: USA, Canada, Germany
Think of iBuyPower as a mix of CyberPowerPC and NZXT's BLD. It offers a large selection of prebuilt PCs and components while also having one of the better custom PC builder interfaces out there. The landing page is always busy with deals & promotions, so it might take newcomers a while to find their way. Once they do, however, they're in for quite the journey.
RDY prebuilt PCs are iBuyPower's backbone. There are a lot of them, designed with different games, processors, and budgets in mind. You'll want to select all of these and more criteria to narrow the choice down. Price-wise, iBuyPower is almost as affordable as CyberPowerPC, with an asking price of $950 for their cheapest desktop. You may find older and even cheaper iBuyPower PCs on sites like Amazon as well.
We're fans of the Easy Builder since it streamlines your custom experience. A large selection of games serves as your basis. So many PCs fit inside various budget tiers that you don't have to lift a finger to make them better. You should, as the Easy Builder makes swapping components and fine-tuning your selection faster.
iBuyPower seeks to give back to the community by sponsoring eSports events and frequent giveaways. A Discord server is there if you want to engage with others or ask for help. Loyal customers get to take advantage of reward points and can apply them towards subsequent purchases.
Two factors keep iBuyPower from rising to the top of our list of best custom PC builder websites. One is the warranty since it's limited to three years for labor and just one for parts. Shipping is the other. It doesn't affect you if you're from North America or Europe, but there's no international shipping.
Maingear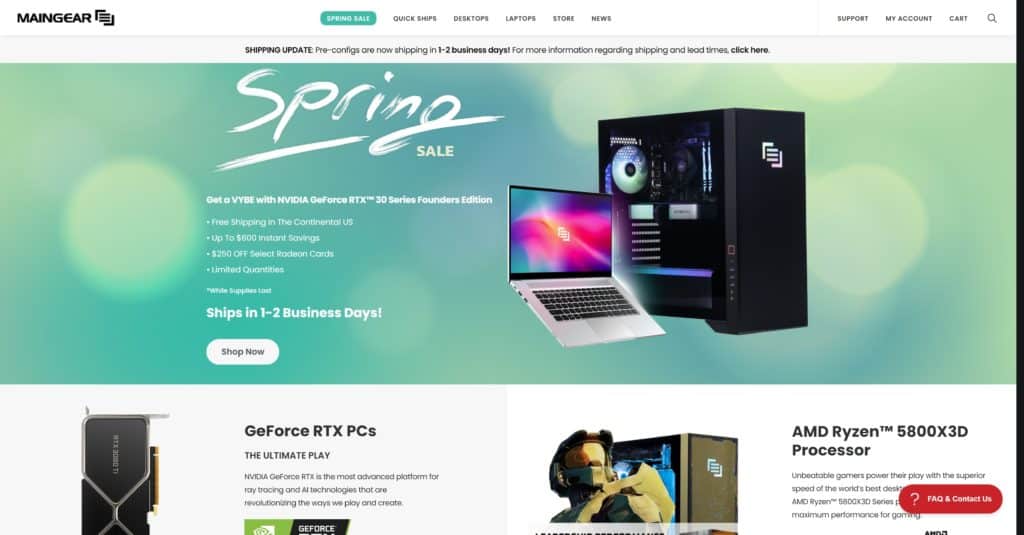 Visit Maingear
Locations: USA
Maingear has been in the PC builder game for 20 years & counting. The site has a proven track record of delivering competently built PCs that usually live up to their somewhat higher prices. They deal in desktop PCs and workstations. The Vybe line features the most accessible desktop PCs, but you can't configure those. If you're OK with Maingear's recs, they start at $1,299 for Silver tier PCs.
Some buyers will be more interested in deeper customization, which you can access if you choose the Turbo, Rush, or F131 lines. Each has at least two completed PCs you can modify extensively. You do this by scrolling through a rather long page containing choices for everything from the GPU & motherboard to accessories & software.
Maingear goes the extra mile by offering a vivid array of colors for the case and custom single or multicolor graphics you can have made. These add quite a lot to the price, but you're getting a genuinely unique computer in return. Going prebuilt without tinkering gets you a PC in 1-2 business days. Depending on the extent of your customization, bespoke PCs can take two weeks or more to arrive.
All Maingear PCs start with a 1-year warranty you can upgrade to three. They ship internationally and get a complete treatment that includes installing the OS, getting drivers up to snuff, and running benchmarks. You can set up a payment plan through Bread in the US, while financing isn't available to international buyers.
The customer support is on point since you can get live-chat guidance while shopping online or reach out to them through various means, including Discord.
BLD by NZXT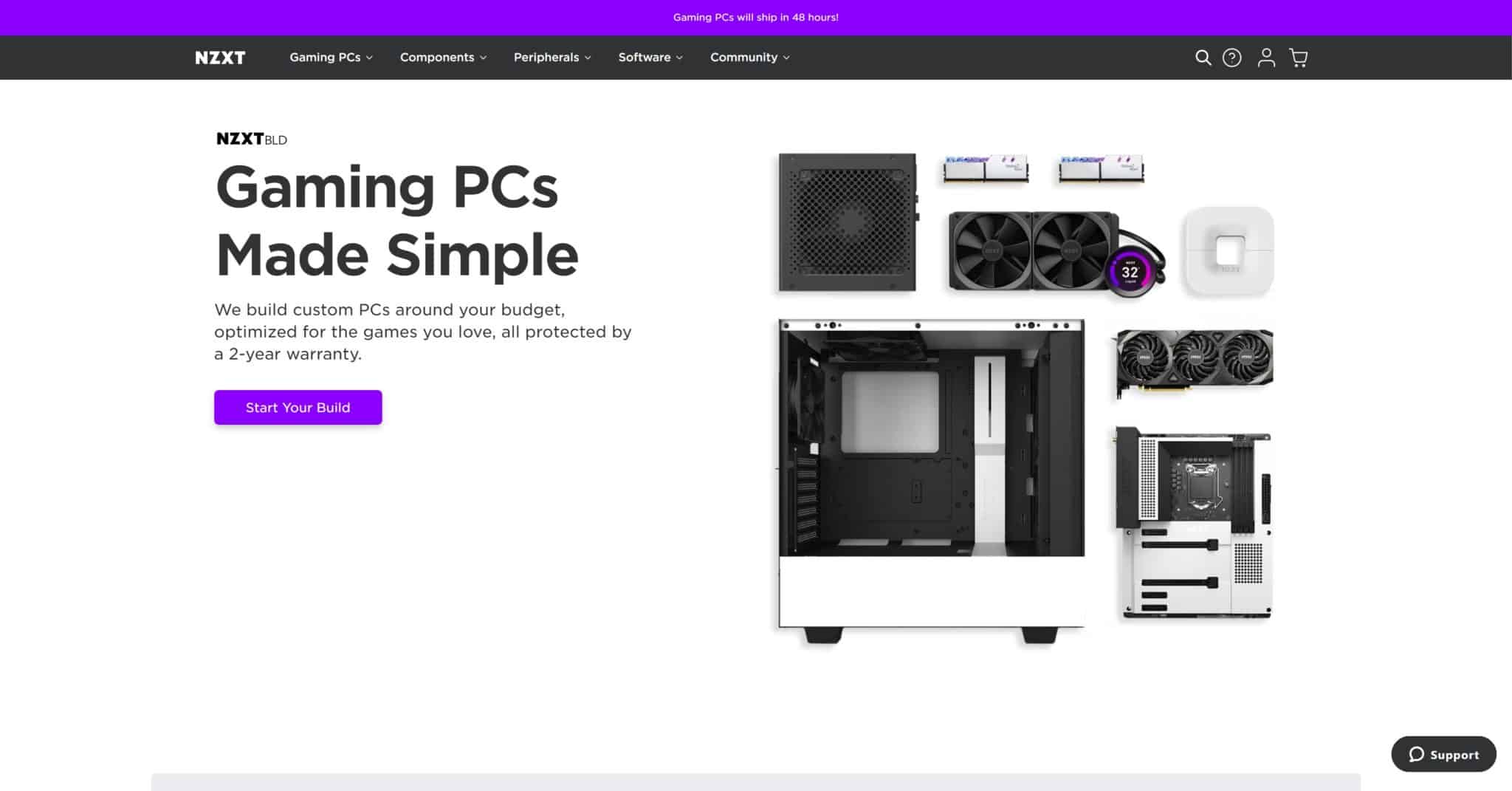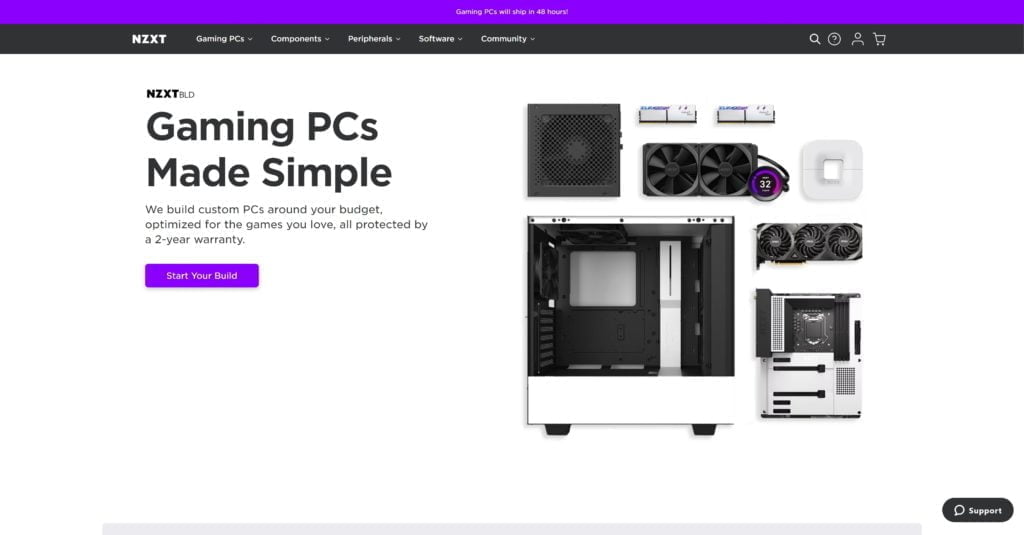 Visit BLD by NZXT
Locations: US, Canada, Australia, NZ, UK, Germany, Austria, Luxembourg, Belgium, Spain, Italy, France
NZXT is a renowned manufacturer of PC cases & power supplies with a mission – to make your next PC purchase as painless as possible. It's the best custom PC builder if you want to take all the guesswork out of the process, thanks to an intuitive interface and straightforward instructions anyone can use.
The site features an area with several PCs for use cases ranging from casual through gaming to creativity. The popular Player series currently starts at $949. You may also buy separate components like coolers or RGB lighting strips. That's all well & good, but it's the builder itself that elevates BLD above similar sites.
Its first step is as straightforward as can be, prompting you to choose a budget and a processor the system will be based on. A handy chart next to these parameters provides a framerate estimate for popular games like Fortnite and Minecraft at various resolutions.
The next screen already contains a fully outfitted computer with hardware optimized for the platform and your budget. You may then customize any part of it with little limitation. The case is the only exception since it has to be from NZXT. Go figure. The last thing to do is select peripherals, a monitor, and the operating system.
NZXT covers their PCs with a 2-year warranty, which is about average. All of them are expertly built, and you can pay extra to expedite the shipping.
Digital Storm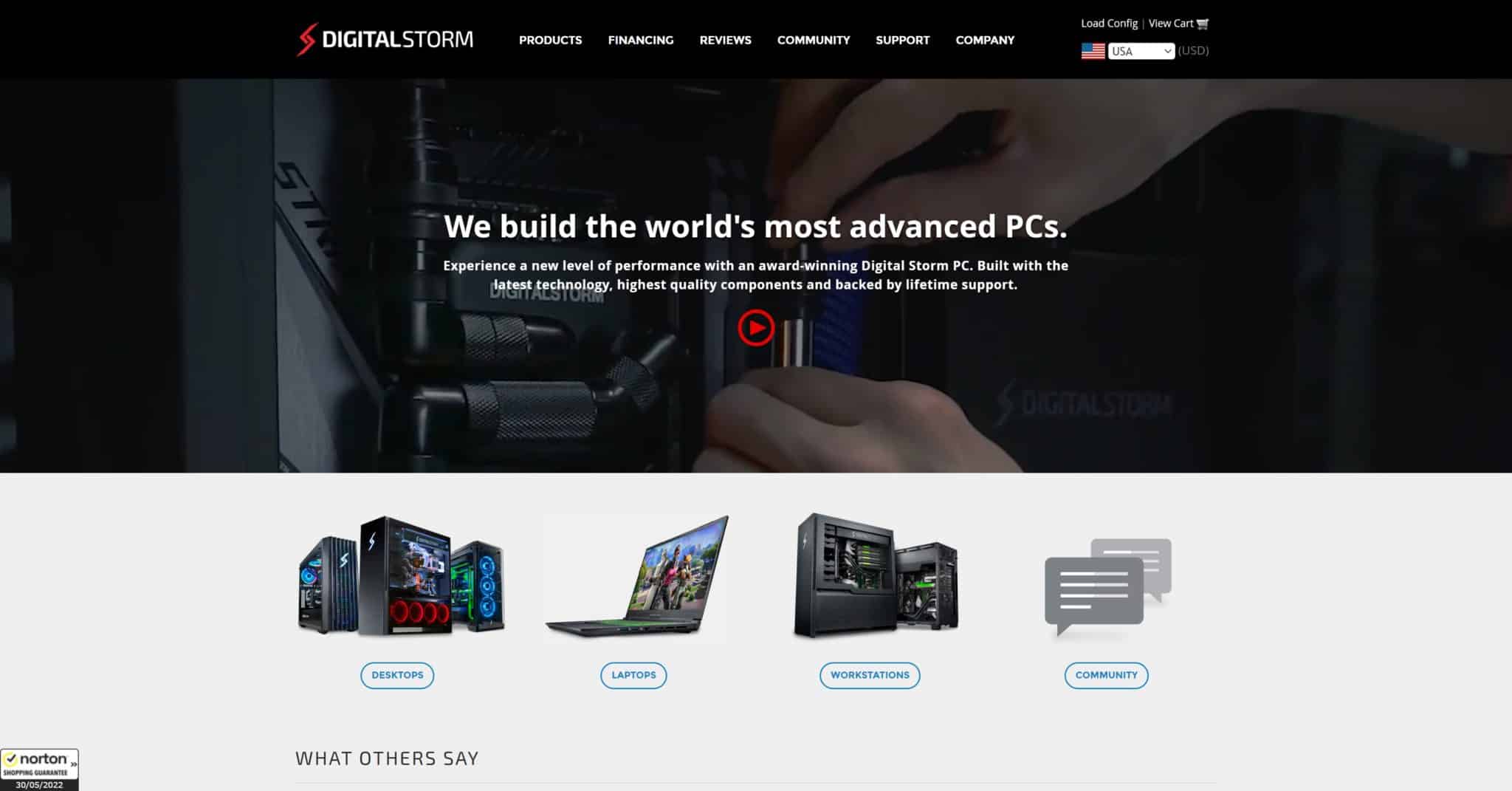 Visit Digital Storm
Locations: USA, Canada
A broad inventory is fine & all, but what if you want a cozier approach from your custom PC builder? That's when you should turn to Digital Storm. This California-based company offers fewer systems but takes great care in designing each one. The site is minimalistic & clean, and selecting a model from each of the three system types on offer leads to a well-designed presentation page.
Digital Storm's narrow scope might be unappealing for laptop gamers & workstation users since the categories offer only two and three models, respectively. Desktops have more variety, ranging from the accessible $1,447 Lynx to the no holds barred $3,294 Aventum. And those are just the starting prices.
The prebuilts are serviceable, and options abound to increase their attractiveness or utility. Each model comes in several configurations that gradually go up in price. Alternatively, you can use them as a springboard to build your own PC from a sizeable component selection.
Some of the more interesting custom services include colorful cables & attentive management, CPU & GPU overclocking if applicable setting up RAID for your hard drives, and adding a Windows USB to recover a corrupted installation. Some cases have several trim & mod options you can take advantage of too.
Digital Storm has an active forum where prospective & current customers help each other, review their purchases, and can troubleshoot potential problems. Like Maingear, Digital Storm uses Bread for easy financing and offers payment plans that last up to 36 months. That's also how long their base limited warranty lasts, with possible extensions to five years.
PCs you purchase from this site should arrive within three business days. Adding lots of custom details can extend this to three weeks for US-based customers, more for international ones.
Origin PC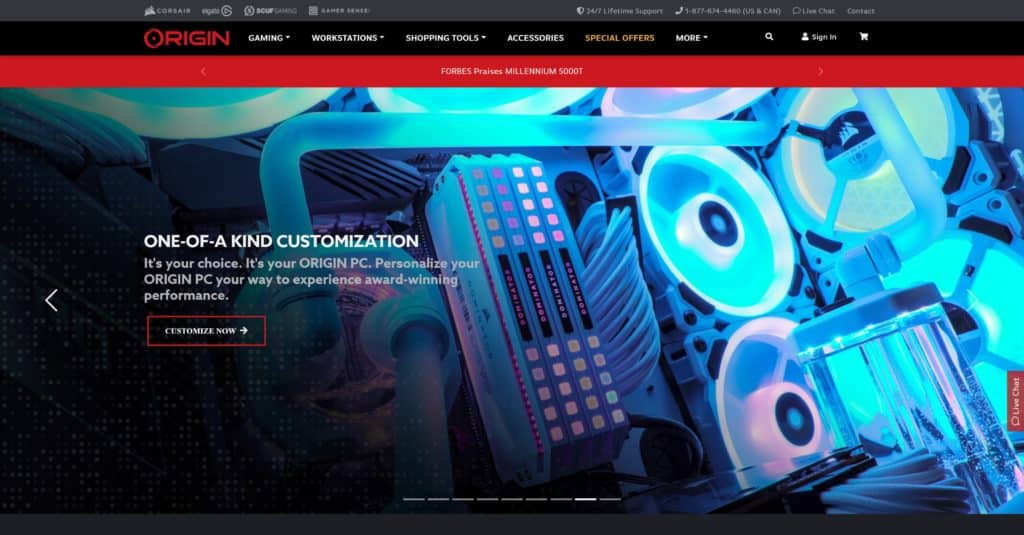 Visit Origin PC
Locations: USA, Canada
Not to be confused with the eponymous game launcher, Origin PC is an upscale PC builder catering to users with discerning tastes in desktops and laptops alike. They're one of the few companies on the list that pay particular attention to laptops, offering several gaming-focused and workstation models to boot.
Everything from the interface to the Desktop Advisor building assistant comes with a high polish. The site is responsive, and putting together the type of computer you needs takes little time. Price is the only "drawback" since you can't get a desktop for less than $1,780, and laptops start at $1,262.
Laptop lovers will come into their own since the Evo series is supremely customizable. It's possible to deck out the lid with one of several designs, not to mention tinker with the amount of memory and number of storage drives.
PC customization runs even deeper yet can be even easier. The Desktop Advisor takes a page out of NZXT's book by presenting you with a series of choices and spitting out the most likely candidate to run the games you're into. The process is a bit stunted, but adding the finishing touches to your custom PC from there is a snap.
Origin PC offers several financing types. Your best bet is to either pay for everything at once or go for a six-month plan, as the APR for more extended purchases can get high. Origin's PCs have a 1-year warranty extendable to three years. They also only ship to the US & Canada.
Chillblast
Visit Chillblast
Locations: UK
Our UK readers may already know about Chillblast and its award-winning customer service. Islanders needn't look further, as this site has everything even for the most discerning PC builder. They offer gaming desktops & laptops, workstations, peripherals, and a host of exciting services.
It's easy to fritter thousands away on a souped-up PC, so we commend Chillblast for offering affordable entry-level systems too. You can start gaming for as little as £580 if you're into desktops or £700 if a laptop for undemanding games like Minecraft is your jam.
Chillblast offers next-day delivery desktops and has an outlet shop. The latter is an excellent source of deals since you're getting the same new components cheaper just because they were lying around for a while or a customer had a change of heart.
This is another website that offers a competent PC-building tool. You get a BLD-like menu with lots of options for each component type set in a logical order that ensures nothing is skipped. Newbies don't have to fear making a wrong decision since the builder alerts you if a component combination is incompatible.
Customers who want the ultimate signature PC should take advantage of Chillblast X. The company's creative corner will wrap your new desktop in a colorful graphic of your choosing, provided it isn't copyrighted or obscene.
Chillblast laptops and desktops enjoy a 3-year warranty. Desktop users get another 2-year extension on labor costs but have to pay for new parts etc. themselves.
The scope of delivery is our only gripe with Chillblast. They're exclusive to the UK, so even mainland Europeans are out of luck. Brits get to enjoy free delivery or specific hours if they pay a small fee.
Xidax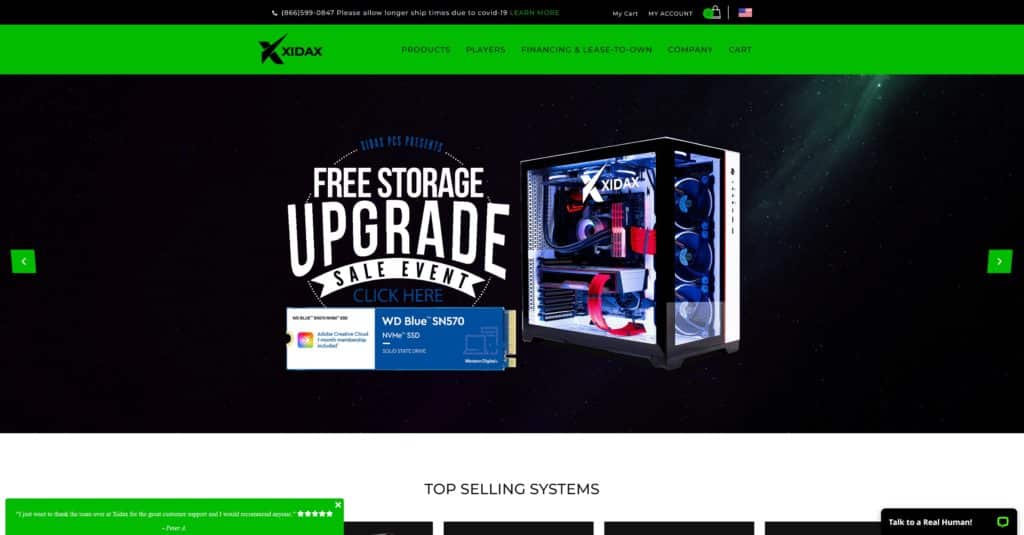 Visit Xidax
Locations: USA
All the sites we've talked about offer some kind of warranty protection, but only Xidax has one that lasts indefinitely. There's no question that Xidax is the best PC builder when it comes to peace of mind since they'll replace or repair your precious i9-13900K even if it suddenly dies in eight years. The policy applies for as long as the replacement parts are manufactured & available, and we think that's more than fair.
Xidax would have been among our best custom PC builder recs even if the warranty wasn't in place. It has one of the better building tools out there that takes you on a step-by-step tour of putting together the perfect computer. Sometimes there are few choices for a particular part, but the builder is comprehensive.
On the other hand, you can choose among many desktop PCs and laptops ready to ship. Xidax caters to everyone, so expect the cheapest models in both categories to cost less than $1,000. Workstation PCs are on offer as well, as are used desktops that have been recertified for optimum performance. Going for one could be a great way to get a beastly rig cheaper if you don't mind taking a gamble.
Want to experience a maxed-out Cyberpunk 2077 but don't have the cash? Xidax has partnered with Affirm to offer an enticing payment plan. Or, you could go the leasing route and pay for only as long as you use the hardware.