DDR4 has been with us since 2014, so it was high time for an upgrade. Intel's Alder Lake chips ushered in that upgrade as the first generation of desktop CPUs to support DDR5. What does the new standard bring? Markedly higher frequencies, excellent power management, and the promise of substantial gains in gaming and productivity alike down the road. The best DDR5 RAM for gaming is still scarce and overpriced, but it offers a tantalizing taste of things to come.
The Best DDR5 RAM for Gaming at a Glance
It took two years for DDR4 to take the lion's share of the RAM market from DDR3. The refinements that turned it into the finely-tuned memory we rely on today developed over an even more extended period. We're still firmly within DDR5's early adoption stage, so don't expect the chosen kits to perform much better than their considerably cheaper DDR4 counterparts. Rapid development and increased availability might change this drastically, however. The year has only just begun, and 2022 is sure to be an exciting time for DDR5.
G.Skill Trident Z5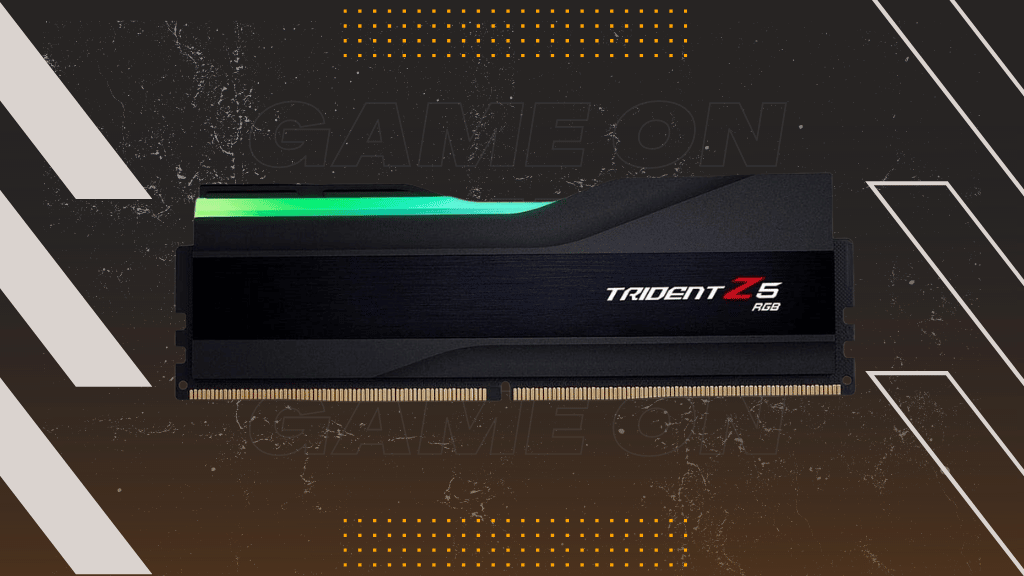 Capacity: 32GB (2x16GB) | Clock speed: 6000MHz | CAS Latency: 36 | Die: Samsung B | RGB: Yes
G.Skill has been one of our top choices for DDR4 RAM. So we're glad to see that they didn't drop the ball in designing the next generation. The Trident Z5 brings with it everything you'd expect from a generational upgrade – new looks, better performance, and, unfortunately, a hefty price tag. It's not just the best DDR5 RAM for gaming; it's the kit to get if you work and play equally hard.
The Z5 sees another welcome leap in aesthetics. It takes the Neo's design and transforms it into another mix of silver and black that looks even better than the original. The series' telltale fins are more subdued and best visible if examined from across the RGB diffuser. The DIMMs are 42mm tall, so interference with the majority of CPU cooling solutions isn't likely.
You can get the Z5 either plain or with RGB. The latter currently isn't more expensive, so we suggest going with it if you're keen on vibrant lighting. The diffuser is milky and does an excellent job of melding individual LEDs into a continuous, pleasant glow. As before, G.Skill offers the Trident Z Lighting Control program for advanced RGB tinkering. Other than that, you can always fall back on your motherboard's brand of RGB synchronization utility.
Blazing the Trail
Previous high-end G.Skill kits used the acclaimed Samsung B-die, and this one sticks to its DDR5 version. That allows the kit to go from 4800MHz at CL40 to 6000MHz with CL timings set to 36-36-36-96. DDR5 runs on lower voltages, so the 1.3V required to maintain the Z5's XMP profile is above average. You'll need to feed it 0.1V more when overclocking.
The performance gained by overclocking is minor. Still, it's reassuring that you can push the first generation of DDR5 RAM by several hundred MHz while retaining excellent timings. There's next to no difference between the three top contenders on our best DDR5 RAM list for gaming performance.
However, the Z5 distinguishes itself by decisively beating the competition in metrics like memory latency, photo retouching, or 3D rendering. This should put a spring in your productive step, but it also means that our following two candidates are equally viable if you can find them at a better price.
Teamgroup T-Force Delta RGB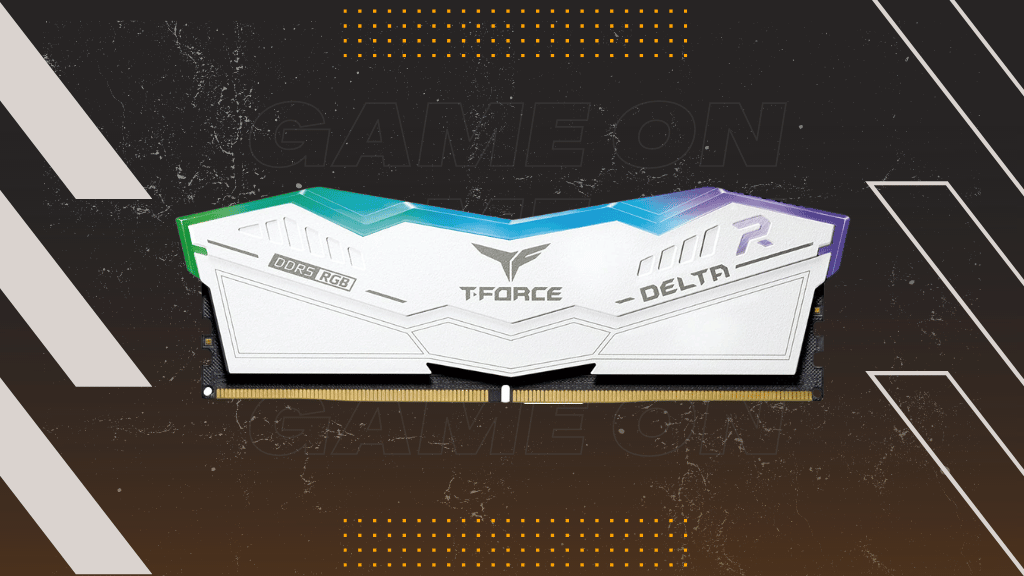 Capacity: 32GB (2x16GB) | Clock speed: 6400MHz | CAS Latency: 40 | Die: SK Hynix M | RGB: Yes
Teamgroup joins the fray with a revamp of one of its beloved memory lines. The newest T-Force Delta DIMMs distinguish themselves with elegant looks and the fastest XMP speed available to date. Provided you can find some and are willing to pay the asking price. It's the best DDR5 RAM for gaming bar G.Skill's model. Considering the times, it's wisest to get whichever you can grab and worry about aesthetics later.
Aesthetics are an aspect of the Delta RGB you shouldn't worry about, though. The sticks are tall and armored with an expansive heat spreader. They're very much in line with their DDR4 predecessor, with subtle changes like a few more cutouts and a slightly more visible lighting diffuser. Teamgroup's RAM is 4mm taller than G.Skill's. Most coolers are sure to still fit. Checking before committing isn't a bad idea, though.
Kudos to Teamgroup for improving the Delta's already noteworthy lighting. You get to see more of it for one thing, and the soft glow is better than ever. The diffuser reaches past the heat spreader's endpoints, while an R-shaped cutout adds more visual interest. No dedicated RGB management supports this kit. On the other hand, compatibility with major board manufacturers and their Alder Lake mobos is complete.
Worthy Competition
The ICs this RAM uses aren't stated anywhere explicitly. We know they're from SK Hynix, and so they must be M-die since that's the only DDR5 die by that company in production at the moment. That's good news for enthusiasts since M-die has what it takes to compete with B-die in the performance and overclocking departments. Its out-of-the-box showing is already great as the Delta RGB comes in at a strong 6400MHz with 40-40-40-76 latencies.
You can tweak these numbers further, adding 200 or so MHz to the clock speed while keeping the timings as they are. That may lead to a handful of points more in artificial testing. Gaming might see an improvement of literally one frame per second or less, so risking stability is debatable. Especially when you're already running games on Ultra in triple digits at 1080p.
ADATA XPG Lancer DDR5 RGB
Capacity: 32GB (2x16GB) | Clock speed: 6000MHz | CAS Latency: 40 | Die: SK Hynix M | RGB: Yes
Outstanding overclocking potential
Cool geometric design
Subdued RGB looks great
Expensive
Topping off our terrific new triumvirate of best DDR5 RAM for gaming is an excellent kit from XPG. The Lancer has what it takes to duke it out with our top two entries and can even slightly surpass either if you're willing to go all-out on overclocking. It has the trademark XPG charm, fits any build, and even costs a bit less than our forerunners.
XPG also offers a 5200MHz kit you can find for around $50 less. It's a great alternative if you're looking to invest the savings in something like a new GPU and don't mind the single-digit percentage point performance difference.
XPG RAM is well known for its outlandish geometric designs. The Lancer doesn't disappoint in that regard since it's awash with deep diagonal cuts into its heat spreader and sharp angles everywhere. The diffuser placement is particularly interesting. Diffusers on other DIMMs usually occupy the top portion. Here, the spreader covers the top almost entirely towards the edges but leaves a triangular space in the middle for the diffuser to show off the RGB.
Unlike the Dominator's blazing Capellix lights, subtlety is the name of the game here. The Lancer's LEDs glow softly to begin with, while the diffuser adds a great deal of dispersion. That leaves you with an atmospheric glow which can be just as effective as the brightest light show. Alder Lake is ready for it, as syncing the RAM with other colorful components works on any major motherboard. The sticks are 40mm high, ideal for any air-based CPU cooler or AIO.
Unique Look, High-End Performance
This is the second DDR5 RAM we've encountered that uses SK Hynix M-die to great effect. Its initial XMP timings are formidable, with 00MHz, 1.35V, and 40-40-40-76. These values coincide almost entirely with the Delta's. Skilled overclockers might even be able to match the frequency without having to loosen the timings.
Conversely, it's also possible to maintain 6000MHz while tightening the timings to CL38! That will require an excellent supporting motherboard, though. You're already paying an arm and a leg for the RAM as an early adopter, so the added expense isn't as much of a blow.
Corsair Dominator Platinum RGB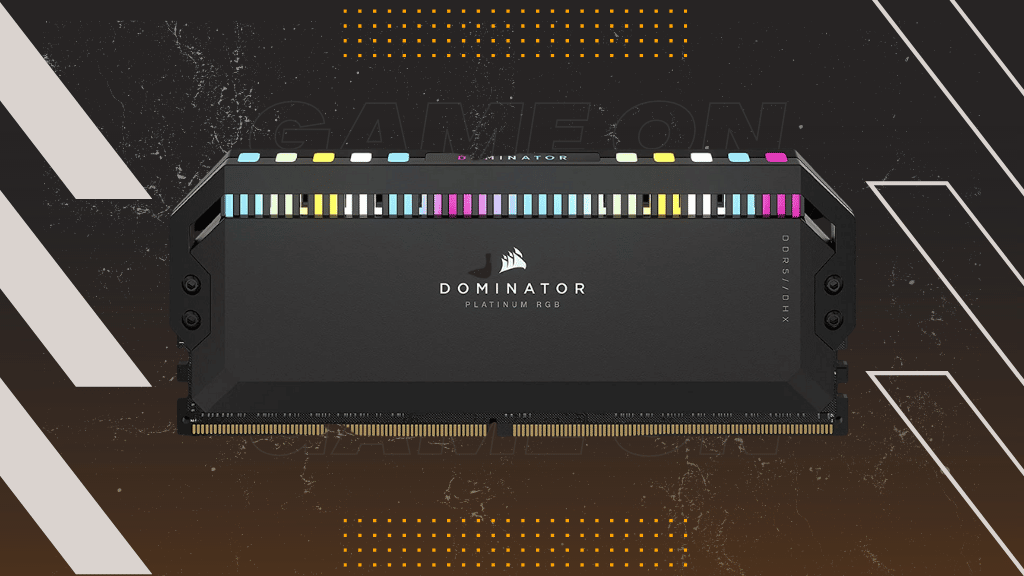 Capacity: 32GB (2x16GB) | Clock speed: 5200MHz | CAS Latency: 38 | Die: Micron A | RGB: Yes
Most DDR5 RAM is still expensive and hard to come by. While that may change, you know the situation is currently dire when we're listing affordability as a pro for a kit that costs north of $350.
Luckily, it happens to be an upgrade to an old favorite – the DDR5 version of Corsair's Dominator Platinum RGB! Expect the same RGB awesomeness coupled with DDR5's improved speeds and power efficiency. Its clock speed might be low, but the performance disparity between this and our best DDR5 RAM for gaming is even lower.
Owners of the Dominator Platinum's DDR4 version will have trouble telling the two apart since there are practically no aesthetic differences. It's still exceedingly tall memory at 55mm, with an angular heat spreader and unusual LED placement. Rejoice if you've got a white case, as Corsair offers the new kits in that color too.
Capellix made a splash upon arrival, and it's still the top dog among RGB lights. One might argue that Capellix and the Dominator's pricing qualify it for best DDR5 RAM alone. Why? Because these lights shine the brightest, barely take up any space, and don't impact a stick's power needs much. The drawback is that you can't get them to work with non-Corsair lighting through a motherboard. On the other hand, having iCUE there for ridiculously nuanced color tweaking and helpful temperature or frequency reports more than makes up for this.
Dominating Once More
Corsair opted to use more accessible Micron A-die for this kit. While that resulted in a comparatively low XMP frequency of 5200MHz at CL38, the advantages outweigh the shortcomings. For instance, the RAM only needs 1.2V of power to run at these settings. That includes the LEDs. On the other hand, overclockers are out of luck since that's as far as you can push it without compromising stability.
Putting the Dominator Platinum through its paces brings further good news. It performs well for gaming, matching our top contenders frame by frame in games like Assassin's Creed Valhalla. Even when it does do worse, the difference is usually smaller than 3fps at framerates that already climb into the hundreds. The kit is the worst-performing so far for specific productivity tasks like photo manipulation. That may not be relevant to you, though.
Corsair Vengeance DDR5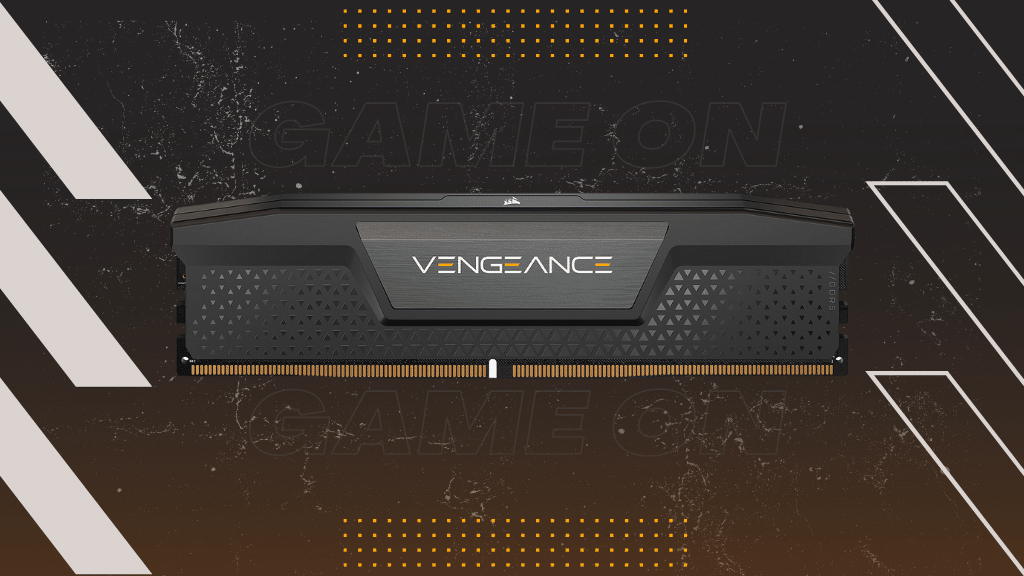 Capacity: 32GB (2x16GB) | Clock speed: 5600MHz | CAS Latency: 16 | Die: Micron A | RGB: No
We've got to hand it to Corsair for providing several compelling options this early in the DDR5 game. On the one hand, you can go for the Dominator Platinum. On the other, it's also a good idea to ditch the RGB and invest in a slightly faster kit instead. That's where the unassuming DDR5 version of the venerable Vengeance line comes in.
Corsair also offers a 5200MHz version of this kit which costs around $50 less.
RGB or not, the folks at Corsair know how to design an attractive DIMM. It's all about the heat spreader in the case of the Vengeance. The spreader is black aluminum with a central gray area with a nice brushed effect and the Vengeance logo. A pattern of triangles surrounds this part, shrinking as they advance towards the edges.
This is the shortest memory we've examined so far. A height of just 35mm puts it firmly within low profile RAM territory. Feel free to bring out your Noctuas and DeepCool Assassins, as there's plenty of room between them and these diminutive sticks.
Streamlined for Success
The Dominator used Micron A-die, so finding the same in Corsair's other line isn't surprising. The lack of RGB helps maintain its admirable power efficiency despite a 400MHz difference in clock frequency. The Vengeance runs at 5600MHz with tight timings of CL36 at 1.25V. Like with its colorful cousin, that's as good as you can expect.
You've probably caught on by now that discussing performance differences between the best DDR5 RAM for gaming is thankless. The trend continues with the Vengeance. It's a frame or two behind the pack leaders in most games while holding its own for other uses. Choosing it over more expensive options might be a good idea if you're not hung up on RGB.
Kingston Fury Beast
Capacity: 16GB (2x8GB) | Clock speed: 4800MHz | CAS Latency: 38 | Die: Micron A | RGB: No
All the DDR5 RAM picks we've focused on so far came in kits of 32GB. You don't need as much to game properly and probably won't for years to come, so why not go with something smaller and cheaper? That's the idea behind Kingston's Fury Beast! It's a 16GB kit that's more expensive than comparable DDR4 options. Still, its cost equals half that of the others or less, putting things into perspective.
Keep in mind that this is the base 4800MHz model. Other Fury Beast modules are available in 400MHz increments, culminating in a more powerful but considerably more expensive 6000MHz kit.
The Fury Beast's style harkens back to days of old when there was no need for armor-like heat spreaders and diffusers had no place on PC components. That's not to say it's unattractive or dull since a lot is going on for an RGB-less, 35mm high kit. The stamped aluminum is matte black with several even darker accents and a series of square cutouts on top. If you're looking for stealthy memory that doesn't compromise on style, this is the best DDR5 RAM for gaming right now.
4800MHz is the minimum JEDEC standard for DDR5 memory, although some kits go as low as 4400MHz. There's no XMP profile to switch to, so you're running at the kit's stock settings. These are 4800MHz at CL38 with a meager power draw of 1.1V. The die used is Micron A we've already encountered in Corsair memory.
Primal Potential
Unlike the factory-overclocked competition, the Fury Beast does have overclocking headroom. It's possible to improve the frequency by 400MHz to match the Dominator Platinum RGB without touching the timings. Think of it as an investment since higher-tier kits will perform equally but can't replicate the lowest one's overclock uplift.
So what does going with 4800MHz DDR5 RAM do for your day-to-day gaming? The differences between it and kits with higher frequencies are barely perceptible. However, there is a noticeable improvement when pitting the RAM against the best DDR4 has to offer. Even so, expect the "gap" to be only several FPS wide in games like Far Cry 6.
Crucial RAM DDR5
Capacity: 16GB (2x8GB) | Clock speed: 4800MHz | CAS Latency: 40 | Die: Micron A | RGB: No
So you bought an Alder Lake processor and a DDR5 motherboard but don't want to pay a premium for memory. What do you do? If you wish to game on it right now and can find the kit, purchasing the 16GB kit from Crucial is the way to go. Price is what this kit has going for it, which instantly places it among our best DDR5 RAM for gaming picks. Considering the academic real-world performance differences, that's more than a solid reason.
Crucial's RAM has the most comprehensive capacity availability on the list. We chose the 16GB version since it hits the sweet spot between cost and current needs. Other kits range from 8 to 64GB with varying degrees of affordability.
We've heard of barebones design, but Crucial might have taken it too far this time. Not only are there no heat spreaders, but the RAM doesn't even have a name apart from a long model number! You'll want a PC case without tempered glass as there's nothing to see here. The Micron A ICs are openly displayed and one-sided, with a logo covering half of them.
Aesthetics aside, Crucial was right in not burdening the DIMMs with heat spreaders. It cuts down on production costs and isn't necessary in this case. The eight-layer PCB and ICs hover around the mid-50s Celsius range even when stress testing, so thermals are well in hand.
How Low Can You Go?
The RAM's specs are similar to the Fury Beast's. The only difference worth noting is a barely perceptible decrease to a CL of 40-40-40-76. That means the kit operates at 1.1V and will help cut down on those 12900K-induced power bills.
You already have a good idea of what to expect from this kit if you've stuck with us this far. Somewhat improved results compared to solid DDR4 kits and gaming chops that are on par with the rest of the models on the list. Read & write speeds, as well as some artificial tests, place Crucial's RAM below its more expensive rivals. Even then, it doesn't trail behind by much.