Looking for the best DisplayPort cable for gaming? You're in the right place and you have made a great choice by using DisplayPort, want to know why? DisplayPort has exploded in popularity amongst gamers after being a neglected platform for a long time. Gamers have finally realized that the DisplayPort format is lightyears ahead of HDMI. Hardware manufacturers have also realized this, you will now commonly see the latest GPUs feature more DisplayPort sockets than HDMI.
Why has this happened? Because even the now outdated DisplayPort 1.4 destroys HDMI 2.0 at 4k. We are talking 120Hz for DisplayPort 1.4 vs 60Hz for HDMI 2.0 at 4k. This is a huge difference and it means you won't get the best out of your new monitor using HDMI 2.0. Even the cutting-edge HDMI 2.1 released in 2017, can only equal DisplayPort 1.4. The new DisplayPort 2.0 released June 2019 blows HDMI 2.1 out of the water in all metrics.
The main reason I will always tell people to go for DisplayPort over HDMI for gaming is this: As monitors become larger, more advanced, and 8k increases in popularity, DP 1.4 and above will be able to support it out of the box. They won't be making the newest monitors with HDMI 2.1 in mind. Going with DisplayPort is the best way to future-proof your sick new rig. Another nice feature is that DisplayPort is back-compatible so you don't have to worry about exactly which cable to use.
Now, we know that DisplayPort is the best cable format for gaming. Let's move on and check out which are the best DisplayPort cables for gaming.
Ivanky 8k DP 1.4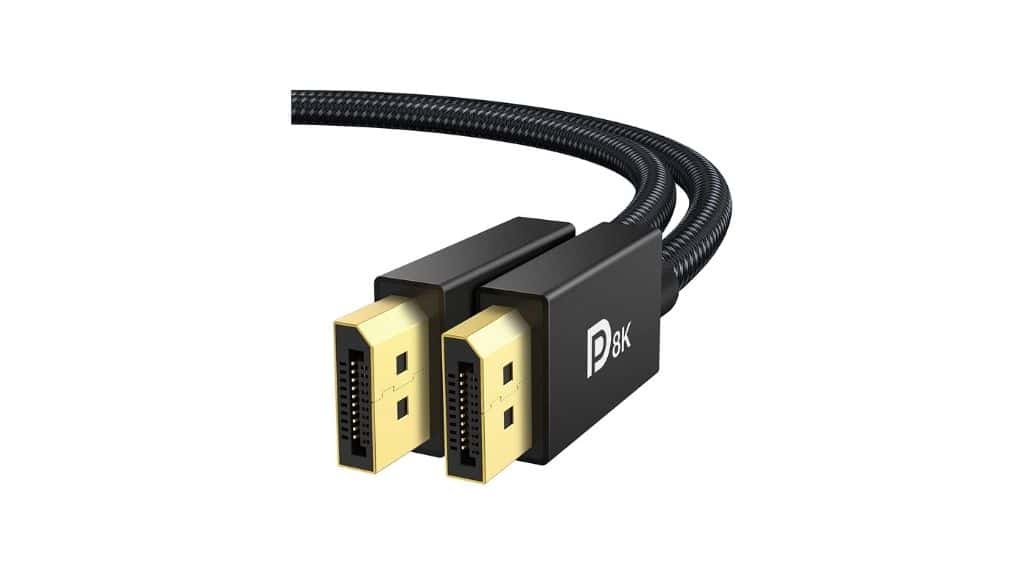 Type: DP 1.4 | 4k: 144Hz | 8k: 60Hz | Locking Mechanism: No
Ivanky has designed our favorite DisplayPort 1.4 cable currently on the market. Most of the cables we are going to recommend to you will be DisplayPort 1.4. You might be asking, but why can't I get DP 1.2 or 1.3, they are cheaper? We don't think there is any point in getting DP 1.2 or 1.3 because sooner rather than later you are going to upgrade your monitor and guess what, you're going to need to buy at least a DP 1.4 cable when that happens. Trust me and get a DisplayPort 1.4 cable right off the bat, you'll thank me later.
The Ivanky 8k DP 1.4 can support 8k at 60Hz and 4k at 144Hz. These specs mean this cable should last you a long time! There are a variety of lengths to choose from and it has a smart black nylon finish. It feels very high quality as it has an aluminum alloy shell, with 24K gold plated connectors, no cheap plastic here. Choose from a range of lengths depending on what you need for your setup.
DisplayPort cables typically come with a locking pin, this requires pressing down to release the cable. Something I love about this cable is that they have removed this feature. If you are like me then you have tripped over your monitor cable one time too many! The absence of this clip means the cable will quickly pop out rather than pulling your monitor off the desk, something none of us want! There is no question, the Ivanky DP 1.4 is the best DisplayPort cable for gaming.
KabelDirekt 8k DP 1.4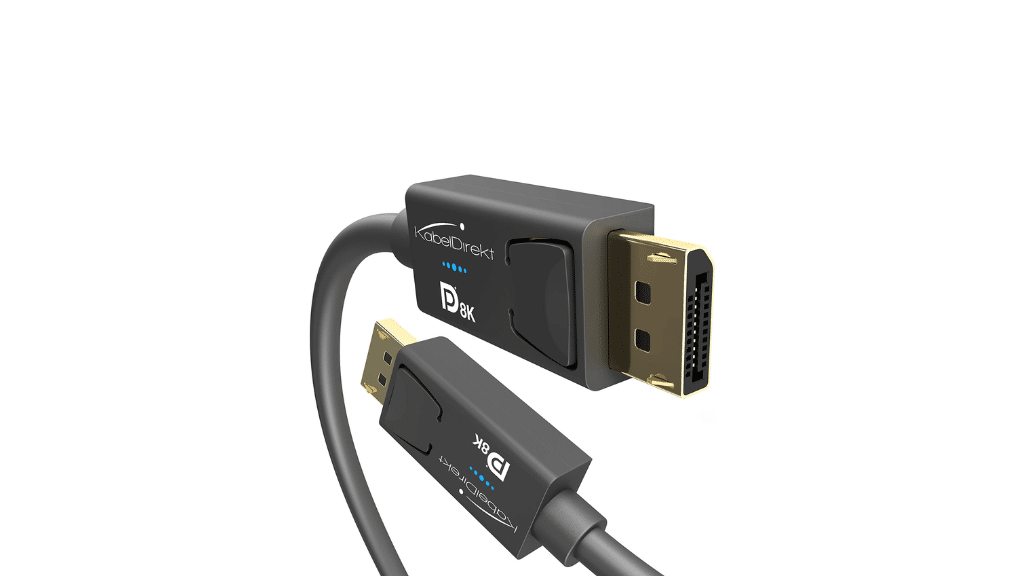 Type: DP1.4 | 4k: 144Hz | 8k: 60Hz | Locking Mechanism: Yes
The KabelDirekt DP 1.4 is another high-quality trusted brand of DisplayPort 1.4 cable. This one has the locking mechanism common amongst the DisplayPort format. If your cable management is on point this means there is no chance of your monitor being disconnected at a key moment.
Here we are looking at 24K gold plated connectors and high-density metal shielding underneath the outside casing to protect from external signal interference. One of the best aspects of the KabelDirect DP 1.4 is the different lengths they offer. If you have a tight rig you can get a shorter 3 or 6 feet cable. If you have a more spread-out set up then it gives you the freedom to choose a longer 10 or 15 feet cable.
Similar to the Ivanky, the KabelDirect will support 8k at 60Hz and 4K at 144Hz. KabelDirect has strictly followed the VESA DisplayPort guidelines while designing this cable. This has led to a high-quality DP 1.4 cable which will have no problem getting the best out of titles like Battlefield 6.
Capshi 8k DP 1.4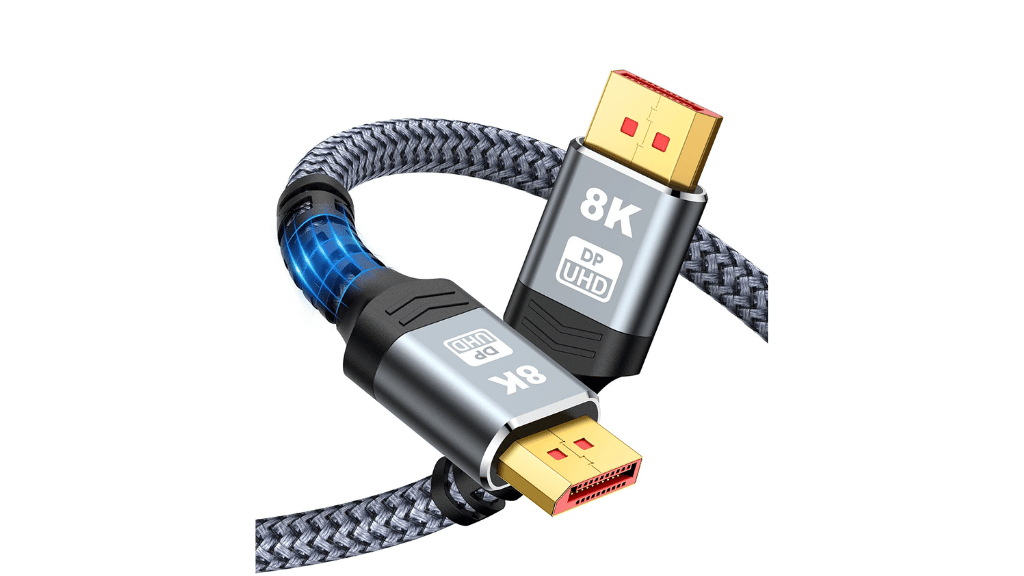 Type: DP1.4 | 4k: 144Hz | 8k: 60Hz | Locking Mechanism: No
Here is an interesting choice if you are budget constrained. The Capshi DP 1.4 is one of the cheaper DisplayPort 1.4 cables that we looked at. As we expect from DP 1.4, it is 8k ready at 60Hz and 4k ready at 144Hz. Despite being cheaper than the other cables, the Capshi DP 1.4 is still VESA certified. This means you are getting a cable that meets the standards of the people behind the DP platform.
The cable comes in an interesting braid/metal form with a grey finish. In my opinion, I prefer the look of the two previous cables. I think colored cables aren't as versatile when it comes to complimenting the color scheme of your rig. You might be looking to add a splash of color to yours, however, and if this is the case then this is certainly a good cable to go with.
Make no mistake, whilst the previous cables beat the Capshi on the finer details like premium construction and appearance, the Capshi is the winner on price. If someone was designing a rig on a budget and asked me which DP 1.4 cable they should get, I would definitely tell them to go for this one.
Maxonar 8k DP 1.4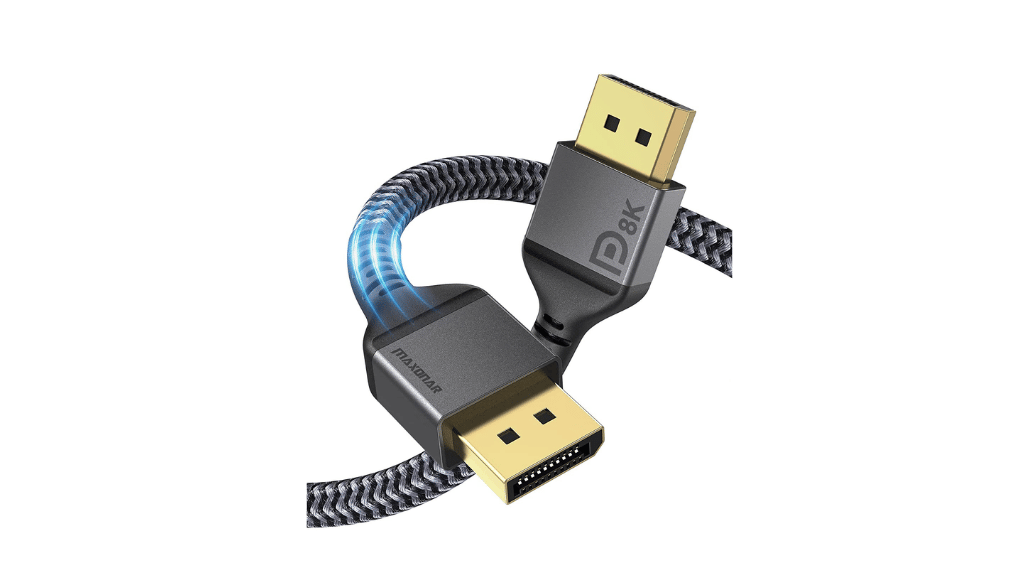 Type: DP1.4 | 4k: 144Hz | 8k: 60Hz | Locking Mechanism: No
The Maxonar DisplayPort 1.4 cable offers a really nice balance between price, build quality and appearance. It has a nice subtle design that will blend in quite well with most people's setups. It is DP 1.4 so it supports 8k at 60 Hz and 4k at 144Hz.
If you are still doubting whether you need a DP 1.4, I can tell you that 8k is expected to become widespread in 2023. Now, you might be thinking that this is years away, so why bother? Like we said earlier, it is better to buy one cable that will last you for years rather than buying another one every few years. Me personally, I have had mine for 6 years and counting! These cables can follow you around for a long time so always buy the latest technology.
The Maxonar 1.4 DP only offers you two choices of cable length, 6.6ft and 10ft. This doesn't give you as much flexibility as some of the others but for most people, these two lengths are fine. One thing I love about the Maxonar is that they offer a LIFETIME warranty! If you go for this one make sure to take advantage of it by registering your product on their website. There is a lot of value to be had by taking advantage of generous warranties like this one.
Snowkids 8k DP 1.4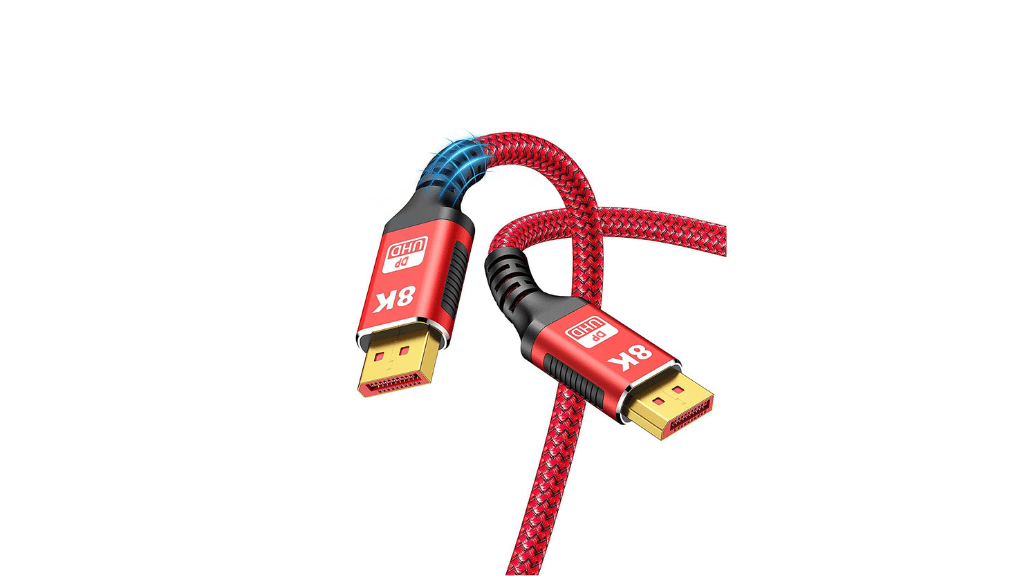 SPECS: Type: DP1.4 | 4k: 144Hz | 8k: 60Hz | Locking Mechanism: Yes
On to another full-fledged DisplayPort 1.4 cable, this time from Snowkids. The company name might be silly, but that doesn't stop its product from being a contender for the best DisplayPort cable for gaming. I like how it's cheaper than cables made by Ivanky and KabelDirekt while matching their 8K and 4K outputs. You won't lose out on much if you choose to save the money you'd spend on either and put it towards a better CPU cooling solution, for example.
You'd think that a company named Snowkids would make white DisplayPort cables. Alas, that color is not among the admittedly broad choices. You'll love the red one if that color is a mainstay of your build since everything from the head to the braiding is a vibrant crimson. The black cable is all black, no surprises there. A version with silver accents is also available, which will go well with any kind of build. Whichever version you go for, the plastic surrounding the copper connectors is red.
Snowkids is generous towards its customers as a lifetime warranty is part of the already great deal. Cable length choices aren't as abundant as KabelDirekt's, but three lengths ranging from 3 to 10 feet is still decent. The absence of a locking mechanism is the only negative worth mentioning.
Cable Matters 8k DP 1.4
SPECS: Type: DP1.4 | 4k: 144Hz | 8k: 60Hz | Locking Mechanism: Yes
Some cables are pretty. Others supposedly carry a slew of technologies that sound cool but mean little in day-to-day gaming. Heck, not even cables are safe from the RGB craze anymore! In such an ocean of turmoil, it's nice to see companies like Cable Matters keeping a cool head and releasing quality products like this one.
While it's hard to get excited about cable design, the ones from Cable Matters impress with their simplicity and style. The heads are matte plastic with a rough texture that makes holding onto them easy. Conversely, the locking mechanism is glossy to help further distinguish itself. Braiding is absent, but the wire isn't overly rigid to compensate.
Getting this cable lets you explore games like Resident Evil Village in peak fidelity. It's cheap, versatile, and cool-looking, so why isn't this cable higher on the list? Partial VESA compatibility.
Cable Matters offers their DP 1.4 cables in five lengths. The three shorter ones all have VESA certifications, while the others do not. Your monitor might be okay with this, but some users report flickering and other issues. Therefore, going with the 10-foot version or shorter is the best course of action.
Amazon Basics 8k DP 1.4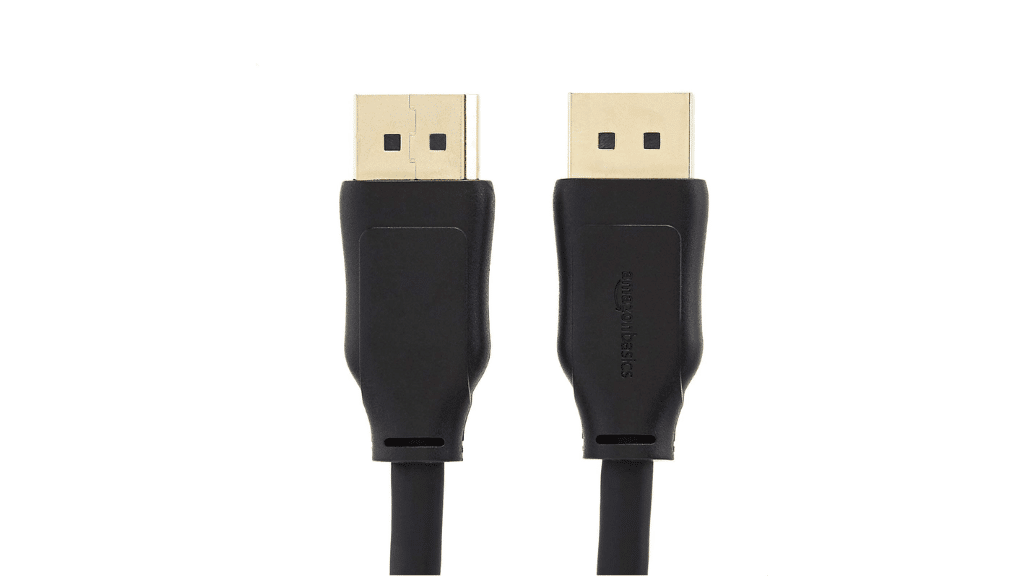 SPECS: Type: DP1.4 | 4k: 144Hz | 8k: 60Hz | Locking Mechanism: No
Completing our roundup of the leading DP 1.4 cables is the Amazon Basics DP 1.4. Whilst it is slightly cheaper than the Capshi, we don't recommend it as the best cheap DP 1.4 cable, why? Well, firstly Amazon Basics isn't known for producing super high-quality products for use in gaming. This cable also has one of the worst warranties of the cables we have looked at today. The warranty is the standard return within 30 days for a refund.
In my opinion, this cable is also one of the least attractive ones we have looked at. If you are wondering why I think cable appearance matters, I have seen one rig too many look weird due to having cheap-looking cables. What a shame it would be, to spend hundreds or even thousands of dollars on a gaming rig for someone to comment negatively on the cables!
Despite these drawbacks, the Amazon Basics DP 1.4 is still a relatively cheap and functioning DP 1.4 cable. If you don't care about appearance or warranty, this could be a solid option for you. When all is said and done, this cable will still give you 4k outputs at 144Hz and 8k outputs at 60Hz.
Capshi 4k DP 1.2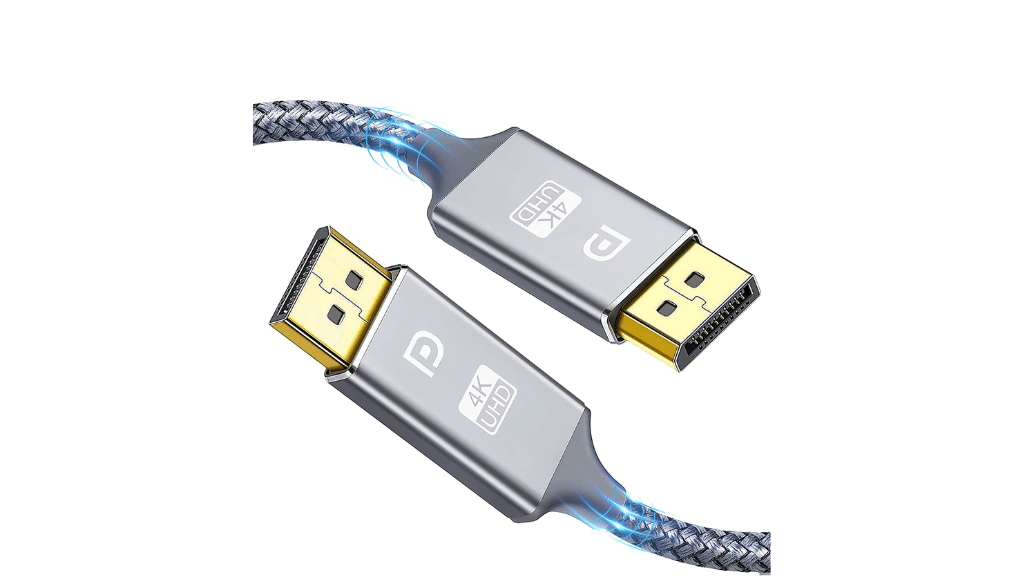 Type: DP1.2 | 4k: 60Hz | 1440p: 165Hz | Locking Mechanism: No
1440p at 165Hz
Multiple lengths
4k at 60Hz
No black option
Ok, so you have no intention of gaming in 4k and you really don't want to pay extra for a DisplayPort 1.4 cable, can you get DP 1.2? Yes, you can. If you really have no intentions of gaming in 4k, then getting a DP 1.2 can be a reasonable way of saving money. You could still game in 4k using DP 1.2, but as your max refresh rate will be 60Hz, it really would be a waste of a good 4k monitor if you have one.
If you are like me and you haven't managed to save up for that new dream monitor yet, DP 1.2 will more than satisfy most of your needs. For example, you can game at 1440p at up to 165Hz with DP 1.2. For most people and most games, this will be more than enough to have a thoroughly enjoyable gaming experience.
The Capshi DisplayPort 1.2 cable is a solid choice if you have decided against going for DP 1.4. It offers reasonable build quality and offers tremendous customization options in terms of length and appearance. It comes with numerous length and color options, 3.3 feet, 6.6 feet, 10 feet, 15 feet and grey, blue and red. Personally, I would have liked to see a black option for people who want something more neutral.
Benfei 4k DP 1.2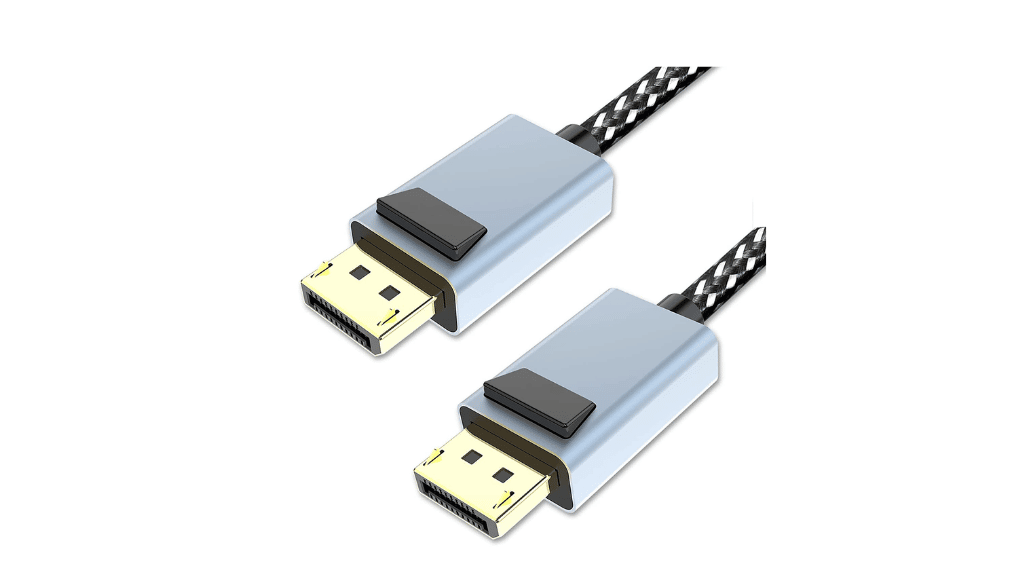 SPECS: Type: DP1.2 | 4k: 60Hz | 1440p: 165Hz | Locking Mechanism: Yes
Benfei probably isn't the first name to come to mind when thinking about DisplayPort manufacturers. On the other hand, their selection of cheap yet reliable cables has caught the attention of the masses. The model featured here is the number one best-seller of its kind if you opt to shop for it online. Is that enough to warrant a best DisplayPort for gaming nomination? Not on its own, but thousands of satisfied customers were right to choose it and weren't disappointed.
Numerous cables bear the Benfei name, so the DP to DP part is helpful in determining which kind of cable you're dealing with. All the basics are there, from gold plating and ends that prevent bending to a matte black finish of the cable heads. The cable itself doesn't have braiding, which shouldn't be a deal-breaker if you plan to connect a monitor and not move either it or the wire for years.
Another option is to go with the silver variant. Its head has an attractive metal sheen, while the cable receives a spruced-up silver & black rhomboid pattern. Either style rivals KabelDirekt in length variety. Too bad that the DisplayPort version doesn't match too. However, that won't matter if you don't plan on replacing your existing monitor with a top-tier one in the near future.
JSAUX 4k DP 1.2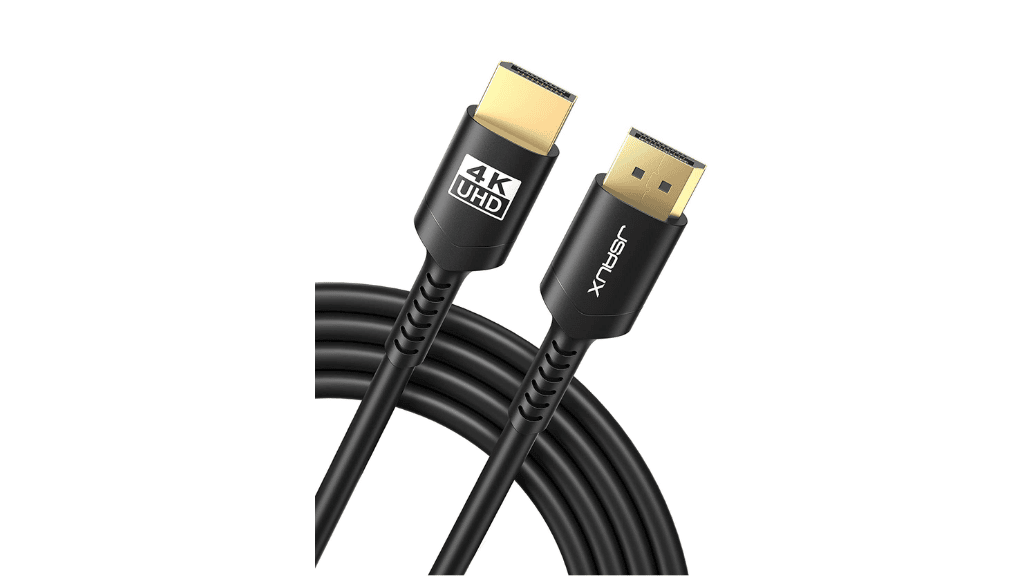 Type: DP1.2 | 4k: 60Hz | 1440p: 165Hz | Locking Mechanism: No
Protective layer around cable neck
Multiple colors
Lower 4k refresh rate than DP 1.4
Can't be used for 8k
The JSAUX DisplayPort 1.2 cable completes our roundup of the best DisplayPort cables. The JSAUX DP 1.2 comes in a little pricier than the Capshi 1.2 but I think there is a good reason for this. It has black rubberized sleeves which cover the cable head to a few inches down the cable. These are important because they protect the most vulnerable part of the cable. Cables more often than not tend to break or fray where the cable meets the cable head, this feature helps to avoid this.
Like the Capshi DP 1.2, the JSAUX DP 1.2 has several lengths and colors to choose from. What I like about this cable is that the cable heads come in different colors but the main braided body remains black/dark grey. In my opinion, this results in a much more tasteful design and it looks a lot cooler. I would go for red as it matches my case and keyboard.
Unfortunately for this cable, there appears to be limited information on any kind of warranty. This means you are probably stuck with Amazon's default refund terms and conditions. It is also worth noting that both the JSAUX DP 1.2 and Capshi DP 1.2 lack the locking mechanism. This may be a good or bad thing for you but it is something to be aware of.
Final Thoughts
We have taken a good look at all the most popular DisplayPort 1.4 and 1.2 cables on the market, what are our thoughts? Whilst DP 1.2 might be enough for most gamers, the best DisplayPort cable for gaming is certainly a DP 1.4. As we have seen, you can pick up a cheap DisplayPort 1.4 cable for the same price as a DP 1.2! Why pay the same or more for older technology?
It makes no sense to pay the same for a product that won't last you as long. If there is anything you take away from this article, let it be that a DP 1.4 cable will future-proof your gaming setup for years to come. Getting a DP 1.4 cable protects you from having to buy a new cable if you decide to upgrade your monitor in the future for a game like Outriders.
If you splash out on a new 4k monitor, trust us, you won't want to be using a DP 1.2 cable only capable of a 60Hz refresh rate. Get a DP 1.4 and when you eventually upgrade you can enjoy 4k at 144hz!. We hope you enjoyed this article and can't wait to hear your thoughts.