Ethernet cables have been around as long, or longer than many of us gamers have been alive. There is a simple reason for this, they provide the most stable form of internet connection available. Wifi has its benefits; wireless, portability, etc. But everyone knows that when it comes to gaming, you cannot beat a robust wifi connection secured via an ethernet cable. Ethernet cables have progressed a lot over the years. With that said, what are the best ethernet cables for gaming?
The key considerations when buying the best ethernet cable are category, speed, and length. When we recommend hardware here at WhatIfGaming, you know we always advise that you future-proof your setup. This keeps your rig up to date, ready for the future, and can save you money long-term. For this reason, we're going to recommend that gamers looking for a new ethernet cable purchase a "Cat8" cable.
Cat8 cables have a frequency of 2000Mhz and a maximum speed of 40GBps at up to 30m of length. This puts them at the absolute pinnacle of ethernet cable technology. Internet speeds will increase rapidly in the coming years, and your setup must be ready for the change.
We will also recommend some Cat7 cables. Cat7 is capable of 600 Mhz and 10Gbps at up to 100m. This will provide you with a rock-solid connection now and some time into the future. Cat7 may also be more appropriate for gamers on a budget as Cat8 cables are generally more expensive.
DbillionDa Cat8 Ethernet Cable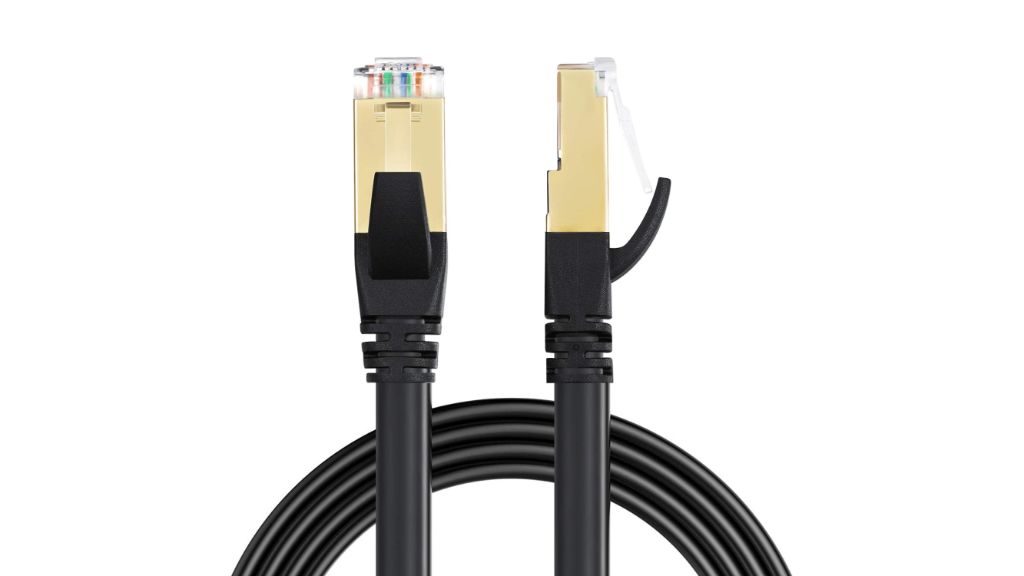 Type: Cat8 | Length: 20ft | Speed: 40Gbps | Bandwidth: 2000Mhz
DbillionDa provides the best all-around Cat8 ethernet cable we could find. Cat8 cables like this one will ensure you get the absolute best network speeds possible from your current set-up. A cable like this will provide future-proofing for many years and will likely last you at least a decade if it doesn't fail. This cable will provide you with the rock-solid connection you need to never lag when playing games like Chivalry 2.
Cat8 cables can handle data transfer speeds far beyond what is generally achievable from pedestrian internet hardware. This is going to change in the future, though. We advise anyone looking to get a new ethernet cable to take the plunge now to save themselves time, effort, and money later down the line.
With a Cat8 cable like this, you can get up to 40Gbps at lengths up to 30m. This cable has gold-plated RJ45 connectors suitable for a massive range of hardware. RJ45 connectors work with most routers, motherboards, consoles, server hardware, laptops, and smart TVs. It is suitable for both indoor and outdoor use due to its high-grade PVC jacket. The jacket makes it immune to heat, sunlight, extreme cold, and humidity.
Another feather in the cap of this cable is the vast range of lengths offered by the manufacturer. Choose from up to 14 different lengths the one that suits you best. When selecting the size of your cable, consider that the maximum speed of 40Gbps begins to drop in cables longer than 30m. In addition, this cable comes with an 18-month warranty, excellent when compared to the industry standard.
Dacrown Cat8 Ethernet Cable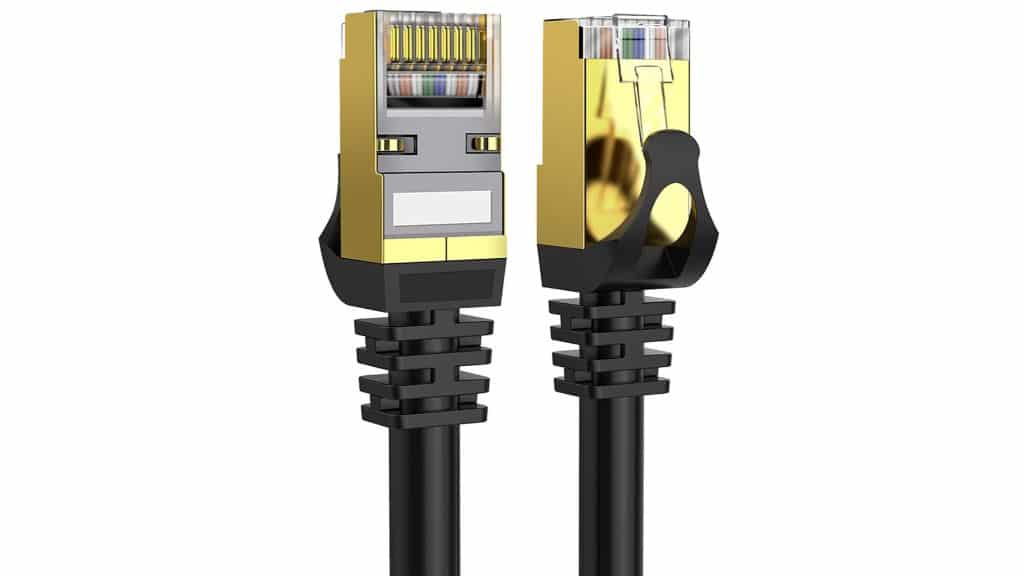 Type: Cat8 | Length: 20ft | Speed: 40Gbps | Bandwidth: 2000Mhz
Another excellent Cat8 ethernet cable for gaming is this one, manufactured by Dacrown. Cat8 has caused quite a stir since it first hit the market. This is because previous Cat improvements have been relatively modest, such as Cat7 offering 600Mhz bandwidth compared to the 500Mhz offered by Cat6a. Not Cat 8, though. It provides a standard bandwidth 3x higher than Cat7 and a max data transfer rate 4x higher than Cat7.
These are huge improvements, and the IT crowd have noticed. This is exciting because we now have a scalable copper cable that can compete with fibre optics. There is a real buzz around the possibilities of the new Cat8 technology. The expected increase in internet speeds over the next 5-10 years will make a rapid cable like this Cat8 almost essential. Having the best connection will make playing the latest releases like Super People that much more enjoyable.
Like most Cat8 cables, thew Dacrown offers up to 40Gbps over 30m, 2000Mhz and 13 different lengths to choose from. One of the drawbacks of this cable is the lack of any kind of manufacturer warranty. This is a shame as it leaves you with just the basic 30 day Amazon returns policy. It comes with RJ45 connectors making it compatible with almost any ethernet compatible device.
This cable is also suitable for both indoor and outdoor use due to the PVC jacket. This makes it resistant to environmental stressors such as UV radiation, humidity and extreme cold and heat.
UGREEN Cat 8 Ethernet Cable.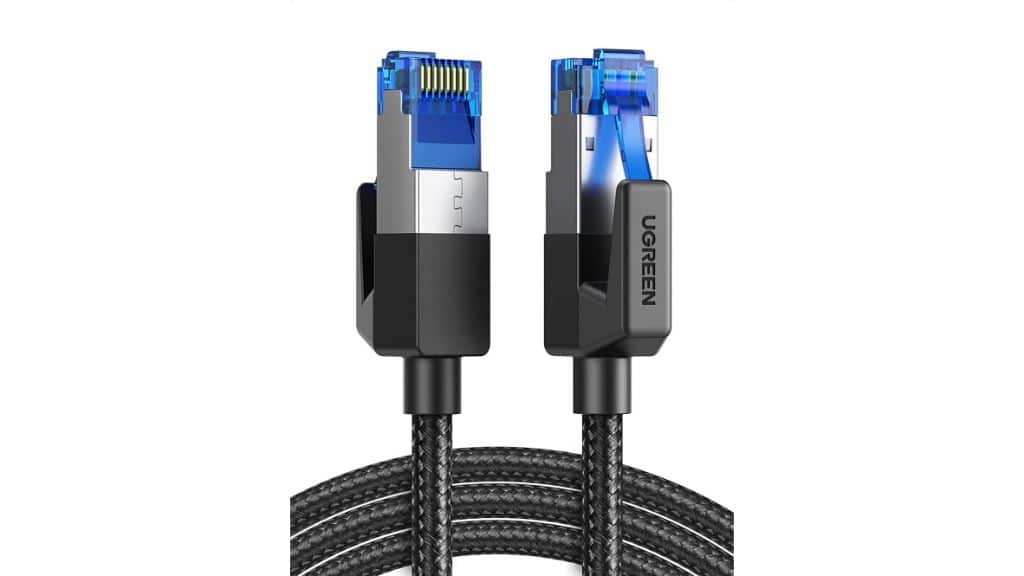 Type: Cat8 | Length: 15ft | Speed: 40Gbps | Bandwidth: 2000Mhz
The Ugreen Cat8 ethernet cable is slightly different to the previous two cables. It has features that, in my opinion, make it one of the best Cat8 gaming ethernet cables. As well as offering speeds of up to 40Gbps and 2000Mhz, it has the less common feature of an outer layer of cotton braid over the PVC jacket.
This has the benefit of making it easier to manage and makes it look better. It depends on personal taste, but I and many others prefer the look of braided cables to their non-braided counterparts. The UGREEN is more directly aimed at gamers because it has blue components within its RJ45 connector heads. I can imagine this complementing specific color schemes very nicely and offering an element of subtle style.
This cable comes in 6 different lengths ranging from 6ft to 65ft. This doesn't give you the level of customization seen in other cables, but does everyone really need 14 different lengths? For most of us, 3 or 4 different sizes is more than enough. We recommend keeping your ethernet cable as short as possible, as additional length over the Cat threshold will lower transfer speeds.
Another huge plus to this cable is the price. It comes in quite a bit cheaper than the two other cables above. One reason for this, though, might be that the cable isn't suitable for outdoor use. For most users, this won't matter because our gaming set-ups tend to be inside our man caves. As with the Dacrown, there is no mention of a separate warranty, so we must assume that the 30 day Amazon return policy is all that applies.
Orbram Cat8 Ethernet Cable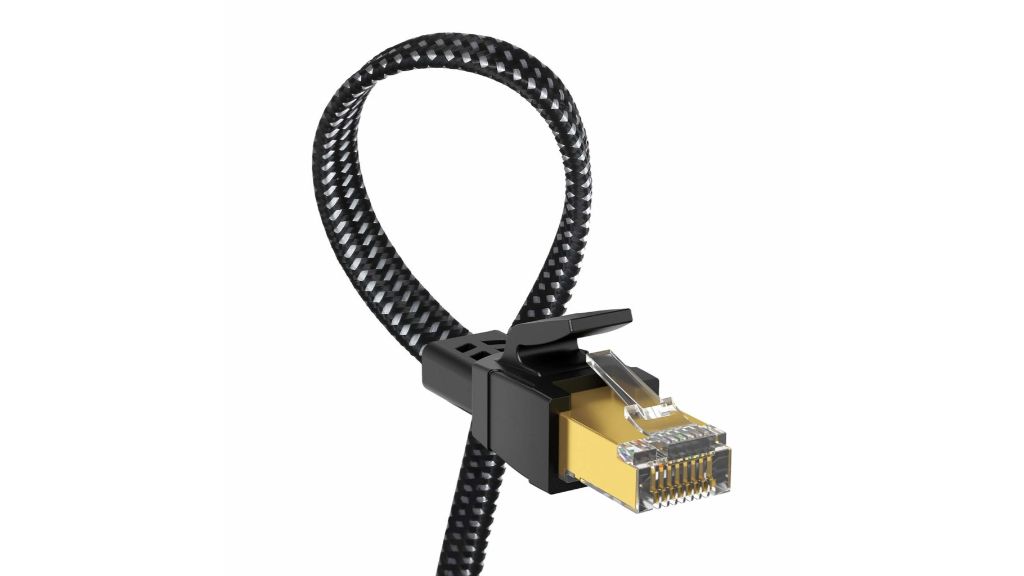 Type: Cat8 | Length: 15ft | Speed: 40Gbps | Bandwidth: 2000Mhz
The Orbram 15ft Cat8 Ethernet Cable is one of the cheapest Cat8 cables in our best ethernet cables for gaming list. It is also the first cable we have looked at, which is both flat AND braided. This puts it in the unique position of being one of the most manageable Cat8 cables to handle. Flat and braided cables are easy to contort into whichever alignment or space you need.
Another significant benefit of this flat braided cable is that it is almost half the diameter of its rounded compatriots. If you are in the position of needing to run an ethernet cable under some kind of surface, then the flat cable is for you. A flat cable can easily and discretely be threaded around corners and tucked into nooks and crannies.
In addition to this, you are getting the Cat8 performance we expect, up to 40Gbps and 2000Mhz. Like other Cat8 cables we have looked at, this one has RJ45 heads compatible with most devices. The heads of this cable have had some thought put into the design and appearance.
The Orbram gaming ethernet cable comes in 13 different lengths. There is no way that one of these lengths won't be just what you need for your own gaming rig. Finally, the price means that this cable offers standout value in our best ethernet cable for gaming roundup. For people looking for a basic, stylish Cat8 cable, this one is a great choice.
Deego Cat8 Ethernet Cable
Type: Cat8 | Length: 50ft | Speed: 40Gbps | Bandwidth: 2000Mhz
The Deego Cat8 ethernet cable is an excellent Cat8 ethernet cable with some unique selling points. Firstly, it is the only cable we have looked at which is both flat and PVC coated. This makes it perfect for people who want a flat cable but don't like the aesthetic of braided wires. Secondly, this cable comes in 6 different lengths ranging from 6ft to 150ft.
This makes it one of the longest cables we have looked at so far. Long cables aren't always ideal, and they can be challenging to manage. Despite this, lots of gamers may need a longer cable to connect their router to their PC. This can be true for massive rooms, or perhaps your PC is in a different room to the router.
We all know that long cables can be challenging to manage. This is why Deego have included 20 cable clips. This makes cable management much more straightforward and is a really cool inclusion from the company. A long, flat PVC cable like this one with cable clips included is one of the best options for gamers who need a longer cable.
You could easily hide this cable over longer distances, giving you a discreet connection method much more reliable than Wifi. Wifi is OK, but you will find that most serious gamers use ethernet connection due to its higher speeds and reliability.
Ugreen Cat7 Ethernet Cable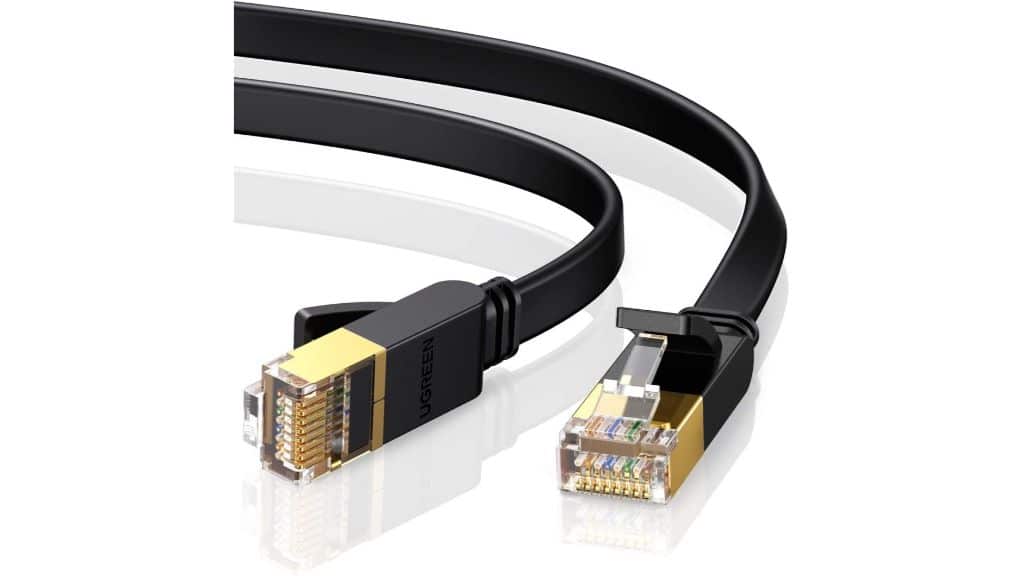 Type: Cat7 | Length: 15ft | Speed: 10Gbps | Bandwidth: 600Mhz
If you decide that a Cat8 cable is not for you, you will definitely want to get a Cat7 ethernet cable. The first Cat7 cable we can recommend for you is the Ugreen 15ft Cat7 ethernet cable. Like the Deego Cat8, it is flat with a PVC coating. It is slower than its Cat8 relatives, offering speeds of up to 10Gbps over 100m and bandwidth of 600Mhz.
Don't let this discourage you from getting a Cat7 ethernet cable, though. 99% of the time, a Cat7 will be more than adequate for today's gaming setups. As we said earlier, the main reason we recommend Cat8 is for futureproofing, not present-day performance boosts. You will find that most internet providers and routers do not run at speeds fast enough to take full advantage of Cat 8 ethernet cables.
The Ugreen Cat7 comes with RJ45 connector heads as standard, making it compatible with most devices. It comes in 6 different lengths ranging from 3ft to 50ft, a more than adequate selection for most gamers. Unfortunately, there is no unique warranty from the manufacturer, the default 30 day Amazon return policy is all that applies here.
Jadaol Cat7 Ethernet Cable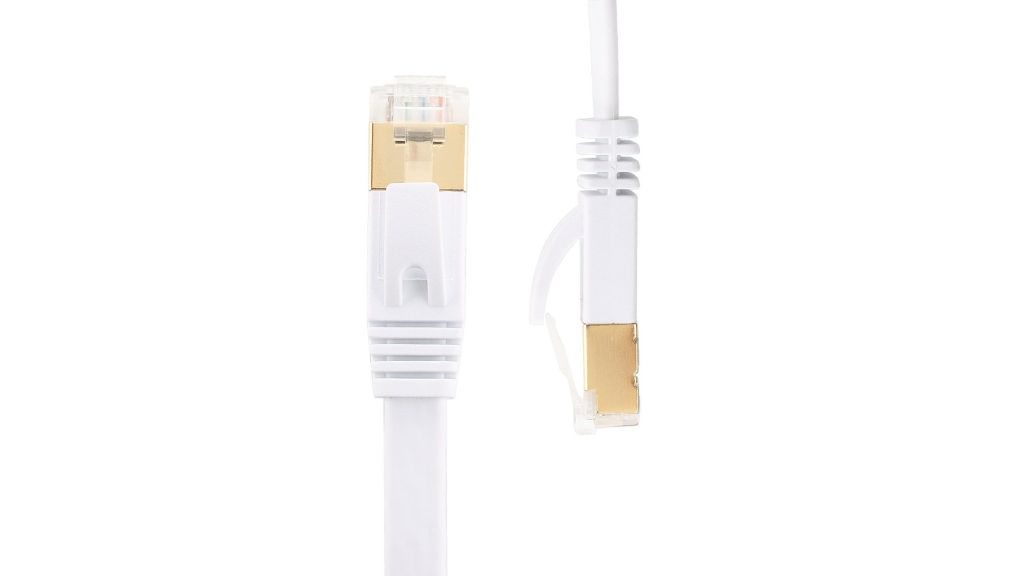 Type: Cat7 | Length: 25ft | Speed: 10Gbps | Bandwidth: 600Mhz
Rounding off our list of the best ethernet cables for gaming is the Jadaol 25ft Cat7. It offers a good value for those on a budget. It ticks all the boxes that we expect a Cat7 cable to tick, 10Gbps, 600Mhz, etc. This is a no-frills cable that will get the job done at a great price. In my opinion, the big drawback of this cable is its default color, white.
Lots of gaming setups these days tend to feature a darker case and then RGB of varying colors. In setups like this, a white cable will stand out like a sore thumb. Although, anyone with a crisp white gaming rig (many people have done this very well) may want a white ethernet cable. For these gamers, the Jadaol Cat7 ethernet cable is a suitable choice.
As we have said previously, a Cat8 ethernet cable will set you up nicely for the future. The problem with buying a Cat7 cable like this now is that you are not adequately futureproofed. You will end up spending $10-$15 on a Cat7 cable now and then in another 2-5 years, $15-25 on a top of the line Cat8 cable. We strongly advise you to just take the slightly larger hit now and save yourself from buying twice.
DanYee Cat7 Ethernet Cable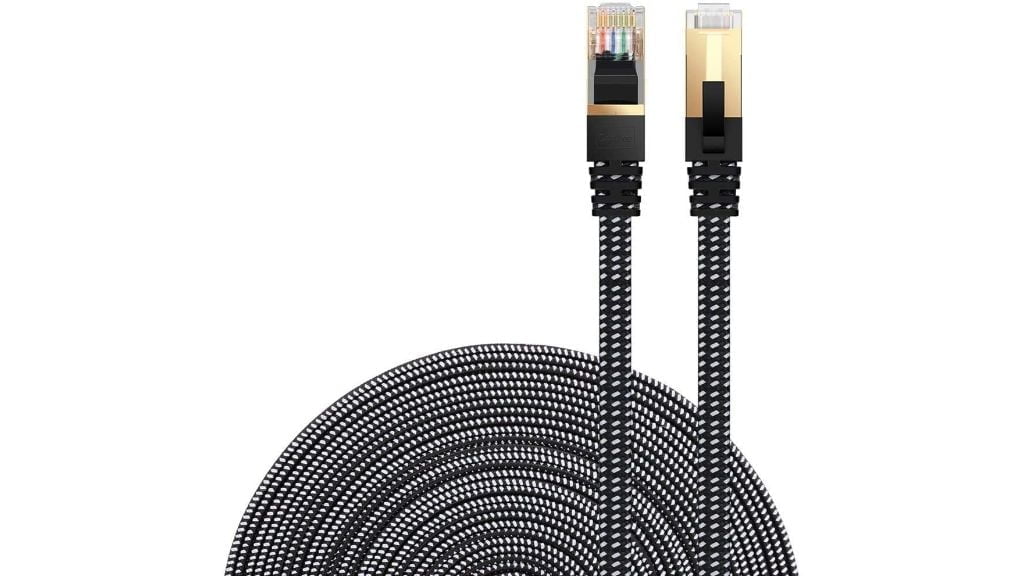 Type: Cat7 | Length: 10ft | Speed: 10Gbps | Bandwidth: 600Mhz
The final ethernet cable I am going to recommend is the DanYee Cat7 10ft ethernet cable. This is a dirt-cheap cable that I recommend just for those of you on the tightest of budgets. For what you are going to pay, it will get the job done.
Before purchasing this budget cable, make sure that the 10ft length is going to be enough. It does have the option of coming in longer lengths. I have specifically selected this length as being the most budget-friendly Cat7 ethernet cable I could find.
Don't get it twisted, this is a budget cable, but it will give you the same level of performance as other Cat7 cables we have looked at. The big drawbacks, though, will be the below-average build quality and cable length. Despite these drawbacks, this cable will get the job done in a pinch. I built my first gaming setup as a student, and a cheap cable like this would have been excellent.
Final Thoughts
Ethernet cables offer the fastest and most stable form of internet connection. Wifi cannot come close in terms of reliability and can let you down at the worst possible moments. Ethernet cables allow you to avoid this risk and maintain a high-quality connection.
We have discovered that it is better to future-proof your gaming setup today to save you money in the long run. This involves choosing a Cat8 ethernet cable. This will keep you from upgrading in a few years when internet speeds have caught up with ethernet cable capabilities. If you are on a budget or maintaining the fastest speeds possible in the future isn't a priority, then a Cat7 cable will do.
We have presented you with a variety of the cables constituting the best ethernet cables for gaming. I hope you found this article helpful and that I helped you learn a thing or two about ethernet cables. Thanks for reading, and good luck on your Pc building journey!