Specs:

Weight: 63g
Buttons: 5
Connection type: Wireless
Ambidextrous: Yes

Specs:

Weight: 58g
Buttons: 5
Connection type: Wireless
Ambidextrous: No

Specs:

Weight: 55g
Buttons: 6
Connection type: Wireless
Ambidextrous: Yes

Specs:

Weight: 65g
Buttons: 6
Connection type: Wireless
Ambidextrous: Yes

Specs:

Weight: 55g
Buttons: 5
Connection type: Wireless
Ambidextrous: No

Specs:

Weight: 96g
Buttons: 6
Connection type: Wireless
Ambidextrous: No
Fortnite has long since gone from being a fun battle royale to a cultural phenomenon that will mark a generation of gamers. It's only recently received a true ranked mode, so the stakes are higher than ever! You'll need patience, building skills, steady aim, and the best Fortnite mouse to stand out among the millions trying to snatch the victory crown.
We can't help with the rest, but here are our favorite Fortnite rodents!
Logitech G Pro X Superlight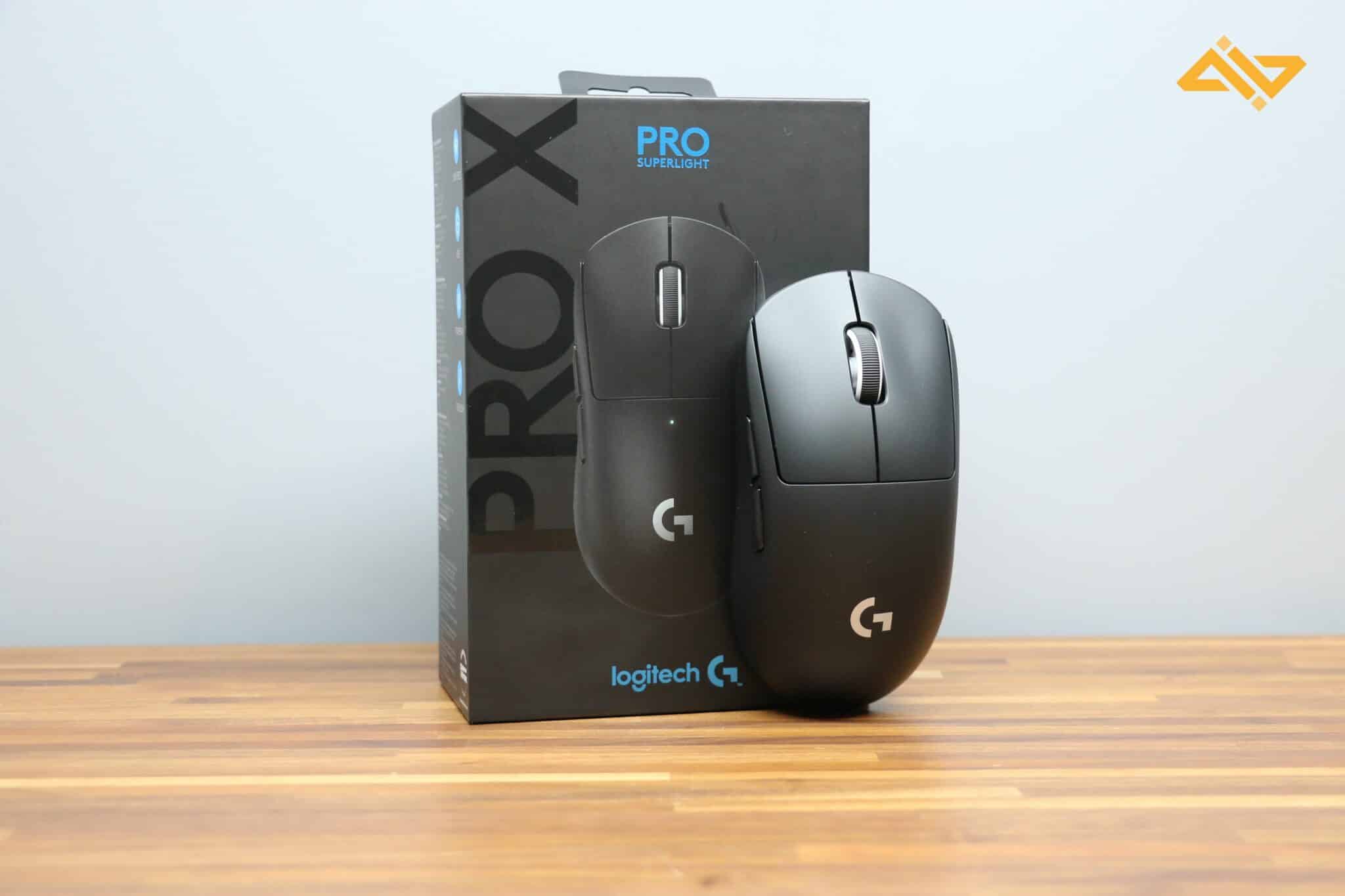 FPS professionals have been rallying around the Superlight since its debut, and the same is true for Fortnite's finest. It's hard to argue with a mouse elite players had a hand in shaping, especially since its core specs justify the hype. Logitech made the Superlight nearly weightless while improving upon an already excellent sensor. Whether you're sniping at range or turtling, it's the rodent to have by your side.
You'll be disappointed if you're looking for the usual bling associated with gaming mice, as the Superlight has none. It's just an exceptionally engineered mouse with a distinctive hump and ambi shape that's nevertheless comfortable for all three grip styles and most palm sizes. Compared to the G Pro Wireless, it lost two buttons on the right, RGB, and almost 20g.
A weight of 61g is noteworthy, especially since the Superlight's shell and underside don't have holes. Its main buttons instantly snap to attention due to high-quality Omron switches. The side buttons feel looser but respond well enough. We'd describe the scroll wheel as tactile and not too loud, so perfect for quick weapon shifting.
The Superlight has a large front Teflon foot, and you can augment the one in the back with another circular cutout. It glides superbly even without the extra, guaranteeing precision of small and sweeping movements alike.
The Hero 25K sensor is an improvement on the G Pro Wireless. It features excellent response times and doesn't suffer from smoothing or angle snapping. The wireless connection is equally reliable, even if other wireless peripherals & devices litter the room.
G-Hub lets you dial in the sensitivity, set macros up, and reassign most buttons. It also comes with an accurate, percentage-based battery tracker. The Superlight gets up to speed in two hours and works for 70 on a charge.
Razer Viper V2 Pro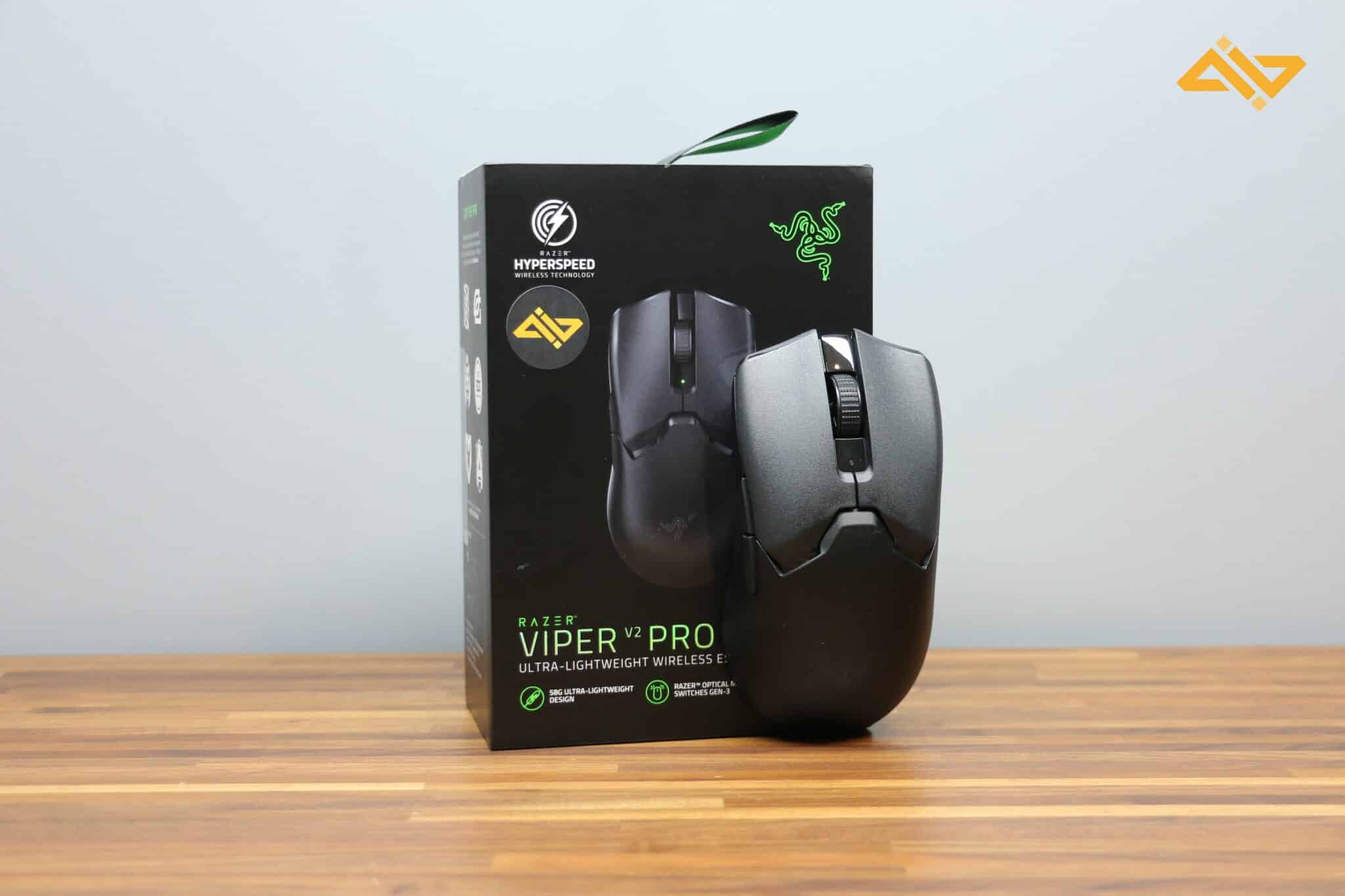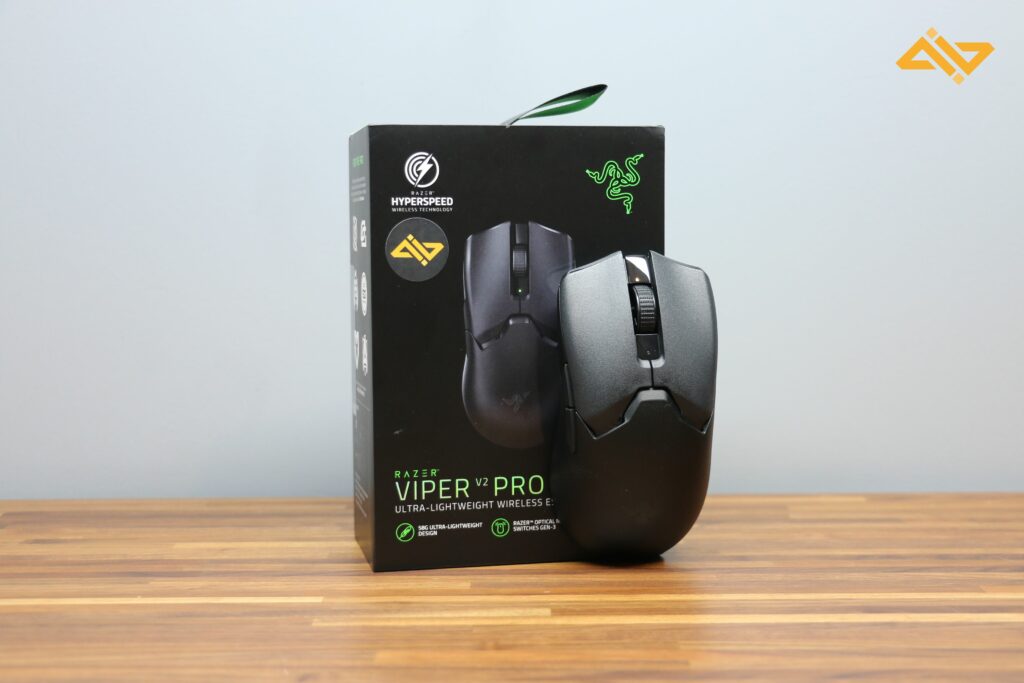 Razer Viper V2 Pro
Weight: 58g | Buttons: 5 | Sensor: Focus Pro | DPI: 30,000 | Connection type: Wireless | Ambidextrous: No
Pros:
Lighter and more durable than the Viper Ultimate

Excellent responsiveness & minimal latency

Minimalistic design with improved side buttons
Cons:
Expensive

No dongle storage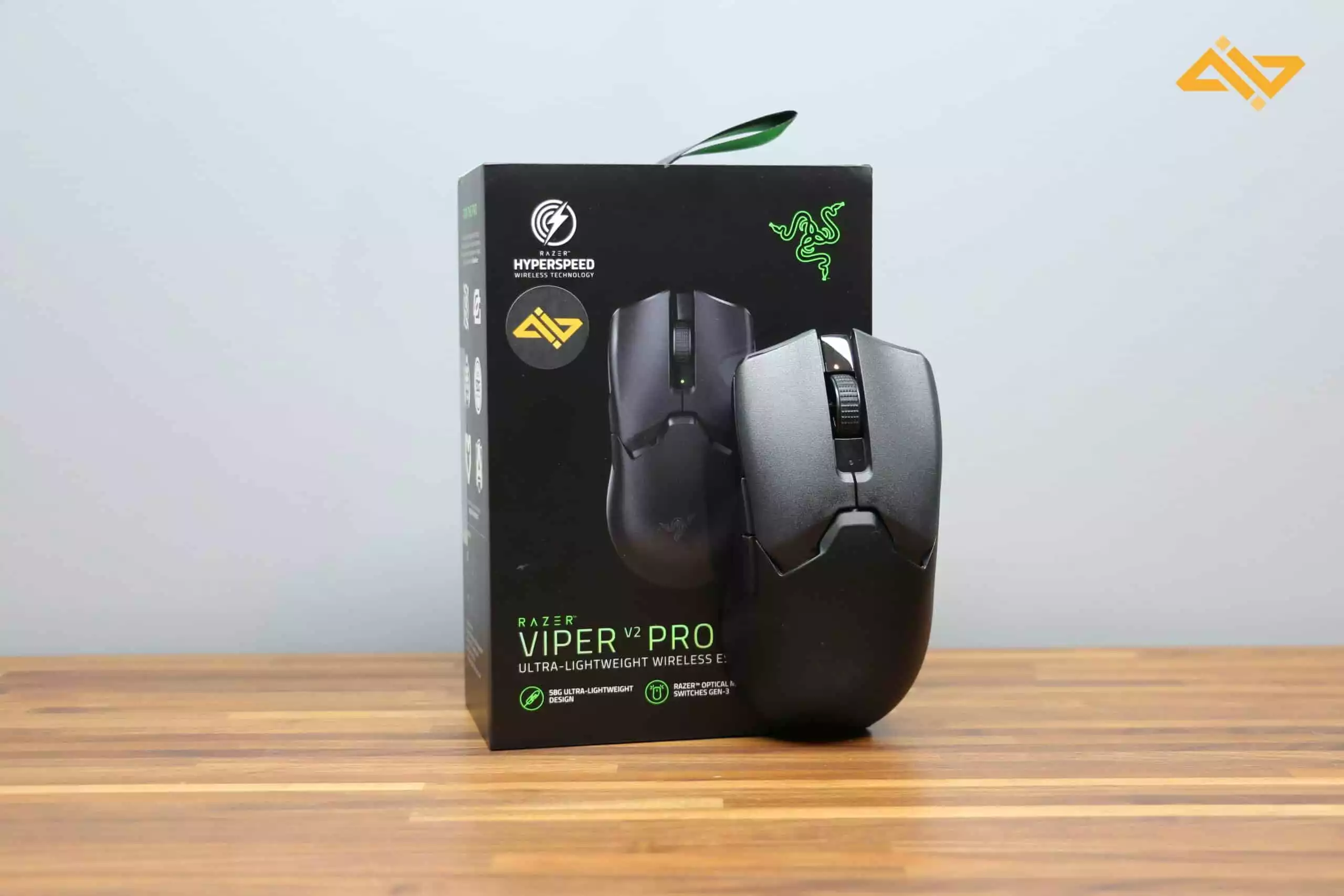 Razer rivals Logitech when it comes to rodent excellence and even has an advantage since it sells several top-tier models. We put forward the Viper V2 Pro as the best Fortnite mouse for people who use the fingertip grip or have small to medium-sized hands. It's light, durable, and possesses agility that rivals its slithering namesake.
The Viper is another ambidextrous mouse with its right side buttons scrapped in favor of less weight. While the shape Is very comfortable, you might want to go with the Deathadder V3 Pro instead, especially if you need a larger mouse to accommodate large palms.
Compared to the Superlight, the Viper has a leaner, more predatory shape with a flat hump that favors claw and fingertip grips. It's also a few grams lighter and has a battery with ten more hours to give per charge. The default feet are much smaller yet offer enough precision to pull off 90s in the heat of a firefight.
We once again marvel at mouse manufacturers' ability to make paper-thin yet durable shells. You'll experience no creaking if you squeeze the Viper, and slamming it down doesn't trigger double clicks. That's partially due to solid construction, but Razer optical switches play an important role too.
Both main buttons have barely any travel and click with satisfactory heft. The side buttons are good, too, responding instantly to thumb rollover. The wheel can be loud but does its job well.
Synapse is Razer's bloated yet sophisticated configuration software. Apart from the usual, it lets you select three lift-off distances you can set up asymmetrically. There's little to no DPI deviation, and you can pre-program five levels and as many profiles. You'll want to do this to be able to close Synapse. It doesn't matter much if your PC is recent, but some older machines that run Fortnite well might struggle due to Synapse's high RAM requirements.
Xtrfy M8 Wireless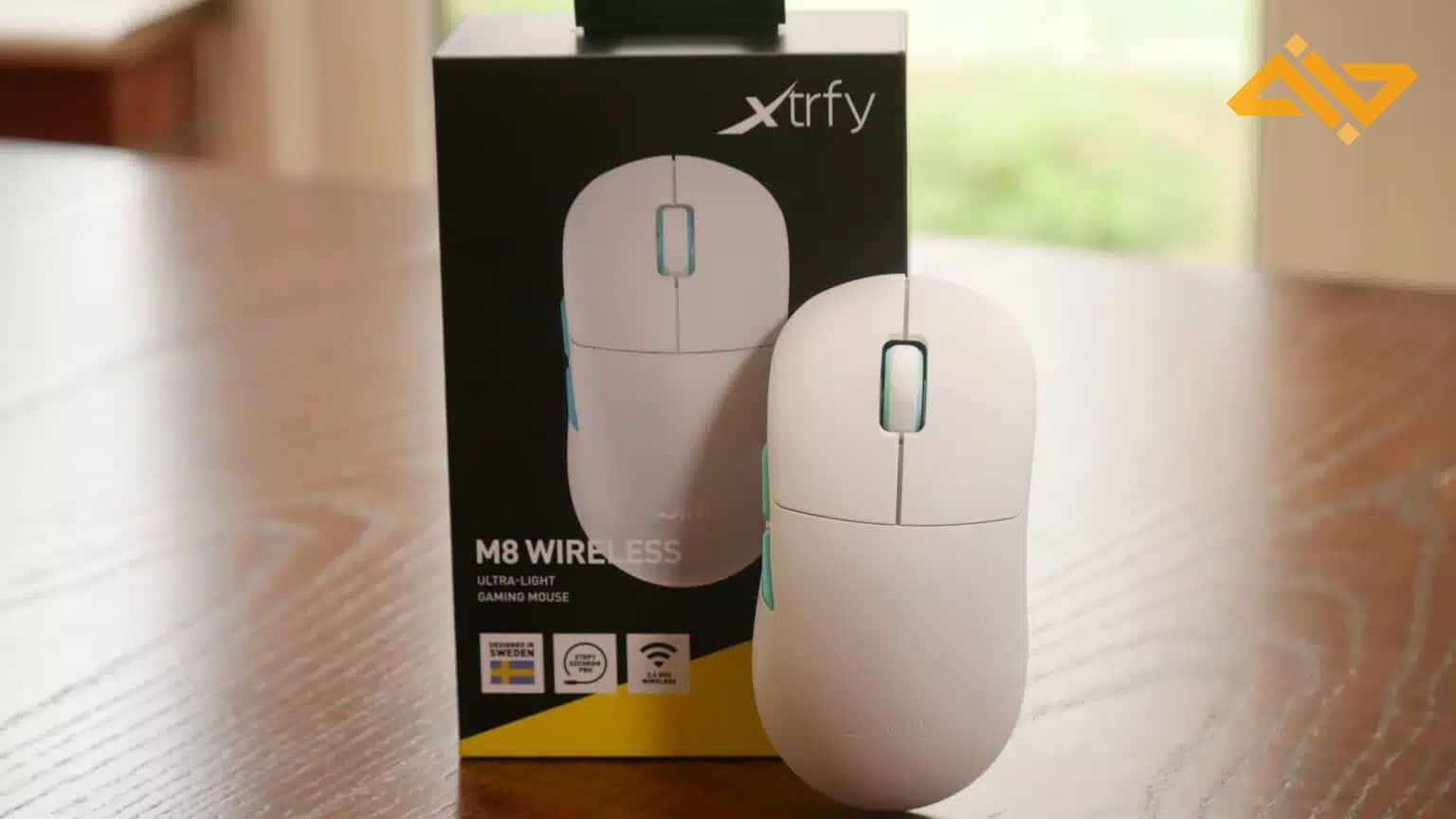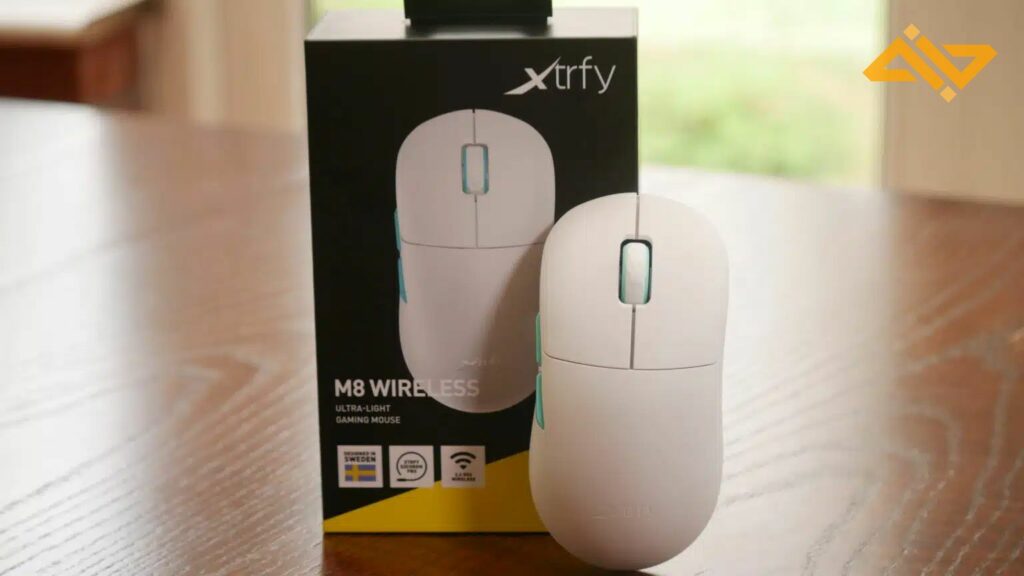 Xtrfy M8 Wireless
Weight: 55g | Buttons: 6 | Sensor: PixArt PAW3395| DPI: 19,000 | Connection type: Wireless | Ambidextrous: Yes
Pros:
Outstanding build quality & handling

Innovative shape works well

Intuitive configuration without the need to install software
Cons:
Might not be suitable for users with large hands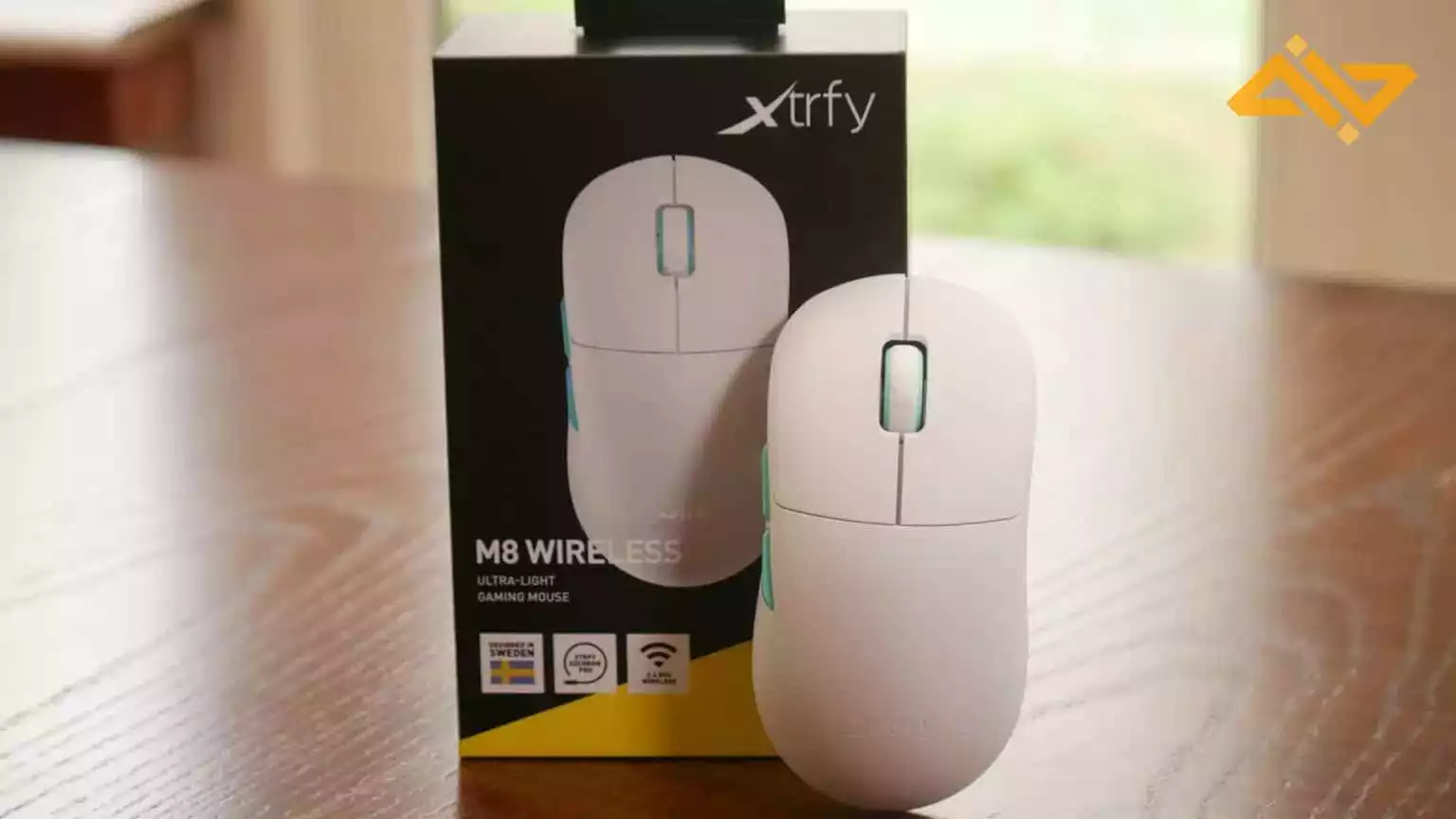 Ever since its late 2022 debut, the M8 Wireless has been collecting accolades and winning the pros over left and right. It does so thanks to a combination of unusual new design trends and excellent responsiveness. If you want a well-rounded rodent that can help you come out victorious out of those nasty 2vs1 bouts, this is it.
Xtrfy isn't afraid to innovate, which you'll pick up on when you examine the M8's shape. The hump is similar to the Superlight's. However, the main buttons are convex and drop down sharply, giving claw and palm grip users enough purchase whether their hands are large or small. In fact, the M8 might convert you to a claw grip since that's what feels most natural.
The M8 is the lightest of the lot at 55g. Even so, the shell neither flexes nor buckles when you squeeze tight. Dropping the debounce time doesn't result in double-clicking like on the Model O-. Rather, it translates to nearly instantaneous single clicks that may save your skin during frantic close-up fights.
The M8's main buttons have little travel and fire off instantly, backed by Kailh 8.0 switches. The side buttons are slightly stiffer yet respond well. The scroll wheel keeps noise in check while providing excellent single-step tactility.
Battery life is another similarity with the Superlight. There's no RGB to bring the 70 hours/charge down, but you can get the M8 in one of several fresh colors. Charging it is unique since the cable plugs into the M8's right side, as there's no room for it in the front. Xtrify makes cables almost as flexible as Glorious, so topping off during a round isn't an issue.
Speaking of issues, onboard controls might be one to some. The M8 has no software, relying on a button and switch on either side of the PAW3395 sensor instead. Great for tournament play, not so much if you're the tinkering type.
Glorious Model O- Wireless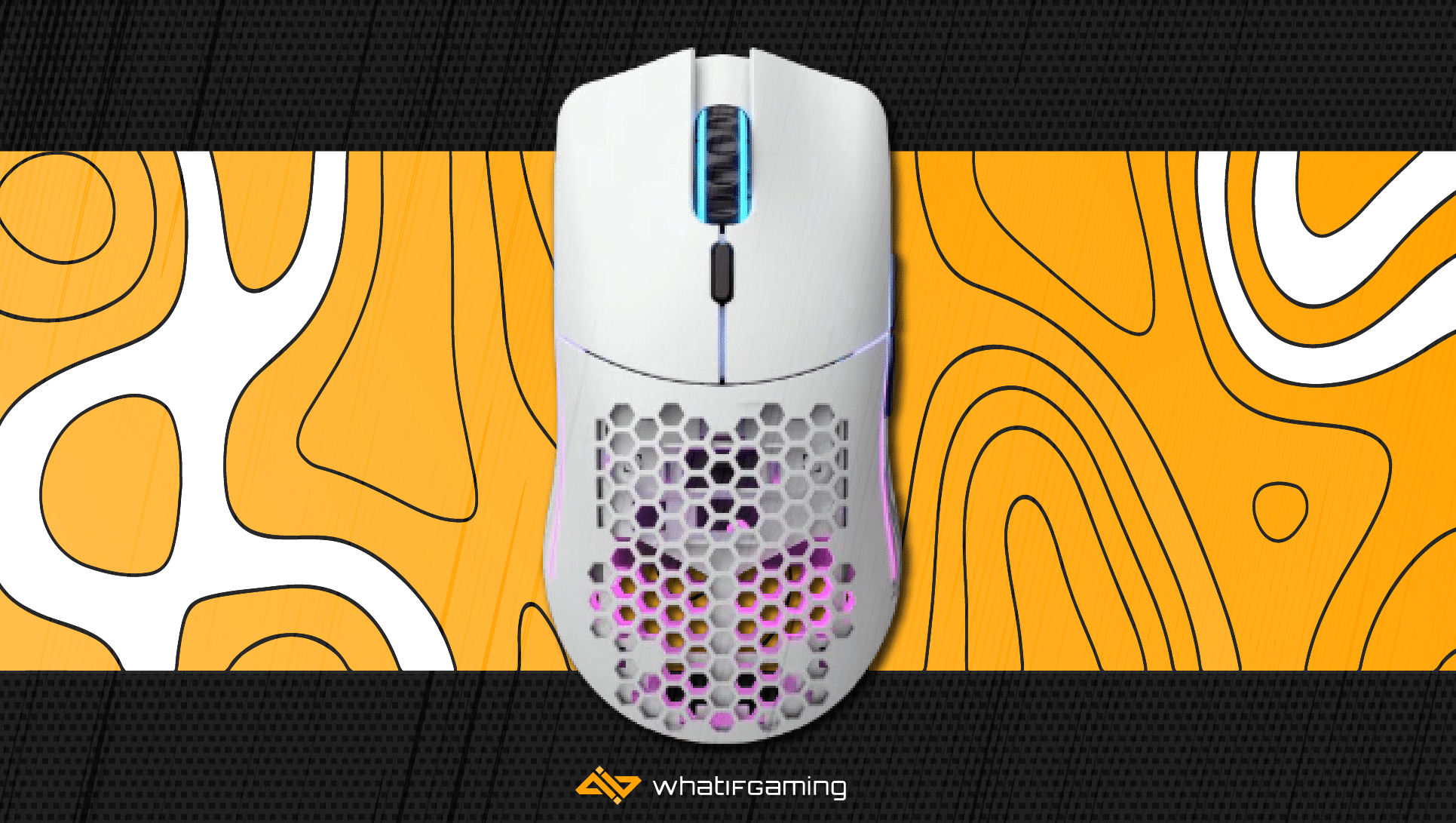 Glorious Model O- Wireless
Weight: 65g | Buttons: 6 | Sensor: PixArt PAW3370 | DPI: 19,000 | Connection type: Wireless | Ambidextrous: Yes
Pros:
Excellent value and build quality

Small and highly responsive

Good customizability
Cons:
Glorious Core eats up a lot of RAM
A small rodent with a big bite is the best way to sum up our next candidate for best Fortnite mouse. The Model O- is a snappy and highly portable peripheral you'll love if you frequently play battle royale mode on the go or have small hands. It's not too far behind the Superlight performance-wise but costs much less, which further cements the Model O-'s spot on the list.
The differences between this and the regular Model O are minimal. Our pick is several grams lighter at a respectable 65g. It's smaller, which combines perfectly with a low profile to give fingertip and palm grip users an edge. The Teflon skates are small but thicker than usual, helping the mouse glide with abandon.
We don't usually dwell on cables much, but we have to commend Glorious for this one. The Model O- comes with a 2m long, highly flexible USB-C to USB-A cable that doesn't impact your play at all. Not that you'll need it much since shutting the RPGB off gives you 70 hours of fort-building carnage per charge.
Build quality is outstanding for the price and unaffected by the honeycomb back & bottom. The main buttons use Kailh 8.0 switches. They aren't ordinarily prone to double-clicking, but setting the debounce rate to 0ms turns the Model O- into a capable Minecraft mouse too. The side buttons are excellent, as is the quiet and grippy scroll wheel.
Glorious used their BAMF version of the PAW3370 sensor. It has manageable DPI deviation and some smoothing close to the 19,000 maximum. However, the sensor performs well at the usual DPI intervals and any of the mouse's four polling rates.
You can use Glorious Core to set up three lighting zones, remap all the buttons, or assign complex macros to them. The software is user-friendly and much more stable than it was a few years ago. It's great that you can save any changes to the Model O-'s internal profile since Glorious Core takes up only slightly fewer resources than Synapse.
Pulsar Xlite V2 Mini Wireless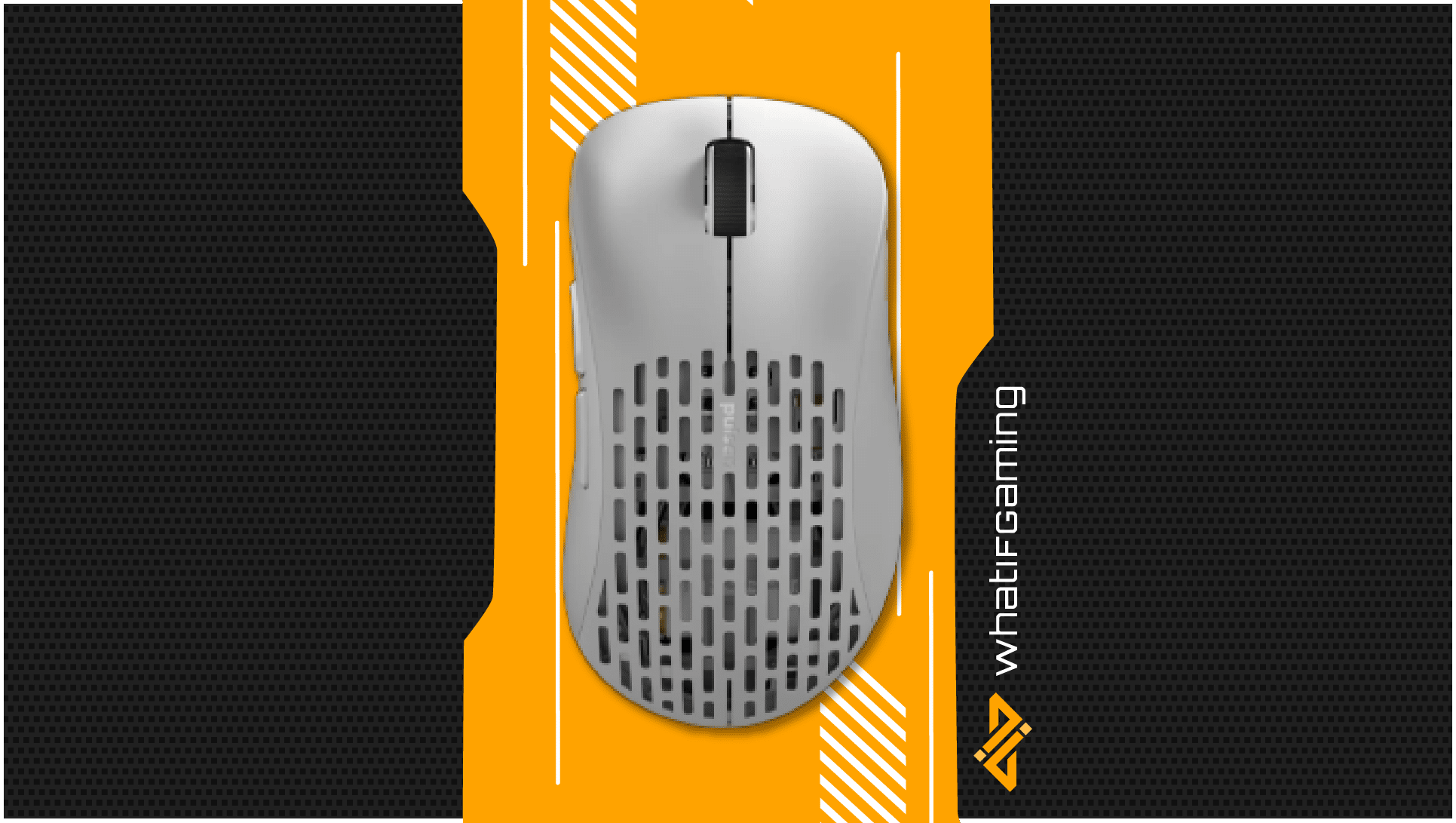 Pulsar Xlite V2 Mini Wireless
Weight: 55g | Buttons: 5 | Sensor: PixArt PAW3370 | DPI: 20,000 | Connection type: Wireless | Ambidextrous: No
Pros:
Excellent durability despite perforated design

Responsive buttons

Lightweight and useful configuration software
Cons:
Large holes make dust accumulation inside mouse easy
Even though it's been in the peripheral game far shorter than other manufacturers on the list, Pulsar impresses with its steady release of bangers. Latest in line is the Xlite Mini Wireless, the best Fortnite mouse if you're set on superb right-handed ergonomics at a reasonable price. Get one & start racking XP up with more ease & confidence!
The V2 Mini is a thoroughbred FPS mouse, stylish perforations and all. It has a smaller build and weighs a couple of grams less than the ordinary V2. Both have the same design that stays true to the original, sans the holes on its sides. The Xlite V2 Mini is among our smaller suggestions, but the pronounced, curving hump makes holding it in your palm feel natural.
Kailh switches make yet another appearance under the Xlite's sturdy main buttons. They have some pre- and post-travel, which you're unlikely to notice while concentrating. The side buttons are among the best on our list. They activate instantly through thumb rollover, and the stiff response is perfect if you want to map your gadget or trap slots to them. We appreciate the quiet scroll wheel, but tactility could be better.
Pulsar added a twist to the well-known PAW3370 sensor by upping its DPI to 20,000. It has no practical effect on normal behavior, meaning you're still getting a sensor with no smoothing, little DPI deviation, and excellent polling stability at 1000Hz.
Battery-wise, the Xlite matches most competitors at 70 hours. You'll get less out of it if you turn on the light, which only has two effects and changes as you cycle through four DPI presets. You set those along with macros and buttons inside Pulsar's companion software. Unlike Synapse and Core, you can leave it on since the little RAM it uses barely registers.
SteelSeries Rival 3 Wireless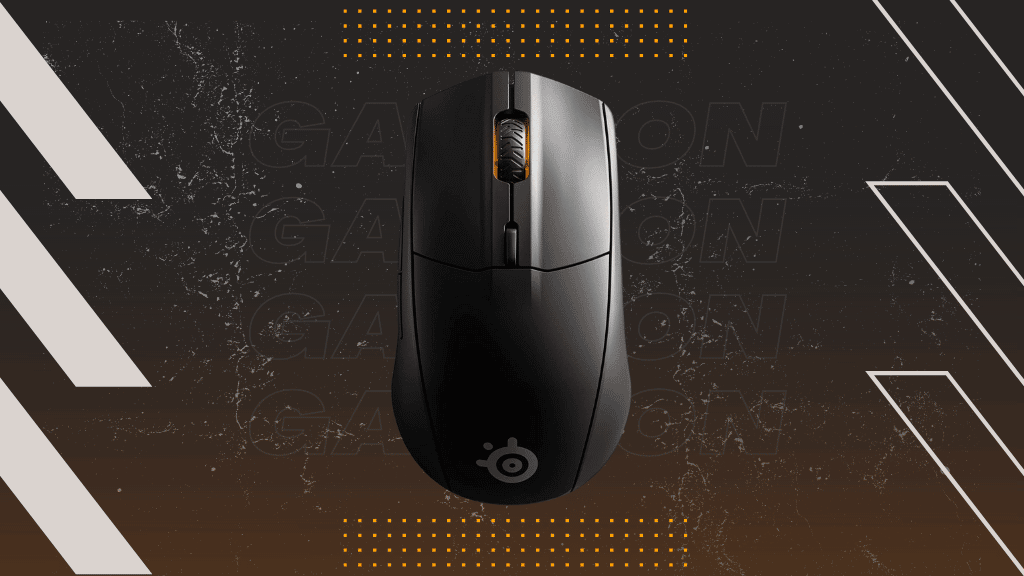 SteelSeries Rival 3 Wireless
Weight: 96g | Buttons: 6 | Sensor: TrueMove Air | DPI: 18,000 | Connection type: Wireless | Ambidextrous: No
Pros:
Excellent value for the money

Much better sensor than the original

Comprehensive companion software
Cons:
Not suitable for users who prefer palm grip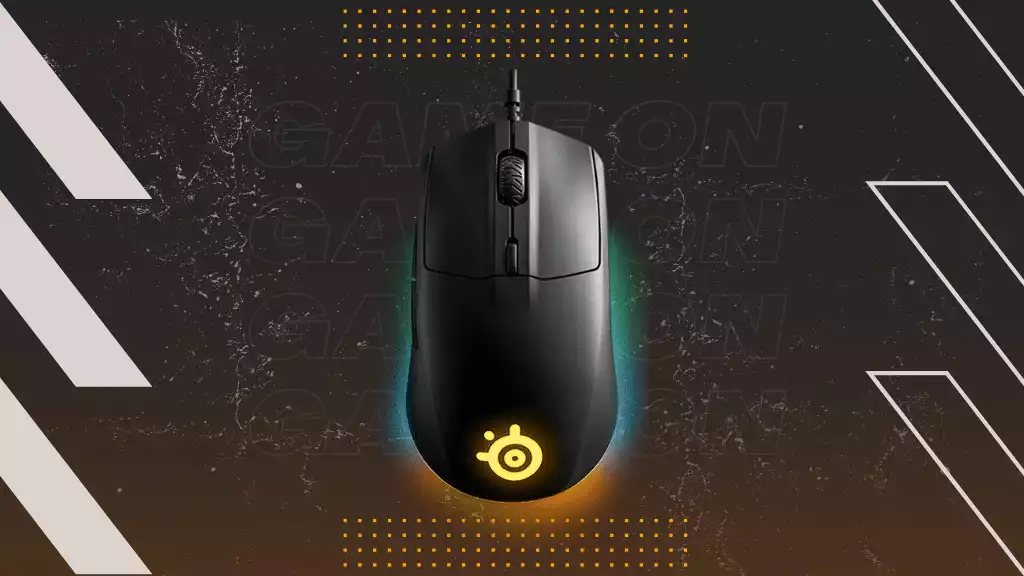 Fortnite is hugely popular among younger gamers who might not be able to drop $150 on a mouse. Less than $40 seems far more reasonable and is just enough to get you the Rival 3 Wireless. It's the best Fortnite mouse on a budget, provided you don't mind using batteries instead of a charging cable.
The Rival 3 is a continuation of SteelsSeries' older ambi shapes. It has plenty of room for one's palm in the back but rides very low, making palm grip not as comfortable as the other two. Depending on whether you use one battery or two, it weighs between 95 and 108g. A fully loaded Rival 3 Wireless is heavier than most FPS mice but lets you play for 400 hours with the lighting off.
Build quality is exceptional for the low price. There's no rattling, and you can't make the buttons move laterally, unless you force them. The main buttons use mechanical switches that don't have the same oomph as their optical counterparts but are miles better than whatever your current no-name mouse uses.
The side buttons are skinny, so rolling over them requires some force. The scroll wheel's low position is unusual but not uncomfortable. Toggling between slots is quick and accurate, if noisy. The wheel also houses the Rival 3's only RGB zone. You can configure it along with button bindings and macros through SteelSeries Engine.
The sensor is OK for the price but has a few quirks. DPI varies by as much as 10%, so you'll want to compensate through Engine. There's some smoothing at higher settings, which won't affect most users. Some motion delay causes responses to be a split-second slower than with more expensive mice, but not to the point that it harms your survival once foes are in your sights.