Not every rodent is cut out for fast-paced shooting action, especially at a competitive level. The best FPS mouse needs to weigh as little as possible yet fit comfortably in your hand. It has to execute broad motions as precisely as the minute corrections you'd make when taking a sniper shot. Finally, such a mouse should come with meaningful customization options that further enhance your experience and enjoyment.
It's a rodent-eat-rodent world out there. Dozens of companies put out models that broadly fit the FPS mouse criteria, but only a few are good enough to reach the top. We've barely managed to narrow the selection down to ten, ranging from pro-endorsed gaming tools to cheap yet surprisingly capable challengers. Find out more about them and start racking those kills up with confidence!
Our Best FPS Mouse Suggestions at a Glance
Razer Viper V2 Pro – A legend's worthy successor
Logitech G Pro X Superlight – The pro's companion
Razer DeathAdder V2 Pro – The world's best-known mouse, refreshed
Logitech G Pro Wireless – Logitech's earlier take on wireless superiority
Xtrfy M42 – The modular mouse
BenQ Zowie EC3-C – The barebones contender
Glorious Model O – The value champ
ROCCAT Kone Pro – As comfortable as it is capable
HyperX Pulsefire Haste – Light on weight, and your wallet
SteelSeries Rival 3 – The entry-level underdog
Razer Viper V2 Pro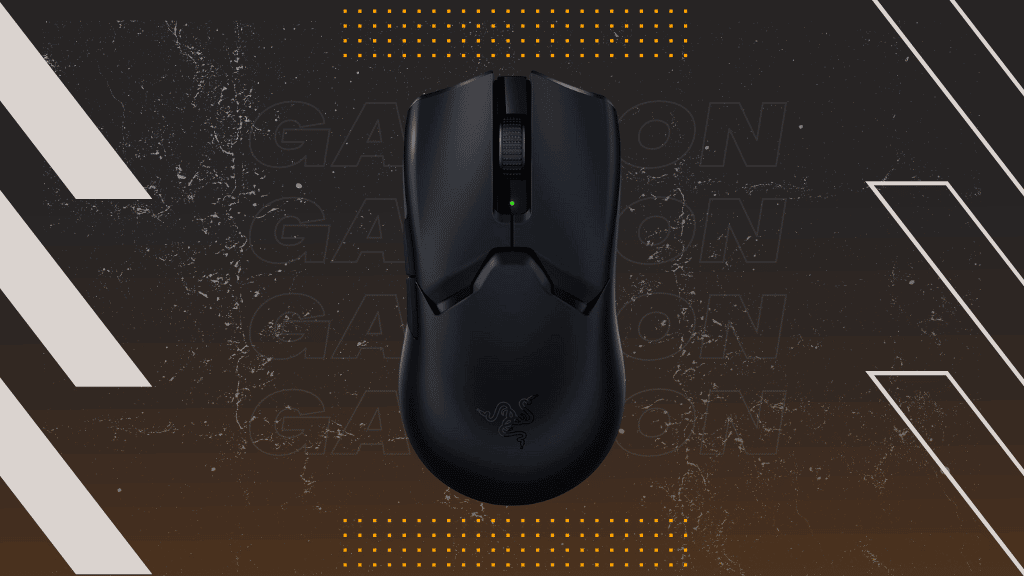 Weight: 58g | Buttons: 5 | Sensor: Focus Pro | DPI: 30,000 | Connection type: Wireless | Ambidextrous: No
Pros and regular FPS lovers alike sang the Viper Ultimate's praises, and its successor deserves even more acclaim. It might be more plain looking than many other mice on the list, but the Viper's bite is every bit as fierce. In fact, its light weight, exemplary wireless connectivity, and extensive customization push the newest Viper to the top.
Even though it's our winner, the Viper 2 Pro has almost no apparent gaming features. Its shell is downright plain, and people won't even notice the Razer logo if you go for the black version. Its ultimate crime against gaming peripheral society is the complete lack of RGB. However, digging deeper exposes the mouse's outstanding features.
It's a low-riding rodent with next to no hump, so palm and claw grips work wonderfully. The main buttons use durable optical switches, while the side buttons jut out more than on the Ultimate for easier reach. The shell could be grippier, but the improved feet design gives you much more control in directing the Viper over different surfaces.
A Bite Worse Than Its Bark
All of these improvements have brought the Viper's weight down to a mere 59g. The newest Focus Pro sensor has a higher DPI ceiling and reacts instantaneously when using more realistic settings. You can also minutely control the lift-off distance and tailor it to different surfaces, ensuring that repositioning doesn't throw off your aim.
The Viper's wireless aspect is executed flawlessly. You get a small dongle that provides a solid connection and barely occupies space. Battery life is improved over the Ultimate, so expect two weeks' worth of work or play before having to recharge. The USB-C port is under the scroll wheel, so you can continue climbing the ranks while charging up.
Lack of RGB reduces the customization settings at your disposal, but Razer Synapse still has a lot to offer. You get to remap the buttons, establish five sensitivity presets, and save one profile to the mouse directly. It's also possible to tweak the power settings to get even more runtime per charge.
Logitech G Pro X Superlight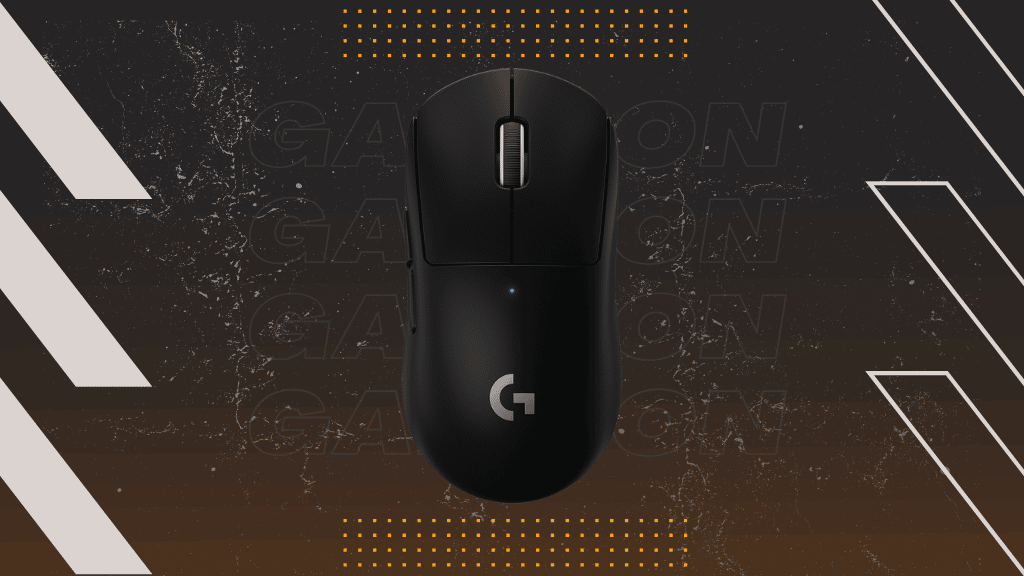 Weight: 63g | Buttons: 5 | Sensor: HERO 25 | DPI: 25,000 | Connection type: Wireless | Ambidextrous: Yes
Our No. 1 pick is still fresh and will need to establish itself in the pro scene. The rodent we turn to now needs no introduction, as world-class players from CS:GO and Valorant to Overwatch & CoD Warzone swear by the G Pro X Superlight as the best FPS mouse. It's almost as light as the V2 Pro, responds quickly & accurately, and glides along mousepads as though they're made of ice.
Logitech beat Razer to the punch in designing an unassuming yet thoroughly gaming-oriented mouse. The G Pro X Superlight is a low rider with few visually discerning features several of the world's leading FPS players helped create. The design's genius doesn't become apparent until you experience its lightness. At 63g, the mouse is among the lightest out there yet is standard in size and doesn't use perforations.
World-Class Wireless Gaming
The Hero 25 sensor is among the best in the business, accurately reporting the G Pro X's position even if you swing it widely & unpredictably. That's easy to do since the underside features two large feet and has room for one more circular pad that covers the dongle storage area. The shell doesn't have the best grip, so some users might find the mouse slippery rather than exceedingly responsive.
The G Pro X maintains a robust 2.4GHz connection and ignores interference from other nearby devices. Its battery capacity is slightly smaller than the V2's, but you can still get 70 hours of runtime per charge. Users who don't want to keep track of the battery's status can also invest in Logitech's PowerPlay mousepad and have the mouse charge wirelessly.
You can tweak many aspects of the G Pro X's behavior through the G-Hub software. The interface is intuitive, and the mouse itself is more flexible than the V2 when it comes to portable gaming since it stores five profiles in its memory. The lack of a physical DPI switch is the only annoyance, so you'll have to set it in G Hub.
Razer DeathAdder V2 Pro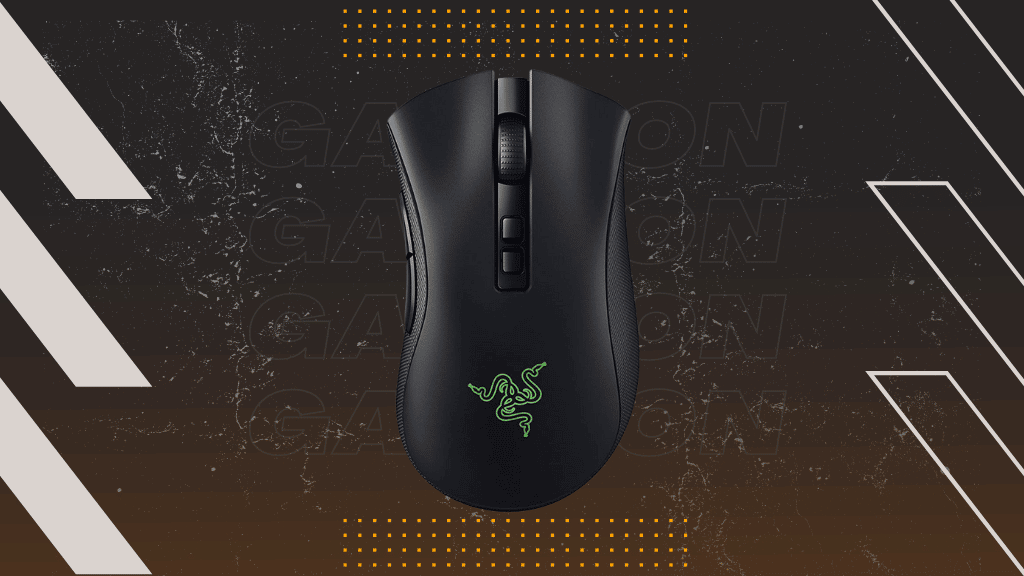 Weight: 87g | Buttons: 8 | Sensor: Focus+ | DPI: 20,000 | Connection type: Wireless | Ambidextrous: No
The DeathAdder has been synonymous with FPS excellence for more than 15 years, and the original is among the best-selling mice of all time. It's another model Razer decided to revamp recently. There are several versions of the V2, but we're most impressed by the Pro. It's barely heavier than the wired version and has the same iconic DeathAdder feel. Too expensive for you? Then we highly recommend spending half and taking up the cord instead.
Anyone who's held a DeathAdder in their hand will find its upgrade familiar. The wireless version is slightly larger yet maintains an ergonomically immaculate shape. A prominent hump facilitates long play sessions using the palm grip, and textured sides prevent your fingers from slipping.
The side buttons are among the most robust and responsive in the industry, and the scroll wheel's steps are defined well. There's no give to the shell, so the occasional frustrated squeeze won't lead to accidental button presses. The main buttons aren't as well made. More accurately, they're inconsistent. It must be a quality control issue on Razer's end since most users have no problems with them. However, reports of mushiness are too many to ignore.
A DeathAdder for the Modern Age
Exceptionally low click latency cements the V2's high position. It's still the best FPS gaming mouse if you're after lightning-fast response times and accuracy while executing sweeping or unpredictable motions. The Focus+ sensor exhibits superb tracking and doesn't deviate from your desired DPI settings.
Another wireless mouse, another excellent implementation of the technology. The DeathAdder V2 Pro sets itself apart by offering Bluetooth on top of 2.4GHz wireless. You wouldn't want to use it in your Warzone matches due to some lag, but it's a viable option for work and when connecting to smartphones. You can get 70 hours out of the battery with maximum power saving, 120 if you stick to Bluetooth.
Gamers rejoice, for the DeathAdder has RGB! It's tastefully implemented and concentrated on the Razer logo. The corresponding Synapse tab offers more than a dozen effects, not to mention untold color choices. Other options are similar to what you get with the Viper V2 Pro. The most significant difference is being able to store five profiles and toggle between them through a button on the bottom.
Logitech G Pro Wireless
Weight: 80g | Buttons: 8 | Sensor: HERO 16k | DPI: 16,000 | Connection type: Wireless | Ambidextrous: Yes
Even though many of our best FPS mouse picks have an ambidextrous design, none cater to lefties like the G Pro Wireless. It's a few years older than the Pro X Superlight yet still impresses with its fantastic main buttons, reliable sensor, and modularity. Best of all, the newer mouse's arrival made the G Pro Wireless more accessible. You can frequently catch it on sale for $100 or even less.
The G Pro Wireless is a perfectly symmetrical mouse designed with southpaws in mind. Two sets of side buttons expand its versatility, and you can even swap the buttons out with plain sides if you find them bothersome. The dimensions are roughly the same as on the Superlight, so users with average hands should find all grip styles reasonably comfortable.
Unlike the newest DeathAdder, the G Pro Wireless has exceptional main buttons. They're rated for 50 million clicks and use high-quality Omron switches. The side buttons are swappable for smooth panels yet don't feel cheap. Neither does the scroll wheel, which turns smoothly yet has well-defined ridges. The DPI switch might be contentious since it's located on the bottom instead of the top middle. Still, that will only irk users who use different settings for different games.
Responsive, Reliable, Relevant
The mouse uses an earlier version of Logitech's HERO sensor, the 16k. It's a perfect example of the unimportance of ridiculously high max DPI. At "only" 16,000, the HERO still outclasses most competitors through accurate tracking, stable polling rates, and remarkably low power consumption.
Low power consumption is precisely what one would hope for from a wireless mouse. This one is as dependable as the newer model in that respect, albeit without the same kind of staying power. Regular usage will see a charge lasting between 40 and 50 hours, depending on your lighting preferences.
The G Pro Wireless has two RGB zones – the Logitech logo and three DPI indicator buttons. G-Hub's corresponding tab is in line with the rest of its user-friendly design, letting you set the color, intensity, and effects with ease. DPI presets, profile creation, and fine-tuning settings align with what you get on the newer model.
Xtrfy M42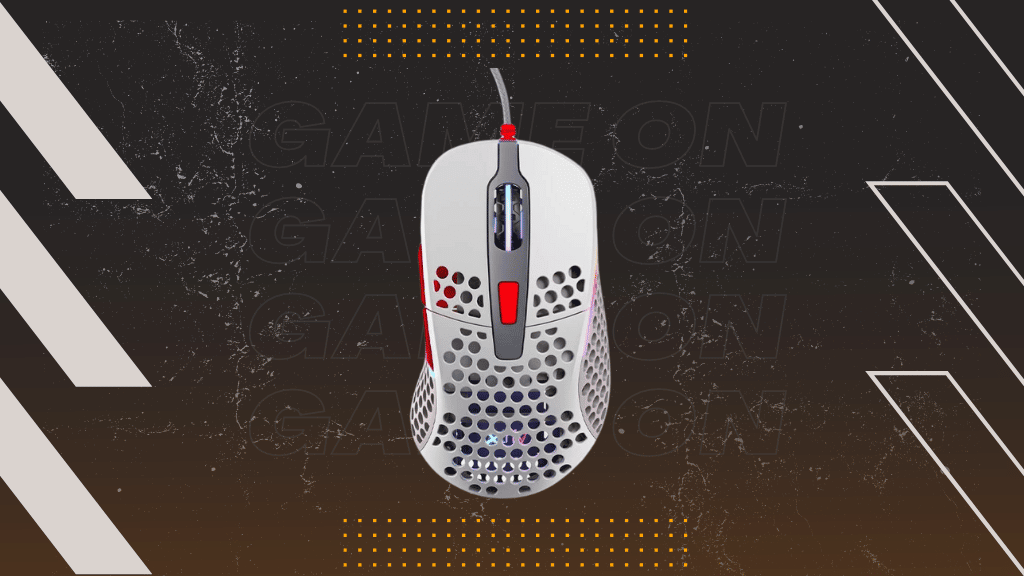 Weight: 58g | Buttons: 6 | Sensor: PixArt PMW3389 | DPI: 16,000 | Connection type: Wired | Ambidextrous: Yes
Modular shell
Great button and scroll wheel quality
Weighs little
Lacks companion software
Some mice have an insane amount of customization, but almost all are limited by their shape. Xtrfy made one that defies this rule and features interchangeable humps! Not only that, but you can 3D-print custom replacements to truly make it your own. Best of all, the M42 would have been a shoo-in for this list even without this development. It has the reactivity, durability, and lack of weight users interested in the best gaming mouse for FPS crave.
Xtrfy already made a mark with the M4, which the M42 is largely based on. It still has an ultra-light honeycomb design and loads of RGB. The mouse even comes in vivid colors like pink and aquamarine. However, the interchangeable shells steal the show. Both have pronounced humps, but the default slope is less pronounced. That makes it better for palm grip users, while claw grip fans will prefer the alternative.
The main buttons are separate yet show no side wobble. They use dependable Omron switches and aren't prone to accidental double clicks. M4 owners complained about the side buttons' mushiness, which the M42 addresses with aplomb. We're also fans of the scroll wheel since it's noiseless yet tactile. Two broad feet attach to the bottom and let the M42 glide effortlessly.
A Sharpshooting Shape Changer
PixArt is responsible for the M42's smooth and snappy gaming performance. The PMW3389 sensor at its core has next to no motion delay while boasting a reaction time of around 4ms. It's as effective at performing micro-adjustments to your trusty AWP's aim in CS: GO as for executing frantic movements during a Fortnite match's finale.
No software accompanies the M42. Even so, all the polling rate, DPI, and RGB effect settings are available through button combinations on the mouse itself. The utility is undeniable – it's nice to be able to plug it into any computer or laptop and have the same experience without bothersome downloads. Even so, users who like to tinker will be disappointed.
BenQ Zowie EC3-C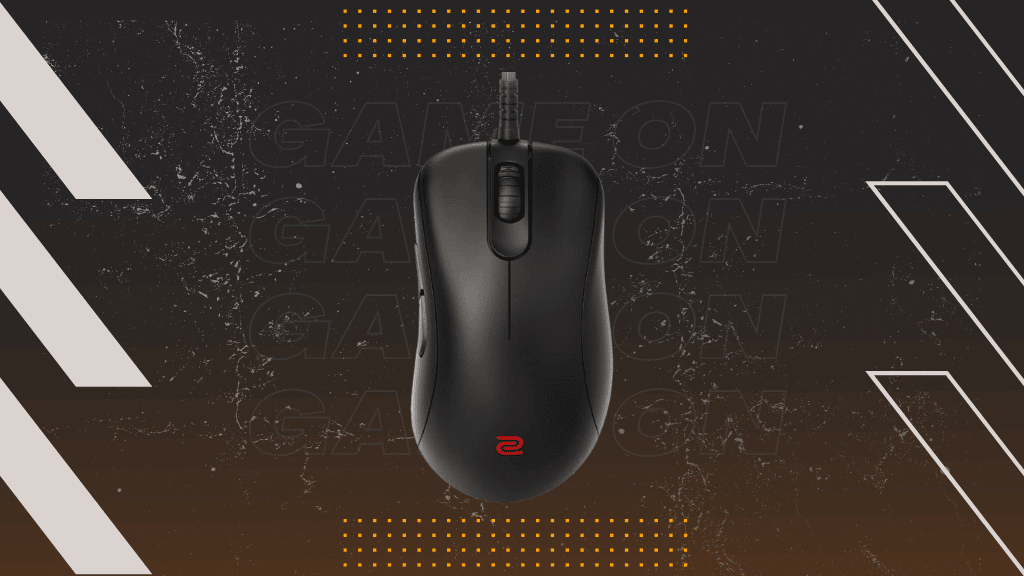 Weight: 78g | Buttons: 5 | Sensor: PixArt PMW3360 | DPI: 12,000 | Connection type: Wired | Ambidextrous: No
Razer isn't the only gaming mouse manufacturer with necromantic aspirations. Zowie's EC2 was a hit a decade ago, so the company decided it was high time for a series of refreshes. We like the EC3-C the most as it's straightforward, built to last, and has a light yet flexible cable.
The EC3-C will be familiar to fans of its predecessors due to its nearly identical albeit shorter shape. As a thoroughly right-handed rodent, it leans to the side slightly and curves gently to accommodate any grip style for prolonged gaming sessions. The shell is inflexible while being resistant to dirt & fingerprints. You'll need a vice-like grip for even a chance at accidental clicks, so expect those only if you're already losing & frustrated.
The main buttons are part of the shell yet more consistent than on the DeathAdder. The scroll wheel got the most love since it was loud and rigid on the original. There are now 1.5x more stops, and using the wheel feels more natural. The two side buttons are large and easy to reach.
Built to Last – and Dominate
Rather than develop its own sensor, Zowie turned to the pros. PixArt's PMW3360 appears in several mice from manufacturers like Finalmouse, Glorious, and CoolerMaster. Its strict adherence to specified DPI stops, absence of lag, and consistent accuracy regardless of speed contribute much to making the EC3-C best FPS gaming mouse material.
This is the second entry on the list without a wireless connection. It's just as well since the cable is long and braided while contributing little to the overall weight. It also helps maintain lower latency than older generations of wireless.
Part of being best mouse for FPS games material comes with competent companion software. The Zowie EC3-C breaks this rule, relying on button press combinations to give access to various features. This is great for eSports enthusiasts as switching between the four available polling rates is all the control most will need. Regular users might find the lack of customization disappointing, though.
ROCCAT Kone Pro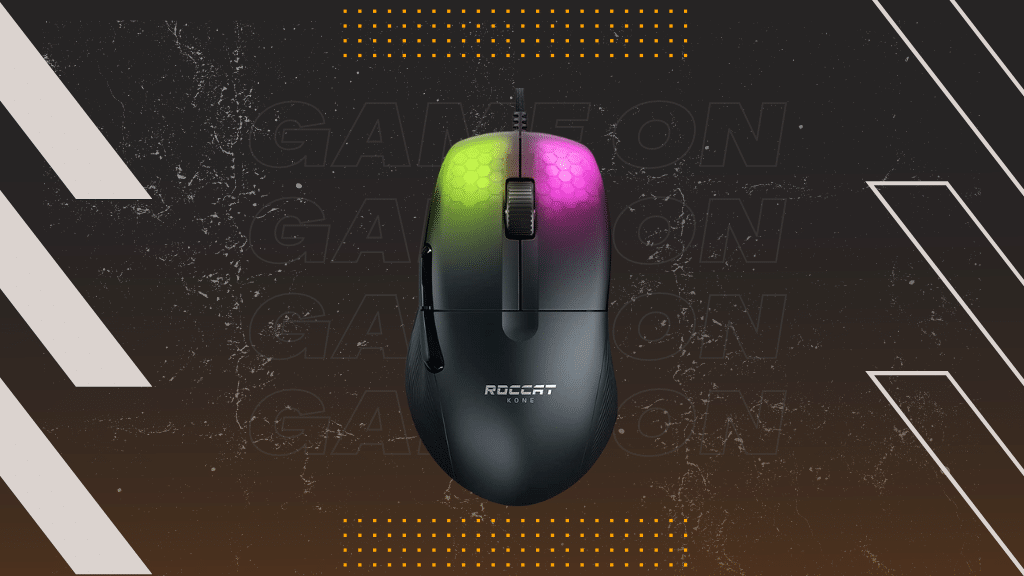 Weight: 64g | Buttons: 5 | Sensor: PixArt PAW3370 | DPI: 19,000 | Connection type: Wired | Ambidextrous: No
Not all of our picks are starved for RGB. It's one of the Kone Pro's main attractions, taking up residence underneath the main buttons. While a welcome diversion, that's not what keeps the Kone Pro in the best FPS mouse running. Superb ergonomics, a fine sensor, and versatile companion software do.
Most mouse manufacturers focus on thumb placement and palm support when approaching comfort and functionality. Roccat's engineers went a step further here, endowing the Kone Pro with an unusually pronounced curve on the right that accommodates the ring and even pinky fingers. Combined with a rather prominent hump, this makes the rodent a pleasure to use with the palm or claw grips.
The Coolest Cat in Town
The main buttons are translucent and use optical switches similar to those on high-end keyboards. They use few movable parts, so the clickiness isn't pronounced as on other models. Still, the low latency and thin yet durable plastic make this a non-issue. The scroll wheel is also interesting since it's made from aluminum and perforated, offering a glimpse into the Kone Pro's inner workings. The two side buttons are chunky and easy to press, albeit of a lower quality than the main ones.
The Kone Pro uses the Owl-Eye sensor, a slight modification of PixArt's PAW3370. Its DPI caps at 19,000, while the polling rate has a max of 1,000Hz. The lift-off distance is shorter than the standard 1.2mm, adding to the Kone Pro's precision. This, and the sensor's overall accuracy, will come in handy with the mouse set to a low DPI and need to switch to a different target in sniper mode.
Dependence on Roccat Swarm is the only major complaint about the Kone Pro. The software itself is logically laid out and offers much in the way of lighting & button customization. There's also the AIMO feature, which analyzes your usage patterns and adjusts RGB effects accordingly. The Kone Pro lacks a DPI toggle button, so you have no choice but to install Swarm if you find the default value of 800 too low.
Glorious Model O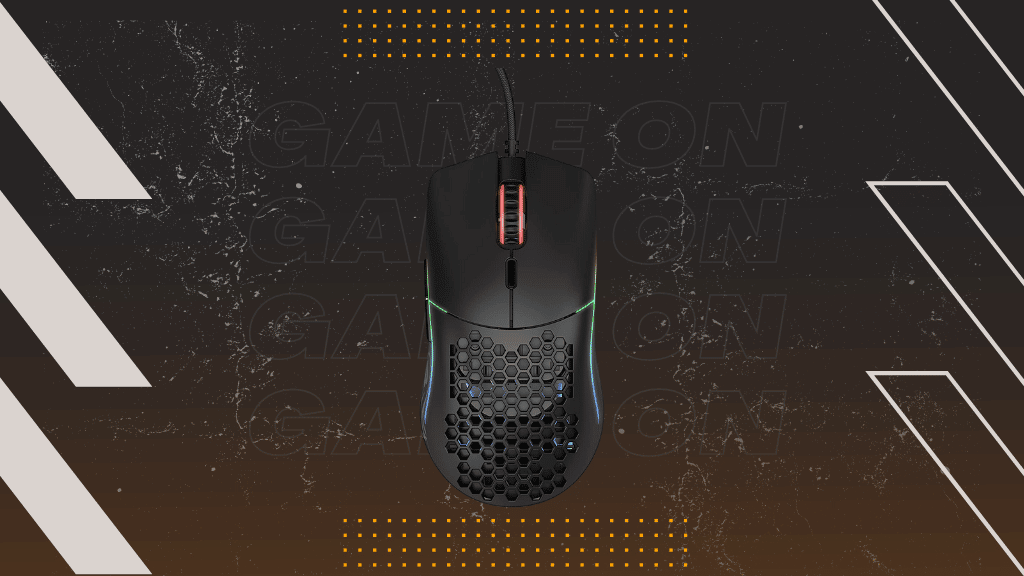 Weight: 67g | Buttons: 6 | Sensor: PixArt PMW3360 | DPI: 12,000 | Connection type: Wired | Ambidextrous: Yes
It's not often that a company's first product in a niche also ends up being a resounding success. That's the story behind the Model O from Glorious. Even though smaller and wireless variants have appeared in the meantime, we're still enamored with the original's graceful curves and nearly flawless execution. Add an appealing price tag, and you've got everything needed for the best FPS gaming mouse for the average user.
It seems that punching your rodent full of hexagonal holes goes hand in hand with giving more agency to the buyer. Whereas Xtrfy lets you choose the shape, Glorious provides the Model O with different finish options. You may choose between black and white variants of either a matte or glossy shell. The former is great for people with sweaty hands, while the latter provides more purchase if yours are dry.
The Model O's ambidextrous shape vaguely resembles the G Pro Wireless. It's slightly wider and much lower, which fingertip and claw grip users prefer most. You'd think that the holes covering part of the main buttons and most of its body would dig into one's skin. Surprisingly, using the Model O feels as natural as with any other high-quality mouse.
Treading Lightly Towards Victory
The holes shave off a lot of weight, leaving you with 68g of murderous intent. Everything from the Omron switches in the main buttons to the PMW3360 sensor we discussed in the EC3-C section comes together to provide hair-trigger responsivity at no cost to accuracy. Not bad for a mouse that costs around $50 when not on sale.
We haven't talked about cables much so far, either because a mouse doesn't need one or it's unremarkable. The Model O's bears mentioning as it's a lesson in how any kind of gaming peripheral should be connected. It's long, soft, and supremely flexible. There are no kinks, and it offers no resistance as you're swinging the mouse from side to side.
Glorious almost nailed the software. While it doesn't offer anything revolutionary, Glorious Core's simple tab structure and clear layout make anything from macro creation to RGB effect customization a breeze. The downside? Core is known to cause spikes in CPU usage, so your best bet is to tailor a set of profiles to your liking and access them from the Model O itself.
HyperX Pulsefire Haste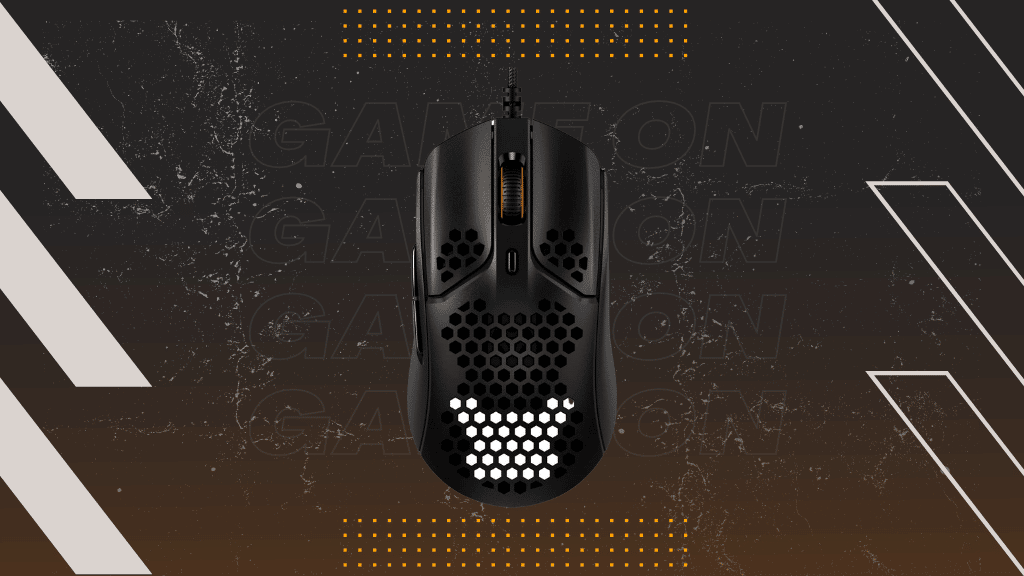 Weight: 57g | Buttons: 6 | Sensor: PixArt PAW3335 | DPI: 16,000 | Connection type: Wired | Ambidextrous: Yes
The Pulsefire Haste is our final ultralight pick. It's as attractively priced as it is light yet houses components that suggest outstanding value. It caters to all grip styles, works well enough for lefties, and even has a bit of RGB to please the gamer crowd. While it might be the ninth model on the list, the Pulsefire Haste is still an instant recommendation for people looking to up their K/D ratios without spending too much.
Excellent ergonomics are the first thing to note about this model. It's not molded to fit the right hand perfectly. Still, the lack of pronounced curvature in the middle makes the Pulsefire Haste a good choice for users with large hands who'd prefer a comparatively small mouse. The rest of us get to take advantage of its medium size and subdued hump to use any grip style effectively.
At just 57g, the Pulsefire haste is a strong candidate for best FPS mouse if you prioritize lightning-fast flicking movements for those epic multi-target Valorant takedowns. The extreme perforation needed to achieve this didn't impact the structural stability. You might hear some creaking when squeezing tightly, but the Pulsefire Haste does not flex.
Hasty Performance, Excellent Price
HyperX achieved an excellent balance of price and component quality. The primary button switches are dustproof and rated to last over 30 million clicks. Even twice as expensive rodents could learn a thing or two from the Pulsefire Haste's tactile side buttons. There's nothing to complain about regarding the scroll wheel, either.
The PixArt PAW3335 is a step down from the sensors we've seen on the Model O and Kone Pro. Having them side by side would show that the Pulsefire Haste has a minuscule latency disadvantage and occasional drops in polling accuracy. Nothing you'd notice or care about while blasting revenants to bits in DOOM Eternal.
The NGENUITY software is among the simpler we've seen. It offers just enough lighting and button configuration options to be valuable without overwhelming newbies. HyperX keeps it up to date as well. Running NGENUITY used to mess up the Pulsefire Haste's polling precision, which was quickly addressed.
SteelSeries Rival 3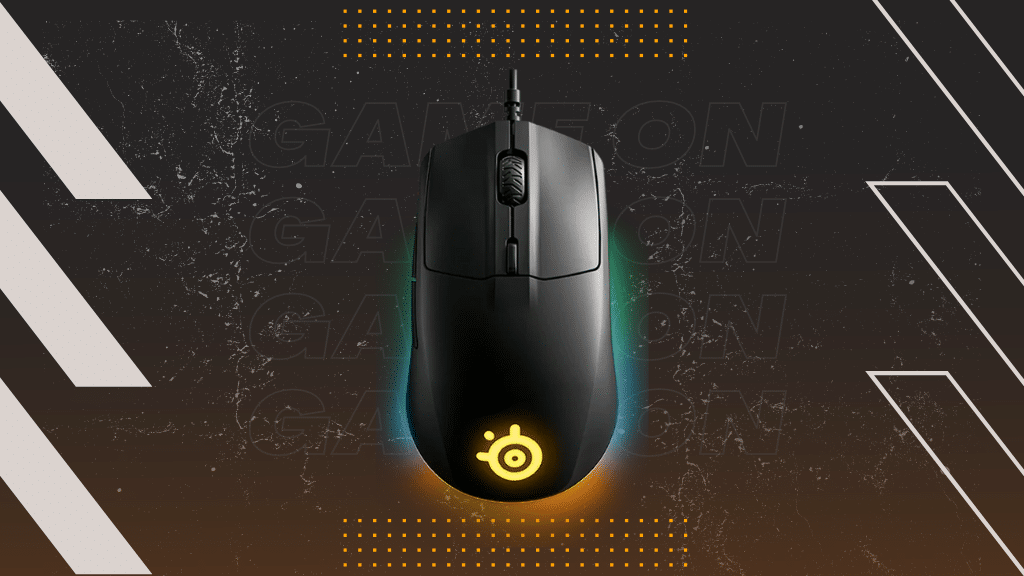 Weight: 77g | Buttons: 6 | Sensor: PixArt PMW3331| DPI: 8,500 | Connection type: Wired | Ambidextrous: Yes
Can a $30 mouse stand toe to toe with the greats? While it won't be winning the overall best FPS mouse award, The Rival 3 from SteelSeries truly lives up to its name. It's a fantastic entry point for anyone keen on ditching the rodent they got with their prebuilt PC for one that costs a pittance yet sometimes feels like it costs double.
The Rival 100 served as a template for the newer mouse's shape. SteelSeries almost nailed it the first time, as a minor change in the bottom front is the single notable difference. You're dealing with a small to medium mouse with gentle curves that accommodate lefties while slightly favoring the rest of us. Its hump slopes down gently, providing the most support for claw & fingertip grips unless you have small hands.
A Rival to Respect
The Rival 3 is a much better contender under the hood, though. It has noticeably more reactive buttons with short travel distances and quiet clicks that feel neither cheap nor flimsy. The scroll wheel is positioned lower than on most models and beautifully textured, turning silently yet precisely. The side buttons are hit and miss. They're thin and can be mushy depending on the sample, so pressing them with a thumb swipe might not feel natural.
One of PixArt's lesser sensors drives the Rival 3 onward. It has the lowest DPI in the countdown, which has a bearing more on how the mouse behaves during regular operation than anything else.
Most users, especially those that like to stick to low DPI for max precision, won't be affected. Going past 1,600 causes slight jitter to appear, while smoothing starts to kick in 2,000 DPI after that. However, all users will need to get accustomed to a high lift-off distance.
Despite the low price, the Rival 3 has some of the best lighting! Three RGB zones meld into a seamless whole, and customizing their colors or effects through SteelSeries Engine is straightforward. The same is true for creating macros, adjusting the DPI, or assigning different functions to buttons.