I'm a bit of a gacha fanatic. I started with Genshin Impact a few years back, and my bank account hasn't forgiven me since. Despite my crumbling finances, I've been around the block when it comes to the gacha genre, so I'm confident when I say I know what the best gacha games for Android and iOS are.
So confident, in fact, that I've put together a list of my favorites. Whether you're new to gacha, or you've been around for years, there's at least one gacha game on this list for you – regardless of if you're an Android or iOS user.
I would almost go to say that there's not a gamer on the planet that hasn't heard of Genshin Impact. Whether you're into gacha games or not, this one's influence has spread all across the industry, and there's a reason for that.
While Genshin is very much a gacha game – characters and items can both be obtained through pulls, so it's not dominated by those mechanics. Genshin is a game first and foremost, and the gacha elements complement that, rather than it being the other way around.
Despite having PvP content, Genshin is a primarily PvE game. The main appeal of the gameplay is your ability to create unique builds and strategies for whatever character you main, and that dominates Genshin's culture.
A large part of Genshin Impact's identity comes from its cast of characters. Players typically stick to one main, and rarely deviate from that. In fact, Discord communities pop up all the time focusing on one specific character – something that no other game experiences.
Genshin Impact is the gacha game for a reason. If you haven't played a gacha before, there's no better place to start.
Dragon Ball Z has the kind of mainstream appeal that Genshin doesn't. The popularity of the DBZ anime has meant that practically everyone that's into gaming or pop culture in some way has heard of it – and what better way to cash in on that audience than with a high-quality gacha game?
Dragon Ball Z Dokkan Battle is one of the largest and best gacha games on mobile, which shouldn't be too shocking. It has a massive range of Dragon Ball characters for you to hunt, which is the main hook that's going to keep you coming back.
While Genshin Impact brings its gameplay to the forefront, the same cannot be said for Dokkan Battle. It suffers from match 3+ gameplay, which is antiquated at this point and doesn't offer much in the way of engagement.
Fans who can look past that, though, are in for a real treat.
Pokemon lends itself to the gacha formula in a way that no other series ever could. The very premise of the games, "catching them all," seems to have been built for the gacha world. It's honestly surprising that it's taken this long for us to get a Pokemon gacha game, but it's here now.
Pokemon Masters is exactly what you would expect it to be – and that's great. You're collecting both trainers and Pokemon from across the games and the show, all in an effort to put a team together for a 3v3 real-time battle.
The gameplay isn't too dissimilar to Pokemon GO, granted it's far more complex and fleshed out. That's hardly the main attraction here, though. You're playing Pokemon Masters for its stacked roster of collectibles, everything else is a nice bonus on top of that.
That's right – there's not just one, but two Dragon Ball gacha games on this list of the best gacha games for Android and iOS. With how popular the Dragon Ball IP is, it's not too surprising that there are two gacha games based on it. What is surprising, though, is that both of them are genuinely quite good and fun to play.
Both Dragon Ball Legends and Dragon Ball Dokkan Battle are gachas – but that's where the similarities end. Legends is a more hardcore experience, offering a robust PvP scene and far more engaging battle mechanics.
The general consensus is that Dokkan is the superior of the two, but there's no reason why you shouldn't try this one out.
Honkai Impact is a melting pot of a game. It's billed as a 3D action RPG, but it's got elements of bullet hell, hack and slash, social sim, and more all crammed into what amounts to an incredibly enjoyable gacha game that never fails to deliver.
That shouldn't be too surprising, though – it's developed by miHoYo, the same developer behind Genshin Impact.
Everything from the gameplay to the story to the graphics is up to scratch here. It's a sleeper hit that despite 10 million downloads on the Google Play Store, deserves more attention.
Of course, it does have to deal with being the little brother of Genshin, so that's always going to hold it back. It's worth a play, though – especially if you are a Genshin fan.
Final Fantasy has a long, storied history with untraditional spinoff games. Brave Exvius is one of the better ones. It's a turn-based RPG, featuring a simplified traditional JRPG battle system and some of the best pixel art you'll get out of a gacha game on Android and iOS.
The game's gacha elements come from the ability to summon past Final Fantasy and Brave Frontier characters. You upgrade these characters over time, then use them to build a party to take into combat.
Brave Exvius has great gameplay, familiar characters, and a competent story that isn't typical of the gacha genre. If you're a Final Fantasy fan in need of a gacha game – try this one. If you're not the biggest FF fanatic in the world, there are a few better options out there.
Much like Final Fantasy, Fire Emblem as a series is gacha compatible by design. It has a massive cast of characters spanning multiple games, on multiple generations of systems. So, as you might expect, those characters are who you'll be hunting as a part of Fire Emblem Heroes' gacha mechanics.
Gameplay-wise, Heroes is a tactical grid-based RPG, much like the mainline Fire Emblem games. You build a team of up to four heroes and use them to battle on an 8×6 grid against your opponents.
While it lacks the depth of more powerful grid-based RPG battle systems, there is enough nuance to Fire Emblem Heroes' combat to generate a skill curve – there is a clear path to getting better.
Beyond the great roster of characters, gameplay, and story, Heroes is Nintendo's highest-grossing mobile game of all time, and it's been showered with awards since its release. Even if you're not a Fire Emblem fan, this is one of the best gacha games for both Android and iOS right now.
Marvel Strike Force's main selling point is that, well, it's Marvel. If you're a Marvel fan – specifically of the comics, this is the gacha for you. If you're not a Marvel fan, or you know nothing about the Marvel universe outside of the MCU, you might want to pass up on Strike Force.
While its turn-based, character-driven gameplay is fun, it's not enough to carry the game on its own. What is that good, though, is the roster of Marvel characters from across the various universes of the comics, and the MCU.
Beyond that, there's a fair bit of content to enjoy. There are PvE activities in spades, as well as a little bit of PvP for those inclined – and the game receives regular updates as a part of its live service strategy, like other gachas.
Marvel Strike Force isn't Genshin Impact, but it's fun for the right people.
It has stunning graphics for an Android and iOS game
Regular content updates keep the game relatively fresh
You'll struggle to regularly play Raid without spending money on something
The inclusion of auto-play is mindboggling
Raid: Shadow Legends may be the only more recognizable name than Genshin Impact on this list. You've probably seen dozens of ads for the game and written it off as nothing more than another mobile cash grab. You're not entirely wrong in that assumption, but you're not right, either.
Despite the meme that it's become, Raid: Shadow Legends is actually quite a competent mobile gacha game. More than competent, in fact, proven by its port to PC in 2020 – something that very few Android and iOS gacha games ever achieve.
Raid: Shadow Legends shines in its graphics. It has almost console-like graphics on a mobile engine, somehow without setting your phone on fire in the process. Its gameplay is also remarkably solid, and is packaged with a typical narrative that while not engaging, is fun enough to keep you coming back.
Where Raid lets us down, though, is in its aggressive monetization strategy. Every other screen is an ad to buy something, and you'll struggle to enjoy your time without opening your wallet at some point. Beyond that, its auto-play mechanic is an offense to gaming and should be ignored, but it is an option if you want to pay to watch a computer play your game for you.
If for nothing else than pure curiosity, I would recommend giving Raid at least an hour or two of your time. It might surprise you.
AFK Arena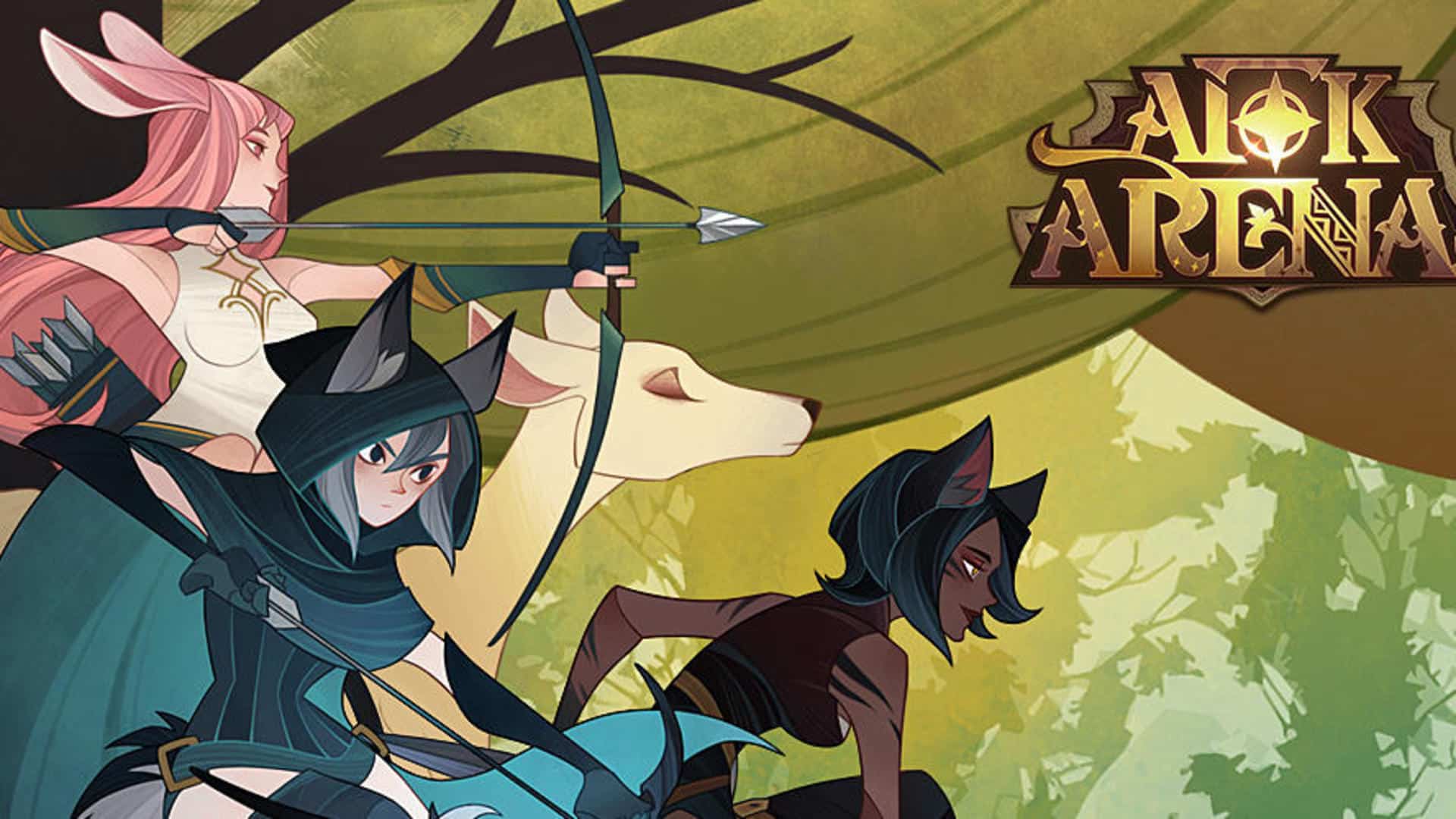 Unique art style that leans into stylization over impressive graphics
Building team compositions is an engaging gameplay loop
FOMO is very real and prominent
New players are at a massive disadvantage due to their lack of access to powerful characters
The last gacha game for Android and iOS we're featuring here is AFK Arena. Despite what the name implies, AFK Arena is far from a hands-off non-game like Raid in auto-play is. While combat is automatic, the game comes into its own in the strategy involved with building team compositions.
Putting together teams that work well is the hook for AFK Arena, so if that sounds like your thing – you'll be right at home here. If you couldn't care less for tactics and just want to smash some skulls, you're not going to have a good time.
While the focus on team composition is AFK Arena's biggest strength, it's also its biggest drawback. Due to the nature of this type of gameplay system, the game's META tends to be fairly set in stone. There are a handful of compositions that are at the top, and the rest simply can't compare.
In the case of AFK Arena, a lot of top-tier comps use characters no longer obtainable through the game's gacha system. FOMO is a very real thing in AFK Arena, so if you really want to make it to the top, you'll have to wait, grind, wait, and grind some more.
---
That concludes our list of the best gacha games on both iOS and Android. What's your favorite? Let us know in the comments down below!