Finding the right gaming chair can be daunting at the best of times. As gaming and streaming have exploded in popularity, the market's been flooded with seating that looks nice but may not satisfy your comfort and health needs. It's even more challenging for people with unconventional body types as most chairs seem to conform to rather narrow specs. To that end, we've made it our mission to find the best gaming chair for big guys & gals and end your suffering.
Several factors come together to make such a chair more accommodating. They're usually broader and taller while having expanded height adjustment that works well for taller people. Ergonomics better suited for tall people is another crucial addition, whether the lumbar support is built in or comes in the form of a pillow. Even if you're cuddly rather than tall, going with a larger chair is a good idea since they come with a more spacious seat and greater weight tolerances.
Our Picks for Best Gaming Chair for Big Guys at a Glance
Secretlab Titan Evo 2022 XL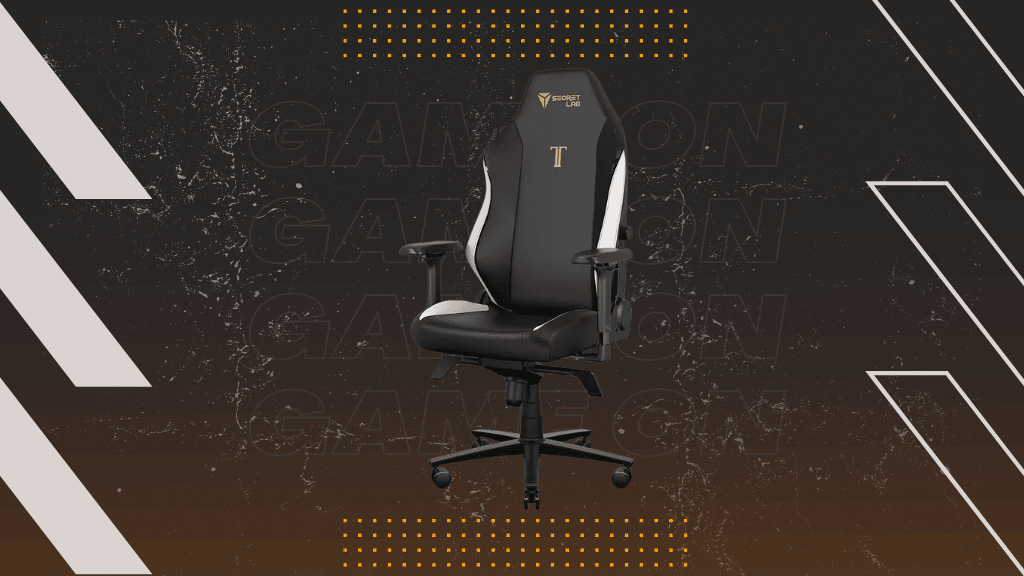 Max weight: 395 pounds | Recommended height range: 5'11" – 6'9" | Height adjustment: 3.7" | Seat width: 19.3" | Seat depth: 19.6" | Max reclining angle: 165°
Exceptionally comfortable
Outstanding adjustability
Made from premium materials
Expensive, foam pillow has weak magnet
We've already unabashedly gushed over the Titan Evo 2022 in our in-depth review, and we're pleased to report that the XL version is equally amazing. It's one of the most comfortable and adjustable chairs on the market, offering excellent lumbar support, customizable armrests, and the kind of stability the best gaming chair for big & tall people should possess.
Racing-style chairs are hit-and-miss aesthetically. The Titan Evo 2022 luckily falls under the first category since it has the style's recognizable contours without the kitsch. In fact, you could furnish your office with the Stealth variant, and no one would bat an eye. You don't have to, as Secretlab makes several finishes and designs available.
Choosing a finish gives you your first taste of the chair's modularity. The upholstery is available as multi-layer leatherette or a fabric weave with strands of different colors that make the design pop. The fabric version is slightly more breathable, so gamers in hotter climates might want to go with it. Both come in a wide range of colors, or you can opt to spend more on genuine black leather.
Assembling the Titan Evo 2022 is as straightforward as putting together an 85-pound chair can be. The written instructions and assembly videos are top-notch and speed up the process considerably. You have to attach caster wheels to a thick aluminum base first. Then the seat and backrest come together using an interlocking mechanism. Finally, you attach the assembly to the base and add the armrests.
Speaking of armrests, it's rare to see so much emphasis on their adjustability. You can move them back and forth, angle them, make them wider or narrower, and tinker with the height. Magnets secure their top covers, which makes replacing worn-out armrests a cinch. Secretlab also offers a version with memory foam and felt covering more suitable for people who rest their arms in a horizontal position frequently.
Unrivaled Support Regardless of Size
The seat is wide and deep enough to cater to larger body types. It's inclined forward and built to nudge you into sitting in the middle. That subtly promotes better posture while keeping the blood flowing to your legs unimpeded. The firmness balance is on point since the seat is neither mushy nor too hard. You can adjust its height by almost four inches.
The backrest offers excellent lumbar support thanks to a set of knobs. Turning one adjusts how pronounced the curve is while the other regulates the support's height. It's worth spending some time tinkering with these settings to find the one that works best for those late-night CoD Warzone sessions.
Finding a genuine fault with this chair is hard, but if we have to focus on something, it's the headrest pillow. It's filled with memory foam and comfortable to nap on, but the magnet that secures it to the backrest is weak. Moving abruptly might cause it to lose contact and dislodge the pillow.
AndaSeat Kaiser 3 XL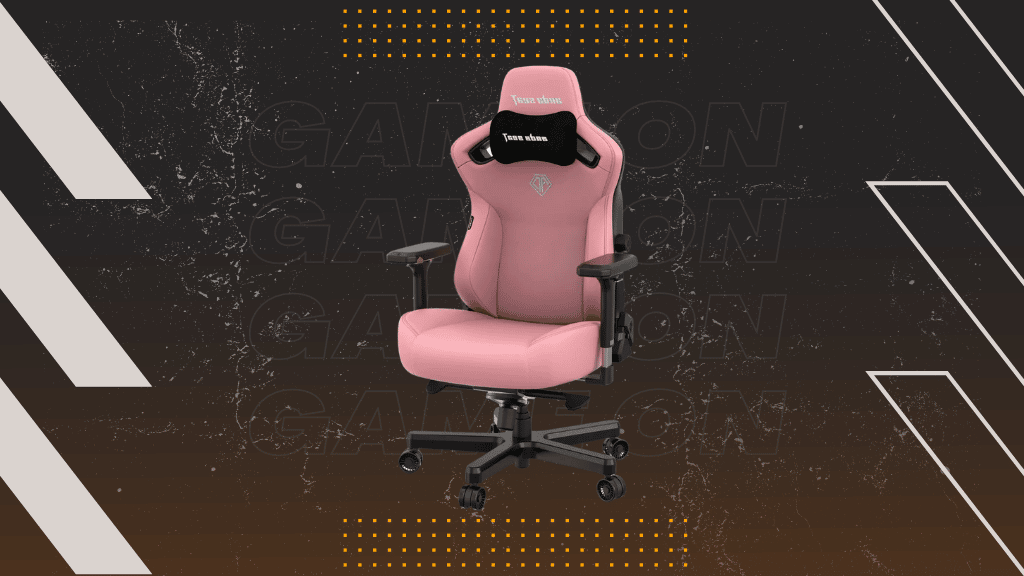 Max weight: 395 pounds | Recommended height range: 5'11" – 6'9" | Height adjustment: 2.7" | Seat width: 20.8" | Seat depth: 22.4" | Max reclining angle: 165°
Excellent build quality
Adjustable lumbar support
Useful magnetic tray accessory
Expensive
They say that imitation is the highest form of flattery. By that logic, the Kaiser 3 XL from AndaSeat must be a love letter to Secretlab's Evo line. While much about the chairs is similar, the Kaiser does come with some distinguishing features that make it the best gaming chair for big guys in its own right. You'll have to pay extra for most of these, though.
AndaSeat might pay homage to the Titan Evo in the features department, but visually it's its own thing. The chair is imposing and looks comfortable even before you grace it with your behind. Two cutouts near the shoulders help ventilation, and the edges of the well-padded seat curve upward to get you to stay seated in the middle.
You may choose between a PVC leather or linen fabric for the cover. Both feel great to the touch, but we prefer the linen option as the leather quality is slightly lower than on Secretlab's chairs. Even so, the colors ranging from black through pastel pink & bright orange to white may compel users with unique gaming setups to go for the faux leather instead.
It takes ten screws and about twice as many minutes to put the Kaiser 3 XL together. The start of the process is similar to assembling any other chair, but AndaSeat makes it easier by including a metal plate on the right. Doing so helps you align the backrest's holes with the screws present on the seat, considerably speeding up the whole ordeal.
A Chair Fit for an Emperor
The Kaiser's seat is wide but doesn't provide much more wiggle room than the Evo's due to slanting sides. Its padding feels more substantial and is equally comfortable, though. The backrest features similar lumbar support adjustments, so a pillow isn't necessary. The only pillow you get has the same snap-on magnet mechanic that holds it in place. The magnet on the pillow itself is stronger and takes up more space, so accidental dislodging isn't as likely.
Similarities continue with the armrests and their wide range of motion. Three knobs on each let you adjust them in four directions. There's even a magnet-based padding removal system.
With such clear inspirations, it's no wonder the Kaiser 3 XL is an ergonomic and comfortable chair. It can recline back 165° or tilt to suit your needs. The upholstery & stitching are excellent, and the pillow is a welcome addition that users at the shorter end of the recommended height range will appreciate the most.
AndaSeat might have taken liberties with many of the Kaiser's design features, but it also offers an accessory that makes the chair genuinely unique. Remember those armrest magnets? Well, now you can also use them to attach a tray table. This turns your Kaiser 3 into the world's most sophisticated high chair, allowing you to place a laptop or some snacks in front and enjoy an entirely new dimension of comfort.
Vertagear PL6000
Max weight: 440 pounds | Recommended height range: 5'9" – 6'8" | Height adjustment: 4.1" | Seat width: 19" | Seat depth: 21.7" | Max reclining angle: 140°
Tired of sinking into your chair due to poor build quality and a lot of mass? Then it's time you made the switch to Vertagear's PL6000. It has the highest weight allotment out of all our picks, provides rock-solid lumbar support, and is frequently on sale. Add its innovative leather cover, and you've got the best gaming chair for big guys the larger among us can finally fully relax in.
Vertagear won us over with its simplistic yet stylish approach to gaming chair design. Most of it is black, with side stripes and prominent stitching coming in several bright colors. There's also a camo version that won't help you blend into the surroundings in PUBG, but it looks cool.
The PL6000 is covered in a proprietary material that's part PU and part PVC. It marries their finest qualities, being as supple and easy to clean as PU while enjoying the added durability of PVC. Accidental spills happen to all of us, so knowing that they'll be easy to clean up from your chair is reassuring.
Users who've assembled a chair or two should have no trouble following the instructions even though an English version isn't available. You get an Allen wrench to take care of several screws, and the chair's construction ends up hiding all of them without unnecessary bulk.
Stiff Competition
While Vertagear says that 350 pounds is the chair's sweet spot, it can accommodate people who weigh up to 440 pounds. Its own 68 pounds looks slim in comparison, testifying to the quality of the aluminum & steel components.
The seat is of medium width and on the shallow side for this category. It gets even more shallow if you choose to equip the lumbar pillow. All the chair's seating components afford excellent support since they're padded with memory foam. This is our firmest big and tall gaming chair recommendation, so keep that in mind if you like your seating to be more supple.
Broad height accommodation is another of the PL6000's strengths. Vertagear recommends this chair for people between 5'9" and 6'8", which is more inclusive than our other picks. The chair accomplishes this with its heavy-duty gas cylinder and its more than four inches of vertical leeway.
The PL6000 has 4D armrests and can incline 140°. The control scheme to adjust the height and tilt is different than on other chairs since you get a lever in addition to two dials. Getting used to the change isn't an issue.
The lumbar pillow might be one, though. Specifically, it comes with straps you have to either awkwardly place around the seat or tuck behind the neck pillow. The first method is flimsy, while the other looks weird, so you'll want to use your best judgment or ditch the pillow altogether.
AKRacing Masters Series Max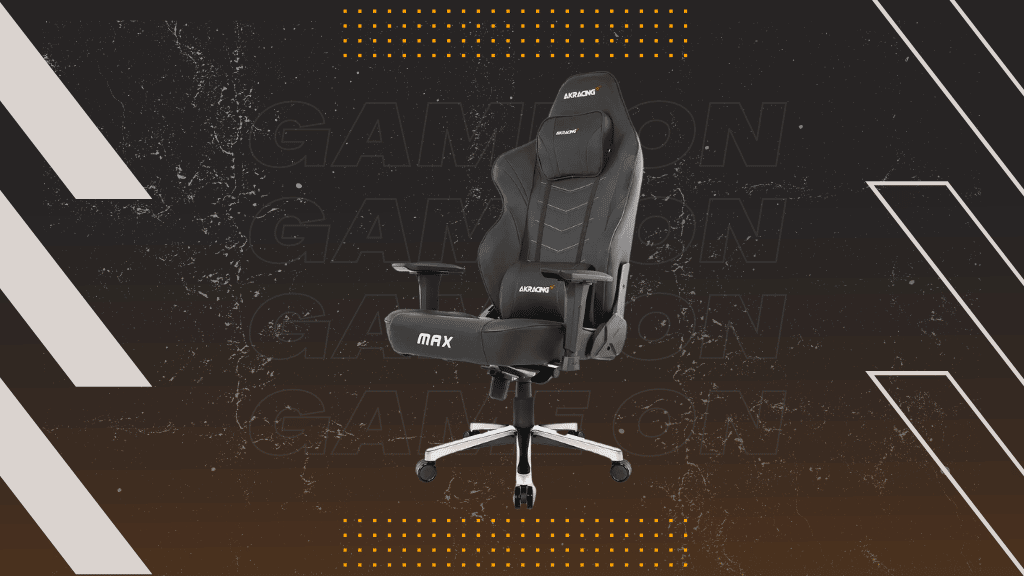 Max weight: 400 pounds | Recommended height range: 5'7" – 6'8" | Height adjustment: 3" | Seat width: 23.3" | Seat depth: 24.3" | Max reclining angle: 180°
Do you like the Evo's premium feel but want a chair that lets you spread your legs even more? That's the Masters Series Max in a nutshell. It doesn't have our overall winner's fancy magnets but makes up for that with superb comfort, equally adjustable armrests, and a fantastic head pillow. Add its 180° recline function, and you've got a top-tier chair to either game or snooze in.
As the company's name suggests, the Master Series Max is a racing-style chair adapted for the needs of big and tall people. However, you don't need to fit either criterion to appreciate the base. It's not only a few inches wider than the Evo's – the sides are flat too. That allows you to freely spread or cross your legs at your leisure without the sides digging into your flanks.
The upholstery is premium PU leather, vegan-friendly, and almost as breathable as mesh alternatives. There's only one style, with black as the base and accents available in several colors sure to match various styles of gaming PCs. The all-black version is our favorite since it's the stealthiest, but the others look no less fetching.
The assembly process is more involved than the Evo's, yet not too complicated. The gas piston assembly is fully set up, saving you a lot of hassle. It's best to start with the shiny aluminum base and broad wheels. You then work your way up to the chair itself and assemble it with the help of lots of screws. All you need to secure them is provided inside the packaging.
Rock & Recline
The armrests enjoy a similar range of motion as our winner's, so we won't dwell on them other than commending their construction. It's a shame they're from solid plastic and have no padding. That won't be a problem with either the seat or backrest since both have high-grade foam. It's on the softer side but not soft enough to compromise the chair's supportiveness.
You get support aplenty from two accessories – the lumbar back pillow and one for your neck. The lumbar pillow sits comfortably in the chair's crook, and you can move it around for optimal support. We're fans of the neck pillow since it's relatively flat and broad. It attaches to the chair via straps, either by hugging the side wings or by using a handy plastic attachment. The latter lets you place it over the holes in the back.
It's a testament to its sturdiness that the Master Series Max has horizontal inclination. It can support 400 pounds while leaning back 180° without becoming wobbly or unstable. There's also a built-in rocking function for restless gamers. Better yet, you can use the rocking motion to find your preferred tilt position and lock it in.
Price is the Master Series Max's only sticking point. It's in the Evo's ballpark, yet the chair itself isn't as customizable. That might be a deal breaker for potential buyers.
RESPAWN RSP-400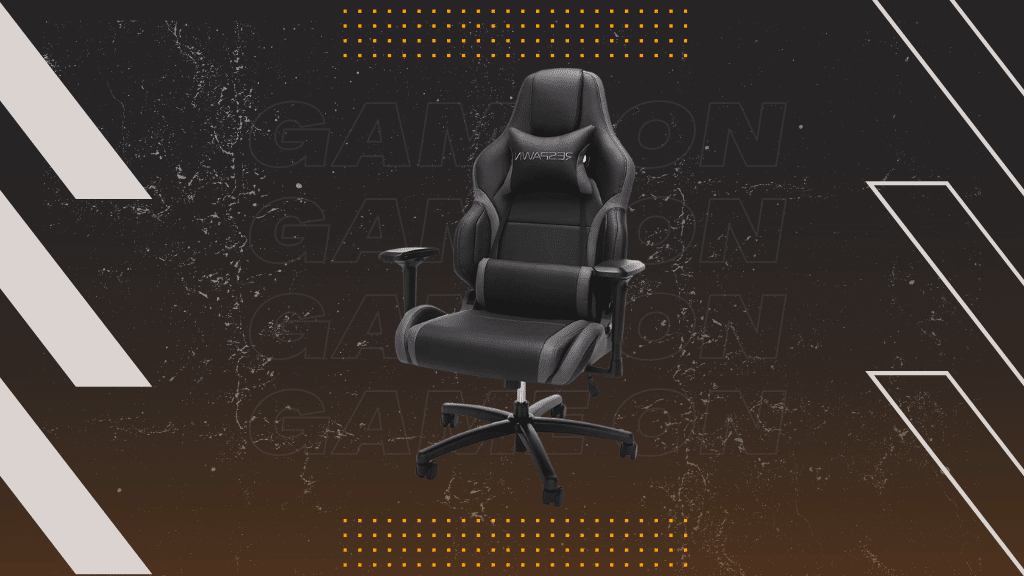 Max weight: 400 pounds | Recommended height range: Not specified | Height adjustment: 2.8" | Seat width: 24" | Seat depth: 24.3" | Max reclining angle: 130°
Great value for the money
4D armrests
Easy assembly
Might be too low for tall people
Our top picks are all exemplary gaming chairs, but they also cost an arm and a leg. Rather than sell those, you might want to be resting your arms and legs on the more reasonably-priced yet comfortable RSP-400 from Respawn. It's a strong contender for best gaming chair for big guys, but tall ones might want to look elsewhere.
Respawn burst onto the gaming furniture scene in 2017 and has been building traction ever since. They must be doing something right, as Respawn is now the official gaming chair sponsor for Faze Clan. The RSP-400 is their take on a chair for heavyset folks, with a max weight support of 400 pounds.
The chair is another racer, this time with pronounced shoulders and side skirts for the seat. The upholstery is made from bonded SoftThread leather and stitched together cleanly. The accents on the seat & pillows are available in several bright colors. There's no all-black version, but the gray one comes close to being stealthy.
Respawn made it easy to set the chair up in minutes. The amount of screws you have to deal with is minimal since most components simply slide into their predetermined places. Experienced DIYers shouldn't need help regardless of the chair's size and can have it ready by the time all the other factions take their turn in Warhammer 3's Immortal Empire campaign.
Thrifty Seating
Even though you can get two of them for the price of a Kaiser, the RSP-400 uses sturdy materials. The base is made from thick aluminum, and the steel frame that supports the user is even more robust. There's ample padding in the seat, not so much inside the backrest. That's offset by the lumbar & Neck pillow, both of which you can adjust or remove.
The armrests aren't stuck in place either. In true gaming chair fashion, the RSP-400 employs a 4D system akin to the ones we've already showcased. It works well, and the tops are padded. It's possible to recline in the chair, but at 130°, the max angle isn't as conducive for taking cat naps. Making adjustments within the chair's limitations is straightforward, though.
While it has many excellent qualities, the RSP-400 isn't the right choice if you're looking for a big and tall gaming chair. It covers the "big" part admirably since the seat is deep and wide enough for people with thicker frames to have enough breathing room.
The problem lies in its height adjustment. The XL version of the Titan Evo 2022 has a minimum seat height of 18 inches, extendable to almost 22. Respawn's chair starts at 16.8 and plateaus at 19.5. That makes it harder for the tallest gamers to sit without looking like frogs.