Many of us spend a large chunk of time staring into screens for work or play, so why not make that corner as nice as possible? Comfy chairs are already a staple, yet people underestimate the transformative power of investing in the best gaming desk. You could technically use any ol' table, but you're missing out on the comfort, utility, and durability purposefully built desks bring.
Having a desk that's built with computing in mind carries many benefits. Their tabletops are often large enough to house multi-monitor setups, while the undersides provide trays and other means of efficient cable management.
Some are height-adjustable, helping you maintain a correct posture while giving you a much-needed energy boost. There are even desks with built-in cup holders and other gaming amenities. We bring together models that feature all of these perks and more to help you transform your PC space into something glorious!
Arozzi Arena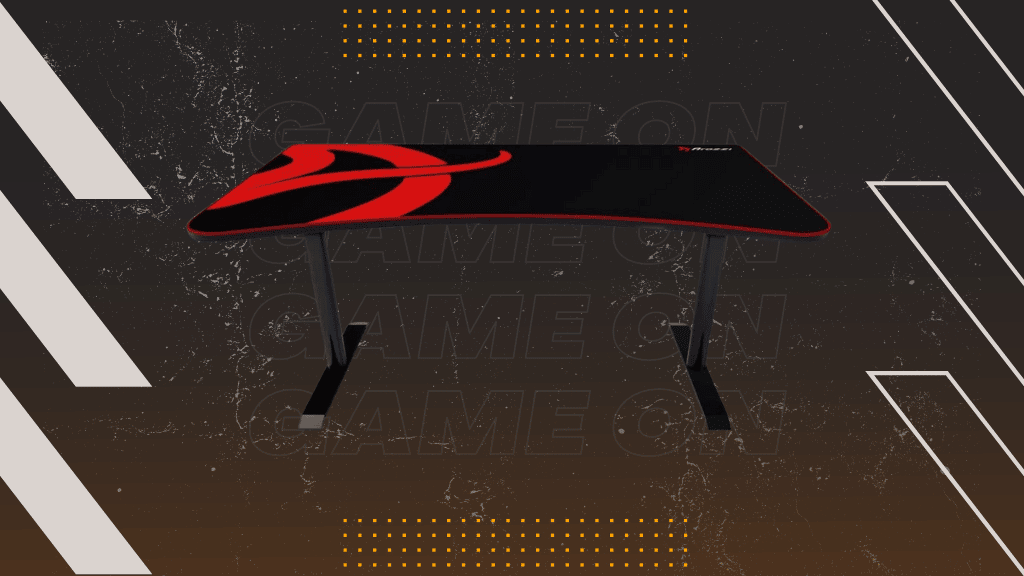 Arozzi Arena
Type: Height adjustable | Desktop sizes: 63" | Max weight: 175 lb | Height: 28-32"
Pros:
Outstanding build quality

Generous size

Comes with large, useful pad
Cons:
Mesh-based cable management is hit and miss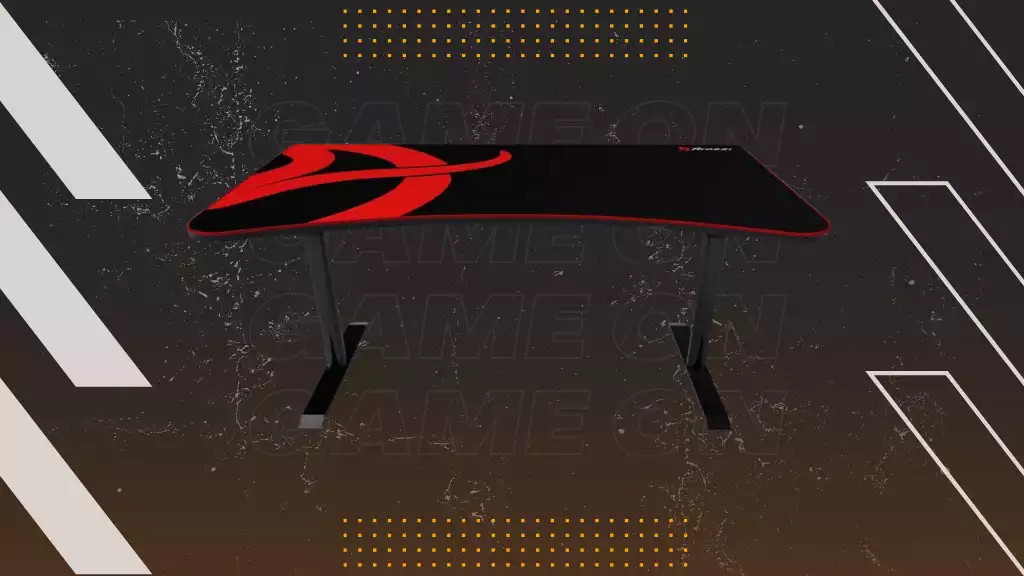 Arozzi is best known for quality gaming chairs, and the Arena desk is equally good. It's large enough to potentially house two desktops, comes with excellent cable management, and is made out of quality materials. Add an almost effortless assembly process, and you've got one of the finest gaming desks around.
The first thing you'll notice about the wooden table top is its shape. Rather than a straight line, its front side gently curves inward. This helps with ergonomics while letting you place your PC case or any other item you want within easy reach closer. The 63-inch length offers plenty of room for three monitors, and as many holes ensure you won't have trouble with their cables.
Speaking of, the Arena has an intriguing way of ensuring your cables stay put. There's some netting underneath that keeps cords straight and minimizes their visibility. How effective this is depends on the number and weight of the cables, though. Routing too many through the netting causes it to sag, which won't look as good.
Elegant, Firm, Functional
The metal legs are rock solid and can be adjusted in a three-inch span. Each also comes with rubber feet that prevent sliding, but you can remove those if you need even more stability. Assembling the desk is straightforward due to the lack of mechanical parts. Following the instructions and Arozzi's videos should have you up & gaming in around 30 minutes.
The Arena ships with a versatile mousepad that covers its entire surface. It will go a long way in protecting the desktop and can even handle spills due to being water resistant. The pad is machine washable, so you can restore it to top form if it ever gets too grimy.
There's plenty of room in the front for any mouse and keyboard combo. Using your monitor's KV switch makes it possible to just hook up & house two PCs simultaneously. Gamers who also stream are bound to find this a real boon.
Finally, let's talk about the Arena's design options. You can choose among five leg colors, each accompanied by a unique mousepad. Mixing and matching is possible, but you'll have to set aside an extra $100 for the different pad.
Secretlab Magnus
Secretlab Magnus
Type: Standard | Desktop sizes: 59" | Max weight: 220 lb | Height: 29"
Pros:
Outstanding build quality

Excellent cable management

Modular accessories
Cons:
Relatively expensive, more so the more accessories you get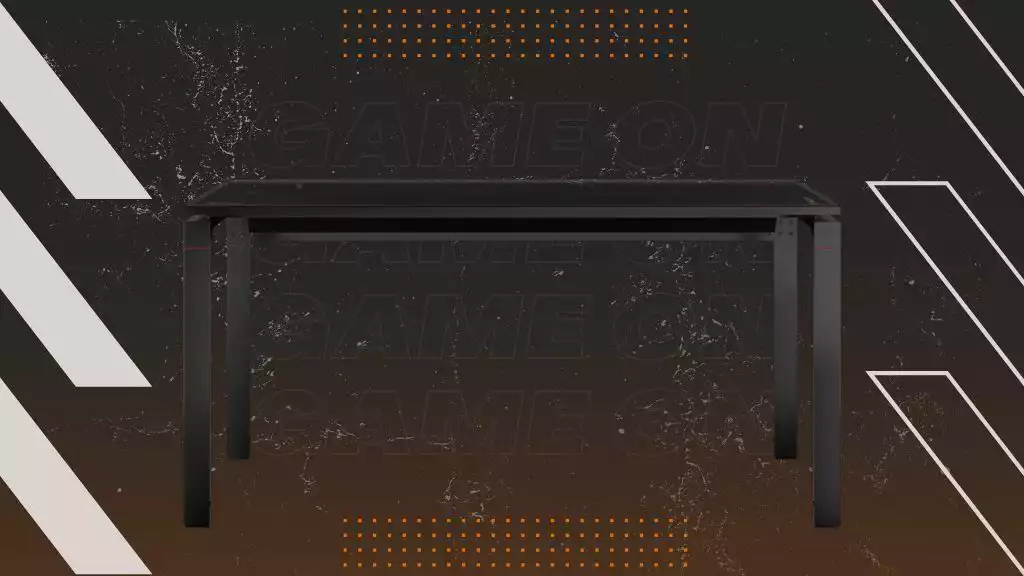 We all want our gaming builds to look impeccable, and cable management is part of the equation. Several models on the list contribute to cord tidiness, but none does it as seamlessly and effectively as SecretLab's Magnus. It's hands-down the best desk for gaming if you like your battle stations presentable and flashy. Even if that's of little importance to you, the outstanding build quality and thoughtful design make a compelling case.
Without the accessories we'll get to shortly, the Magnus barely looks like a PC gaming desk. Its stealthy black finish with sparse red accents goes hand in hand with most versions of the acclaimed TITAN Evo. Even so, the desk's sheer presence and mass can't be denied. At 92 pounds, it's a beast to move and requires two people to put together. Even so, the top looks like it's floating due to how it connects to the frame.
The heft is down to the Magnus being almost entirely made from metal. Even the MDF tabletop is enclosed in a textured metal sheet. Mind how you handle it since scratching can occur easily. The legs are made from thick steel and are very stable. While not so adjustable that you could convert it into a standing desk, the legs afford the Magnus 2cm of wiggle room.
No More Cable Clutter
Innovative cable management is the desk's best feature by far. Secretlab solved the problem simply and elegantly – by including a tray in the back for all your power strips, USB cables, and other related needs. Large laptop power bricks might not fit, but wires simply disappear inside the tray space and peek out only to connect to their respective devices. Better yet, you get several strong magnets you may use to clamp some cords down onto the table top and have a handy source of USB connectivity.
The Magnus can do much more if you're up to paying for it. Other than the useful tray, the base version lacks any outstanding features. You may remedy this by investing in accessories. We recommend you spring for the magnetic mouse mat since it's made from a premium leatherette and will significantly improve the tabletop's longevity.
An RGB strip is sure to become a fan favorite. It has magnets on either end and can be attached inside the tray for a cool-looking aurora effect that's best visible if you keep the desk close to a wall. The magnetic trend continues with leg sheaths that hide the main power cable and even a headphone tray.
There's nothing inherently wrong with the Magnus. That being said, it's not cheap to begin with, and unlocking its full potential requires you invest quite a bit more.
ApexDesk Elite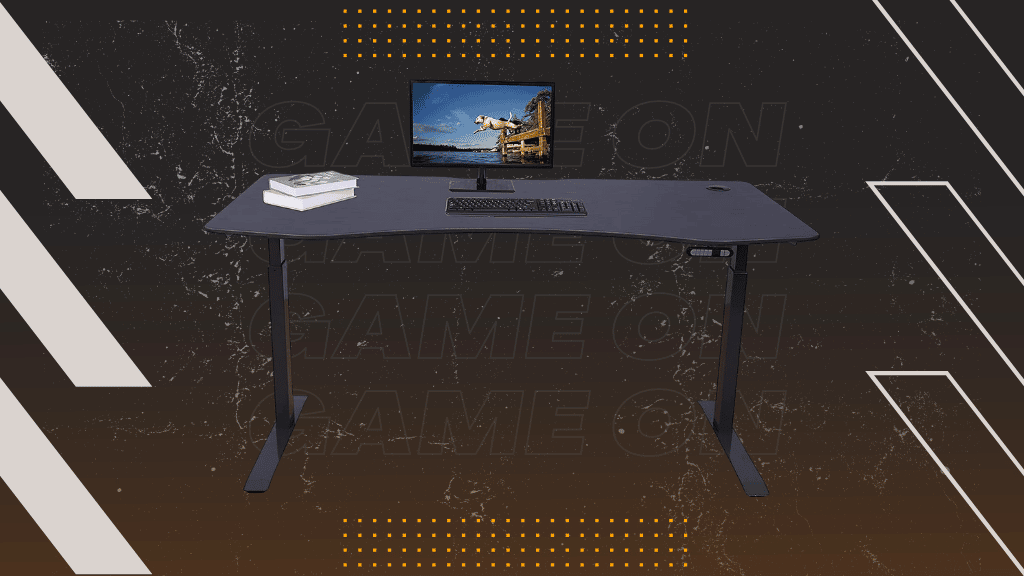 ApexDesk Elite
Type: Height adjustable | Desktop sizes: 60", 71" | Max weight: 235 lb | Height: 29" – 49"
Pros:
Works well for sitting and standing alike

Sturdy construction

Easy operation
Cons:
Cable management tray is a separate purchase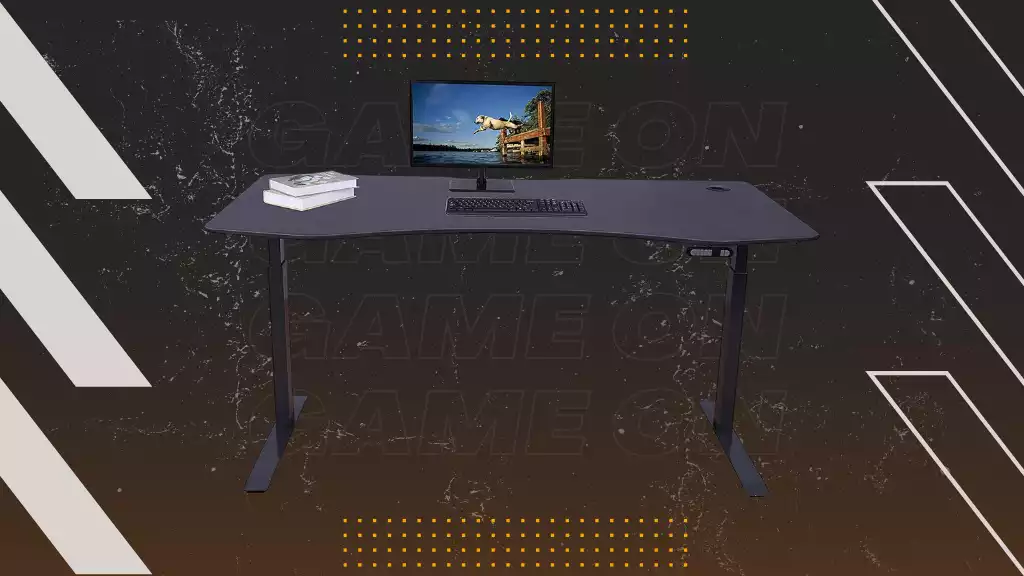 As much as slaughtering waves of infernal monsters in Doom Eternal can do wonders for stress relief, prolonged gaming isn't good for your health. There are ways to alleviate this, and investing in a suitable standing desk is one of them. Enter ApexDesk, a company created by gamers who wanted to tackle lousy posture and its consequences. The Elite is a refined and relatively approachable desk that lets you do just that.
The Elite has been around for seven years but has undergone some changes. Customers used to complain about poor packaging, which is no more. There are also many more styles of wood and finishes to choose from, and you can even forgo the tabletop and just get the frame.
This is an affordable model as electric standing desks go, yet the materials used are strong. The top is made from laminated fiberboard, while the legs are steel. Their feet are L-shaped, and each comes with a locking mechanism for extra security. You have to plug them into a control box in the center of the frame and can secure the cables with zip ties for a tidier look.
Managing your component cables is easy due to grommets on each side of the desk. A cable tray is sold separately and can improve the routing experience further. The Elite is similar to Arozzi's Arena in that it curves inward. While this reduces the surface area, it helps with ergonomics. We're checking out the 60″ model. You could also get the 71″ variant if you need room for more computers or prefer speakers and sound bars.
Sit, Stand, Conquer
The assembly process is more involved than most due to securing the legs and connecting their motors. Even so, the clear instructions should lead guide you through it painlessly. You'll want someone to help you prop the desk up once it's assembled, as it's unwieldy and heavy.
Seamless height adjustment makes the Elite a shoo-in for the best gaming desk if you want to alternate between sitting and standing. A control panel to the right of the frame's center offers smooth height control. You adjust where the desk should be from 29 to 48 inches and can then memorize its position to one of four places. Recalling them is a matter of double-tapping the 1-4 keys. The Elite's loud motors spring into action and adopt the correct height in seconds.
Eureka Ergonomic Z1-S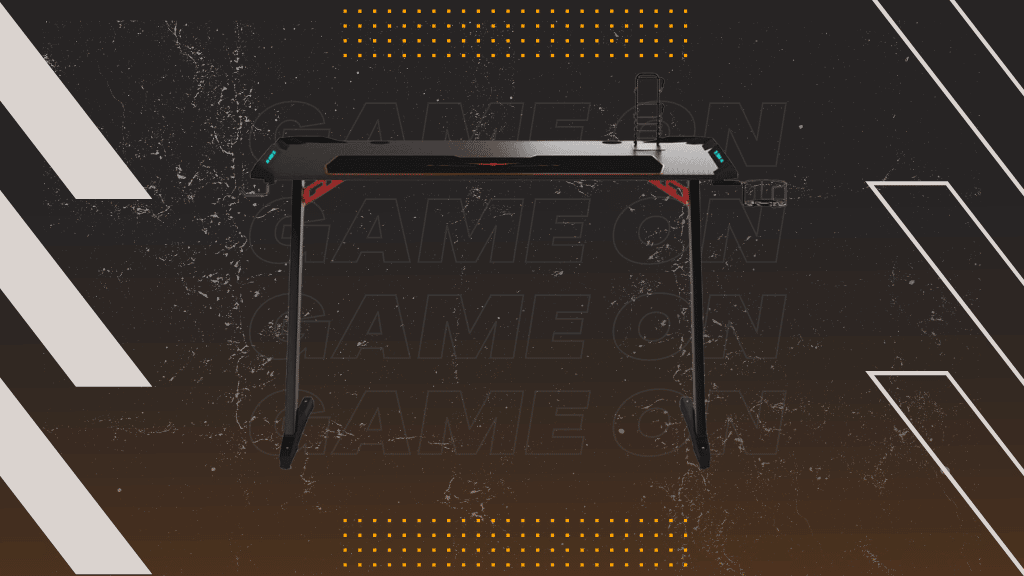 Eureka Ergonomic Z1-S
Type: Standard | Desktop sizes: 44.5" | Max weight: 200 lb | Height: 30"
Pros:
Excellent value for the money

Comes with loads of gamer-specific accessories

Sturdy construction and straightforward assembly
Cons:
Might be too small for some
Are you content with having a fixed-height desk that's smaller than the Arena but brimming with gamer-centric features? Then the Z1-S from Eureka Ergonomics is what you're after. It's a simple yet sturdy and well-made desk with several accessories gamers will appreciate. It's among the least expensive models on the list but doesn't feel cheaply made.
The Z1-S is available in a single size and comes in at a height of 30 inches. The tabletop has a cool black carbon fiber-like texture but is made from laminated plastic. Its edges and the Z-shaped legs have plastic armor accentuating the gamer look. RGB is another inescapable gaming extra. Three long LEDs on each side shine in one of six colors and can match any light show you've got going on reasonably well.
Eureka Ergonomic surveyed gamers that asked which features they'd like to see on a gaming desk. A cup holder was the most requested one, so the Z1-S has one. Its implementation is clever – the holder is attached to the bottom right corner and made of a wireframe. It's close enough to be within reach but far enough to spill on your precious keyboard accidentally.
Accessories Galore
The headset hook is another helpful accessory that saves desktop space while providing a place for your headset to rest while not in use. A sizeable non-slip pad keeps your mouse & keyboard in place. Finally, there's also a controller rack that will fit two slender controllers and several CD/DVD cases, provided you still need those. Our only gripe with the accessories is their fixed positioning – it would have been nice to be able to switch the cup holder and headset stand etc.
Assembling the Z1-S isn't tricky, but it is time-consuming. It arrives in many pieces of varying sizes and with a screwdriver to put everything together. The instructions don't contain text, which is just as well since the pictures clearly show what to do during each step. Set aside an hour or so for the project, and you're sure to do fine.
For a desk made by a company called Eureka Ergonomic, the Z1-S lacks any actual ergonomic features. What you see is what you get, which is plenty for a PC gaming desk in this price range. The Z-shaped legs and metal frame are robust but immovable. The desktop provides just enough room for your peripherals and up to two monitors.
Eureka Ergonomic is on the right track. Adding a few larger models in the future could give them even more recognition as it would let users move their rigs from the ground and become true desktop PCs.
Respawn RSP-3010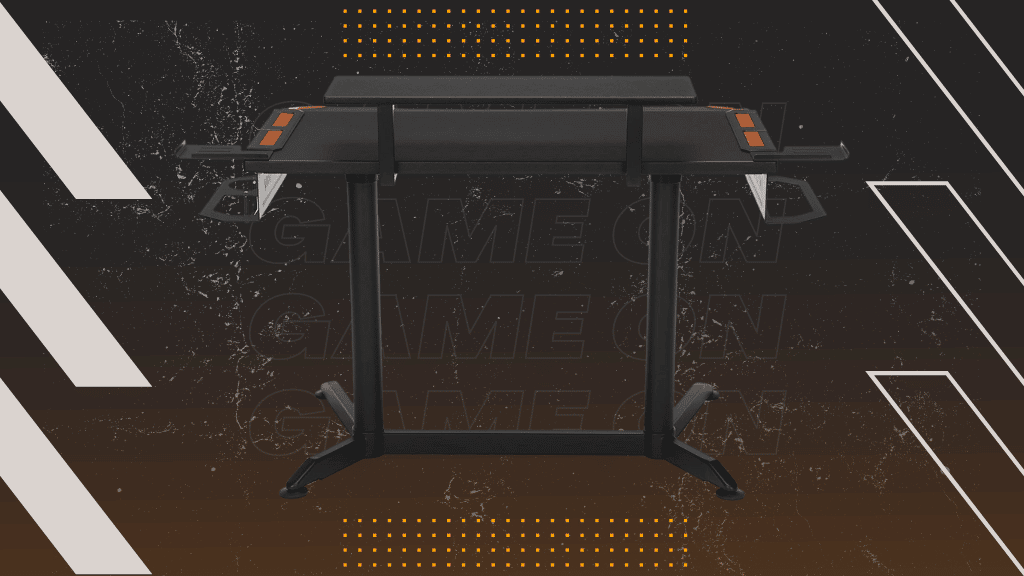 Respawn RSP-3010
Type: Height-adjustable | Desktop sizes: 52.5" | Max weight: 200 lb | Height: 33.5"
Pros:
Height adjustability at a good price

Monitor tray and room for speakers

Straightforward setup
Cons:
Lacks any kind of cable management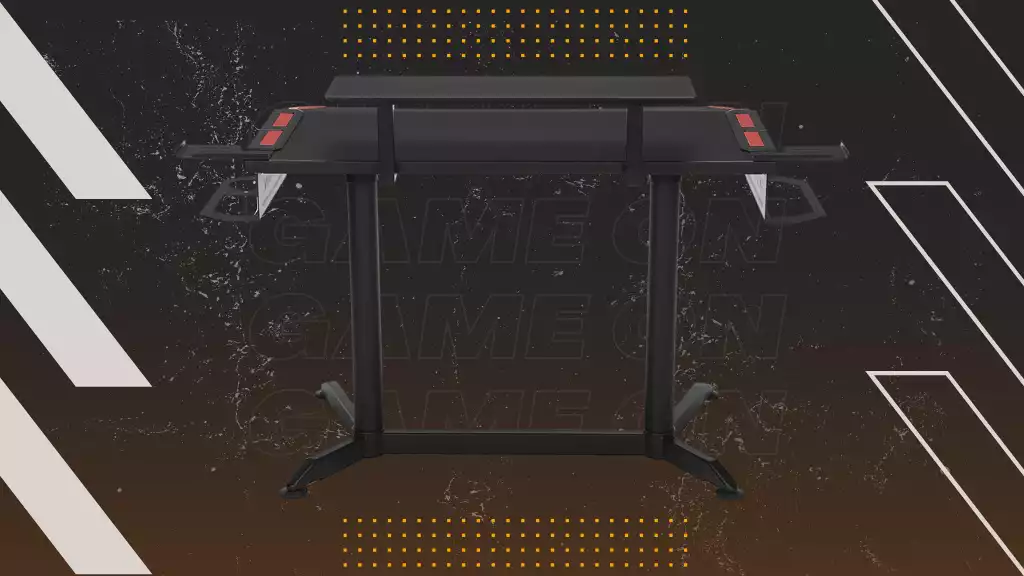 Do you like the ApexDesk Elite's height adjustment capabilities but don't want to spend as much? If you don't mind going manual, the RSP-3010 from Respawn is a fantastic alternative. It's more affordable, comes with more gaming accessories, and even has a monitor shelf. Depending on color choice, you can get an excellent deal on the desk that's otherwise priced in the $300+ range.
Several small details come together to make the RSP-3010 best gaming desk material. Unlike on other models, its front is slightly slanted and acts as a natural wrist rest. Perfect for when your keyboard doesn't come with one. Rails on either side accommodate headsets, and a cup holder is conveniently located on the right.
The desk features slightly raised sides with futuristic decals. You can get these in four different colors. Also off to the sides are holders that accommodate 5×5" speakers. Moreover, you get a 5.5-inch tall monitor shelf that helps greatly with posture.
Another Excellent Height-Adjustable Desk
Speaking of posture, the RSP-3010 is a height-adjustable desk. No motors are there to assist, so you'll have to rely on elbow grease to lock it into the right height. Luckily, the process is easy since you just need to hold down a lever and apply pressure in the desired direction. A 16-inch height span ensures you'll be as comfortable sitting down in front of the desk as well as standing when stretching your legs.
Installing the RSP-3010 involves going through fourteen steps laid out in the included visual guide. The instructions go through each step clearly, and you get Allen wrenches to get you through most of the process. The legs might wobble if you place the desk on thick carpet, so consider removing the small feet to increase stability in that case.
It looks like the RSP-3010 is equal to or better than the Z1-S, so why is it further down? A complete lack of cable management. You could tidy things up yourself with zip ties and alligator clamps, but it feels strange that a desk with so many bits & bobs that are jutting out doesn't also include a tray or grommet.
Waleaf Vitesse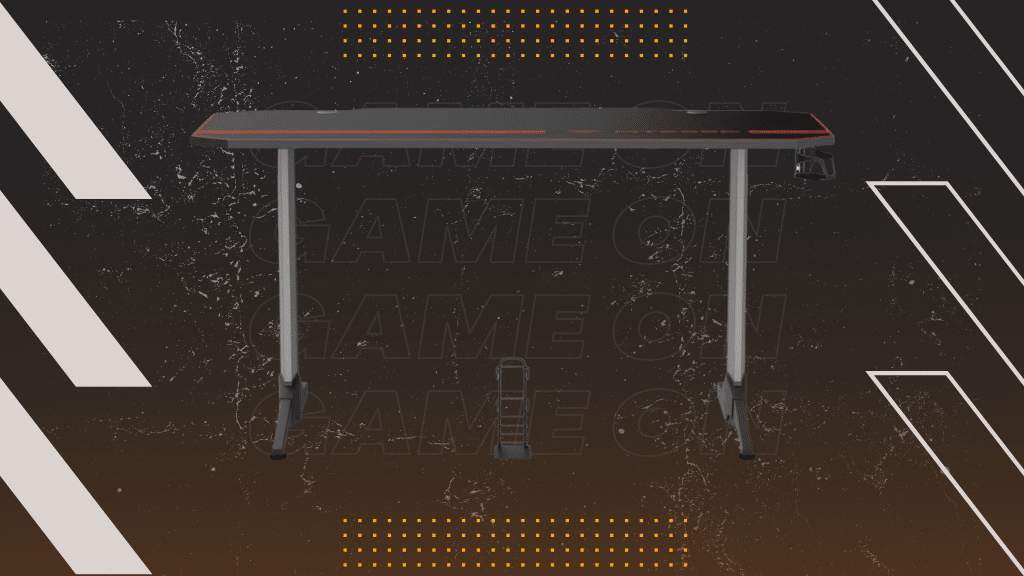 Waleaf Vitesse
Type: Standard | Desktop sizes: 40", 55", 63" | Max weight: 260 lb | Height: 28.5"
Pros:
Affordable

Great cable management

Decent build quality for the price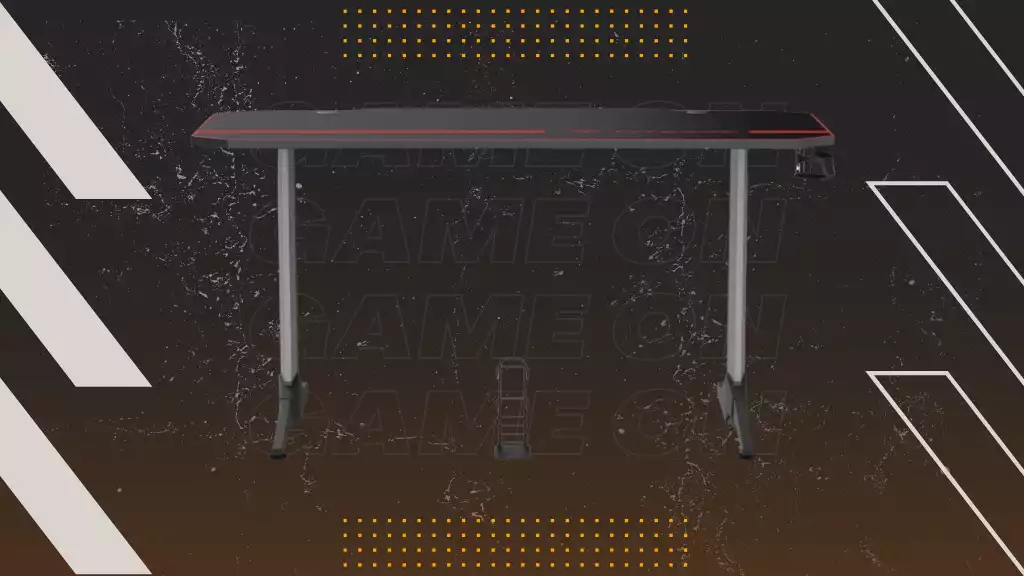 Our cheapest recommendation may be all you need if you care much more about utility than gaming aesthetics. While it doesn't stand out from the crowd, the Vitesse makes up for this by bringing a lot of room and excellent cable management. Putting it together isn't a pain, and you can put the money you'll save on it towards upgrading something inside your PC.
Unlike its more aggressive competitors, the Vitesse is a minimalistic desk with pleasantly beveled edges. Its top has a carbon-fiber-like diagonal wave texture that keeps your peripherals from moving. Two holes are there to route cables from as many monitors, and you can plug them with plastic caps if they aren't in use.
The desktop is available in three sizes and comes in two parts. The middle 55" desk we focus on here supports 260 pounds of weight, far more than any case and two displays put together can muster. The two-part construction might sound flimsy, but you screw them to a metal plate in the middle, which then attaches to two cross beams. There's no flex during regular use; only intentionally putting considerable pressure on the point produces some.
Assembling the desk is a mixed bag. On the one hand, you get all the needed bits and extras for most. Conversely, you can't rely on the instructions since they cover the process poorly. Still, you should be fine if you've ever assembled furniture before.
No More Gordian Knots
Like several gaming desks we've talked about, the Vitesse comes with a cup holder, a headphone hook, and a controller rack. All are serviceable, but the hook could be a bit closer to the front. All but the rack are fixed in place, so there's no switching around.
This is one of the better desks in terms of cable management. Rather than just having grommets, the Vitesse comes with a detachable plastic part that screws into the back of the bottom. It has seven cable lanes, enough to route two monitors, your mouse & keyboard, and some headphones without everything ending up in a tangled mess.
The desk itself has few eye-catching features, so Waleaf compensates by providing a full-length mouse pad. It's a good idea to use it or invest in one you'll find more attractive as the table surface is a fingerprint magnet.