The 12700K is among the most powerful and versatile CPUs in the world. It's equally good at crunching endless numbers or letting you keep track of crowded battlefields in your favorite Total War installment. It's also the type of CPU that won't be bottlenecking several generations of graphics cards. To that end, the best GPU for i7 12700K is the one you can afford.
Luckily, GPU prices have finally come down to what they should have been at launch. NVIDIA and AMD have each released more than half a dozen models in the last two years, to say nothing about countless more versions by brand partners. We've selected five cards that cover everything from 4K AAA to competitive 1080p gaming to help you jump in with confidence.
Best GPUs for i7 12700K
ASUS TUF Gaming NVIDIA GeForce RTX 3080 OC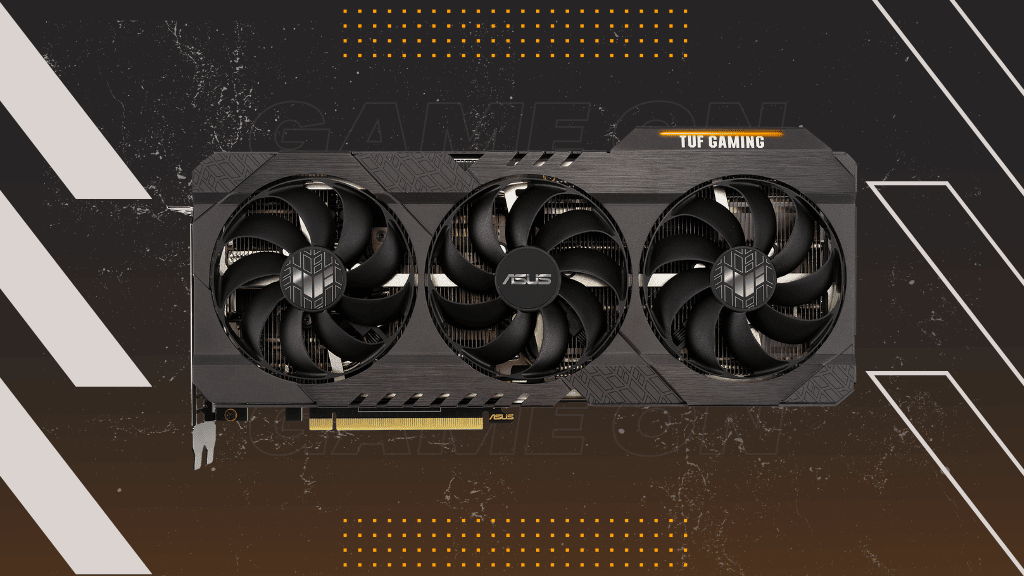 Base clock: 1440MHz | Boost clock: 1775MHz | Memory: 10GB GDDR6X | Ports: 3x DP 1.4, 2x HDMI 2.1 | TDP: 300W
Makes 4K Ultra at 60+fps possible
Exceptional cooling
Attractive subdued aesthetic
Expensive
While not the fastest in its lineup, the RTX 3080 is NVIDIA's flagship gaming GPU. It comes with substantial upgrades to all the technologies that made an impression during the Turing days, allowing for the highest fidelity of AAA gaming in 4K or triple-digit 1440p performance. The TUF version is a step up from previous models, combining refined aesthetics and excellent cooling into an appealing whole.
ASUS has been cutting down on design elements that alienated some from the TUF brand. The result is a beautiful, almost completely black card with a brushed metal shroud and minimum RGB on a small strip on top. Its three axial fans are surrounded by large cutouts that expose the heatsinks below, and a metal backplate adds extra stability.
The RTX 3080 is built on the GA102 die and comes with a substantial increase in the number of CUDA, tensor, and raytracing cores compared to the 2080. They're also more refined, allowing for quicker calculations and better performance. The card has 10GB of GDDR6X memory that runs at 19Gbps on a 320-bit bus. Its base clock is 1440MHz, while ASUS bumped the boost clock by 75MHz to 1785MHz.
Almost all current GPUs take up a lot of space regardless of power. You'll need three GPU slots to house the RTX 3080 and adequate room inside the case for ventilation. The card itself boasts an outstanding cooling solution. It consists of two heatsink arrays and a hefty baseplate that covers the VRM and chipset. There are also cutouts in the PCB for air to blow around it and cool everything better.
TUF Enough for Any Game
Even though GPU prices are falling, the 3080 might still be out of reach for some. Gamers who don't mind paying a premium can look forward to cranking everything up and delighting at the smooth framerate on a 4K monitor. Well, except in Cyberpunk 2077, but that's down to poor optimization. The 12700K + RTX 3080 combo should last for years otherwise, especially once DLSS comes into play.
The dual BIOS feature lets you choose between quiet operation and the lowest temperatures. We'd go with the latter since toggling the switch will net you temperatures in the mid-60s. Switching to the quiet preset will drop the decibel count towards 30 but raise thermals past 70°C.
XFX Speedster MERC319 AMD Radeon RX 6800 XT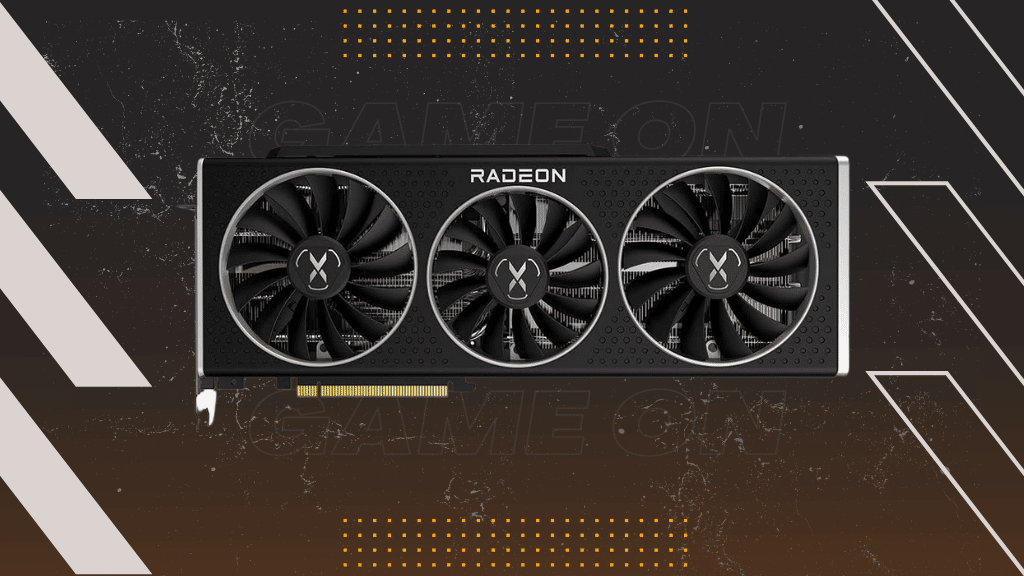 Base clock: 2110MHz | Boost clock: 2360MHz | Memory: 16GB GDDR6 | Ports: 2x DP 1.4, 1x HDMI 2.1, 1x USB-C | TDP: 300W
Want a gaming GPU that matches the RTX 3080 in almost everything while costing less? Team Red's RX 6800 XT is what you're after then, and XFX has made one of its most attractive & efficient variants. It's going to be the best GPU for i7 12700K for many gamers who care only for performance & value.
AMD's return to the high-end segment is a resounding success. There's no reason not to partake of it unless you're also utilizing the 12700K for its multitasking and rendering capabilities.
AMD's RDNA2 architecture is proof that one can achieve excellent performance in more than one way. For example, the RX 6800 XT has fewer compute units than the RTX 3080 has CUDA cores. It also uses the older GDDR6 memory standard on a narrower 256-bit bus. Still, more VRAM, the introduction of a large third layer Infinity Cache, and a hefty base & boost clock increase over NVIDIA make for comparable real-world results.
The Merc's sleek profile, metal shroud, and silver trim distinguish it as one of the most attractive cards of our time. Its fans have thirteen blades, and the middle one is smaller to improve turbulence. There's no RGB, but a GPU as handsome as this doesn't need it anyway. The sheer size might be an issue as the card is almost 13.4 inches long.
Modern GPUs generally have three DisplayPort and one HDMI connection. The Merc is slightly different since USB-C doubles as one of the DisplayPorts. The card's 300W TDP requires two PCIe power connectors, not to mention a decent PSU to keep the system stable.
This is another card with an elaborate cooling solution. Its baseplate connects to a heatsink array through seven heatpipes, while the fans & PCB allow for greater airflow thanks to cutouts. The Merc is also among the most structurally stable GPUs s due to an internal metal bracket that doesn't allow for sagging.
AMD's Return to Form
The simplest way to get an idea of the 6800 XT's relevance is to check out a comprehensive test Techpowerup did a while back. They benchmarked 50 games at three resolutions to settle the score. The RTX 3080 won in 1080p and 4K, but by such a small margin that it's barely worth considering. That being said, you'd still want to go with Team Green for much-improved raytracing performance and rendering or video encoding workloads.
The Merc also has dual BIOs, but there's hardly any difference between them. Expect temperatures in the low to mid-70s, which is normal for all but the most expensive or liquid-cooled versions of the RX 6800 XT.
GIGABYTE GeForce RTX 3070 Gaming OC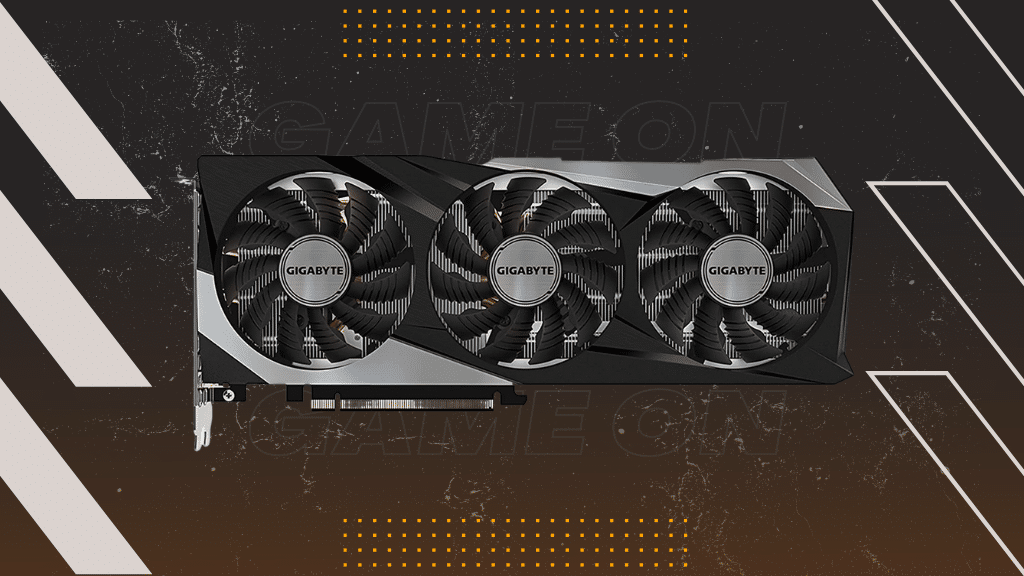 Base clock: 1500MHz | Boost clock: 1815MHz | Memory: 8GB GDDR6 | Ports: 2x DP 1.4, 2x HDMI 2.1 | TDP: 220W
Outstanding for 1440p gaming
Power efficient
Solid cooling solution
Slightly more expensive than FE
NVIDIA's xx70 cards are always among the most popular, offering much of the frontrunners' power at a more reasonable price. Now that you can actually get some without selling a kidney, the same has become true for the RTX 3070 too. We went with Gigabyte's Gaming OC version. It's among the more affordable models yet loses little on cooling capability while providing a performance bump over stock.
The RTX 3070 is built around a smaller GA104 die with roughly two-thirds of the 3080's CUDA cores & transistors. The memory and 256-bit bus are leftovers from the 2070, yet advancements to other components put the newer card on par with the mighty RTX 2080 Ti. You'll see Gigabyte's contribution in a boost clock 90MHz stronger than reference.
The card adopts an industrial design with slanted black & silver bits and ribbed fans that look trippy when off. It has minimal RGB concentrated on a small bar and logo on the top right. This is the smallest GPU we've recommended so far, but it's still thick enough to need three slots worth of space. Rather than adopt a standard port layout, it has pairs of HDMI and DisplayPort connections.
Setting the shroud aside exposes five copper pipes sandwiched inside the baseplate. They run through sets of heatsinks, efficiently transporting heat the fans blow away. This is another model with direct airflow on the right thanks to the card itself being longer than the PCB.
1440p Greatness
The RTX 3070 is the best GPU for i7 12700K if you've got a good 1440p monitor. It has a slight edge on the 6700 XT for traditional graphics and beats AMD's card soundly if you throw raytracing into the mix. Most games will work in 4K too if you don't object to lowering some settings & bringing DLSS in to help. Pro gamers with a taste for detail will love the 3070 as it lets them play games like Valorant at competitive framerates in 1440p.
While not as uniform as the Merc's. The Gaming OC's BIOS choices offer little variety. The regular one is quiet at close to 30dB. The OC BIOS ups the power limit, causing the fans to spin faster while lowering the thermal output below 70°C.
PowerColor Red Devil AMD Radeon RX 6700 XT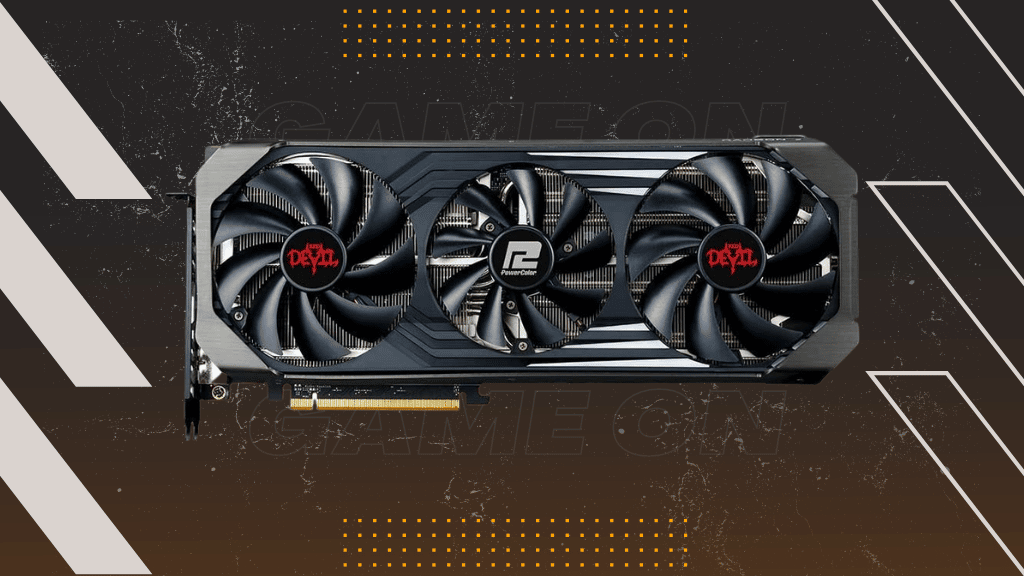 Base clock: 2424MHz | Boost clock: 2581MHz | Memory: 12GB GDDR6 | Ports: 3x DP 1.4, 1x HDMI 2.1 | TDP: 230W
The RX 6700 XT is AMD's answer to the mid-range defining RTX 3070. It's slightly weaker overall yet still good enough to deliver blazing-fast 1440p performance. Best of all, the Red Devil version is a genuinely affordable card & hopefully an indicator of further price drops.
Like NVIDIA, AMD uses two die sizes for its GPUs. The 6700 XT is built around the maxed-out Navi 22 chip, whose compute unit count and general specs correspond to 50% of the RX 6900 XT's capabilities. It balances a narrower 192-bit bus with 12GB of GDDR6 memory and Infinity Cache for 3070-like results.
The Red Devil is among the more extravagant models we've seen. It follows the trend of bulky, industrial cards with elevated shrouds but adds flair with unique RGB. This is a model you'd definitely want a rider for since slashes on the shroud light up and look great. There's even some RGB on the backplate in the shape of the Red Devil logo. The card has an RGB header you can plug into the motherboard for color scheme syncing.
Smaller power requirements mean that the Red Devil can get away with a less elaborate cooler than the 6800 XT. It's still a solid affair, with a thick nickel-plated baseplate and six plated heatpipes shooting out of it to cover the heatsink. The fans are similar to the Merc's in that the central one is 9mm in diameter, while the other two are 10mm.
Infernal Speed
It seems that AMD has a successful counter to almost any NVIDIA card as there's little difference between the Red Devil and 3070 Gaming OC. True, the gap is a little wider than in the higher tier, but that hardly matters when it translates to less than five frames when you're already pushing triple digits. The two GPUs experience similar 10% and 1% lows, so the RX 6700 XT makes slightly more sense from a gaming standpoint when stuttering does occur it's less jarring.
PowerColor designed the Red Devil with an emphasis on silence. You'd be hard-pressed to figure out the acoustic difference between its normal and OC BIOS since neither breaches 30dB. The regular BIOS keeps things slightly cooler, so we'd always go with that.
ZOTAC GeForce RTX 3060 Ti Twin Edge OC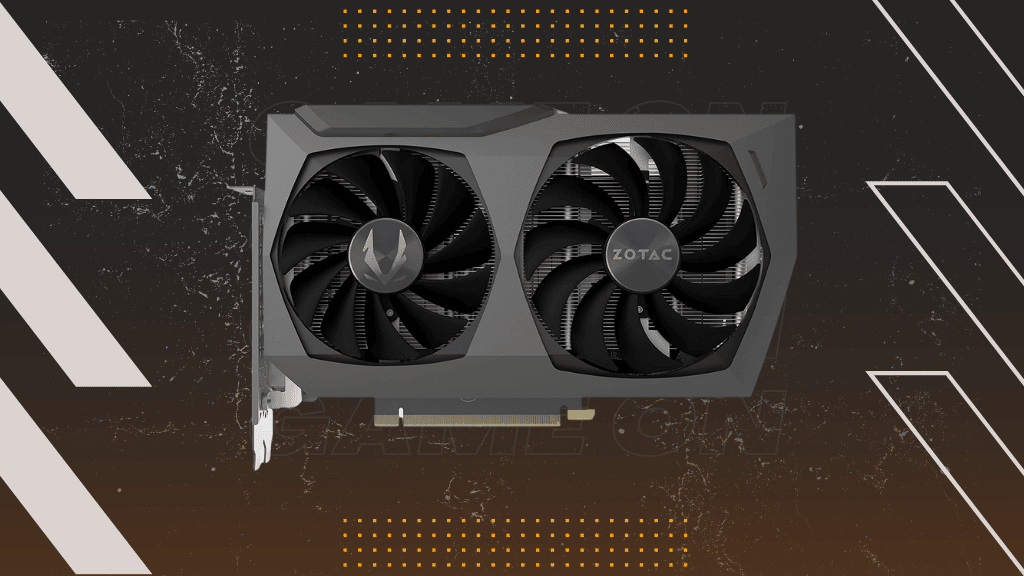 Base clock: 1410MHz | Boost clock: 1695MHz | Memory: 8GB GDDR6 | Ports: 3x DP 1.4, 2x HDMI 2.1 | TDP: 200W
Significant price drops brought on by crashing crypto markets have yet to make their way to entry-level cards. That's why our last entry is less powerful than the Red Devil yet costs more. Once that's settled, the RTX 3060 Ti will become the perfect entry point into the world of raytraced graphics or a fantastic card for people with high refresh rate 1080p monitors.
Unlike most of the best graphics cards for Intel i7 12700K in the upper tiers, Zotac's model is more compact. It's just 8.9 inches long and takes up two slots, so it should fit snugly inside small cases. The design is simpler than most, with a plastic gray shroud and a cool metal backplate that partially extends towards one of the sides.
Internally, the card is based on a limited version of the GA104 silicone used for the RTX 3070. Ten of its 48 streaming processors are disabled, with a proportionate decrease in tensor, CUDA, and raytracing cores. The OC in its name refers to a modest 30MHz addition to the boost clock over reference. There are no changes to memory configuration from the more powerful card.
Rail power and a single 8-pin PCIe connector meet all the RTX 3060 Ti's power needs. The card has a standard port complement and comes with a single BIOS. It has a less sophisticated cooling setup where four heatpipes split off into two directions to cover heatsinks on either side of the base plate.
1440p, the New Standard
NVIDIA touted the 3060 Ti as the equivalent of the RTX 2080 Super. A bold statement, but one that's backed by real-world data. The card performs well in most 1440p titles, not even struggling to exceed 60FPS in a maxed-out Red Dead Redemption 2. It also has no trouble maxing high refresh rate 1080 screens out in less demanding games.
Comparatively large heat generation is the card's only drawback. It's not surprising given the compact frame and simpler cooler design. Temperatures rise above 70°C, which isn't that bad. The card gets loud, though, so you might want to consider spending extra on a model from ASUS or EVGA if silence is a priority.