Specs:

Size: 32"
Panel type: VA
Refresh Rate: 165Hz
Max Brightness: 330 Nits

Specs:

Size: 32"
Panel type: IPS
Refresh Rate: 144Hz
Max Brightness: 350 Nits

Specs:

Size: 32"
Panel type: IPS
Refresh Rate: 144Hz
Max Brightness: 400 Nits

Specs:

Size: 32"
Panel type: IPS
Refresh Rate: 144Hz
Max Brightness: 440 Nits

Specs:

Size: 28"
Panel type: IPS
Refresh Rate: 144Hz
Max Brightness: 300 Nits

Specs:

Size: 27"
Panel type: IPS
Refresh Rate: 160Hz
Max Brightness: 400 Nits

Specs:

Size: 28"
Panel type: IPS
Refresh Rate: 144Hz
Max Brightness: 300 Nits
HDMI 2.1 has been in the works for years, and now it's finally here! Why all the excitement? In short, the updated standard is ushering in a new age in picture clarity. It allows users with current-gen consoles and beefy GPUs to experience 4K at 120 and 144Hz, respectively. The cable that connects the best HDMI 2.1 monitors to them has a bandwidth of 48Gbps. This allows for higher refresh rates, 10-bit color, and an improved audio experience all in one. Discover the right monitor for your needs and embrace the changes yourself!
Finding a 4K HDMI 2.1 monitor can be thoroughly confusing. The body that governs HDMI standards officially allowed manufacturers to advertise their monitors as HDMI 2.1 capable even though they are technically only up to the HDMI 2.0 standard. Therefore, you should pay attention to a specific model's feature set rather than its label. All our picks are true HDMI 2.1 models, which reflects on their price and excellence.
SAMSUNG Odyssey Neo G7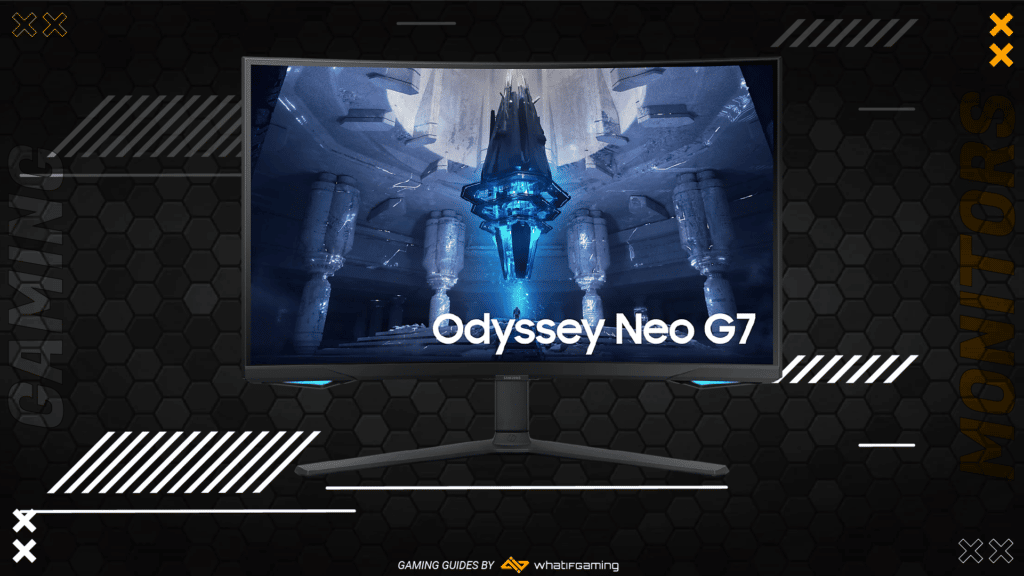 SAMSUNG Odyssey Neo G7
Diagonal size: 32" | Panel type: VA | Refresh Rate: 165Hz | Contrast: 4000:1 | Actual Response Time: 7.4ms | Max Brightness: 330 Nits | Tilt: -12.5° / +7.5° | KVM Switch: No
Pros:
Outstanding contrast and black levels, even for a VA panel

Excellent response times and minimal input lag

Comprehensive and informative OSD
Cons:
Curve might not be for everyone, poor initial calibration one can easily fix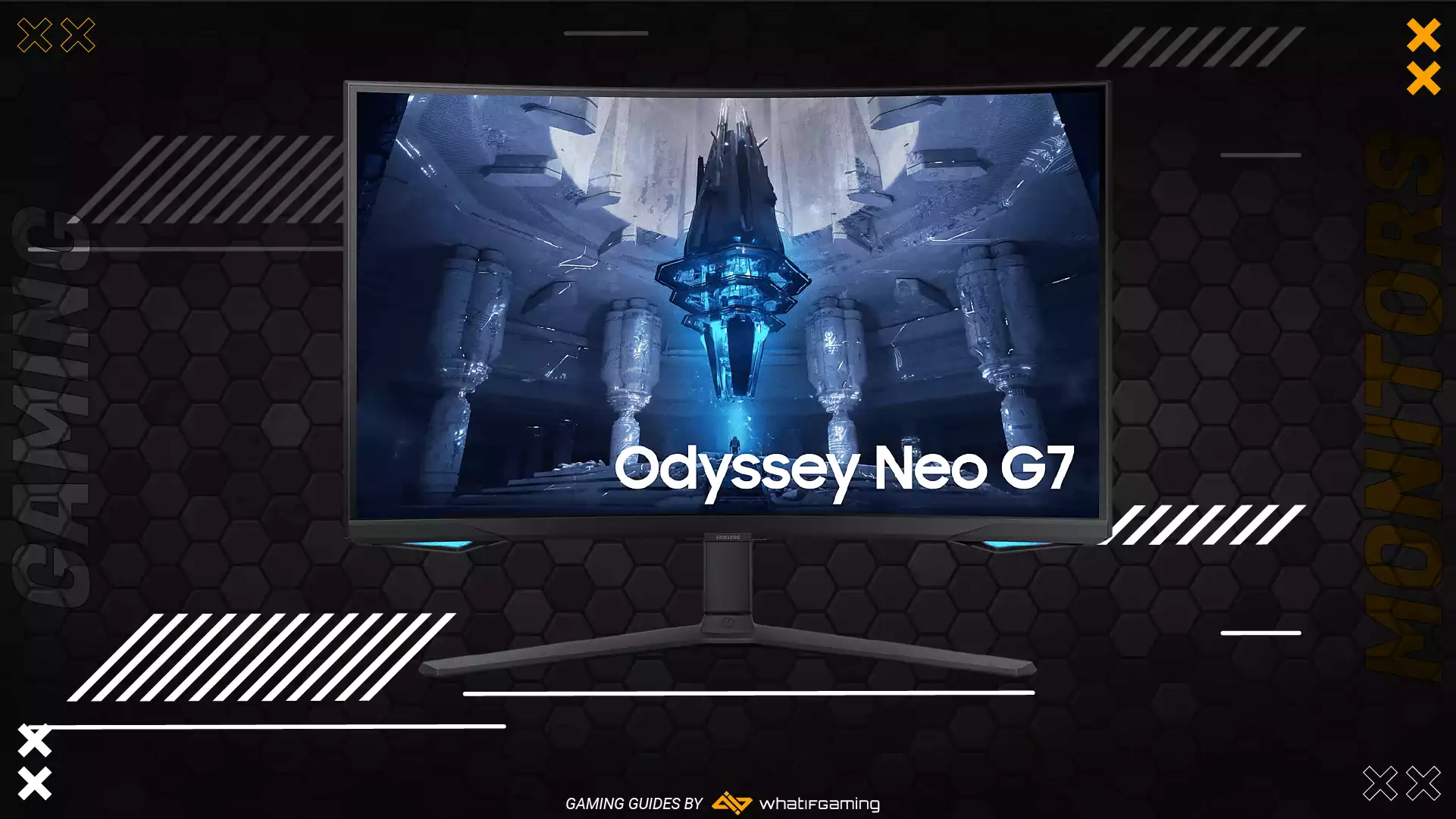 The Neo G7 updates Samsung's high-end monitor line with a model few come close to in overall gaming prowess. It has a curved VA panel, so you'll want to look at some of our other choices if straight lines are crucial. However, everyone else is getting a honed gaming monitor with nearly instant response times and awesome contrast.
The aggressive screen curve is the first thing many notice about the Neo G7's look. It's a definite statement of gaming intent, but it's also practical and unavoidable at such diagonals due to VA's sub-par viewing angles.
The display is clad in thick and durable plastic. Lines radiate out of the back, creating an understated yet fun pattern. RGB lovers get to bask in a doughnut-shaped halo in the back accompanied by two small sources on the bottom lip. The monitor's tilt and height adjustments are excellent, but the swivel could be less constrained.
A wide V-shaped stand supports the Neo G7's 20-pound weight with little wobble. It has a cable management hole and is very wide, so you'll want a sizeable desk but can place most keyboards or sound bars inside the space the base creates.
Some users might feel disappointed with the colors when turning the Neo G7 on the first time. Its white balance skews towards warmer colors, and black levels are mediocre. However, tinkering with settings or downloading an ICC profile boosts accuracy almost to perfection.
4K Gaming Excellence
The monitor's color scope is also excellent. Its sRGB mode successfully restricts the output to adhere to this color space. Conversely, HDR content looks radiant since you're getting complete DCI-P3 coverage and more than 85% of Adobe RGB.
Contrast and local dimming are outstanding. The Neo G7's VA panel has a contrast ratio three times deeper than any IPS competitor's. Engaging the local dimming option improves it even further, getting you as close to OLED levels as non-OLED technologies allow.
Its more than 1,000 local dimming zones are exceptional for a 32″ display and excel at making smaller bright areas stand out from darker backgrounds.
All the above makes the Neo G7 excellent for media consumption. A 165Hz refresh rate at 4K and world-class response times for its panel type turn it into a tool that can give an edge to the competitive gamer. It also boasts almost non-existent input lag that instantly reflects mouse movements or keyboard strokes on the screen.
Two HDMI 2.1 ports lead the Neo G7's diverse port selection, joined by DisplayPort 1.4 to complete the video in section. Not having USB-C is a shame, but most users should be content with its two 5Gbps USB-A ports when connecting their peripherals. Finally, you can connect a pair of headphones through a 3.5mm jack.
We like the OSD since it's contrasty, easy to navigate, and displays several relevant stats inside bubbles no matter which panel you're at. It allows for in-depth image adjustments while also providing some of the most popular presets & extras like local dimming adjustments or onscreen crosshairs. We just wish that Samsung went with a joystick instead of the directional pad.
GIGABYTE M32U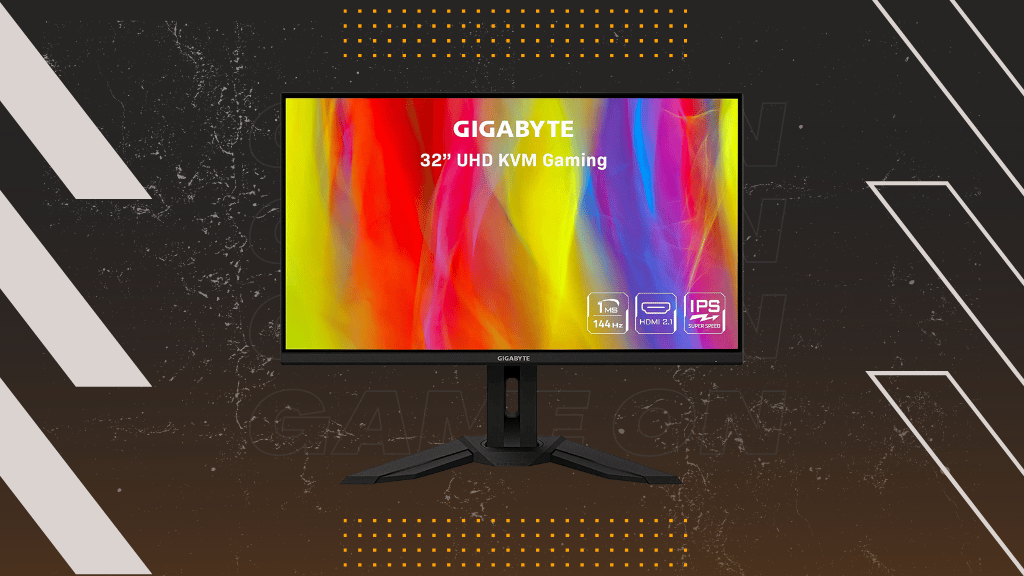 GIGABYTE M32U
Diagonal size: 32" | Panel type: IPS | Refresh Rate: 144Hz | Contrast: 1000:1 | Response Time: 7.1ms | Max Brightness: 350 Nits | Tilt: -5° / +20°
Pros:
Superb picture quality that needs minimal calibration

Great response times and slight input lag

Reasonably priced for a monitor of this size
Cons:
Can't pivot without switching to a VESA mount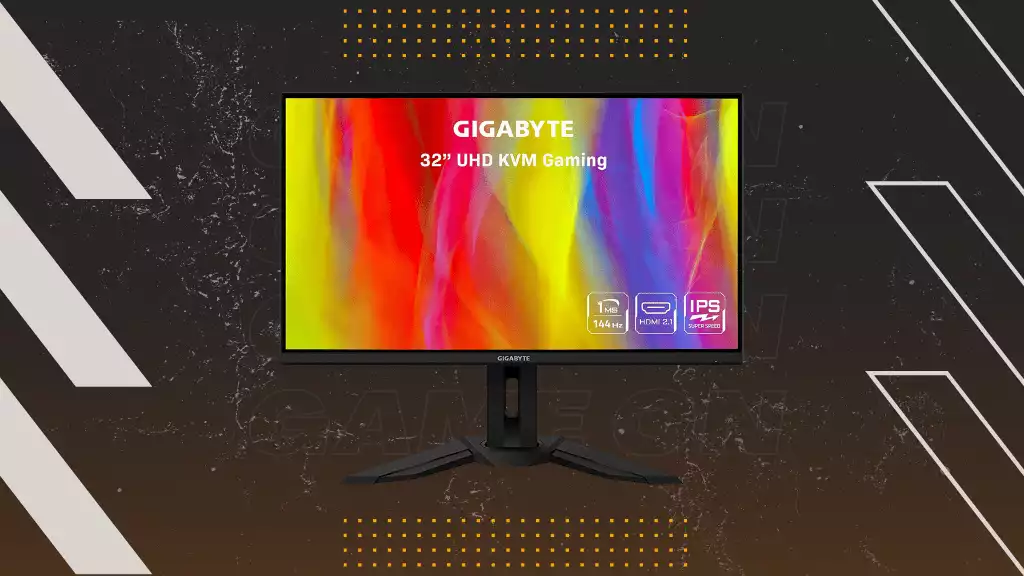 Price of entry is currently HDMI 2.1's most significant drawback as few monitors support it, and none of them are cheap. The best compromise we've seen so far is the M32U, a comparatively inexpensive 32-inch monitor from Gigabyte. It's an understated model that doesn't disappoint whether you're exploring a vibrant world like Genshin Impact or using it for color grading.
Even though it's a gaming monitor in every other respect, you wouldn't think it based on the M32U's austere look. There are no aggressive shapes or RGB to draw one's attention, so you could freely use it in an office setting. The base is M-shaped, comprised of plastic & metal, and massive. It connects to an equally sturdy mount that lets you make height adjustments to the screen that span five inches. The mount also has a large hole in the middle for efficient cable routing. You can swivel and rotate the monitor back and forth, but you'll need a separate VESA mount for pivoting.
The M32U's port selection offers the first clue as to why it's on our best HDMI 2.1 monitor shortlist. You get two such video-out ports, DisplayPort 1.4, and a headphone jack. Five USB plugs turn the monitor into a multifunctional hub. One of them is USB-C and can serve as a connection to your PC, charging port, or data transfer point. A USB-B plug facilitates connection to PC cases that don't have USB-C, allowing you to plug peripherals and other essentials straight into the monitor.
Navigating the M32U's menus is intuitive due to a four-way joystick that doubles as the off button. The On-Screen Display or OSD is functional and clearly visible. Neat sections divide it logically into areas that let you broadly adjust the picture, add gaming-specific elements like crosshairs, or control response times. You can choose between several genre-specific presets like FPS and RTS/RPG or set up three custom profiles with a higher degree of freedom.
Exceptional Performance at a Fair Price
We were satisfied with the M32U's out-of-the-box performance. Its Standard mode covers 125% and 88% of the sRGB and DCI-P3 color gamuts. The blues are slightly off, but calibration fixes that to the point that lets you use the monitor for color correction. Its brightness is good at 350 nits. The anti-glare finish enables you to use the monitor in bright conditions without impacting image clarity. The contrast ratio and viewing angles are in line with other IPS panels, which is to say, excellent.
Gaming performance is no less impressive. The M32U can put out 144Hz at 4K, 120 if you connect it to a console. The input lag is a barely noticeable 10ms and might become even better with future firmware updates. Blur isn't an issue unless you're playing fast-paced racing games. Even then, you can engage one of its Overdrive modes to decrease blurring at the cost of minor inverse ghosting visibly. The colors are vibrant, and the screen's blackness uniformity is reasonable.
Acer Predator XB323QK
Acer Predator XB323QK
Diagonal size: 31.5" | Panel type: IPS | Refresh Rate: 144Hz | Contrast: 1000:1 | Response Time: 0.5ms | Max Brightness: 400 Nits | Tilt: -5° / +35°
Pros:
Above-average picture quality & response times

Decent port variety

Easy to adjust and customize
Cons:
Stand takes up a lot of space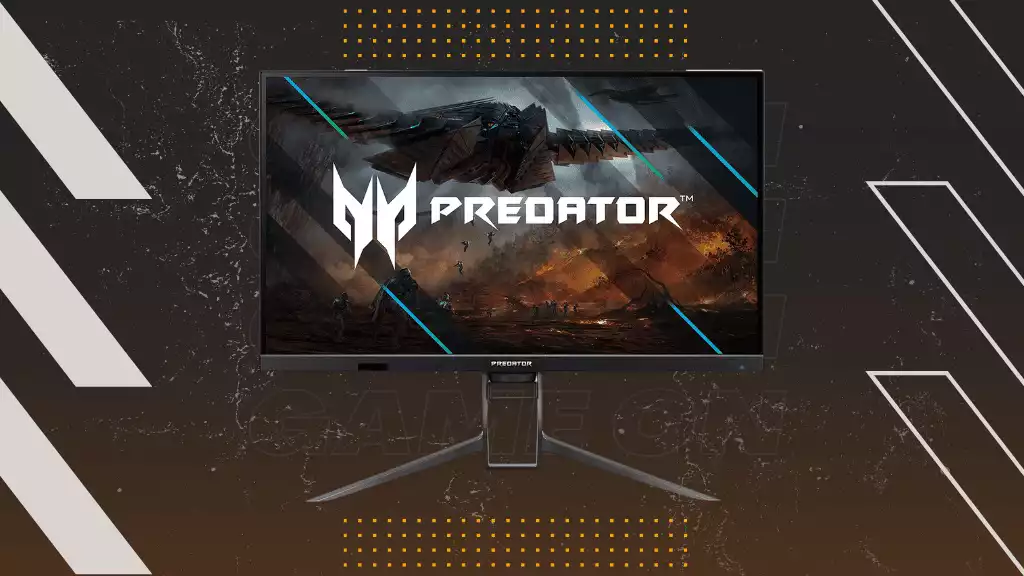 Acer is jumping on the new HDMI bandwagon with a thoroughbred gaming monitor that's as large as it is sharp. The 31.5-inch XB323QK attracts gamers and artists alike with attention to color, excellent contrast, and virtually no input lag.
The XB323QK is another subdued monitor with few outward signs of gaming prowess. When it's off, at least. It's similar to Gigabyte's 32-inch model in that three of the four bezels are thin. The bottom one houses the word Predator in aggressive silver letters, while the logo resides on the base.
Speaking of which, the base might be divisive. It's made from metal and has several neat features like a built-in handle and dedicated space for cable routing. However, the feet are long and extend outwards, meaning you'll need a large desk to support the monitor. Adjustment options abound as you can swivel and tilt the screen to a great degree. There's no vertical mounting unless you spring for a VESA mount, though.
Port selection is the same as on the M32U, minus one USB Type-A plug. A KVM switch makes alternating between two input sources a breeze. Toggling it lets you instantly switch from playing on your Xbox Series X to doing some retouching in Photoshop. The XB323QK has two 4W speakers that will do in a pinch, but you're better off using a good headset instead due to the tinny output.
Picture quality on the XB323QK is good from the get-go and has potential for improvement if you're willing to undergo calibration. The colors are 100% aligned with sRGB, and the monitor can reproduce 90% of the DCI-P3 color gamut. Brightness towards the edges is slightly uneven, but not to the point that this would cause issues in day-to-day work & play. The Agile Splendor IPS panel is in line with others on review, offering a maximum of 144Hz at 4K with excellent viewing angles.
Sharp & Responsive
We've encountered better OSD designs before, but the XB323QK's is serviceable. You access it through four buttons on the bottom bezel's right side. They're close to the power button, so take care not to press it accidentally during operation. The control menu appears on the left side and offers options like screen mode changes, an FPS monitor, blue light reduction, and more. Here you can also make rudimentary changes to the bright light coming from the rectangular RGB bar on the monitor's back.
The pool of games that can achieve more than 60fps at 4K with current hardware at max details is limited. The few that can, like Forza Horizon V, look and feel fantastic. Five milliseconds is a commendably low input lag, and the XB323QK's MPRT of 0.5 milliseconds means you'll get to discern details even while scenery is moving past you at breakneck speeds.
ASUS ROG Swift PG32UQ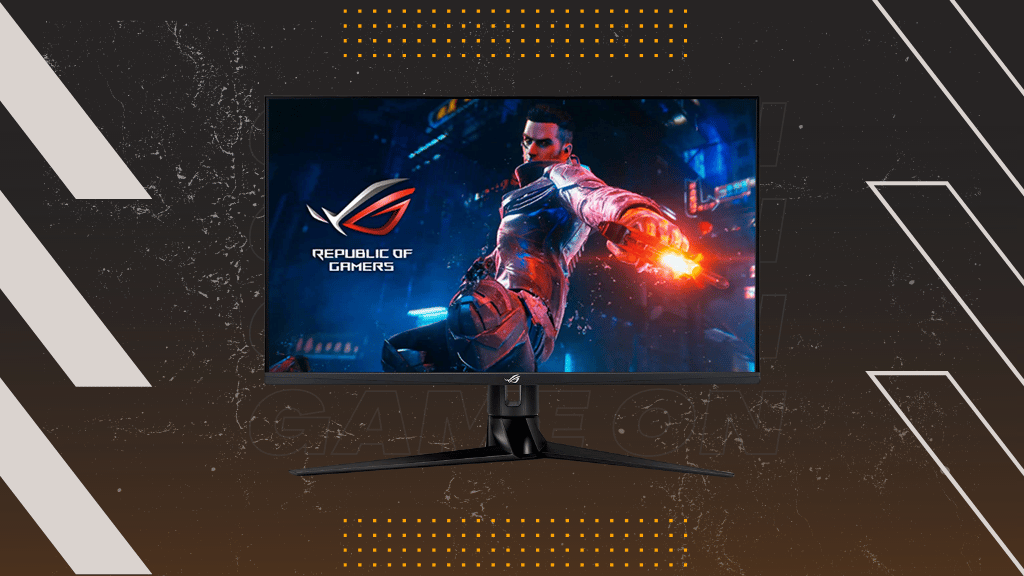 ASUS ROG Swift PG32UQ
Diagonal size: 32" | Panel type: IPS | Refresh Rate: 144Hz | Contrast: 1000:1 | Response Time: 11ms | Max Brightness: 440 Nits | Tilt: -5° / +15°
Pros:
Exceptional color coverage and contrast

Good blur control through several Overdrive modes

Competent HDR approximation for the price
Cons:
Response times could be better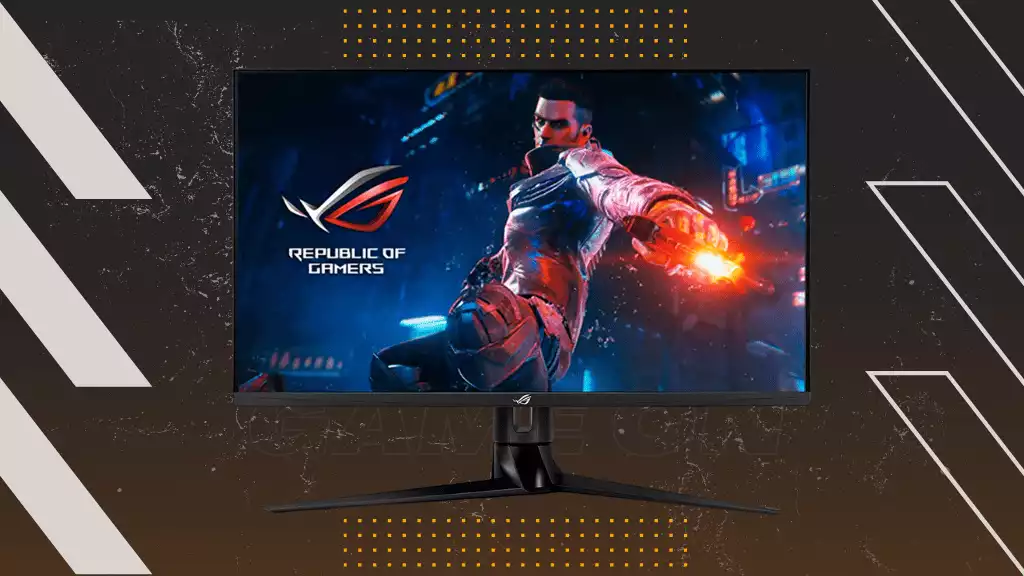 The 4K HDMI 2.1 monitors we've tackled so far mostly catered to gaming. What if you're equally interested in professional color grading for which some of them don't have the color capabilities? In that case, you should consider the ROG Swift PG32UQ from ASUS. It's a great monitor in terms of versatility, offering much more than decent gaming chops behind its aggressive aesthetic. Just don't confuse this model with the one with an X at the end. The latter might have HDR on par with OLED TVs, but it will set you back a whopping $2,000 more.
ROG is ASUS's top gaming-focused brand, and it shows in the PG32UQ's highly stylized back panel. It curves outward and is brimming with small geometric details that surround a large ROG eye logo. Said logo is also the monitor's source of RGB. Surprisingly, the lighting is restrained enough to add atmosphere with its glow but dim so as not to overpower what's on the screen.
There's no need to worry that the monitor will tip over thanks to its sturdy metal stand. It's triangular and provides a large cable hole as well as solid movement options. Sadly, pivoting isn't one of them. A common 2x HDMI 2.1 and 1x DisplayPort 1.4 combo handles video-out. USB-C isn't present. Still, you do get two USB-A plugs powered by a USB-B to USB-A connector so you can plug your mouse and keyboard into the monitor.
Extraordinary color coverage is the PG32UQ's standout feature. Unlike HDMI 2.1 monitors focused purely on gaming, it covers 100% of the Adobe Color Space used for professional color grading. The drawback is that the vast majority of media & gaming content is made to conform to sRGB standards. Bringing out full Adobe coverage also encompasses more than 170% of the sRGB gamut, causing far too saturated colors. Luckily, the monitor has a dedicated sRGB mode it's easy to switch to when you aren't using it professionally.
You'll need to get to grips with the OSD to get there first, though. It's a bit cumbersome and uses a combination of a joystick & large buttons on the side for navigation. While extensive, some settings are either placed illogically or hidden deep inside sub-menus instead of being readily available.
Equally Impressive for Gaming and Multimedia
Watching movies and other video content on the PG32UQ is enjoyable due to its decent HDR implementation. Its usual brightness of 440 nits shoots up to more than 600 in HDR mode, and contrast is improved as well. While not an authentic HDR experience, it's the closest you'll get to one at this price.
Gaming on the PG32UQ is enjoyable and immersive. Fans of single-player epics like Assassin's Creed Valhalla will get the most out of it since they'll have time to soak in the superior visuals. You're not as likely to appreciate the monitor if you're a competitive CS: GO or Valorant player, though. Several Overdrive modes help stabilize blur with minimal overshoot and inverse ghosting. However, response times align with older IPS panels and need improvement.
ASUS TUF Gaming VG28UQL1A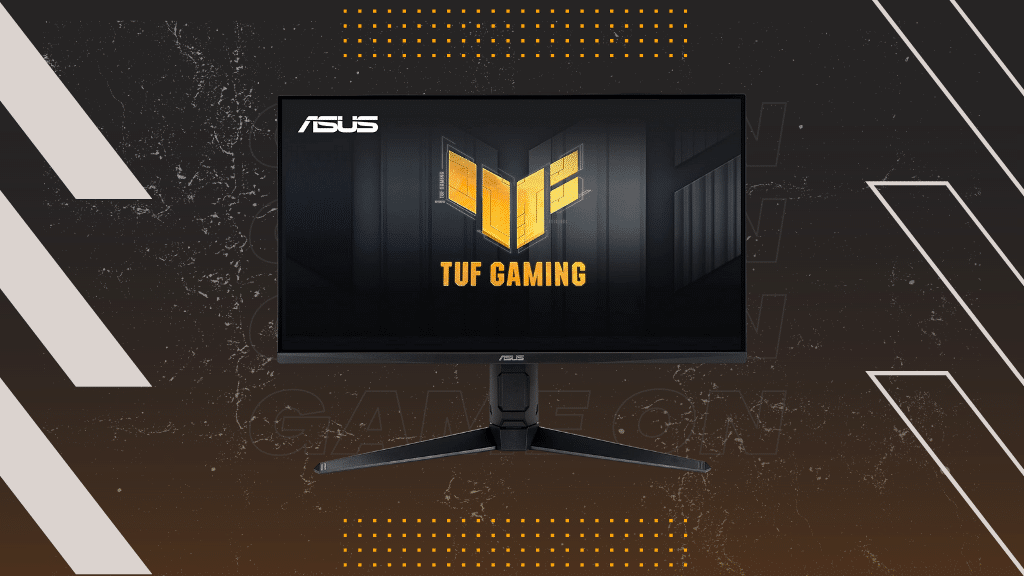 ASUS TUF Gaming VG28UQL1A
Diagonal size: 28" | Panel type: IPS | Refresh Rate: 144Hz | Contrast: 1000:1 | Response Time: 10.1ms | Max Brightness: 300 Nits | Tilt: -5° / +15°
Pros:
Excellent blur reduction and framerate syncing

Strong colors after minimal calibration

Great build quality and port selection
Cons:
OSD could be more user-friendly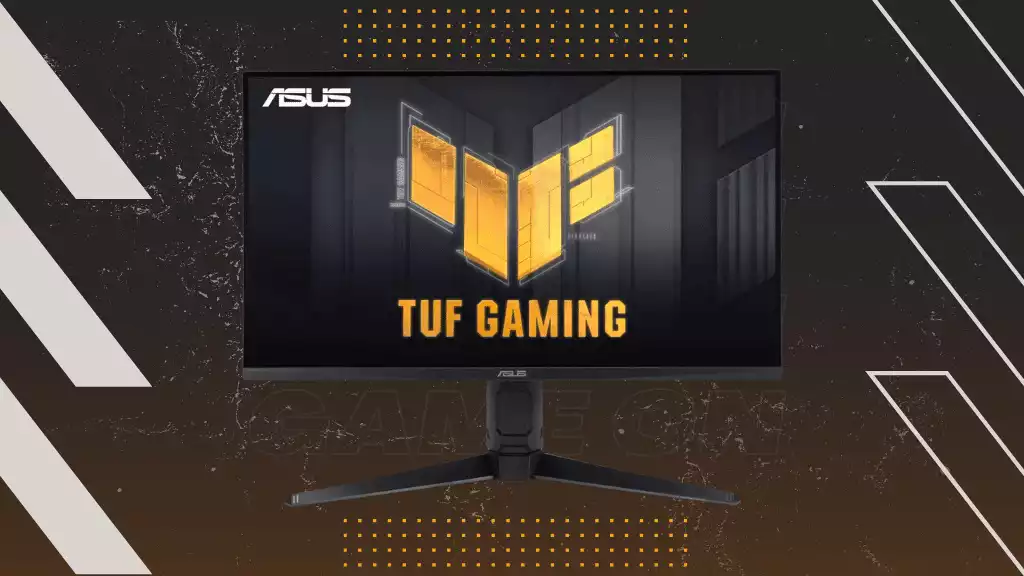 UHD or 4K resolution clearly demonstrates its superiority over 1440p starting at 32". However, there's a good case to be made for 28" 4K displays like our second ASUS entry. It has a higher PPI or pixel per inch density, which leads to crystal clarity and better details. The TUF Gaming VG28UQL1A is the best HDMI 2.1 monitor with this smaller diameter. It can display breathtaking visuals and is reasonably priced, given its feature set.
You'll already know that sturdiness and reliability are all that's left of the original aesthetic if you've recently bought a TUF motherboard. The same applies to this monitor and only a handful of cutouts & design choices that imply its gaming roots. Even the ON light is subdued and tucked away on the back panel.
We are thoroughly impressed with the stand. You'll get no spindly legs here but a thick tower ready to bear the screen and manipulate it in a manner of ways. Tilting, pivoting, or swiveling all come easily. The cable routing hole is cut into the side rather than the front.
The VG28UQL1A is brimming with ports, allowing you to connect it to potentially five sources. The three video-out ports we keep mentioning are a given, but you also get two more HDMI 2.0 connections. Additionally, two regular and an upstream USB-B plug provide hub support.
Smaller Screen, No Compromises
ASUS could have done a bit better with factory calibration. The colors initially look warm, and there's an overabundance of red tones while blues and greens are neglected. The gamma and contrast are excellent, however. More good news is that you don't need professional calibration equipment to make the colors shine – some tinkering with RGB levels should suffice instead.
Before you can get to those, you'll have to put up with the same interface seen on the PG32UQ. Adjusting to it takes time as some settings have weird labels. For example, the Racing mode is what other monitors refer to as Standard. There's no shortage of useful settings, like genre-specific color & brightness presets, timers, or a sniper mode. Most screen settings are set to 90% DCI-P3, resulting in unnaturally pronounced reds – nothing switching to sRGB mode can't fix.
The VG28UQL1A is competent at many tasks, but it shines as an HDMI 2.1 gaming monitor. The large PPI helps reveal small details. It also has a combination of low input lag & response times essential for executing precise moves. You can turn Adaptive Sync and one of the Overdrive modes on for blur reduction. Unlike most monitors, the VG28UQL1A supports backlight strobing and adaptive Sync simultaneously for further picture stability.
LG UltraGear 27GP950-B
LG 27GP950-B
Diagonal size: 27" | Panel type: IPS | Refresh Rate: 144Hz (160Hz OC) | Contrast: 1000:1 | Response Time: 7.5ms | Max Brightness: 400 Nits | Tilt: -15° / +5°
Pros:
Low input lag ideal for competitive FPS games

Great picture quality and easy calibration

Comprehensive OSD and companion software
Cons:
Expensive for 27", poor black uniformity & local dimming
A few milliseconds can be the difference between celebrating a win and laying defeated in the dust. LG's UltraGear 27GP950-B has next to no input lag and minimal ghosting in hectic situations, leaving your FPS skills to shine unimpeded. It's the best HDMI 2.1 monitor for shooters, but you'll get a lot out of it for any other use case if you don't mind the price.
The 27GP950-B is among the most gaming-focused monitors on the list, as evidenced by its exaggerated black & red color combo and a large RGB ring in the back. Exceptionally thin bezels are the most attractive visual feature, allowing you to completely immerse yourself or use another monitor almost seamlessly. The base allows for a wide degree of movement. You can move the screen up and down 4.3 inches, rotate it, and even pivot it 90 degrees to get it into landscape mode.
There's not that much going on in the back port-wise. You get DisplayPort 1.4, two HDMI 2.1 ports, and a 3.5mm headphone jack along with two USB 3.1 Type-A plugs. There's also the RGB adjustment ring and a joystick that facilitates OSD navigation.
The OSD is clean and easy to navigate. It offers the standard stuff like picture profiles, a feature that increases the contrast in darker scenes, and two customizable profiles. The UltraGear Control Center is a compelling alternative. It offers easy access to settings like Overdrive and lets you customize the RGB more fully. We found the ability for the LEDs to react to audio or to mimic the action on screen the most stimulating.
Kudos to LG for taking the time to set the monitor presets so that they require minimal tinkering. Better yet, users who aren't satisfied with the native results and have calibration hardware at hand can take advantage of LG software that supports it. The IPS panel has outstanding viewing angles and is bright at 400 nits. Its finish is partly glossy. While this does improve color quality, it also means you'll want to avoid using the 27GP950-B in a brightly lit room.
Giving You a Competitive Edge
Input lag of just 4ms means that your game won't suffer due to poor reaction times. The Normal Overdrive setting offers the best balance of blur reduction and ghosting prevention for fast-paced action. On the other hand, high color vibrancy causes everything to pop. Some colors may even feel oversaturated, but there's an sRGB mode that reduces the associated color gamut's coverage from 135 to 100 percent.
Not everything is ideal, though. Retailers are currently offering the 27GP950-B at a markup. It's also mediocre when it comes to black uniformity and contrast. IPS panels are always weaker than VA at this metric. Still,LG's suffers more from gray blacks than the norm. You will want to turn local dimming off since its implementation is poor. Only 16 zones divide the display and each lights up entirely as soon as an object enters them.
SAMSUNG Odyssey G70A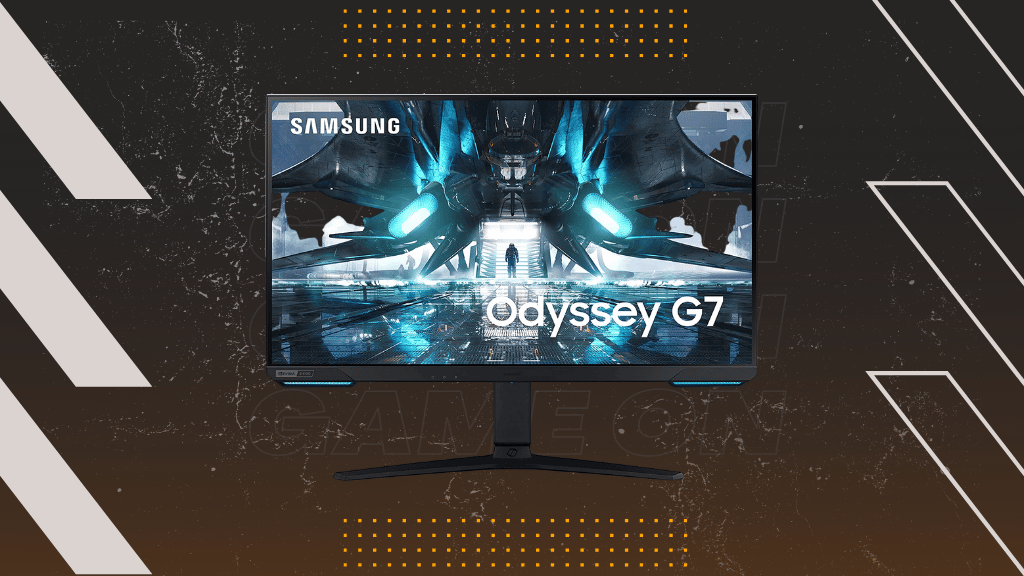 SAMSUNG Odyssey G70A
Diagonal size: 28" | Panel type: IPS | Refresh Rate: 144Hz | Contrast: 1100:1 | Response Time: 1ms | Max Brightness: 300 Nits | Tilt: -90° / +13°
Pros:
Decent color reproduction and response times

Intuitive OSD and easy physical adjustment

Attractive design
Cons:
Dim, mediocre build quality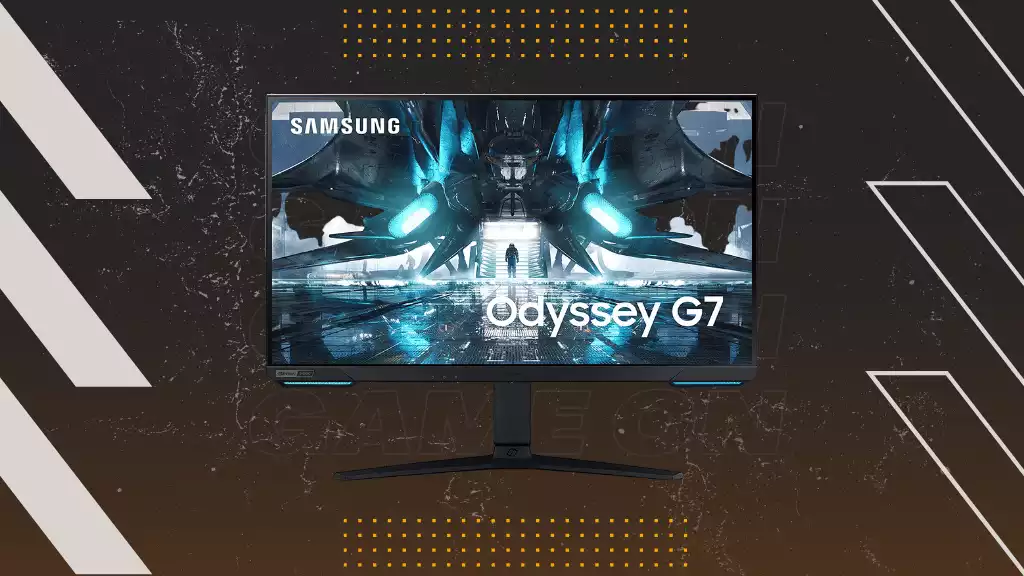 The G70A is among the cheapest HDMI 2.1 monitors worth considering, yet its features are far from basic. The unique aesthetic, intuitive menus, and great overall picture quality come together to allow for a cutting-edge gaming experience.
One look at the G70A is all you need to see where the Neo G7 got its aesthetics from. It, too, has a jet engine feel with an LED-lit "wind turbine" on the back and small colorful "vents" on each side of the bottom bezel. These add visual interest but aren't bright enough to interfere with the display itself.
We have mixed feelings about the general build quality. On the one hand, the stand is versatile and even lets you pivot the display for vertical viewing. On the other, the assembly feels flimsier than a monitor in this price range should. There's also the lackluster I/O, which only offers a couple of USB-A plugs on top of the regular video-out options and headphone jack.
What the G70A lacks in structural stability it makes up for in performance. It's not as vibrant as many of our other HDMI 2.1 gaming monitor picks. The lower values apply only to DCI-P3 and Adobe color gamuts, where it reaches close to 90% and 70%, respectively. Coverage of the sRGB color space is 118% in standard mode, and you can clamp down on it to eliminate the limited oversaturation further.
A More Affordable Option for FPS Lovers
You access the G70A's settings via joystick, and it has one of the most comfortable OSDs on offer. A series of bubbles on top gives an overview of pertinent info like the current refresh rate and color temperature. The menu system underneath is easy to navigate. It offers a decent selection of choices we've already gone over when discussing other models. However, keep in mind that turning Adaptive Sync on will disable many screen-related options.
You'll love the 28" panel if you're into twitch shooters like Doom Eternal since it responds to input almost immediately. Overdrive works well regardless of resolution, so there's no need to worry about excessive blurring during frenetic combat. Brightness, or lack thereof, could be a problem for some. The G70A maxes out at 300 nits, so you'll want to find a spot for it away from the sun and bright lighting.