Specs:

HDMI version: 2.1
Length: 1' – 200'
Type: Braided

Specs:

HDMI version: 2.1
Length: 1.5' – 10'
Type: Braided

Specs:

HDMI version: 2.1
Length: 3.3' – 9.8'
Type: PVC

Specs:

HDMI version: 2.1
Length: 3' – 10'
Type: PVC

Specs:

HDMI version: 2.1
Length: 16' – 25'
Type: PVC

Specs:

HDMI version: 2.1
Length: 3.3' – 16'
Type: Braided

Specs:

HDMI version: 2.1
Length: 5.5'
Type: PVC

Specs:

HDMI version: 2.1
Length: 33' – 100'
Type: PVC

Specs:

HDMI version: 2.0
Length: 3.3' – 30'
Type: PVC

Specs:

HDMI version: 2.0
Length: 3' – 25'
Type: PVC
The current console generation lacks DisplayPort, leaving HDMI as your only option when connecting them to a TV. No big loss there, as the HDMI 2.1 standard all of them use far outshines their hardware capabilities. The best HDMI cable for PS5 & Xbox might be the one you got with your console.
However, choices abound for anyone needing a new, longer, or slimmer alternative. Our ten picks cover all eventualities, so read up on each to get the right one for your setup.
Snowkids HDMI 2.1 Cable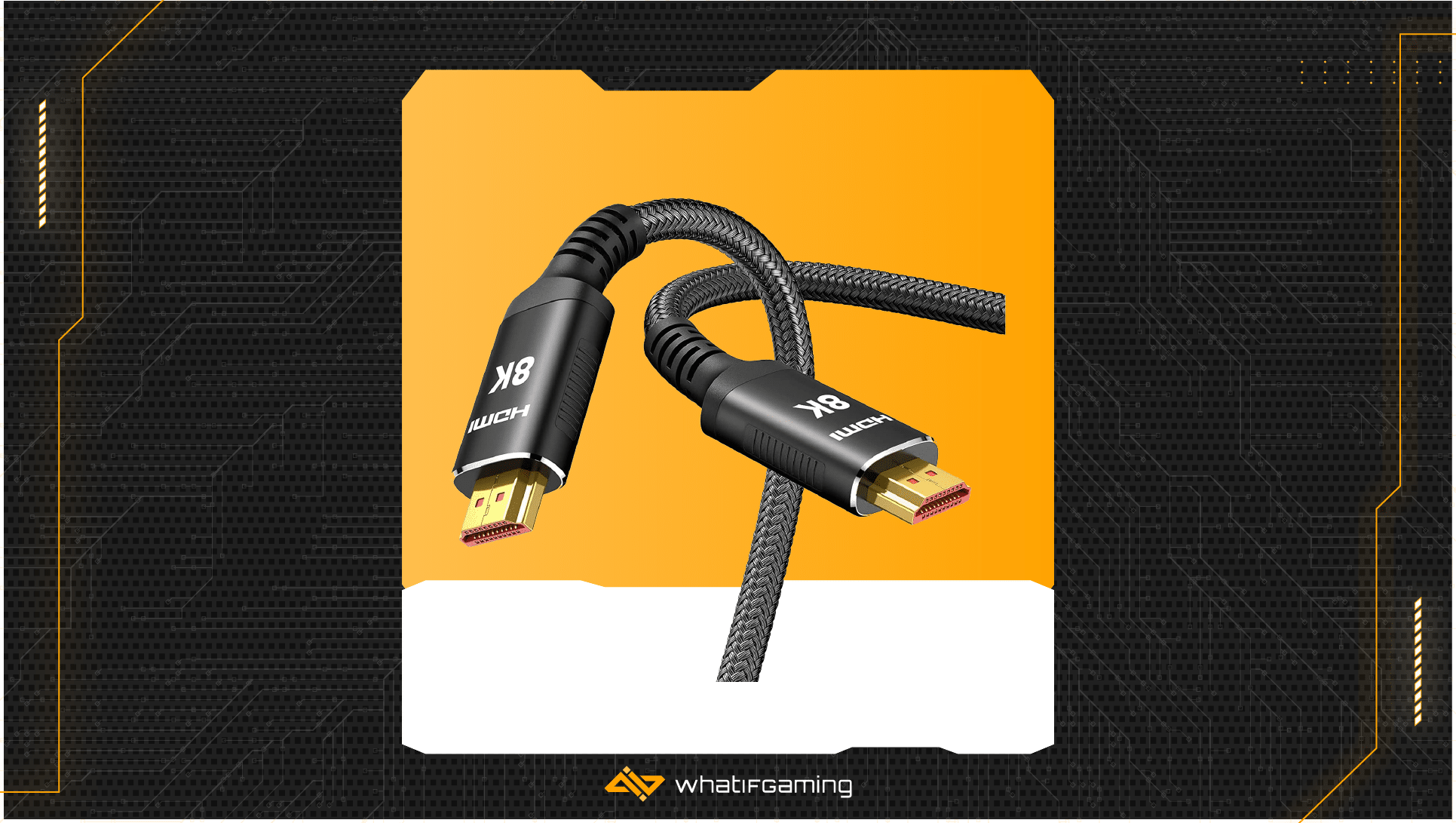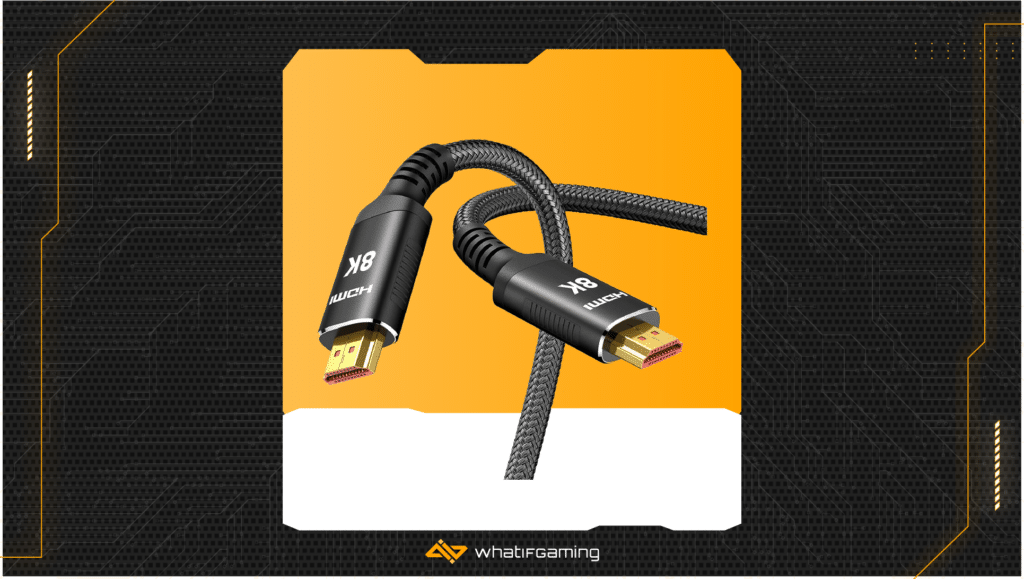 Snowkids 8K HDMI 2.1 Cable
HDMI version: 2.1 | Length: 1' – 200' | Type: Braided | Active or optical fiber: Optical fiber after 50'
Pros:
Excellent value for the money

Wide range of lengths

Sturdy design
Cons:
Not as colorful as the company's DisplayPort offerings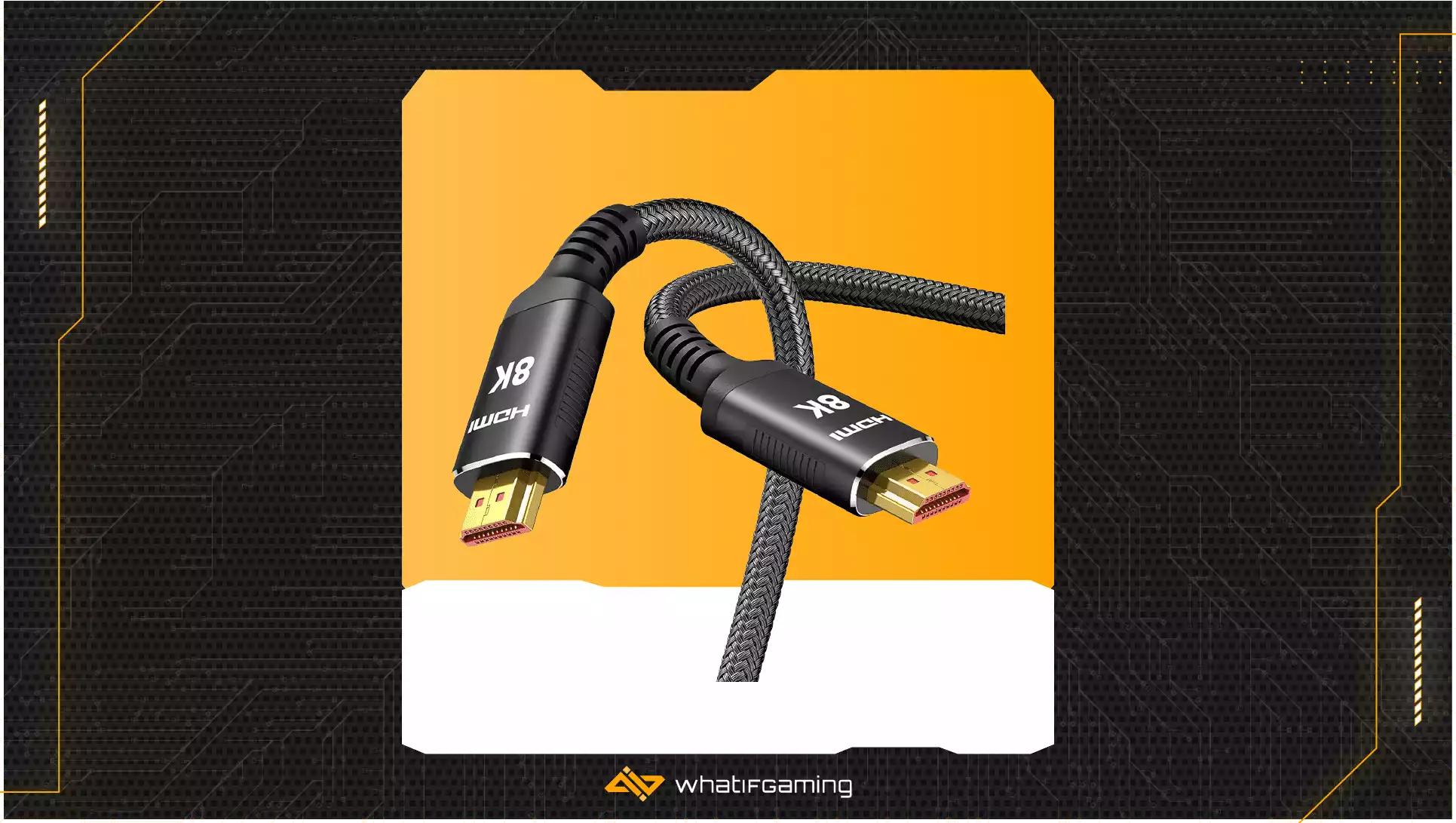 We praised Snowkids for their excellent DisplayPort cables and are glad that attention to detail and quality extends to their HDMI line. Their PS5 HDMI cable is equipped with all the bells & whistles full 2.1 compatibility entails, yet it's one of our more affordable recs. Better yet, extra durability ensures it will stay flexible and usable even if you move your setup around a lot.
While not as colorful as its DisplayPort cousin, the Snowkids cable stands out due to the red accents on its gold-plated connectors. It's highly flexible due to paracord-like braiding that won't mind if you have to route the wire at odd angles.
We're also impressed with the wide variety of lengths you can choose from. Is your console right next to the TV? Then even the 1-foot version will do. Conversely, Snowkids offers fiber optical fiber versions of the cable that extend as far as 200 feet.
As for its specs, the Snowkids cable is fully HDMI 2.1 compliant, ensuring excellent compatibility with future generations of 8K TVs and consoles. It's more than capable of supporting 120fps at 4K with full chroma enabled, provided you have a HDMI 2.1 TV and play games that can reach such framerates with current consoles' hardware.
Zeskit Maya 2.1 8K HDMI Cable
Zeskit Maya 2.1 8K HDMI Cable
HDMI version: 2.1 | Length: 1.5' – 10' | Type: Braided | Active or optical fiber: No
Pros:
Certified HDMI 2.1 specs

Great build quality

Comes in three regular sizes
Our runner-up isn't as versatile as the Snowkids range, and doesn't need to be. Most folks will need a well-built, future-proof cord shorter than 10′ at an acceptable price, and that's what Zeskit offers. Theirs is the best HDMI cable for PS5 & company if you've misplaced the original or need something a bit longer but equally good.
One look at Zeskit's model is enough to convince one of its sturdiness. The rounded ends are made from thick plastic and easy to grip even if stuck deep inside your TV's HDMI port. Braided cabling prevents kinks from forming, and the gold-plated connectors promise an interference-free signal stream. Coupled with its 2.1 specs, this means you won't need to replace Zeskit's cable once the next console generation arrives.
What exactly does getting a cable certified by HDMI.org mean? Said site issues licenses that guarantee products are compatible with the latest HDMI standards. In the case of 2.1a, we're talking about 8K playback at 60fps and up to 240fps at 4K. Additionally, cables like Zeskit enable uncompressed color, the full currently available HDR range, and Variable Refresh Rates or VRR. Sound-wise, it can support lossless high-quality audio through Dolby Atmos.
Despite the recent name change confusion, most TVs still use the HDMI 2.0 standard. Newer cords like Zeskit's are backward compatible, so there's no fear of black screens or other issues.
Cable Matters Ultra High Speed HDMI Cable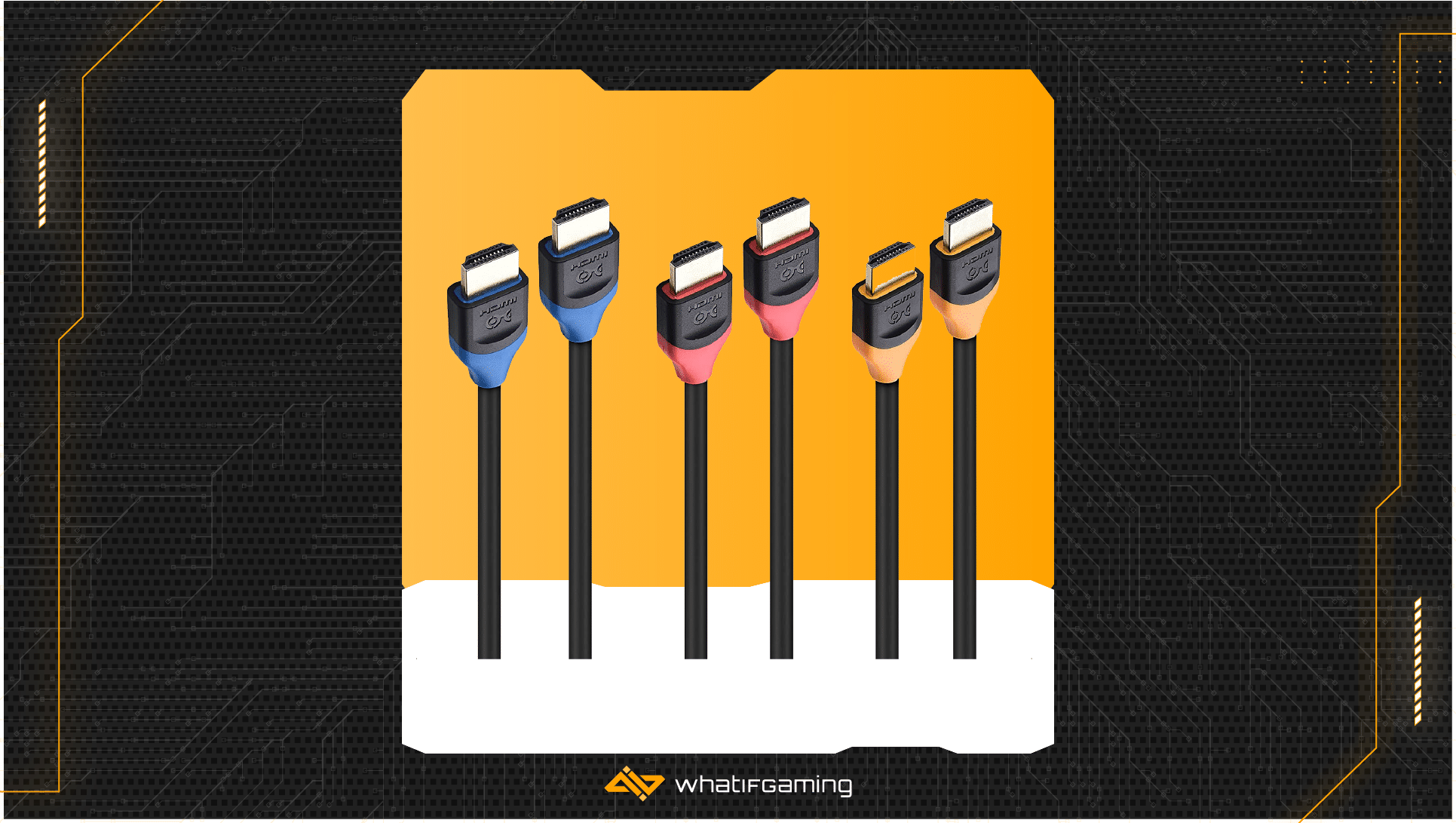 Cable Matters Ultra High Speed HDMI Cable
HDMI version: 2.1 | Length: 3.3' – 9.8' | Type: PVC | Active or optical fiber: No
Pros:
Three cables at an excellent price

Color-coded for convenience

Full HDMI 2.1 compatibility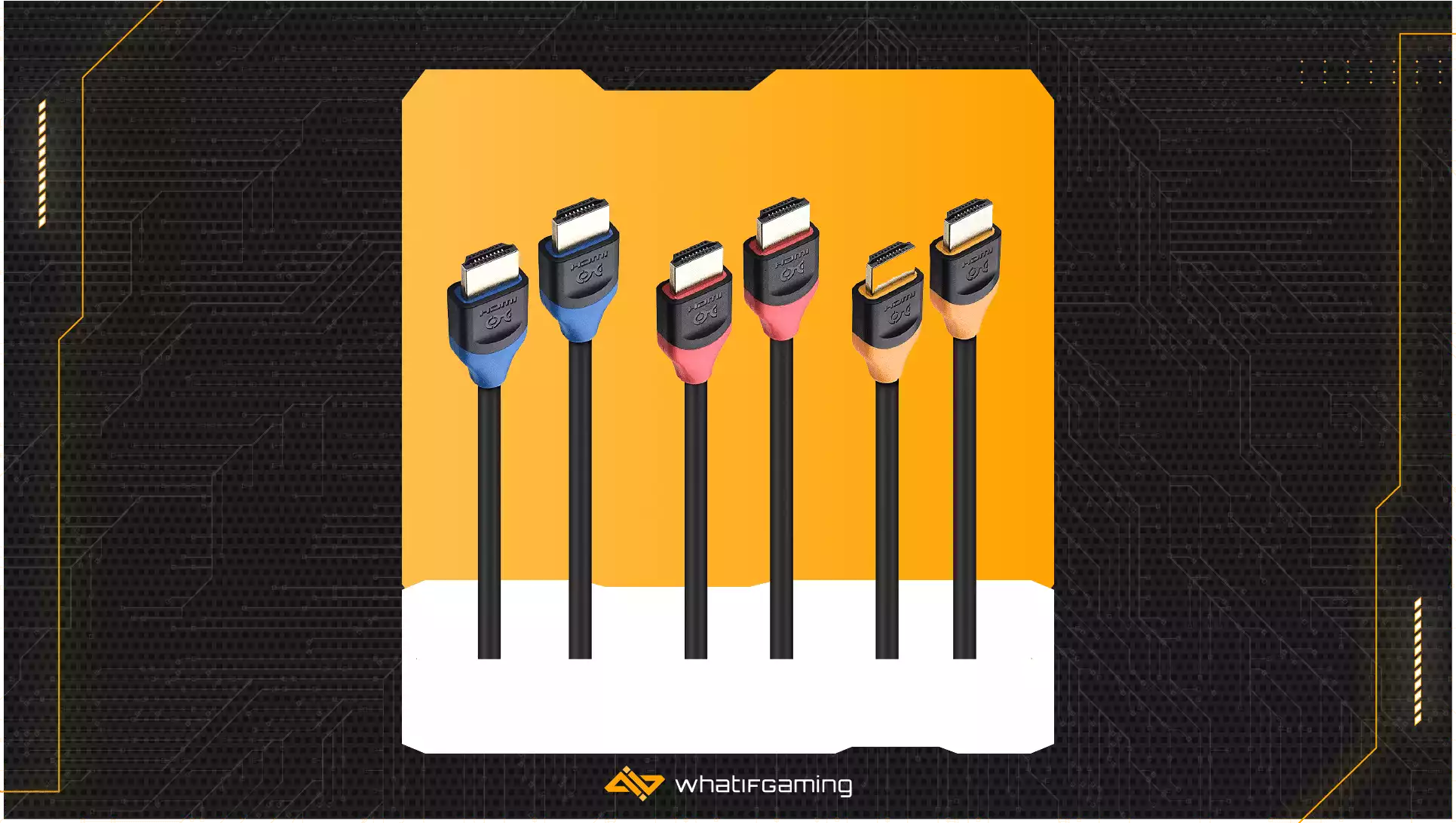 Some gamers are loyal to a single console. Others will want to connect their state-of-the-art TV with all current-gen consoles and a beefy gaming PC. In that case, the best HDMI cable for PS5 & the others is one you can get in bulk for a reasonable price. Cable Matters has you covered with a 3-in-1 pack that offers exceptional value with few drawbacks.
A single Cable Matters cable is rather uninspiring. An indent on the black ends helps you pull it out, and that's it. The main wire part isn't braided and not as flexible as competing products from Snowkids and Zeskit. On the other hand, this has nothing to do with the specifications, which are fully in line with the HDMI 2.1 standard.
Things get interesting if you spring for the two or three-pack. The ends become color-coded, letting you easily track which cable you plugged in and where. Super useful if you're trying to distinguish your Xbox and PS5 connections. Too bad green isn't a choice to hammer the point home, but it hardly matters.
You can get this cable at the three standard lengths HDMI 2.1 runs best at. Going with the three-pack is the most cost-effective option since it comes out to just a bit more than what you'd pay for two cables otherwise.
Linkup Ultra High-Speed HDMI 2.1 Swivel Angle Connector Cable
People prefer different ways of mounting their TVs. Some will use the provided feet on a flat surface and elegantly combine it with a soundbar. Others will wall mount it or otherwise obstruct the TV's I/O.
Ordinary cords can't cut it in such scenarios, which is why you'll want to turn to Linkup. Thanks to swivel angle action, they offer the best HDMI cable for Xbox, etc. if connecting your devices seems like an impossible task.
Linkup's cord looks like any other above-average one at first, sporting thick PVC shielding and gold plating on its connectors. The ends are unusually long, though. That's because they have swivel fittings with impressive movement ranges. Each end has two pivot points, allowing for an almost sphere-like motion range ordinary cables can't replicate.
Why would you need this? It comes in handy when other cables or lack of space get in the way. Swivel action prevents the ends from becoming too tense while simplifying the hookup process. You'll spend extra on the cable now but won't need to worry about replacements for years until consoles and other devices arrive that surpass its certified HDMI 2.1 capabilities.
Linkup should have reflected this in their warranty. Whereas some manufacturers extend lifetime guarantees, it covers the cable for only a year.
Cable Matters Active 48Gbps Ultra HD 8K HDMI Cable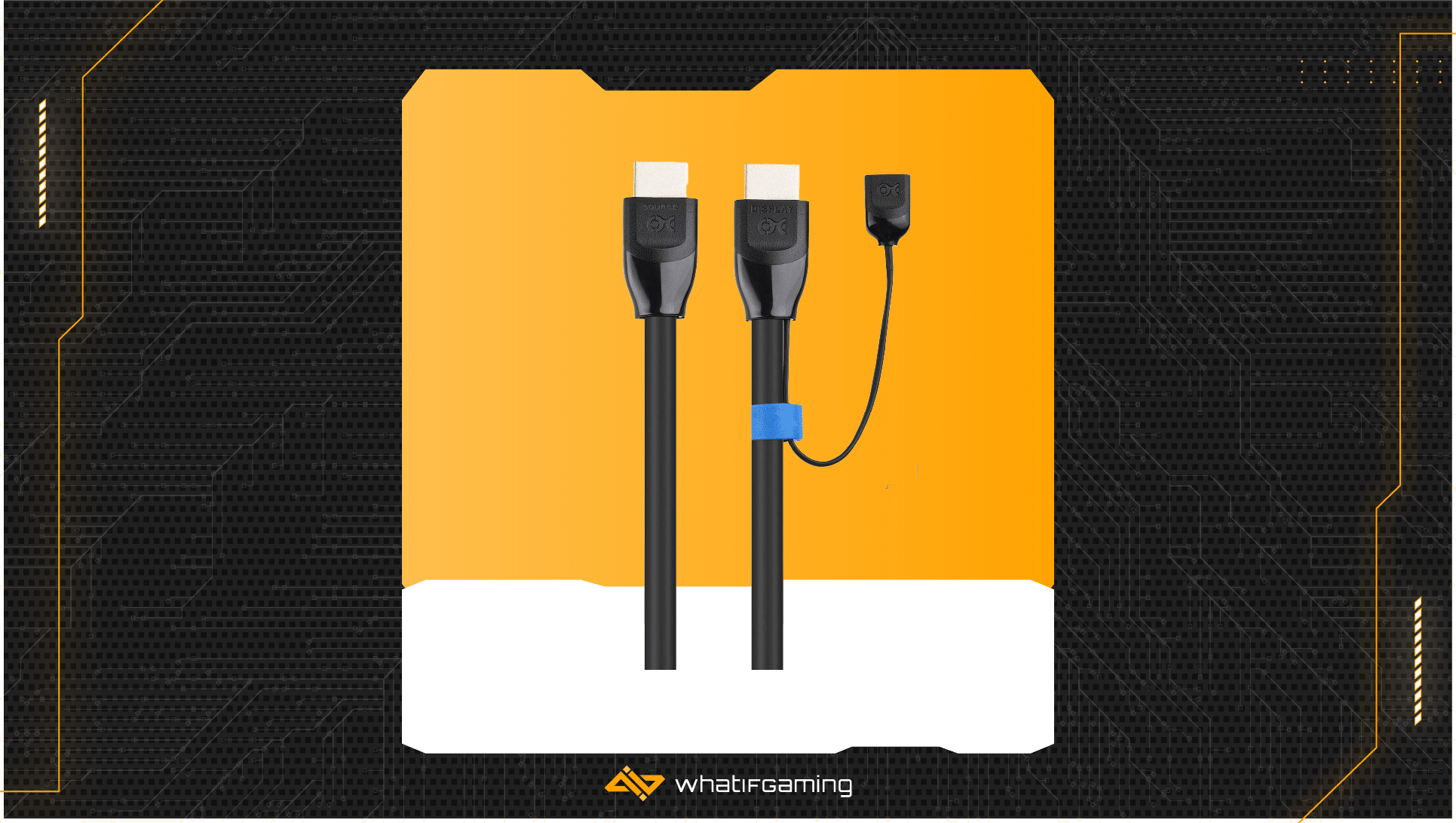 Cable Matters Active 48Gbps Ultra HD 8K HDMI Cable
HDMI version: 2.1 | Length: 16' – 25' | Type: PVC | Active or optical fiber: Active
Pros:
Longer range than conventional HDMI 2.1 cables

Affordable considering additional components
Cons:
Similar build quality to the ordinary version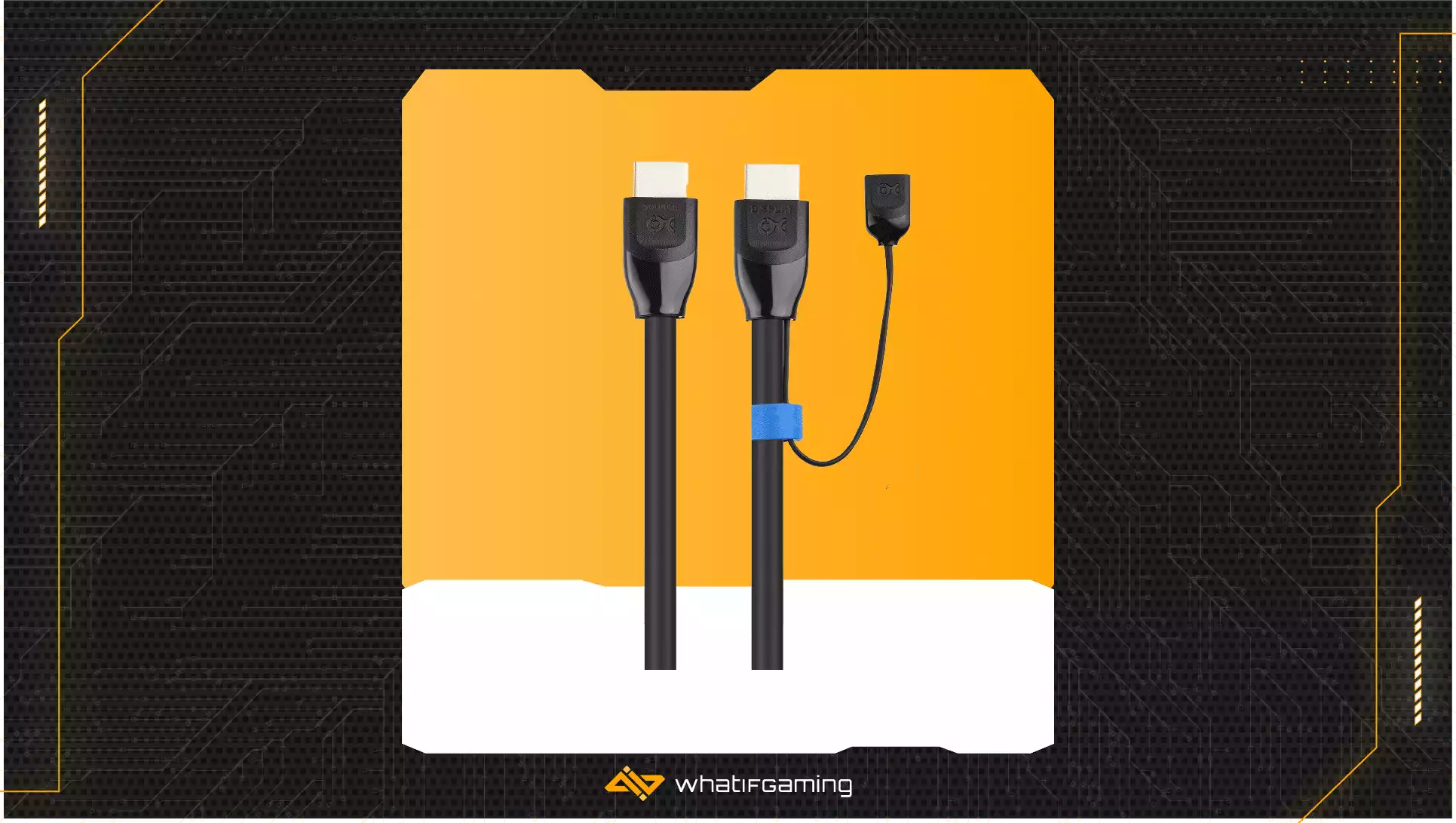 HDMI 2.1 has almost three times the bandwidth of its predecessor. That makes it more susceptible to signal degradation, which becomes problematic once the cable exceeds a length of 3m or 10 feet. If you need something longer, the best HDMI cable for Xbox Series X & the rest needs to be an active one. Cable Matters is again our go-to choice in this instance.
Superficially, this cable looks identical to a single Cable Matters one whose appearance we were already unimpressed with. However, examining it closer reveals a plastic casing at the halfway point and a small power adapter at one end.
The casing houses a chipset that boosts the signal past the 10′ point. It works one way, so be sure to plug the ordinary end into your console and the other one into the TV. The small wire dangling from that end provides extra power and plugs into your TV's USB-B port. It's optional, so don't worry if that port is already in use.
Cable Matters sells their active HDMI cables in lengths of 16 and 25 feet. While we'd like to see more options in the future, these two lengths should cover most people's needs at better prices than their optical fiber equivalents.
Ugreen 8K HDMI Cable 2.1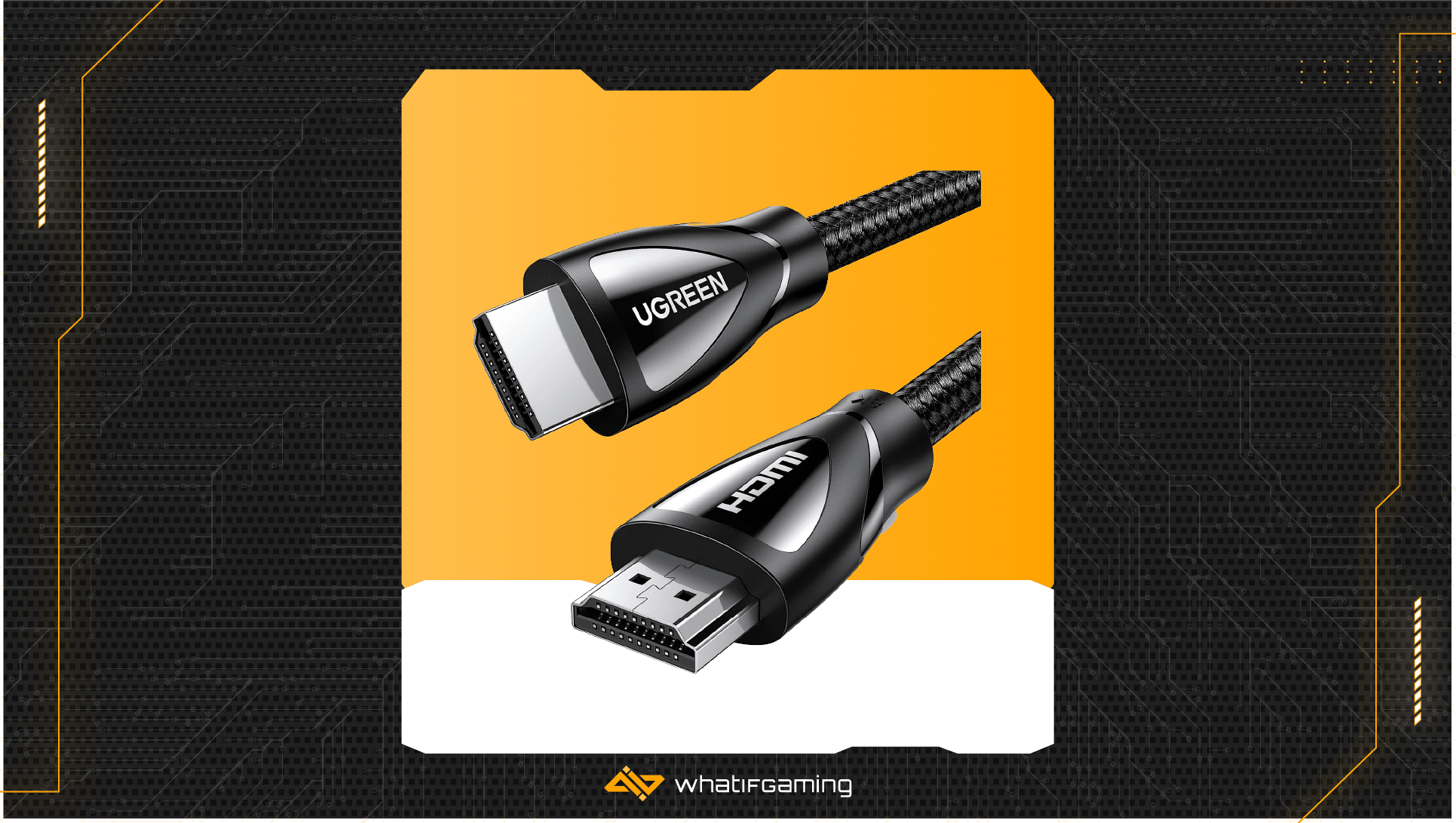 Ugreen 8K HDMI Cable 2.1
HDMI version: 2.1 | Length: 3.3' – 16' | Type: Braided | Active or optical fiber: No
Pros:
Attractive design

Quality braid and overall make

Affordable 16' version
Ugreen is a respected cable manufacturer that focuses on quality and a wide selection of products. They make several cables that conform to the latest specs, and we chose the most affordable option. So should you, if you don't mind that it isn't certified by HDMI.org. The most you'll be losing out on are ridiculous 4K refresh rates current consoles aren't ready for anyway.
Kudos to Ugreen for mixing ergonomics with style and coming up with a design that doesn't blindly copy others. Their cord features rounded, tapering ends that are comfortable to grip and almost as slim as those on Stouchi's specialized model.
The main body has thick nylon braiding that looks cool and can take more punishment than pure PVC. Not that most of our readers will be unplugging the cord multiple times per day and running over them with tractors.
It's a testament to the cable's quality that Ugreen offers a 16-foot version that doesn't use active power delivery or optical fibers to extend its signal range. All versions except the smallest 3.3' one are affordable relative to their length.
Our only complaint about this cable is more of a nitpick since there's nothing truly wrong with it. Ugreen doesn't explicitly state whether it is HDMI.org certified. That doesn't mean much while current-gen consoles are still struggling to push the vast majority of titles past 4K 60fps. It might mean you'll need to replace the cable sooner if you need a longer one and your future console doesn't supply it.
Stouchi 8K Ultra Thin HDMI Cable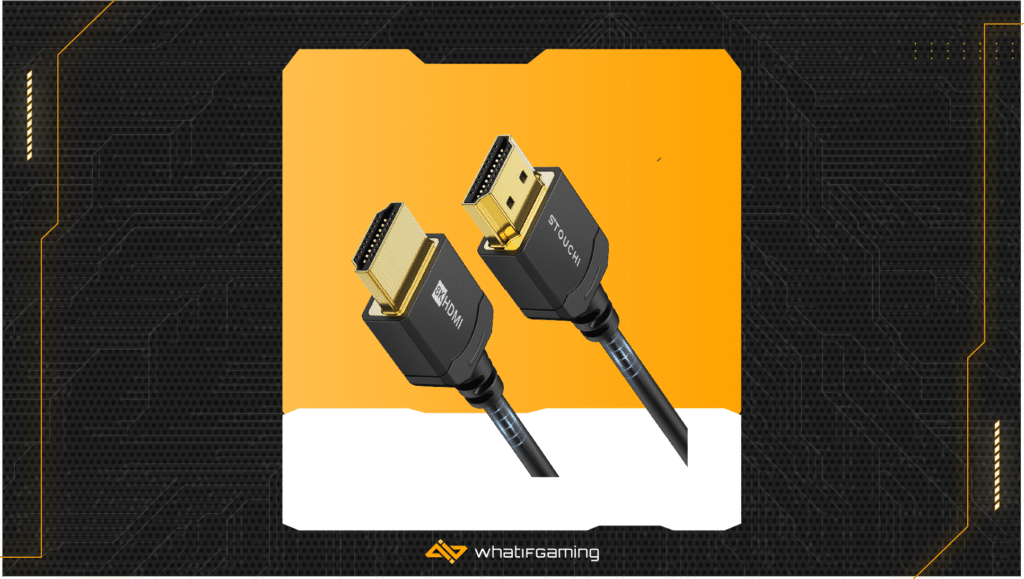 Stouchi 8K Ultra Thin HDMI Cable
HDMI version: 2.1 | Length: 5.5' | Type: PVC | Active or optical fiber: No
Pros:
Thin ends make connecting easier

Great build quality and ergonomics

Good price
Cons:
Thin variant only available in one length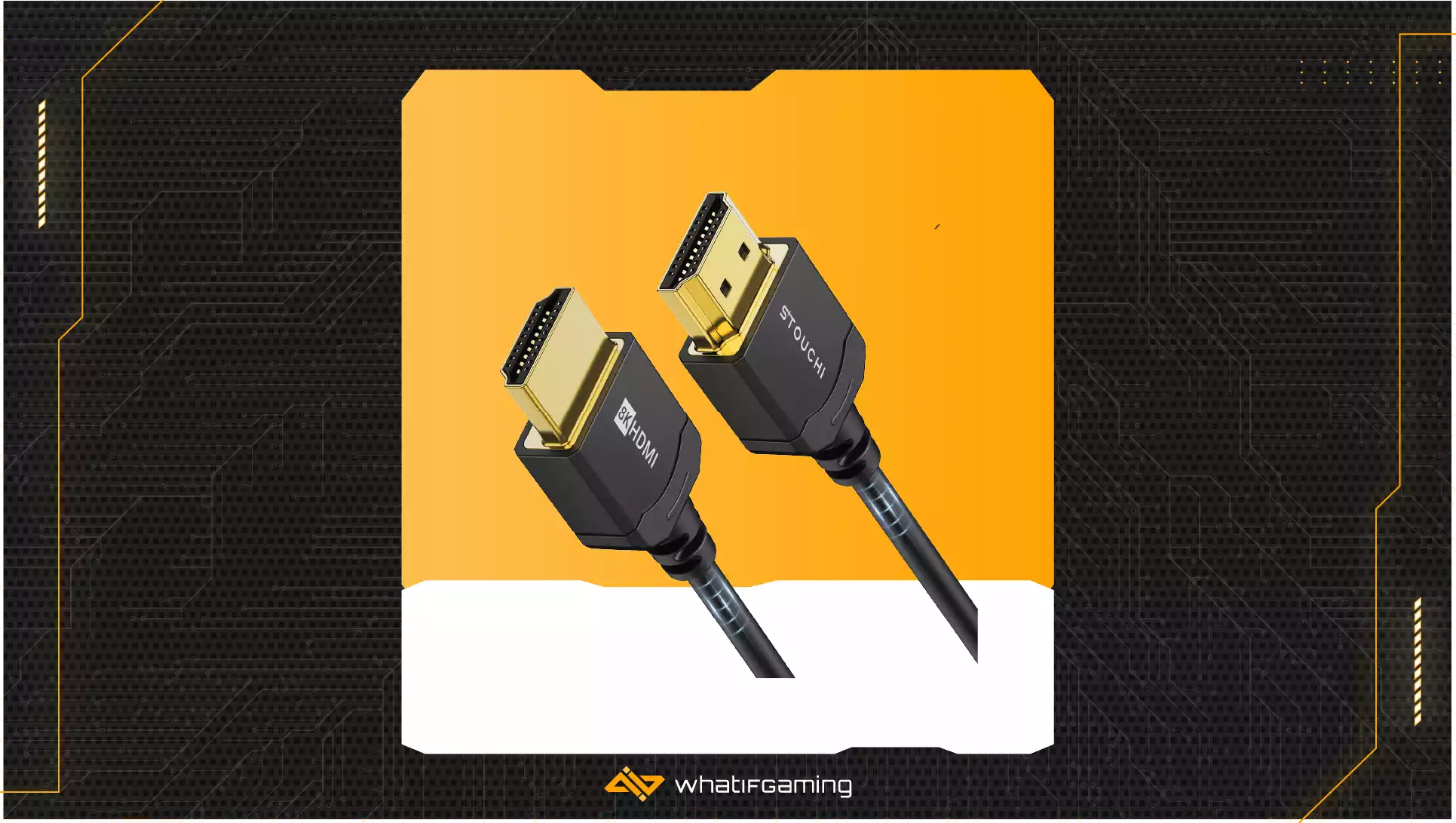 Sometimes, your TV's positioning or I/O layout is to blame for cable connectivity woes. Rather than move the TV or consider switching to an equally large gaming monitor, maybe you just need a cord with thinner connectors. Stouchi has heard your pleas and developed the best HDMI cable for PS5 & co for just such a scenario.
The "ultra thin" in the name is somewhat misleading. Making the actual cord thinner would make it flimsy and more rigid. Stouchi focused on making the ends thinner instead. Their reduced footprint means you can easily cluster more wires together in cramped spaces, allowing you to maximize your TV's connection potential.
Luckily, whittling the ends down had no impact on usability. There's still gold plating on the contacts, and the ends are easy to grasp. Each has a little pip on the base that makes holding onto it while pulling more secure.
If there's anything to grumble about, it's the limited length. Unless 5.5' is enough for your setup, you're out of luck. Ironically, Stouchi is among the best brands regarding length choice, offering anything from 2' to 60' if you don't mind paying more for optical fiber versions of their cables.
Delong HDMI 2.1 Fiber Optic Cable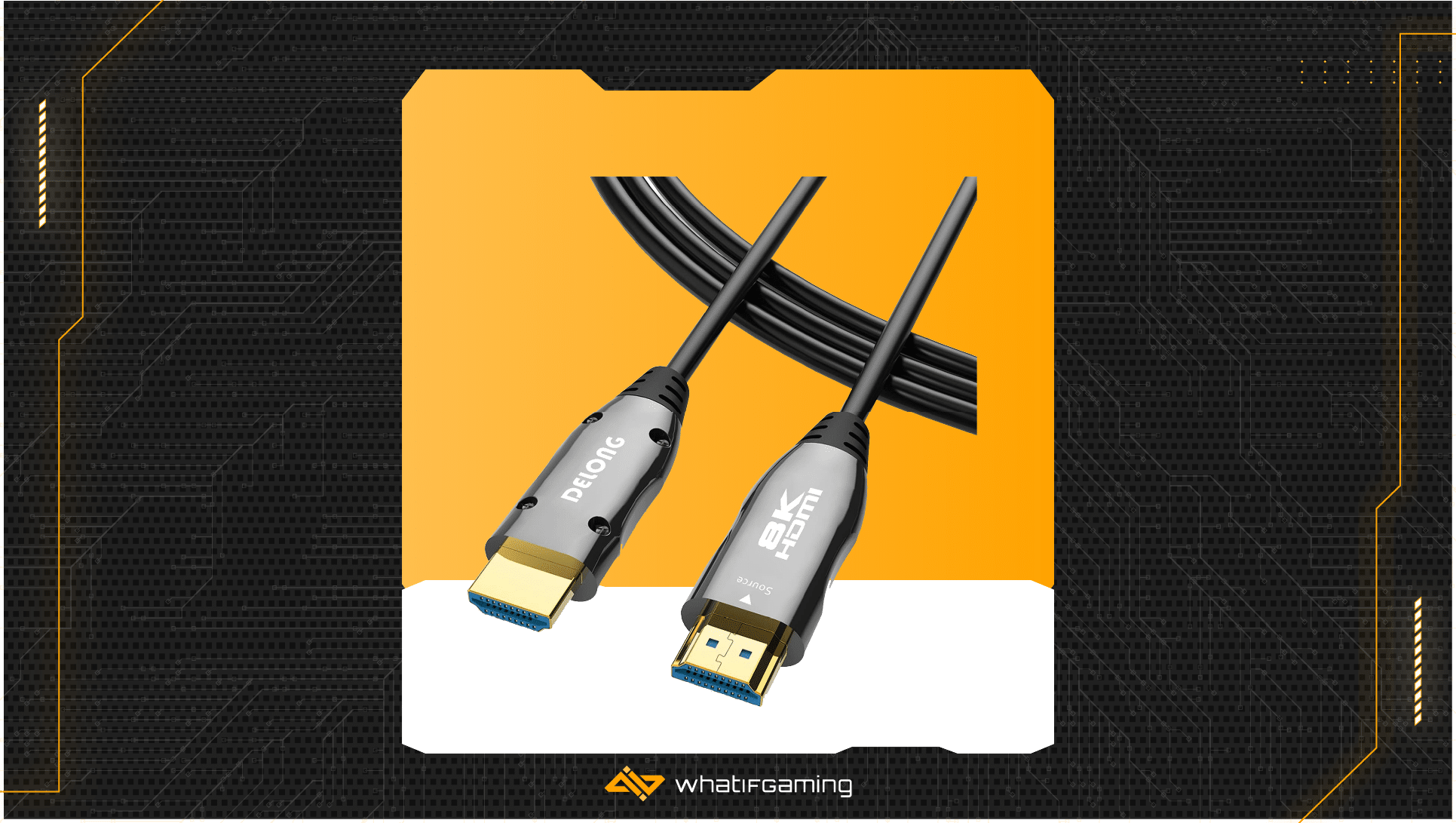 Delong HDMI 2.1 Fiber Optic Cable
HDMI version: 2.1 | Length: 33' – 100' | Type: PVC | Active or optical fiber: Optical fiber
Pros:
Extra-long range thanks to optical fibers

Built to last

Lifetime warranty
Cons:
More expensive than other types
Active HDMI isn't the only way of securing a longer reach. Optical fiber is the way to go if you need an even longer cord. They're the most expensive due to their advanced build, but there are exceptions even in this niche. Delong makes the best HDMI for PS5 and friends if you want your console to be at one end of the house and the TV at the other for some reason.
As its name implies, Delong's cord uses fiber optics along with conventional copper wiring to maintain signal clarity. The optical fibers take on video signal transmission. That leaves the copper wires with sound, power, connection protocols, and remote control.
Since optical fibers can transfer more data at greater distances without loss, the cables that use them can be much longer. You can get 100 feet of a Delong HDMI cable, provided you have the need and want to pay the fiber optics tax.
There's not much more to say about this cord once you know what makes it special. It has a similar end design to our other premium picks and supports all the same technologies. It's a specialized model for rare circumstances; that's why it's so low on our list. Most gamers will do fine with any of our above picks at a lower price.
Monoprice Premium HDMI Cable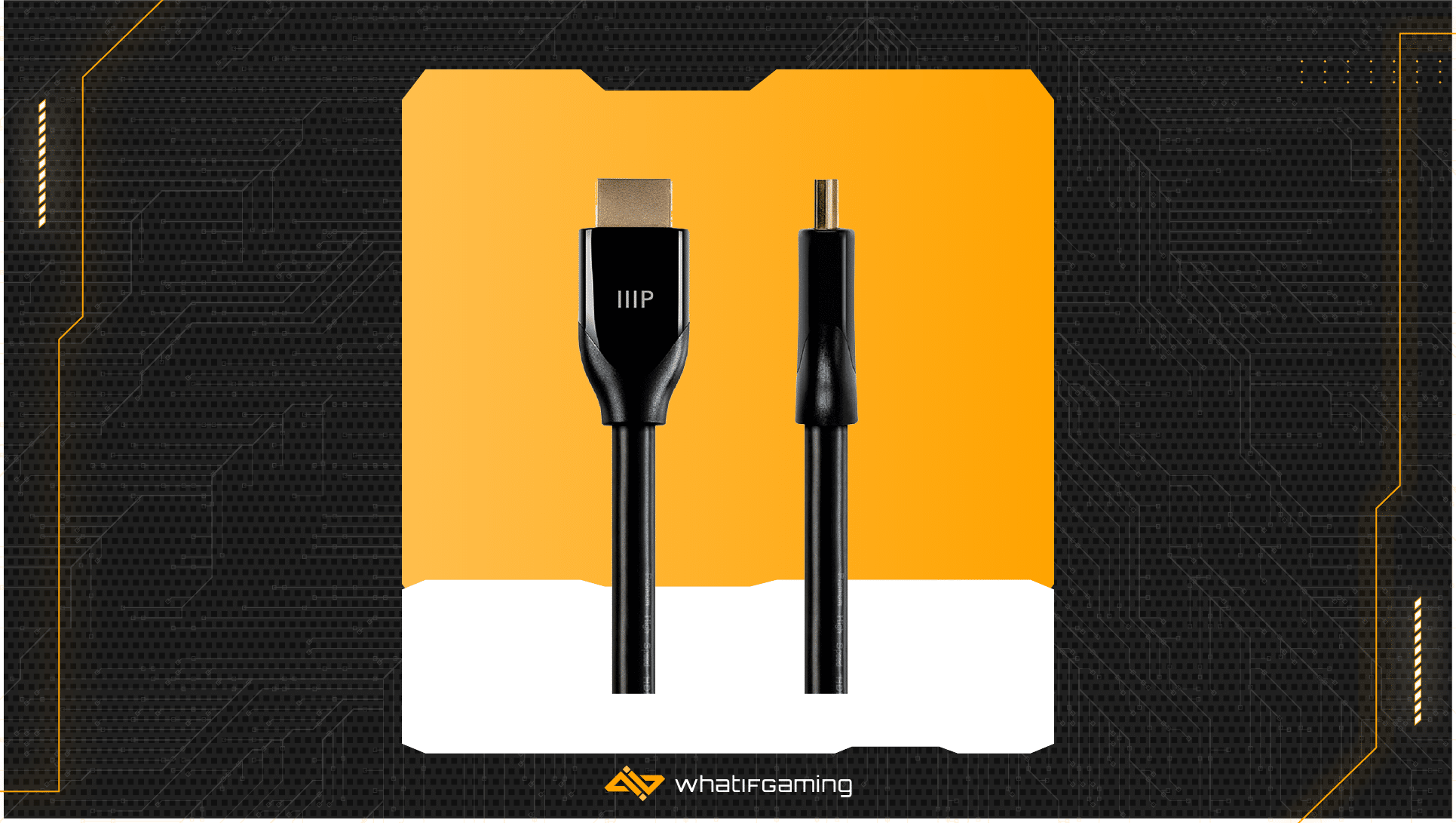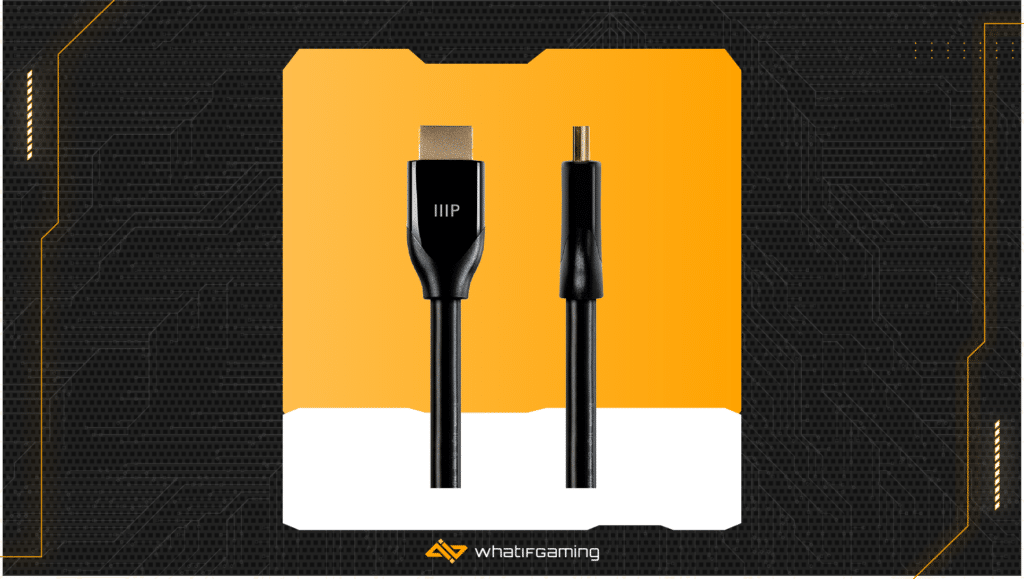 Monoprice Premium HDMI Cable
HDMI version: 2.0 | Length: 3.3' – 30' | Type: PVC | Active or optical fiber: No
Pros:
Great build quality

Affordable

Wide length variety
Cons:
Lacks advanced HDMI 2.1 features
All previous eight entries on our list use the newest HDMI standard. However, modern consoles can't take full advantage of it yet. HDMI 2.0 is still a valid option. Monoprice sells the best HDMI cable for PS5 & Xbox if you're fine with capping the 4K framerate at 60fps but getting a long, expertly-made cord in return.
What are you losing by going with an older cable like this? Either nothing or very little. HDMI 2.1 TVs have become mainstream only recently, so chances are that yours still runs on HDMI 2.0 limitations. Do make sure that this is the case before purchasing the Monoprice or Amazon Basics cables since using an HDMI 2.0 cable with a true HDMI 2.1 TV can cause signal issues.
You're still getting HDR10 and 4:4:4 chroma output but are sacrificing support for eARC and resolutions higher than 4K. You're also capped at 60fps for that resolution. Considering major titles like Starfield won't push more than 30fps at 4K, many gamers won't have an immediate reason to upgrade.
True to its name, Monoprice's cord is well-made and easy on the eyes. HDMI 2.0's 18Gbps data transfer cap means you get access to longer models that don't require any range boosting add-ons. Thirty feet of cable should be enough for 99.9% of users, and there are plenty of choices between it and the three-foot minimum.
Amazon Basics High-Speed HDMI Cable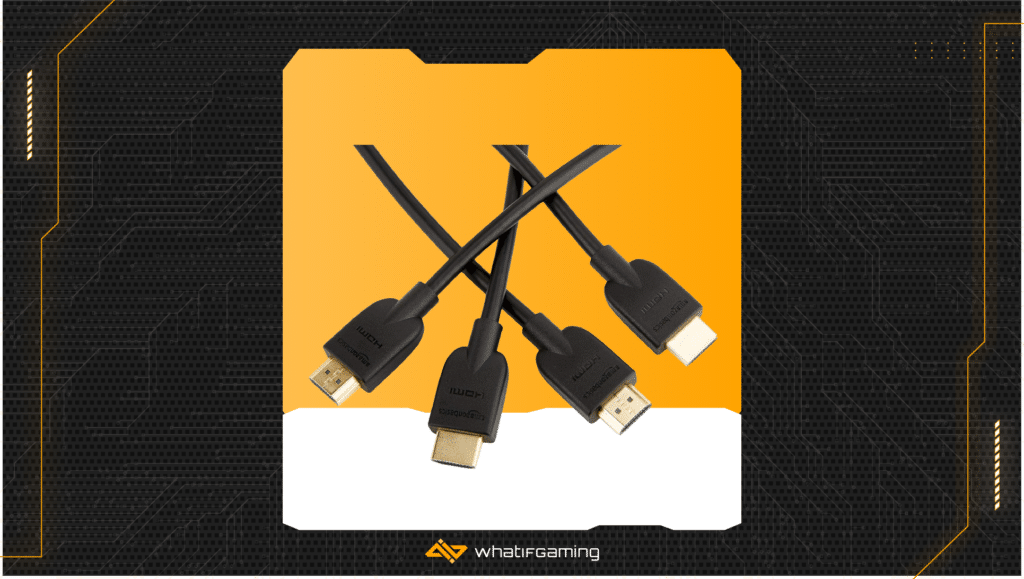 Amazon Basics High-Speed HDMI Cable
HDMI version: 2.0 | Length: 3' – 25' | Type: PVC | Active or optical fiber: No
Pros:
Very cheap

Longer versions are very sturdy

Easily sufficient for current console needs
Cons:
Chunky ends might make it harder to plug in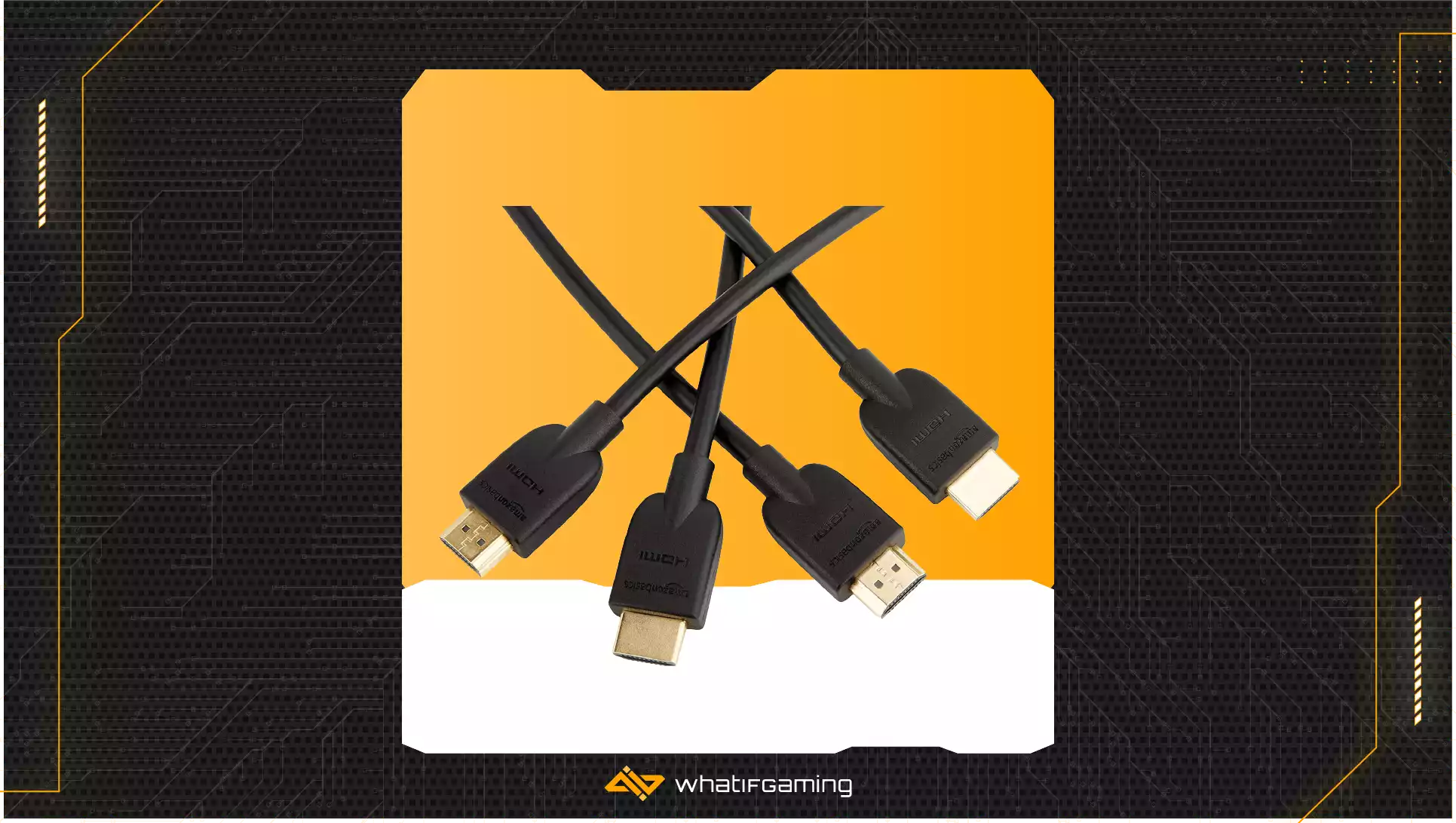 You've lost or damaged the cable that came with your console and want as cheap a replacement as possible? Amazon Basics is what you're after, then. No one beats the retail giant's cheap offerings, at least if you're satisfied with the minimum. Luckily, a cable with full HDMI 2.0 capabilities is exactly the kind of minimum many gamers won't see the need to exceed.
Amazon Basics is known as an entry-level brand, which is easy to confirm when you look at the cable's barebones appearance. It has chunky ends built for utility over style. The embossed logo adds a personal touch while doubling as a gripping aid. Nothing about the cord is exciting; nothing about it is wrong either.
Interestingly, longer versions come with more benefits. For example, they are certified as C3, meaning they're tough enough to be routed through drywall and withstand studs, nails, hangers, and other objects that would damage the outer PVC shells of lesser cables.
Other than hardiness, Amazon Basics HDMI cables are unremarkable. They're excellent for getting a vivid picture with HDRI and no compression. Their HDMI version means you're "stuck" at 4K 60fps, which lets you experience almost all games the way they were meant to be played. You can always drop the resolution to 1440p if you need more frames.