If you're looking to get out of the world and get into your own world, there's a way to do it just by turning on your PC and starting a game. Or, even better, if you're trying to get out of the clutches of your power strip, you can do it on your laptop!
How? You're asking me? Well, all you need to do is install Minecraft and start building. Minecraft shined bright back in 2017 when the game was officially released. Its creator Markus Persson and Mojang, had more than 70 million monthly players hooked to the game.
Everyone and their grandma have heard about the blocky world of Minecraft, its zombies, skeletons, spiders, and those green buggers called creeps. But, for those of you who have been living under a rock for the past couple of years, Minecraft is an open-world game where you can rebuild an existing world or start everything from scratch.
You can create a harmonic place where you live day by day and spend hours on building stuff. Or, you can create the most anarchic world where you're constantly under the pressure of the dangerous mobs that roam around you during the night.
However, the "Vanilla" Minecraft, as the hardcore players of the game like to call it, doesn't tell the whole story. The "Vanilla" version of the game is the most basic game without any mods and extension packs.
There are tons of mods and packs that you can add to your game to increase the quality of your gaming experience. Although the minimum and recommended requirements for the game are pretty low, in order to run some of the mods, you'll need much higher specs on your computer than the ones that I'm going to talk about in the next paragraph.
Minecraft Requirements – Minimum and Recommended
As I mentioned above, keep in mind that these are the minimum requirements for the bare bones Minecraft game. And these requirements might not be enough for you to play the game with some mods. So try to meet these requirements only if you're really limited on your budget and don't want the extra experience you can get from installing the mods.
Minimum Requirements:
CPU – Intel i3 3210 3.2GHz or AMD Athlon8 7600 3.1GHz
RAM – 2GB DDR4
GPU (integrated) – Intel HDG 4000 or AMD R5 Series
GPU (discrete) – Nvidia GeForce 400 AMD RHD 7000
HDD – 1GB
Recommended Requirements
CPU – Intel i5 4690 3.5GHz Or AMD Athlon10 7800 3.5GHz
RAM – 4GB DDR4
GPU – Nvidia GeForce700 or AMD RX200
HDD – 4GB 
Playing Minecraft is not that expensive if you want the barebones experience. But, if you're looking for anything more than that, you would need to bump up the price that you're ready to pay and get at least the recommended requirements.
So, what do I recommend you get? Well, read on and find out our top picks for your optimal Minecraft experience. There's something for everybody's taste and everybody's pocket.
You've got the requirements. What's next?
Now that you know the requirements to lay down the building blocks for this game, you'll need to find the best Minecraft gaming laptop that meets these requirements.
I can't stress this enough! Yes, you'll be able to play the game if you get the minimum requirements, but if you decide to go one step further and meet the recommended requirements, you can get a much better experience with better graphics, increased framerates, and overall better textures. 
So, suppose you want to say bye-bye to the choppy ugly looking pixely Minecraft. In that case, you'll need to splurge a bit more than you'd spend for a laptop meeting the minimum requirements.
When I'm talking about a decent laptop that meets the recommended requirements, I'm thinking somewhere in the range of 400 USD up to 1000 USD.
There is a mountain of laptops meeting the requirements in this price range. So, what should you keep your eyes on when choosing the right laptop for you? Well, I'd say that the most important on a laptop is its screen, then the keyboard, then the battery life and lastly the build quality. Keep in mind that this is just me, and you should take your priorities into consideration before deciding which laptop you'll get.
Best Laptops for Minecraft
Acer Predator Helios 300
CPU: Intel i7 11800H | RAM: 8GB DDR4 | GPU: nVidia GeForce RTX 3060 | SSD: 512GB
Great Experience
Top of the line internals
Play any game
Price
This laptop is an overkill option in every sense of the word. You get real-time ray tracing feature by the RTX 3060 included with this laptop. It sports a top-of-the-line Intel i7 11800H which is more than enough to pump out lots of frames for the GPU to process. The 144Hz 15.6" IPS display has a 3ms overdrive response which means you'll get the crème de la crème of displays for this price range.
You'll be able to crush skeletons, zombies, creeps, and spiders smooth, and I'm talking 144hz smooth. The 3060 and the i7 will allow you to use the full potential of the display, and what's best, you aren't only limited to playing Minecraft on this laptop. You'll be able to install any triple-A title and play it smoothly.
ASUS TUF Gaming F17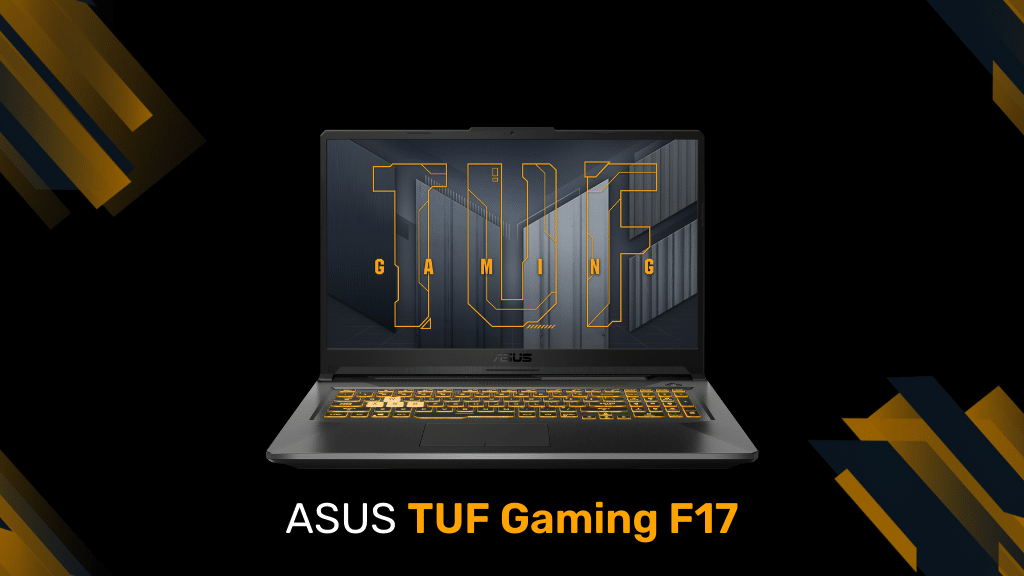 CPU: Intel i7 11800H | RAM: 8GB DDR4 | GPU: nVidia GeForce RTX 3050 Ti | SSD: 512GB
Great Experience
Play any game
Great Build Quality
Paying more for less
Although the ASUS TUF F17 has a larger display than its Acer counterpart, this display doesn't show colors that are as good as the Acer and add to that the fact that you're getting a lesser GPU for basically the same price. Then this laptop should not be on my list. So, why are you paying this much money but getting a lesser experience? Well, ASUS uses their TUF branding for the most durable equipment that they build. They say that each product of their TUF series goes through rigorous tests for durability and stability.
So, if you're someone who travels a lot and takes their laptop with them everywhere they go, durability should be on top of your list, and the ASUS TUF F17 is the laptop for you! You can throw it in your bag and forget about it, it will take the beating inside like a champ, and you won't be able to tell.
The RTX 3050 TI has performed comparably to the RTX 3060, and it shouldn't be a huge downgrade from it. The bigger display surely means that you'll get a more immersive experience, but the colors are a big minus on my list. All this makes the TUF F17 a competitor for the best laptop for Minecraft. Anyways you're getting a tank of a laptop that will take anything you throw at it, both in the literal and in the gaming sense! 
PS: If you're serious about gaming, planning on getting one of the best laptops for Minecraft and your budget allows it. Here are all the places where you can find the best Minecraft Server hosting
Acer Nitro 5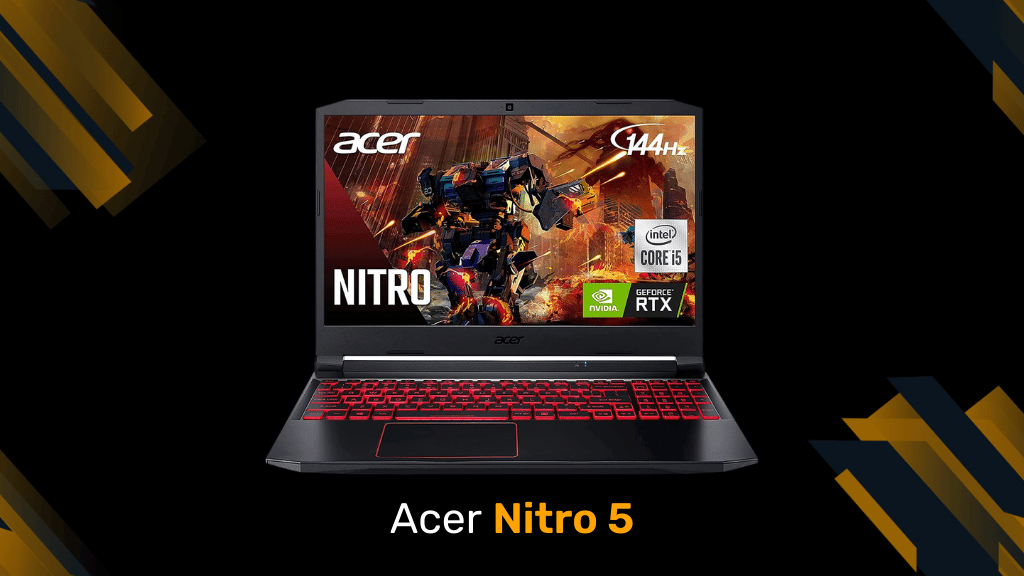 CPU: Intel i5 10300H | RAM: 8GB DDR4 | GPU: nVidia GeForce RTX 3050 | SSD: 256GB
For the price you're paying in this price range, the Acer Nitro 5 is one of the best laptops for Minecraft out there. You're getting Ray Tracing with the RTX3050, a slightly outdated processor which doesn't lag behind with performance. You'll still be able to play your Minecraft session with any mods and extensions you want, and the Acer Nitro 5 will run it without breaking a sweat.
You'll also be able to play most of the triple-A titles that are out at the moment, although you might need to sacrifice a bit of FPS and performance in order to do so, which isn't a big drawback, especially when you take into consideration that huge price jump when compared to the previous two choices.
You still get a great display, keyboard, and fairly big screen size at 15.6 inches. However, a place where I think the Nitro falls behind is the storage department, where it only offers you 256 of NVME SSD storage, but you can upgrade that down the road when you feel like you're getting close to filling it up because it comes with another free NVME SSD slot. 
HP Pavilion 15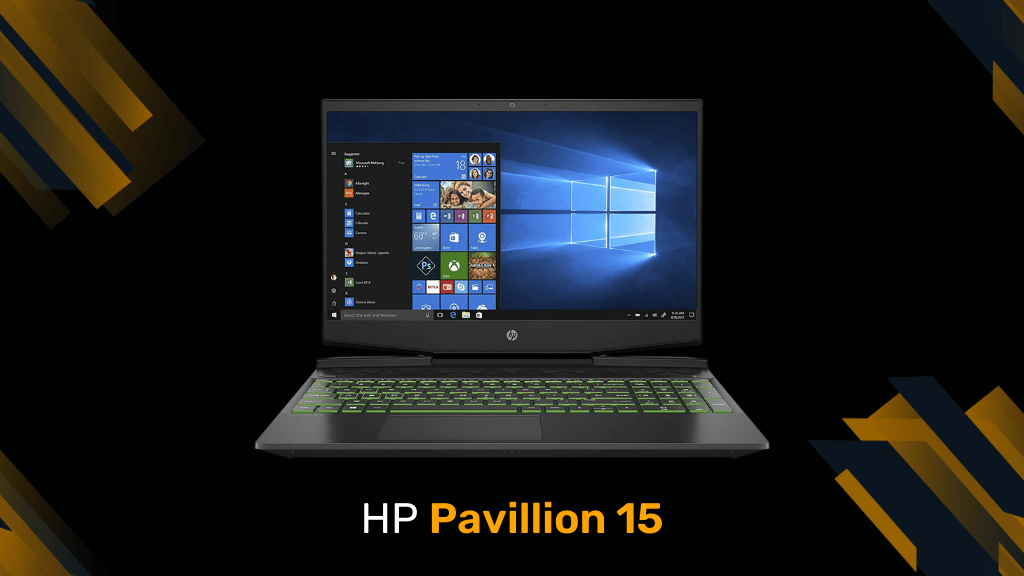 CPU: Intel i5 9300H | RAM: 8GB DDR4 | GPU: nVidia GeForce GTX 1650 | SSD: 256GB
Great Display 
Price
Cutting corners
Storage
Although this option is one of the best, there are a host of productivity features included in it. For example, the CPU is amazing, but it is a bit outdated compared to some of the other options included in this list. However, with the HP Pavilion 15, you get 8GB of RAM, which is great for photo editing, video editing, 3d design, etc. The 15 inches FHD screen is good enough for most tasks as well as for gaming, but you don't get the high refresh rate that the more expensive options offer. When speaking about Minecraft, you don't really need a high refresh rate, to be completely honest with you. However, keep in mind that when you're going with the lower-priced products, you will see good features evaporating quickly.
Acer Swift 3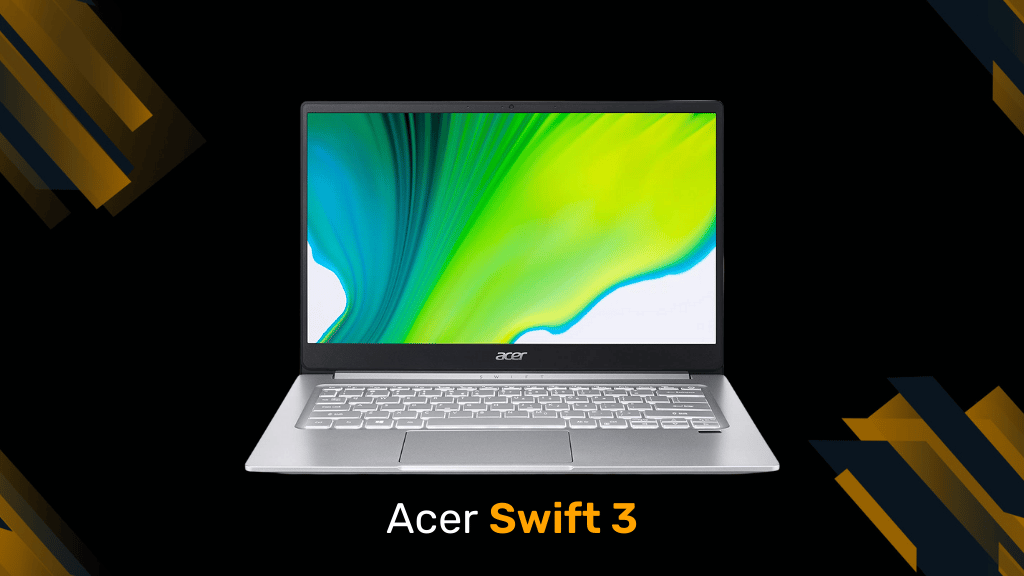 CPU: Ryzen R7 4700U | RAM: 8GB DDR4 | GPU: Integrated Radeon Graphics | SSD: 512GB
There are tons of options to choose from on Amazon for the Acer Swift 3. In my opinion, this is the best configuration. Keep in mind that for the price of a regular laptop, you're getting a thin and light laptop that takes portability to a whole new level. The whole selling point of the Acer Swift 3 is that they've managed to put powerful internals and didn't sacrifice portability.
With that said, the Ryzen R7 4700U, although a last-gen processor, it's still one of the best performing processors out there, outperforming even some of the newest chipsets out there. You get an integrated Radeon graphics which is good enough to run Minecraft and mods, but if you're trying to play any other Triple-A Title, you'll have a hard time doing so.
When compared to the other laptops on this list, the Acer Swift seems to be oriented around productivity, but you'll be able to do some light gaming sessions on it with no problem. You can also choose an option to get the laptop with a mouse included so that you don't play on the trackpad, but if you're looking for the best Minecraft mouse, take a look at this article where I list the best Minecraft mice in my opinion.
Acer Aspire 5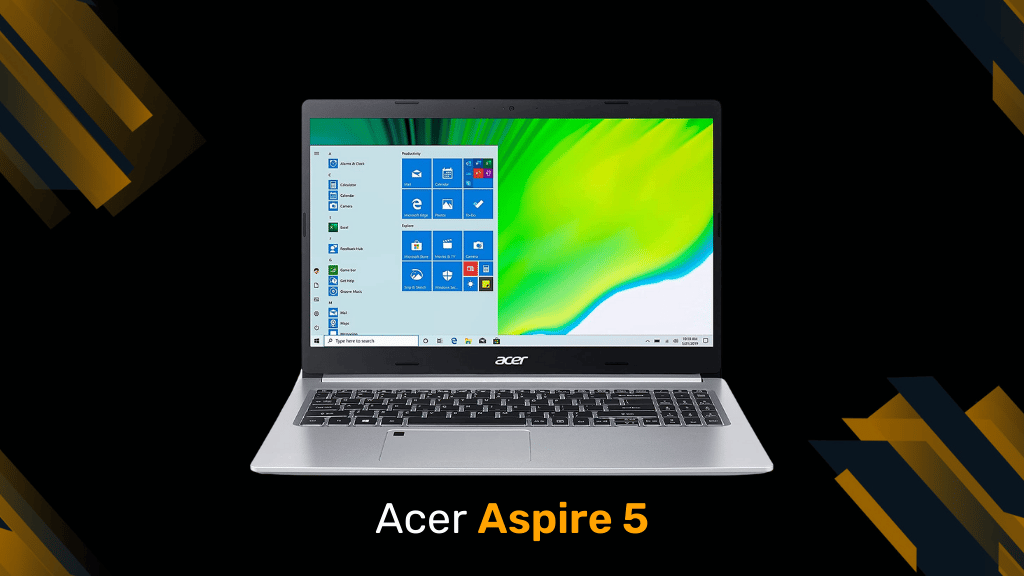 CPU: AMD Ryzen R3 3350U | RAM: 4GB DDR4 | GPU: AMD Radeon Integrated Graphics | SDD: 256GB
Cheapest option 
Outdated hardware
Storage
If you're strictly limited with your budget, and you're not really a hardcore gamer, then all you need is the Acer Aspire 5. It sports the 3000 series AMD Ryzen 3350U with its integrated Radeon Graphics GPU and 4GB of DDR4 RAM, which is enough to play the game on lower settings.
I know that it's amazing having all of the flashy RGB keyboards, IPS 1080p 144Hz displays, and awesome built quality. But, in my opinion, if you're only buying the laptop to do some light gaming, watching videos, and social media scrolling, then you don't need to splurge big cash in order to get the top of the line laptop if you won't be using it that much.
Minimum requirements on games are there for a reason, and in my opinion, if you won't be playing it that much, you only need to meet the minimum requirements. Keep in mind that this laptop won't be able to run most of the new Triple-A titles, but if you want to do that, then you will have to dip your feet into some more expensive hardware.
PS: If you're looking to play the game, here are a couple of Minecraft Building Tips that I think will help you immensely!
Conclusion
At the end of the day, if you're a hardcore gamer and maybe do some work on your laptop, the overkill options are not that overkill. Of course, there are much more expensive laptops out there, but that is a really niche product, and not that many people need that power packed in a laptop.
For a casual Minecraft gamer, the list above is a pretty good starting point. If you have a favorite brand of laptops that meets the requirements of the game, do go with that option. However, if you dive deeper into the laptop choices that meet the requirements, you're going down a wormhole, and you'll get out of it more confused than when you've entered it (trust me, I am speaking from experience!)
Still confused even with the list above?
Well, if you're looking to spend a bigger buck and get the performance, build quality, and features, the Acer Helios and the ASUS TUF Gaming F17 are great choices. For the money that you're paying, you get the durability and performance, which will keep the laptops in good condition even after years of playing games on them.
However, suppose you're looking to spend a bit less money. In that case, you're getting in the mid-range category, where the laptop manufacturers are cutting corners in order to squeeze more performance out of their machines. So, if you get the performance, you will sacrifice build quality. If you sacrifice the internals and the performance, you will get a more durable machine. Here, you'll have to sort your priorities and get the machine that suits you the most. If you're planning on gaming on the go, then you can even spend a bit more and get a thin and light laptop like the Acer Swift 3.
When you're getting in the budget options, all you need to try to do is get the best for your money. The budget scene for laptops, just like with any other product, is overcrowded with amazing products, but there are a lot of garbage ones too. All you need to do is separate the good from the bad and choose wisely. I think that the Acer Swift 3 is a good option, and if you don't like the brand, then you can go and choose your favorite brand, but make sure that it sports the same or similar specs as the Acer Swift 3.
Thanks for taking the time to go through the article. Do you have some suggestions on laptops that we could include in our list that I've missed out on? What laptop are you playing Minecraft on? Or are you sporting a decked-out Desktop machine? Leave your thoughts in the comments sections below, and share this article with a friend in order to avoid game crashes in the middle of a fight while they're playing with you!