Specs:

CPU: Intel Core i9-12900H
GPU: NVidia GeForce RTX 3080 Ti
RAM: 32GB DDR5, 4800MHz
Screen: 16",2560x1600, 240Hz

Specs:

CPU: Intel Core i9-12900H
GPU: NVidia GeForce RTX 3080Ti
RAM: 32GB DDR5, 4800MHz
Screen: 17.3",4K, 120Hz

Specs:

CPU: Ryzen 9 5900HS
GPU: NVidia GeForce RTX 3080
RAM: 16GB DDR4, 3200MHz
Screen: 15.6",1440p, 165Hz

Specs:

CPU: Intel Core i9-12900H
GPU: NVidia GeForce RTX 30870 Ti
RAM: 16GB DDR5, 4800MHz
Screen: 15.6",1080p, 300Hz

Specs:

CPU: Intel Core i7-12800H
GPU: NVidia GeForce RTX 3070
RAM: 16GB DDR5, 4800MHz
Screen: 15.6",1080p, 360Hz

Specs:

CPU: Intel Core i7-11800H
GPU: NVidia GeForce RTX 3060
RAM: 32GB DDR4, 3200MHz
Screen: 15.6", 1080p, 144Hz

Specs:

CPU: Intel Core i7-11800H
GPU: NVidia GeForce RTX 3060
RAM: 32GB DDR4, 3200MHz
Screen: 15.6",1080p, 144Hz
VR gaming is still in its infancy, but the promise of immersion, unlike anything that came before it is already apparent. There's nothing like jumping into the cockpit of a car in Dirt Rally or exploring the galaxy in No Man's Sky in a way that makes you feel like you're really there. A next-level experience like that requires next-level hardware, and laptops are finally at the stage where they can rival desktops as the gateway into virtual worlds. Need the best laptop for VR to experience them yourself? Then read on!
Unlike our 4K laptop choices, here we thought it best to focus on laptops with smaller resolutions that are either cheaper or perform better as a result. We've assembled a diverse spread of laptops, from top-of-the-line powerhouses to competent models that don't break the bank. Get to know them one by one and make an informed decision on your new VR gaming laptop.
Acer Predator Triton 500 SE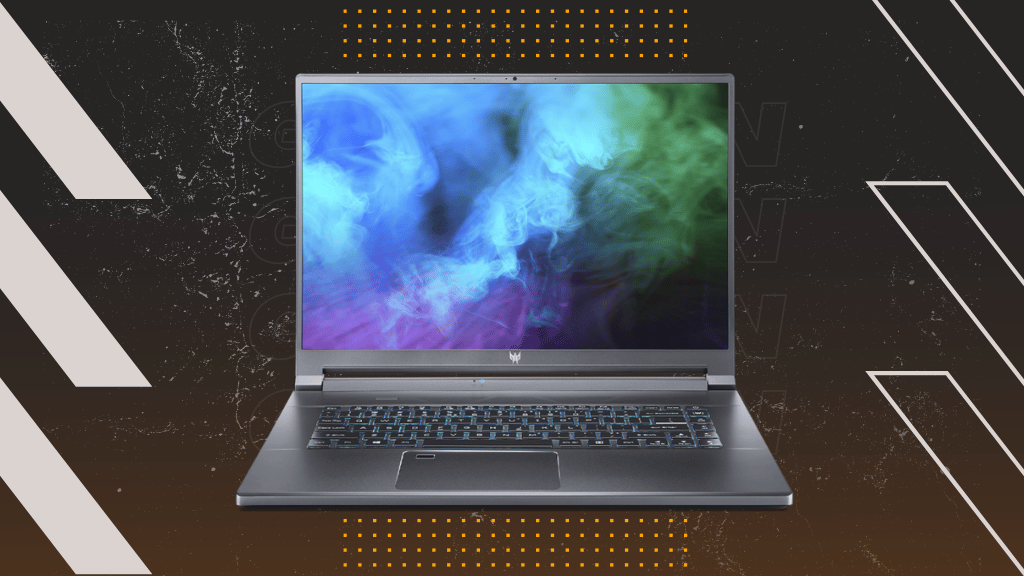 Acer Predator Triton 500 SE
CPU: Intel Core i9-12900H | GPU: NVidia GeForce RTX 3080 Ti | RAM: 32GB DDR5, 4800MHz | Screen: 16", 2560x1600, 240Hz | Storage: 1TB SSD | Battery life: 4:30h
Pros:
Outstanding specs

Sharp, bright screen with fantastic refresh rate

Great webcam, color accuracy, and supporting software
Cons:
Expensive, mediocre keyboard
The mobile version of Intel's Alder Lake processors breathes new life into the most recent gaming laptops. The Predator Triton 500 SEE has quickly become one of our favorites as it's not the most ridiculously expensive of the new arrivals yet packs a serious punch. It's understated, has a fantastic screen, and will run anything you throw at it. Just get a good headset since the noise can be a bit much.
Hardly anything about the design hints at the beastly hardware that slumbers inside. The gunmetal gray aluminum is almost devoid of details, save for the Predator logo on the lid and massive telltale exhausts in the back. There's no flex to the base, although you can achieve some if you apply pressure to the screen. The laptop is impressively thin for its specs and use case, too.
The port selection is varied. You'll find pairs of USB-A and Thunderbolt connectors on each side. An audio jack and 2.5G Ethernet sit on the right, while a full-fledged SD card reader, HDMI 2.1 port, and Kensington lock are on the right. Apart from the high-speed wired connection, the Predator Triton 500 SE also offers WiFi 6e and Bluetooth 5.2
The display is a mesmerizing 16:10 1600p panel with an excellent 500 nits peak brightness. Combined with a matte surface, that's enough light to work or play out in the open comfortably. The colors are vibrant, covering 100% of the sRGB and even much of the DCI-P3 space. The initial calibration is slightly cool, but that's easy to fix. Oh, and the refresh rate is a whopping 240Hz.
The Apex Predator
Best of all, the laptop can back such a refresh rate up with its raw specs. It has one of the fastest new mobile Alder Lake processors and a mighty RTX 3080 Ti. No less necessary are the 32GB of Corsair's DDR5 RAM and a speedy NVMe drive that takes full advantage of PCIe 4.0 speeds. All of that is enough to run any VR game smoothly or approach the screen's max refresh rate in less demanding competitive titles.
Due to the irregular format, Acer had to make some changes to the keyboard. It's positioned centrally and doesn't have a Numpad. You do get to keep the arrow keys, and a column of keys to the right of Enter adds more functionality. The chicklet-style board has a short travel and is comfortable to type on. Its backlighting is blue by default, but you may alter that extensively using Predator Sense.
Packing so much power into a thin laptop like this resulted in compromises. The 3080 Ti has a lower power limit, so it loses out on potential. Not that this will stop the laptop from consistently delivering native 60+fps on Ultra detail. The fans are more annoying since they exceed the 50dB threshold. You'll always want to be plugged in while gaming since the battery drains fast.
MSJ Stealth GS77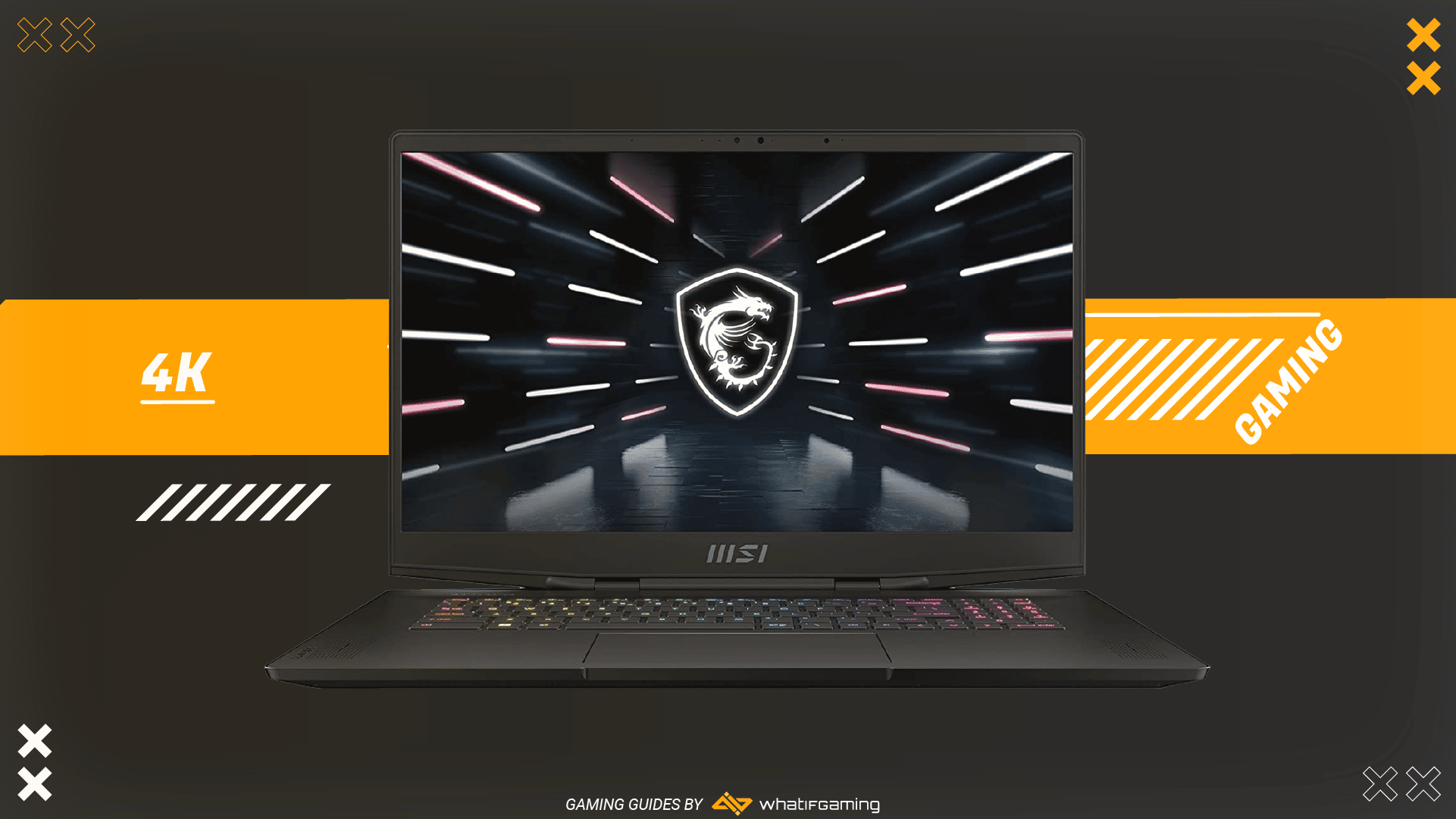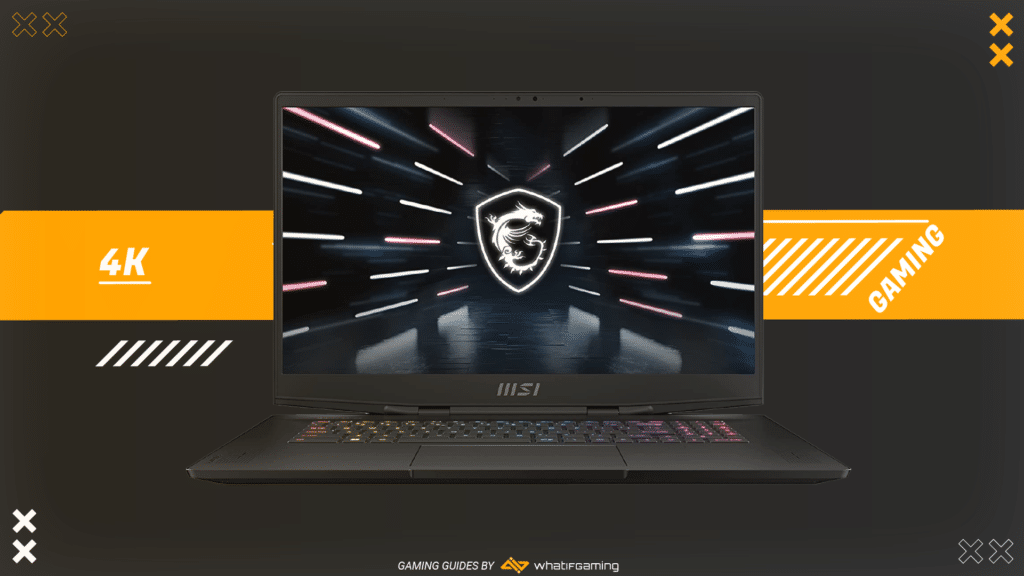 MSI Stealth GS77
CPU: Intel Core i9-12900H | GPU: NVidia GeForce RTX 3080 Ti | RAM: 32GB DDR5, 4800MHz | Screen size: 17.3", 120Hz | Storage: 1TB PCIe 4.0 SSD | Battery life: 6:00h
Pros:
Outstanding screen with excellent color coverage

Powerful core specs

Understated look with improved durability and ventilation
Cons:
Expensive, some keys are smaller than others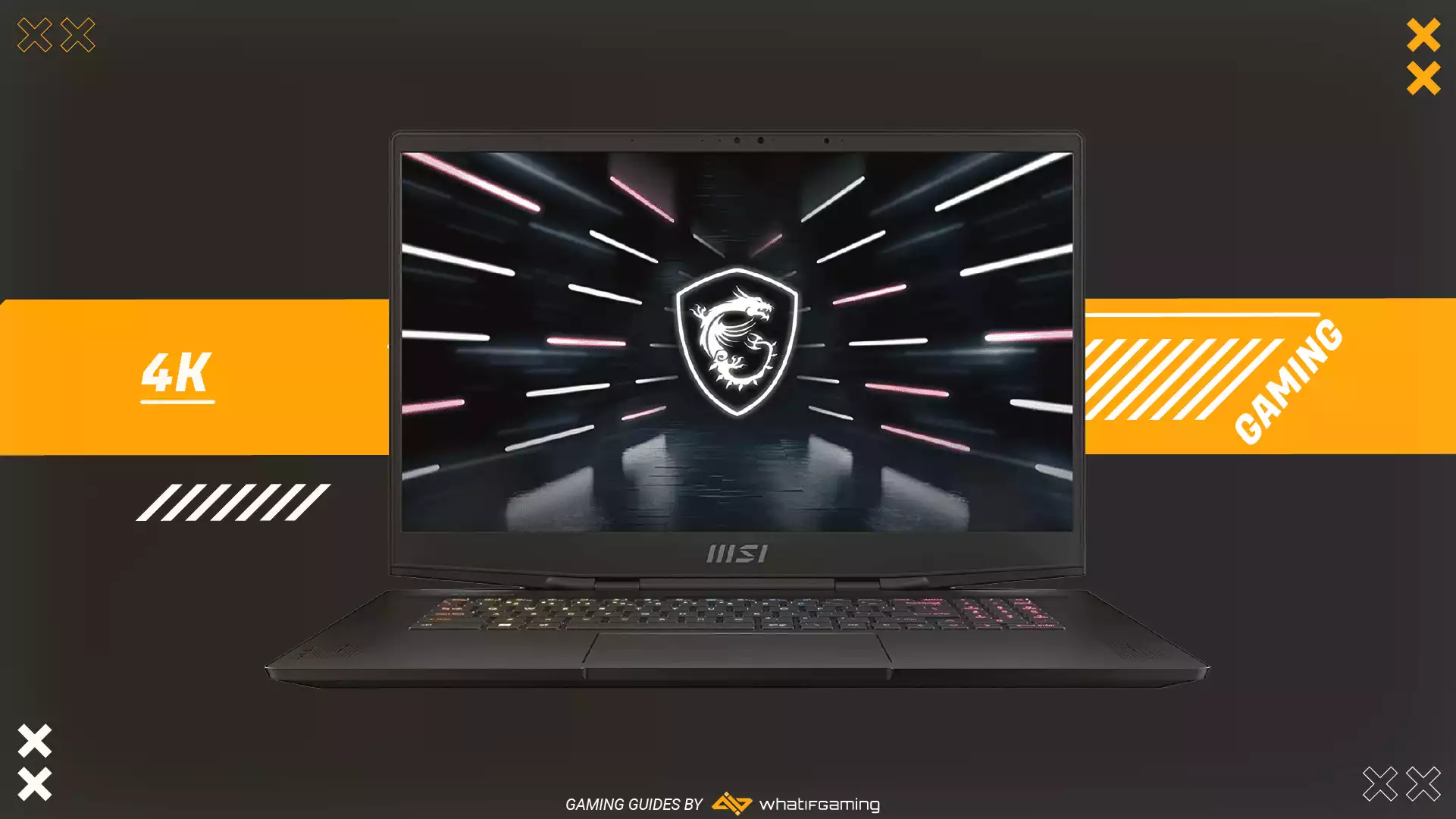 You won't be immersed in VR all the time, so why not get a laptop that can leverage the required hardware to its fullest? MSI's newest Stealth model does so with a brilliant 4K screen. It has a long-lasting battery for a gaming laptop and packs the top end of NVIDIA and Intel's current mobile hardware. The price might put some people off, but you can always mitigate part of it by going for a lesser screen.
MSI continues its chassis experimentation on the Stealth line with yet another revamp. Users hoping for the light – and flimsy – shell the GS76 came in will be disappointed. We support the new approach, as the GS77's ventilation redesign, structural improvements, and new hinge inspire more confidence.
Forgoing a slim profile doesn't mean the Stealth isn't fitting anymore. The all-aluminum chassis remains svelte with minimal accents other than the MSI logo that reveals itself when light hits it at the right angle. A pronounced back grille testifies to the model's beefed-up hardware.
The port section remains unchanged, albeit with different arrangements than last time. The rear now houses the AC adapter, 2.5G Ethernet, and an HDMI 2.1 port.
An audio jack, two USB 3.2 Gen 2 ports, and a physical webcam shutter switch are on the left. You'll find an SD card reader and two USB-C ports on the right. One of them has complete Thunderbolt 4 functionality, while the other has an integrated DisplayPort passthrough.
Stealthy Supremacy
The keyboard is the GS77 Stealth's most contentious component. Its core part is adequate, with quiet keys that are soft enough to type on but so mushy that you'd need a standalone replacement. You get arrow keys and a Numpad, which are smaller and of a lower quality. Even so, the individual backlighting is striking in the dark and doesn't bleed from one key to another.
The new Stealth has one of the best 4K laptop screens available today. The 17" diagonal is big enough for one's eyes to appreciate the difference as everything is visibly sharper and more in focus than on a 1080p panel. The display's brightness is a high 450 nits, allowing for portable gaming even when you venture out of dimly lit surroundings.
The webcam right above the screen is better than most. While not professional streaming grade, its 1080p output will make you look good enough for remote study sessions or business meetings.
All the best VR laptops have the same or similar specs on paper, so performance differences come down to nuances. The Stealth's DDR5 RAM runs at JEDEC speeds, and the 3080 Ti has a 105W TDP. Such variations amount to a negligible performance decrease compared to the Predator, providing all you need for an exceptional VR experience even so.
You may wish to upgrade the laptop at some point and can do so easily by removing a dozen screws to reach inside. You can augment or swap out the 1TB PCIe 4.0 SSD and RAM. Flipping the Stealth around also exposes a grille larger than its predecessor's.
The decision not to max out the GPU's TDP pays dividends during everyday use. The Stealth doesn't get uncomfortably hot, and the fans whir tolerably loud even when you're pushing the hardware with maxed-out details.
ASUS ROG Zephyrus G15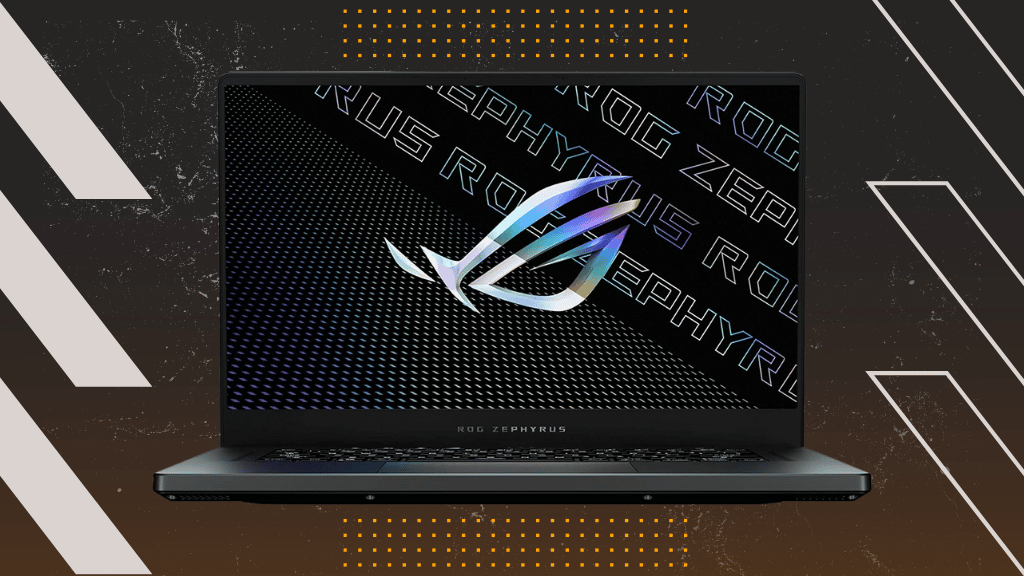 ASUS ROG Zephyrus G15
CPU: AMD Ryzen 9 5900HS | GPU: NVidia GeForce RTX 3080 | RAM: 16GB DDR4, 3200MHz | Screen: 15.6", 1440p, 165Hz | Storage: 1TB SSD | Battery life: 8:30h
Pros:
Great AMD specs

Excellent audio and screen

Outstanding battery life
Do you want a laptop that makes short work of even the most demanding VR titles? Then the ROG Zephyrus G15 from ASUS is our instant recommendation. Its CPU and graphics card combo rivals high-end desktops, as does sound and video quality. Moreover, it is portable for a gaming-oriented model and lasts as long per charge as most ultrabooks. Add a reasonable price given the specs, and it becomes clear as day why it took Alder Lake to dethrone it as our best laptop for VR top pick.
Gaming laptop designs have grown stale in recent years, which is why we're glad ASUS tried something new for the G15. It adopts a stealthy black look, with part of the lid sporting diagonal arras of dots that shimmer as the light hits them. The G15 is thin and light for a gaming laptop, the charger notwithstanding.
You get plenty of connectivity despite the slim profile. That includes pairs of USB-A and USB-C ports, an Ethernet jack, an SD card reader, audio jacks, and a slot for a Kensington lock. Each side also has a small grille for heat dissipation. The entire bottom is one giant vent, and there's another grille running underneath the screen. The G15 gets hot despite these, which isn't unusual for its specs.
The keyboard is neutral, feeling neither clicky nor mushy when pressed. It's a tenkeyless design gamers won't have a problem with, especially when soaring through the skies in the VR version of Microsoft Flight Simulator. The touchpad is solidly designed and responsive, not that gamers will use it much.
The Pinnacle of Mobile AMD VR Gaming
We were impressed with the G15's audio-visual experience. It has six strategically placed speakers, including two subwoofers that deliver exceptional audio for a laptop. The screen is a 1440p display with a fast response time and vivid colors. While not intended for it, you could easily use the G15 as a laptop for color correction since the screen can display 99% of the sRGB color gamut.
Expect the G15 to be relevant for years to come as it packs AMD's fastest mobile CPU together with an RTX 3080. The 5900HS is a versatile chip that's as adept at gaming as it is at multitasking or heavily multithreaded workloads. The setup lets you encode a video while simultaneously running away from Lady Dimitrescu without stuttering or slowdowns.
The only nitpick we have with the G15 is its lack of a webcam. It might have made sense for a laptop focused purely on gaming not to have one two years ago, but you may find yourself in need of a webcam given current global events.
ASUS ROG Strix Scar 15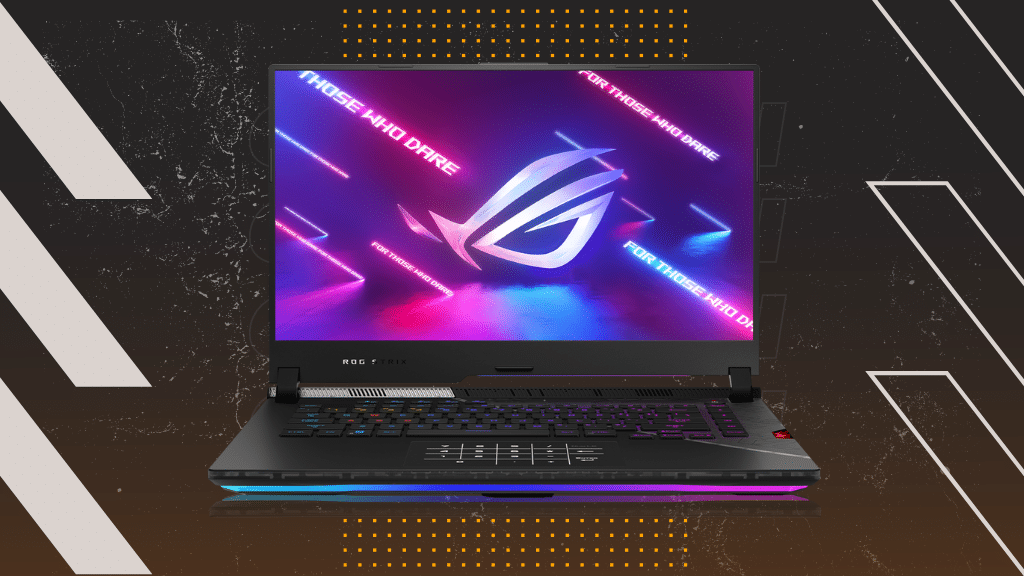 ASUS ROG Strix Scar 15
CPU: Intel i9-12900H | GPU: NVidia GeForce RTX 3070 Ti | RAM: 16GB DDR5, 4800MHz | Screen: 15.6", 1080p, 300Hz | Storage: 1TB SSD | Battery life: 5h
Pros:
High refresh rate screen with excellent overdrive

Nice specs

Flashy design & useful companion software
Cons:
Lacks webcam, gets loud under load
Do you take VR and competitive gaming equally seriously? In that case, the newest version of the ROG Strix Scar is the laptop you should save up for. It has a blisteringly fast 300Hz panel and more than enough hardware oomph to put it to good use. Add an abundance of ports & unique aesthetic, and you've got a highly versatile gaming laptop to stand the test of time.
ASUS made substantial visual changes to last year's model, so this time it's left unchanged. The Scar 15 is a thoroughbred gaming laptop, as evidenced by its black exterior and overabundance of RGB. You'll find some on the ROG eye, partially under the lid, and even wrapping around the front side. Needless to say, you won't be bringing this model to the office.
You can get the Scar with either a 1440p or 1080p panel. We went for the latter since it's less expensive while allowing for a 300Hz max refresh. The screen is darker than the Triton's at 350 nits and not as vibrant. Still, 96% of the sRGB color gamut is enough for complete gaming immersion if not for professional color grading.
The port selection is solid, and most connections are positioned logically. Many are in the back, including 2.5G Ethernet, Thunderbolt 4, USB-C with DisplayPort passthrough, and HDMI 2.1 for when you want to connect the latest monitors. There are two more 5Gbps USB-A ports on the left, while the right side is reserved for the ROG Keystone 2. This NFC device can share Armoury Crate profile data between two devices and even decrypt drives with sensitive data.
The keyboard is a downgrade from last gen since membrane switches replace the optical kind. Even so, the typing experience is tactile and comfortable. Several special keys bring useful functionality like direct access to Armoury Crate. The arrow keys are on the small side, and the Numpad is part of the touchpad. Speaking of, the touchpad is reasonably responsive, but most gamers are bound to use a mouse anyway.
Part of the Scar's base plate is transparent so that you can see some of the hardware inside. These innards are only slightly weaker than our overall winner's, with the i9-12900H and RTX 3070 Ti as the highlights. The GPU has standard limits, and there's no CPU throttling unless you put both through rigorous stress testing.
Speedy Panel with Powerful Backing
The difference in GPU performance compared to the Predator is present but small. As you're dealing with a 300Hz 1080p panel, expect most games to achieve framerates well within triple digits without having to reduce settings.
Whether you'll want to insist on the best is a matter of your tolerance for fan noise. Armoury Crate offers several profiles, including a manual one that allows you to set custom curves and achieve the fans' max RPM. While this keeps the laptop cool in all but torture testing, the resulting loudness could be considered another form of torture.
One more thing to note is that, like the Zephyrus, the Scar does not have a webcam. ASUS compensates for this by offering an external webcam in some regions, but it's more likely you won't get one.
Razer Blade 15 Advanced
Razer Blade 15 Advanced
CPU: Intel Core i7-12800H | GPU: NVidia GeForce RTX 3070 | RAM: 16GB DDR5, 4800MHz | Screen: 15.6", 360Hz | Storage: 1TB SSD | Battery life: 4:30h
Pros:
Bright screen with exceptional refresh rate

Excellent specs

Attractive and durable all-metal build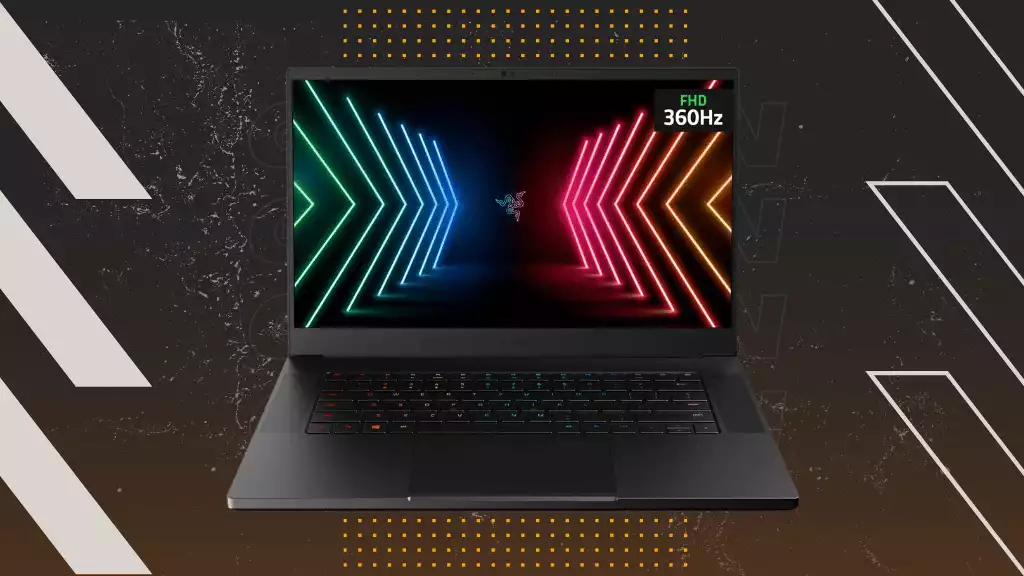 The Triton 500 SE might be the best laptop for VR, but what about other forms of gaming like competitive? You'll need a screen that can keep up better, like the 360Hz panel on the Razer Blade 15 Advanced. It's one of the lightest VR-ready laptop models yet packs a punch for gaming or productivity. You'll want to keep the power adapter handy, but that's a downside many will find acceptable.
This is the third generation of Blade laptops Razer has released in less than two years, so the fact that it looks identical to older models isn't surprising. The all-metal chassis exudes a premium feel. You'd think this was a high-end business laptop if not for the Razer logo and bright green USB-A ports. Three of these are at your disposal, along with two Thunderbolt 4-enabled USB-C plugs. There's enough room left over for an SD card reader, audio adapter, and HDMI 2.0.
The keyboard isn't mechanical, strange considering the maker and price. Stranger still is its shallow travel distance and a feel geared noticeably more towards typing than racking up kills. However, it doesn't take long to get used to the keyboard and embrace its philosophy. The touchpad is among the best in the business, provided you can't find your mouse for some reason.
You can get the Blade 15 Advanced in one of three screen configurations. Two of them are 1440p at 240 and 165 Hz, respectively. We opted to focus on the least expensive option, a 360Hz IPS panel. It has great colors and minuscule response latencies. Best of all, the i7-12800H and 3070 are more than capable of achieving the advertised refresh rate in competitive titles like CS:GO.
Gaming at the Speed of Thought
The webcam is worth a mention since it's a cut above most. The contrast isn't the best, but its 1080p resolution lets Zoom call participants pick up more subtle details around you.
Core specs place the Blade 15 Advanced under our top VR gaming laptop choices, but not by much.. The mobile RTX 3070 is marginally less powerful than the 3080, delivering comparable performance while costing manufacturers less to implement. The SSD is speedy, and there's a second M.2 slot if you wish to upgrade.
The Blade's cooling uses evaporation chambers to keep critical components from reaching high temperatures. Only the bottom has vents, so there's almost nowhere for the heat to escape. That creates spots on the keyboard that can become uncomfortably hot after prolonged use.
Acer Predator Helios 300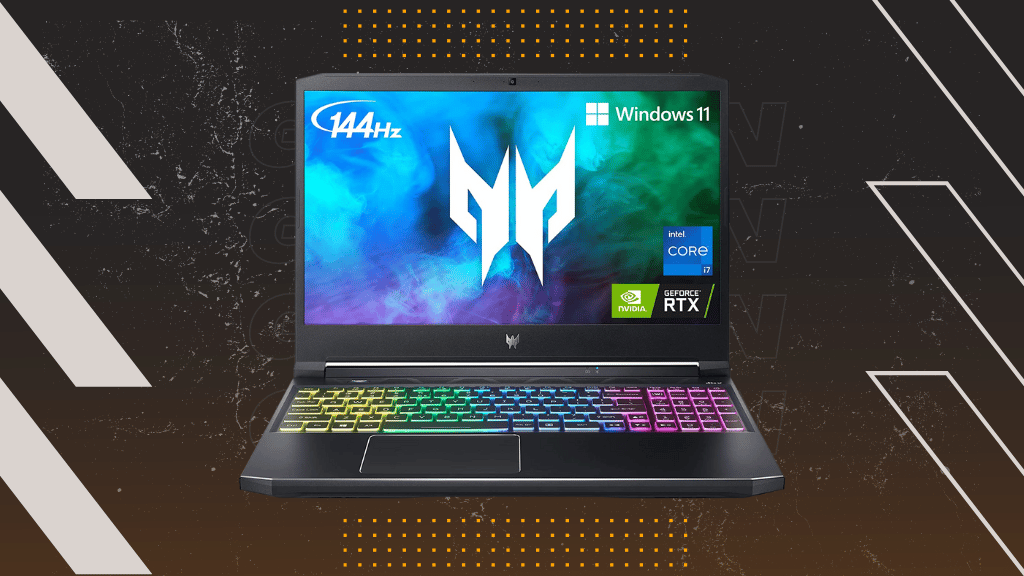 Acer Predator Helios 300
CPU: Intel Core i7-11800H | GPU: NVidia GeForce RTX 3060 | RAM: 32GB DDR4, 3200MHz | Screen: 15.6", 1080p, 144Hz | Storage: 1TB SSD + 2TB HDD | Battery life: 6:30h
Pros:
Solid mix of components

Plenty of memory & storage

Bright screen with high refresh rate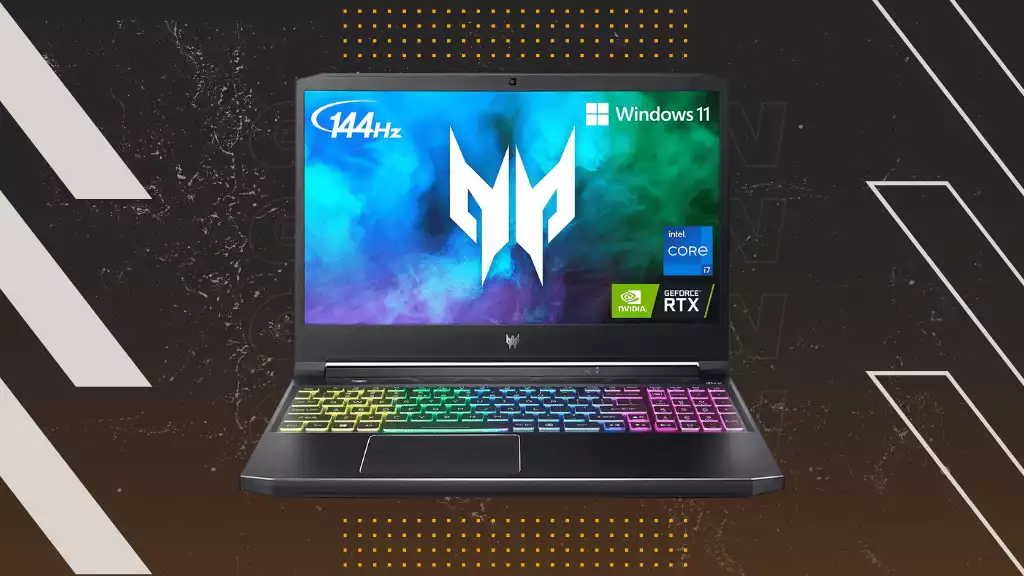 The models we've covered so far will all make quite a dent in your wallet. Stepping down to something like the Helios 300 is a great idea if you don't want to spend upwards of $2,000 since it's balanced and can go the extra mile with Turbo on. If mid-range is your thing, you're looking at the best laptop for VR that's currently out there.
There's no mistaking the Helios 300 for anything other than a gaming laptop. Its matte-black shell is stealthy, but the brackets and Predator symbol on the lid are a dead giveaway. This is one of the heavier laptops on the list, but it also feels stable and well made. The back has reinforcements in the form of a cool girder pattern. Three diagonal vent areas on the sides & underneath the screen expel heat efficiently.
This is another VR gaming laptop with a satisfactory port selection. It's comparable to the R4, minus the proprietary Graphics Amplifier plug and with a different layout. Dell's laptop makes more use of the rear; you'll only find a power plug in that part of the Helios 300.
Kudos to Acer for outfitting their 15-inch laptop with a full-sized keyboard. It takes up the entire width as a result, but the keys don't feel cramped. The typing experience is great for a membrane model, and hitting a key feels sufficiently tactile. Like the R4's, the keyboard has several RGB zones you can configure through the preinstalled configuration software.
The Mainstream Champ
Speaking of which, PredatorSense isn't just there to alter the Helios 300's aesthetics. You can also monitor and adjust the fans or choose among several performance presets. The latter is particularly interesting since you can instantly go from a battery-conserving portable mode to Turbo. Switching Turbo on bumps up the clock of several CPU cores and feeds more power to the RTX 3060. The result? A marked increase in FPS at the cost of further heat generation.
The screen is good enough to play titles like Valorant competitively due to a 144Hz refresh rate. It's among the dimmest panels we've seen, scoring only 290 nits. That's not a concern for indoor use but night sour your outdoor experience. On the other hand, contrast and color reproduction are top-notch.
The temperatures a stressed-out Helios 300 can reach aren't great, but that's not its defining flaw. The large keyboard displaced two speakers, leaving you with only two bottom-firing ones. The sound that comes out of them is muffled and tinny. Luckily, investing in a quality headset mitigates this problem.
ASUS TUF Gaming F15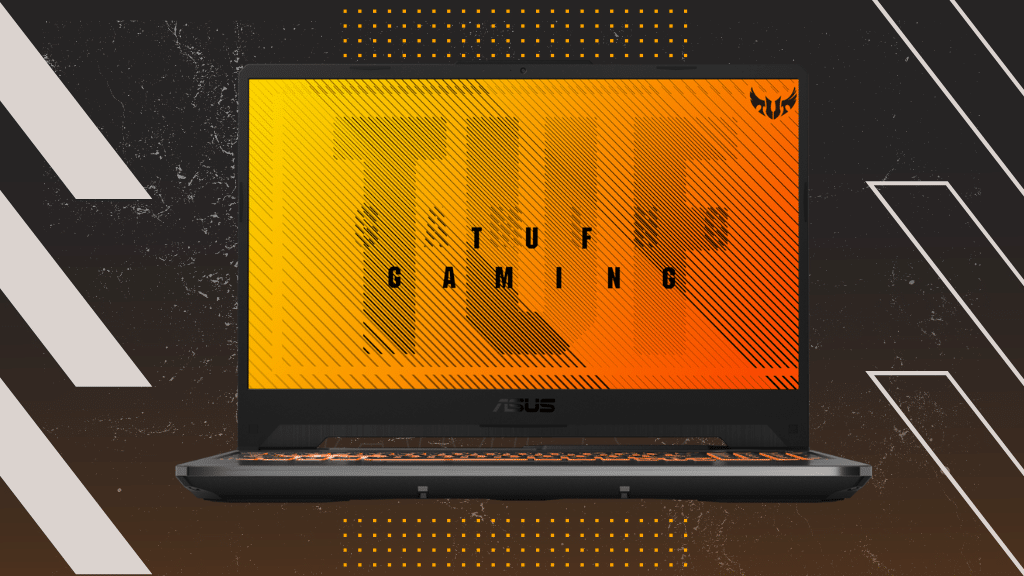 ASUS TUF Gaming F15
CPU: Intel Core i7-11800H | GPU: NVidia GeForce RTX 3060 | RAM: 16GB DDR4, 3200MHz | Screen: 15.6", 1080p, 144Hz | Storage: 1TB SSD | Battery life: 8h
Pros:
Great price-to-performance ratio

Versatile companion software

Excellent battery life
Cons:
Mediocre screen, esthetic isn't for everyone
Even though they're budget-oriented, ASUS's TUF laptops continue to improve & impress with each new generation. The current F15 is armed with a capable Tiger Lake CPU & RTX graphics card, lasts long per charge, and has a sizeable SSD to store much of your backlog. We're disappointed with its screen quality, but that's hardly a reason not to grace the G15 with the title of best laptop for VR on a budget.
TUF products have always adopted a distinct gamer look that's sure to produce mixed opinions. On the one hand, you've got a gunmetal gray metal lid, a sturdy hinge, and several massive vents. On the other, the lid has a giant TUF stenciled on it, and metal gives way to plastic on the keyboard deck. The fake brushed aluminum pattern is fantastic for keeping fingerprints at bay. Still, you'll want to see it in person before passing aesthetic judgment.
The F15 comes with a satisfactory port selection; we're just miffed that their distribution is so lopsided. The right edge contains only one USB 3.2 Gen 1 USB-A port and the Kensington lock slot. Two more USB-A ports and a Thunderbolt 4-ready USB-C plug are on the left, along with power & audio inputs, HDMI, and a Gigabit LAN jack.
An Affordable Taste of VR
It's nice to see another relatively affordable laptop with a full-sized backlit keyboard, especially when the feel is this good. The WASD keys have transparent keycaps that make missing them impossible. The backlighting is limited to one color, and the arrow keys are even smaller than before. Those are just minor complaints about what is otherwise a stand-out keyboard for the price. Equipping the touchpad with dedicated left and right mouse buttons is another courtesy many will appreciate.
On to the TUF Gaming F15's Achilles' heel – its display. There's nothing wrong with the 1080p, 144Hz IPS panel on paper. Seeing it in action is different, though. The panel is fuzzy due to being matte yet doesn't provide enough glare protection to be usable in brightly-lit spaces. Moreover, the colors are noticeably duller than on our other picks at 67% of sRGB color gamut coverage. Finally, response times are in the 20ms range, which means hardcore competitive gamers will notice some lag.
Not that you should care much if VR is your primary gaming focus. The F15's core specs offer a smooth VR experience, and you can use it to tackle multithreaded tasks when it's time to get serious. We were also impressed with the above-average battery life and 1TB SSD, rarities at this price range.