Alder Lake is shaping up to be a monumental release for Intel. Not only do all three 12th-gen CPUs exceed expectations, but they're heralds of technologies like DDR5 and PCIe 5.0. Purchasing one means you'll also need to get a new motherboard, and your existing cooler might not be able to handle the heat either. We've offered recommendations on appropriate motherboards before. Now it's time to showcase the best LGA 1700 CPU coolers to go along with them.
The Best LGA 1700 CPU Coolers at a Glance
You'll recognize most if not all of our choices if you've bought an aftermarket cooling solution before. That's because no models have been developed specifically to tackle Alder Lake chips at the time of writing. The good news is that all of our picks perform well if you pair them with the appropriate CPU.
The bad news is that manufacturers aren't bundling LGA 1700 mounting kits with new stock yet. To that end, each overview also contains a brief section on obtaining the proper mounting hardware. Please take a look at our varied picks, and don't let throttling or overheating stand in the way of your gaming greatness.
NZXT Kraken Z63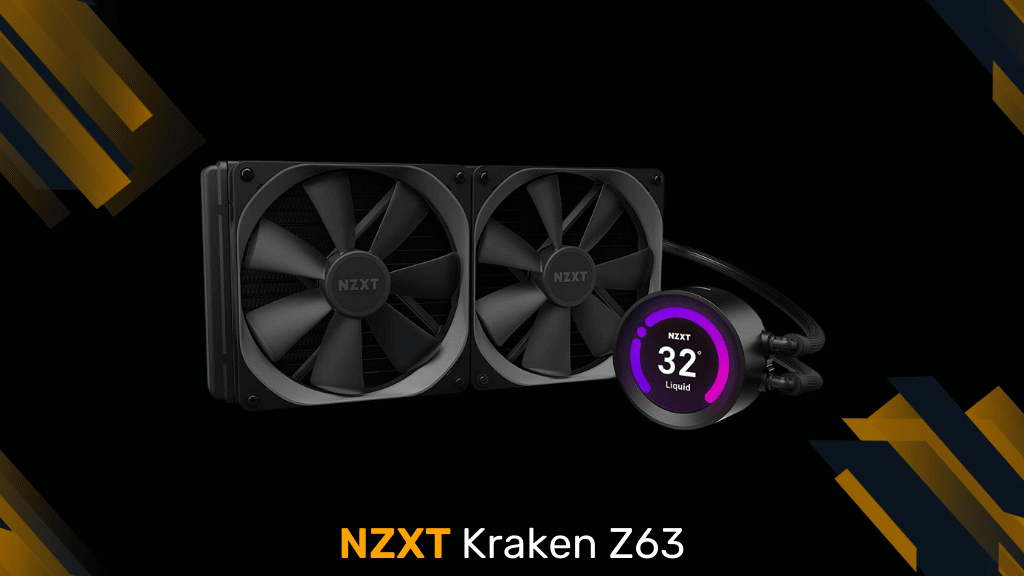 Type: 280mm AIO | Fan RPM: 500-1,800 | Fan CFM: 98.2 | Tube length: 400mm | Has RGB: Yes
AIOs are straightforward components, so it takes implementing something extraordinary for one to stand out. NZXT went the extra mile with the Z63, a 280mm AIO whose pump head holds an elaborate LCD screen. That's enough to pass the cooler off as a novelty. However, the Z63 lands at the top of our best LGA 1700 CPU cooler list on account of its excellent performance. NZXT also offers coolers without as much bling that are equally effective, so check those out if you don't want to spend as much.
NZXT created a support page to guide you through getting an LGA 1700 adapter. Check it out to claim yours.
Owners of Kraken AIOs ending in a two won't notice much of a difference. We'd go as far as calling the assembly uninspired before the screen is on. Astute observers will spot one subtle change – the pump head is now larger to accommodate the 2.36″ screen on its top. Otherwise, it's still an Asetek cylindrical model with swivel fittings and two ports for power & USB cables set at a 90-degree angle that alleviates cable clutter.
The radiator and fans do all the heavy lifting. The former is thicker than usual at 30mm and has NZXT embossed as its only decoration. It's a 280mm unit that firs two Aer-P 140mm fans. These rotate relatively slowly yet can put out 98 cubic feet per minute of air each. They're more than a match for the thicker radiator and any case whose fans don't provide optimum airflow combined with decent static pressure.
While efficient at whisking heat away from your CPU, the Z63 is all about customization and style. The screen has a resolution of 320×320 yet is small enough for the images, GIFs, or real-time info it displays to be crisp and legible. We're particularly fond of the GIF option since it allows you to animate the cooler in whichever way you see fit. Even if it's a montage of your favorite Minecraft blocks.
The Kraken Z63 has another ace up its sleeve – NZXT CAM. The companion software is designed as a polished system monitoring tool you can use even if you don't have an associated cooler. Installing the Kraken opens up more exciting options like pump adjustments and the ability to change what's shown on the display. Info geeks and overclockers are bound to get a kick out of the real-time setting that lets you see temperatures or workloads. You may also set the screen to change colors based on the results.
Corsair iCUE H115i Elite Capellix
Type: 280mm AIO | Fan RPM: 0-2,000 | Fan CFM: 97 | Tube length: 380mm | Has RGB: Yes
Performance varies according to your needs
Exceptional LEDs
iCUE offers in-depth lighting and cooling adjustments
Noisy when switched to Extreme
Corsair is another company whose AIOs combine exceptional results with creative playfulness. The newest line of H-series models incorporates proprietary LEDs and boasts more related configuration options than ever before. Tweaking also extends to performance, so the H115i can either cool an overclocked i9 12900K or be whisper-quiet when the CPU isn't experiencing load.
Here's the info you'll need to obtain a Corsair LGA 1700 mounting kit.
Unlike Asetek-based AIOs, the H115i has a square-shaped CoolIT CPU block with chamfered edges. The customary plastic top gives way to black acrylic with a transparent Corsair logo. The effect is already striking, but you can open the top up even more by switching to an inverse cap that's part of the accessories. The copper contact plate on the bottom has a machined look and comes with a generous portion of pre-applied thermal compound.
There's not much to remark about the radiator other than it serves its purpose, which is to house two ML140 fans. These rotate slightly faster than the Kraken's, but you can also cut them off entirely when idle temperatures are low. On the other hand, taxing the fans to their limit will see them move air with impunity at a static pressure exceeding 3mmH2O.
Unique lighting sets the H115i apart and helps justify its above-average price. Corsair developed the Capellix LEDs for their excellent RAM kits first but quickly saw the potential for AIO application. The lights occupy significantly less space than ordinary ones while using less power. That allowed Corsair to place 33 of them inside the CPU block and eight more on each fan.
The H115i keeps cable clutter in check through a Commander Core. This hub provides power for the fans and their LEDs. It requires a single USB connection to your motherboard and can support four more related fans. Hooking them all up lets you sync and customize the lighting for your entire case.
Tinkerers will find that iCUE is a wonderland for lighting customization. It can assign individual colors for each fan LED or the pump head's 21 zones. Moreover, there are dozens of effects to choose from, and you can create new ones as well.
None of that would be enough to place the H155i among the best LGA 1700 CPU coolers were it not for its raw power and iCUE's cooling profiles. Setting the AIO to Extreme causes temperatures to plummet, albeit at the cost of a lot of noise. On the other hand, the Quiet preset maintains great cooling results while keeping sound to a minimum. Most users will stick to Balanced since it strikes a favorable compromise between the two.
Arctic Liquid Freezer II 280
Type: 280mm AIO | Fan RPM: 200-1,700 | Fan CFM: 72.8 | Tube length: 380mm | Has RGB: No
Arctic's AIOs are so good that we could almost put together a list of the best LGA 1700 CPU coolers from nothing but Liquid Freezer models. The line encompasses everything from 120mm starters to 420mm behemoths. We're focusing on the 280mm version since it offers the best bang for your buck while being able to tame any Alder Lake chip. It's not the flashiest AIO around, but nothing comes close in terms of performance per dollar.
Here's how you can get your hands on a mounting kit.
Almost nothing about the Liquid Freezer II is conventional. It makes sense when you consider that Arctic didn't want to be tied down by patent law and developed the AIO without third-party assistance. The pump head is its most prominent and unusual feature. It's elongated, has a low profile, and takes up more space than usual. The latter is due to a 40mm, variable RPM fan designed to blow air over the VRM assembly. Most Z690 motherboards have efficient VRMs, but you'll appreciate every temperature decrease when dealing with the 12900K.
Most companies don't give the radiator a second thought, but Arctic impresses once more. The radiator's secret? Added thickness. Most radiators don't stray from the 27mm norm, yet this one is a whole 11mm thicker. That means you'll have to make sure your case can support its unusual dimensions. Still, the added surface area is worth it since it draws heat away from the CPU faster. A pair of P14 fans take care of air expulsion efficiently even though they rotate more slowly and have a lower CFM than those on our first two picks.
You'll appreciate the Liquid Freezer II even more if you're apprehensive about installing an AIO. The fans are already on the radiator, so you're only left with securing the pump head if you're good with the push configuration. The tubing's thick sleeves have enough room to route the fans' PWM cables. These come together in the pump head, so you'll only have to use one of your motherboard's PWM headers.
Arctic's AIO is considerably cheaper than the best Z690 coolers we've covered so far. Much of that has to do with stripping it down to the bare essentials without sacrificing efficiency. In fact, testing shows it to be consistently quieter and cooler than most alternatives, regardless of price.
Noctua NH-D15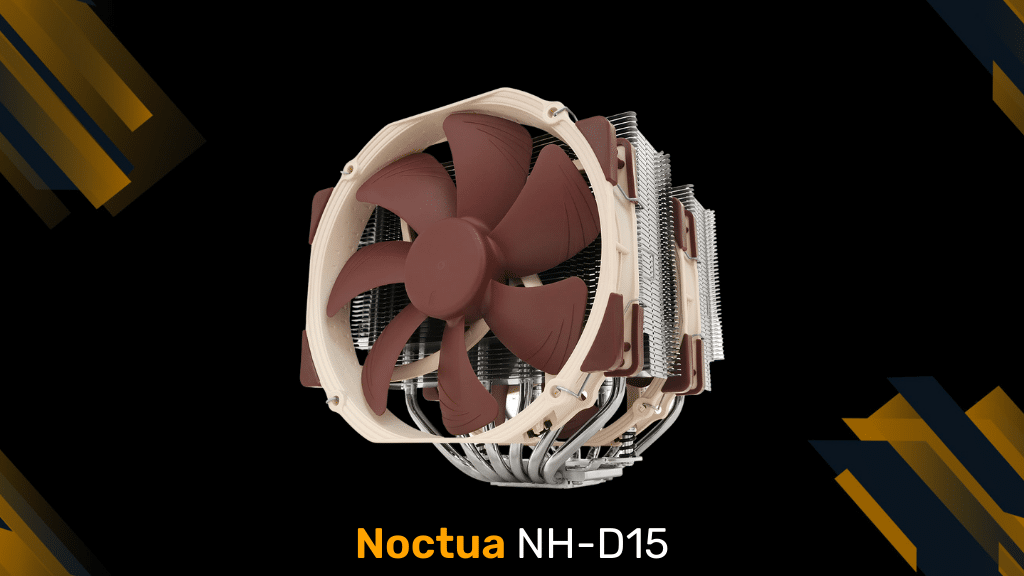 Type: Air cooler | Fan RPM: 300-1,500 | Fan CFM: 82.4 | Has RGB: No
In a field where a year feels like a decade, products that remain relevant for eight or more are practically unheard of. The iconic NH-D15 is such a unicorn, as it's been the apex of CPU air cooling since its release. You might not be able to cool the generation's flagship with it anymore, but Noctua's cooler should be more than enough for a 12700K build.
Hats off to Noctua for belonging to a handful of manufacturers that list their LGA 1700 conversion kit on Amazon. You have no pesky forms to fill out, and Prime members can get their hands on the vital component ASAP.
Whether they had one or not, anyone who's built a PC in the last ten years will instantly recognize a Noctua CPU cooler. Love it or hate it, the combination of beige and medium brown on Noctua fans leaves a lasting impression. Size is another factor since the NH-D15 is huge, even if you choose only to use one of its two fans.
Much of the size is down to the elaborate heatsink. It's made up of two sets of 45 fins, the bottom seven of which are shorter to let you reach memory sticks more easily. There's a subtle dip in the middle and a set of tooth-like markings to the side. These improve turbulence and increase the fans' effectiveness.
The cooler's bottom is plated in nickel and made up of a thick base plate with six copper heatpipes. The pipes arc outward from the plate and are angled apart. The fact that the pipes are soldered to each fin is a testament to Noctua's engineering excellence and attention to detail.
The fans are an improvement upon those seen on the NH-D14. Their designation is NF-A15, which denotes the increased 150mm diameter. Such a size increase allows for slower operation. Indeed, the fans are among the slowest on the list, with an RPM range from 300 to 1,500. Each also comes with an RPM limiter that brings the RPM down to 1,200 with a corresponding decrease in noise. Unhindered, either fan can move 82 cubic feet of air per minute.
You'd think that the NH-D15's size would make setting it up a pain, but it's actually among the best LGA 1700 CPU coolers installation-wise. The new backplate and mounting hardware don't alter the installation process, which you can complete in minutes if you've set up CPU coolers before. Keep in mind that the large footprint might not be compatible with tall RAM or cramped motherboards. Check that everything will fit beforehand to save yourself the headache.
EK 240mm AIO D-RGB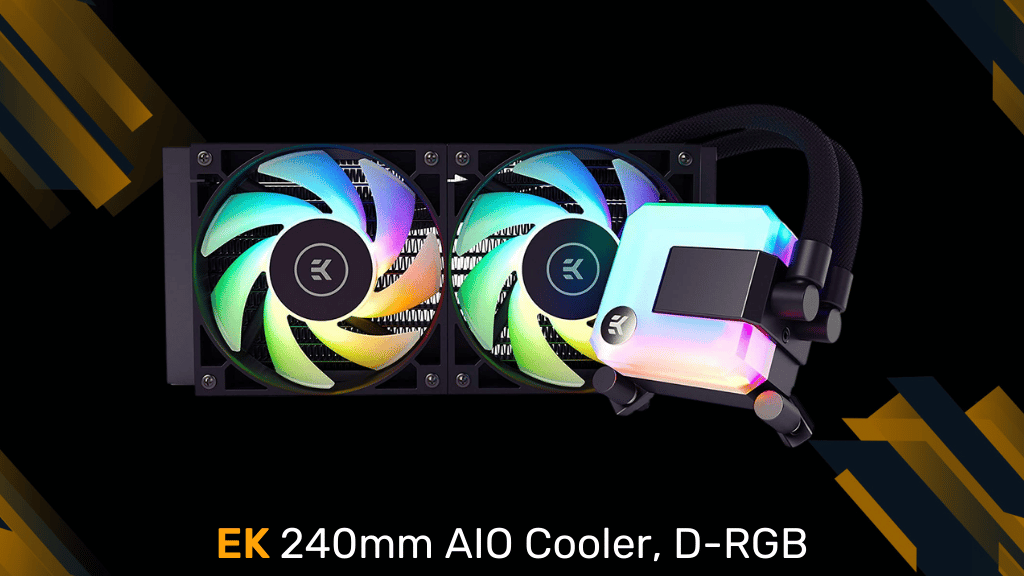 Type: 240mm AIO | Fan RPM: 550-2,200 | Fan CFM: 66 | Tube length: 350mm | Has RGB: Yes
Performs well
Lighting looks nice
Isn't too expensive for what it offers
No companion software
Not all the best LGA 1700 CPU coolers need to be big & burly, especially if you're not gunning for the generation's hottest chips. EK's 240mm AIO D-RGB is a mid-sized offering with attractive RGB lighting, decent cable management, and a straightforward approach to cooling. It's the AIO to get if you can find one at MSRP and don't like the 240mm versions of our other recommendations.
EK has made purchasing an Alder Lake mounting kit easy. Go to this page to read all the relevant info & order one almost for free.
EK is another manufacturer dissatisfied with Asetek's pump design monopoly. While not as outlandish as the Liquid Freezer's, the pump has a unique cube-like design with a prominent white cover. It houses several LEDs whose diffuse light creates a pleasant effect. The copper plate is rounded and polished close to a mirror finish. You can install the unit in 90-degree increments, which comes in handy if there's not enough clearance for memory or VRM heatsinks.
The radiator is intriguing because it's less dense than usual and comes with a sealed cap. Its fin density is 17 instead of 20-21 you'd expect from 240mm AIOs. That isn't necessarily bad since fans with lower CFM can expel air without struggling due to high resistance. Such is the case with the 120mm Vardar S fans the AIO ships with. They're thin and transparent to let RGB lighting through. Their CFM is 66 as a result, but no air is needlessly wasted around the edges.
Setting the D-RGB up shouldn't take long or present you with unforeseen complications. The tubing is flexible and long enough to reach towards a case's ceiling without issue. Don't worry about excessive cable clutter either since there are enough splitters in the box to reduce the mess down to single PWM and ARGB connections.
While RGB is implemented well, EK doesn't provide a program that would let you tinker with it. Fortunately, motherboard software like Aura Sync or RGB Fusion recognizes and incorporates it into your overall lighting scheme. Good news, especially if your case's other RGB fans come from a different manufacturer.
Performance-wise, the AIO is a strong contender for the best LGA 1700 cooler in the 240mm category. It's slightly louder than comfortable if pushed to 100% RPM and gets close to 50dB. That's a rare occurrence, though. The fans don't generate much noise at lower RPM yet keep temperatures in check successfully.
Be quiet! Dark Rock 4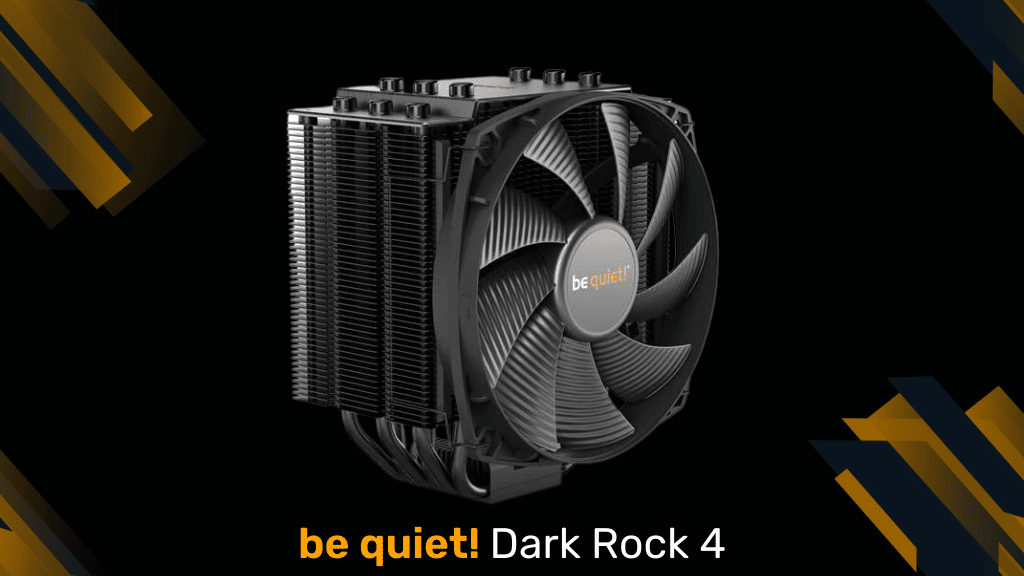 Type: Air cooler | Fan RPM: 1,400 | Fan CFM: 59 | Has RGB: No
Buying into the Alder Lake ecosystem isn't cheap, even if you're building a rig around the 12600K. Luckily, you can effectively manage the processor's thermals with an affordable air cooler like the Dark Rock 4. Silence comes first for this model, but that doesn't mean performance is lacking. Add a stealthy aesthetic & straightforward setup, and you've got a well-rounded cooling solution.
Be quiet! set up a dedicated page for all your LGA 1700 needs. You can see which of their products are compatible with new mounting kits and fill out the order form here.
Even though it was released a few years ago, the Dark Rock 4 fits the Z690 aesthetic perfectly. Everything from the heatsink to the fan blades and heatpipes is black and designed to appear as stealthy as the cooler is silent. You'll want to handle the heatsink with care if you're pedantic since the thin coat of powdered paint is prone to chipping.
Speaking of the heatsink, it's one of the most elaborate models on the market. Since the Silent Wings 3 fans are engineered towards noiselessness rather than peak performance, it has to be. The heatsink's entire front side has a sawtooth pattern that stirs air up as it approaches. The back is comprised of alternating "terraces" that cause even more turbulence. Lastly, the fins are perforated with dozens of tiny holes that improve airflow and increase the surface area.
Design tweaking continues with the heatpipes and base plate. Six pairs of blackened heatpipes exit the base using alternate angles. This ensures they're only close at the convergence point and have ample room to radiate heat away otherwise. The base plate is slightly convex to adhere to your CPU better. The paste isn't pre-applied – you have to use the supplied syringe on the CPU instead.
Specialized fans are an integral part of the Dark Rock 4 experience. They're custom-made Pure Wings 3 units with a diameter of 135mm. Unlike on most models, the fins are ribbed to agitate the air more while rotating. Each fan has a middling CFM of 59, but they barely make a sound even when utilized completely.
How does this affect performance? The Dark Rock 4's cooling is sufficient to secure it a place on the best LGA 1700 CPU cooler list. However, the 12600K is about all it can handle if you take some thermal breathing room into account. Conversely, this is by far the quietest cooler we've discussed. Several rivals match its noise generation when idle, but the competition becomes non-existent once you pass 50% fan speed.