Specs:

Form Factor: ATX
Memory Type: DDR5
Memory Speed: 6400MHz
Max RAM: 128GB

Specs:

Form Factor: ATX
Memory Type: DDR5
Memory Speed: 6400MHz
Max RAM: 128GB

Specs:

Form Factor: ATX
Memory Type: DDR5
Memory Speed: 6666MHz
Max RAM: 128GB

Specs:

Form Factor: ATX
Memory Type: DDR5
Memory Speed: 7200MHz
Max RAM: 128GB

Specs:

Form Factor: ATX
Memory Type: DDR4
Memory Speed: 5200MHz
Max RAM: 128GB

Specs:

Form Factor: Mini ITX
Memory Type: DDR5
Memory Speed: 6400MHz
Max RAM: 64GB

Specs:

Form Factor: ATX
Memory Type: DDR5
Memory Speed: 6000MHz
Max RAM: 128GB
It took several years and an arguably wasted generation, but Alder Lake marked Intel's return to dominance in the desktop CPU market. A new platform accompanied the twelfth-generation chips and continues to support Raptor Lake, so it's only fitting that you should be on the lookout for the best LGA 1700 motherboards.
The successful launch of 12th-gen Intel processors puts AMD in quite a pickle. On the one hand, the 12900K is breaking records and duking it out with the 5950X on its home turf. On the other, the 12700K and 12600K are already disrupting their brackets and causing AMD to drop prices.
Many boards on this list remain unchanged even though it was first published at the end of 2021. That's mainly due to the lackluster showing of their 700-series successors. Higher frequency RAM support is only part of what makes a well-rounded motherboard, so until their prices drop or DDR5 advances so much that investing in high-frequency kits is justified for most use cases, that's how it will stay.
Asus ROG Maximus Z690 Hero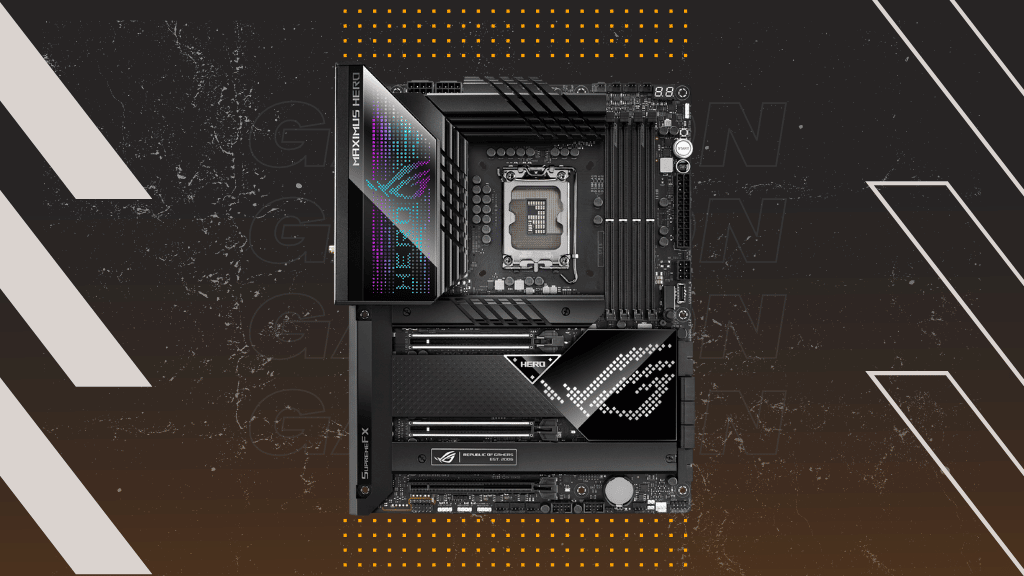 ASUS ROG Maximus Z690 Hero
Socket: LGA 1700 | Form Factor: ATX | Memory Type: DDR5 | Memory Speed: 6400MHz | Max RAM: 128GB
Pros:
11 USB ports on the I/O, including Thunderbolt 4

Easy to build on due to several QoL features

Exceptional build quality
Cons:
Single 2.5G Ethernet port seems stingy for the price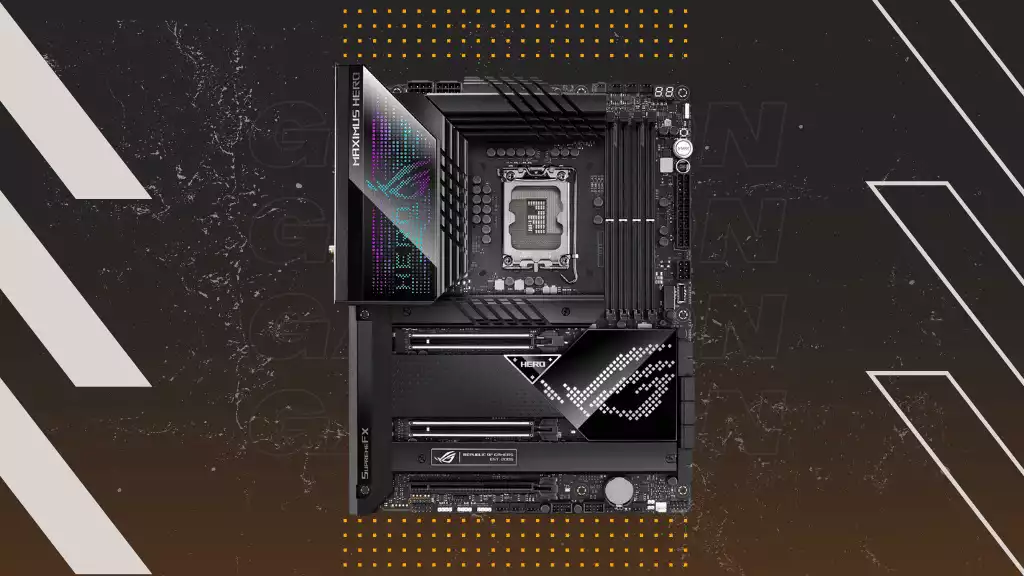 ASUS unashamedly prices its top mobos higher than the competition. To the company's credit, they're usually filled with features that justify the premium. That's also true for the most accomplished board of the generation, the new Hero. It ditched the roman numerals but gained so much more in the form of intuitive QoL changes, support for a boatload of storage drives, and one of the most advanced VRM solutions out there. It's not at the top due to one exceptional feature; it's here because it blends a multitude of them into a cohesive whole.
Get ready to read a lot about how the best LGA 1700 motherboards are black because that's this generation's central theme. The Hero handles it with grace and a dash of uniqueness, clearly visible in the pixelated ROG eye adorning the chipset heatsink. The RGB got a significant overhaul as well. It's concentrated on the I/O shroud and able to display two patterns in a brightly-colored pixel-like fashion. Not a fan? Then take the addressable RGB headers and make the board your own.
This is one of the boards to get if your goal is to unleash the 12900K's potential. It has a robust VRM consisting of twinned phases in a 20+1 configuration. The ones feeding the chip do so from two 8-pin EPS connectors and put out 1,800A of fluctuation-free energy. A duo of massive connected heatsinks keeps thermals in check, ensuring that the CPU's surroundings don't reach far above ambient temps.
Motherboard manufacturers get to choose between DDR4 and DDR5 since the generation is transitional. High-end boards like the Hero use the latter, with a maximum overclock of 6400MHz in this case. Next to the DIMM slots, you'll find plenty of tools helpful for overclocking and troubleshooting, like a POST code display, debugger, and buttons for resetting the board or trying again.
A Hero Still in its Prime
Enormous storage potential is another of the board's strengths. It is configured to support three M.2 drives natively – fewer than even budget Z690 boards. That's before accounting for the M.2 add-in card you get as an accessory. Plugging it into one of the two PCIe 5.0 x16 slots will halve the other's bandwidth, which is irrelevant as there are no PCIe 4.0 capable GPUs yet, let alone PCIe 5.0.
NVMe drives that support the newest standard will be available next year, meaning the card gives you a head start by adding room for two. Filling every advanced storage slot still allows you to connect six older disks through SATA. All M.2 slots come with rotatable latches that make for a screwless yet secure fit. New to Z690 is the Q-Release button used to release the GPU and make builders' lives easier.
The board's cooling potential is equally comprehensive. You get a total of eight related headers, four of which are used specifically for different custom water loop components.
ASUS designed the I/O flawlessly, fitting a diverse selection of ports onto it with no wasted space. The audio stack is gold-plated and runs on a tweaked version of the ALC4082 codec by Realtek. Then there's WiFi 6 and possibly the board's only stumbling block, 2.5G Ethernet. Not that it's bad, but the Master's is 4x faster at a better price.
USB is up next, and boy, is there a lot of it. You get eleven ports, two of them doubling as Thunderbolt 4 connectors. A third USB-C is capable of 20Gbps transfer speeds. That brings us to the far left, where you'll find a single HDMI 2.1 port and buttons for clearing the CMOS & BIOS flashing without a CPU.
Gigabyte Z690 AORUS Master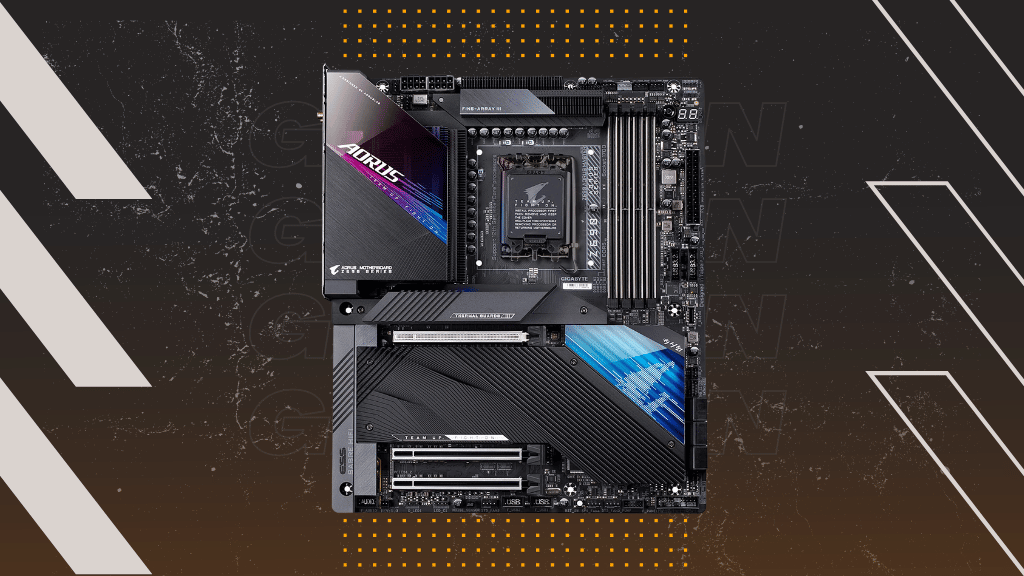 Gigabyte Z690 AORUS Master
Socket: LGA 1700 | Form Factor: ATX | Memory Type: DDR5 | Memory Speed: 6400MHz |Max RAM: 128GB
Pros:
Room for lots of high-speed storage drives

Overkill VRM great for top CPUs

Attractive armor that adds to thermal efficiency
You'll find that the best LGA 1700 motherboards all have seriously beefed up the amount of power they can handle to accommodate ever-hungry Alder Lake chips. Even so, only one of them reigns supreme in that respect and has a fitting title to boot. It's the Master of high core clocks & low temperatures. It also presents you with numerous cooling & storage options, all bundled in an attractive, heavily armored piece of high-grade hardware.
Unboxing the Master counts towards your daily workout since the thing is large and noticeably heavier than most boards. That's due to a full backplate and the massive heatsinks & armor plating covering almost the entirety of the front. A look at the distorted AORUS eagle confirms that weird takes on mascots are in vogue. Conversely, the lighting is demure if you don't plan on adding more.
VRM is always the main event with Master boards, and the Z690 version doesn't disappoint. You get 22 single phases arranged so that 19 power the CPU while the rest take care of the iGPU, PCIe, and memory controllers. Each supplies 105A! That's total overkill even for the power-hungry Alder Lake flagship. It's also good news since the VRM won't get hot. The heat that does crop up promptly dissipates through a unique finned heatsink duo with seven times more surface area than classic alternatives.
Cooling & Overclocking the Gigabyte Way
The Master's entire design philosophy centers on heat mitigation through the board's excellent build quality & support for other hardware. The former is evident in the large heatsinks covering much of the bottom and four of five M.2 drives with it. The top drive has a separate, even thicker heatsink die to its close GPU proximity. You'll want to install that GPU into the top slot since it's the only one with PCIe 5.0 capabilities. The drive layout prohibits space for x1 PCIe slots, though.
You have true freedom in building either a wind tunnel or a complex water cooling setup since the Master has ten associated headers. Four are even hybrids, meaning you can connect either case fans or water cooling equipment as the need arises. More useful internal connections arrive in the form of high-speed USB-A & C headers for the case I/O and overclocking helpers like debuggers and power buttons.
Just when you thought the Master was done with positive surprises, the I/O introduces a host of new ones. You'll recognize & appreciate two USB-C plugs instantly, and one of them has 20Gbps throughput. The Ethernet jack looks ordinary, but it's actually from Aquantia and boasts 10Gbps bandwidth if your ISP provides it. There's also high-speed WiFi 6E and a premium audio stack that includes optical S/PDIF out. The DisplayPort will do fine if you need to use the iGPU. Q-flash and clear CMOS are a given too.
MSI MPG Z690 Carbon WiFi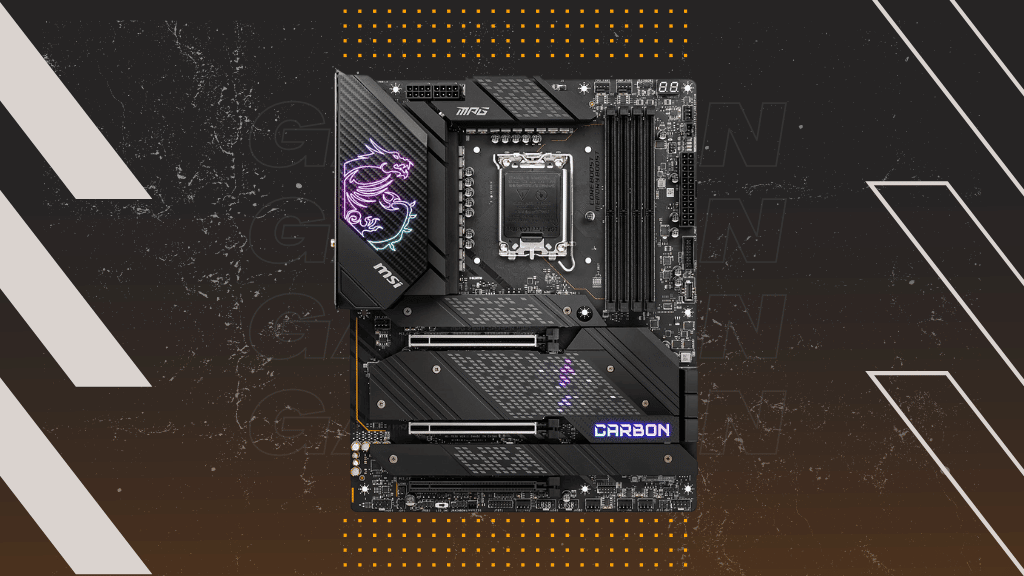 MSI MPG Z690 Carbon WiFi
Socket: LGA 1700 | Form Factor: ATX | Memory Type: DDR5 | Memory Speed: 6666MHz |Max RAM: 128GB
Pros:
Exceptional overclocking potential

High-speed wireless & wired internet access

Great thermal management and cooling support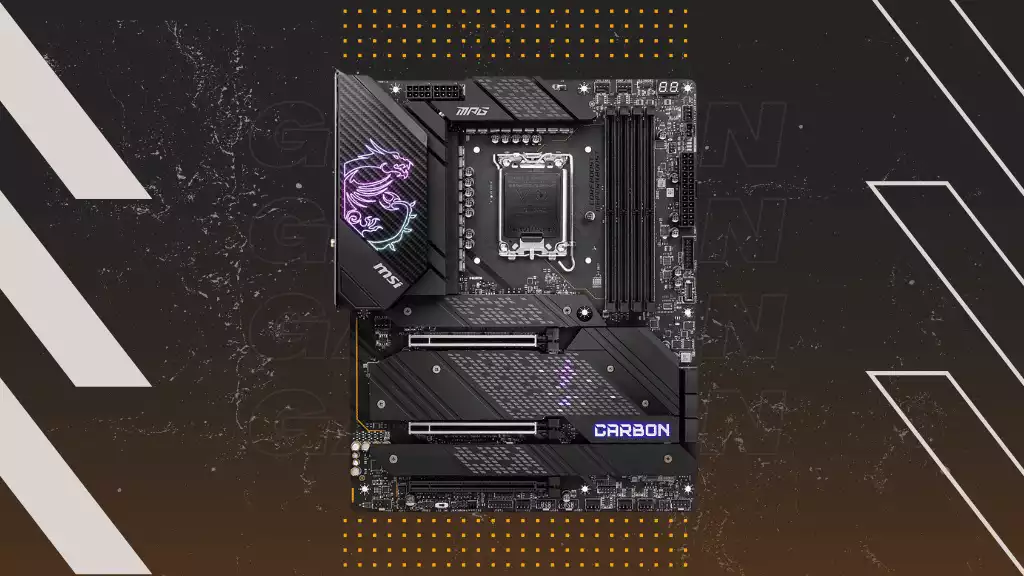 We love the MEG Z690 Unify as it stands shoulder to shoulder with the top two boards on the list. However, the Carbon is our first choice from MSI because of its excellent blend of features at a more accessible price. It matches more expensive boards in terms of PCIe 5.0 and M.2 availability, has a decent I/O, and is among the generation's best-looking offerings.
The Carbon in this board's name is earned as the associated dark gray color permeates much of the design. Rows of slanted grey & white squares add more appeal. The chipset heatsink & I/O shroud areas are even more engaging once you turn the PC on as they're bathed in light thanks to bright LEDs. The effect is striking, and you may always enhance it by adding more strips.
You can feel Gigabyte's influence when examining the PCIe area since it's completely covered in thermal padding. The part that shields your primary M.2 drive is double-sided, while the other four will make do with thinner but no less effective covers. Two of the three full-length x16 slots are shielded against electrical interference and reinforced so that GPUs you install in them don't sag. You'll find six SATA ports at a 90-degree angle on the side disks are easy to plug into in cramped spaces.
The Carbon's VRM isn't as ridiculous as the Master's, but it's plenty to let a 12700K run free. The layout is similar to the more expensive board, 18+1+1 phases. However, the Carbon's deliver "only" 75A apiece. This puts slightly more pressure on individual parts of the VRM, but you'll have no issues with excess heat due to the high heatsinks. They're solid but feature several diagonal cutouts that help with heat dissipation.
The Epitome of High-End Value
MSI boards take the early lead when it comes to DDR5 integration. Even though it's far from the flagship, the Carbon can still work with 6666MHz memory. At least in theory, because adding more sticks reduces the maximum clock they can run at in unison.
Little differentiates the Carbon's internal connection from more expensive models. It has eight headers related to cooling, along with several that provide power and USB capability to your PC case. You can also hook a Thunderbolt connection up if you have a corresponding add-in card. Lastly, there's no shortage of debugging and overclocking bits like the two-digit POST code reader and reset button.
While labeled and organized, the I/O could have done without one of the two video out plugs to gain more space. Even so, you get ten USB ports, 20Gbps USB-C among them. It's a shame that four of the rest are USB 2.0. Online connectivity is up to modern standards through 2.5G Ethernet & WiFi 6. High-end capacitors and ALC4080 ensure the audio stack puts out sublime sound. A small BIOS flash button makes upgrading to the newest version a cinch.
ASUS ProArt Z790-Creator WiFi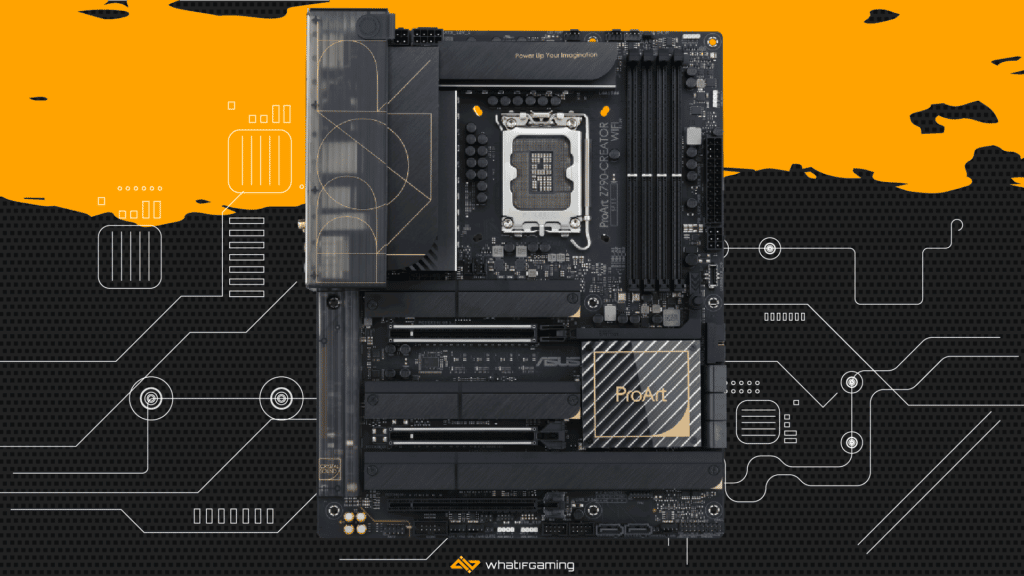 ASUS ProArt Z790-Creator WiFi
Socket: LGA 1700 | Form Factor: ATX | Memory Type: DDR5 | Memory Speed: 7200MHz | Max RAM: 128GB
Pros:
2x Thunderbolt 4 on back I/O

Outstanding networking

4 M.2 slots and 8 SATA ports
Productivity and multi-threaded performance were once AMD's purview, but the latest generation of Raptor Lake CPUs proves that Intel can be just as versatile.
That's excellent news for content creators who also enjoy some hardcore gaming. But many of our suggestions cater to the latter – it's time for a mobo that focuses on creativity, and the Z790 ProArt delivers! Packed to the brim with the latest in connectivity and storage, it's the best LGA 1700 motherboard for anyone who uses their computer to shape new worlds rather than just get lost in them.
The ProArt seeks to stand apart from the flashy and sometimes gaudy gaming motherboards one encounters so frequently. Its black PCB and equally dark padding give the board a stealthy look further pronounced by a lack of built-in RGB. The I/O shroud is its most visually interesting part since it's made from smoky transparent plastic and sports a stylish logo in gold.
Storage is a top priority for a content creation-focused motherboard, and you can take your pick of it here. All four slots are PCIe 4.0, which some might find a missed opportunity given the higher likelihood of a content creator needing the absolute fastest drives available for file transfer.
One could argue that not cutting into the GPU's lanes is a better idea for futureproofing, to say nothing of the excess heat PCIe 5.0 drives generate.
The eight SATA ports make sense for the board's use case. Even though some get disabled if you install drives into all four faster slots, plenty are left to house projects you don't need frequent speedy access to.
The ProArt isn't a gaming board, so its comparatively mediocre VRM isn't surprising. Remember that here, mediocre means being more modest than the likes of the Hero and Master. Compared to X570 or Z590 boards, the ProArt's 16 75A stages are more than adequate, as is the cooling hardware that supports them. Any LGA 1700 CPU will find a cool home in it.
Turning Your Dreamscapes into (Virtual) Reality
Keeping the rest of your system temperate won't be challenging if you utilize the board's three CPU and five miscellaneous cooling headers. Internal connection variety is sparse, but you get everything a non-gamer could want. There's 20Gbps USB-C and USB 3.2 Gen 1 for the case, a thermal sensor header for monitoring, and even four ARGB headers should you want to add colorful lighting.
We're glad that ASUS's various release mechanisms made it into the ProArt! Not only do all M.2 slots come with latches, but the top PCIe 5.0 x16 slot gets the same kind of release seen on other upscale ASUS models.
DDR5 hasn't convinced us it's a clear upgrade for gaming yet. However, faster kits show better results in applications like Blender or Adobe's programs, which many creatives won't hesitate to take advantage of. Luckily, the Z790 chipset allows the ProArt to support higher frequencies than the first generation of boards.
The I/O is the ProArt's most distinctive segment. It's strong on USB connectivity, offering two Thunderbolt 4 and six 10Gbps USB-A ports. Thunderbolt 4 provides DisplayPort video out and charging, so the two dedicated DisplayPort connections serve as inputs.
The presence of 10G and 2.5G Ethernet ports makes even Gigabyte's finest look mundane, while WiFi 6E ensures interference-free wireless networking. The lack of optical S/PDIF out on a board like this is puzzling. A BIOS flashback button replaces it, so at least getting the firmware up to speed won't be a hassle.
MSI MAG Z690 Tomahawk WiFi DDR4
MSI MAG Z690 Tomahawk WiFi DDR4
Socket: LGA 1700 | Form Factor: ATX | Memory Type: DDR4 | Memory Speed: 5200MHz | Max RAM: 128GB
Pros:
Comprehensive VRM & cooling

Great build quality & attractive all-black aesthetic

Six system fan headers
Cons:
One video out would have been enough
Unlike Alder Lake itself, DDR5 has yet to establish itself as a sizeable gaming upgrade. That's why our list of the best LGA 1700 motherboards contains several DDR4-compatible models, most notably MSI's newest Tomahawk. It lets you put your existing DDR4 kit to good use and costs less than the models we've discussed so far.
The Tomahawk rocks the black aesthetic with flair. There's no distracting RGB out of the boy, but diagonal lines and pips spread out over a brushed aluminum texture that makes the board far from dull. The yellow line separating the audio area is the only hint of color unless you add RGB yourself, that is.
There's less coverage for the fastest storage drives, partly because the Tomahawk has four slots instead of five. All but one accept PCIe 4.0, and six SATA drives should be more than enough to cover your slower storage needs. PCIe goodness continues with three x16 slots. The one on top is made with PCIe 5.0 in mind. If you want to augment your PC with a capture or expansion card, there's also one PCIe 3.0 x1 slot between its two slower x16 cousins.
The Compelling DDR4 Alternative
On to the VRM, which is in line with the board's asking price. It's much improved over the last generation nevertheless, sporting 16+1 70A phases. We wouldn't have expected a second 8-pin EPS connector on a sub-$300 board, but we're glad it adds stability to power delivery. The related heatsinks adopt a high standard as well. The left one is particularly tall, while both extend to envelop the chokes.
There's much to appreciate about the Tomahawk's internal connection selection. You won't be limited in creating an optimum airflow or water loop since eight headers cover cooling. A lack of POST code readout is understandable. However, you can still isolate boot-up problems faster through the EZ debugger. The 5Gbps USB 3.2 header powers two corresponding ports on case I/Os, while its 10Gbps sibling takes care of front panel USB-C.
The Tomahawk's I/O is a good indication of its mid-tier status. The number of USB plugs is down to eight, and both HDMI & DisplayPort hog space. The audio stack's 3,5mm jacks are a stylish black & red, and an optical S/PDIF out is there too. That leaves a BIOS flash button identical to the Carbon's and online connection through either 2.5G Ethernet or WiFi 6.
ASUS ROG STRIX Z690-I Gaming WiFi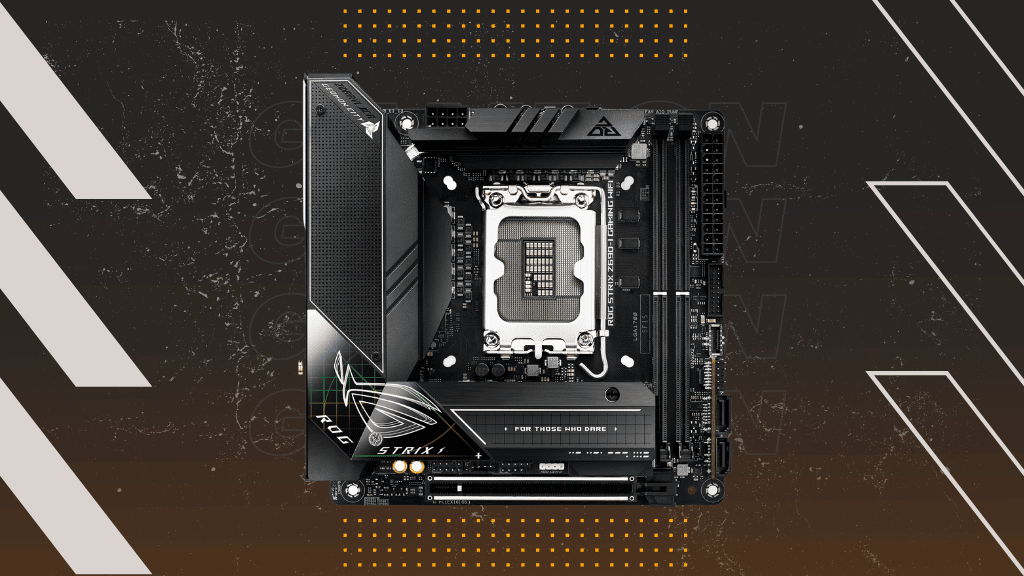 ASUS ROG Strix Z690-I Gaming WiFi
Socket: LGA 1700 | Form Factor: Mini-ITX | Memory Type: DDR5 | Memory Speed: 6400MHz | Max RAM: 64GB
Pros:
The best VRM design on a Z690 mITX board to date

Excellent use of limited space

Two USB-C ports that double as Thunderbolt 4
A 13900K in an SFF case? We've heard of crazier build ideas, especially since an mITX board from ASUS has what it takes to pull it off. The STRIX Z690-I Gaming WiFi costs an awful lot for such a tiny board. Still, it offers much in the way of overclocking, connectivity, and robustness. The ITX version of the AORUS Ultra deserves a special mention, too, since it's cheaper and has Gigabyte's attention to VRM.
Small does not equal boring in this board's case as new details pop up with each examined inch. Details like a glossy RGB-lit area in the bottom left with the eye logo. Or the vented I/O shroud that's as visually intriguing as it is functional. You may even connect two RGB strips to bling the board out further.
VRM implementation is the first thing that contributes to the board's place among our best LGA 1700 motherboards. Gigabyte has had an influence as the 10+1 stages pack 105A each! The heatsinks keeping everything from turning into a field of lava are smaller than usual by necessity but still large for the format. An I/O shroud-mounted fan helps if things escalate, but that shouldn't happen unless you try serious overclocking with the 13900K.
A Study in Space Utilization
The board's bottom section is even more interesting on account of its crafty space-saving layout. You'll quickly notice two oddly-placed USB plugs in the bottom right corners. These power a tiny daughterboard that houses four SATA ports as well as audio and front panel power. A larger removable board stands to the left. It has a sandwich design that offers two-sided protection to two M.2 drives. It also carries hardware necessary for the board's main audio.
Kudos to ASUS for designing possibly the best I/O on an mITX board to date. For context, they managed to fit two Thunderbolt 4 and five more regular USB ports of varying generations alongside everything else seen on ATX boards! They had to reduce the audio stack to three 3.5mm jacks, but the optical S/PDIF out is there.
That leaves the same online connectivity plugs seen on most other Z690 boards and, more impressively, clear CMOS and Bios flashback buttons. HDMI may be superfluous due to Thunderbolt's DisplayPort capabilities. We won't complain since nothing was gutted to make room for it.
Gigabyte Z690 AORUS Elite AX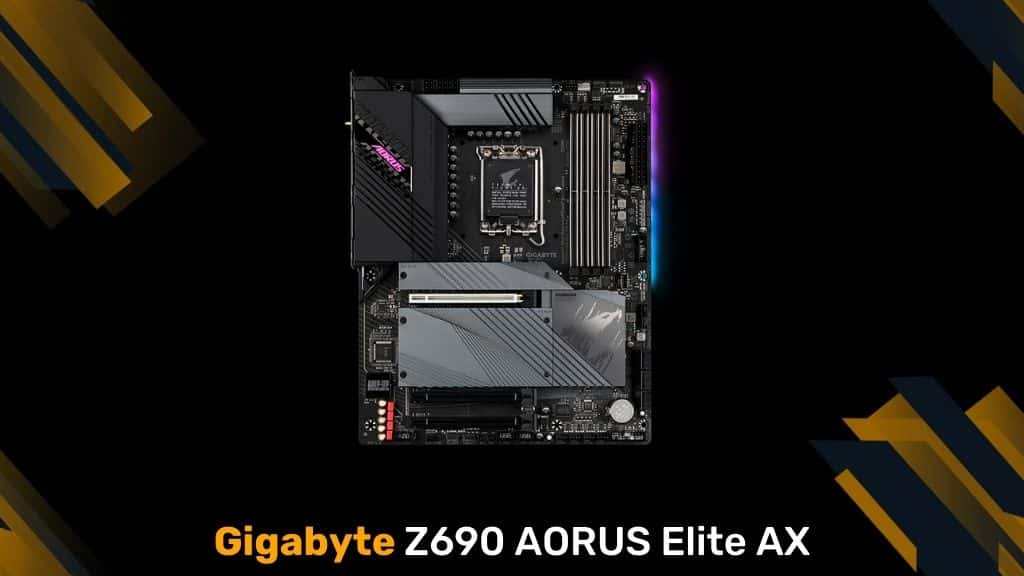 GIGABYTE Z690 AORUS Elite AX
Socket: LGA 1700 | Form Factor: ATX | Memory Type: DDR5 | Memory Speed: 6000MHz or 5333MHz | Max RAM: 128GB
Pros:
Affordable without excessive feature trim

All four M.2 slots are PCIe 4.0

Solid VRM for mid-tier CPUs
Cons:
Has only two 3.5mm audio jacks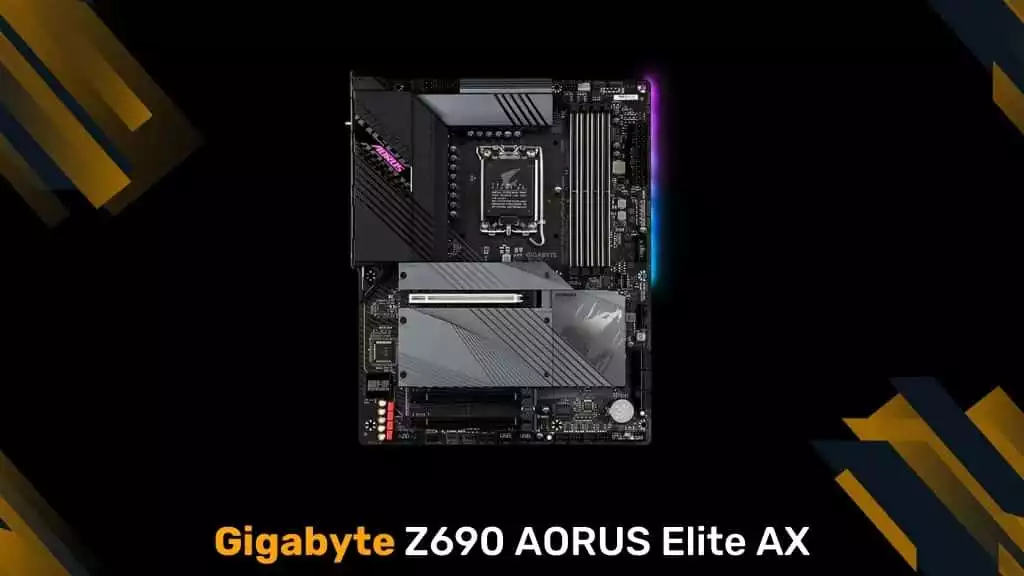 Putting together an Alder Lake build won't be easy on your wallet, doubly so if your current GPU can't comfortably handle new games like Forza Horizon 5. Going for a cheaper z690 motherboard will help soften the blow. Moreover, choosing a model like the AORUS Elite AX won't disappoint as the reduced price barely reflects on its robust feature set.
Gigabyte's AORUS lineup shares a similar aesthetic. So much so that the Elite AX is nigh identical to the Pro, a slightly more expensive board with marginally better stats. Compared to the Master, the Elite AX lacks a backplate and shows off more of the PCB at the bottom. It's also more RGB-focused as there's a strip to the right, and AORUS lights up on the I/O shroud.
VRM composition and robustness is the chief downgrade from the Master. We're dealing with Gigabyte, so even the cheaper solution is formidable. The mobo uses single 70A phases with a 16+1+2 layout. They'll handle an overclocked 12600K with ease without generating excessive heat. That places the Elite AX among the best LGA 1700 motherboards to get for the CPU before the release of B660.
Upbeat Price, Acceptable Compromises
We applaud Gigabyte for making many of its mid-range models in DDR4 as well as DDR5 variants. Such is the case with this one. You can go for DDR4 and save even more by harnessing existing hardware or jump into the next generation without spending a fortune.
Cost had to be cut somewhere, so the Elite AX has one fewer M.2 slot than the competition. However, Gigabyte somewhat made up for this by making all four PCIe 4.0 ready. The heatsink coverage is smaller than on the Master, revealing some lovely red WIMA capacitors for audiophiles to appreciate. You get six standard SATA ports capable of several RAID configurations too. Only the top GPU lane works with PCIe 5.0, while the bottom two still use PCIe 3.0 at reduced transfer speeds.
There are far fewer headers related to heat management on this board. Still, they're adaptive enough to accommodate either AIO or air cooling. The I/O holds no overclocking aids, but you do get reset, Q-flash, and clear CMOS controls as part of the internal connections array.
Ten USB ports occupy much of the I/O & range from USB 2.0 to 20Gbps USB-C. DisplayPort and HDMI let you use the second generation of Xe graphics, while WiFi6 antennas & a 2.5G Ethernet jack handle connectedness. Not everything is rosy, though. The Elite AX gets a black mark for its basic audio setup. WIMA capacitors and Realtek's ALC1220 codec aside, the I/O only has one audio-out jack, a mic jack, and optical S/PDIF out.