Unless you're going from a can that couldn't run Crysis to a modern gaming monster, ditching your HDD for an NVMe SSD is the most immediate and obvious upgrade you can make to a PC. Even a mediocre one will cut load times in half or less and boot Windows up faster than you can blink. But we don't settle for mediocrity, and neither should you! That's why we've made a comprehensive guide to help you find the best NVMe SSD for gaming.
Installing games on an NVMe SSD alone is enough to make a huge difference. While the model and generation of drive matter little for loading times, there are still differences to consider. We've selected ten prime SSDs that differ by max speeds, PCIe generation, and price. Be sure to also check out the mini-FAQ that follows our list to ensure you're getting the one you'll benefit from the most.
Our Picks for Best NVMe SSDs
Seagate FireCuda 530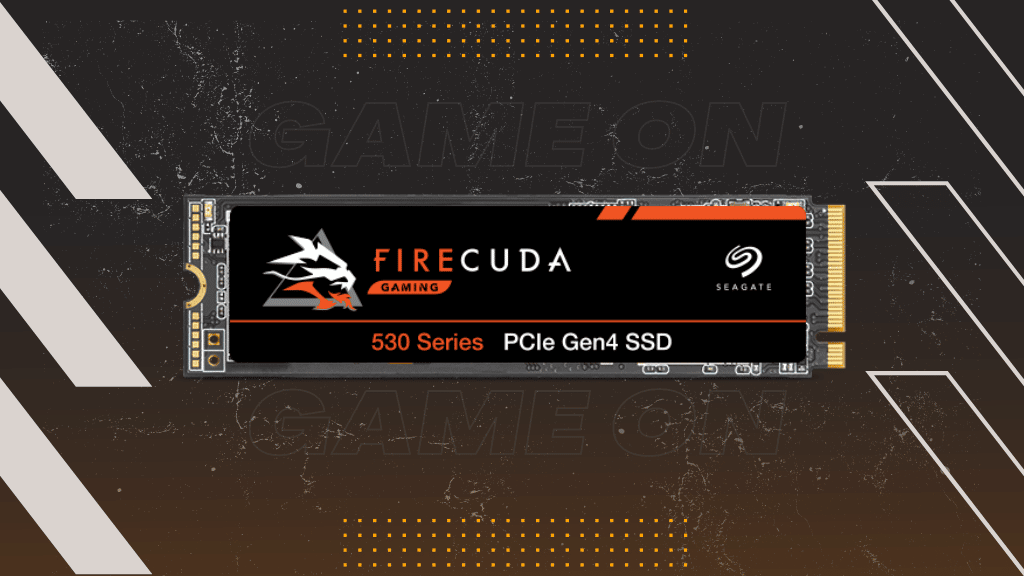 Capacities: 500GB – 4TB | Interface: PCIe 4.0×4 | Sequential read & write (1TB version): 7,00MB/s, 5,300MB/s | TBW (1TB version): 1,275TB | Heatsink: Yes
Seagate's FireCuda 530 is one of the fastest PCIe 4.0 drives out there. However, that's not the most important factor that contributed to the exceptional drive's top placement. Rather, it's our choice because of excellent longevity and a generous warranty that ensures maximum file integrity. Add an impressive heatsink, and you've got an NVMe drive that will thrive in any environment.
Seagate ensured the 530's longevity and cool running temperatures by partnering with EKVB on designing the heatsink. You can go without if the heatsinks integrated on your motherboard are up to snuff. Still, the thick yet porous chunk of aluminum you get if you invest a little extra gives even the best a run for their money.
The drive's terabytes written or TBW value is even more impressive. Competing 1TB models usually give out after being filled 600-700 times. The FireCuda 530 nearly doubles this, ensuring it will remain relevant long after PCIe 5.0 drives hit the shelves.
Under the hood, we spy a Phison 18 controller and Micron's 176L TLC NAND flash with impressive sequential read performance of 7,300MB/s. The drive doesn't let up whether you're testing it in artificial scenarios or transferring mixed data since the SLC cache is deep. Better yet, the speed drop that inevitably occurs once that cache reaches its limits doesn't impede performance much.
Finally, a word on the warranty. Most manufacturers cover their SSDs for five years, but Seagate also includes three years' worth of data recovery services. That's a stand-out courtesy and invaluable for effective data recovery.
Sabrent Rocket 4 Plus
Capacities: 500GB – 4TB | Interface: PCIe 4.0×4 | Sequential read & write (1TB version): 7,300MB/s, 6,000MB/s | TBW (1TB version): 1,275TB | Heatsink: Yes
The Rocket 4 Plus lives up to its name since it's a lightning-fast drive that easily reads or copies vast swathes of data without letting up. The 1TB version has a slightly lower writing speed than the FireCuda 530, but that hardly matters for quickly loading levels in games. This is the SSD to get if you're looking for a dependable, fast, and stylish drive that transcends gaming purposes.
We feel that the Rocket 4 Plus is among the generation's most attractive disks. Its base version sports a black PCB with a copper-tinted thermal label. You can also get one with an efficient heatsink full of area-enhancing grooves. Going for the latter is a good idea if you plan on using the Rocket relentlessly since it can get hot during long transfer sessions.
Even though its TBW is lower than our winner's, the Rocket 4 Plus can store an imposing amount of data before giving out. It has the same Phison E18 controller yet combines it with older 96L flash memory from Micron. That has little bearing on top speeds and even less on the seemingly endless SLC cache. The speed drop-off is sharper than on the FireCuda, but chances are you won't notice unless you're transferring CoD Warzone several times over.
WD Black SN850X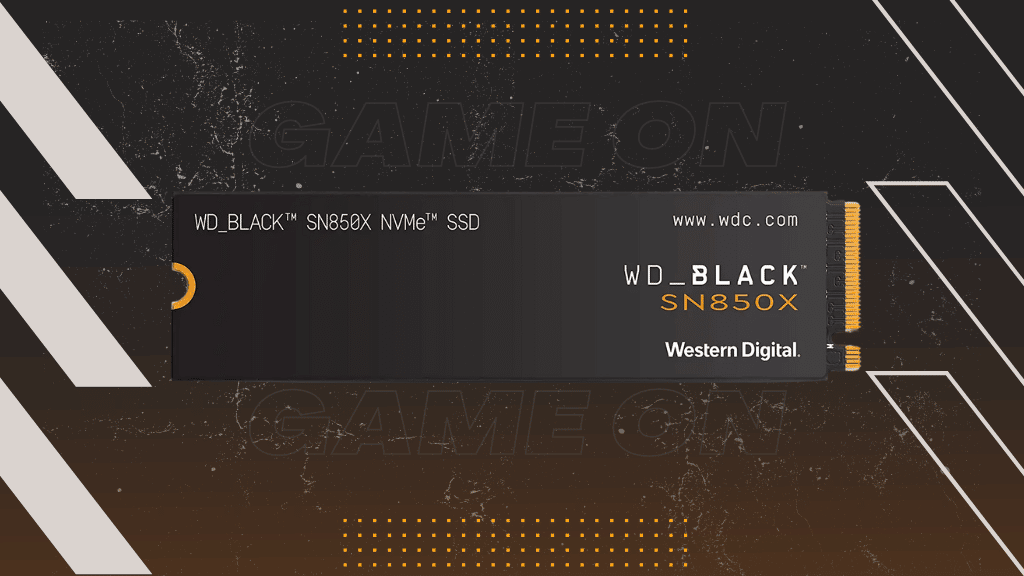 Capacities: 500GB – 4TB | Interface: PCIe 4.0×4 | Sequential read & write (1TB version): 7,300MB/s, 6,300MB/s | TBW (1TB version): 600TB | Heatsink: Yes
The SN850X seems to be the most gaming-oriented among our recommendations. The version with the heatsink has an LED to further enrich your RGB setup. You may also enable Gaming Mode to supposedly get shorter loading times by optimizing performance. Neither are the reason it's so high up, though. Simply put, WD's drive is an excellent one with or without gimmicks.
There's no question that the SN850X is the fastest M.2 SSD with a gaming pedigree. This has more to do with the LED that glows on its beefy heatsink than with actual speeds. These, although impressive, don't fall that much out of line. Users who opt to save a few bucks by going commando will miss out on better thermals and gain one of the most stealthily-designed SSDs instead.
While endurance remains at 600TB, the SN850X achieves greater max speeds as well as improved performance in mixed file transfers & sustained writing over the non-X version. Much of this is a consequence of the introduction of BiCS5 flash memory as well as WD's continued efforts to upgrade the proprietary controller.
The newer disk also comes with Game Mode 2.0. You can turn this software-side improvement on or set it to Auto. On paper, this should optimize game loading times. That sounds great on paper, but there are no visible differences when loading actual games. If anything, running the mode impacts power consumption and random read / write values in a slightly negative way.
Kingston Fury Renegade
Capacities: 500GB – 4TB | Interface: PCIe 4.0×4 | Sequential read & write (1TB version): 7,300MB/s, 6,000MB/s | TBW (1TB version): 1,000TB | Heatsink: No
It seems that shedding the HyperX brand has done Kingston a lot of good since everything from DDR5 RAM to SSDs they've put out since is excellent. We're particularly impressed with the Fury Renegade – an exceptionally well-rounded PCIe 4.0 SSD that plays ball with the big boys while remaining accessible.
This is our fastest NVMe SSD recommendation without a proper heatsink. It does have a stylish black & white cover made from a mixture of graphene and aluminum that's slightly thicker yet markedly more thermally efficient than regular labels. You can slip it inside laptops, consoles, and motherboards without worrying about clearance as a result.
Kingston pulled out all the stops to make the Renegade a compelling competitor for the title of best NVMe SSD for gaming. It has the class-leading Phison E18 controller along with Micron's most advanced flash memory. The 1TB version can endure almost as much usage as the Rocket 4 Plus, while peak read & write speeds rival the generation's finest.
The Fury Renegade is marketed as a gaming drive, and there's some merit to this beyond hype. It scores better than most competitors in artificial testing, like 3DMark's disk benchmark. The difference when loading levels or assets in actual games isn't as pronounced, though. Interestingly, the Fury renegade has a deep SLC cache to draw on but struggles to recover if you reach its limit.
Samsung 980 PRO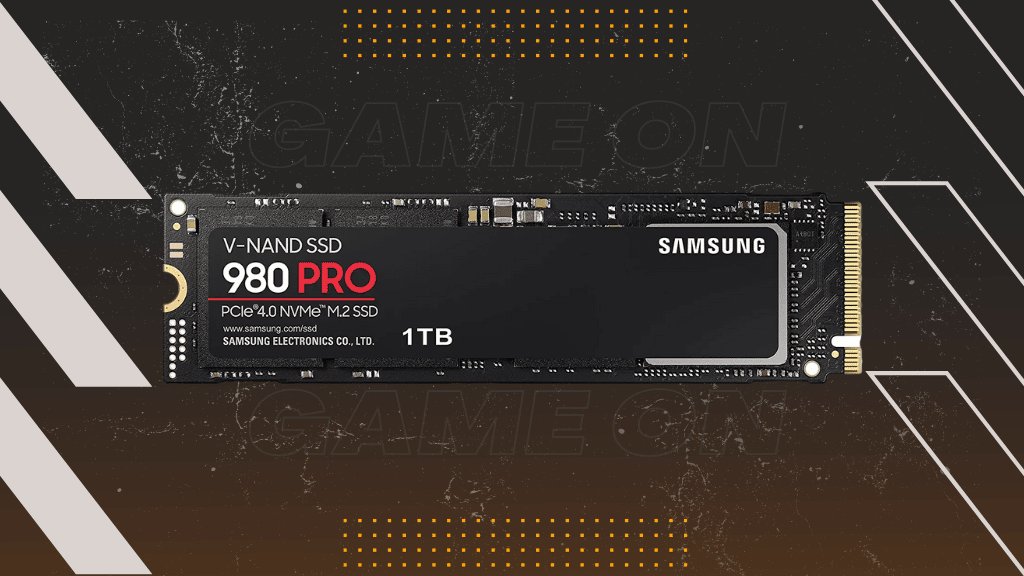 Capacities: 250GB – 2TB | Interface: PCIe 4.0×4 | Sequential read & write (1TB version): 7,000MB/s, 5,000MB/s | TBW (1TB version): 600TB | Heatsink: Yes
It wouldn't be the best NVMe SSD for gaming list without a premium SSD or two from Samsung! The 980 Pro is a worthy successor to last gen's 970 EVO. It's even faster in various tests than the FireCuda 530, even though its max speeds would suggest otherwise. Buying one also nets you low power consumption and years of carefree file copying.
The 980 PRO has a busy double-sided thermal label with all the info you'd ever want to know about its components and certifications. While not as thermally demanding as the Rocket, we suggest you get the heatsink version since it doesn't come at a price premium when on sale.
Samsung developed the 980 PRO's internals in-house. The Elpis controller made a successful debut on this drive, and it's paired with 136 layers of the V6 V-NAND flash. The memory compares very well to competition from Micron and SK Hynix while also including AES 256-bit encryption for peace of mind.
While theoretically not as long-lived, the 980 Pro equals or exceeds our first two choices in synthetic benchmarks. This barely reflects on its gaming performance, as the most you can hope for is a fraction of a second faster loading times, even in games like Red Dead Redemption 2.
TEAMGROUP T-Force Cardea Zero Z440
Capacities: 1TB – 2TB | Interface: PCIe 4.0×4 | Sequential read & write (1TB version): 5,000MB/s, 4,400MB/s | TBW (1TB version): 1,800TB | Heatsink: No
With the big five out of the way, it's time to set our sights on more affordable yet no less capable SSDs. The Cardea Zero Z440 is the first to come to mind. We already gave the drive a good shake in a hands-on review, finding it speedy and more than robust. It's since gone down in price further, giving you a taste of PCIe 4.0 excellence at less than $100 if you go for the 1TB version.
Owners of older TEAMGROUP SSDs may remember the bulky heatsinks that came with them. The Z440 eschews those for a thin label made of graphene and copper. It's decent at drawing heat away from the PCB and slim enough to let your motherboard's more sophisticated heatsink do its job.
The Z440 is an early PCIe 4.0 drive, meaning that the technology had not yet come into its own when it was released. You'll see this in the comparatively low sequential read & write specs as well as the Phison E16 controller and Micron's older 96L flash memory if you dig deeper. On the other hand, this is hands-down the best M.2 SSD for gaming for users who want to tackle their Steam backlogs since it can write a whopping 1,800 terabytes during its lifecycle.
As expected, the Z440 can't compete with higher-placed models in peak speed tests. However, that lead diminishes quickly when the drives are tasked to copy a mixed selection of files or fire up different games. The difference in performance is much smaller than the one in price in such cases.
Crucial P5 Plus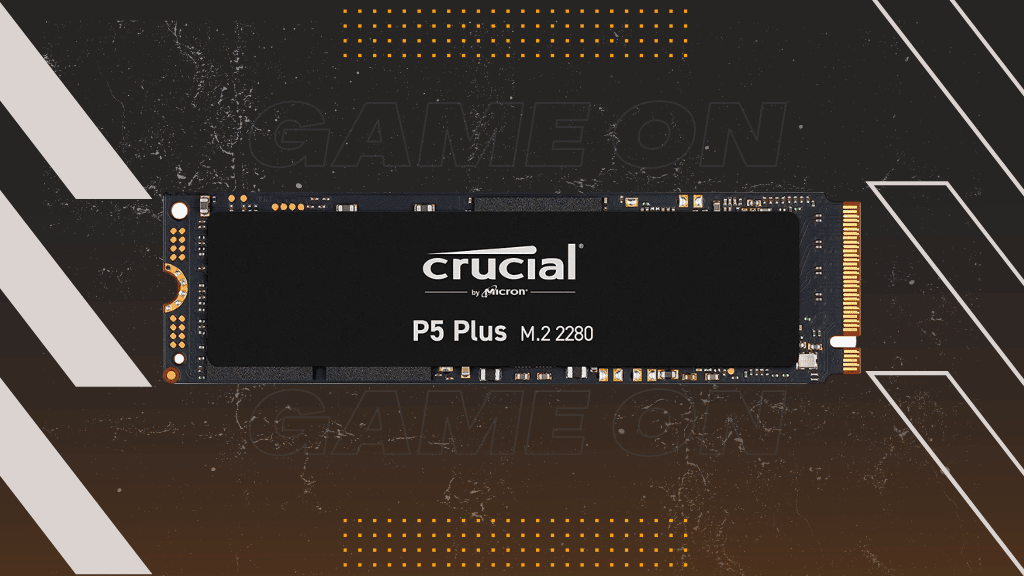 Capacities: 500GB – 2TB | Interface: PCIe 4.0×4 | Sequential read & write (1TB version): 6,600MB/s, 5,000MB/s | TBW (1TB version): 600TB | Heatsink: No
Many of our picks employ flash memory manufactured by Micron, so it's no wonder that one of the company's own SSDs would make an appearance. The Crucial P5 Plus straddles the line of performance and affordability. It's faster in testing than the Z440, yet it's also costlier and not nearly as long-lived. Either is best NVMe SSD for gaming material once it's time to drop into your favorite game world, though.
The P5 Plus is among our most austere picks. A black thermal label with basic info covers the equally dark PCB, giving the drive a shadowy air. You'll want to hide it under a heatsink anyway, as there's a possibility of throttling after prolonged file transfers.
Most manufacturers only give you access to cloning software. Crucial goes the extra mile by including a monitoring tool that lets you check up on the P5 Plus's health and makes applying firmware updates easy. Coupled with a five-year warranty, this makes it more likely that the P5 Plus will find itself in more than one build.
Micron made the P5 Plus without having to source components from third parties. They're tight-lipped regarding the specifics of its controller, but we do know that it carries the same 176L TLC memory seen on some of our top choices. Peak speeds are somewhat slower, while TBW is on the low end.
None of that prevents the SSD from scoring well on a battery of tests. It's close to the top whether loading into your favorite MMO or transferring dozens of GB worth of files. We'd like the next revision to focus more on improved power efficiency, however.
Samsung 970 EVO Plus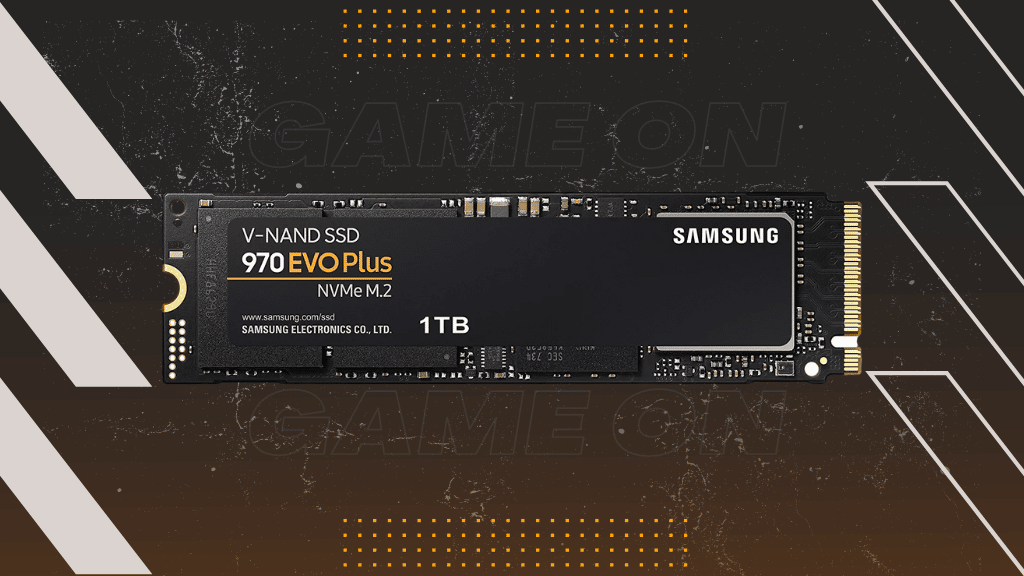 Capacities: 250GB – 2TB | Interface: PCIe 3.0×4 | Sequential read & write (1TB version): 3,500MB/s, 3,300MB/s | TBW (1TB version): 600TB | Heatsink: No
When was the last time you had to copy 100+TB of data frequently and as fast as possible? That's the question to ask before dismissing PCIe 3.0 SSDs as your gaming PC's primary drives. Outstanding ones like the 970 EVO Plus barely trail their successors when running games yet come in at a much more reasonable price.
Comparing the 970 EVO Plus to the 980 Pro yields few differences. It's clear that the older drive's dark color scheme and subdued appearance were such a core part of Samsung's SSD identity that they had to remain. If there's anything to nag about, it's the lack of a proprietary heatsink.
However, other proprietary tech & accessories sweeten the deal. Samsung makes its own drivers available, and downloading them positively impacts performance. There's also data transfer & cloning software as well as hardware encryption to protect sensitive data.
The TurboWrite cache is another 900-series staple. This smaller cache allows for burst transfers of around 25GB at peak speeds, enough to migrate most games from one SSD to another in good time. Even when the cache is depleted, transfer speeds remain better than on competing PCIe 3.0 models.
The 970 EVO Plus stands toe to toe with newer models when measuring game load times. While it may not reach its successor's results, the difference never amounts to more than a second or two.
HP EX950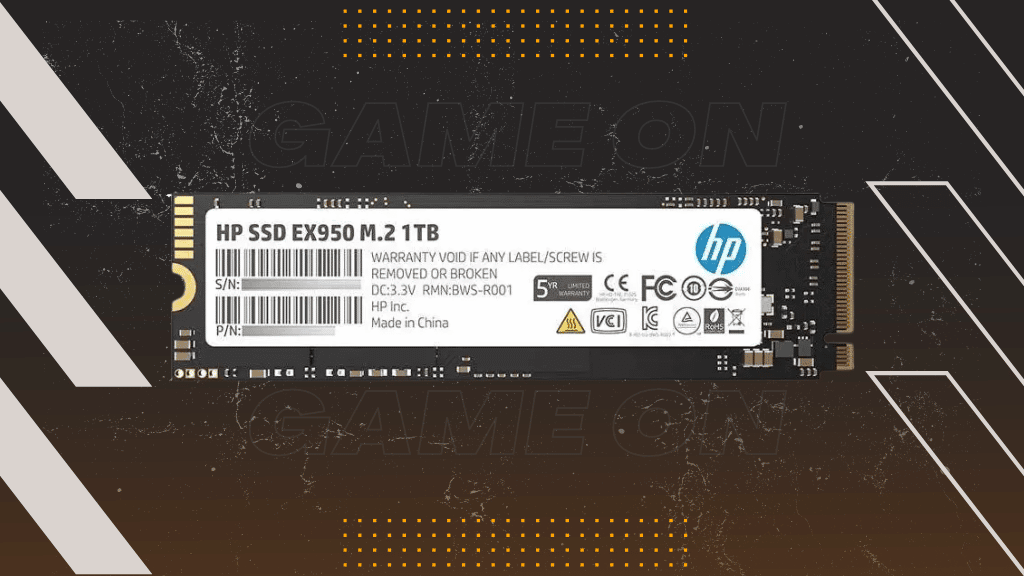 Capacities: 500GB – 4TB | Interface: PCIe 3.0×4 | Sequential read & write (1TB version): 3,500MB/s, 2,900MB/s | TBW (1TB version): 650TB | Heatsink: No
Next is the EX950 from HP, another popular PCIe 3.0 drive. It trades slightly slower theoretical max speeds than the 970 EVO Plus's in for even more savings. Could this be the best NVMe SSD for gaming for you? Absolutely!
It's a testament to the EX950's well-roundedness that aesthetics are our main gripe with it. The white label feels jarring on a black PCB and makes the entire ensemble look cheaper than it really is. There's also a tiny heatsink on the SM2262EN controller, but you won't see that since it faces downward. It's best to cover the drive up with one of your motherboard's heatsinks and just enjoy how it works.
And work it does, at least within the confines of PCIe 3.0. The controller mentioned above is a step up from what was present on the EX920. Implementing it introduced such marked improvements to read & write speeds that HP held off on upgrading the 64L flash to the then-new 96L variant.
That was a good move since it made the SSD cheaper while negligibly impacting real-world performance. Only the max writing speed trails the 970 EVO Pro's by any meaningful degree, while longer transfers involving different file sizes and types are comparably fast.
WD Blue SN570
Capacities: 250GB – 2TB | Interface: PCIe 3.0×4 | Sequential read & write (1TB version): 3,500MB/s, 3,000MB/s | TBW (1TB version): 600TB | Heatsink: No
Exceptionally low price for the specs
Decent overall performance
Comes with useful software and promo offers
Small SLC cache
Western Digital is the second manufacturer with two SSDs on our list. On the one hand, you've got the SN850X's sheer speed and gaming aesthetic. On the other, the SN570 won us over with peak PCIe 3.0 performance accompanied by a bargain bin price. It's not the fastest M.2 SSD anymore, but few come close to the value it holds.
The Blue line is known for dependability at a fair price, reaching all the way back to the HDD heyday. The SN570 adopts a two-toned blue & white thermal label that covers the entire PCB and looks gorgeous inside white PCs.
WD offers a handy analysis tool that lets you track space usage and temperature as well as update the firmware. Moreover, the SN570 comes with a free month of Adobe's Creative Cloud suite. While not strictly gaming-related, this thoughtful gesture adds even more value to an already sweet deal.
So, what about the specs? The SN570 comes with 112 layers of BiCS5 TLC flash arranged on one side of the PCB, regardless of your size choice. There's not much info on the controller other than it was developed by WD themselves. The combination yields solid sequential read & write maximums as well as decent TBW for a PCIe 3.0 drive.
Everything sounds great on paper, so why is the SN570 last? Because it has the smallest SNC cache among our favorites, enough to transfer only around 12GB before winding down to middling rates. That's still much better than what an HDD can muster and may not be a problem if you don't swap files between drives a lot.
How to Pick the Best NVMe SSD for Gaming?
We've used a lot of storage lingo throughout the article, so here are some explanations and general recommendations regarding NVMe drives to help you make sense of everything.
What Is Nvme and What Does It Stand For?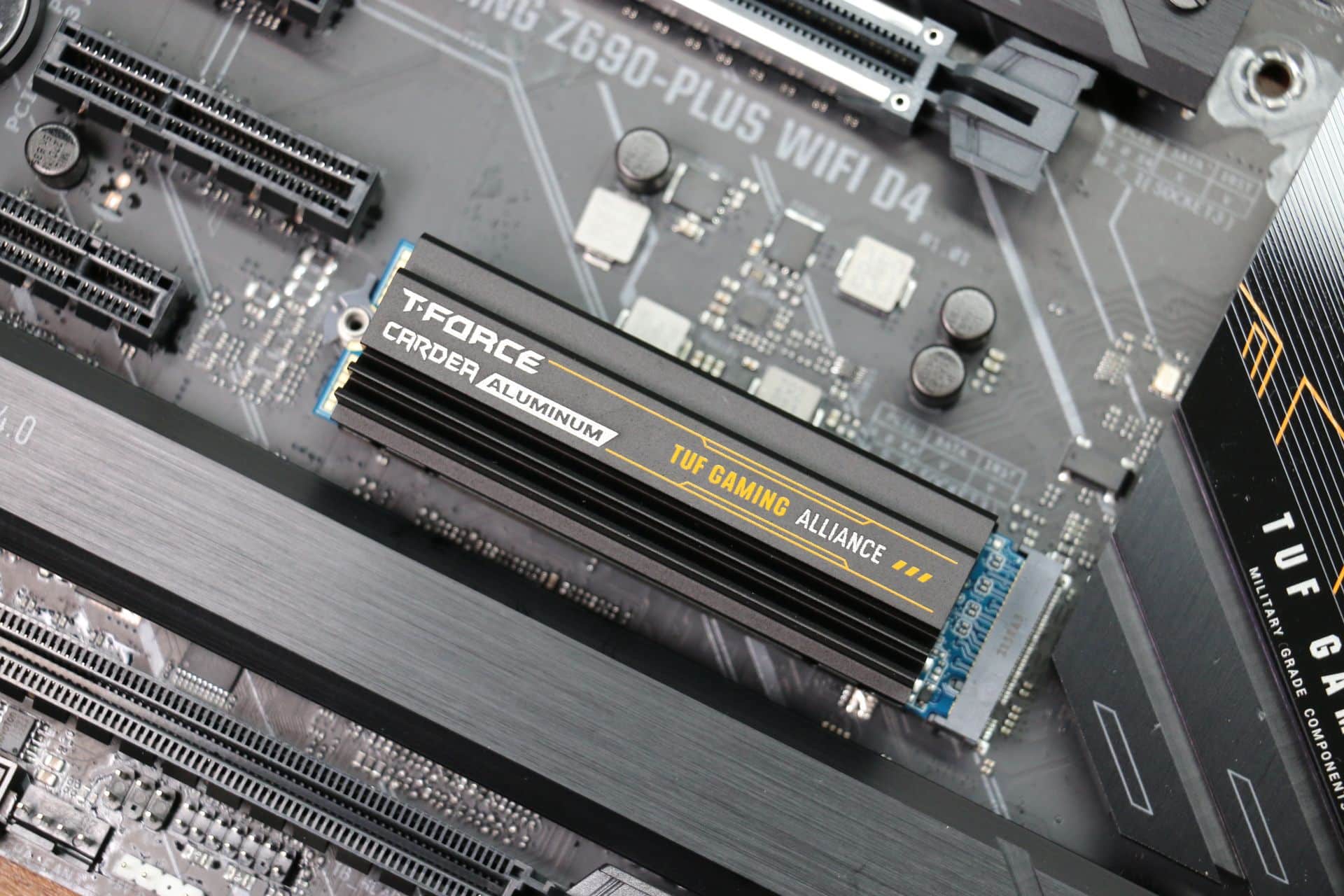 NVMe stands for Non-Volatile Memory Express. It denotes that the memory is stable, as opposed to the ever-changing data that temporarily fills up RAM. The Express part refers to PCI Express, the high-speed interface we used to only associate with graphics cards.
The first SSDs were SATA-based, meaning they used an interface initially intended for traditional hard drives. They were already at least three times faster than HDDs, and the PCIe standard improves this by several magnitudes.
NVMe drives currently run on the PCIe 3.0 and 4.0 standards, with PCIe 5.0 slated to release towards the end of 2022, along with the next generation of AMD & Intel processors and supporting motherboards. PCIe 3.0 was already impressive, offering read & write speeds in excess of 3,000MB/s. The best current drives more than double this, while max PCIe 5.0 sequential speeds reach a mind-boggling 15.8GB/s.
What Is M.2 and What Does It Stand For?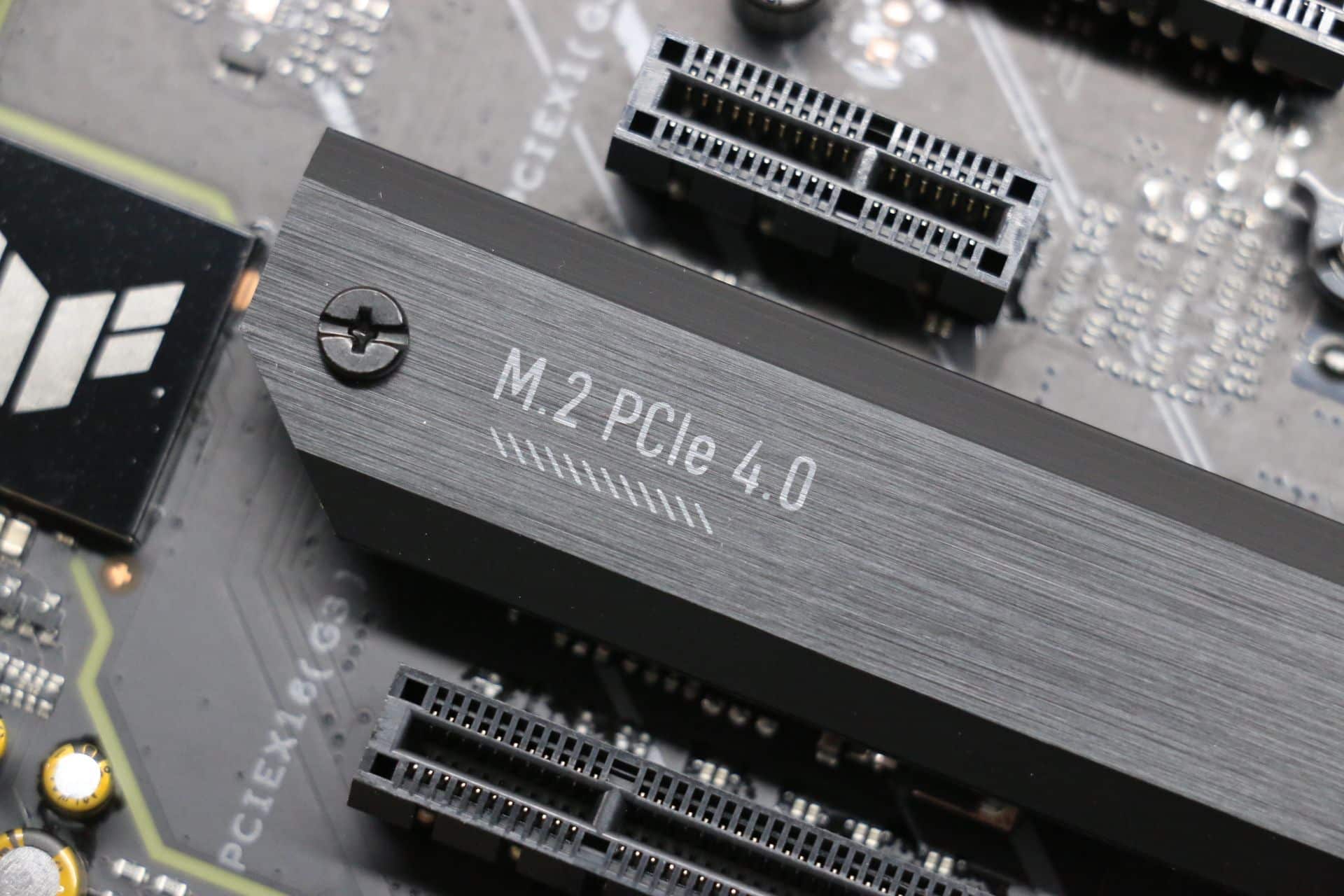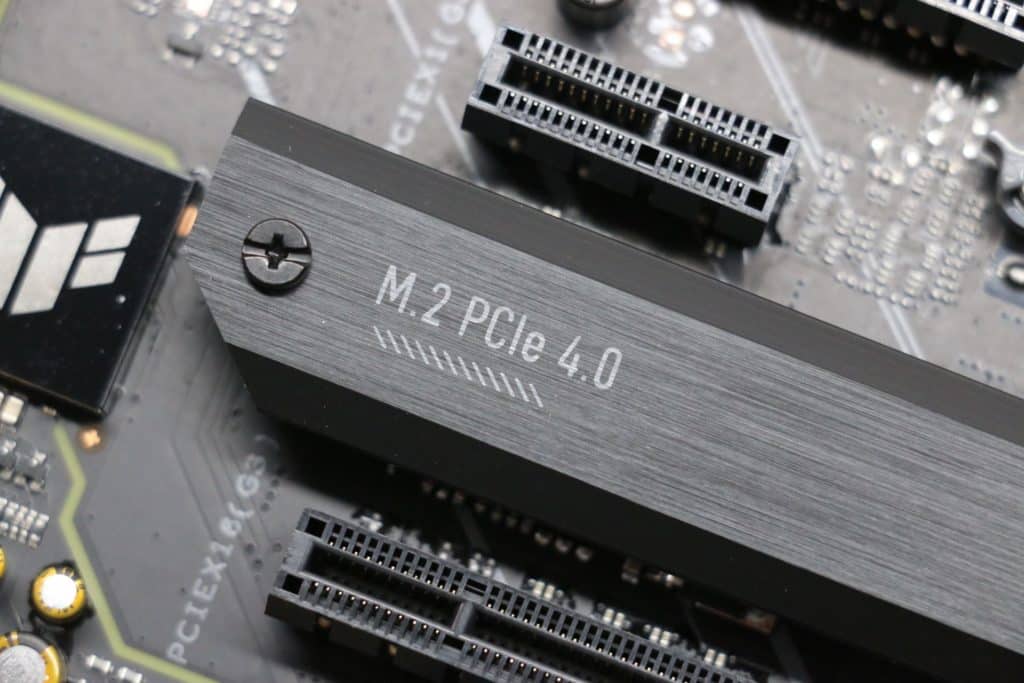 M.2 is the most up-to-date SSD form factor. It uses connections from your CPU and motherboard to interface with either NVMe, PCIe, or SATA drives. NVMe is the most prevalent type of M.2 drive, so we'll focus on that. M.2 drives are easy to recognize since they're shaped like a gum stick, 22mm wide, and either 80 or 110mm long.
Each new motherboard generation places more emphasis on M.2 drives. Five years ago, motherboards usually only had one or two such slots if they were high-end. Today's mid-range boards regularly come with three, while more expensive options have as many as five. Keep in mind that a single motherboard can and usually does support multiple PCIe generations. A PCIe 4.0 NVMe SSD will work if you install it in a PCIe 3.0 socket, but it will be limited to the older standard's max speeds.
How do controllers, flash memory, and TWD factor into one's SSD choice?
The controller and memory are essential parts of an NVMe SSD. The controller is a type of processor that facilitates communication between the disk's memory and its input/output interface. It directs read and write operations, monitors memory cell status, etc. More sophisticated controllers allow for more streamlined operation and improve efficiency.
The memory cells in modern NVMe drives are stacked in layers, hence the 3D in their name. Some manufacturers call it V or vertical NAND or BiCS, but it's the same thing. As a rule of thumb, more layers equals better efficiency and better performance without the need for an area increase. Better TBW is a welcome side effect.
TBW or terabytes written is the amount of terabytes a drive can write in its lifetime. The memory cells wear out with use and eventually become unable to accept new data. The higher the TBW, the more data they can store until this happens. Gamers rarely have to worry about reaching their disk's limits. Still, this value may be valuable for users who run servers or constantly transfer lots of data.
What's a good size for a gaming SSD?
Manufacturers are constantly coming up with ways to squeeze more storage space onto their M.2 drives. The sizes currently range from 120GB to 8TB. Don't bother with 120GB drives since installing Windows on one doesn't even leave enough room for a game as large as Cyberpunk 2077. The 255GB variant is good enough for a boot drive but is also limited by today's standards.
Most gamers should find 1TB sufficient for their OS, frequently-used programs, and a decent game library. More capacious SSDs make sense if you have a vast media library or need more room for your video editing / 3D modeling activities. Since modern mobos still come with SATA plugs, you might also want to invest in a high-capacity HDD if you need storage for daat that doesn't get accessed frequently.
The explosion of M.2 slots also lets you save more with increased storage needs. For example, the 2TB version of the WD Black SN850X costs around $250 at the time of writing, and $300 when it's not on sale. The 4TB version costs $800, so going with the two smaller SSDs is a no-brainer.
How does an SSD's speed impact gaming performance?
Manufacturers tout their disks maximum read & write speeds, but these have little impact on actually running games. Faster sequential read & write make the most difference when you're transferring game files from one disk to another.
Since such files tend to be big, the disk can "let loose" and copy them over faster. But how often does the average gamer do this? It's far more likely that the internet connection provided by your ISP will be the limiting factor when installing games in this day and age.
We'd be remiss not to point out that all of our picks, even the slowest & cheapest PCIe 3.0 ones, perform within a margin of error when it comes to game load times.
You're looking at a 1-2 second difference in the vast majority of games, with a significant slowdown occurring only on HDDs. However, this might not be the case for long as technologies like Smart Access Storage are on the horizon. So, getting a faster drive now may pay dividends in the future.