Specs:

Form Factor: Mini ITX
Chipset: LGA 1700
Type: DDR5
Memory Speed: 7600MHz
Max RAM: 64GB

Specs:

Form Factor: Mini ITX
Chipset: AM5
Type: DDR5
Memory Speed: 6400MHz
Max RAM: 64GB

Specs:

Form Factor: Mini ITX
Chipset: LGA 1700
Type: DDR5
Memory Speed: 7200MHz
Max RAM: 96GB

Specs:

Form Factor: Mini ITX
Chipset: AM5
Type: DDR5
Memory Speed: 6400MHz
Max RAM: 64GB

Specs:

Form Factor: Mini ITX
Chipset: LGA 1700
Type: DDR4
Memory Speed: 5000MHz
Max RAM: 64GB

Specs:

Form Factor: Mini ITX
Type: DDR4
Memory Speed: 5100MHz
Max RAM: 64GB
Some PC users love to show off their expensive components in hernia-inducing cases that tower over their monitors. Others take the opposite approach, hoping to cram as much computing power into as little space as possible. The best Mini ITX motherboards play a crucial role in such pursuits, providing most ATX features on a palm-sized PCB.
We paid more attention to current Intel and AMD processors when deciding which to include. Mini ITX transcends camps and generations, so we also added two older picks.
ASUS ROG Strix Z790-I Gaming WiFi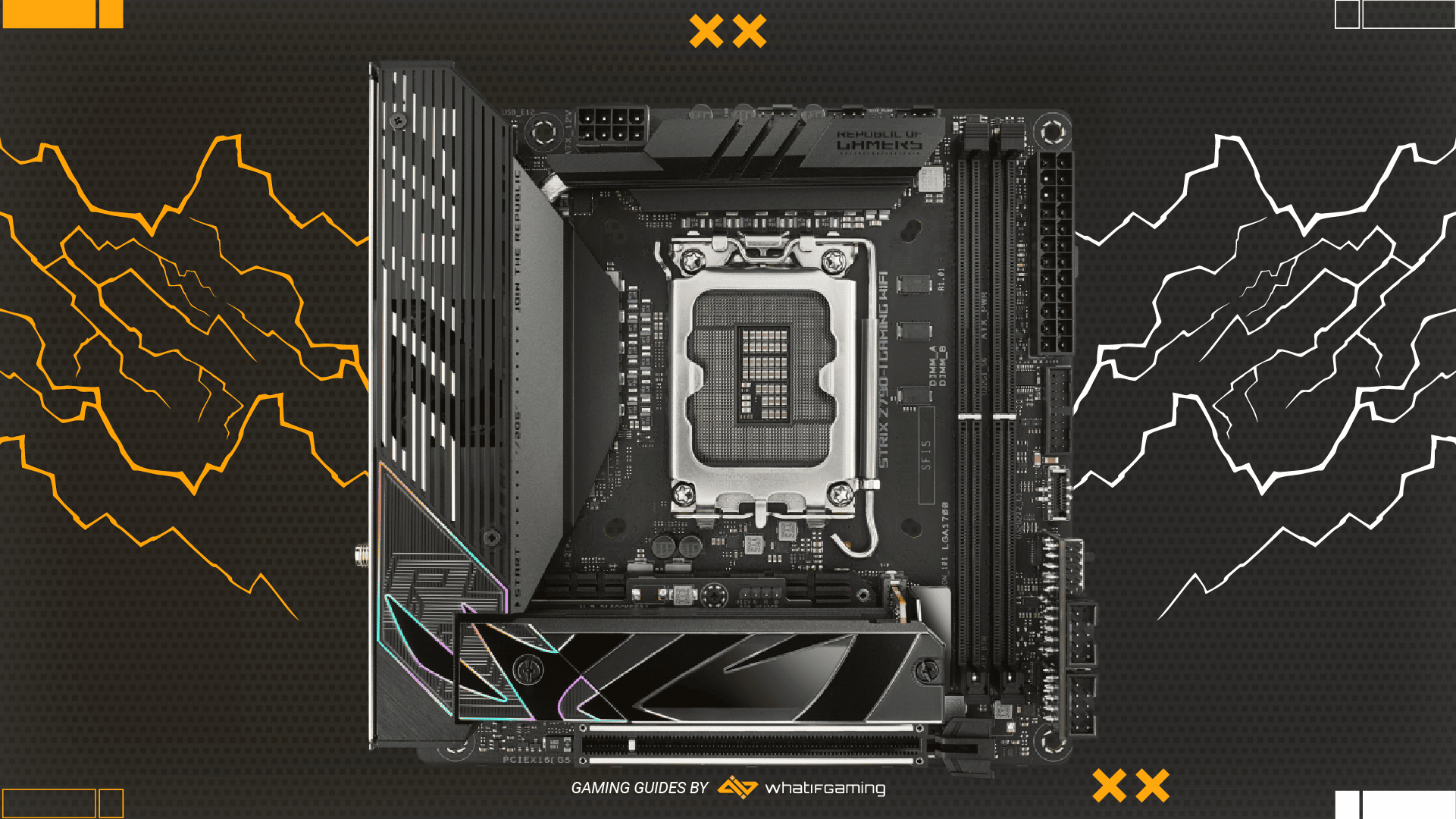 ASUS ROG Strix Z790-I Gaming WiFi
Form Factor: Mini ITX | RAM type: DDR5 | Memory Speed: 7600MHz | Max RAM: 64GB | M.2 sockets: 2 | Audio: Realtek SI1220
Pros:
Outstanding cooling and VRM for the size

Hive is a welcome and innovative add-on

Fantastic I/O with two USB4 ports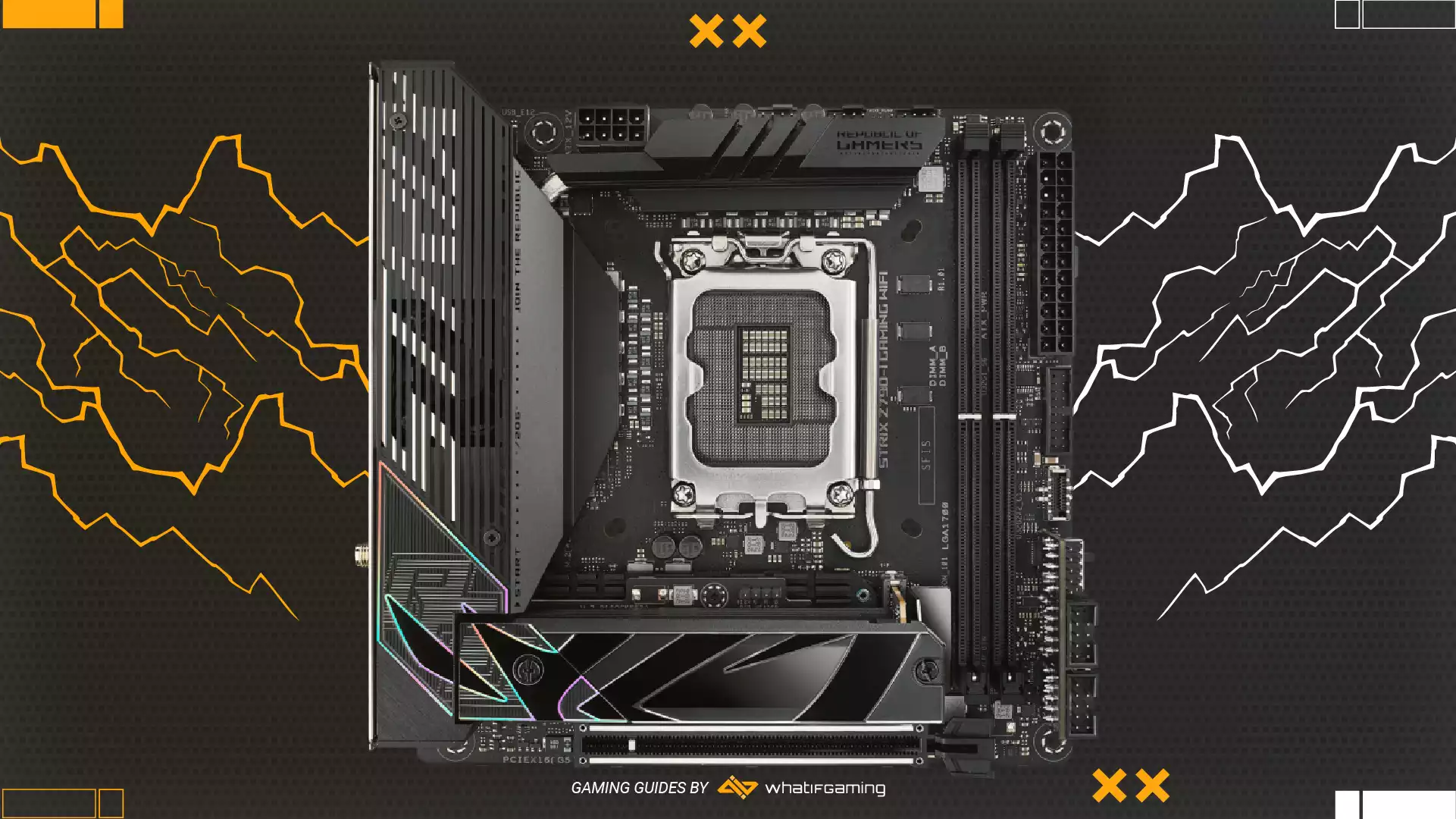 The Z790 platform is a modest refresh, with higher max RAM speeds and modestly better USB support. ASUS expands on that by offering USB4, excellent VRM, and an external audio device with its Z790-I Gaming WiFi. It's the best ITX motherboard for Alder and Raptor Lake users, provided you don't mind spending as much on it as you would on a premium ATX offering.
ASUS knows how to squeeze every square inch out of a small board and still make it appealing. The I/O shroud has a cool Strix logo and some RGB, while the M.2 heatsink sports tasteful ROG graphics.
Don't hesitate to pair this small board with a 13900K, as its VRM is as good as the conditions allow. 10+1 105A stages get hotter than twice as many on the newest boards, but your CPU is in no danger unless its own cooling is lacking.
ASUS outfitted the Z790-I Gaming WiFi with two M.2 slots, one of which works with the latest PCIe 5.0 drives. That's also the x16 slot's supported standard, so you're good for current and several future GPU generations. A daughterboard lets you augment the faster drives with two trusty SATA counterparts.
The ROG Hive is a much more intriguing accessory. Not wanting to compromise audio quality, ASUS outfitted the Hive with an ALC4050-powered audio solution complete with headphone jacks and a volume knob. It also has USB passthrough, flashback & reset buttons, and four debug LEDs you'd usually associate with normal-sized boards.
A vent for the VRM fan takes up part of the integrated backplate. Even so, the I/O wouldn't be out of place on a Rocket Lake ATX mobo. Nine USB ports are impressive, even more so since two are USB4! They double as DisplayPort video out, which explains the single HDMI port. You may connect online wirelessly through WiFi 6E or use trusty 2.5G Ethernet.
GIGABYTE B650I AORUS Ultra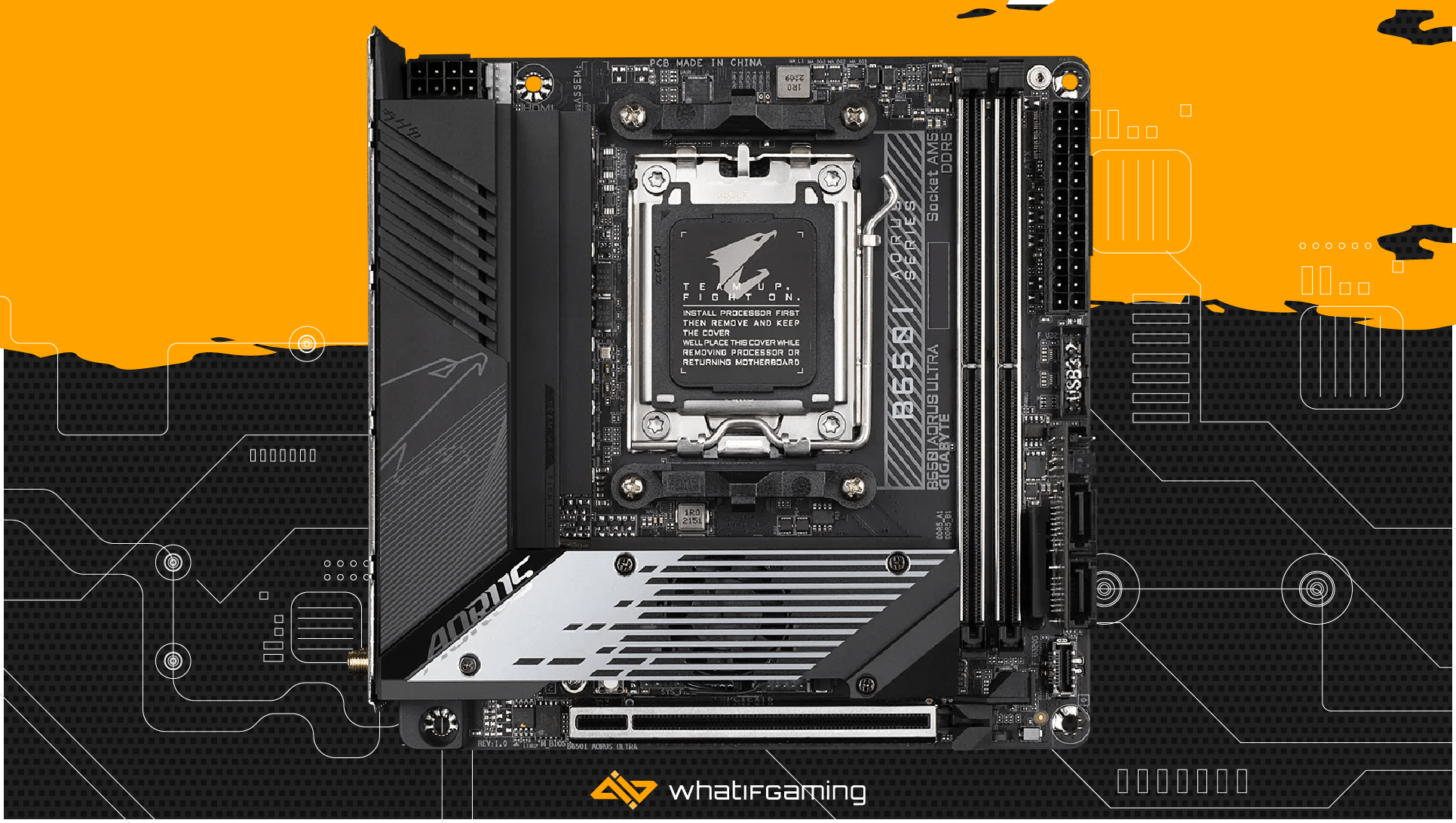 Gigabyte B650I AORUS Ultra
Form Factor: Mini ITX | RAM type: DDR5 | Memory Speed: 6400MHz | Max RAM: 64GB | M.2 sockets: 3 | Audio: Realtek ALC4080
Pros:
Outstanding value for the money

Three M.2 slots

Solid VRM and connectivity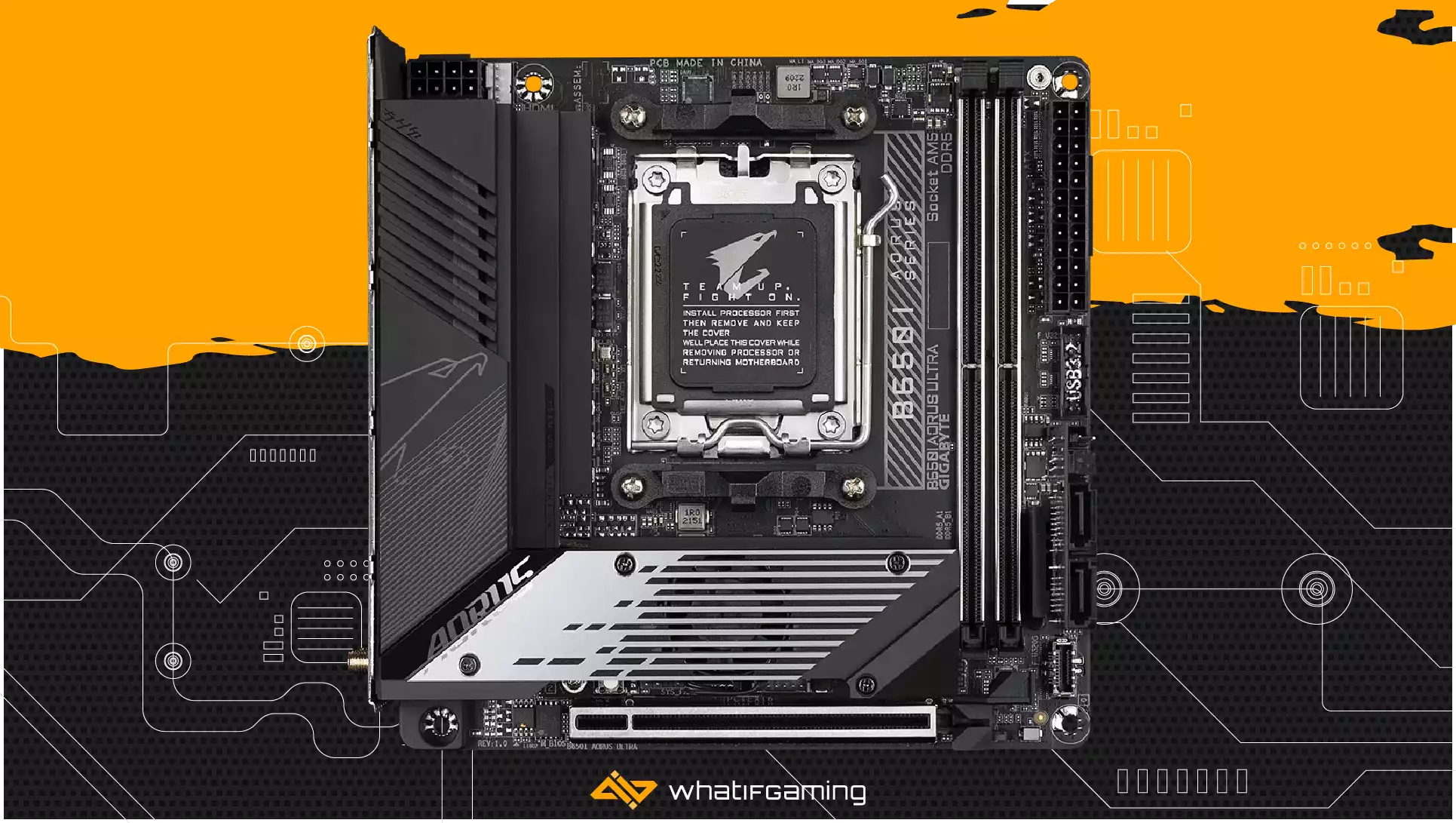 Users who want to build an SFF PC around the AM5 platform still lack competent options. Luckily, The B650I AORUS Ultra is available now and will likely remain one of the best Mini ITX motherboards for AMD's new format for a while. It has three M.2 slots, is built to last, and offers amazing value for a reasonable price.
Gigabyte went with a black and gray combo, decorating the little mobo with their falcon and a bunch of diagonal lines. Everything is angular and functional, leaving you with an industrial design that's hard to find fault with.
Ditto for the 8+2+1 105A phases that constitute the VRM. The most potent AM5 chips might have high thermal limits, but that's unlikely to phase this board's circuitry. The shroud doubles as a heatsink and has deep grooves that improve its surface area and heat radiation.
The B650I AORUS Ultra has an unprecedented three M.2 slots for high-speed storage. Two are sandwiched inside the towering bottom heatsink. One can be a PCIe 5.0 drive, hence the tiny cooling fan embedded into the heatsink. You'll find the third slot on the back, under a sturdy backplate that also helps draw heat away.
If that's not enough, a daughterboard carries four more SATA III ports along with front panel headers. Other internal connections are scarce. You get three cooling & two RGB headers as well as reset and CMOS clear jumpers.
The I/O is functional and comprehensive. Seven USB ports range from two USB 2.0 to 10Gbps USB-C. AM5 chips come with iGPUs, so the DisplayPort and HDMI will make sense for home theater and office use. ALC4080-powered audio is another great reason for using this board for home entertainment. Finally, 2.5G Ethernet and WiFi 6E cover all your networking needs.
MSI MPG B760I Edge WiFi
MSI MPG B760I Edge WiFi
Form Factor: Mini ITX | RAM type: DDR5 | Memory Speed: 7200MHz | Max RAM: 96GB | M.2 sockets: 2 | Audio: Realtek ALC897
Pros:
Excellent value for the money

Supports 96GB RAM

Comes with LED debugger
Want most of the latest tech at half the Z790-I Gaming's price? Then there's nothing better than MSI's B760i Edge WiFi. Its place among the best Mini IX motherboards is assured, thanks to a combination of solid features, excellent RAM support, unique appearance, and an attractive price.
MSI boards aren't usually bright, so the Edge is a positive surprise. A few orange lines and the legendary MSI dragon further refine its visual identity. White SFF cases are popular, and this is the perfect board to put inside one.
Despite the price difference, MSI's board will handle any 12th or 13th-gen Intel CPUs with ease due to a 10-phase 90A VRM solution. Interestingly, it is also among the first models compatible with new 48GB DDR5 RAM sticks. This is fantastic news for video editors and anyone else who can fully use the mobo's improved 96GB capacity.
Since it costs a bit over $200, the Edge does come with some sacrifices. For example, it sticks to PCIe 4.0 for the M.2 GPU slots alike. That won't be a drawback for years, so we're not listing it as one. The other, potentially more frustrating choice, is going with ALC897 over more recent audio codecs. It's serviceable for everyday use, but audiophiles will find it lacking.
On to more welcome surprises, like the four-LED debugger there's rarely room for on ITX mobos. They sit just under four vertical SATA ports and close to five case I/O headers. This is another model with three headers for cooling and two for RGB since it has no native lighting.
Eight USB ports are the I/O's highlight. 10Gbps USB-C and five third-gen connections should be sufficient for all your data transfer needs. Connectivity is sparse otherwise and limited to three analog audio plugs, DisplayPort, and HDMI. You may connect to the internet through WiFi 6E or 2.5G Ethernet.
ASUS ROG Strix B650E-I Gaming WiFi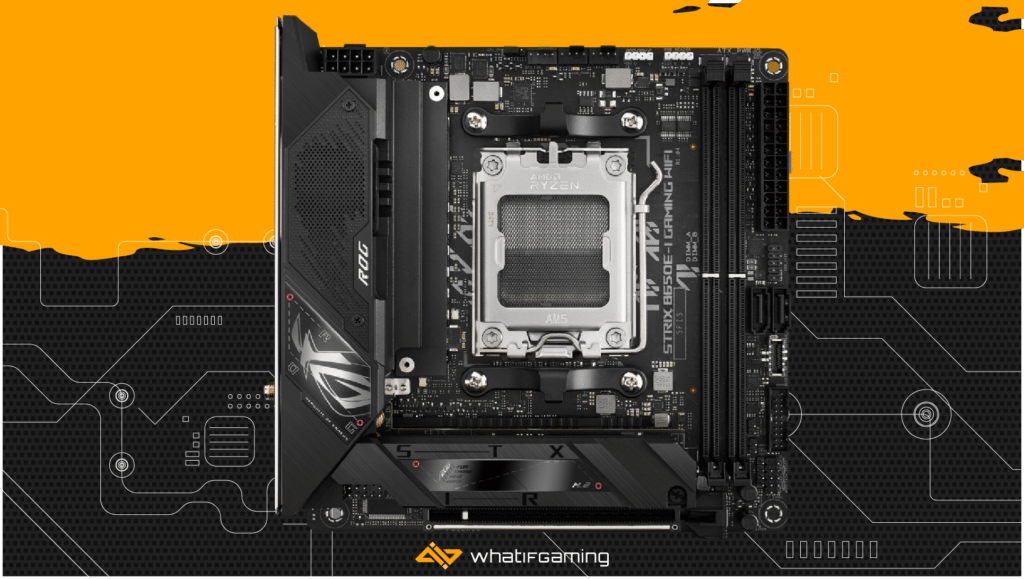 ASUS ROG Strix B650E-I Gaming WiFi
Form Factor: Mini ITX | RAM type: DDR5 | Memory Speed: 6400MHz | Max RAM: 64GB | M.2 sockets: 2 | Audio: Realtek ALC4080
Pros:
Great futureproofing

Diverse I/O

Decent storage and internal connectivity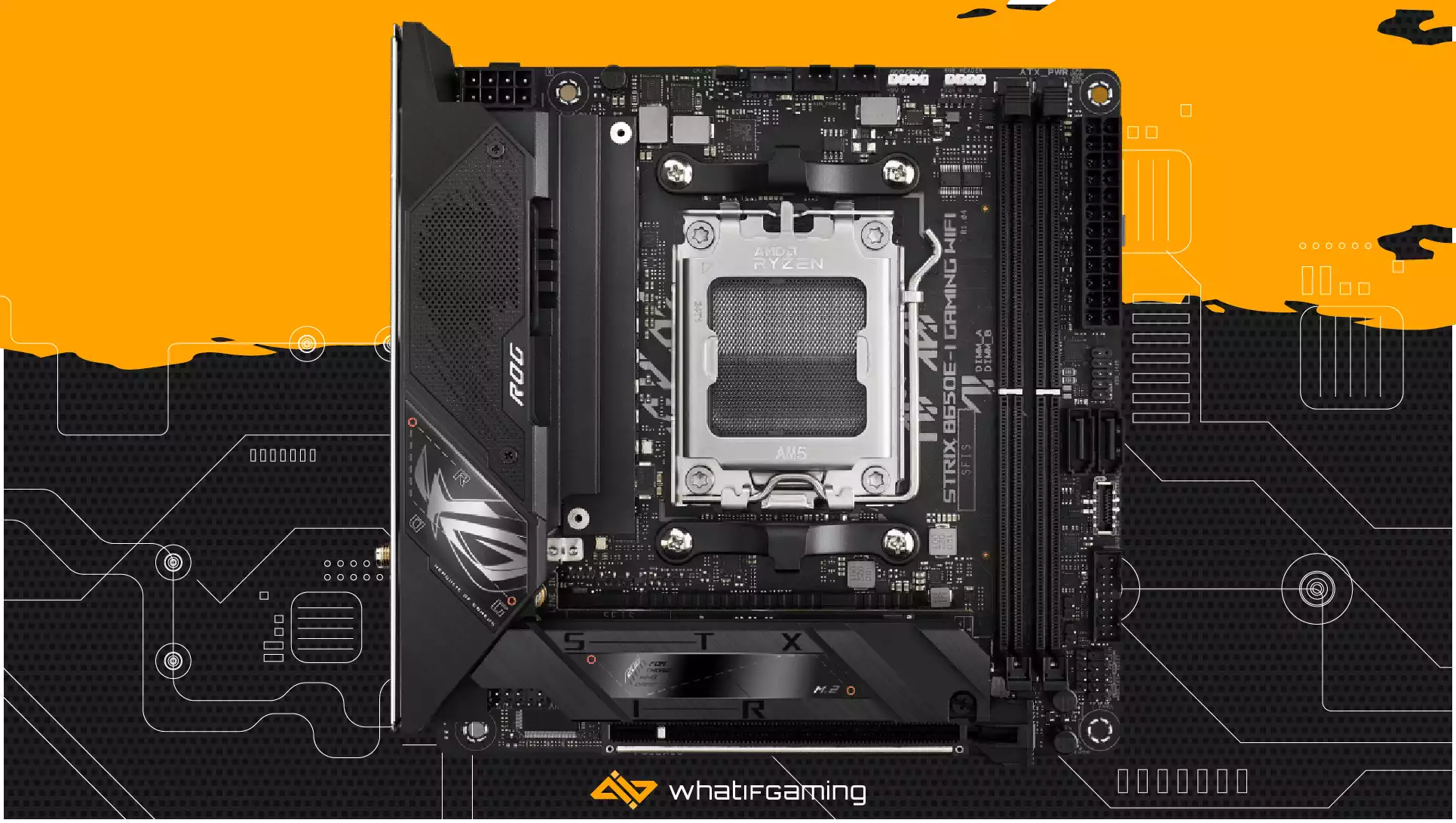 The next pick ranks among the best Mini ITX motherboards for AM5 systems. ASUS's B650 model is less expensive than the overkill X670 variant yet retains PCIe 5.0 support for GPUs and storage. It comes with a diverse port selection, good overall CPU support, and a potential flaw that impacted our rankings.
ASUS went with an almost all-black aesthetic this time, where changes in texture and material add more visual material than the silver ROG eye alone. There's even RGB they put into the I/O shroud to illuminate the audio jacks. The word STRIX is jumbled across the M.2 heatsink.
Speaking of M.2, the board provides you with two such storage opportunities. One is PCIe 5.0, which explains the heatsink's thickness. A PCIe 5.0-capable x16 slot sits underneath, providing dependable GPU connectivity for the next 5+ years. The storage segment concludes with four SATA ports if you still need them for legacy drives.
The lack of overclocking on AM5 ITX boards means the B650E-I Gaming WiFi's ten-stage 70A VRMs have little to sweat over. General cooling options are adequate for Mini ITX – three headers for the CPU and several piggybacking case fans.
20Gbps USB-C leads the well-equipped I/O, followed by seven other USB ports. You get the two standard wireless & Ethernet connections along with HDMI and an analog audio stack. ASUS didn't cheap out on the audio and used ALC4080. BIOS flashback and a configurable FlexKey button are welcome additions.
So what's wrong with the board? Apart from being expensive for B650, some users complain that their units have audible coil whine. There aren't many such incidents, and a good pair of headphones will cancel out the noise. Still, it's a drawback worth considering.
ASRock Z690M-ITX/ax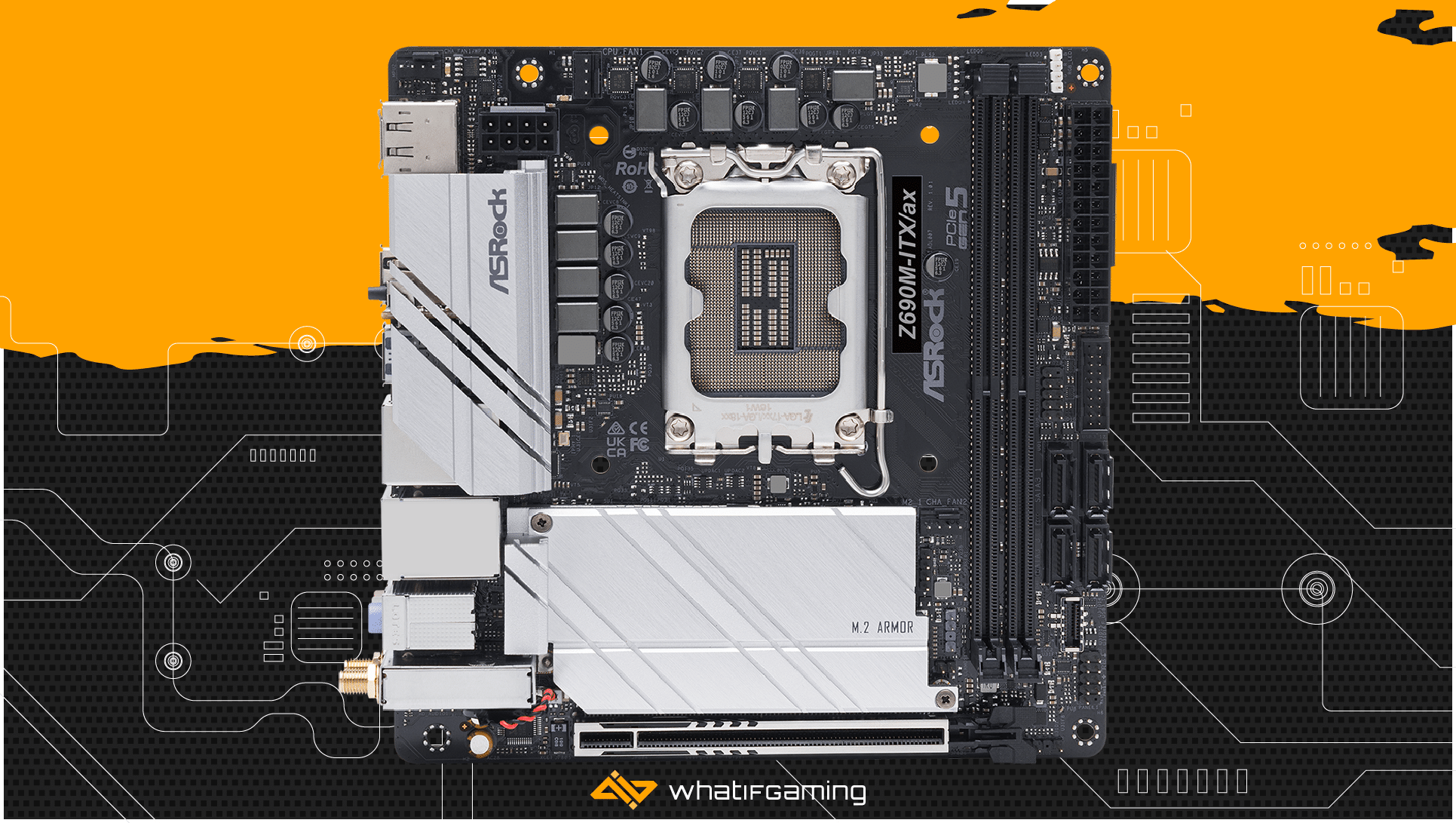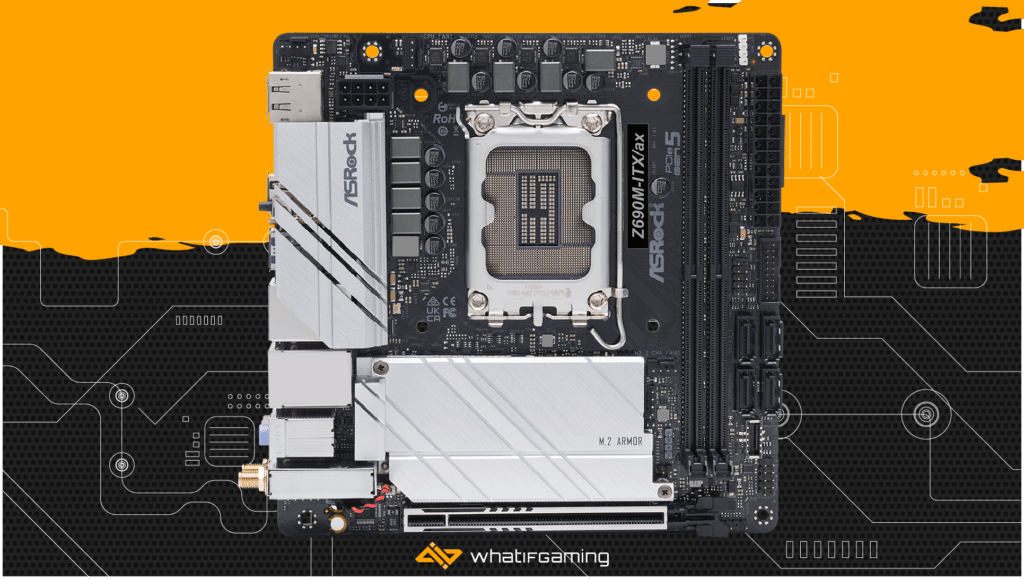 ASRock Z690M-ITX/AX
Form Factor: Mini ITX | RAM type: DDR4 | Memory Speed: 5000MHz | Max RAM: 64GB | M.2 sockets: 2 | Audio: Realtek ALC897
Pros:
Affordable

Excellent I/O

Supports PCIe 5.0 GPUs and six storage drives
Even though DDR5 RAM and AMD's components have gone down in price, Intel remains the better option for entry-level PCs. Another ASRock motherboard will serve well as its foundation if you nestle your budget computer inside an SFF case. Its features aren't as refined as on the B760, but you get WiFi, a solid I/O, and great storage support at a bargain.
You'll know it's an ASRock board as soon as you see the silver heatsinks covering part of the VRMs and the two M.2 slots. It's unlikely you'll obscure the board with a large GPU, so it will fit best inside white cases.
Looking at the VRM, one can tell that the Z690M-ITX/ax isn't an overclocker. It has eight 50A phases with DrMOS chokes, which will support any stock Intel CPU but work best with something like a 13600K or 13400F. The top phases lack a heatsink, but it doesn't affect performance.
The M.2 slots have better protection under slabs of "armor." You may connect two PCIe 4.0 drives and four older SATA III units. The PCIe 5.0 GPU slot occupies the bottom's very edge. It's reinforced against sag.
The board's internal connections correspond to its size and price. There are three fan connectors – one for the CPU, a regular connector for case fans, and another that works with case fans or water-cooling components. USB headers allow you to use two 5Gbps USB-A and one USB-C port.
The backplate requires some DIY and houses a decent connection spread. Four of seven USB ports are 10Gbps third-gen, and one is 20Gbps USB-C. The board comes with WiFi 6E and has two Ethernet ports for simultaneous connection to the internet and a NAS. HDMI & DisplayPort are present too.
Audio on the Z690M-ITX/ax could be better. You only get three 3.5mm jacks, and it uses the dated ALC897 codec. Most users won't mind, but spring for a higher tier board if you plan on streaming.
ASRock B550 Phantom Gaming-ITX/AX
ASRock B550 Phantom Gaming-ITX/AX
Form Factor: Mini ITX | RAM type: DDR4 | Memory Speed: 5100MHz | Max RAM: 64GB | M.2 sockets: 2 | Audio: Realtek ALC1220
Pros:
Healthy mix of features and price

Good audio and VRM

Adequate connectivity
Cons:
AM4 is at the end of its lifecycle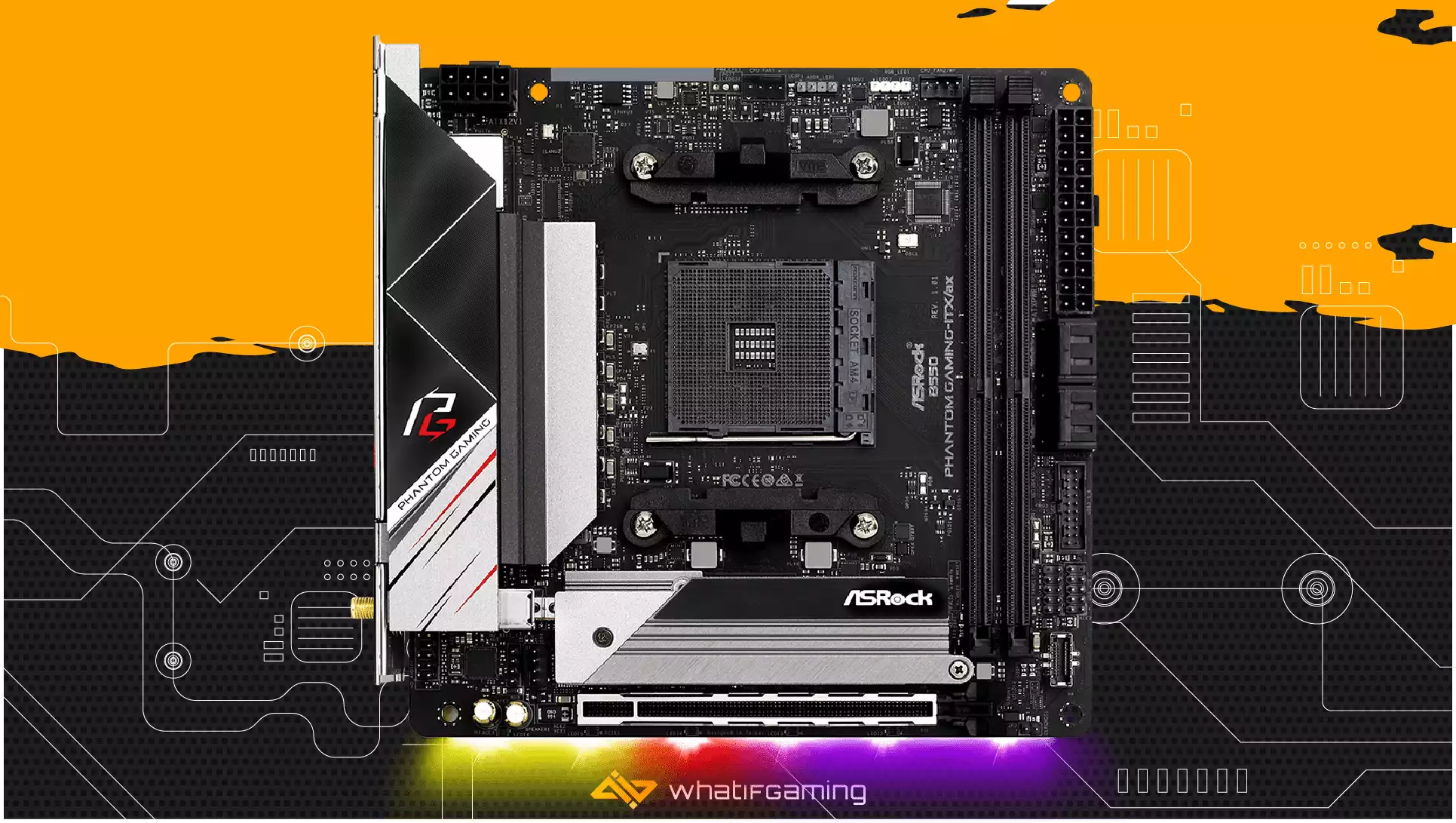 We end our list of best Mini ITX motherboards with another ASRock model. It's last not because of its capabilities, but because building an AM4 PC in 2023 isn't as appealing as it once was. Even so, the B550 Phantom Gaming-ITX/AX is a tempting and affordable buy for a home theater PC or a competent gaming rig you'll outfit with either a Ryzen 5 5600 or the still awesome Ryzen 7 5800X3D.
We're fans of the board's multi-hued design and dashes of red color seen on the PG logo and I/O panel. A strip below the GPU slot adds even more color if you're going for an aggressive gaming look. The VRM heatsink has long parallel cuts to promote airflow and slants downward, adding more visual interest.
Said heatsink protects 6+2 90A stages. Considering low to mid-range AM4 processors' notably lower thermals, this is more than enough for comfortable operation even during summer months. You'll want to have good airflow inside a small case regardless. Two headers with multiple fan support apiece will handle that. The B550 Phantom Gaming doesn't have many others – two additional ones let you bling it out more, while three provide internal and case I/O connectivity.
This is an older B-series board, so PCIe 3.0 for one of its two M.2 drives isn't surprising. Your games won't load much faster on PCIe 4.0, and you can always use the secondary slot as a backup drive. The GPU slot is PCIe 4.0 and supports all modern graphics cards.
Six USB ports on an ITX board's I/O isn't bad considering its generation. To ASRock's credit, all are third-gen and culminate in 10Gbps USB-C. More than three audio jacks wouldn't fit, but the high-quality ALC1220 codec drives them.
A 2.5G Ethernet connector offers physical online connectivity. You can also access the internet wirelessly, albeit with WiFi 6 limitations. That leaves HDMI and DisplayPort for AM4 APUs.